We are here for you to provide the important Recent and Latest Current Affairs 17 December 2019, which have unique updates of Latest Current Affairs 2019 events from all newspapers such as The Hindu, The Economic Times, PIB, Times of India, PTI, Indian Express, Business Standard and all Government official websites.
Our Current Affairs December 2019 events will help you to get more marks in Banking, Insurance, SSC, Railways, UPSC, CLAT and all State Government Exams. Also try our Latest Current Affairs Quiz and Monthly Current Affairs PDF which will be a pedestrian to crack your exams.
Click here for Current Affairs December 15 & 16 2019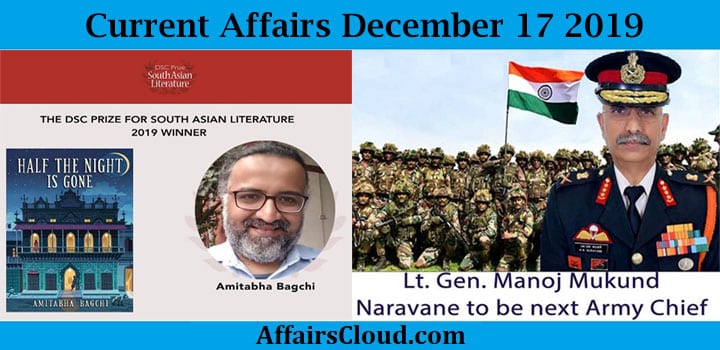 INDIAN AFFAIRS
2nd Coeus Age report: Chhattisgarh topped in policy & mission mode project performance
On December 15, 2019, research and consulting organization Coeus Age Consulting has released a report titled "Digital States of India – A Comparative Analysis". The report which is a 2nd in series with the first report launched in 2017, is about mapping all the States and Union Territories(UT) of India on their policy and infrastructure readiness and mission mode project's performance. As per the report's mapping, Chhattisgarh has emerged as the top state.
Top 5 states: Chhattisgarh was followed by Maharashtra, Haryana, Andhra Pradesh and Madhya Pradesh in the 2nd, 3rd, 4th and 5th place respectively. It is to be noted that 5th ranked Madhya pradesh was ranked 1st in 2017.
Biggest leap: Haryana made the biggest leap in the ranking moving from 10th place in 2017 to 3rd place in 2019….Click here to Read More
Mission Antyodaya scheme: TN tops 2019 panchayat ranking; Gujarat has most top 10 entries 
On December 14, 2019, 2019 rankings on gram panchayats in the country, on implementation of development and infrastructure programmes under the Mission Antyodaya scheme was released. As per the ranking, Tamil Nadu's (TN) Molugamboondi gram panchayat topped the ranking for the year 2019. Gujarat has most top 10 entries with 99 gram panchayats in the list.
112 parameters were used in 2019 for ranking.
Bambhaniya of Bhavnagar district in Gujarat ranked second on the list while four more Gujarat gram panchayats were tied for third ranks.
One in Maharashtra, two each of Punjab and Tamil Nadu, and five Gujarat panchayats were tied at fourth ranking….Click here to Read More
CII organizes "Steeling India- 2019: Driving metal intensity in key sectors" in New Delhi
On 16th December 2019, Confederation of Indian Industry (CII) organized the "Steeling India- 2019: Driving metal intensity in key sectors" in New Delhi. Dharmendra Pradhan, Union Minister for Steel and Petroleum & Natural Gas participated in the event. The event aims to expand the economic activity in the implementation of government schemes and to promote drive steel usage in rural areas.
Key Points:
i.Highlights of the event:
Discussion on strategies to enhance steel consumption and to promote intensive steel structures.
Session on key user industries like infrastructure and housing, automobiles and railways and water and irrigation.
Contemplation on innovative growth strategies that focus on value-added and niche products.
To establish new applications of steel among user segments.
To propose ways to achieve an optimized supply chain from steel producers to customer's demand.
ii.Dharmendra Pradhan also discussed about "ISAPTI IRADA" at the event. It is a campaign that aims to increase the appropriate usage of steel in India thereby bringing more strength to the society. The brand will be allowed to be used by the entities working on the Isapti Irada theme. P.V Sindhu, Indian Shuttle player is the brand ambassador of Isapti Irada….Click here to Read More
Govt extended deadline of Accessible India Campaign to March 2020
On December 13, 2019 the ministry of Social Justice and Empowerment(MoSJE) has announced to extend the deadline of Accessible India Campaign to March 2020 due to its slowed progress. The decision in this regard was taken by the Central Advisory Board(CAB) chaired by social justice and empowerment minister Shri Thawar Chand Gehlot. Accessible India Campaign is a program that aims to make public spaces friendly for persons with disabilities.
Accessible India Campaign(AIC) is also known as Sugamya Bharat Abhiyan and was launched to serve the differently-able community of the country.
Completing accessibility audit of 50% of government buildings and making them fully accessible in 10 most important cities/towns of States by December 2019 was one among the previously set target….Click here to Read More
 Govt approves changes in interest subvention scheme to give fillip to the MSME   Sector
On December 16, 2019,In a bid to boost the productivity of small enterprises, Shri Nitin Gadkari, Minister for Micro, Small and Medium Enterprises (MSME) & Road Transport & Highways, has approved changes to operational guidelines of the interest subvention scheme for MSMEs.
i.As per the changes made in the scheme, the claim will be settled once by June 30,2020 on the basis of internal or concurrent auditor's certificate and on submission of certificate of statutory auditor.
ii.Eligible units of GST have been exempted from the requirement of Udyog Aadhar Number (UAN)….Click here to Read More
16th Orange Festival begun in Tamenglong, Manipur
On December 16, 2019, the 16th edition of the State-level Orange Festival began at Manipur. The 3-day festival until 18, 2019 was inaugurated by Manipur's Chief Minister (CM) Shri Nongthombam Biren Singh at district headquarters Tamenglong. The festival is conducted annually by the Manipur govt under the sponsorship of the North Eastern Council(NEC), to promote the fruit and encourage its growers.
Key Points:
i.Tamenglong district is the largest producer of orange fruits in Manipur. GI (Geographical Indications) tag for Tamenglong orange is expected to be provided soon.
ii.As part of the festival, various events such as orange growers' competition, cultural shows, traditional games, seminars will be held.
iii.Rs 2 lakh, Rs 1 lakh and Rs 75,000 were awarded to 1st, 2nd and 3rd prize winners of the orange competition. Next year (2020), the orange growers will be provided with an increased prize amount from a fund that would be separately allocated in the state budget for the orange festival.
About Manipur:
Capital- Imphal.
Governor- Najma Heptulla.
Chief minister- N. Biren Singh.
National Park(NP)- Keibul Lamjao NP.
95th edition of popular classical music festival 'Tansen samaroh 2019' commenced in Gwalior, MP
On December 17, 2019 A 5-day long 95th edition of  Popular classical music festival 'Tansen Samaroh 2019', has commenced in Gwalior ,Madhya Pradesh(MP) with Harikatha and Milad. The festival is an annual celebration (started in 1924) in memory of Mian Tansen, a prominent 16-century Indian classical music composer, musician, and vocalist.
Key Points:
i.The event was organized near the Tansen Tomb jointly by Ustad Alauddin Khan Kala Evam Sangeet Academy and the Department Of Culture, Government of Madhya Pradesh.
ii.The festival will saw the participation of Artistes from Greece, the United States of America, Iran and Belgium who perform their respective genres in different sessions of the festival.
Eminent vocalist Pandit Vidyadhar Vyas conferred with National Tansen Award for 2019
The Madhya Pradesh Government has conferred the annual Tansen Samman for the year 2019 upon Pandit Vidyadhar Vyas (75), an Indian Hindustani vocalist, and a contemporary exponent of the Paluskar style of North Indian classical singing.
The award carries a cash prize of Rs 2 lakh and is given to outstanding exponents of Hindustani classical music.
President approved Arms (Amendment) Bill 2019
On December 16, 2019 the president of India Shri Ram Nath Kovind approved the Arms (Amendment) Bill, 2019 for a maximum punishment of life imprisonment for manufacturing and carrying illegal arms . After his assent, the bill became an act with effect from December 14, 2019.  The act was brought to check the acts of terrorism and insurgency and use of illegal arms, which is in favour of the common people.
The act has amended Arms Act 1959.
The act will enhance the period of arms license from 3 years to 5 years and also to issue arms license in its electronic form to prevent forgery.
In addition to the limit of two guns being allowed, individuals would be allowed to retain ancestral guns in a deactivated state. Thus, ancestral guns may be kept as a demo gun that it must not be in a condition to fire.
A new portal is being designed that would house National Database on Arms License (NDAL) and Arms License Issuance System (ALIS)….Click here to Read More
Gujarat police became 7th state police to get 'President's Colours' in Gandhinagar
On December 15, 2019 the state police of Gujarat become the 7th state to honoured with 'President's colours'. The Gujarat police were presented with the President's colours by Vice President of India Shri Muppavarapu Venkaiah Naidu in Gandhinagar, Gujarat for their outstanding services.
Key Points:
i.The president's colours is also known as 'Nishaan' which is an emblem that will be worn by all police officers of Gujarat on the left-hand sleeve of their uniform.
ii.President's Colours: It is the highest honour given to a police force in India. The previously awarded states were Madhya Pradesh, Uttar Pradesh, Delhi, Jammu and Kashmir, Tripura and Assam.
About Gujarat:
Capital- Gandhinagar.
Governor- Acharya Devvrat.
Chief Minister- Vijay Ramniklal Rupani.
National Parks(NP)- Gir NP, Blackbuck NP (Velavadar NP), Vansda NP, Gulf of Kutch NP.
FICCI organizes 9th  Global sports summit 'TURF 2019' in New Delhi
On December 11, 2019, FICCI (Federation of Indian Chambers of Commerce and Industry), an association of business organizations in India, has organized the 9th edition of Global Sports Summit 'TURF 2019' & India sports awards 2019 at the FICCI Federation house in New Delhi. Minister of State (Independent Charge) of the Ministry of Youth Affairs and Sports, Kiran Rijiju was the chief guest of the event.
Key Points:
i.The event saw the participation of various sports personalities, administrators and members from the Indian sports fraternity.
ii.It was jointly organized by FIT India, Ministry of Youth Affairs and Sports & FICCI.
About FICCI:
Formation– 1927
Headquarters– New Delhi
President– Sandeep somay
INTERNATIONAL AFFAIRS
WEF Gender Gap Index 2019: India slips 4 places to 112th place; Iceland topped
On 17th December 2019, the World Economic Forum (WEF) released its annual survey, India slipped four places and ranked 112th place in the Gender Gap Index, and ranks in the bottom-five in terms of women's health and survival and in the economic participation of women.
India in Global Survey:
India has moved from the 108th as stated in 2018 report to the current place in the gender gap index, the economic opportunities for women is extremely limited in India with 35.4% according to the report.
In case of health and survival India fared badly and slipped to 150th place with millions of women not getting the same access to health when compared to that of men.
India ranks 149th in terms of economic participation. It is the only country among the 153 countries studied where the economic gender gap is larger than the political one
List of Countries in Gender Gap Index:
| | |
| --- | --- |
| Rank | Country  |
| 1 | Iceland |
| 2 | Norway |
| 3 | Finland |
| 4 | Sweden |
| 112 | India |
BANKING & FINANCE
SBI inks $277 million pact with Germany based KfW for energy-efficient housing programme in India
On December 16, 2019, State Bank of India (SBI),an Indian multinational, public sector bank has signed a loan agreement worth of $277 million (about Rs 1,958 crore) with KfW (formerly KfW-Kreditanstalt für Wiederaufbau Bankengruppe),a German state-owned development bank for establishing an energy-efficient housing programme in India.
SBI Capital Markets Ltd.,a wholly owned investment banking subsidiary of State Bank of India will arrange the loan and grant facilities under this programme.
i.Financial assistance will be provided under this programme to both builders & home buyers for developing and purchasing energy-efficient residential projects that achieve at least 25% energy savings in comparison to standard reference buildings….Click here to Read More
NPCI sets up subsidiary to take UPI to the international level: RBI governor
On December 16, 2019, According to the Reserve Bank of India(RBI)  governor Shaktikanta Das, the National Payments Corporation of India (NPCI), an umbrella organisation works under RBI for operating retail payments, has set up a subsidiary to take the Unified Payment Interface (UPI) model to other countries.
Key Points:
i.The move comes after American multinational technology company Google had requested US (United States) Federal Reserve to create a similar model of open-payments like UPI, where private firms are enabled to collaborate to find unique solutions to serve users.
ii.In the past 3 years since the initiation of NPCI-led digital payment UPI in 2016, it has witnessed a huge rise in transactions. UPI recorded about 1.2 billion transactions adding up to nearly Rs 1.9 lakh crore in November 2019.
iii.UPI has over 100 million customers in its platform & aims to have about 500 million customers by the year 2022.
iv.Other digital payment players like, Google Pay (35% of market share), and Paytm & PhonePe (16%) contribute in overall transactions with the help of NPCI-owned payments.
About Unified Payment Interface (UPI) :
It is a smartphone application which allows users to transfer money between bank accounts. It is a single-window mobile payment system developed by the National Payments Corporation of India (NPCI).
There are currently 140 member banks using the UPI rails to enable payments for customers across the banking sector.
About NPCI:
Founded– 2008
Headquarters– Mumbai, Maharashtra
MD & CEO– Dilip Asbe
AWARDS & RECOGNITIONS    
Amitabha Bagchi won the DSC prize for South Asian Literature 2019 in the 8th edition of IME Nepal Literature festival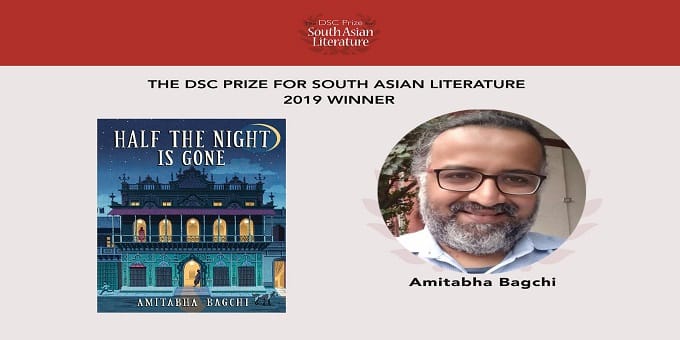 On 16th December 2019, Amitabha Bagchi won the 9th edition of DSC Prize for South Asian Literature 2019 for his book "Half The Night Is Gone". The award ceremony was held in the 8th edition of IME (International Money Express) Nepal Literature Festival 2019 held in Pokhara, Nepal. The award was presented by Pradeep Gyawali, Minister for Foreign Affairs, Nepal and Surina Narula, co-founder of the DSC Prize.
DSC Prize for South Asian Literature:
The $25,000 DSC prize was instituted by Surina Narula and Manhad Narula in 2010.
The award is given to authors from all over the world as long as the writing is about South Asia and its people. The prize also encourages translations of a book, if a translated book wins the prize, it is distributed equally between the author and the translator….Click here to Read More
ICC awards 2019: Smriti Mandhana named in ICC Women's ODI & T20 teams of the year
On December 17, 2019, the International Cricket Council (ICC) has announced the ICC awards 2019. It is a set of sports awards for cricket recognizing and honoring the best international cricket players of the previous 12 months.  Indian women's cricket player Smriti Mandana was named in both ICC women's ODI (One Day International) and T20(twenty twenty) teams of the year. The awards in brief are as follows:
Indian's T20 team of the year: Others Indians in the list include Deepti Sharma and Radha Yadav.
IndODI team of the year: Other Indians included in the ODI team of the year are Shikha Pandey, Jhulan Goswami and Poonam Yadav….Click here to Read More
Fortune India 500 list 2019: Reliance Industries surpasses IOC to rank at no. 1
On December 16, 2019 the Fortune magazine has released its annual Fortune India 500 list for the year 2019. Indian multinational conglomerate, Reliance Industries Limited (RIL) led by Mukesh Dhirubhai Ambani topped the list surpassing Indian Oil Corporation (IOC), which ranked as India's largest company to top Fortune India 500 list for 10 years. RIL is also the 1st privately held company to largest corporation in India in 10 years.
IOC ranked 2nd in the list. Oil and Natural Gas Corporation (ONGC) stood at the same 3rd place in 2019.
The Overall revenue of Fortune India 500 companies in the 2019 list grew 9.53% and the overall profit grew by 11.8% than 2018.
Top ranked bank: State Bank of India(SBI) was the top-ranked bank in the list with its ranking at 4th spot….Click here to Read More
    APPOINTMENTS & RESIGNATION  
Lt General Manoj Mukund: Vice Chief of Indian Army to be appointed as 28th Chief of Army Staff
On 16th December 2019, Lieutenant General Manoj Mukund Naravane will be appointed as the 28th Chief of Army Staff (COAS) for a period of 3 years. He is currently the Vice Chief of the Army Staff and will replace Army Chief General Bipin Rawat who is set to retire on 31st December 2019 after a three-year term.
Key Points:
i.Before being appointed as the Vice COAS, Lt Naravane was heading the Eastern Command of the Army which is taking care of India's 4,000 km border with China. He is an alumnus of the National Defence Academy (NDA) and the Indian Military Academy (IMA).
ii.He has served in the Indian Army for 37 years in various command and staff appointments in peace, counterinsurgency environments in Jammu and Kashmir and in the Northeast.
iii.He has also commanded a Rashtriya Rifles Battalion in Jammu and Kashmir and an infantry brigade on the eastern front. He was a part of Indian Peace Keeping Force in Sri Lanka during 'Operation Pawan' and served as India's defence attache at the Indian Embassy in Myanmar.
iv.He has been awarded the 'Sena Medal' (SM) for effective commanding in his battalion in Jammu and Kashmir. He is also a recipient of the 'Vishisht Seva Medal' (VSM) and the 'Ati Vishisht Seva Medal' (AVSM).
About Chief of the Army Staff (COAS):
Formation- 1 April 1955
Appointer- Appointments Committee of the Cabinet (ACC)
Term length- 3 years or at the age of 62
Precursor- Commander-in-Chief, Indian Army
Sridhar Patra assumes additional charge as Chairman cum Managing Director of NALCO
On December 18, 2019 The Ministry of Mines(MoM) has announced the appointment of Sridhar Patra to as the chairman-cum-managing director(CMD) of NALCO with effect from December 1, 2019. At Present Patra serves as the Director of Finance in NALCO and will serve the company until his superannuation on October 31, 2024.
Key Points:
i.Sridhar Patra succeeded Shri Tapan Kumar Chand.
About National Aluminium Company Ltd (NALCO):
Fact1- NALCO is a Navratna Public Sector Enterprise under ministry of mines.
Established- 7January 1981.
Headquarters- Bhubaneswar, Odisha.
           ACQUISITIONS & MERGERS        
CCI gives nod for acquisition of shares in SBI general insurance by Napean opportunities & Honey wheat
On December 13, 2019, Competition Commission of India (CCI), a statutory body of the Government of India(GoI) has gave its nod for the acquisition of 16.01% paid-up share capital of SBI (State Bank of India) General Insurance by Napean Opportunities LLP (where LLP is Limited Liability Partnership) and 9.99 % by Warburg Pincus Group-owned Honey Wheat Investment Ltd.
Key Points:
i.SBI General Insurance is held by SBI and Insurance Australia Group (IAG), a joint venture partner of State Bank of India (SBI). Now, IAG is selling it's entire 26% stake in its subsidiary SBI General Insurance to Napean Opportunities and WP Honey Wheat for an undisclosed amount.
ii.CCI has also approved $44-m investments by Sanaka Growth SPV I Limited (Sanaka) investment in Edelweiss Securities Limited (ESL) under sub-section (1) of Section 31 of the Act.
iii.Napean is a newly incorporated entity and belongs to PI Opportunities Fund-I and Azim Premji Trust.
About Competition Commission of India (CCI):
Formed– 14 October 2003
Headquarters– New Delhi
Chairman– Ashok Guptha
About SBI (State Bank of India) General Insurance:
Headquarters– Mumbai , Maharashtra
Founded– 2009
SCIENCE & TECHNOLOGY
2 BrahMos missiles from land & air platforms successfully test fired from Odisha
On December 17, 2019 land-attack and air version of the surface-to-surface supersonic cruise missile BrahMos was successfully test fired from Chandipur district of Odisha. The land attack version was test fired from a mobile autonomous launcher at Launch Complex-3 of the Integrated Test Range (ITR) at Chandipur. The air attack version was test fired from Su-30 MKI fighter aircraft.

Air attack version:
i.Features: The BrahMos missile weighs 2.5 tonnes with range of upto 300 kilometers.
ii.Software development: The software development and integration of weapon of the aircraft was undertaken by the IAF (Indian Air Force) engineers while HAL (Hindustan Aeronautics Limited) carried out complex mechanical and electrical modifications on aircraft.
iii.Design and development: The air-launched BrahMos was designed and developed by
BrahMos Aerospace Private Limited (BAPL) and The air launch from Su-30MKI was the third
launch of the missile.
iv.Previous launch:
1st launch: The first launch was made over a sea target in 22 November 2017 Where at
the time the Indian Air Force(IAF) became the first air force in the world to have
succefully fired from an air launched Trisonic class surface attack missile of this
category.
2nd launch: the second launch was on a land target on May 22, 2019.
Land attack version:
Previous land attack versions: Previously, a shorter range land-attack version of the BrahMos was successfully test-fired from the ITR at Chandipur on September 30, 2019. The 1st extended version of the missile with a strike range of 450 km was successfully
tested on March 11, 2017.
About BrahMos:
Fact1– Brahmos is a medium-range ramjet supersonic cruise missile that can be launched from submarine, ships, aircraft, or land. It is the world's fastest supersonic cruise missile.
Fact2– It is produced by Brahmos aerospace which is a joint venture between India's Defence Research and Development Organisation (DRDO) and Russia's NPOM (NPO
Mashinostroyeniya).
Fact3– The name Brahmos was coined from Brahmaputra river of India and Russia's Moskva river.
ENVIRONMENT
World's Deepest land canyon discovered under Denman glacier in Antarctica 
On 14th December 2019, The deepest canyon on land on earth is found in the Denman glacier in East Antarctica. The discovery was done by Glaciologists at the University of California Irvine (UCI), California and was presented at the American Geophysical Union's Fall Meeting held in San Francisco. The project is led by Mathieu Morlighem, an associate professor in the Department of Earth System Science at UCI.
Key Points:
i.Morlighem and his team used a new technology called BedMachine to make this discovery and combined it with radar measurements with high-precision surface motion data from satellites and snow accumulation from regional climate models to get accurate measurement of the shape of bed.
ii.The trough is about 3.5 km below sea level but it does not contain any ocean water, it is filled with ice flowing from the interior of the ice sheet towards the coast. The measurement of the trough is 100km in length and 20 km in breadth.
SPORTS
India's Koneru humpy finished 2nd in women's FIDE Grand prix 2019 held in Monaco; Alexandra Kosteniuk (Russia) won
On December 15, 2019 Indian chess grandmaster(GM),Koneru Humpy (32) from Andhra Pradesh, has finished 2nd  in the FIDE (Fédération Internationale des Échecs) women's Grand Prix (WGP) 2019 which concluded at the Yacht Club de in Monaco.She also retained the World No. 3 (Elo 2580) position. Alexandra Kosteniuk (Russia) won the title at the event.
Key Points:
i.Harika Dronavalli, another Grandmaster from Andhra Pradesh, finished 6th  with 5.5 points.
ii.The 11-round tournament was held between 12 top athletes and Hampi topped the table with 7 points, alongside Alexandra Kosteniuk (Russia) and Aleksandra Goryachkina of Russia(3rd ).
Women's FIDE Grand Prix Series 2019-2020 :
It consists of four (4) Women' Grand Prix tournaments held over two years (2019-20):
1st  – Skolkovo, September 10th – 23rd 2019
2nd – Monaco, December 2nd – 15th 2019
3rd – Lausanne, between March 1st and 14th 2020
4th – Sardinia, between May 2nd and May 15th 2020.
With the above result, Humpy will not play the 3rd of the Grand Prix series in Lausanne.
Kohli continues at No.1, Bumrah 6th among bowlers: ICC test rankings 2019
As per the ICC (International Cricket Council) test ranking 2019 released on December 16, 2019, Indian cricket team captain Virat Kohli has retained his top position with 928 points in the list of batsmen, while injured bowler Jasprit Bumrah has dropped one place to 6th  place in the bowlers' rankings.
Key Points:
i.Kohli is now 17 points ahead of his strong rival Steve Smith (911points) of Australia.
ii.Talking of bowlers, Pat Cummins and Kagiso Rabada are at the 1st  and 2nd  position.
Here's the list of top3 & Indian players in ICC test ranking 2019:
Rank
Batting
Bowling
All-rounder
1
Virat Kohli ( India)
Pat Cummins (Australia)
Jason Holder (West Indies)
2
Steve Smith (Australia)
Kagiso Rabada (South Africa)
Ravindrasinh Anirudhsinh Jadeja(India)
3
Kane Williamson (New Zealand)
Neil Wagner (New Zealand)
Ben Stokes (England)
Rank of Indian players
Cheteshwar Arvind Pujara-4th
Ajinkya Madhukar Rahane-6th
Jasprit Jasbirsingh Bumrah-6th
Ravichandran Ashwin-6th
About ICC:
Formation– 15 June 1909
Headquarters– Dubai, United Arab Emirates (UAE)
Chairman– Shashank Manohar
CEO– Manu Sawhney
England off-spinner Laura Marsh (33) announces her retirement 
On 17th December 2019, Laura Alexandra Marsh (33), England cricketer announced her retirement. Laura has won three World Cups in her 13-year career, she made her debut in 2006 as a pace bowler, later on she switched to spin. Laura was born in Pembury, United Kingdom (UK).
Key Points:
i.She has represented England in 103 ODI's (One Day International), 67 T20's (Twenty20 cricket) and 9 Tests and has taken 217 wickets in her career. She is also England's 3rd highest wicket-taker in ODI cricket.
ii.She was awarded a full central contract by the England and Wales Cricket Board (ECB) in February 2019. She played in her 100th women's One Day International (WODI) match against West Indies in June 2019.
About England:
Capital- London
Monarch- Elizabeth II
Currency- Pound sterling
OBITUARY
Danish-French actress Anna Karina dies at 79
On 14th December 2019, French New Wave actress, Anna Karina died at 79 in a hospital in Paris, France. She was diagnosed with cancer and was undergoing treatment. Anna was born in Denmark as Hanne Karin Bayer.
Key Points:
i.Her famous movies include The Little Soldier, A Woman Is a Woman, My Life to Live , Band of Outsiders, Pierrot le Fou, and Alphaville.
ii.She won the Silver Bear for Best Actress award in the Berlin film festival for her movie "A woman is a woman".
About Denmark:
Capital- Copenhagen
Monarch- Margrethe II
Prime Minister (PM)- Mette Frederiksen
[su_button url="https://affairscloud.com/current-affairs-2019/december/" target="self" style="default" background="#2D89EF" color="#FFFFFF" size="5″ wide="no" center="no" radius="auto" icon="" icon_color="#FFFFFF" text_shadow="none" desc="" download="" onclick="" rel="" title="" id="" class=""]Click Here to Read Current Affairs December 2019[/su_button]
AffairsCloud Ebook - Support Us to Grow