On 16th December 2019, Amitabha Bagchi won the 9th edition of DSC Prize for South Asian Literature 2019 for his book "Half The Night Is Gone". The award ceremony was held in the 8th edition of IME (International Money Express) Nepal Literature Festival 2019 held in Pokhara, Nepal. The award was presented by Pradeep Gyawali, Minister for Foreign Affairs, Nepal and Surina Narula, co-founder of the DSC Prize.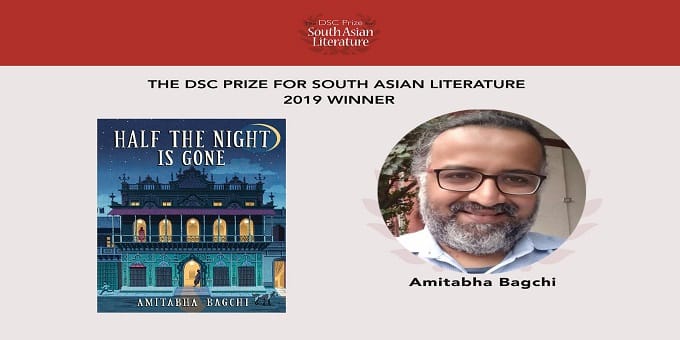 DSC Prize for South Asian Literature:
The six authors shortlisted for the DSC Prize 2019 are as follows: Amitabha Bagchi: "Half the Night is Gone", Jamil Jan Kochai: "99 Nights in Logar", Madhuri Vijay: "The Far Field", Manoranjan Byapari: "There's Gunpowder in the Air", Raj Kamal Jha: "The City and the Sea", and Sadia Abbas: "The Empty Room".
The $25,000 DSC prize was instituted by Surina Narula and Manhad Narula in 2010.
The award is given to authors from all over the world as long as the writing is about South Asia and its people. The prize also encourages translations of a book, if a translated book wins the prize, it is distributed equally between the author and the translator.
IME Nepal Literature Festival: 
It is the only international literary festival in India to exist for 8 consecutive editions, it acts as a playground for authors, thinkers and specialists in literature.
The festival began in 2011 and has brought together hundreds of national and international authors, activists, artists, intellectuals, economists and leaders to discuss both literary and non-literary issues. The festival has become an after platform for civic engagement and for sharing and connecting ideas.
Amitabha Bagchi's "Half the night is gone":
The book is an English translation that evokes the sensibility of three Indian languages Hindi, Urdu and Sanskrit.
It includes three stories examining the relationships between men and women, fathers and sons, masters and servants and the nation and the individual. It talks about how India was in the 20th century thereby raising questions of religion, literature and society.
About Nepal:
Capital- Kathmandu
President- Bidhya Devi Bhandari
Prime Minister (PM)- KP Sharma Oli
AffairsCloud Ebook - Support Us to Grow