On December 16, 2019,In a bid to boost the productivity of small enterprises, Shri Nitin Gadkari, Minister for Micro, Small and Medium Enterprises (MSME) & Road Transport & Highways, has approved changes to operational guidelines of the interest subvention scheme for MSMEs.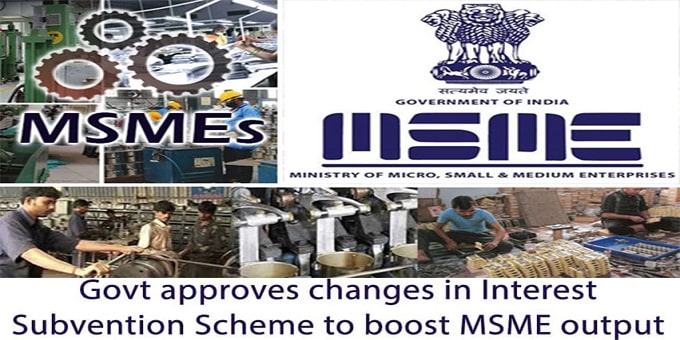 Key Points:
i.The move comes after the suggestions made by various stakeholders, including banks & lending institutions who had faced operational difficulties to rollout of the scheme smoothly.
Key changes in the guidelines are as below:-
i.As per the changes made in the scheme, the claim will be settled once by June 30,2020 on the basis of internal or concurrent auditor's certificate and on submission of certificate of statutory auditor.
ii.Eligible units of GST have been exempted from the requirement of Udyog Aadhar Number (UAN).While the Units who doesn't required to obtain GST, can submit Income Tax Permanent Account Number (PAN) or their loan account categorised as a MSME by the concerned eligible institutions.
iii.Also, the last date for submission of claims for the second half of the financial year 2018-19 has been extended to 31 December 2019.
iv.Under the latest changes, trading activities carried out without the UAN number will also come under the ambit of the scheme.
About Interest Subvention Scheme for MSMEs:
It was launched by Prime Minister (PM) Narendra Modi in November 2018 with the aim to encourage both manufacturing & service enterprises to increase productivity.
Under this scheme, the government provides 2% interest subvention for all GST (Goods and Service tax) registered MSMEs on fresh or incremental loans of up to Rs 1 crore.
Small Industries Development Bank of India (SIDBI) is the national level nodal implementation agency of this scheme, which is in operation for a period of two financial years FY 2019 and FY 2020.
About Interest Subvention:
It is a form of waiver of some percentage of interest on loan given to promote some particular industry and general public interest. This implies that with the subsidy in hand, the loan borrower has not to pay total interest on loan amount and the balance interest amount will be borne by the government.
AffairsCloud Ebook - Support Us to Grow