We are here for you to provide the important Recent and Latest Current Affairs 15 & 16 December 2019, which have unique updates of Latest Current Affairs 2019 events from all newspapers such as The Hindu, The Economic Times, PIB, Times of India, PTI, Indian Express, Business Standard and all Government official websites.
Our Current Affairs December 2019 events will help you to get more marks in Banking, Insurance, SSC, Railways, UPSC, CLAT and all State Government Exams. Also try our Latest Current Affairs Quiz and Monthly Current Affairs PDF which will be a pedestrian to crack your exams.
Click here for Current Affairs December 14 2019
INDIAN AFFAIRS
PM Modi chaired 1st meeting of National Ganga Council in Kanpur, UP
On december 14, 2019 the Prime Minister of India Shri Narendra Modi chaired the 1st meeting of the National Ganga Council (National Council for Rejuvenation, Protection and Management of River Ganga) in Kanpur, Uttar Pradesh(UP). The aim of the council was to reinforce the importance of a 'Ganga-centric' approach in all departments of the concerned states as well as relevant Central Ministries. The council was responsible for superintendence of pollution prevention and rejuvenation of River Ganga Basin, including Ganga and its tributaries.
Rs.20,000 crores allocated: Various initiatives undertaken by the govt like Namami Gange project in 2014 were reiterated. The Central Government, for the 1st time made commitment of Rs. 20,000 crores for the period 2015-20 to the five states( Uttarakhand, Uttar Pradesh, Bihar, Jharkhand, and West Bengal) through which Ganga passes, to ensure adequate and uninterrupted water flows in the river.

Rs. 7700 crores have already been spent in this regard with the construction of new sewage treatment plants….Click here to Read More
Ministry of coal to establish SDC to promote environmentally sustainable coal mining
On December 16, 2019, The Ministry of Coal has decided to create Sustainable Development Cell (SDC) with the aim to promote coal mining in an environmentally sustainable manner in India & to address environmental concerns during the decommissioning/closure of mines.
i.Functioning as a ministry-level nodal point, SDC will work on beautification and creation of eco parks in the reclaimed areas that will promote tourism for recreational purposes. At present, India's coal mining areas spread over 2,550 sq kms and plans are to extend these areas further.
ii.It will also create the future policy framework for the environmental mitigation measures (water sprinkling, dust suppression methods, noise barriers etc.) including the Mine closure Fund….Click here to Read More
3 days "International Seminar on Climate Smart Farming Systems" for BIMSTEC countries held in New Delhi
On 11th December 2019, a three day 'International Seminar on Climate Smart Farming Systems' for BIMSTEC (Bay of Bengal Initiative for Multi-Sectoral Technical and Economic Cooperation) countries began at the National Agricultural Science Centre (NASM) complex, in New Delhi.
International Seminar on Climate Smart Farming Systems:
The seminar was organized by the Department of Agricultural Research & Education (DARE), Ministry of Agriculture & Farmers Welfare (MAFW) and Indian Council of Agricultural Research (ICAR).
Participants of the seminar: 7 BIMSTEC Countries, Bhutan, India, Myanmar, Sri Lanka, Thailand, Bangladesh, Nepal, and BIMSTEC Secretariat…Click here to Read More
11th Delhi Dialogue & 6th Indian Ocean Dialogue held in New Delhi
The Ministry of External Affairs(MEA) hosted the 6th Indian Ocean Dialogue and the 11th edition of the Delhi dialogue i.e., Delhi Dialogue XI in New Delhi from December 13-14, 2019. It was for the 1st time these two Track 1.5 dialogue (discussion involving officials and non-officials, business leaders, business organisations and all possible non diplomats of two states/countries) were held consecutively and on similar Indo-Pacific themes.
Indian Ocean Dialogue Theme: The 2019 theme for 6th Indian Ocean Dialogue was "Indo-Pacific: Re-imagining the Indian Ocean through an Expanded Geography".
Delhi Dialogue Theme: The 2019 theme for the 11th Delhi Dialogue was "Advancing Partnership in Indo-Pacific".
1st Expert Group Meeting on Academics, Science and Technology of IORA.
6th Indian Ocean Rim Academic Group (IORAG) meeting held in New Delhi.
6th India-Indonesia Joint Commission Meeting held in New Delhi….Click here to Read More
ICAR & NABARD signed MoU to promote agriculture & farming systems research in New Delhi
On december 13, 2019 the Indian Council of Agricultural Research (ICAR) and the National Bank of Agriculture and Rural Development (NABARD) signed a Memorandum of Understanding (MoU) to carry on research on agriculture & farming systems with active participation from farmers. The research will be of active participation on climate resilient practices, models and integrated and hi-tech farming practices in a participatory model. The aim of this MoU was to promote sustainable agriculture and climate resilient farming systems.
Memorandum Signing: The MoU was signed by Dr. Trilochan Mohapatra, Secretary of the Department of Agricultural Research and Education(DARE) & Director General(DG) of ICAR and Shri Harsh Kumar Bhanwala, Chairman of NABARD signed the MoU in New Delhi….Click here to Read More
NPPA invoked on DPCO 2013: Ceiling price of 21 key medicines raised by 50%
On 11th December 2019, The Government of India has invoked the Drug Price Control Order (DPCO) 2013, to increase the ceiling price of 21 medicines that are under DPCO price regulation. The revision has been made under Para 19 of DPCO 2013.
Drug Price Control Order (DPCO):
The DPCO was issued by the Government under section 3 of the Essential Commodities Act 1955, the act enables the government to declare a ceiling price for essential medicines so as to make the medicines available at reasonable prices to the general public.
The DPCO 2013 included 652 formulations under 27 therapeutic segments of the National List of Essential Medicines (NLEM)….Click here to Read More
BPR&D organizes 37th National Symposium of Heads of Police Training Institutions in New Delhi
On 13th December 2019, the 37th National Symposium of Heads of Police Training Institutions was organized by the Bureau of Police Research and Development (BPR&D) in New Delhi. The theme of the symposium was 'Optimal Utilization of Resources-Through Sharing and Networking'. The event was inaugurated by the chief guest, Archana Ramasundaram, Member of Lokpal, Government of India.
Key Points:
i.Highlights of the event:
Directory of Indian Police Training Institutions (DIPTI) was released by the chief guest, the DIPTI contains information on the resources of around 300 Police Training Institutions across the country.
The Revised Police Drill Manual (Hindi version) and the Compendium of Trial Court Judgements in significant cases like rapes and murders were also released at the event.
Shashi Kant Upadhyay, DIG (SPD), BPR&D was honoured with a gold medal for attaining first position in MBA (Master of Business Administration) in Disaster Management from the IP (Indraprastha)
ii.The participants of the symposium were heads of Police Training Institutions of States/UTs/Central Armed Police Forces/Central Police Organizations, academia and domain experts.
About Bureau of Police Research and Development (BPR&D):
Formed- 28 August 1980
Headquarters- New Delhi
Director General (DG)- V.S. Kaumudi
Haryana Police became the first to introduce 'Trakea' software in FSL; Inaugurated by CM Manohar Khattar
On 13th December 2019, Haryana police have introduced a software named "Trakea-barcoding system of Forensic Science Laboratory (FSL)" to enable foolproof security of the samples collected in Forensic reports. Haryana became the first state in the country to introduce this unique barcoding system. The software was developed by Amit Mishra, a software engineer who was in Bhondsi jail for 13 months imprisoned on the false dowry death case.
Key Points:
i.Manohar Lal Khattar, Chief Minister (CM) of Haryana inaugurated the TRAKEA at Madhuban, Haryana.
ii.Trakea aims to ensure secure and tamperproof tracking system for forensic reports, the automation of the process was assisted by the forensic evidence management system from the collection of forensic samples to the analysis of the samples. The procedure is then followed by tracking case wise forensic reports electronically through Trakea.
iii.Amit Mishra has also designed data pertaining to prison inmates and prison operations across all 19 jails of Haryana.
iv.Trakea has recently been bestowed with National SKOCH Police Silver Award at New Delhi.
About Haryana:
Capital- Chandigarh
Governor- Satyadev Narayan Arya
Deputy Chief Minister (DCM)- Dushyant Chautala
INTERNATIONAL AFFAIRS
Poland leaves European Union's 2050 climate neutrality agreement
On December 13, 2019, Poland, a country located in Central Europe, has left European Union's (EU) 2050 Climate Neutrality Agreement as it demanded more funds for economic transition and support for nuclear power.
The Czech Republic and Hungary agree with a course of action after winning a guarantee that nuclear energy recognized for greenhouse gas emission reduction.
i.Poland's economy relies heavily on coal for some 80 % of its energy needs.
ii.In 2014, the EU agreed to cut its greenhouse gas emissions by at least 40% by 2030 and 85%-90% by 2050….Click here to Read More
UNICEF Report: India made a huge rise in birth generation gap from 41% to 80% over a decade
On December 11, 2019, UNICEF (United Nations International Children's Emergency Fund) released a report titled 'Birth Registration for Every Child by 2030: Are we on track?'. This publication is about the latest data on global and regional estimates of the number of unregistered children worldwide. The report also analyses the steps to be taken to achieve universal birth registration by 2030. As per the report, India alone accounted for a huge rise in birth registration gap , from 41% in 2005-06 to 80%.
Despite India has the huge rise in birth generation gap, half of the unregistered births have been accounted for by five countries with India (14%) having the highest numbers.
One in four children under age 5 (166 million), on average, are not registered in the world today.
Birth registration levels in the South Asian region as a whole have tripled, from around 23% nearly two decades ago(20 years ago) to 70 in 2019…..Click here to Read More
BANKING & FINANCE
RBI provided intraday liquidity window to make NEFT system operational on 24×7 basis
On December 14, 2019, the Reserve Bank of India(RBI) has announced to provide an additional collateralized intra-day liquidity (IDL) facility for the smooth operation of National Electronic Funds Transfer (NEFT) transactions on a 24X7 basis. This facility is called Liquidity Support (LS) and it became operational from December 16, 2019. The LS facility will operate as per the same terms and conditions as the Intra-Day Liquidity (IDL) facility.
Key Points:
i.As per the facility, funds will be transferred electronically 24X7 from one account to another of banks which are members of this NEFT LS system. Prior to this announcement, the transaction timing for NEFT system was 8 am to 7pm on working days.
ii.Payments Settlement Vision: The 24X7 operational basis was announced in line with RBI's Payments Settlement Vision 2019 to 2021 where it was first proposed to make all NEFT and RTGS(Real-time gross settlement) transfers round the clock for customers and free for all.
iii.Intraday liquidity: It is a firm's ability to match its day-to-day credit requirements on a real-time basis.
About National Electronic Funds Transfer (NEFT):
Fact1- NEFT transactions done after banking hours will be automated using 'Straight Through Processing (STP) modes by the banks.
NEFT limit- Fund transfers of upto Rs. 2 Lakhs is done under NEFT.
AWARDS & RECOGNITIONS    
Toni-Ann Singh of Jamaica crowned Miss world 2019; India's Suman Rao won Miss World Asia title.
On December 15, 2019, Toni-Ann Singh (23) of Jamaica was crowned as Miss World 2019 at 69th Miss World competition 2019 held at the ExCeL London international centre in London, United Kingdom(UK). She was crowned Miss World title by Miss World 2018-Vanessa Ponce of  Mexico.
Miss France, Ophely Mezino was the first runner-up, while Miss India 2019, Suman Ratan Singh Rao, who hails from Rajasthan, finished 3rd in the contest.
Key Points:
i.Toni-Ann was the 4th Jamaican to win this coveted title (previously the title won in 1963, 1976 and 1993). Tony's mother is from Jamaica and is of African-Caribbean origin, while Singh's father Bradshaw Singh is of Indo-Caribbean origin.
ii.Tony defeated the other 111 contestants to win the title of Miss World.
iii.The year 2020 marks the 70th anniversary of the Miss World competition. The final of this event will be held in Thailand in December 2020.
Suman Rao bagged Miss World Asia 2019 title
Miss World 2019 finale , Suman Ratan Singh Rao (21) of India, has won the title of Miss World Asia 2019 during the beauty pageant.
The other Miss World 2019 Continental winners are Trinidad & Tobago from Caribbean, France from Europe, Brazil from Americas ,Cook Islands from Oceania & Nigeria from Africa.
UNESCO removes Belgium's 'Carnival of Aalst' from Intangible Cultural Heritage List
On 14th December 2019, UNESCO (United Nations Educational, Scientific and Cultural Organization), has removed the 'Carnival of Aalst' of Belgium from its Intangible Cultural Heritage of Humanity List. The 2019 carnival featured a parade float that included racist and anti-Semitic representations that mocked the Orthodox Jews. The carnival was added to the Intangible Cultural Heritage list in 2010.
Key Points:
i.The carnival of Aalst is a three-day festival that is held annually in the Belgium city of Aalst, it is celebrated in the days preceding Ash Wednesday. It was recognized by UNESCO as a Masterpiece of the Oral and Intangible Heritage of Humanity.
About UNESCO (United Nations Educational, Scientific and Cultural Organization):
Formation- 4 November 1946
Headquarters- Paris, France
Director General- Audrey Azoulay
Ben Stokes wins BBC Sports Personality of the Year award 2019
On December 16, 2019, English cricket player Benjamin Andrew Stokes (Ben Stokes), was named as the BBC's (British Broadcasting Corporation) Sports Personality of the Year 2019. He also became the 5th cricketer to bag the coveted trophy and the first England cricketer after Andrew Flintoff(Cricketer) who won in 2005.  Ben Stokes was awarded for his key role in England's win in the 2019 cricket World Cup which was held in England and Wales in the United Kingdom(UK).
Helen Rollason Award 2019 given to George Wilson Doddie Weir.
Young Sports Personality of the Year 2019 given to Caroline Dubois
Lifetime Achievement award 2019 given to Tanni Grey-Thompson.
Team of the Year given to England's Cricket World Cup team 2019….Click here to Read More
            ACQUISITIONS & MERGERS       
RIL's unit RSBVL acquires 51.78% stake in Asteria aerospace for Rs 23.12 crore
On December 13, 2019, Reliance Strategic Business Ventures Ltd (RSBVL), a wholly-owned subsidiary of Reliance Industries Limited (RIL), has acquired a 51.78 % stake in Asteria Aerospace for Rs 23,12,49,584.
Key Points:
i.This 51.78 % of Asteria's equity share capital will further strengthen the RSBVL's  initiatives in the emerging technology sector.
ii.If Asteria achieves the agreed target, RSBVL will invest another Rs 125 crore in it. It is expected to be completed by December 2021.
iii.RSBVL also acquired 85 % stake in a homegrown start-up NowFloats Technologies for Rs 141.63 crore.
About RSBVL:
Founded– 21 June 2019
Headquarters– Ahmedabad,Gujarat
About Asteria Aerospace:
Formation– 06 June 2011
Headquarters– Bengaluru, Karnataka
 SCIENCE & TECHNOLOGY
Japan launches world's 1st liquid hydrogen transport ship, 'Suiso frontier'
On December 12, 2019, Kawasaki Heavy Industries Ltd,a Japanese public multinational corporation has launched the world's 1st ocean-going liquid hydrogen carrier ship named as' Suiso Frontier'at a ceremony held at Kobe Works yard, Japan. It is designed to carry liquid hydrogen at minus 253 ° C produced in south coast of Australia to unload in Kobe, Japan.
Key Points:
i.Measuring a total length of 116 m, width 19 m, depth 4.5 m at full load, gross tonnage 8,000 t. propulsion by Diesel engine electric power generation, and voyage speed of13 knots, it is scheduled to be completed in late 2020.
ii.Hydrogen can be produced in a number of different ways, including using water and electricity, and then stored and shipped and re-used to generate power, allowing countries with little space for wind and solar equipment to still receive carbon-free power.
About Japan:
Capital– Tokyo
Currency– Japanese yen
Prime Minister– Shinzō Abe
SPORTS
Pakistan Cricketer Abid Ali became the first to score hundreds on both test and ODI debut
On 15th December 2019, Abid Ali (32), Pakistani cricket player became the first batsman to score hundreds on both Test and One-Day International (ODI) on his debut. His match was against Sri Lanka which was held in Rawalpindi stadium in Pakistan. Abid was born in Lahore, Pakistan.
Key Points:
i.Abid is the only male player in cricket history to score a hundred on both his ODI and test debuts.
ii.Enid Bakewell, former England women cricket player who played 12 Tests between 1968 and 1979, was the first male/female cricketer to start both ODI and Test career with a century.
About Pakistan:
Capital- Islamabad
President- Arif Alvi
Prime Minister- Imran Khan
Overview of  2nd edition of BWF World tour finals 2019 held in Guangzhou, China
The BWF (Badminton World Federation ) World Tour Finals 2019 (officially known as the HSBC – Hong Kong and Shanghai Banking Corporation BWF World Tour Finals 2019) was the 2nd edition of final tournament of the 2019 BWF World Tour. It took place at Tianhe Gymnasium in Guangzhou, China from December 11 – 15 2019 and with a total prize of $1,500,000.
List of winners:
S.No
Category
Winner
Runner
1
Men's Singles
Kento Momota(Japan)
Anthony Sinisuka Ginting (Indonesia)
2
Women's Singles
Chen Yufei (China)
Tai tzu ying (Chinese Taipei )
3
Men's Doubles
Mohammad Ahsan(Indonesia)
Hendra Setiawan (Indonesia)
Hiroyuki Endo (Japan)
Yuta Watanabe (Japan)
4
Women's Doubles
Chen Qingchen (China)
Jia Yifan (China)
Mayu Matsumoto  (Japan)
Wakana Nagahara (Japan)
5
Mixed Doubles
Zheng Siwei (China)
Huang Yaqiong (China)
Huang Dong Ping (China)
Wang Yilü Chin (China)
i.Indian badminton star Pusarla Venkata (PV) Sindhu, who was already eliminated before the title race, defeated Bingjiao of China in her third and final match of Group A….Click here to Read More
OBITUARY
Former Union Minister of State for Home Affairs ID Swami dies at 90
On 15th December 2019, Ishwar Dayal Swami, Former Union Minister of State for Home Affairs died at 90 in Faridabad, Haryana. He died due to heart disease and was admitted to the Metro hospital in Faridabad. Swami was born in Babyal, Ambala district, Haryana.
Key Points:
i.Swami was the Union Minister of State for Home Affairs in 1999 in the Government of former Prime Minister Atal Bihari Vajpayee. He was the leader of the BJP (Bharatiya Janata Party) and was a member of Lok sabha from Karnal, Haryana. He is the only person from Karnal to get a place in the Union territory.
About Haryana:
Capital- Chandigarh
Governor- Satyadev Narayan Arya
Chief Minister- Manohar Lal Khattar
Noted Bollywood actress Gita Siddharth passes away
On December 14, 2019, Actress Gita Siddharth Kak, who made her Bollywood debut with Gulzar's 1972 film, Parichay,passed away in Mumbai,Maharashtra.
i.Gita has been a well-known actress of the 70-80s. She starred in the 1975 superhit movie Sholay. Apart from Sholay, she has worked in the National Award winning film Garam Hava (1973), including Trishul, Disco Dancer, Ram Teri Ganga Maili, Noorie, Desh Premee, Dance Dance, etc.
ii.Apart from acting, She was best known for her social work. Antara, the daughter of Gita and Siddharth Kak, is a documentary filmmaker.
Chuy Bravo, Mexican actor, and entertainer dies at 63
On 15th December 2019, Chuy Bravo, Mexican actor, and entertainer died at 63 in Mexico. Chuy was best known for working with Chelsea Handler on her show "Chelsea Lately" from 2007 to 2014. He has also appeared in films like 'Tiptoes' along with Matthew McConaughey in 2003, the 'Honeymooners' and 'Pirates of the Caribbean: At World's End'. He was also the founder of a restaurant named Chuy's restaurant.
About Mexico:
Capital- Mexico City
President- Andrés Manuel López Obrador
Currency- Peso
Emmy award-winning American actor Rip torn died due to Alzheimer's dementia
Elmore Rual "Rip" Torn Jr., an American actor best known for starring in Men in Black franchise, died in July 2019 at the age of 88. As per the copy of his death certificate, obtained by TMZ(a tabloid news website), Torn died "due to" Alzheimer's dementia.
i.Born on 6 February 1931,in Texas, United States (US),his career spanned almost 7 decades, including on stage and on screen, which raised him to the status of a great and distinguished comedian.
ii.Torn is best known for HBO's (Home Box Office) show "The Larry Sanders Show", which scored him an Emmy award in 1966.
Hollywood actor Danny Aiello, passed away at the age of 86
On December 12, 2019, American actor Daniel Louis Aiello Jr. passed away at the age of 86 due to old age ailments in New Jersey, United States(US). He was best known for featuring in films such as "The Godfather", "Moonstruck" and "Do The Right Thing".
Key Points:
i.Born on June 20, 1933 in New York,US,  Daniel broke into Hollywood in the 1970s. His first prominent role came in Robert De Niro-starrer "Bang the Drum Slowly". His other famous films include "The Front", "Once Upon a Time in America", and "Fort Apache: The Bronx".
IMPORTANT DAYS
UN designates May 21 as International Tea Day accepting India's recommendation
The United Nations (UN) has designated May 21 as International Tea Day after accepting the proposal moved by India at the FAO (Food and Agriculture Organization) Intergovernmental Group (IGG) on Tea in October 2015. Currently, the day is observed every year on the 15th of December.
Key Points:
i.The Day is observed in major tea producing countries like Bangladesh, Sri Lanka, Nepal, Vietnam, Indonesia, Kenya, Malawi, Malaysia, Uganda, India, and Tanzania. The United Nations General Assembly (UNGA) has invited all the members and observers of the UN organizations to observe the day appropriately.
ii.The day aims to provide improved conditions for tea producers and workers and will also promote and encourage actions to be taken in favour of the sustainable production and consumption of tea. It also raises awareness about the significance of fighting against hunger and poverty.
About United Nations (UN):
Founded- 24 October 1945
Headquarters- New York, United States (US)
Secretary General- Antonio Guterres
48th Vijay Diwas observed on December 16 2019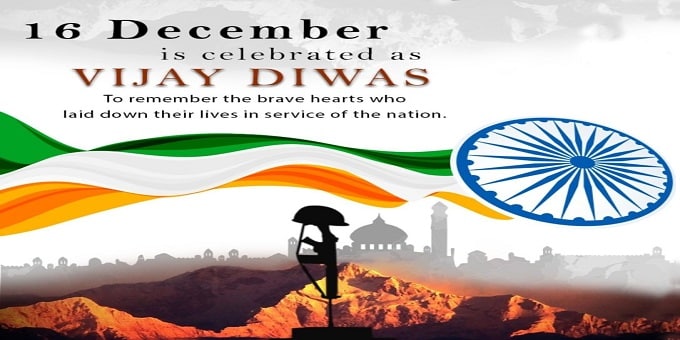 Vijay Diwas is observed annually on December 16 celebrating India's victory over Pakistan in 1971 Indo-Pakistan war. The year 2019 marks the 48th anniversary of the victory against the war. The martyrs of the war were paid tributes on this day. Various leaders paid tribute at the National War Memorial in New Delhi.
Key Points:
i.For the 1st time, Vijay Diwas was celebrated at the National War Memorial. Special programmes were organised at the headquarters of the Eastern Command at the Fort William in Kolkata, West Bengal.
In West Bengal, a wreath laying ceremony was held at Vijay Smarak at Fort William,  the headquarters of the Eastern Command in Kolkata.
ii.Background:  On this day in 1971, the chief of the Pakistani forces, General Amir Abdullah Khan Niazi, along with 93000 troops, surrendered to Indian Army and Mukti Bahini led by Lieutenant General Jagjit Singh Aurora in Dhaka(Bangladesh) after their defeat in the Liberation war.
[su_button url="https://affairscloud.com/current-affairs-2019/december/" target="self" style="default" background="#2D89EF" color="#FFFFFF" size="5″ wide="no" center="no" radius="auto" icon="" icon_color="#FFFFFF" text_shadow="none" desc="" download="" onclick="" rel="" title="" id="" class=""]Click Here to Read Current Affairs December 2019[/su_button]
AffairsCloud Ebook - Support Us to Grow