We are here for you to provide the important Recent and Latest Current Affairs 30 December 2019, which have unique updates of Latest Current Affairs 2019 events from all newspapers such as The Hindu, The Economic Times, PIB, Times of India, PTI, Indian Express, Business Standard and all Government official websites.
Our Current Affairs December 2019 events will help you to get more marks in Banking, Insurance, SSC, Railways, UPSC, CLAT and all State Government Exams. Also try our Latest Current Affairs Quiz and Monthly Current Affairs PDF which will be a pedestrian to crack your exams.
Click here for Current Affairs December 29 2019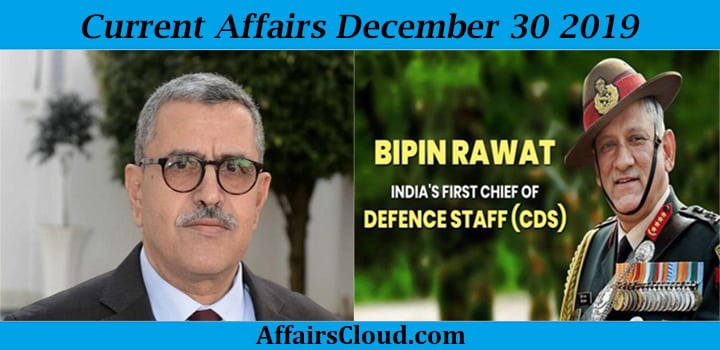 INDIAN AFFAIRS
7-member GoM constituted for effective implementation of BSNL, MTNL revival plan
On December 28, 2019, In order to track the implementation of the Rs 69,000 crore revival plan for state-owned telecom corporations Bharat Sanchar Nigam Ltd (BSNL) and Mahanagar Telephone Nigam Ltd (MTNL), a seven-member Group of Ministers (GoM) has been constituted. The revival includes crucial elements like allocation of 4G spectrum and asset monetization worth Rs 37,500 crore.
Committee members:
Defence Minister Rajnath Singh, IT and Telecom Minister Ravi Shankar Prasad, Home Minister Amit Shah, Finance Minister Nirmala Sitharaman, Commerce Minister Piyush Goyal and Oil Minister Dharmendra Pradhan
Background:
Since the last 9 years, MTNL & BSNL are reporting losses. In October 2019, PM Narendra Modi approved the plan to combine both loss-making firms so that the combined entity turns profitable in two years. MTNL provides services in Mumbai and New Delhi and BSNL in the rest of India.
MOSPI constituted 28 members economic statistics committee headed by Pronab Sen
On December 28, 2019, the Ministry of Statistics and Programme Implementation(MOSPI) has set up a standing committee on economic statistics (SCES) in order to develop methodologies in conducting surveys on the industry, services sector and employment in place of multiple panels on these issues. The committee which consists of 28 members will be headed by India's first chief statistician Pronab Sen. The first meeting of the SCES is scheduled on January 6, 2020.
Key Points:
i.The committee will subsume(absorb) 4 standing committees. They are Standing Committee on Labour Force Statistics (SCLFS), Standing Committee on Services Sector (SCSS), Standing Committee on Industrial Statistics (SCIS) and the Standing Committee on Services Sector and Unincorporated Sector Enterprises (SCSSUSE).
ii.The committee was actually set up due to the reason that statistics have been doubted on various grounds, including the gross domestic product (GDP) growth numbers, employment and expenditure surveys.
Losar Festival (Ladakhi New Year) celebrated in UT of Ladakh 

On December 27, 2019 the people of Union Territory(UT) of the Ladakh region celebrated Losar festival, the Ladakhi new year. The Ladakh Buddhist Association (LBA) and Leh Hill Council, Leh organised the celebrations in which Ladakh Lieutenant Governor Radha Krishna Mathur participated. The year 2020 will mark the 1st Losar festival celebrated in the Ladakh Region as a UT.
Key Points:
i.Losar is Tibetan word for new year.
ii.The governor hoisted traditional flag Tarchen marking the beginning of a new year and paid homage to Buddha Dharma.
iii.People gathered at Chokang Vihara for Losar celebrations in traditional attire where the celebration began with puja for world peace and brotherhood.
MEA included Madagascar & Comoros in Indian Ocean Region Division  
On December 26, 2019 the Ministry of External Affairs (MEA) has included Madagascar and Comoros in the Indian Ocean Region (IOR) Division. The IOR division looks after India's maritime neighbours such as Sri Lanka, Maldives, Mauritius and the Seychelles. Previously these two nations were looked after by East and South Africa Division of the MEA.
Madagascar and Comoros are also the members of the Indian Ocean Rim Association (IORA) and International Solar Alliance(ISA). Comoros is a member of Arab League and the Organization of Islamic Countries (OIC) and is situated on the northern tip of the strategic Mozambique Channel in the Western Indian Ocean.

Trade partnership of Madagascar: The trade partnership between India and Madagascar is about half a billion USD (United States Dollar).

Seychelles, Mauritius, Madagascar, Comoros along with Reunion islands (French territory) are known as Vanilla Islands and are members of the Indian Ocean Commission…..Click here to Read More
INTERNATIONAL AFFAIRS
UNGA approved resolution to draft treaty to combat cybercrime
On December 29, 2019 the United Nations General Assembly (UNGA) has given its approval for a new Russian resolution which will draft a new international treaty to combat cyber-crime. The Russian draft resolution was approved by the 193-member world body of UNGA by a vote of 79-60 with 33 abstentions (declining to vote).
The UNGA also approved a resolution which strongly condemns human rights abuses against Myanmar's Rohingya Muslims and other minorities.
The UNGA adopted $3.07 billion operating budget for 2020 and also for the very 1st time included funding for the investigation of war crimes in Syria and Myanmar.
The UNGA has given its approval to extend the investigation into the mysterious death of the 1961 death of Second secretary-general of UN Dag Hjalmar Agne Carl Hammarskjöld (Sweden). He was killed in a plane crash near the city of Ndola in what was then known as Northern Rhodesia, now Zambia….Click here to Read More
The Netherlands scrapping its nickname 'Holland' from January 2020
As a part of €200,000 tourism rebranding, the Netherlands has officially announced to drop the nickname 'Holland' from January 2020. Even the Netherlands' Board of Tourism and Conventions is also scrapping its symbol featuring a tulip, the national flower, and the word "Holland" and replacing it with a new logo that has an orange tulip and the initials "NL."
Key Points:
i.Reason: 'Holland' refers to just two of the 12 provinces in the Netherlands. Those are North Holland, where Amsterdam is located, and South Holland consisting of Rotterdam and The Hague. But the name 'Holland' often used to describe the whole nation.
ii.The govt of Netherlands has instructed the companies, embassies, ministries, and universities to refer the country as its official title 'the Netherlands'.
About Netherlands:
Capital– Amsterdam
Currency– Euro
Prime Minister– Mark Rutte
BANKING & FINANCE
FM launched 'eBkray' platform in Delhi; No MDR charges on payment via RuPay, UPI from Jan 1 2020
On December 28, 2019 the Union Finance Minister(FM) Smt. Nirmala Sitharaman launched an online auction platform named "eBkray" in New Delhi inorder to increase transparency in auctioning of assets attached by banks. eBkray is linked with Indian Banks Auctions Mortgaged Properties Information (IBAPI) portal (https://ibapi.in/). More in detail about the platform are as follows:
As on December 27, 2019 over 35,000 properties were uploaded by PSBs. These PSBs have attached assets worth ₹2.3 lakh crore in the last three fiscal years.
The Indian Banks Auctions Mortgaged Properties Information (IBAPI) portal is an initiative of Indian Banks Association (IBA) under the Department of Financial Services (DFS) of the Ministry of Finance (MoF).
Various reforms by the govt. helped banks to reduce the bad loans. Through these reforms, the Non-Performing Assets(NPA) in PSBs have declined to Rs. 7.27 lakh crore in September 2019 from Rs. 8.96 lakh crore in March 2018….Click here to Read More
India's financial system remains stable despite recession: RBI's 20th FSR report
On December 27, 2019, According to the 20th edition of the Financial Stability Report (FSR) 2019 released by Reserve Bank of India(RBI), India's financial system remains stable despite the recession (a period of temporary economic decline).
After the capital market regulator SEBI (Securities and Exchange Board of India) imposed a fine of Rs 25 lakh each on the major Credit rating agencies (CRA) -CARE and ICRA, the RBI has also taken a dig at these agencies by strongly criticizing them for allowing low-rated companies to do "rating shopping"(where rating agencies giving good ratings to companies with poor ratings within 3 months).
According to the report, frauds worth Rs 1.13 lakh crore have been registered in banks in the 1st half of the current financial year 2019-20 (H1 FY20), which is the highest amount of bank fraud so far. It has reached record levels due to delays in fraud detection by banks….Click here to Read More
KVG Bank & Selco signed MoU to finance solar power-based livelihood solutions
On December 30, 2019, the Karnataka Vikas Grameen Bank (KVGB) which is a regional rural bank (RRB) has signed a Memorandum of Understanding(MoU) with social enterprise Selco Solar Light Pvt Ltd, for solar lighting and livelihood solutions.
Key Points:
i.Under this MoU, finance livelihood solutions that are backed by solar power will be provided by the bank. This is done to improve the quality of life of micro and small entrepreneurs, economically weaker sections(EWS), sustainable agriculture and for women's empowerment.
ii.KVGB is among the first of the banks to formulate a scheme for financing solar systems, and has been extending finance to solar systems since 1994.
About Karnataka Vikas Grameen Bank (KVGB):
Founded- 12 September 2005.
Headquarters- Dharwad, Karnataka.
Chairman- Puttaganti Gopi Krishna.
About Selco:
Fact- The company has been providing lighting solutions for about 25 years.it has been providing an alternative and sustainable source of energy through technical interventions like solar-powered potter's wheel, solar-powered blowers for blacksmiths etc.
Founded- 1995.
Headquarters- Bengaluru, Karnataka.
Chief Executive Officer(CEO)- Mohan Hegde.
ECONOMY & BUSINESS
11th CEBR's report: India to surpass Germany as the 4th-largest economy in 2026
On December 26, 2019, United Kingdom(UK)-based Centre for Economics and Business Research (CEBR) released its 11th annual report titled 'World Economic League Table 2020′(WELT 2020). According to the report, India is expected to overtake Germany as the fourth-largest economy in the world by 2026. It also estimated that India will overtake Japan as the third-largest economy by 2034. The report in detail are as follows:
5 trillion-dollar economy: The Indian govt. has set a target to become a 5 trillion-dollar economy by 2024-25. However, the report has estimated that this target will be achieved in 2026, two years later than the fixed target year.
India in 2019: India overtook both France and the United Kingdom to become the 5th largest economy in 2019.
Next 15 years: The report estimated that India, Japan and Germany will battle for the 3rd position in the next 15 years.
USA and China: United States of America (USA) will remain as the world's largest economy throughout 2020s and may be overtaken by China in 2033.
The UK is expected to overtake France by 2034 where the UK economy will be a quarter larger than that of France….Click here to Read More
APPOINTMENTS & RESIGNATION      
Army chief General Bipin Rawat became India's 1st Chief of Defence Staff

On December 30, 2019 outgoing Indian Army Chief General Bipin Rawat has been appointed as India's 1st Chief of Defence Staff (CDS). The CDS is a 4-star single-point military adviser to the government's defence ministry as suggested by the Kargil Review Committee in 1999 headed by K. Subrahmanyam.
Areas dealt by Department of Military Affairs headed by CDS:
Armed Forces of the Union. The armed forces are the Army, the Navy and the Air Force. The Chief of the Integrated Defence Staff, also known as the COSC (Chiefs Of Staff Committee), who heads this tri-services organisation will also come under the CDS and will be renamed as the Deputy CDS.
The CDS will serve upto a maximum age of 65 years and will head the Department of Military Affairs (DMA), which will be created within the Ministry of Defence(MoD) and function as its Secretary. Earlier the tenure was 3 years or upto the retirement age of 62 years, whichever is earlier but the changes have been made in the Army Rules, 1954 to set age limit at 65.
Procurements exclusive to the services except capital acquisitions, as per prevalent rules and procedures.
The CDS will also head all tri-services institutions such as the National Defence Academy in Pune, Maharashtra, College of Defence Management in Secunderabad, Telangana and the National Defence College in Delhi….Click here to Read More
Hemant Soren sworn in as 11th Chief Minister of Jharkhand

On 29th December 2019, Hemant Soren sworn in as the 11th Chief Minister of Jharkhand at the oath-taking ceremony took place at Morabadi Ground in Ranchi for the second term. He is succeeds Mr. Raghubar Das who served for the period of 28th December 2014 – 29th December 2019.
Key Points:
i.He is the president of the Jharkhand Mukti Morcha (JMM), a political party in Jharkhand.
ii.He started his career as a Member of the legislative assembly and later became deputy CM of Jharkhand.
About Jharkhand:
Capital- Ranchi
Chief Minister- Hemant Soren
Governor- Draupadi Murmu
Algerian President named former-diplomat Abdelaziz Djerad as new PM

On December 28, 2019, Algeria's President Abdelmadjid Tebboune has announced Abdelaziz Djerad (65 years) as the Prime Minister (PM) of the country. He is a university professor and former diplomat, served under former President Abdelaziz Bouteflika, who was ousted in April 2019. Djerad succeeds Noureddine Bedoui as the new PM.
Key Points:
i.After Noureddine Bedoui, Sabri Boukadoum served as the interim PM for few days (around 10 days) until Djerad's appointment.
ii.Djerad previously served as general secretary of the then presidency in the mid-1990s and held the same position at the foreign ministry from 2001-2003.
About Algeria:
Capital- Algiers.
Currency- Algerian dinar.
Ajit Pawar sworn in as Deputy CM of Maharashtra

On 30th December 2019, Ajit Anantrao Pawar (60) was sworn in as Maharashtra's deputy chief minister in Mumbai, for the fourth time. Earlier he had sworn-in as deputy CM on November 23 along with BJP's Devendra Fadnavis but had resigned in less than 80 hours but this time as part of the Shiv Sena-NCP-Congress coalition government in the state.
 Key Points:
i.Ajit Pawar is Senior Nationalist Congress Party (NCP) leader. Aaditya Thackeray, Ashok Chavan, Dhananjay Munde and Amit Vilasrao Deshmukh were also sworn-in as state cabinet ministers during the sworn-in ceremony of 26 cabinet ministers and 10 ministers of state (MoS).
ii.He is the present MLA from the Baramati constituency of the Maharashtra Legislative Assembly.
About Maharashtra:
Capital- Mumbai
Chief Minister- Uddhav Thackeray
Governor- Bhagat Singh Koshyari
AWARDS & RECOGNITIONS    
Music director Ilaiyaraja selected for 2019 Harivarasanam award 

Noted musician and composer Ilaiyaraja (born as Gnanathesikan) has been selected for 2019 Harivarasanam award. The award has been instituted by the Travancore Devaswom Board (TDB) of the govt. since 2012 and comprises of a cash prize of Rs 1 lakh, a citation, and a plaque. It is given to persons who have contributed to secularism and universal brotherhood through music. Ilaiyaraja will be conferred with the award on January 9, 2020, at a function at Sabarimala Sannidhanam (main temple) in Kerala.
Key Points:
i.The award was announced by Tourism minister of Kerala, Shri Kadakampally Surendran.
ii.The previous recipients of the award include Kattassery Joseph Yesudas, Sripathi Panditaradhyula Balasubrahmanyam, MG Sreekumar, Gangai Amaran, Krishnan Nair Shantakumari Chithra and Pulapaka Suseela.
Noted writers Nemade, Gynanranjan get Akashdeep Sanman awards in Mumbai
On December 28 2019, Noted Marathi writer Bhalchandra Vanaji Nemade, and Hindi writer Gynanranjan were conferred with Akashdeep Sanman awards, the highest literary award for their lifetime contribution, by noted lyricist-filmmaker Gulzar (Sampooran Singh Kalra) during an event in YB Chavan Centre, Mumbai, Maharashtra.
i.About Award: The highest Shabd Samman, Akashdeep, is given annually to one Hindi and one non-Hindi Indian language. It is instituted by media house Amar Ujala and comprised a cash prize of Rs 5 lakh, a citation and a bronze statue of Ganga.
Jury: It consisted of writer Abdul Bismillah, versatile poet Arun Kamal, senior critic Nandkishore Acharya, famous poetess Anamika and well known critic Jyotish Joshi.
NASA astronaut Christina Koch sets new record for longest single space mission by a woman

On December 30,2019, Christina Hammock Koch (40), an American engineer and the United States (US) Space agency-NASA (National Aeronautics and Space Administration) astronaut has created history by becoming the longest-lived woman in space. She overtook the record of NASA's astronaut Peggy Whitson of 289 days, 5 hours and 1 minute in 2017.
Key Points:
i.Koch, who arrived at the space station March 14,2019, will return from ISS on February 6, 2020 after spending 328 days / nearly 11 months in space.The record for the longest (340 days) stay in the ISS was held by Scott Kelly, who was in space during 2015-16.
ii.Earlier in October 2019, Astronaut Koch & Jessica Meir have created history by taking a walk outside the ISS. This is the 1st time that only a team of women astronauts has walked outside the ISS.
About NASA:
Formed– July 29, 1958
Headquarters– Washington, D.C., United States
Motto– For the Benefit of All
Padma Vibhushan awardee Amitabh Bachchan conferred with 50th Dadasaheb Phalke Award 2018

On December 29 2019, Amitabh Bachchan received 50th Dadasaheb Phalke Award for the year 2018 from President Ram Nath Kovind in Delhi, for his outstanding contribution to the film industry. He failed to receive the award at the 66th National Awards ceremony held on 23rd December at Vigyan Bhawan in New Delhi due to serious illness.
Key Points: 
i.He was honoured by the Government with the Padma Shri in 1984, Padma Bhushan in 2001 and the Padma Vibhushan in 2015 for his contributions to the arts.
About Dadasaheb Phalke Award:
The highest award in cinema, named after Dhundiraj Govind Phalke who is honored as the Father of Indian cinema, was instituted in 1969.
The Award comprises a Swarna Kamal (Golden Lotus) medallion, a shawl, and a cash prize of Rs 10,00,000.
It is presented annually at the National Film Awards ceremony by the Directorate of Film Festivals, an organization set up by the Ministry of Information and Broadcasting.
      SCIENCE & TECHNOLOGY
VSSC successfully launches Rohini (RH) 200 sounding rocket from Thumba, Kerala
On December 27, 2019, Vikram Sarabhai Space Centre (VSSC), a major space research centre of the Indian Space Research Organisation (ISRO), has successfully launched Rohini (RH) 200 sounding rocket from Thumba in Thiruvananthapuram, Kerala under the mission to study changes in the earth's upper atmosphere during the eclipse.
VSSC has also launched a 2nd RH 200 flight on the very next day.
i.The Kerala district administration had warned that during the launch, near-shore waters spread over 9 kilometres  off the Thiruvananthapuram coast from Valiyathura – Pallithura as a potential danger zone.
About sounding rocket:
Also known as research rocket, it is an instrument-carrying rocket designed to take measurements and perform scientific experiments during its sub-orbital flight.
As part of the efforts to keep tabs on the upper atmospheric regions using rocket-borne instrumentation, these rockets have been launched from Thumba since the 1960s.
SPORTS
Indian weightlifter Seema banned by NADA for 4 years for doping

On December 28, 2019, Indian Weightlifter Seema, who won a silver medal in the Commonwealth Games 2017, has been banned for 4-years by National Anti-Doping Agency (NADA), the national organization responsible for monitoring the doping control program in sports, for a doping violation.
Key Points:
i.The dope sample of Seema was taken during the 34th National Weightlifting Championship 2019 held in Visakhapatnam, Andhra Pradesh.
ii.She was found guilty of violating the anti-doping rule due to the banned substance namely 3- Hydroxy-4-methoxy Tamoxifen (Metabolite of Tamoxifen), selective Estrogen Receptor Modular (SERM) Metenolone, Anabolic Steroid Ostarine ( Enobosram), Selective Androgen Receptor Modular (SARM) being found in her sample.
iii.Seema finished sixth in the women's 75kg category at the 2018 Gold Coast Commonwealth Games.
iv.Earlier in December 2019, Indian shooter Ravi kumar & Boxer Sumit sangwan were also found positive in the dope test.
About NADA:
Motto– Play fair
Formation– November 24, 2005
Headquarters– New Delhi
Koneru Humpy won 2019 FIDE Women's World Rapid Chess Championship title

Indian Grandmaster Koneru Humpy (32 years) from Andhra Pradesh, became FIDE Women's World Rapid Champion for the year 2019 by defeating China's Lei Tingjie in Armageddon (chess penalty shoot-out) in the finals held at Luzhniki football stadium in Moscow, Russia which was held from December 26-28, 2019. Tingjie finished with a silver, while Turkey's Ekaterina Atalik won the bronze medal.
Key Points:
i.The men's World Rapid Championship 2019 title was won by Norway's Magnus Carlsen. Iran's Firouza Alireza won the silver medal while America's Hikaru Nakamura won bronze.
ii.It is also to be noted that after India's grandmaster Vishwanathan Anand, who won this title in the open section in 2017, Humpy is only the second Indian to win gold in the current format.
About FIDE World Rapid Championship:
Fact- It is a 12 round Swiss tournament.
FIDE- Fédération Internationale des Échecs (English: International Chess Federation or World Chess Federation).
Prize- The prize fund for the championship is $1,50,000 with $40,000 for the winner.
OBITUARY
Former DG of Doordarshan Shiv Sharma passed away at the age 85
On December 28th 2019, Former Director-General of Doordarshan Shiv Sharma passed away in Gurugram in Haryana at the age of 85.
Key Points:
i.He was associated with the news coverage of Asian games in 1982 in Delhi, India.
ii.He had also supervised reportage of various national and international events.He also served in All India Radio.
Head of Pejawar mutt, Vishwesha Tirtha Swami passes away at 88

On December 29, 2019, The head of the Pejawar Mutt located in Udupi (Karnataka), Vishwesha Tirtha Swami passed away in Udupi due to multiple organ failure. He was 88.
i.Born on 27 April 1931 in Ramakunja village of Karnataka, Vishwesha Swami was ordained into Sanyasa at the young age of 7 in 1938.
ii.As a 32nd Mahant of Pejawar Math, he had created history by becoming the only seer among the seers of the Ashta Mutts (eight mutts) of Udupi, which propagate the Dwaita philosophy.
iii.He also constructed Akhila Bharat Madhwa Maha Mandal [ABMM] center to help many of the poor students.
BOOKS & AUTHORS
Venkaiah Naidu released a book 'The Renaissance Man-The Many Facets of Arun Jaitley" on his birth anniversary

On 28th December 2019, Vice President Mr. Venkaiah Naidu has unveiled a book entitled "The Renaissance Man-The Many Facets of Arun Jaitley" with the Lok Sabha speaker Om Birla on the 67th birth anniversary of the former finance minister Arun Jaitley at a ceremony held in New Delhi.
Key Points:
i.This book which describes about Arun Jaitley was compiled by Deepa Venkat and Muppavarapu Harshavardhan who are the daughter and son of  Vice-President Venkaiah Naidu. Arun Jaitley's various actions as union finance minister, such as Insolvency and Bankruptcy Code, were also discussed during the ceremony.
ii. Life-Size statue in Patna: As a part of commemorations, Bihar CM Nitish Kumar unveiled a life-size statue at park no-31 in Kankarbagh area, Patna, Bihar.
AC BYTES
Afghanistan's Mujeeb Ur Rahman becomes the youngest bowler to take 100 T20 wickets
Afghan right arm off break spinner, Mujeeb Ur Rahman has broken his compatriot Rashid Khan's record of being the youngest bowler to reach the tally of 100 wickets in T20 cricket.
******Current Affairs 30 December 2019 Headlines******
7-member GoM constituted for effective implementation of BSNL, MTNL revival plan
MOSPI constituted economic statistics committee headed by Pronab Sen
Losar Festival (Ladakhi New Year) celebrated in UT of Ladakh
MEA included Madagascar & Comoros in Indian Ocean Region Division
UNGA approved resolution to draft treaty to combat cybercrime
Netherlands scrapping its name nickname 'Holland' from January 2020
FM launched 'eBkray' platform in Delhi; No MDR charges on payment via RuPay, UPI from Jan 1 2020
India's financial system remains stable despite recession: RBI's 20th FSR report
KVG Bank &Selco signed MoU to finance solar power-based livelihood solutions
11th CEBR's report: India to surpass Germany as the 4th-largest economy in 2026
Army chief General Bipin Rawat became India's 1st Chief of Defence Staff
Hemant Soren sworn in as 11th Chief Minister of Jharkhand
Algerian President named former-diplomat Abdelaziz Djerad as new PM
Ajit Pawar sworn in as Deputy CM of Maharashtra
Music director Ilaiyaraja selected for 2019 Harivarasanam award
Noted writers Nemade, Gynanranjan get Akashdeep Sanman awards in Mumbai
NASA astronaut Christina koch sets new record for longest single space mission by a woman
Amitabh Bachchan conferred with Dadasaheb Phalke Award 2018
VSSC successfully launches Rohini (RH) 200 sounding rocket from Thumba, Kerala
India weightlifter Seema banned by NADA for 4 years for doping
Koneru Humpy won 2019 FIDE Women's World Rapid Chess Championship title
Former DG of Doordarshan Shiv Sharma passed away at the age 85
Head of Pejawar mutt, Vishwesha tirtha swami passes away at 88
Venkaiah Naidu released a book 'The Renaissance Man-The Many Facets of Arun Jaitley" on his birth anniversary
Maharashtra farmers with crop loan over Rs 2 Lakh ineligible for 'Mahatama jyotirao phule farmer loan waiver scheme'
Mujeeb Ur Rahman becomes the youngest bowler to take 100 T20 wickets
[su_button url="https://affairscloud.com/current-affairs-2019/december/" target="self" style="default" background="#2D89EF" color="#FFFFFF" size="5″ wide="no" center="no" radius="auto" icon="" icon_color="#FFFFFF" text_shadow="none" desc="" download="" onclick="" rel="" title="" id="" class=""]Click Here to Read Current Affairs December 2019[/su_button]
AffairsCloud Ebook - Support Us to Grow