We are here for you to provide the important Recent and Latest Current Affairs 31 December 2019, which have unique updates of Latest Current Affairs 2019 events from all newspapers such as The Hindu, The Economic Times, PIB, Times of India, PTI, Indian Express, Business Standard and all Government official websites.
Our Current Affairs December 2019 events will help you to get more marks in Banking, Insurance, SSC, Railways, UPSC, CLAT and all State Government Exams. Also try our Latest Current Affairs Quiz and Monthly Current Affairs PDF which will be a pedestrian to crack your exams.
Click here for Current Affairs December 30 2019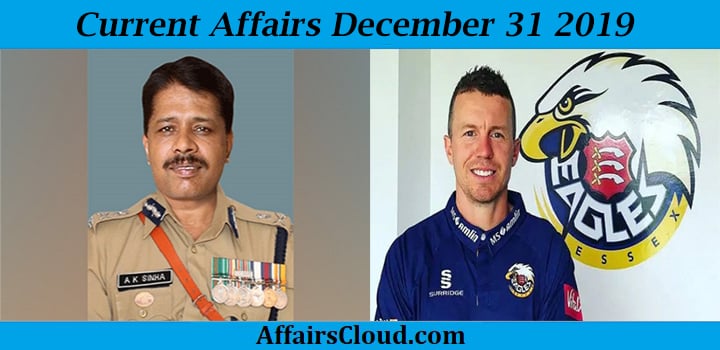 INDIAN AFFAIRS
NITI Aayog Released 2nd SDG India Index 2019 in New Delhi; Kerala topped the index
On December 31, 2019 NITI (National Institution for Transforming India) Aayog has released the 2nd edition of Sustainable Development Goals (SDG) India Index and dashboard for the year 2019 in New Delhi. Kerala topped the index with a score of 70. The index gives a brief analysis on the progress made by states and union territories(UTs) towards achieving the 2030 SDG targets.
SDG improvements by India: The composite score of India has improved to 60 in 2019 from 57 in 2018. Huge improvements were made in Goals 6 (clean water and sanitation), 9 (industry, innovation and infrastructure) and 7 (affordable and clean energy).
The 2019 index was based on 54 targets spread over 100 indicators out of 306 outlined by the UN, and these 100 indicators are drawn from the Ministry of Statistics and Programme Implementation's (MoSPI's) National Indicator Framework (NIF).
Kerala was followed by Himachal Pradesh in the 2nd rank with a score of 69. Andhra Pradesh, Telangana and Tamil Nadu together ranked at the third position with a score of 67.
Bihar was followed by Jharkhand and Arunachal Pradesh as the worst performing states. Gujarat did not show any improvement from 2018….Click here to Read More
16th ISFR-2019 by FSI released in New Delhi; Total forest & tree Cover rises to 24.56%
On December 30, 2019, the Union Minister for Environment, Forest and Climate Change(MoEFCC), Shri Prakash Javadekar released the biennial "India State of Forest Report (ISFR)", in New Delhi. The report assesses forest and tree resources in India biennially and is published by the Forest Survey of India (FSI). The ISFR-2019 is the 16th report in the series since 1987.
As per the recent assessment made, the total forest and tree cover of the country now stands at 80.73 million hectare which is 24.56% of the geographical area of the country.
Area wise toppers:  In terms of largest forest cover in the country by area wise, Madhya Pradesh (MP) has the largest forest cover. It was followed by Arunachal Pradesh, Chhattisgarh, Odisha and Maharashtra in the 2nd, 3rd, 4th and 5th place respectively.
Mangrove cover in the country has been separately reported in the ISFR 2019 and the total mangrove cover is 4,975 sq km which has increased by 54 sq Km.
It is also to be noted that for the 1st time Ortho-rectified satellite data has been used for forest cover mapping….Click here to Read More
Biometric enabled Centralised Access Control System & e-BCAS Module launched in New Delhi
On December 30, 2019 the Minister of State (Independent Charge) for Civil Aviation Shri Hardeep Singh Puri,launched the biometric-enabled Centralised Access Control System (CACS) and 'e-BCAS Project Training Module' in New Delhi. These 2 projects were launched to enhance security and to improve ease of doing business at airports.
e-BCAS Project Training Module: Through this module, more than 1.5 lakh employees will be migrated from manual to digital platform. e-BCAS project has the objective of making all the activities in the BCAS transparent, user-friendly, and efficient. All Aviation Security Training Institutes (ASTIs) which is currently 29 in number, have been registered as user entities.
CACS: The project covers 43 Airports of AAI (Airports Authority of India) and 5 Joint Venture(JV) airports. It will encompass uniqueness of the AEP users, biometric authentication in addition to PIN (Personal Identification Number)-based identity verification through contactless smart card technology.
smart card technology: It manages access of persons using RFID (Radio-frequency identification) based automated vehicle access control system, gate access privileges etc. The card costs Rs. 225 and will be valid for 3 years….Click here to Read More
Government of India signed MoU with Flipkart under DAY-NULM scheme
On December 30, 2019 Government of India signed MoU with Flipkart for selling the products made by women self-help groups under Deendayal Antyodaya Yojana-National Urban Livelihoods Mission (DAY-NULM) on the e-commerce platform.
KeyPoints:
i.DAY-NULM consists of 44 lakh women across the country which aims to make women financially independent.
ii. According to Union Housing and Urban Affairs Secretary Durga Shanker Mishra, 12 lakh people have trained in the past five years and nearly 5.06 lakh people were given funds by the government to start their own business.
iii.Government is likely to sign MoU with Amazon on January 7, 2020, for the same purpose.
High-lights of the DAY-NULM
i.Employment through Skill Training and Placement.
ii.Social Mobilization and Institution Development.
iii.Subsidy to urban poor.
iv.Shelters for urban homeless.
Ravi Shankar Prasad launched a web portal to tracing of stolen mobiles in Delhi
On 30th Dec 2019, the Department of Telecom Minister Mr. Ravi Shankar Prasad launched a web portal 'Central Equipment Identity Register (CEIR)' (www.ceir.gov.in)  to trace the stolen mobiles for Delhi subscribers. This was launched in Mumbai in September 2019, and has been rolled out for Delhi now, it will be extended to other states too in the following year.
Key Points:
i.The System has been developed by Center for Development of Telematics (CDOT) under the Department of Telecom. This will be working in collaboration with Delhi police and Telecom service providers.
ii.If anybody lost their mobile phone, they can register their request in https://ceir.gov.in/ portal along with the FIR copy to block the IMEI (International Mobile Equipment Identity) number of the lost or stolen device. This can be tracked with the request ID.
iii.The Lt. Governor of NCT of Delhi, Shri Anil Baijal, the Secretary, Telecom and the Chairman, Digital Communications Commission, Shri Anshu Prakash, the Commissioner of Delhi Police, Shri Amulya Patnaik, the Member (Technology), Digital Communications Commission, Shri S.K. Gupta were also present on the occasion.
Vice Prez attends 27th National children's science congress 2019 held for the 1st time in Thiruvananthapuram, Kerala
The Vice President of India, Shri Muppavarapu Venkaiah Naidu has attended the 27th edition of National Children's Science Congress (NCSC) 2019 based on the theme "Science, Technology and Innovation for a clean, green and healthy nation" held for the 1st time at Mar Ivanios College in Thiruvananthapuram, Kerala from December 27 -31,2019.
Key Points:
i.Organizers: The Chief Minister (CM) of Kerala ,Pinarayi Vijayan has inaugurated the congress,which was jointly organized by Kerala state council for science, technology and environment (KSCSTE) and Department of Science and Technology, Government of India(GoI).
ii.Partakers: The congress saw the participation of 658 children in the age group of 10 – 17 years from 28 states, 9 Union Territories-UT (including 8 children from the Kashmir division of Jammu and Kashmir (J&K) and their teachers) & 15 from various Indian Schools in Middle East countries. In addition, 203 teachers, organizing / academic coordinators, national academic committee members, and scientists attended the event.
iii.Key attractions: Technical sessions,'Meet the scientist' programme, opening of stalls, techno tour for child scientists were the special attraction of the congress.
National Children's Science Congress (NCSC):
It is a nationwide Science Communication programme started in the year 1993.
It is the programme of the National Council for Science and Technology Communication (NCSTC), Department of Science and Technology, Government of India.
HM Amit Shah lays foundation stone of Directorate General building of CRPF in New Delhi
On December 29, 2019, Union Minister of Home Affairs, Shri. Amitabh Anilchandra Shah has laid the Foundation stone of the Directorate General Building of CRPF(Central Reserve Police Force) built with a cost of Rs 280 crore in New Delhi.
He also launched a new logo with a "Garuda", sword and shield, for security branch of CRPF that will give a new identity to them, who provides security to common man and VIP's (very important person). The insignia bears the motto of the force – "Always, Aware, Alert".
Key Points:
i.The new building equipped with all modern facilities and green amenities, as well as an effective control and command system with modern training modules for 3.5 lakh strong force to boost their operational capability.
About CRPF:
Motto– Service and Loyalty
Formation– 27 July 1939
It played an important role in wiping out terrorism, in which they made supreme sacrifices for internal security duties, including at the war theatres with China in October 1959 and with Pakistan at Sardar Post, Kutch in Gujarat in 1965. CRPF received 75 bravery medals are the highest for any force.
MyGov platform reached 1 crore registered users
On December 29, 2019, Central government's citizen engagement platform, MyGov has reached the milestone of having 1 crore registered users. The platform was founded by the Govt.of India to promote active participation of Indian citizens in their country's governance and development. The portal is "https://www.mygov.in/".
Key Points:
i.Platform development: MyGov platform was designed, developed and hosted by National Informatics Centre(NIC) underMinistry of Electronics & Information Technology(MeitY). It was launched on July 26, 2014 by Prime Minister of India, Shri Narendra Modi.
ii.In March 2015, the govt launched MyGov version 2.0, with newer features such as hashtags, polls, interactive discussion forums and social media account integration.
'Dhanu Jatra' the 11-day long festival begins at Bargarh in Western Odisha
'Dhanu Jatra' the famous 11-day long open-air theater festival begins on 31 December 2019 at Bargarh in western Odisha. Jatra's drama is based on the story of Lord Krishna and his uncle Kansa. It is the world's longest open-air drama named in the Guinness book of records. To celebrate Indian's Independence and to symbolize the victory of good over evil this festival was celebrated from 1947-1948. The government of India gave the National Festival Status to Dhanu Jatra in November 2014.
About Odisha:
Chief Minister- Naveen Patnaik
Governor- Ganeshi Lal
Capital City- Bhubaneswar
Railways renames Railway Protection Force as Indian Railway Protection Service 
On December 31, 2019, The Ministry of Railway (MoR) has accorded Organised Group 'A' status (OGAS) to Railway Protection Force (RPF) and also renamed RPF as Indian Railway Protection Service (IRPS). The notice of renaming was issued by the Joint Director of Railway Board Amitabh Joshi on December 30, 2019.
IR creates Passenger Friendly Information System at Anakapalle Station, AP:
The Indian Railways (IR) has introduced new Passenger Information System at Anakapalle Railway Station of Vijayawada Division of Andhra Pradesh(AP) in South Central Railway (SCR). The system has been introduced to provide better features and an easy guidane to the passengers and also to enhance satisfactory user experience. The cost of the equipment is Rs 10 lakhs including supply, installation, commissioning and onsite warranty of 3 years.
Automated display information about the trains expected at the station is displayed in trilingual forms. i.e., Telugu, English and Hindi….Click here to Read More
BANKING & FINANCE
Reserve Bank releases draft circular on loan exposure limits & PSL threshold for UCBs
On December 30, 2019, In an effort to avoid frauds, India's central bank, the Reserve Bank of India (RBI) has released draft circular on limits on exposure to single and group borrowers/parties, large exposures and revision in priority sector lending (PSL) targets for primary (urban) co-operative banks (UCBs).This move comes after depositors lost large sums of money following the crisis at Punjab and Maharashtra Cooperative (PMC) Bank.
i.RBI has decided to restrict Primary (urban) cooperative banks (UCBs) exposure to a single borrower & a group of connected borrowers at 10% and 25%, respectively.
ii.UCBs also required to have at least 50% of their portfolio should comprise advances of not more than ₹25 lakh per borrower.
iii.The reserve bank has also hiked the priority sector lending (PSL) target for UCBs to 75% of adjusted net bank credit (ANBC) from 40%….Click here to Read More
HDFC Life join hands with Paytm to expand its distribution
On December 28, 2019, HDFC Life Insurance, a long-term life insurance provider has entered into the partnership with Paytm, an Indian e-commerce payment system to allow the latter's 450 million registered customers to purchase insurance products from HDFC Life.
Key Points:
i.Through this partnership, HDFC Life will deepen the penetration of its product offers and enable more customers to access their risk solutions anytime, anywhere.
ii.HDFC Life had already tied up with India's 2nd largest telecom company – Airtel to issue product portfolio within seconds.
About HDFC Life Insurance:
Founded– 2000
Headquarters– Mumbai
MD & CEO– Ms. Vibha Padalkar
It is a joint venture between Housing Development Finance Corporation Ltd (HDFC), one of India's leading housing finance institution and Standard Life Aberdeen PLC.
About Paytm:
Founded– August 2010
Headquarters– Noida, Uttar Pradesh(UP).
President– Amit Nayyar
AWARDS & RECOGNITIONS    
Sanjay Gupta of 'Jagran' to be honoured with Lokmanya Tilak journalism award
On December 30, 2019, Sanjay Gupta, the editor-in-chief of 'Jagran' will be honored with "Lokmanya Tilak National Journalism Award" for his great contribution in the field of Journalism.
Key Points:
i.The award was instituted by the Kesari-Maratha Trust and it will be conferred to Gupta on 4th January 2020 during the 139th foundation ceremony of 'kesari' newspaper started by Lokmanya Tilak.
About Lokmanya Tilak National Journalism Award:
This was started by Lokmanya Tilak to promote courageous and idealistic journalists.
The award consists of Rs. 1 lakh cash prize and a memento. Earlier the award was conferred to well-known journalists such as Vir Sanghvi, N. Ram, H. K. Dua, Vinod Metha and Siddharth Varadarajan.
    APPOINTMENTS & RESIGNATION      
SPG Director, IPS Arun Kumar Sinha gets 1-year tenure extension
On December 30, 2019, The Appointments Committee of the Cabinet (ACC), Government of India (GoI), has approved the extension in the deputation tenure of Special Protection Group (SPG) director, Arun Kumar Sinha. His term of deputation ended on 19 March 2020,which has been increased to 30 July 2021.
Key Points:
i.Arun Kumar is a 1987 batch IPS (Indian Police Service) officer of Kerala cadre. He has been serving as the chief of the SPG since March 2016.His deputation was extended for 2- years previously in the year 2018.
ii.The Union government has recently amended the SPG Act, 1988.
About SPG:
It is the highest tier of security, which was formed in 1985 to protect the Prime Minister of India after the assassination of late PM Indira Gandhi by her bodyguards in October 1984.
About SPG Act, 1988:
The act provides security to the Prime Minister(PM), former Prime Ministers and their immediate family members for one year from the date they cease to hold the office.
The act security cover will be provided in cases where the threat emerges from a terrorist organization or it is of a grave & continuing in nature.
Rohan shah designated as India's representative & Governor on ERIA board for 3 yrs
On December 31, 2019, Rohan Shah, a practicing counsel at the Supreme Court(SC) and various High Courts(HC), has appointed as India's Representative and Governor on the board of Economic Research Institute for ASEAN and East Asia (ERIA) for a period of 3 years. The ERIA board meets once every 6 months in Jakarta(Indonesia) & in Japan.
Key Points:
i.Prior to this, Shah had been served as an Industry Representative in India's WTO (World Trade Organization) trade negotiations, along with Arun Jaitley (the then Minister of Commerce) at Cancun in 2003.
ii.Shah, won the Tax lawyer of the year 2019 by Legal Era, got his credit in more than 300 key reported tax judgments.
About ERIA:
Formation– 3 June 2008
Headquarters– Indonesia Jakarta
It is an international organization formed by the Governments of the ASEAN(Association of Southeast Asian Nations) countries & leaders of 16 countries in the East Asian region focusing on research and policy formulation related to economic integration, cross border trade issues and closing development gaps in the ASEAN region.
ITBP chief SS Deswal given additional charge of CRPF DG as RR Bhatnagar retired
On December 31, 2019 ITBP (Indo-Tibetan Border Police) Director General (DG) Surjeet Singh Deswal has been given "additional" charge to head India's as well as the World's largest paramilitary force, the CRPF (Central Reserve Police Force) as notified by the Ministry of Home Affairs (MoHA). The additional charge has been given immediately after CRPF's DG, Rajeev Rai Bhatnagar's retirement.
Key Points:
i.Bhatnagar was given the farewell parade at a CRPF base in Gurugram, Haryana and will be formally sent off from headquarters located at Lodhi Road, NewDelhi.
About Central Reserve Police Force(CRPF):
Fact1- It came into existence as Crown Representative's Police on 27 July 1939. After Indian Independence, it became the Central Reserve Police Force on enactment of the CRPF Act on 28 December 1949.
Fact2- it has 3.25 lakh personnel in its ranks and is categorized as the lead internal security, law and order maintenance and anti-Naxal operations conducting force of India.
Formed- 27 July, 1939.
Harjeet Kaur appointed as 13th & 1st-ever woman CMD of SCI; Govt to sell 63.75% stake in SCI
On December 21, 2019, Harjeet Kaur Joshi has been appointed as the full-time Chairperson and Managing Director (CMD) of privatization-bound Shipping Corporation of India (SCI). With this appointment, she became the 13th CMD and also the 1st ever woman CMD of SCI and will serve till her superannuation on May 31, 2022, or until further orders. Joshi has replaced Capt. Anoop Kumar Sharma who served as the CMD for the past three years.
Meanwhile, the government has also decided to sell its 63.75% stake in SCI, to a private strategic buyer and the stake sale is in process.
Key Points:
i.Harjeet's appointment was cleared by the Appointments Committee of the Cabinet (ACC) headed by Prime Minister Narendra Modi. She currently serves as Director of finance at SCI. She has also been holding additional charge of the Chairperson and Managing Director of the navratna PSU since September 2019.
About Shipping Corporation of India (SCI):
Founded- 2 October 1961.
Headquarters- Mumbai, Maharashtra.  
   SCIENCE & TECHNOLOGY
IIT Guwahati researchers developed materials to produce energy from water on a small scale
On 30th December 2019, Researchers from the Indian Institute of Technology, Guwahati (IIT-G) have developed materials that can produce energy from water to decentralizing energy generation for every household. The findings were recently published in ACS Applied Nanomaterials.
Key Points: 
i.A nanoscale phenomenon which is called "'Electrokinetic streaming potential" is being used by the researchers of IIT-G, to harvest energy from flowing water. Various types of semiconducting materials are also used to produce power from stagnant water.
ii.The research was conducted by Raidongia along with other scholars from the institute namely Jumi Deka, Kundan Saha, Suresh Kumar, and Hemant Kumar Srivastava.
About IIT-G (Indian Institute of Technology Guwahati):
IIT-G is a public institution established by the Govt. of India in the year of 1994, located in Guwahati in the state of Assam. Prof. T. G. Sitharam is the present Director of IIT-G.
SPORTS
Australia's Peter Siddle has announced his retirement from international cricket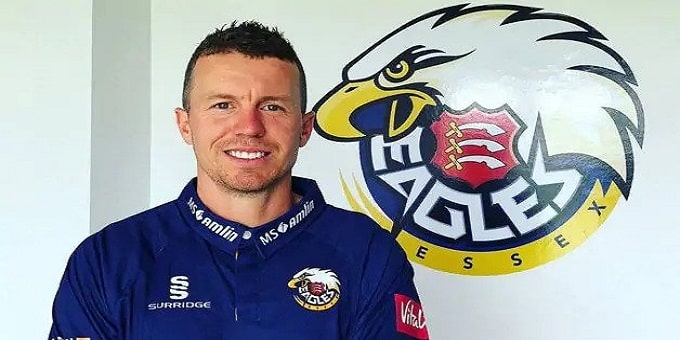 Australian pacer Peter Siddle has announced his retirement from international cricket on December 29, 2019, after 11 years in the game. He is 34-years-old.  Siddle broke the news to his teammates at the Melbourne Cricket Ground (MCG). He will continue to play domestic cricket for Victoria State and Twenty20 side Adelaide Strikers in the Big Bash League, along with English country cricket for Essex.
Key Points:
i.Siddle ends his career at the 13th spot on the list of highest wicket-takers for Australia. He finishes with 221 wickets from 67 Test matches.
ii.He also played 22 ODIs and two T20s for Australia.
iii.He had made his debut in 2008 against India at Mohali.
Virat Kohli, Jasprit Bumrah placed in Wisden's T20I team of the decade
Indian cricket team captain Virat Kohli and star bowler Jasprit Bumrah were only two Indians in Wisden's T20I team of the decade. Kohli has found a place in Wisden's Test and ODI team of the decade. Bumrah, who is the second-best in the world among quick bowlers also took place in Wisden's T20I team of the decade.
Players in Wisden's T20I team of the decade:
Aaron Finch of Australia (Captain), Colin Munro (New Zealand), Virat Kohli (India), Shane Robert Watson (Australia), Glenn James Maxwell (Australia), Joseph Charles Buttler (England), Mohammad Nabi (Afghanistan), David Jonathan Willey (England), Rashid Khan Arman (Afghanistan), Jasprit Jasbirsingh Bumrah (India), Separamadu Lasith Malinga (Sri Lanka).
About Wisden T20I:
Wisden is a cricket reference book published annually in the United Kingdom. According to the officials, there were 897 T20I's played in the decade, in which there were 249,578 runs scored and 11,293 wickets were taken. Considering players from these matches, Wisden announced XI players as the Wisden T20I team of the decade.
OBITUARY
Nagaland Assembly Speaker Vikho-o Yhoshu Passed away at 67
On 30th December 2019, The Assembly speaker of Nagaland Mr. Vikho-o Yhoshu (Age 67) passed away, at a hospital in Mumbai after battling with lung cancer for several months.
Key Points: 
i.He was the leader of The Nationalist Democratic Progressive Party (NDPP) and he was elected to the state Assembly thrice from Southern Angami-1 constituency in Kohima district.
ii.Before Joining NDPP he served as an advisor and parliamentary secretary of various departments and he had also won a seat as a candidate of the Naga People's Front (NPF) in 2008 and 2013.
STATE NEWS
CM Khattar inaugurates 'Atal Kisan Mazdoor canteen' in Haryana; farmers & labourers can get food for Rs 10
On December 29, 2019, Haryana Chief Minister (CM) Manohar Lal Khattar has inaugurated a "Atal Kisan Mazdoor canteen" (named after former PM late Atal Bihari Vajpayee ) built by the Haryana State Agricultural Marketing Board at a cost of Rs 4 lakh in Karnal's New Anaj Mandi, Haryana. This canteen will greatly benefit farmers and labourers, who can get food for Rs 10.
Key Points:
i.The canteen, open from 11 am – 3 pm, will provide nutritious food (including 4 rotis, pulses, vegetables and rice) to the laborers. Such canteen system will also be started in the sugar mills of the state.
ii.The Marketing Board of Haryana has also decided to operate the canteens at 25 different locations in the state.
iii.Khattar also unveiled a 14-foot statue of Atal Bihari Vajpayee at the Atal Park, built at a cost Rs 56 lakh.
iv.Earlier in December 2019, the Haryana state Government distributed India's 1st Pashu Kisan credit cards (Animal husbandry Credit Card) to 101 animal farmers in Bhiwani district to promote animal husbandry and agribusiness.
About Haryana:
Capital– Chandigarh.
Governor– Satyadev Narayan Arya.
Tree– Peepal
National Parks(NP)– Sultanpur NP, Kalesar NP.
e-certificate portal and ePAUTI App were launched by Odisha Government
On 28 December 2019 Chief Minister of Odisha has launched an e-certificate portal and ePAUTI App. The e-certificate project is a part of 5T model of Governance by the revenue and disaster management department. According to CM, no fees will be charged for the certificates specifying these services as the rights of the people.
About e-certificate portal:
i.The applicants can apply for various certificates like caste certificate and permanent residence certificates through http://edistrict.odisha.gov.in/ without visiting Tehsil offices and once application approved the certificate can be downloaded from the portal or from the mail.
ii.CM also announced the abolition of the Solvency certificate. Bank guarantee and IT returns can be used in the place of Solvency certificate.
iii.Every year nearly 5 million students and youth applicants apply for certificates in government offices can be benefited by this new system.
About e-PAUTI App:
Using this App, people can pay land revenue online with the help of their smartphones without visiting a government office.
About Odisha:
Chief Minister- Naveen Patnaik
Governor- Ganeshi Lal
Capital City- Bhubaneswar
Entire Nagaland declared 'disturbed area' for six more months under AFSPA
On December 30, 2019, The Ministry of Home Affairs(MoHA) has declared the entire region of "Nagaland" as a disturbed area under section 3 of the Armed Forces (Special Powers) Act, 1958 ie., AFSPA Act, for a further period of 6 more months with effect from 30th December, 2019.
The implementation of AFSPA has been active in Nagaland for almost 6 decades (60 years) even after a framework agreement was signed on August 3, 2015.
The act remains in force even in Assam, most of Manipur, and three districts in Arunachal Pradesh. The was previously launched by home ministry for six months with effect from June 30 2019 which ended on December 29,2019….Click here to Read More
AC BYTES
ISRO planning to launch satellite Aditya to study sun: PM Modi
Prime Minister Narendra Modi in his 60th episode of  'Mann ki Baat' programme mentioned that the Indian Space Research Organisation (ISRO) is planning to launch a satellite called Aditya to study the sun in 2020.
******Current Affairs 31 December 2019 Headlines******
NITI Aayog Released 2nd SDG India Index 2019 in New Delhi; Kerala topped the index
16th ISFR-2019 by FSI released in New Delhi; Total forest & tree Cover rises to 24.56%
Biometric enabled Centralised Access Control System & e-BCAS Module launched in New Delhi
Government of India signed MoU with Flipkart under DAY-NULM scheme
Ravi Shankar Prasad launched a web portal to tracing of stolen mobiles in Delhi
Vice Prez attends 27th National children's science congress 2019 held for the 1st time in Thiruvananthapuram, Kerala
HM Amit shah lays foundation stone of Directorate General building of CRPF in New Delhi
MyGov platform reached 1 crore registered users
'Dhanu Jatra' the 11-day long festival begins at Bargarh in Western Odisha
Railways renames Railway Protection Force as Indian Railway Protection Service
Reserve Bank releases draft circular on loan exposure limits & PSL threshold for UCBs
HDFC Life joins hands with Paytm to expand its distribution
Sanjay Gupta of 'Jagran' to be honoured with Lokmanya Tilak journalism award
SPG Director, IPS Arun kumar sinha gets 1 year tenure extension
Rohan shah designated as India's representative & Governor on ERIA board for    3 yrs
ITBP chief Deswal given additional charge as CRPF DG as Bhatnagar retired
Harjeet Kaur appointed as 13th & 1st-ever woman CMD of SCI; Govt to sell 63.75% stake in SCI
IIT Guwahati researchers developed materials to produce energy from water on a small scale
Australia's Peter Siddle has announced his retirement from international cricket
Virat kohli, Jasprit Bumrah finds place in Wisden's T20I team of the decade
Nagaland Assembly Speaker Vikho-o Yhoshu Passed away
CM Khattar inaugurates 'Atal kisan mazdoor canteen' in Karnal; farmers & labourers can get food for Rs 10
e-certificate portal and ePAUTI App were launched by Odisha Government
Entire Nagaland declared 'disturbed area' for six more months under AFSPA
ISRO planning to launch satellite Aditya to study sun: PM Modi
[su_button url="https://affairscloud.com/current-affairs-2019/december/" target="self" style="default" background="#2D89EF" color="#FFFFFF" size="5″ wide="no" center="no" radius="auto" icon="" icon_color="#FFFFFF" text_shadow="none" desc="" download="" onclick="" rel="" title="" id="" class=""]Click Here to Read Current Affairs December 2019[/su_button]
AffairsCloud Ebook - Support Us to Grow