We are here for you to provide the important Recent and Latest Current Affairs October 24 2019, which have unique updates of Latest Current Affairs 2019 from all newspapers such as The Hindu, The Economic Times, PIB, Times of India, PTI, Indian Express, Business Standard and all Government official websites.
Our complete Current Affairs October 2019 PDF will help you to get more marks in Banking, Insurance, SSC, Railways, UPSC, CLAT and all State Government Exams. Also try our Latest Current Affairs Quiz and Current Affairs PDF which will be a pedestrian to crack your exams.
Useful Links:
Click here for Current Affairs October 23 2019
INDIAN AFFAIRS
Cabinet Approvals on 23rd October, 2019
Housing and Urban Affairs Minister Shri Hardeep Singh Puri announced the union cabinet's approval for the regulations to confer or recognise the ownership/mortgage (collateral loan)/transfer rights to 40 lakh residents of 1,797 unauthorised colonies(UCs) spread around 175kms in Delhi.

Cabinet Approvals with Foreign Countries on 23rd October, 2019
On October 23, 2019 the cabinet committee chaired by the Prime Minister Shri Narendra Modi approved the following proposals with the foreign countries. 

First India-Bangladesh Stakeholders' Meet 2019 held in Guwahati, Assam
The 1st India-Bangladesh Stakeholders' Meet was held from 22- 23 October 2019 in Guwahati, Assam, with the participation of a 70-member delegation from Bangladesh including its Commerce Minister Tipu Munshi & a similar team represented the Indian side.
Key points:
i. Focus: The meet focused to boost India's connectivity with the neighbouring country to get the best of the rest under Act East Policy for Assam. The prime objective is to put Assam at the centre point of India's trade expansion with ASEAN (Association of Southeast Asian Nations) and Bangladesh, Bhutan and Nepal ( BBN) countries.
ii. Benefits: The trade connectivity will help consumers through access to goods at competitive prices and also enhance opportunities for exporters.
iii.Hub: The proposed 600 crore rupees worth multi-modal hub at Jogighopa in Assam would certainly benefit the region. This is the India's first International multi-model hub that is to be set up at Jogighopa in Assam at a cost of 600 crore rupees.
iv.Partakers: Assam Chief Minister Sarbanand Sonowal, Union Minister for State for Road Transport and Highways V.K. Singh also present in the meeting.
v.Partner: India is the 2nd largest trading partner in Bangladesh. Assam and Bangladesh agreed to work in garment, health tourism, IT and education sector.
About Bangladesh:
Capital: Dhaka
Currency: Bangladeshi taka
Prime minister: Sheikh Hasina
INTERNATIONAL AFFAIRS
India ranked 32nd in the 11th Melbourne Mercer Global Pension Index 2019, Netherlands tops the list
On October 23, 2019 the 11th edition of the 2019 Mercer Global Pension Index (MMGPI) was released by the human resource consulting firm Mercer. The report was on the pension and retirement benefits given to citizens of different income groups of 37 countries.
19th Indo – Swedish Joint Commission for Economic, Industrial and Scientific Cooperation for 2019 held in Stockholm, Sweden 
19th Indo – Swedish Joint Commission for Economic, Industrial and Scientific Cooperation (JCEC) for 2019 between India and Sweden was held in Stockholm, Sweden on October 22- 23, 2019. It was co-chaired by Ms. Anna Hallberg, Minister of Foreign Trade, Government of the Kingdom of Sweden and Piyush Goyal, Commerce and Industry Minister, Government of India.
Key Points:
i.Indian delegation was led by Commerce and Industry & Railways Minister, Piyush Goyal and he was accompanied by an Indian business delegation to promote bilateral cooperation between the businesses of both the countries.
ii.He highlighted the potential of the Indo – Swedish partnership under the Memorandum of Understanding (MoU) in innovation, energy, healthcare, defence, Sustainable Urban Development and railways.
About Sweden:
♦ Capital: Stockholm
♦ Currency: Swedish Krona….Click Here To Read More
India and Pakistan signed agreement to operationalise Kartarpur Corridor for the pilgrims
On October 24, 2019 India and Pakistan have signed an agreement to operationalise the Kartarpur corridor (under construction border corridor between India and Pakistan) ahead of the 550th birth anniversary of Guru Nanak Dev (founder of Sikhism). As per the agreement, Indian pilgrims, will now be able to visit Darbar Sahib established by Sikh faith founder Guru Nanak Dev in 1522 in Pakistan.

Overview of President Ram Nath Kovind's 7-day visit to Philippines and Japan
President of India, Mr Ram Nath Kovind made a 7-day visit to the Philippines and Japan from October 17-23, 2019.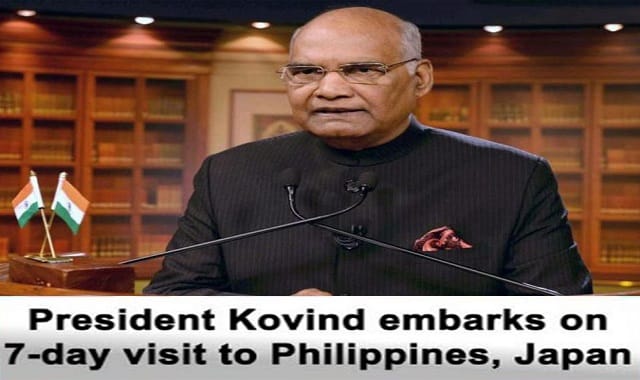 i.He visited the Philippines at the invitation of Mr. Rodrigo Roa Duterte, President of the Philippines and Japan to attend the Enthronement Ceremony of the Emperor of Japan, His Majesty Naruhito.
ii.It was his first State Visit to the Philippines and both nations celebrate 70 years of the Philippines-India diplomatic relations….Click Here To Read More
BUSINESS & ECONOMY 
Government granted 'Maharatna' status to Hindustan Petroleum (HPCL) and Power Grid Corp  (PGCIL)
On October 23, 2019 the Department of Public Enterprises, under the Ministry of Heavy Industry and Public Enterprises(MoHI&PE), granted 'Maharatna' status to state-owned Public Sector Units(PSU) Hindustan Petroleum Corporation Ltd (HPCL) and Power Grid Corporation of India Ltd (PGCIL).
India jumped 14 ranks to 63rd position in 17th edition of World Bank Ease of Doing Business 2020 report
On October 23, 2019, According to the 17th edition of World Bank's (WB) report ,"Doing Business 2020-Comparing Business Regulation in 190 Economies", India has ranked 63rd in the list with the score of 71.0. It has improved by 14 places among 190 nations as against 77th position in the 2018-19 list. while in 2017, India was ranked 100. The report was topped by New Zealand.

Key points:
i. The report captures 294 regulatory reforms implemented from May 2018 -May 2019 & India has improved in 6 of the 10 parameters used for ranking, including starting a business, dealing with construction permits, trading across borders, resolving insolvency, paying taxes and getting electricity.
Here's the list of top 5 Countries in Ease of Doing Business Rankings 2020:
| | | |
| --- | --- | --- |
|       Rank | Country  | Score |
| 1 | New Zealand | 86.8 |
| 2 | Singapore | 86.2 |
| 3 | Hong Kong, China | 85.3 |
| 4 | Denmark | 85.3 |
| 5 | Korea | 84.0 |
Fitch rating revises India's FY20 GDP growth forecast to 5.5 percent from 6.6%
On October 24, 2019, the American credit rating agency, Fitch Ratings has downgraded India's Gross Domestic Product (GDP) forecast for FY20 (Fiscal Year 20) to 5.5% from its previous estimate of 6.6%. The GDP is expected to increase to 6.2% FY21 and will further increase to 6.7% year after.
Key points:
i. The reduction in the growth forecast mainly attributed to the slowdown in the Indian economy which is 6-year low.
ii.This reduction in GDP by Fitch is lower than that of the Reserve Bank of India's GDP forecast of 6.1% in October 2019.
About Fitch Ratings:
Founded– 1914
Founder– John Knowles Fitch
AWARDS & RECOGNITIONS
CMD of Marg ERP, Thakur Anup Singh gets Udyog Rattan Award 2019
On October 21, 2019 Thakur Anup Singh, Chairman and Managing Director (CMD) of Marg ERP received Udyog Rattan Award 2019 from the Institute of Economic Studies (IES) affiliated to Government of India in an award function held at New Delhi, for his work in transforming how Micro, Small and Medium Enterprises (MSMEs) can accelerate their business by using technology.
i.Marg ERP provides inventory and accounting software to over one million active users including to 2,50,000 MSMEs.
About the award:
The Udyog Rattan award is conferred annually to Indian citizens, for their outstanding contribution to the economic development of the country. The winners are selected by a panel of judges who are usually eminent citizens with economic backgrounds.
Fintech firm BharatPe receives DigiDhan mission fin-tech award 2018-19 in New Delhi
On October 23, 2019,  India's largest merchant financial technology(fin-tech) company, BharatPe has received the DigiDhan Mission Fin-tech Award 2018-2019 for 'Innovation in Digital Payments through Emerging Technology' at the MeitY (Ministry of Electronics and Information Technology) Start-up Summit 2019 held in New Delhi. The award was given by  Ravi Shankar Prasad, Minister of Communication, Electronics & IT (Information Technology) and Law & Justice.
Key points:
i. BharatPay built a network of 2 million merchants in its first year of launch. This company provides merchant with the facility of free UPI (Unified Payments Interface) payment through QR (Quick Response) code. Traditionally, access to financial institutions in this segment was limited.
ii. The company's vision is to make financial inclusion in India a reality.
About BharatPe:
Headquarters: New Delhi
Co-founder, and CEO: Ashneer Grover
Jailed Uighur economist Ilham Tohti wins EU's Sakharov prize 2019
Ilham Tohti (50), an Uighur economist serving a life sentence in China for "separatism" has won the European Parliament's Sakharov Prize 2019 for his over 20 years of work defending China's Uighur minority. The EU's top human rights award will be presented on December 18, 2019, at an event in Strasbourg, France.
Key points:
i. Ilham was sentenced to life imprisonment for separatism-related charges in 2014.
ii. On September 30, 2019, He also received the Council of Europe's 7th Vaclav Havel Human Rights Prize 2019 in Strasbourg.
iii. He has also been nominated for the Nobel Peace Prize by US(United States) lawmakers
iv. Ukrainian film-maker Oleg Sentsov was the winner of the year 2018. He was recently released from a Russian prison camp after being accused of plotting acts of terrorism.
About Sakharov prize:
The prize was named after the Soviet dissident and human rights activist Andrei Sakharov. It was set up in 1988 to recognize individuals or organizations in the fight for human rights and freedom. The 50,000-euro ($56,000) prize is given out every year.
Narendra Singh Tomar confers National Panchayat Awards 2019
On October 23, 2019, Union Minister for Panchayati Raj Mr Narendra Singh Tomar conferred National Panchayat Awards 2019 in New Delhi to 240 panchayats out of the 2.5 lakh panchayats of India. The Panchayati Raj Ministers from states of Karnataka, Chattisgarh, Assam and Tamil Nadu along with representatives of Panchayati Raj Institutions across the country took part in the award ceremony.

Key Points:
i.The Minister launched a Spatial Planning Application called 'Gram Manchitra' which is a Geo Spatial based decision support system for the panchayats.
About Ministry of Panchayati Raj:
♦ Headquarters: New Delhi
♦ Constituency of Narendra Singh Tomar: Morena, Madhya Pradesh…..Click Here To Read More
APPOINTMENTS & RESIGNATIONS
Senior IAS Arvind Singh got appointed as chairman of AAI & Sukhbir Singh Sandhu will head NHAI
Arvind Singh's appointment:
On October 24, 2019, As per the appointment committee of the cabinet, Government of India (GoI), Arvind Singh (1988 batch IAS –  Indian Administrative Service officer of Maharashtra cadre) has been appointed as the chairman of Airports Authority of India(AAI) in the rank and pay of additional secretary. He replaces Anuj Aggarwal. Singh is at present serving in his cadre-state Maharashtra.
Sukhbir Singh's appointment:
On October 24, 2019 , As per the appointment committee of the cabinet, Government of India (GoI), Sukhbir Singh Sandhu (a 1988-batch IAS officer of Uttarakhand cadre), has been appointed as the chief of the National Highways Authority of India (NHAI).
He replaces Nagendra Nath Sinha, who was earlier appointed as the secretary, department of border management.
i.Sukhbir is presently working as additional secretary in the department of higher education, ministry of human resource development.
About AAI:
Formation: 1 April 1995
Headquarters: New Delhi
It is a statutory body working under the Ministry of Civil Aviation, is responsible for creating, upgrading, maintaining & managing civil aviation infrastructure in India
About NHAI:
Motto: Not just Roads, building a Nation
Formation:1988
Headquarters: New Delhi
It is an autonomous agency of the Government of India and is responsible for the management of a network of National Highways (NH).
SCIENCE & TECHNOLOGY
Southern Railway launches Rail Dhandora app for hassle-free working and transactions in Chennai
On October 22, 2019, Southern Railway launched a new application called Rail Dhandora for the railway personnel and customers for the hassle-free working and transactions with the Railways. It was launched by John Thomas, General Manager, Southern Railway (SR), in the presence of Priamvada Viswanathan, Principal Chief Commercial Manager, and J. Vinayan, Chief Commercial Manager, Passenger Marketing in Chennai, Tamil Nadu.
Key Points:
i.It is an Android mobile application developed by the Information Technology (IT) Cell of Passenger Marketing Wing of Southern Railway.
ii.It is the 4th app after Passenger Census, the Rail Partner App and the Portable Ticketing System "P-UTS" under trial.
iii. The commercial manual and commercial code are also available.
iv.Through this app, customers can check commercial circulars, pertaining to ticketing, catering and other amenities like freight and parcel bookings.
About SR:
♦ Year of operation: 1951
♦ Headquarters: Chennai
SPORTS
FIFA granted China to host the inaugural edition of expanded 24-team Club World Cup in 2021
On October 24, 2019, the FIFA (Fédération Internationale de Football Association) has appointed China as the host, to conduct the inaugural edition of the new format of 24-team Club World Cup in 2021. Currently, the Club World Cup of the football association features 7 teams including the holders of the UEFA (Union of European Football Association) Champions League. 
Key points:
i. The 24 format tournament will be held once every four years and replaces the Confederations Cup, an international competition that acted as a test event for countries to host the World Cup.
ii. The 2022 FIFA world cup will be hosted by Qatar.
About FIFA:
Abbreviation in English– International Federation of Association Football
Founded– 21 May 1904
President– Gianni Infantino
15th edition of the World Wushu Championships 2019 held at Minhang Gymnasium in Shanghai, China
15th edition of the World Wushu Championships (WWC) 2019 was held at Minhang Gymnasium in Shanghai, China from October 19-23, 2019. It was organized by the International Wushu Federation (IWUF) with the support of the Chinese Wushu Association (CWA).

Key Points:
i.The medal tally was topped by China (14 Gold, 1 Silver, 1 bronze), followed by Iran and Hong Kong.
ii.India was ranked 10th with 1 Gold, 2 Silver and 1 Bronze….Click Here To Read More
India ranks 106th in Latest FIFA Rankings, Belgium tops the list
On October 24, 2019, the latest FIFA (Fédération Internationale de Football Association) rankings were released. According to the latest rankings, India dropped to the 106th position from its previous rank of 104. The ranking was topped by Belgium, followed by France and Brazil in the second and third spots respectively. Indian National football tema is also known as Blue tigers.
Key points:
i.Other countries in the top 10 list as per increased order of ranking after Brazil were England, Uruguay, Portugal/Croatia (rank shared at 6th), Spain, Argentina, Colombia and Argentina.
BOOKS & AUTHORS
Economist and author Bibek Debroy pens English translations of 2 Hindu mythological texts– "Markendya Purana" and "The Bhagavad Gita"
Economist and author Bibek Debroy has written English translations of 2 Hindu mythological texts- 'Markendya Purana' and 'The Bhagavad Gita'. These are published by Penguin Publishers. They are translated from Sanskrit.
Key Points:
i. 'Markendya Purana', is an amalgam of mythology and metaphysics from the events in the 'Mahabharata'.
ii. "The Bhagavad Gita" is an account of the debate between right and wrong, and the bond between action and consequence.
iii. The author has also written a book titled  "Sarama and her Children".
A book called "The True Meaning of Yoga" penned by Atman in Ravi released
On October 24, 2019, Spiritual philosopher, mentor and author, Atman in Ravi's (AiR) new book entitled "The True Meaning of Yoga" has been released. The book has been published by AiR Institute of Realization, a Non-profit organization in Bengaluru, Karnataka.
Key points:
i. The new book talks about Yoga, which has very little to do with physical and breathing exercises & transcending the body and mind. It is in contrast to the general understanding of Yoga by people.
ii. The author in this book attempts to explain everything about Yoga, its actual meaning and significance, how it must be practiced and how through Yoga, one can be liberated and experience ultimate Divine peace and bliss.
IMPORTANT DAYS
United Nations Day 2019 observed on October 24
United Nations (UN) Day is observed every year on October 24, 2019, since 1948. It marks the anniversary of its entry into force in 1945 of the United Nations (UN) Charter. 2019 theme for this day is "Our Planet. Our Future".
Key Points:
i. In 1971, the United Nations General Assembly (UNGA) through the United Nations Resolution 2782 recommended this day be observed by Member States as a public holiday.
ii. In 2020, the UN will celebrate the 75th anniversary of its formation- "UN75: 2020 and Beyond – Shaping Our Future Together".
About UN:
♦ Headquarters: New York, US
♦ Formed: 24 October 1945
♦ Secretary General: António Guterres
World Development Information Day (WDID) 2019 observed on October 24
On October 24, 2019, the World Development Information Day (WDID) was observed to draw the attention of the world to development problems and necessity of strengthening international cooperation to solve them.
Key points:
i. The day was established in 1972 by the United Nations General Assembly (UNGA)  & it coincides with the United Nations(UN) Day on 24 October.
ii. The day also coincides with the date of the adoption in 1970 of the International Development Strategy for the Second United Nations Development Decade.
iii. The measures for information dissemination and mobilization of public opinion relative to trade and development problems proposed by UN Conference on Trade and Development came to be known as resolution 3038 (XXVII), which was passed in 1972 by UNGA.
About UNGA:
Formation: 1945
President (74th  session):  Tijjani Muhammad-Bande
World polio day observed on 24 October 2019
The World Polio Day is observed across the world on 24 October 2019 to raise awareness and resources to support the polio eradication effort. As per the Centers for Disease Control and Prevention (CDC) of the United States (US), the overarching theme for world Polio Day was "Stories of Progress: Past and present".

Key points:
i. The day was instituted by Rotary International to commemorate the birth of Jonas Salk who had led the first team of researchers who had developed a vaccine against poliovirus -poliomyelitis.
ii. The use of inactivated vaccine of poliovirus and subsequent widespread use of the oral poliovirus which was discovered by Albert Sabin led to the establishment of the Global Polio Eradication Initiative (GPEI) in 1988.
Wild poliovirus type 3 (WPV3) eradicated: WHO
On October 24, 2019, As per the World Health Organisation (WHO), the strain of Wild type poliovirus 3 (WPV3), which was last recorded in northern Nigeria in 2012, has been eradicated.WHO categorises wild polio separately (Type I, II, III) in terms of eradication since all three types cause paralysis & death.
Key points:
i. In 2015, type II (WPV2) was declared eradicated, but WPV1 remains in circulation in Afghanistan & Pakistan.
ii. Non-wild type of polio (called vaccine-derived polio), caused by the weakened form of the virus used in vaccines, continues to circulate in parts of Africa and Asia, including the Philippines
Polio: It is a disease caused by Poliovirus, affects the nervous system. It is mainly spread by person-to-person contact. Children younger than five years old contract the virus than any other age group of people. Poliovirus spreads by means of food or water containing human feces and less commonly from infected saliva.
Disarmament Week is being observed from 24- 30 October 2019
Observed annually, the 2019 edition of Disarmament Week is being observed from 24- 30 October 2019 in various parts of the world to highlight the danger of the arms race, propagate the need for its cessation and increase public understanding of the urgent tasks of disarmament.

Key points:
i. The Week starts on the anniversary of the founding of the United Nations (UN), which is observed as the United Nations Day(October 24).
ii. The week was initiated by the United Nations General Assembly (UNGA)  in 1978 through resolution S-10/2.
iii. In 1995, the General Assembly invited governments, & NGOs (Non-Governmental Organization) to continue taking an active part in Disarmament Week (resolution 50/72 B, 12 December 1995).
Disarmament:
It is the act of reducing, limiting, or abolishing weapons. Disarmament generally refers to a country's military or specific type of weaponry. It calls for total elimination of weapons of mass destruction, like nuclear arms.
Indo Tibetan Border Police (ITBP) force celebrates its 58th Raising day on October 24, 2019
The Indo-Tibetian Border Police (ITBP), one of the seven Central Armed Police Forces (CRPF) of India, raised on 24 October 1962, has celebrated its 58th Raising Day on October 24, 2019, at ITBP's Headquarter in Greater Noida, Uttar Pradesh. Union Minister of State for Home Affairs, Gangapuram Kishan Reddy, has attended ITBP parade event, which showcased valour and courage of various contingents and also of the brave four legged soldiers (military dogs).
Key points:
i. ITBP, initially raised under the CRPF Act, has the motto of the ITBP is "Shaurya-Dridhata-Karma Nishtha" (Valour – Determination – Devotion to Duty). It is a specialized mountain force.
ii. At present, it has been guarding India-China border in Jammu & Kashmir (J&K), Himachal Pradesh and Uttarakhand, Sikkim and Arunachal Pradesh state from the Karakoram pass in Jammu & Kashmir to Jechap La in Arunachal Pradesh covering 3,488 kilometres of Indo-China Border.
Cabinet nod for 3,000 more personnel in ITBP & creation of Two new commands for guarding china front
On October 23, 2019, The union cabinet chaired by the Prime Minister (PM), Narendra Modi, has approved a full cadre review exercise for Group 'A' general duty (executive) cadre and non-general duty officials of ITBP, resulting in the creation of 3,000 new posts, including 60 in the top command .
It also approved 1.5-year-old proposal of ITBP for creation of two operational commands along the 3,488-km-long Line of Actual Control (LAC) with China that the force guards.
Key points:
i. The two new commands( western to be based at Chandigarh and eastern at Guwahati) will be chaired by Additional Director General (ADG)-rank officers and will have several leaders under them that will oversee troops and battalion deployments along the China front, starting from Ladakh – Arunachal Pradesh.
ii. Earlier in 2019, the central government approved the North West (NW) frontier of the force from Chandigarh to Leh for better dominance of the front. It is headed by an Inspector General-rank officer who is equivalent to a Major General of the Army.
About ITBP:
Headquarters: New Delhi
Minister responsible: Amit Shah, Union Home Minister
Director General: Surjeet Singh Deswal
AffairsCloud Ebook - Support Us to Grow