We are here for you to provide the important Recent and Latest Current Affairs 24 January 2020, which have unique updates of Latest Current Affairs 2020 events from all newspapers such as The Hindu, The Economic Times, PIB, Times of India, PTI, Indian Express, Business Standard and all Government official websites.
Our Current Affairs January 2020 events will help you to get more marks in Banking, Insurance, SSC, Railways, UPSC, CLAT and all State Government Exams. Also try our Latest Current Affairs Quiz and Monthly Current Affairs PDF which will be a pedestrian to crack your exams.
Date-Wise Current Affairs January 2020 PDF for Paid Users – Click Here to Know More
Click here for Current Affairs January 23 2020
NATIONAL AFFAIRS
India, Bangladesh signed agreement to upgrade Ashuganj-Akhaura road into 4-lane highway
On January 24, 2020, India and Bangladesh have signed an agreement to upgrade the 50.58 kilometer long Ashuganj-Akhaura road into a 4-lane highway. The road runs between Ashuganj river port and the Akhaura land port in Bangladesh. The road project is part of the $2 billion second Line of Credit(LoC) extended by India to Bangladesh in 2016.
Key Points:
i.Roads and Highways Department (RHD) of Bangladesh and Afcons Infrastructure Limited of India will upgrade 39 km long road between Ashuganj river port to Dharhar area of Chattisgarh.
ii.The work to upgrade the remaining part of the road from Dharhar to Akhaura will be done by the RHS and an India-Bangladesh joint venture(JV).
iii.The road project once completed will boost connectivity between Bangladesh and the North-eastern part of India.
'Vigyan Samagam', India's 1st global Mega Science Exhibition inaugurated at National Science Centre in New Delhi by Dr. Jitendra Singh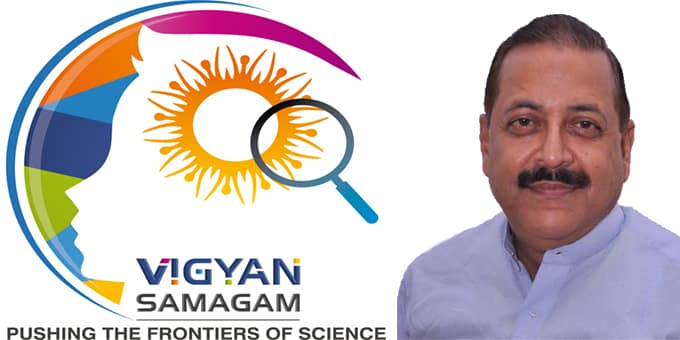 On January 21, 2020, the Union Minister of State Independent Charge (I/C) Ministry of Development Of North Eastern Region, Minister of State (Mos) Prime Minister's Office (PMO), Personnel, Public Grievances, and Pension, Minister of State for Department of Atomic Energy and Space, Dr. Jitendra Singh inaugurated India's first global Mega Science Exhibition "Vigyan Samagam" at National Science Centre, New Delhi.The exhibition is organized by the Department of Science and Technology (DST) and the National Council of Science Museums (NCSM) under the Department of Atomic Energy (DAE) & will be held from January 21, 2020, to March 20, 2020.
Key Points:
i.The exhibition aims to focus the career path in the field of fundamental science and research among the students, academia and industries.
ii.The exhibition details are available on the website www.vigyansamagam.in and also on the mobile app Vigyan Samagam.
iii.The Projects in the exhibition are showcased by The European Organization for Nuclear Research (CERN), Federation for American Immigration Reform (FAIR), Indian National Olympiad (INO), International Thermonuclear Experimental Reactor (ITER), The Laser Interferometer Gravitational-Wave Observatory (LIGO), MACE, SKA and TMT.
iv.Participants: Dr. R. Chidambaram, Former Principal Scientific Adviser to the Government of India (GoI), Former Chairman, Atomic Energy Commission (AEC) and Secretary, Department of Atomic Energy (DAE), Dr. Paul Ho, a world-renowned Astrophysicist and Director General of East Asian Observatory, Shri K. N. Vyas, Chairman, AEC and Secretary, DAE, Prof. Ashutosh Sharma, Secretary, Department of Science and Technology (DST).
v.Vigyan Samagam was held from May 8, 2019, to July 7th 2019 in  Mumbai ,Maharashtra, from July 29, 2019 to September 28,2019 it was held Bengaluru, Karnataka and from November 4, 2019 to December 31, 2019 it was held  Kolkata, West Bengal.
IR sets up govt's 1st Waste to energy plant at Mancheswar Carriage Repair Workshop in Bhubaneswar, Odisha
On January 22, 2020  Railway Board Member (Rolling Stock) Rajesh Agarwal inaugurated the East Coast Railway's (ECoR) waste to energy plant at Carriage Repair Workshop, Mancheswar (CRW/MCS) in Bhubaneswar, Odisha. It is the fourth waste to energy plant in the country and first plant commissioned by Government sector and Indian Railways (IR).
Key Points:
i.Total cost of the plant is Rs 1.79 crore and it can convert 500kg waste to light diesel oil which can be used in light furnaces.
ii.Polycrack, a patented heterogeneous catalytic process used in this plant convents multiple feed stocks into hydrocarbon liquid fuels, gas, carbon and water. The closed loop process is used in the plant does not affect the environment.
iii.In this plant, the feeder materials are the Waste collected from the Mancheswar Carriage Repair Workshop, coaching depot and Bhubaneswar railway station.
iv.In 2011 India's first waste to energy plant was set up by Infosys in Bangalore, Karnataka, the second plant is located at Moti Bagh in Delhi and it has been in operation since 2014, and in 2019 the third one was set up by Hindalco Limited.
About Odisha:
Chief Minister- Naveen Patnaik
Governor- Ganeshi Lal
Capital City- Bhubaneswar
State Tree- Sacred fig
State Flower- Ashoka
State Bird- Indian roller
State Animal- Sambar deer
India's 1st War Memorial for Animals to be set up in Meerut, UP
On January 23, 2020 the govt has announced to set up country's 1st war memorial for service animals such as dogs, horses, mules in Meerut, Uttar Pradesh(UP). This war memorial will come at army's specialized breeding, rearing training centre for animals in the Remount and Veterinary Corps (RVC) Centre and College in Meerut.
Key Points:
i.Names of 300 dogs, 350 handlers, few horses and mules that had dedicated their life in various military operations like Kargil war etc will be inscribed in the granite tablets in the memorial.
Mansi, a labrador breed dog who was awarded the highest honour of animals will top the list of animals to be remembered.
ii.The Indian army currently has more than 100 dogs, 5000 mules and 1500 horses.
13th Jaipur Literature Festival began in Jaipur, Rajasthan

The 13th edition of the Zee Jaipur Literature Festival (JLF) began at Diggi Palace Hotel in Jaipur, Rajasthan on January 23, 2020, and will be conducted till January 27, 2020. The 5-day long festival was inaugurated by Chief Minister of Rajasthan Shri Ashok Gehlot. Author Ashwin Sanghi launched his book 'The Vault of Vishnu' through Sonali Bendre Behl at the fest. The Bloomsbury Anthology of Great Indian Poems edited by poet-diplomat Abhay K was also launched. It includes 200 poems.
Arvind Krishna awarded Mahakavi Kanhaiyalal Sethia Award:
Renowned poet and literary critic Arvind Krishna Mehrotra was awarded 5th edition of the Mahakavi Sethia Award for poetry during JLF 2020. The award is given in memory of Rajasthani and Hindi poet Kanhaiyalal Sethia and carries a cash prize of Rs. 1 Lakh.
Key Points:
i.Rajasthan State Energy Minister Bulaki Das Kalla and other officials were present in the event. Nearly 500 speakers will be participating in the festival.
ii.JLF in Jaipur (known as the pink city) was first founded in the year 2016 and is described as the largest literary show in the world. The festival directors are the writers Namita Gokhale and William Dalrymple and it is produced by Sanjoy Roy of Teamwork Arts.
Govt sets up 3 high-level steering committees to dispose of enemy properties
On  January 22, 2020, The Union government has decided to form 3 high-level steering committees to handle the disposal of enemy properties present in the country and to raise money from them. The 3- committees in detail are as follows:
i.Group of Ministers (GoM)
It will be headed by Union Home Minister(HM) Amit Shah, to oversee the disposal of more than 9,400 enemy properties in India, which are expected to bring in revenue of about Rs.1 lakh crore rupees to the exchequer.
2 other high-level committees will also be set up for disposal of immovable enemy properties vested in the Custodian of Enemy Property for India under the Enemy Property Act,1968. These 2 committee includes:
ii.Inter-Ministerial Group:
It will be co-chaired by the Union Home Secretary -Ajay Bhalla and Shri Tuhin Kanta Pandey, the secretary of the department of investment and public asset management (DIPAM).
iii.Core Group of Secretaries on Asset Monetisation (CGAM):
It will be constituted under the chairmanship of the Cabinet Secretary Rajiv Gauba.
About Enemy property:
This property is left by those who have taken citizenship of Pakistan or China.
There are 9,280 properties of citizens of Pakistan and 126 properties of citizens of China. The highest numbers of 4,991 properties of Pakistan's citizen are in Uttar Pradesh (UP). It is followed by West Bengal, which has 2735 such properties &487 in Delhi. Meghalaya has the highest number of properties (57) left by Chinese citizens. Apart from these, there are 29 in West Bengal and 7 in Assam.
Govt think-tank NITI Aayog releases its vision for National Data and Analytics Platform

On January 23, 2020, NITI (National Institution for Transforming India) Aayog, a policy think tank of the Government of India (GoI), has released the vision document for the National Data and Analytics Platform (NDAP), which contain the latest datasets from several government departments and will also provide tools for analytics and visualisation of data to stakeholders in a user-friendly manner.
Key Points:
i.The website for NDAP can be accessible by public & have features for visually-impaired users, audio and video tutorials in bilingual manner (Hindi & English language) and datasets in multiple languages. In addition, the NDAP will enable users to follow a sector, dataset and location  which they are interested in. They will also get an update alert of these datasets.
ii.The vision document was released by Dr Rajiv Kumar, Vice-Chairman of NITI Aayog, in the presence of Mr Amitabh Kant, CEO of NITI Aayog & other senior officials from various ministries & state governments, academics and researchers.
iii.The NDAP will take over a period of 1 year for its development process & the 1st version of the platform is expected to be released in 2021.
About NITI Aayog:
Formed– 1 January 2015
Headquarters– New Delhi.
Chairperson– Narendra Modi.
MoRD inks MoU with BMGF under DAY-NRLM to strengthen grassroots institutions of the rural poor 
On January 22, 2020 the Ministry of Rural Development(MoRD) has signed a Memorandum of Understanding (MoU) with the Bill and Melinda Gates Foundation(BMGF) under the Deendayal Antyodaya Yojana – National Rural Livelihoods Mission (DAY-NRLM). The MoU is to further strengthen grassroots of institutions for rural poor.
MoU signing: The MoU was signed by Smt Alka Upadhyaya, Additional Secretary and Mission Director of NRLM on behalf of MoRD while it was signed by Shri AlkeshWadhwanion on behalf of BMGF in presence of MoRD secretary Shri Rajesh Bhushan.
Key Points:
i.MoU aim: The MoU aims to reduce poverty of India's poor people through institutions of marginalized rural women as it will lead to self-employment as well as creating skilled wage employment opportunities.
ii.BMGF assistance: BMGF will provide support such as assistance in improving implementation quality, documenting best practices, and designing of monitoring learning and evaluation.
INTERNATIONAL AFFAIRS
Union Minister Mansukh Mandaviya attends the High-level roundtable of UNAIDS (The Joint United Nations Programme on HIV/AIDS) in Davos, Switzerland
On January 21, 2020, the Union Minister of State for Shipping Independent Charge (I/C) and Union Minister of State for Chemical and Fertilizers, Shri Mansukh Mandaviya participated in the High- level roundtable of the joint United Nations Programme on HIV//AIDS (UNAIDS) on his four-day official visit to attend the 50th World Economic Forum (WEF) held at  Davos, Switzerland. The theme of the programme was "Access for all Leveraging Innovations, Investments, and Partnership for Health".
i.Topics discussed:
Ayushman Bharat Pradhan Mantri Jan Arogya Yojana (PM-JAY) and Pradhan Mantri Bhartiya Janaushadhi Pariyojana (PMBJP).
ii.Shri Mansukh Mandaviya addressed on '2030 Agenda for Sustainable Development' in 2015 at UN….Click here to Read More
Corruption Perception Index 2019: India ranks 80th; Denmark and New Zealand top the list
The Corruption Perception Index 2019 was released by Transparency International. As per the Index India ranks 80 out of 180 countries with a score of 41 out of 100. Last year India's rank was 78 with the same score. The list was topped by Denmark and New Zealand.
i.Top 3 countries: Denmark & New Zealand were followed by Finland.
ii.Least ranked countries:
Somalia ranked at 180th position (least ranked country), it follows South Sudan that ranked at 179th and Syria at 178th.
iii.Pakistan ranked 120th in the list along with Moldova & Niger whereas China ranked 80th along with India, Benin, Ghana, Morocco among the 180 countries.
iv.United States of America (USA) ranks 23rd with a score of 69….Click here to Read More
World Breastfeeding Trends Initiative 2020: Srilanka tops in supporting breastfeeding women; India at 78th
On January 21, 2020 As per a survey conducted by World Breastfeeding Trends Initiative (WBTi) 2020, Sri Lanka ranked 1st out of 97 surveyed countries in supporting breastfeeding women and achieved the status of being the first-ever green nation in supporting them. On the other hand, India ranked 78th with a score of 45.0 and got yellow colour code and Libya ranked last (97th) with red colour code. The status has been awarded based on its performance on 10 indicators which WBTi uses to color-code the countries. The survey report in brief are as follows:
World Breastfeeding Trends Initiative(WBTi) reports:
color-codes: There are 4 color codes based on which countries are ranked. The ascending order of performance of the colors are red, yellow, blue and green.
Srilanka performance: Sri Lanka scored 91/100 on 10 parameters policy and programmes and lead to improved breastfeeding practices.
WBTi development:  The Breastfeeding Promotion Network of India in New Delhi developed the WBTi. As of now, 120 countries have been involved in the WBTi.
Breastfeeding advantages:  It prevents non -communicable diseases and improves child health. Globally 41% of infants of 0-6 months are breastfed. The World Health Assembly (WHA) has also set a target to reach 50% from the current 41% by 2025….Click here to Read More 
WEF's 1st Nature Risk Rising report: $44trillion of global GDP depend on nature
On January 19, 2020 the World Economic Forum (WEF) in collaboration with PwC released a report titled "Nature Risk Rising: Why the Crisis Engulfing Nature Matters for Business and the Economy". The report is the 1st in a series for the New Nature Economy(NNE). As per the report, global businesses are more than dependent on nature with an estimated exposure of $44 trillion which is half of world GDP (Gross Domestic Product).
The report in detail are as follows:
i.Threat to plants & animals: 25% of the assessed plant & animal species are in threat due to human actions. Nearly a million species are to face extinction within decades.
ii.Nature dependent industries: Many countries are nature dependent industries. Among them, the 3 largest industries dependent on nature are Construction ($ 4 trillion), agriculture ($ 2.5 trillion) and food and beverages ($ 1.4 trillion). Their combined value is twice the size of Germany's economy.
China, the EU (European Union) and the United States(US) have the highest absolute economic value in nature dependent industries generating $2.7 trillion, $2.4 trillion and $2.1 trillion respectively.
Industries highly dependent on nature generate 15% of global GDP which is $13 trillion, whereas moderately dependent industries generate 37% i.e., $31 trillion….Click here to Read More 
Global unemployment to increase by around 2.5 million in 2020: UN's ILO report
On January 20, 2020,According to the 'World Employment and Social Outlook: Trends 2020 (WESO)' report released by the United Nations (UN)' International Labour Organisation (ILO), the global unemployment figure is projected to increase by about 2.5 million in 2020.
The report noted that nearly half a billion people around the world are not getting enough paid work.
Around 120 million people worldwide have either given up their jobs or otherwise lack access to the labour market. In addition, about 188 million people in the world are unemployed & about 165 million people do not have sufficient paid work. Thus, in total, around 470 million people in the world are troubled by the problem of employment.
Around 267 million people (between the age group of 15-24 years) are not in employment, training or education.
Reason: The global economic slowdown is a major cause of rising unemployment in the world….Click here to Read More 
WEF to conserve 1 trillion trees by 2030 to combat climate change through 1t.org
On January 21, 2020 the World Economic Forum(WEF) and its partners have launched 1t.org which is a multistakeholder effort to support efforts to grow, restore and conserve 1 trillion trees around the world inorder to restore the biodiversity and help combat climate change.
1t.org's aims and efforts to be taken:
Project aim: 1t.org project aims to unite all the countries' govts, non-govt. organisations, businesses & individuals in to restore nature in a mass scale. The initiative is set up with initial support of Salesforce (CRM) Chairman Marc and his wife Lynne Benioff who are also American internet entrepreneurs.
Carbon locking: Locking up the carbon in the world's forests, grasslands, and wetlands can provide 1/3rd of emission reductions needed to meet the Paris Agreement targets by 2030.
Restoration benefit: Restoring 1 trillion trees may remove 12 Giga tonnes (Gt) of Carbon Dioxide(Co2) from the atmosphere per annum with the same trees storing up to 205 Gt of CO2-equivalent once mature or grown up….Click here to Read More 
Switzerland mints world's smallest gold coin values ¼ Swiss francs
On January 23,2020 Switzerland state-owned Swissmint has minted World's smallest gold coin of 2.96 millimeter (0.12 inches). The coin features a face of scientist Albert Einstein sticking out his tongue. It weighs 0.063 grams (1/500 th of an ounce) and has a nominal value of 1/4 Swiss francs (USD United States Dollar- 0.26).
Key Points:
i.Its weight is comparable to that of 2 grains of rice.
ii.Swissmint has minted 999 coins which will be sold for 199 francs with a special magnifying glass to see Einstein's face.
About Switzerland:
Capital- Bern(De-facto).
Currency- Swiss franc.
BANKING & FINANCE
RBI hikes short-term debt investments limit for FPI to 30% from 20%
On January 23, 2020, With the aim to boost foreign inflows, India's central bank, the Reserve Bank of India (RBI) has increased the short-term investments by foreign portfolio investors (FPIs) to 30 % from 20 % of the total FPI investment in Central government securities including Treasury Bills(T-bills) / state development loans. This rule also applies in corporate bonds.
RBI also doubled the voluntary investment limit for FPIs through the  voluntary retention route (VRR). Now FPIs can invest up to Rs 1,50,000 crore through VRR as against the earlier limit of Rs 75,000 crore. The minimum retention period should be 3 years….Click here to Read More 
In a 1st , City Union Bank launches multilingual voice based 'All-In-One' app
On January 22, 2020, For the 1st time India, the City Union Bank (CUB) Limited , one of the leading Indian banks in India, has launched a multilingual voice-enabled mobile banking application. Now the CUB customers can converse with the chat–bot 'Ask Lakshmi' of the app in Tamil, English, Hindi / Telugu language for their general banking queries including transactions like Balance enquiry, mini statement, fund transfer over voice/text instructions.
Key Points:
i.This new innovative all-in-one app comprises all the financial & non-financial transactions like fund transfer, bill payments, opening/closing of deposits, opening/closing of loan on deposits, balance enquiry, statement of account, stop payment of cheque, set card limit, wallet, UPI (Unified Payment Interface) and invest (buying and selling) in Mutual Funds will be done through Voice chat. Customers can invest in any of the available Asset Management company (AMC) in the market, as a Systematic Investment Plan (SIP) / one time investment through Invest option given in the app.
ii.The chat-bot Lakshmi operates on Artificial Intelligence (AI) platform.
About City Union Bank (CUB):
Founded– 1904
Headquarters– Kumbakonam, Tamil Nadu
MD & CEO– Dr. N. Kamakodi
New India Co-operative Bank(NICB) to be converted as Small Finance Bank
On January 20, 2020 the New India Co-operative Bank (NICB) has been decided to convert into a Small Finance Bank (SFB) after being agreed by its shareholders under Voluntary Transition of Primary (Urban) Co-operative Banks (UCBs) into SFB. NICB will now approach the Reserve Bank of India(RBI) and Central Registrar of Societies for further action.
Key Points:
i.The decision for conversion comes after RBI made regulatory changes following the Rs 4500 crore PMC (Punjab and Maharashtra Co-operative Bank) bank scam and to ensure enhanced regulations to lenders.
ii.The bank is currently operating in Maharashtra and Gujarat and has networth of Rs. 230 crores.
iii.A minimum of Rs.200 crore is needed to set up an SFB.
About New India Co-operative Bank(NICB):
Formation- 1968 as Bombay Labour Cooperative Bank Ltd & renamed in 1977.
Chairman- Ranjit Bhanu.
AWARDS & RECOGNITIONS
22 children from 12 States selected for ICCW National bravery awards 2019

On January 21, 2020, Indian Council for Child Welfare (ICCW), which selects children for the National Bravery Awards every year, has picked 22 children including 10 girls & 12 boys from 12 States for the ICCW National Bravery Awards-2019.
They will receive the award from President of India Shri, Ram Nath Kovind on 26th  January 2020 (Republic Day).
The prestigious Bharat Award was conferred on Adithya K (15) from Kerala for saving more than 40 lives after a bus they were travelling in caught fire.
Akash Khillare from Aurangabad (Maharashtra) will be getting a bravery award from Prime Minister Narendra Modi at Republic Day for rescued the life of a 5-year-old girl and her mother after he saw them sinking while on his way to school….Click here to Read More 
2nd Subhash Chandra Bose Aapda Prabandhan Puraskar 2020:DMMC & Kumar Singh awarded 

The govt of India announced the 2nd edition of the 2020 Subhash Chandra Bose Aapda Prabandhan Puraskar on January 23, 2020, marking the 123rd birth anniversary of Netaji Subhash Chandra Bose. The award is given annually and 2020 award selection & the nominations were scrutinized by two high-level Committees. Disaster Mitigation & Management Centre (DMMC) of Uttarakhand and Kumar Munnan Singh were honoured with the award.
2020 Subhash Chandra Bose Aapda Prabandhan Puraskar:
i.DMMC was selected under 'institution category' while Shri Kumar Munnan Singh was selected under 'individual category' for their contributions in disaster management.
ii.Award:
Institution:Usually the winner incase of being an institution would receive a certificate, and a cash prize of Rs 51 lakhs.
Individual: Incase the winner is from an individual category, then a certificate and a cash prize of Rs. 5 lakhs.
iii.Previous awardee: Previously in 2019, the 8th Battalion of the National Disaster Response Force (NDRF) located at Ghaziabad, was selected for the 1st edition of this award for its commendable work in disaster management.
iv.DMMC: Established in 2006, DMMC discharges functions of state disaster management authority. It ensures various scientific and academic institutions working in the field of DRR (Disaster risk reduction) in the country.
v.Kumar Munnan: He was appointed as the founder member of National Disaster Management Authority(NDMA) in 2005 for his outstanding work during the 2004 Indian Ocean Tsunami….Click here to Read More 
Kerala Tourism's disabled-friendly project won UNWTO's Accessible Destination Awards 2019
On January 23, 2020, Kerala Tourism's Barrier-Free Project has won global recognition with the United Nations World Tourism Organization (UNWTO) as an "Emerging Global Destination" in the Accessible Destination Awards 2019 for South-Indian state category. The recognition is for the implementation of the project in the central Kerala district of Thrissur (India' s only destination to win the honour). Kerala is also the 1st Indian state to work as per the UNWTO guidelines on making tourist destinations disabled-friendly.
Kerala Tourism Director P Bala Kiran IAS (Indian Administrative Service) received the award from UNWTO Secretary-General Zurab Pololikashvili at 40th FITUR International Tourism Trade Fair in Madrid, Spain.
Key Points:
i.FITUR International Tourism Trade Fair: It is a meeting point of worldwide tourism professionals & also the 2nd biggest global gathering of travel and tourism professionals.
ii.The Kerala tourism launched the barrier-free project in an effort of making 120 destinations across the state disabled-friendly in March,2019.
iii.The disabled-friendly project provides facilities like Ramps, accessible toilets, lactation rooms, Braille pamphlets, signage, touch-screen kiosks, audio and sign aids, wheelchairs & walking aids are the facilities.
About Kerala:
Capital- Thiruvananthapuram.
Chief Minister(CM)- Pinarayi Vijayan.
Governor- Arif Mohammad Khan.
APPOINTMENTS & RESIGNATIONS
Former IOB Executive Director A.D.M. Chavali appointed as CVC panel member
On January 24, 2020 the Central Vigilance Commission(CVC) has appointed former Indian Overseas Bank(IOB) Executive Director as A.D.M Chavali as its new panel member of the Advisory Board for Banking Frauds (ABBF) and will serve the board till August 20, 2021.
Board aim: The board headed by T.M Bhasin former Vigilance Commissioner and former Chairman-cum-Managing Director of the Indian Bank(IB), was formed in 2019 and aims to conduct examination of allegations against officials in General Managers (GM) ranking involved in fraud cases of worth above Rs.50 crores.
Key points:
i.Under the prevention of corruption act 1988, the board's advice has to be sought by investing agencies as well as bank authorities before initiating queries against officials.  The advice will be tendered by the board within 1 month of the receipt of the initial reference.
ii.Panel members: Other members of the panel include former Urban Development Secretary Madhusudan Prasad; former Director General(DG) of the Border Security Force(BSF) Devendra Kumar Pathak; and former Managing Director(MD) and Chief Executive Officer(CEO) of Andhra Bank Suresh N. Patel.
 SCIENCE & TECHNOLOGY
1st unmanned mission will be launched in December 2020 as a preparation for 'Gaganyaan': ISRO

On January 22, 2020, According to the ISRO (Indian Space Research Organisation), chairman Dr Kailasavadivoo Sivan, ISRO would launch 2 unmanned missions in December 2020 and June 2021 in view of the launch of India's first manned spacecraft "Gaganyaan" in December 2021.
The ISRO has prepared women robot 'Vyom Mitra'(means a friend in Sky) for sending into space under the 1st unmanned Gaganyaan mission.
Indian flight surgeons are being trained in France to take care of the health of astronauts selected for Gaganyaan….Click here to Read More 
ENVIRONMENTS
World's oldest ever mushroom fossil discovered in Congo, Africa

On January 20, 2020, the researchers from the Universite Libre de Bruxelles in France, led by led by Professor Steeve Bonneville, have discovered the world's oldest ever mushroom fossil in the Democratic Republic of Congo(DRC) in Africa. The detail of fossilised remains of microscopic mushroom called mycelium in rocks dates between 715 and 810 million years ago and is published in the journal 'Science Advances'.
Key Points:
i.These fossils have been estimated to have been formed in a lagoon or coastal lake environment in DRC.
ii.Until this discovery, the oldest confirmed mushroom fossil was dated to 460 million years ago.
SPORTS
Australia to host 11th Indoor Cricket World Cup in October, 2020
11th Edition of the Indoor Cricket World Cup is to be hosted by Australia from October 10 to 17, 2020. The World Indoor Cricket Federation(WICF) announced the tournament will be held at indoor cricket venues in Melbourne, Australia in Casey Stadium and CityPower Centre.
Key Points:
i.The 2017 Indoor Cricket World Cup was held in Dubai, United Arab Emirates (UAE). Australia team won the Indoor Cricket World Cup continuously in both men's and women's categories for the last 25 years without losing a single match.
ii.Cricketers from nearly 10 countries will compete in the tournament in 4 categories: under-21 men and women and open men and women.
iii.Australia is already hosting Women's and Men's T20 World Cups this year.
About Indoor Cricket World Cup: The event is organized by the sport's governing body, the World Indoor Cricket Federation (WICF) and is held every 2 or 3 years.The first Indoor Cricket World Cup match held in England in 1995.
About Australia:
Capital- Canberra.
Currency- Australian Dollar (AUD).
Prime Minister(PM)- Scott John Morrison.
6 cities across New Zealand to host the ICC Women's cricket world cup 2021; Hagley oval in Christchurch to host final
On January 23, 2020, According to the ICC Women's Cricket World Cup CEO Andrea Nelson, 6 cities namely Auckland, Wellington, Hamilton, Tauranga, Dunedin and Christchurch of New Zealand will host matches of the 2021 edition of the Women's cricket World Cup. The final of this tournament will be played at the Hagley Oval in Christchurch.
Key Points:
i.A total of 31 matches will be played between the 8 teams in the ICC Women's World Cup 2021 from February 6 – March 7,2021.
ii.The entire program of this world will be announced in March, when the event will officially launch. The 50-over 2021 World Cup will provide a glimpse of the global development of women's cricket and New Zealand is preparing vigorously for the successful event of the tournament.
iii.The ICC Women's T20 World Cup 2020 is scheduled to be held in Australia between 21 February and 8 March 2020.
2021 ICC Women's Cricket World Cup:
It will be the 12th  edition of the Women's Cricket World Cup.
Organizer– International Cricket Council (ICC)
Format– One-Day International
World Archery lifts suspension on AAI
On January 23, 2020, World Archery (WA) removed suspension imposed on the Archery Association of India (AAI). Indian archers have now been allowed to compete in World Archery Events from 23 January 2020 onwards. The decision to remove suspension was taken by World Archer's executive Board postal vote.
Key Points:
i.AAI will be required to send a progress report every 3 months to World Archery as the federation instructed to update the constitution for athlete membership. As per article 2.2.1 of the World Archery rule book, it's essential for athletes to be affiliated with the AAI directly or indirectly.
ii.The Archery Association of India had been suspended since August 5,2019. Due to this reason, Indian athletes were only allowed to compete under a neutral flag at events, which directly affected their qualification chances for the Olympics.
iii.India currently has 3 men and 1 women's quota place at Tokyo 2020 Olympics.
About World Archery:
Founded- 4 September 1931.
Headquarters- Lausanne, Switzerland.
President- Ugur Erdener; Secretary General– Tom Dielen
IMPORTANT DAYS
National Girl Child Day 2020 observed on January 24 in Madhya Pradesh

On January 24, 2020, National Girl Child Day was celebrated in Madhya Pradesh (MP), Bhopal under the theme "Aware Girl child-able Madhya Pradesh" (Jagruk Balika-Samrath Madhya Pradesh) under the "Beti Bachao- Beti Padhao" scheme. National Girl Child Day was started by the Ministry of Women and Child Development and the Government of India in 2008.
Key Points:
i.Aim: To create awareness in the society about right of daughters and to provide new opportunities to the daughters for their social and financial development.
ii.On this day health of the girls is examined and local level gender champions will also be selected.
National Girl Child Week: Women and Child Development Department of MP also observes "National Girl Child Week" from January 24 to 30.
Programmes of the week: 'Beti Bachao-Beti Padhao' signature campaign, plantation & name plate drive in the name of the daughters, awareness campaign on women's rights & mass oaths for girl child protection will be conducted.
About Madhya Pradesh (MP):
Capital- Bhopal.
Chief Minister (CM)- Kamal Nath.
Governor- Lalji Tandon.
2nd edition of International Day of Education observed on 24 January 2020

On 24 January 2020, the 2nd edition of International Day of Education observed with the aim to celebrate the role of education for peace and development. The theme for the year 2020 is 'Learning for people, planet, prosperity, and peace'. The day was organized by UNESCO (United Nations Educational, Scientific and Cultural Organization) in partnership with the CRI (Centre for Research and Interdisciplinarity), Paris, France.
Key Points:
i.The United Nations General Assembly (UNGA) designated 24 January as the International Day of Education on 3 December 2018.
ii.As per the UN, more than 258 million children and youth still do not attend school & about 617 million children cannot read and do basic math and over 40% of girls in sub-Saharan Africa complete lower secondary school.
STATE NEWS
Srinagar declared Open Defecation Free
On January 21,2020 Mayor of Srinagar Junai Azim Mattu announced that the Srinagar has joined the list of 'Open Defecation Free (ODF)' cities.
Swachata certificate: Srinagar, Jammu & Kashmir received its Swachata certificate from Ministry of Housing and Urban Affairs (MoHUA), Central Government.
Achievement of Srinagar: Srinagar receives 45th Rank in Cleanest cities in the country.
About Ministry of Housing & Urban Affairs (MoHUa):
Formed- 1952.
Minister- Hardeep Singh Puri, MoS (Minister of State) independent charge.
Headquarters- New Delhi.
Current Affairs Headlines: 24 January 2020 
India, Bangladesh signed agreement to upgrade Ashuganj-Akhaura road into 4-lane highway
'Vigyan Samagam', India's 1st global Mega Science Exhibition inaugurated at National Science Centre in New Delhi by Dr. Jitendra Singh
IR sets up its Waste to energy plant at Mancheswar Carriage Repair Workshop in Bhubaneswar, Odisha
India's 1st War Memorial for Animals to be set up in Meerut, UP
13th Jaipur Literature Festival began in Jaipur, Rajasthan
Srinagar declared Open Defecation Free
Govt sets up 3 high-level steering committees to dispose of enemy properties
Govt think-tank NITI Aayog releases its vision for National Data and Analytics Platform
Union Minister Mansukh Mandaviya attends the World Economic Forum held in Davos, Switzerland
MoRD inks MoU with BMGF under DAY-NRLM to strengthen grassroots institutions of the rural poor
Corruption Perception Index 2019: India ranks 80th; Denmark and New Zealand top the list
World Breastfeeding Trends Initiative: Srilanka tops in supporting breastfeeding women
WEF's 1st Nature Risk Rising report: $44trillion of global GDP depend on nature
Global unemployment to increase by around 2.5 million in 2020: UN's ILO report
WEF to conserve 1 trillion trees by 2030 to combat climate change through 1t.org
Switzerland mints world's smallest gold coin values ¼ Swiss francs
RBI hikes short-term debt investments limit for FPI to 30% from 20%
In a 1st , City Union Bank launches multilingual voice based 'All-In-One' app
New India Co-operative Bank(NICB) to be converted as Small Finance Bank
22 children from 12 States selected for ICCW National bravery awards 2019
2nd Subhash Chandra Bose Aapda Prabandhan Puraskar 2020:DMMC & Kumar singh awarded
Kerala Tourism's disabled-friendly project won UNWTO's Accessible Destination Awards 2019
Former IOB Executive Director A.D.M. Chavali appointed as CVC panel member
1st unmanned mission will be launched in December 2020 as a preparation for 'Gaganyaan': ISRO
World's oldest ever mushroom fossil discovered in Congo, Africa
Australia to host 11th Indoor Cricket World Cup in October, 2020
6 cities across New Zealand to host the ICC Women's cricket world cup 2021; Hagley oval in Christchurch to host final
World Archery lifts suspension on AAI
National Girl Child Day 2020 observed on January 24 in Madhya Pradesh
2nd edition of International Day of Education observed on 24 January,2020
[su_button url="https://affairscloud.com/current-affairs/january-2020/" target="self" style="default" background="#2D89EF" color="#FFFFFF" size="5″ wide="no" center="no" radius="auto" icon="" icon_color="#FFFFFF" text_shadow="none" desc="" download="" onclick="" rel="" title="" id="" class=""]Click Here to Read Current Affairs January 2020[/su_button]
AffairsCloud Ebook - Support Us to Grow