We are here for you to provide the important Recent and Latest Current Affairs 11 January 2020, which have unique updates of Latest Current Affairs 2020 events from all newspapers such as The Hindu, The Economic Times, PIB, Times of India, PTI, Indian Express, Business Standard and all Government official websites.
Our Current Affairs January 2020 events will help you to get more marks in Banking, Insurance, SSC, Railways, UPSC, CLAT and all State Government Exams. Also try our Latest Current Affairs Quiz and Monthly Current Affairs PDF which will be a pedestrian to crack your exams.
Date-Wise Current Affairs January 2020 PDF for Paid Users – Click Here to Know More
Click here for Current Affairs January 10 2020
NATIONAL AFFAIRS
IEA launched 1st in-depth review of India 2020 energy policy review in New Delhi
On January 10,2020 the International Energy Agency (IEA) in partnership with NITI (National Institution for Transforming India) Aayog has released the first in-depth review of India's energy policies 2020. The IEA conducts review on energy policies of its member countries. This is the 1st time the review is done for India after it became an IEA-association country in March 2017.
Renewable energy growth: India has strong growth in renewables in India accounting for almost 23% of the country's total installed capacity.
Doubling of energy demand:  India's energy demand is expected to be doubled by 2040 and also the electricity demand may triple.
Share of variable renewables: The share of variable renewables in India is already above 15%.
Reduction in energy demand: The improvements made in energy efficiency helped India to avoid 15% of additional energy demand, oil and gas imports, and air pollution as well as 300 million tonnes of CO2 (carbon dioxide) emissions between 2000 and 2018….Click here to Read More
DPIIT launches paperless licensing process for petroleum road tankers
On January 10,2020 Department for Promotion of Industry and Internal Trade (DPIIT), Ministry of Commerce and Industry, has launched paperless licensing process through Petroleum and Explosives  Safety Organization (PESO) for road tankers for transportation of petroleum under the Petroleum Rules,2002.
Key Points:
i.This is a significant move towards paperless and green India that provides ease of doing business for petroleum road tankers.
ii.Moving towards digitalisation the process will include filing the applications through online processing of the application at every stage will be intimated via e-mail (electronic mail) and SMS (Short Message Service) whether discrepancy or approval or grant of license.
iii.This initiative directly benefits more than one lakh petroleum road tanker owners who together hold more than half of total licenses issued under the Petroleum Rules,2002.
iv.The authenticity of the license can be verified through public domain available on PESO's website.
Petroleum and Explosives Safety Organization (PESO):
It is headed by Chief Controller of Explosives.
Founded- 9 September 1898.
Headquarters- Nagpur.
Joint Chief Controller of Explosives, HOD(HEAD OF DEPARTMENT)- M.K.Jhala.
'Wings India 2020' to be held at Begumpet Airport of Telangana in March 2020
Wings India 2020, an international exhibition and conference on civil aviation sector, will be held at Begumpet Airport in Hyderabad, Telangana from March 12-15, 2020. The theme of the event is "Flying for all". The biennial event will be inaugurated by the Hon'ble Prime Minister of India, Narendra Modi in presence of Minister for Civil Aviation and Minister of State for Civil Aviation.
Key Points:
i.Ministry of Civil Aviation (MCA), Federation Of Indian Chambers Of Commerce And Industry (FICCI), Airports Authority of India (AAI) are the organizers of the event.
ii.The event will provide a fillip to the aviation and restructured focused forums will be instrumental in attaining the objective of connecting the Buyers, Sellers, Investors and other stakeholders at a common forum.
iii.The maiden edition of "WINGS INDIA AWARDS" for Excellence in the Civil Aviation Sector will be announced during the event. The award will be conferred upon the Aviation-related Companies/Institutions/Organizations.
About Ministry of Civil Aviation:
Founded- October 21, 2016
Ministry of Civil Aviation- Hardeep Singh Puri
Ministry of State for Civil Aviation- Suresh Prabhu
Director General of Directorate General of Civil Aviation- Arun Kumar
About FICCI:
Founded- 1927
Headquarters- New Delhi
President- Sandip Somany
About AAI:
Founded- April 1, 1995
Headquarters- New Delhi
Chairman- Arvind Singh
About Telangana:
Chief Minister- K. Chandrashekar Rao
Governor- Dr. Tamilisai Soundararajan
State Flower- Senna auriculata
State Tree- Jand
State Animal- Chital
State Bird- Indian roller
Union Home Minister Amit Shah dedicates National Cyber Crime Reporting Portal to the Nation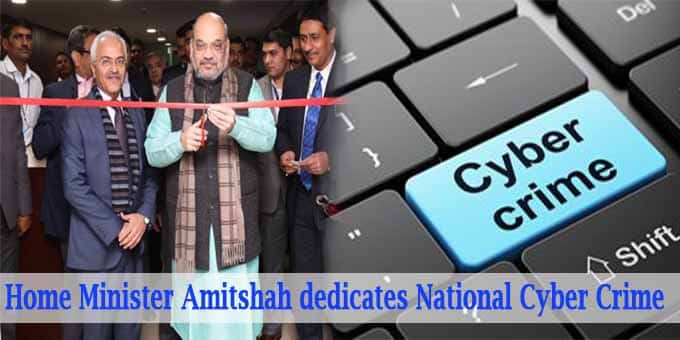 On January 10,2020 National Cyber Crime Reporting Portal was dedicated to the Nation  by Union Home Minister Amit Shah in New Delhi. He also inaugurated Indian Cyber Crime Coordination Centre (I4C) during the event.
i.National Cyber Crime Reporting Portal www.cybercrime.gov.in portal was launched on August 30,2019 which helps the citizens of the Nation to report cyber crimes through online.
ii.The scheme to setup I4C was approved in October 2018 at an estimated cost of Rs. 415.86 crore to deal with all types of Cyber crimes.
iii.15 States and UTs have given their consent to set up Regional Cyber Crime Coordination Centre's at respective States/UTs….Click here to Read More
Global investor meet ASCEND 2020 held in Kochi, Kerala
A two day organised Global Investors Meet ASCEND 2020 was held in Kochi, Kerala at Lulu Bolgatty International Convention Centre, Grand Hyatt, from January 9-10. The meet was inaugurated by the Chief Minister of Kerala Shri Pinarayi Vijayan and was organised by states Department of Industries. Totally Rs 1 lakh crore worth investment proposals were received.The key highlights of the meet are as follows:
Proposed mega projects: Mega projects are those that has more than Rs 100 crore investment. A total of 18 mega projects were announced by the state govt. Some of them include setting up of Propylene Oxide plant, Electronic hardware park, Rs.131 crore defence park, Rs. 1,864-crore KINFRA (Kerala Industrial Infrastructure Development Corporation)-initiated Petrochemical Park, Rs. 900-crore Super Absorbent Polymer Plant etc.
Pact by KIFML & ADIA: Kerala infrastructure Fund Management Ltd.(KIFML) and Abu Dhabi Investment Authority (ADIA) have signed 1 projected but have designated Rs 8110 crore for six projects.
Wage subsidy scheme: Apart from announcing mega projects, a wage subsidy scheme was also introduced.  Wage subsidy will be provided for the first 5 years for new ventures getting registered on April 1, 2020.The benefit will only be available to those units that provides ESI (Employee State Insurance) and PF (Provident Fund) benefits to workers….Click here to Read More
Industrial production grows 1.8% in November 2019: NSO's IIP data
On January 10, 2020, According to the Index of industrial production (IIP) data released by the National Statistical Office (NSO) of the Ministry of Statistics and Programme Implementation (MoSPI), Growth in manufacturing sector has resulted in 128.4 in November 2019, which is 1.8 % higher as compared to the level 126.1 in the month of November 2018 .The result turning positive after 3 consecutive months (August to October 2019) of decline.
Manufacturing sector : As per the data, the manufacturing sector (13 of the 23 industry groups in the manufacturing category ) grew by 2.7 % in November 2019, compared to a decline of 0.7 % in the same month in 2018.
Electricity generation: While there was a 5.1 % increase in power generation in November 2018, it declined by 5 % in November 2019.
Mining sector: Mining sector production was down 1.7 % as compared to a decline of 2.7 % in the reporting period….Click here to Read More
INTERNATIONAL AFFAIRS
WTO: Dispute panel set up over India's duty hike on 28 American goods
On January 10, 2020 the dispute settlement body of the World Trade Organisation's (WTO) has set up a panel to examine complaints of United States(US) against India for hiking customs duties of 28 American goods in July 2019. US alleged New Delhi's move of increasing the custom duties and alleged that the decision was inconsistent with 2 global trade norms of GATT (General Agreement on Tariffs and Trade) 1994 agreement.
Key Points:
i.Dispute panel formation: In case of dispute a consultation will be requested to the WTO. After 60 days, if the consultations fail to resolve the dispute then a panel will be requested to be formed.
ii.US & India trade war: The US rolled back export incentives from India under its GSP (Generalized System of Preferences) programme and New Delhi has imposed higher customs duties on 28 American products such as almond, pulses, walnut, chickpeas, boric acid etc.
iii.India's trade in 2017-18: India's exports to the US in 2017-18 stood at $47.9 billion, while its imports were at $26.7 billion. The trade balance is also in favour of India.
iv.GATT: It is a WTO pact signed by all the member countries of WTO and aims to promote trade by reducing or eliminating trade barriers like customs duties.
About World Trade Organisation:
Headquarters- Geneva, Switzerland.
Founded- 1 January 1995.
Director General (DG)- Roberto Carvalho de Azevêdo.
BANKING & FINANCE
RBI formulates National Strategy for Financial Inclusion for the period 2019-2024
On January 10, 2020 the Reserve Bank of India (RBI) under the aegis of Financial Inclusion Advisory Committee (FIAC) has set up a 5 year plan of formulation of National Strategy for Financial Inclusion (NSFI) for the period 2019-2024. This has been done keeping in view the global trend of financial inclusion which acts as a key driver of economic growth.
NSFI approval:  The national strategy plan, i.e., NSFI was finalised and approved by Financial Stability Development Council (FSDC) and the final documents were released by RBI deputy director Mahesh Kumar Jain at the high level meeting on Financial Inclusion for the North East region at Agartala, Tripura.
NSFI recommendation: The key recommendations of NSFI are as follows:
Banking outlets to be increased: Increasing outreach of banking outlets to provide financial inclusion to every village within a 5 kilometre radius/ 500 households in hilly areas by March 2020.
Digital architecture: Moving to digital and consent based architecture for customer by March 2024.Access to financials service providers through mobile device by March 2024.
Digital payments: Moving to a less cash society by enhancing digital payments by March 2022….Click here to Read More
RBI permits UPI transactions for recurring payments & releases framework for imposing penalties on payment system operators
On January 10, 2020, In view of the promotion of digital payments, India's central bank, the Reserve Bank of India (RBI) has permitted processing of e-mandate for recurring payments through UPI (Unified Payments Interface).
Under this facility, an agreement is formed between the consumer and the merchant bodies and the payment of the outstanding dues is done automatically on the fixed date of the month. However, the maximum permissible limit under this payment system shall be Rs 2,000 per transaction.
RBI revises framework for imposing penalties on payment system operators
RBI has released the revised framework for imposing monetary penalty on authorised payment system operators / banks under the Payment and Settlement Systems Act, 2007 for not complying with regulatory requirements.
RBI has provision to levy monetary penalty levied for a contravention shall not exceed Rs 5 lakh or double the amount of contravention or default, whichever is higher, where such amount is quantifiable.
For non-quantifiable contravention, the maximum penalty imposed by RBI shall be Rs 5 lakh per contravention.
In addition, RBI will impose further penalty up to ₹ 25,000/- for every day, if such contravention / default is a continuously performed.
Payment of penalty: The penalty should be paid within a period of 30 days from the date of the order issued by RBI….Click here to Read More
Central govt raised India Overseas Bank's authorized capital to Rs 25,000 crore
On January 10, 2020 the central govt in consultation with the Reserve Bank of India (RBI)has announced an increase in the authorized capital of Indian Overseas Bank (IOB) to Rs 25,000 crores from the previous authorized capital of Rs. 15,000 crores, thus making an increase by Rs. 10,000 crores.
Key Points:
i.Authorised capital: It is the maximum amount of share capital a company/bank/institution is authorised to issue its shareholders. 
ii.Paid-up capital: It is the amount of money a company has received from shareholders in exchange for shares of stock.
About Indian Overseas Bank(IOB):
Chief Executive Officer(CEO)- Shri Karnam Sekar.
Headquarters- Chennai, Tamil Nadu.
Founder- Chidambaram Chettyar.
Founded- 10 February 1937.
Tagline- Good people to grow with.
ECONOMY & BUSINESS
IEA's India 2020 energy policy review: India to surpass China in terms of oil demand growth by mid-2020s
On January 10, 2020, According to the report, 'India 2020 Energy Policy Review' which covers the key energy sectors of oil, natural gas and electricity and identify the main energy security issues, released by the International Energy Agency (IEA) in collaboration with NITI (National Institution for Transforming India) Aayog, India will overtake China by mid-2020 in terms of crude oil demand growth.
Oil demand: The report noted that India's strategic crude oil reserves (40 million barrels) are equal to its 10-day imports & this is not enough for difficult days. So, India's crude oil demand will rise from 4.4 million barrels per day in 2017 to 6 million barrels per day in 2024.
Access to electricity: With the strong and effective policy implementation by the Government, about 700 million people residing in India gained access to electricity from the year 2000 – 2018.
Renewable energy: India installed a total of 84 GW of grid-connected renewable electricity capacity by December 2019 & sets a target of 175 GW of renewables by 2022….Click here to Read More
AWARDS & RECOGNITIONS      
Indian Scientist Dr Sakya Singha Sen and team wins 'Merck Young Scientist Awards 2019' in Karnataka
On January 9, 2020 Merck Young Scientist Awards 2019 in chemical science, instituted by Merck was announced in Bengaluru in Karnataka.
i.Indian Scientist Dr Sakya Singha Sen and his team won the Merck Young Scientist Award 2019.
ii.The award is given to the given to researchers with less than ten years of experience with expertise in solving some of the toughest problems in chemical sciences.
iii.The winners will receive a cash award of Rs 2,00,000 and Travel Award of Rs 1,50,000 each….Click here to Read More  
India's Rani Rampal nominated for 'World Games Athlete of the Year', 2019
On January 10,2020 Rani Rampal from Haryana, India, the captain of the Indian women's hockey team has been nominated for the "World Games Athlete of the Year"award, 2019 by the International Hockey Federation (FIH). Rani was instrumental in India qualifying for the first time in back-to-back olympic games.
Key Points:
i.World Games Athlete of the Year award is an initiative of IWGA(International World Games Association) that recognizes and honours an athlete or a team for their outstanding performance or for their social commitment or particularly, fair behavior.
ii.2019 will be the 6th edition of the IWGA.
iii.Twenty-five athletes have been nominated for this award from their respective sports by their international federations.
iv.The winner will be decided by online voting which closes on January 30.
v.Rani helped India qualify for the Tokyo Olympics 2020.
About International Hockey Federation:
Headquarters- Lausanne,Switzerland.
President- Narinder Batra.
CEO(Chief Executive Officer)- Thierry Weil.
APPOINTMENTS & RESIGNATIONS    
Hyderabad Scientist Dr. Bipul Saha elected as IUPAC bureau member
On January 10,2020 Dr. Bipul Bihari Saha of Hyderabad, India has been elected as a bureau member of the IUPAC (International Union of Pure and Applied Chemistry) for the period 2020-23. Saha is the only second Indian after "Bharat Ratna" Professor Chintamani Nagesa Ramachandra Rao (CNR Rao),to be elected (1979) for this position in a century.
Key Points:
i.IUPAC is the largest global organization of Chemistry professionals and comprises of 12 Committees and 8 Divisions.
ii.The Bureau Member are elected considering his/her scientific contribution in the field of Chemistry,his leadership qualities etc.,
iii.Saha is a Chief Director of R&D (Research and Development) L.R Research Laboratories is a  wholly owned subsidiary of NACL(Nagarjuna Agrichem Limited) Industries Limited, Hyderabad.
iv.Saha has been closely associated with the IUPAC as the Executive Committee Member of "IUPAC Committee on Chemistry and Industry"(First Indian to hold this position),National Representative of India in "IUPAC Division of Chemistry and Environment" and member of  "IUPAC Inter-Divisional Committee on Green Chemistry for Sustainable Development".
v.Saha was also a Principal Investigator and member of the steering Committee of Government of India sponsored "New Millennium Indian Technology Leadership Initiative Project".
vi.Dr.Saha has been awarded Homi Bhabha Gold Medal by Bhabha Atomic Research Centre (BARC).
About IUPAC(International Union of Pure and Applied Chemistry):
IUPAC has the responsibility of naming all new elements and compounds,declare atomic weights and physical constants, update Periodic Table and carry out research Projects.
Headquarters- Research Triangle Park, North Carolina, United States.
Founded- 1919.
Motto- Advancing Chemistry Worldwide.
President- Professor Qi-Feng Zhou (China).
Lt Col Yuvraj Malik appointed as director of National Book Trust 
On January 11, 2020 Lt Col (Colonel) Yuvraj Malik was appointed as the director of National Book Trust (NBT) on deputation. Malik succeeds Sahitya Akademi-awardee writer Rita Chowdhury.
Key Points:
i.Previously Malik has served with the Ministry of Defence (MoD), Ministry of Home Affairs (MoHA), Raj Bhawan in Jammu & Kashmir(J&K), United Nations Missions in Africa and also in several operational assignments.
About National Book Trust(NBT):
Founded- 1 August 1957.
Headquarters- New Delhi.
Parent Organisation- Ministry of Human Resource Development (MHRD).
Chairman- Govind Prasad Sharma.
        ACQUISITIONS & MERGERS    
Digital payment firm PayU India acquires Paysense for $185 mn
On January 10, 2020, PayU India, a fintech company that provides payment technology to online merchants, has acquired digital credit startup PaySense at an equity valuation of about $185 million (mn). After the acquisition, PayU is also decided to merge its lending business Lazypay with PaySense.
Also, Prashanth Ranganathan, the founder and CEO of PaySense, will head PayU's credit business in India as the CEO of the new venture.
Key Points:
i.In addition, PayU has infuse up to $200 million in the combined entity as equity capital for future growth. Out of this, $65 mn of the total amount will be invested immediately, while the balance will be invested in the next 24 months to shoreup the loan book.
ii.Post the deal, the combined firm has been valued at more than $ 300mn or more than Rs 2,100 crore.
iii.This deal also enables the exit of 3 lending firms, Nexus Ventures Partners, Jungle Venture and Rocketship, and the angel investors in PaySense.
iv.The acquisition will help PayU to further consolidate its position as a major fintech platform in India & bolster its presence in the credit business network.
About PayU India:
Founded– 2002
Parent organization– Naspers
Headquarters– Gurugram, Haryana
About Paysense:
Founded– 2015
Headquarters– Mumbai, Maharashtra
Founder, CEO– Prashanth    
SCIENCE & TECHNOLOGY
India lands LCA Tejas on INS Vikramaditya for the first time
On January 11,2020 the Light Combat Aircraft (LCA) Tejas has made a successful landed on the India's biggest warship INS Vikramaditya. The maiden landing was conducted by Commodore Jaideep Maolankar.
Key Points:
i.For the first time an indigenous fighter aircraft has been landed on an aircraft carrier.
ii.India becomes sixth nation to master the art of an arrested landing and ski-jump take off on the deck of a carrier after Russia, the United States (US), France, the United Kingdom (UK)and China.
iii.LCA was developed by Aeronautical Development Agency (ADA) long with Defence Research and Development Organisation (DRDO).
About LCA Tejas:
Tejas is India's Light Combat Aircraft (LCA) together with its variants, is the smallest and lightest Multi-Role Supersonic Fighter Aircraft of its class. This single engine, Compound-Delta-Wing, Tailless Aircraft is designed and developed by ADA with Hindustan Aeronautics Limited (HAL) as the principal partner along with DRDO, Council of Scientific and Industrial Research (CSIR) , Bharat Electronics Limited (BEL), Directorate General Of Aeronautical Quality Assurance (DGAQA) to meet the needs of the Indian Air Force (IAF) and Indian Navy (IN).
About DRDO:
Founded- 1958
Headquarters- New Delhi
Chairman- Dr. G Satheesh Reddy
About HAL:
Chairman- R Madhavan
Headquarters- Bengaluru
About CSIR:
Founded- September 26, 1942
President- Prime Minister of India, Narendra Modi
About BEL:
Headquarters- Bengaluru
Chairman- S.K.Sharma
OBITUARY
Omani leader Sultan Qaboos bin Said Al Said passes away at 79
On January 10, 2020 Sultan Qaboos  bin Said Al Said, the Omani leader who was ruling the country from 1970 has passed away after suffering from colon cancer. He was 79. He was succeeded by the Culture Minister Haritham bin Tariq Al Said.
About Qaboos bin Said al Said:
i.He was born on November 18, 1940 in Salalah, Oman.
ii.He was the fourteenth-generation descendant founder of the House of Al Said and the longest serving leader in the Middle East and Arab world.
iii.He received  Nishan-e-Pakistan in 2001, Jawaharlal Nehru Award for International Understanding in 2004 and Royal Victorian Chain in 2010
About Oman:
Capital- Muscat
Currency- Omani rial
Kannada Scholar M Chidananda Murthy passes away at 88
On January 11,2020 Renowned Kannada scholar and researcher M Chidananda Murthy,88 years old, passed away on Bengaluru,Karnataka due to age-related illness. He was popularly known as "ChiMu".
Key Points:
i.Chidananda Murthy known for his specialization in the history of Kannada language had contributed significantly in securing the Classical language status from the Union Government in 2008.
ii.He was also a vocal kannada activist, leading Kannada Shakti Kendra in 1970s and 1980s.
iii.He also launched a campaign to save the monuments of Hampi and also one of the key articulators of the argument against Tipu Sultan.
iv.He was born in 1931 in channagiri taluk of Davangere district, Karnataka.
About Karnataka:
Capital- Bengaluru.
Chief Minister- Bookanakere Siddalingappa Yediyurappa.
Governor- Vajubhai Rudabhai Vala.
Veteran broadcaster, academic-poet Obaid Siddiqui passes away at 63
On January 10,2020 Veteran Broadcaster, poet and academician Obaid Siddiqui, 63 years old, passed away in Ghaziabad hospital, Uttar Pradesh (UP) due to health related problems. Siddiqui also worked with NDTV (New Delhi Television) and also known as an Urdu poet.
Key Points:
i.Obaid Siddiqui was born in Meerut, UP in 1957.
ii.Siddiqui received higher education at Aligarh Muslim University and joined the All India Radio at Srinagar station in 1988.
iii.Obaid Siddiqui joined Jamia Millia Islamia's AJK (Anwar Jamal Kidwai) Mass Communication Research Centre and later rose to become its director.
About Uttar Pradesh:
Capital- Lucknow.
State Bird- Sarus Crane.
State Animal- Barasingha (also known as Swampdeer).
State tree- Ashoka Tree.
Canadian rock group drummer Neil Peart passed away at 67 years
On January 10, 2020 Canadian drummer and lyricist of rock band Rush, Neil Ellwood Peart passed away at the age of 67 due to brain cancer (glioblastoma) in California, United States(US). He hailed from Hamilton, Canada.
Key Points:
i.The rock band Rush was founded in 1968 and Peart joined Rush in 1974 and retired from the band in 2015.
ii.He entered the Rock and Roll Hall of Fame (Hall of Fame museum located in Ohio, US) in 2013. The band has sold 25 million albums in the US.
iii.Neil also wrote several books about his life, including the memoir 'Traveling Music: Playing Back the Soundtrack to My Life and Times'.
About United States(US):
Capital- Washington, D.C.
Currency- US Dollar.
President- Donald Trump.
AC BYTES
Indian Navy continues to maintain operation Sankalp in Gulf region amid growing tensions
Indian Navy continues to maintain operation Sankalp in the Gulf region amid tension between the US and Iran in the Middle East, in order to ensure the security of its sea-borne trade and the safety of Indian Flag Merchant Vessels transiting through the Gulf region, Maritime Security Operations code-named operation Sankalp was initiated earlier June 2019.
Top 20 Current Affairs Headlines: 11 January 2020 
IEA launched 1st in-depth review of India 2020 energy policy review in New Delhi
DPIIT launches paperless licensing process for petroleum road tankers
'Wings India 2020' to be held at Begumpet Airport of Telangana in March 2020
Union Home Minister Amit Shah dedicates National Cyber Crime Reporting Portal to the Nation
Global investor meet ASCEND 2020 held in Kochi, Kerala
Industrial production grows 1.8% in November 2019: NSO's IIP data
WTO: Dispute panel set up over India's duty hike on 28 American goods
RBI formulates National Strategy for Financial Inclusion for the period 2019-2024
RBI permits UPI transactions for recurring payments & releases framework for imposing penalties on payment system operators
Central govt raised India Overseas Bank's authorized capital to Rs 25,000 crore
IEA's India 2020 energy policy review: India to surpass China in terms of oil demand growth by mid-2020s
Indian Scientist Dr Sakya Singha Sen and team wins 'Merck Young Scientist Awards 2019' in Karnataka
India's Rani Rampal nominated for 'World Games Athlete of the Year', 2019
Hyderabad Scientist Dr.Saha elected as IUPAC bureau member
Lt Col Yuvraj Malik appointed as director of National Book Trust
Digital payment firm PayU India acquires Paysense for $185 mn
India lands LCA Tejas on INS Vikramaditya for the first time
Omani leader Sultan Qaboos bin Said Al Said passes away at 79
Kannada Scholar M Chidananda Murthy passes away at 88
Veteran broadcaster, academic-poet Obaid Siddiqui passes away at 63
Canadian rock group drummer Neil Peart passed away at 67 years
Indian Navy continues to maintain operation Sankalp in Gulf region amid growing tensions
[su_button url="https://affairscloud.com/current-affairs/january-2020/" target="self" style="default" background="#2D89EF" color="#FFFFFF" size="5″ wide="no" center="no" radius="auto" icon="" icon_color="#FFFFFF" text_shadow="none" desc="" download="" onclick="" rel="" title="" id="" class=""]Click Here to Read Current Affairs January 2020[/su_button]
AffairsCloud Ebook - Support Us to Grow