On January 10,2020 the International Energy Agency (IEA) in partnership with NITI (National Institution for Transforming India)  Aayog has released the first in-depth review of India's energy policies 2020 in New Delhi. The IEA conducts review on energy policies of its member countries. This is the 1st time the review is done for India after it became an IEA-association country in March 2017.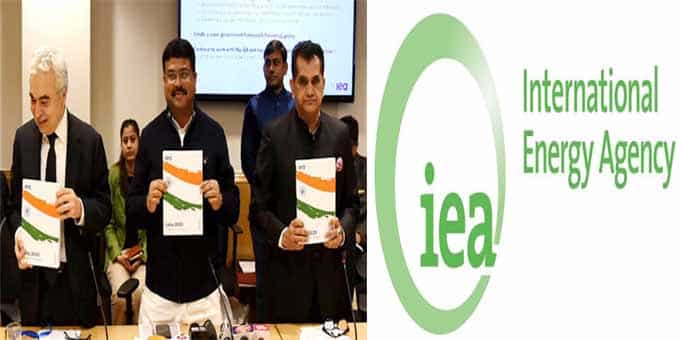 India 2020 energy policy review:
i.Data presentation: Dr Fatih Birol, Executive Director of the IEA presented the key findings of the review at an event in New Delhi.
ii.Key findings: 
Renewable energy growth: India has strong growth in renewables in India accounting for almost 23% of the country's total installed capacity.
Reduction in energy demand: The improvements made in energy efficiency helped India to avoid 15% of additional energy demand, oil and gas imports, and air pollution as well as 300 million tonnes of CO2 (carbon dioxide) emissions between 2000 and 2018.
Doubling of energy demand:  India's energy demand is expected to be doubled by 2040 and also the electricity demand may triple.
Share of variable renewables: The share of variable renewables in India is already above 15%.
Single frequency power grid: India has the largest unified power grid operating in a single frequency.
Govt achievements: IEA report reviewed in depth of Indian govt's achievements in extending citizens' access to electricity, affordable efficient lighting etc through schemes like SAUBHAGYA, Unnat Jyoti by Affordable LEDs for All (UJALA) and Pradhan Mantri Ujjwala Yojana (PMUY) etc. 750 million people in India gained access to electricity between 2000 and 2019.
Ethanol blend: India is on the way of achieving 20% ethanol blending in petrol and 5% biodiesel in diesel by 2030.
Energy consumption: India is now the 3rd largest energy consumer in the world.
Recommendations: The report also offers a wide range of recommendations in support of India's energy reforms. These include building strong regulators to ensure non-discriminatory access, moving from state allocation to market pricing, and further rationalizing energy subsidies.
Oil consumption: Indian oil consumption is expected to grow faster than that of any other major economy. The top performing profit making Public Sector Units(PSU) were Indian Oil Corporation limited (IOCL) ranked at 1st and followed by ONGC (Oil and Natural Gas Corporation) and NTPC (formerly National Thermal Power Corporation Limited) in the 2nd & 3rd places respectively.
India 2020 plans: India has set national for the year 2022 such as achieving 100 smart cities, LPG (Liquefied Petroleum Gas) connections to all housing, universal electricity access and 175 GW (Giga Watts) of renewable electricity capacity.
iii.Annual event proposal: Petroleum minister Dharmendra Pradhan proposed an annual event where NITI andIEA could collaborate and bring global energy stakeholders to have a structured energy dialogue.
iv.Members present: Shri Pralhad Joshi,Minister of Coal(MoC); Shri Dharmendra Pradhan, Minister of Petroleum and Natural Gas and Minister of Steel (MoP&NG), Shri Raj Kumar Singh,Minister for Power and Renewable Energy(MoP&RE), Dr Rajiv Kumar, Vice Chairman of NITI Aayog; Shri Amitabh Kant, Chief Executive Officer(CEO) of NITI Aayog, and other officials were present in the event. Click here to know more.
About International Energy Agency(IEA):
Founded- November 1974.
Headquarters- Paris, France.
Executive Director- Fatih Birol.
Deputy Executive Director- Paul Simons.
Membership countries- 30.
Association countries- 8.
AffairsCloud Ebook - Support Us to Grow