We are here for you to provide the important Recent and Latest Current Affairs 1 November 2019, which have unique updates of Latest Current Affairs 2019 events from all newspapers such as The Hindu, The Economic Times, PIB, Times of India, PTI, Indian Express, Business Standard and all Government official websites.
Our Current Affairs November 2019 events will help you to get more marks in Banking, Insurance, SSC, Railways, UPSC, CLAT and all State Government Exams. Also try our Latest Current Affairs Quiz and Monthly Current Affairs PDF which will be a pedestrian to crack your exams.
Click here for Current Affairs October 31 2019
INDIAN AFFAIRS
Union health minister Harsh Vardhan released the 14th National Health Profile, 2019 in New Delhi
On October 31, 2019, the union minister of Health and Family Welfare (HFW), Science and technology and earth science, Shri Harsh Vardhan released the 14th edition of the National Health Profile(NHP) 2019, and also its ebook at an event in New Delhi. CBHI has been publishing the NHP since 2005 and its digital version since 2015. The health profile covers information on demographics, socio-economic health status, health finance indicators, health infrastructure and health of human resources in the country.
As per the report, Delhi has the highest population density with 11,320 people per square kilometer while the lowest was in Arunachal Pradesh with density of 17.

India spends only 1.28% of its gross domestic product(GDP) according to 2017-18 budget estimates as public expenditure on health.Click Here To Read More
Health minister Harsh Vardhan launched Intensified Mission Indradhanush (IMI) 2.0 portal in New Delhi 
On October 31, 2019, the union minister of Health and Family Welfare(HWF), science and technology and earth science Dr.Harsh Vardhan launched Intensified Mission Indradhanush (IMI) 2.0 portal in New Delhi ahead of the launch of IMI 2.0 programme in December 2019-March 2020. The IMI 2.0 is a rechristened version of mission Indhradanush-Univerasal Immunization Programme(UIP) that aims to achieve 100% immunization.

The portal was launched during the celebration of the silver jubilee of the Pulse Polio Programme that was observed on October 2, 2019. The health minister also launched 2 guidelines. They are
'Strengthening immunization systems to reach every child' and 

'Operational guidelines for Strengthening Td (Tetanus and Diphtheria)10 and Td16 vaccine implementation'….Click Here To Read More
Kerala Governor Arif Mohammed Khan inaugurated 3rd "Global Ayurveda Summit" at Kochi 
The governor of Kerala Arif Mohammed Khan inaugurated the 2-day long 3rd edition of the Global Ayurveda Summit 2019 in Kochi, Kerala from October 30-31, 2019. The theme of the summit was 'Mainstreaming Ayurveda through Startups, Innovation and Branding' and was organised by the Confederation of Indian Industry (CII).
The highlight of the summit was the 2nd edition of the startup competition for Ayurveda- "Ayurstart". B2B (Business-to-Business) meeting were also part of the summit.
During the summit, panel discussions on improving the ayurveda sector was discussed…..Click Here To Read More
Union minister of agriculture, Narendra singh tomar held bilateral meeting with his German counterpart Ms. Julia klockner in New Delhi
On November 1, 2019, The Union Minister of Agriculture and Farmers' Welfare Shri Narendra Singh Tomar held bilateral meeting with his German counterpart Ms. Julia Klockner, German Minister of Food & Agriculture in New Delhi.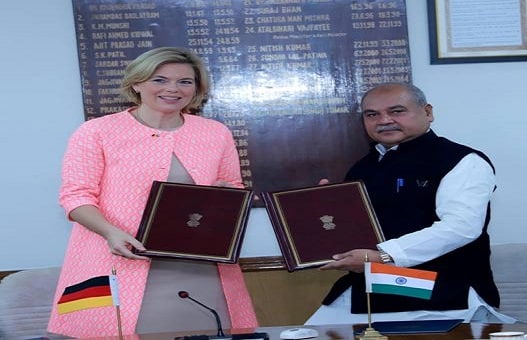 India & Germany Sign joint declaration of intent on cooperation in agriculture market development
Both Ministers of India & Germany signed a Joint Declaration of Intent on cooperation in agriculture market development, during the meeting.
Key points:
i.The priority of India has changed to farmer-centric from production centric, the aim of doubling farmers' income & agriculture exports to $60 billion by 2022 (target of Agriculture Export Policy 2018), lowering input cost, creating competitive markets and boosting the value chain for agriculture and allied sectors.
ii.Both sides affirmed the target of achieving 'Sustainable Development Goal 2 (SDG2)- End Hunger and Doubling Agricultural Productivity'.
iii.The meet also witnessed the areas of cooperation such as Mechanization, Post Harvest management, Supply chain, market access and Export issues, food safety and consumer protection (for this working Group was formed in 2008).
About Germany:
Capital: Berlin
Currency: Euro
Chancellor: Angela Merkel
INTERNATIONAL AFFAIRS
Spain offered to organize COP25 climate summit 2019 in Madrid after Chile's withdrawal 
On November 1, 2019, The Spanish government confirmed that it has offered to host the 2019 United Nations (UN) Climate Change Conference (also known as Conference of the Parties (COP) 25 climate summit 2019) in Madrid on the original scheduled dates of December 2-13, 2019. Previously this conference was to be held in Chile but in view of the anti-government protest in Santiago, there will no longer be a conference held in Chile.
Key points:
i.The summit is usually an important moment for taking stock of where the world stands on climate change.
ii.COP25 was originally supposed to be held in Brazil. But in November 2018 just two months after being announced as the summit's host nation, Brazil's President Jair Bolsonaro pulled out, citing economic reasons.
iii.COP25: The conference was supposed to incorporate the 25th COP to the United Nations Framework Convention on Climate Change -UNFCCC (an international environmental treaty adopted on 9 May 1992), the 15th meeting of the parties for the Kyoto Protocol (CMP15, an international treaty which extends the 1992 UNFCCC), and the 2nd meeting of the parties for the Paris Agreement (CMA2).
About Spain:
Capital: Madrid
Currency: Euro
Prime Minister: Pedro Sanchez
About Chile:
Capital: Santiago
Currency: Chilean peso
President: Sebastián Pinera
80% of Indian adolescents suffer Nutritional deficiency: UNICEF's Adolescents, diets and nutrition report 2019
On October 31, 2019, As per the report "Adolescents, Diets and Nutrition: Growing Well in a Changing World 2019" released by UNICEF (United Nations Children's Fund, originally known as the United Nations International Children's Emergency Fund) more than 80 % of adolescents in India suffer from "hidden hunger"(a form of undernutrition), and less than 10 % of boys and girls eat fruits and eggs daily. It is based on the recently released Comprehensive National Nutrition Survey (CNNS).
Key points:
i.Adolescents (a person aged between 10 and 19 years) are deficient in nutrients such as  iron, folate, zinc, vitamin A, vitamin B12 and vitamin D.
ii.These are the findings of a report on adolescents released by policy think tank of the Government of India, the NITI (National Institution for Transforming India) Aayog and UNICEF India.
iii.The report stresses 3 major interventions in the diet, behavior and services of adolescents , which can break this poor nutrition cycle.
iv.More than 25 percent of adolescents did not consume green leafy vegetables even once a week & milk products are consumed by 50 % of adolescents daily.
v.In every part of India, a teenager aged 10 – 19 years is at risk of diabetes and heart disease & More girls are shorter than boys.
vi.Anemia affects 40 % of adolescents girls, compared to 18 % of boys.
About NITI Aayog:
Formed: 1 January 2015
Headquarters: New Delhi
Chairperson: Narendra Modi
Vice Chairperson: Rajiv Kumar
About UNICEF:
Formation: 11 December 1946
Headquarters: New York City, U.S.
Executive Director: Henrietta H. Fore…..Click Here To Read More
90% journalist killers not convicted between 2006-18: UNESCO's Intensified attacks, new defences report 2019
On October 31, 2019, According to the new UNESCO (United Nations Educational, Scientific and Cultural Organization) report 2019 (covers the period 2014-2018), " Intensified Attacks, New Defences; Developments in the Fight to Protect Journalists and End Impunity", almost 90 % of those responsible for the killing of 1,109 journalists around the world between 2006 and 2018 have not been convicted.
Key points:
i.In the past two years (2017-2018), 55 % of journalists' killings happened in non-conflict zones.
ii.Arab States constituted the deadliest part of the world for journalists (30 % of global killings- 149 people killed between 2014-18), followed by Latin America and the Caribbean region (26 %, 127 people killed) and the Asia and Pacific States (24 %, 120 people killed).
iii.Released ahead of the International Day to End Impunity for Crimes against Journalists (IDEI) on November 2, 2019, the report noted an 18 % increase in killings of journalists in the past five years (2014-2018) compared to the previous five-year period.
iv.A  social media campaign 'Keep Truth Alive' (keeptruthalive.co), developed pro bono by the creative agency Doyle Dane Bernbach (DDB Paris), which draws attention to the issues faced by journalists close to home, highlighting the fact that 93 % of journalists are killed local journalists.
About UNESCO:
Formation: 4 November 1945
Headquarters: Paris, France
Director-General: Audrey Azoulay….Click Here To Read More
AWARDS & RECOGNITION'S
Hindi writer Leeladhar Jagoori conferred with 28th Vyas Samman for 2018, in New Delhi
On October 31, 2019 renowned Hindi writer Leeladhar Jagoori was conferred with the 28th Vyas Samman for the year 2018 in New Delhi. The award was conferred to him by well-known author Govind Mishra, for his 12th anthology (collection of poems or other pieces of writing) of poetry collection 'Jitne Log Utne Prem'. 

About Vyas Samman: 
Vyas Samman is a literary award in India, given annually by the K.K. Birla Foundation in honour of Indian industrialist Krishna Kumar Birla.
Reward: A citation and a cash prize of Rs 4 lakh.
Constituted-1991.
Award eligibility: For eligibility the literary work must be in the Hindi language and have been published in the past 10 years.
Pepsico India won 20th US award for Corporate Excellence 2019 for saving more than 17 billion litres of water
On October 31, 2019 The U.S. Department of State's Bureau of Economic and Business Affairs announced the 20th edition of the US award for Corporate Excellence 2019. The United States(US) Secretary of state Mike Pompeo, presented the 2019 Award for Corporate Excellence (ACE) to Pepsico India of American multinational company Pepsico, in the multinational enterprise category for its sustainable farming initiative in India. The award was presented at the Foggy Bottom headquarters of the state department in Washington, US.
By the initiative, Pepsico India saved more than 17 billion of litres of water by conducting various community programs and replenished over 5 billion litres of water, by impacting 60,000 community members.
Key Points:
i.Award category: The 2019 ACE awards were given under the categories Sustainable Operations and Women's Economic Empowerment.
ii.Other awardees: Other recipients of the award were as follows,
Women's Economic Empowerment:

Chambers Federation of the Democratic Republic of the Congo(DRC) under small to medium enterprises list and Procter and Gamble(P&G) Asia Pacific of Singapore under Multinational Enterprise list.

Sustainable Operations:

Agilis Partners of Uganda under Small-to-Medium Enterprise list.
Chambers Federation in the Democratic Republic of the Congo (DRC), Procter and Gamble Asia Pacific in Singapore and Agilis Partners in Uganda.
iii.PepsiCo India, India's largest purchaser of potatoes, aims to replenish water in stressed areas.
About ACE:
Established- 1999.
The award is given to honour US companies for promoting standards as responsible community members where the business is done.
Sweden-based climate activist Greta Thunberg refuses to take Nordic Council's environmental award 2019
On October 30, 2019, Swedish teenage climate activist Greta Thunberg (16) has refused to accept an environmental award 2019, saying that the climate campaign requires that, those in power start following 'science' rather than giving the award. She also refused to accept the prize money of 350,000 Danish kroner (around Rs 36,90,741).
 Key points:
i.She was honored in Stockholm ceremony in Sweden held by the Nordic Council, a regional body for inter-parliamentary cooperation. Thunberg was nominated for her work in Sweden and Norway and won the organization's annual Environmental Award 2019.
Greta Thunberg:
i.She is best known for initiating a movement, "Fridays for Future", a climate movement that formed in November 2018.
ii.She began protesting outside the Swedish parliament about the need for immediate action to combat climate change in August 2018 holding a sign reading "School strike for climate".
APPOINTMENTS & RESIGNATIONS
Centre transferred 3 CJs to the High Courts of Madras, Madhya Pradesh and Patna
On October 30, 2019 the union law ministry announced the transfer of 3 high court Chief Justices(CJs) under article 222 of the constitution of India. They are as follows:

The Patna high court(HC) CJ,

Amreshwar Pratap Sahi

was transferred to

Madras

HC, replacing incumbent Justice Vineet Kothari. Vineet was appointed for a temporary term following the resignation of the previous CJ of Madras HC, justice Vijaya Tahilramani in September 2019.

Tripura HC Chief Justice

Sanjay Karol

, has been appointed to

Patna

HC replacing Justice Sahi. Meghalaya HC chief Justice

Ajay Kumar Mittal

has been appointed as CJ to the

Madhya Pradesh

HC replacing chief justice Sanjay Yadav.
2 judges transferred: 
Patna HC judge, Justice Rakesh Kumar was transferred to Andhra Pradesh HC and Punjab & Haryana HC judge Justice Amit Rawal was transferred to Kerala HC.
Appointments:
| | |
| --- | --- |
| Chief justice name  | Transferred to  |
| Amreshwar Pratap Sahi | Madras High Court |
| Sanjay Karol | Patna High Court |
| Ajay Kumar Mittal | Madhya Pradesh HC |
Pavan Kapoor appointed as India's Ambassador to UAE
On Oct 29 2019, the Ministry of External Affairs (MEA) has appointed Shri Pavan Kapoor as India's Ambassador to UAE (United Arab Emirates). He was a 1990 batch Indian Foreign Service officer (IFS). He will replace Navdeep Singh Suri.
i.Pavan Kapoor was India's High Commissioner to Mozambique and the Kingdom of Swaziland from January 2014 to February 2016.
ii.He was serving as India's ambassador to Israel for more than three years.
About UAE:
Capital: Abu Dhabi.
Currency: United Arab Emirates dirham.
President: Khalifa bin Zayed Al Nahyan.
Prime minister: Mohammed bin Rashid Al Maktoum.
Latha, MD and CEO of Dhanlaxmi Bank Resigns
On October 30, 2019, private sector lender Dhanlaxmi Bank, Managing Director (MD) and Chief Executive Officer (CEO) T. Latha has resigned from her post due to personal reasons. The bank's board has accepted the resignation.
i.Ms Latha was appointed as MD and CEO of Dhanlaxmi Bank for three years due to the retirement of former MD and CEO G Sreeram.
About Dhanlaxmi Bank:
Founded:1927.
Headquarters: Thrissur, kerala.
Chairman: Mr.Sanjeev Krishnan.
ACQUISITION & MERGES
Singapore's e-commerce platform Qoo10 acquired ShopClues in all-stock deal
On October 31, 2019 Indian e-commerce platform ShopClues owned by Clues Network Pvt. Ltd was acquired by Singapore based e-commerce platform Qoo10 private Ltd. Shopclues which once attained unicorn status (private company valued over $ 1billion) in 2015 with a value of $1.1 billion, is expected to have been bought at acquisition cost of $70-100 million.
Key Points: 
i.Qoo10 is expected to acquire Momoe, the payments arm of Clues Network as part of the buyout.
About Shopclues:
Founded- July 2011.
Headquarters- Gurugram, Haryana.
Chief Executive Officer (CEO)- Sanjay Sethi.
Founder- Sandeep Aggarwal and Radhika Aggarwal
SCIENCE & TECHNOLOGY
IIT Delhi to set up space technology cell in collaboration with ISRO at its campus
The Indian Institute of Technology (IIT), Delhi in collaboration with the Indian Space Research Organisation (ISRO) will set up a space technology cell (STC) to contribute to the space technology research areas such as AI (Artificial Intelligence), nanotechnology, functional textiles, smart manufacturing at its campus. The institute will also act as the academic partner of ISRO.
Key points:
i.The announcement has been made by V Ramgopal Rao, IIT Delhi Director On November 1, 2019, a day ahead of its Golden Jubilee (50th) Convocation on November 2,2019 where Dr. Kailasavadivoo Sivan, Chairman, ISRO will be the chief guest.
ii.IIT Delhi will also team up with premiere institutions like IISc (Indian Institute of Science) Bangalore, IIT Bombay, IIT Kanpur, IIT Kharagpur, IIT Madras, IIT Guwahati and IIT Roorkee where the STCs have been installed to contribute to the space technology research & applications to the newer scale.
About ISRO:
Headquarters: Bengaluru , Karnataka
Founder: Vikram Sarabhai
Founded: 15 August 1969
How the Big bang may have occurred decoded: study
On November 1, 2019, According to a research published in the journal Science, scientists from the University of Central Florida in the US (United States) understand the origin of the universe by using the mechanisms that could cause the Big Bang explosion. They are using the turbulence to enhance the mixing of the reactions to the point where it transitions into this big reaction and essentially leads to supernovas, exploding stars.
Key points:
i.The cause of the universe's origin is believed to be a big explosion called Big Bang. This event took place 13.8 billion years ago. At that time, time is considered as zero, that is, time was not even created.
ii.According to the Big Bang Theory , the universe has evolved from a single point of view.
iii.The finding will help in faster air and space travel, and improved power generation, including reactions that generate zero emissions as all of the products used in the combustion are converted into energy.
SPORTS
Indian women's team wins Emerging asia cup 2019 title by defeating Sri lanka in final
On October 29, 2019, Indian Women's Cricket Team has defeated hosts Sri Lanka by 14 runs in the final on the basis of Duckworth-Lewis (DLS)method and won the Emerging Asia Cup 2019 title at the R Premadasa Stadium in Colombo, Sri Lanka.The tournament, organized by Asian Cricket Council (ACC),was held from 22- 29, October , 2019 with the participation of India, Pakistan, Sri Lanka, Bangladesh.

Key points:
i.India scored 175 for 9 wickets in 50 overs, including 47 runs by Tanushree Sarkar. The Sri Lankans were bowled out for 135 runs in 34.3 overs, chasing the revised target for the win.
ii.Indian team captain Devika Vaidya took four wickets for 29 runs in 7 overs. Based on this performance, she was voted the best player of the match. Devika Vaidya and Tanuja Kanwar took four wickets each in the final.
DLS method:
It is a mathematical formulation designed to calculate the target score for the team batting second in a limited overs cricket match interrupted by weather or other circumstances.
OBITUARY
American actor and comedian John Witherspoon passed away at the age of 77
On October 30, 2019 renowned American actor and comedian John Witherspoon passed away at the age of 77 at his residence in California, United States(US). His famous films include Boomerang, Vampire in Brooklyn and The Ladies Man etc.
Key Points:
i.Born in January 27, 1942 in Michigan, US, Witherspoon made his film debut in film The Jazz Singer in 1980. He has also appeared in various television shows in the 1970s where he worked initially as a comedian.
About America:
Capital- Washington DC.
Currency- US dollar.
President- Donald Trump.
IMPORTANT DAYS
World Vegan Day observed on 1st November, 2019
The World Vegan Day is observed annually on November 1st.This day helps vegans to spread the benefits of veganism for humans, and the natural environment.
 Key points:
i.Every year vegans around the world will celebrate and also promotes their vegan lifestyle on this day.
ii.It was established by UK celebrity, Louise Wallis in the year 1994.
How the word 'Vegan' arrives
Donald Watson from the British Vegetarian Society was attracted over the word vegetarian and took the first three letters and last two from 'vegetarian'.
STATE NEWS
Odisha govt. partnered with Abhijit Banerjee's Jameel Poverty Action Lab to minimise poverty
On October 31, 2019 the govt. of Odisha has signed a Memorandum of Understanding (MoU) with laureates of 2019 Nobel prize in economics, Abhijit Banerjee and Esther Duflo's Abdul Latif Jameel Poverty Action Lab (J-PAL). The MoU would work on areas to eradicate poverty, women's empowerment, distress migration, health worker performance and also in improving agricultural productivity. 
The agreement was signed by Development Commissioner of Odisha, Suresh Mohapatra and executive director of J-PAL South Asia, Shobhini Mukherji.
Key Points:
i.This is first such partnership of J-PAL with an Indian state after the duo (Abhijit and Esther) won the Sveriges Riksbank Prize in Economic Sciences (Nobel prize) 2019. With this MoU, which is part of 5T (Transparency, Technology, Teamwork, Transformation and Time) initiative of Odisha, the state govt. will maximise the impact of various anti-poverty programmes in the state.
ii.As part of the partnership, J-PAL South Asia and the Odisha government will conduct annual policy dialogue to identify the government's top policy priorities and conduct discussions to jointly come up with innovative solutions.
iii.Previously in September 2019, J-PAL partnered with National Health Mission(NHM) of Haryana Government to improve the state's health outcomes through better programme implementation.
About J-PAL:
Founded- June 2003.
Headquarters- Massachusetts, US.
Founders: Esther Duflo, Abhijit Banerjee and Sendhil Mullainathan…..Click Here To Read More
Punjab CM Amarinder singh launches e-office for electronic file movement of govt files
On November 1, 2019, Punjab Chief Minister (CM) Amarinder Singh has launched an e-office facility, an initiative of the Department of Governance Reforms and Public Grievances, to facilitate seamless, electronic movement of government files between departments, that would further transform work culture and ethics in government offices.
Key points:
i.Now, all administrative departments & offices of deputy commissioners will upload files and official papers on the portal.
ii.By January 1, 2020, all directorates and other field level offices in the state should upgrade to the latest e-office system.
iii.The eOffice programme will replace IWDMS (Integrated Workflow Document Management System), a National Software Product and is an initiative of Punjab Government and National Informatics Centre (NIC).
About Punjab:
Capital: Chandigarh
Governor: V.P. Singh Badnore
Wildlife sanctuaries: Abohar WLS ,Bir Aishvan WLS ,Bir Bhadson WLS, Harike Lake WLS ,Jhajjar Bacholi WLS ,Kathlaur Kushlian WLS ,Takhni-Rehampur WLS.
[su_button url="https://affairscloud.com/current-affairs-2019/november/" target="self" style="default" background="#2D89EF" color="#FFFFFF" size="5″ wide="no" center="no" radius="auto" icon="" icon_color="#FFFFFF" text_shadow="none" desc="" download="" onclick="" rel="" title="" id="" class=""]Click Here to Read Current Affairs November 2019[/su_button]
AffairsCloud Ebook - Support Us to Grow