We are here for you to provide the important Recent and Latest Current Affairs 22 November 2019, which have unique updates of Latest Current Affairs 2019 events from all newspapers such as The Hindu, The Economic Times, PIB, Times of India, PTI, Indian Express, Business Standard and all Government official websites.
Our Current Affairs November 2019 events will help you to get more marks in Banking, Insurance, SSC, Railways, UPSC, CLAT and all State Government Exams. Also try our Latest Current Affairs Quiz and Monthly Current Affairs PDF which will be a pedestrian to crack your exams.
Click here for Current Affairs November 21 2019
INDIAN AFFAIRS
NIA conducted 1st CT-TTX exercise for QUAD nations in New Delhi
The National Investigation Agency(NIA) hosted its first ever counter-terrorism exercise for the "Quad" countries (4 countries-India, the US, Japan and Australia) at the NIA headquarters in New Delhi from November 21-22, 2019.The exercise is named 'CT-TTX' (counter-terrorism table-top exercise) aims to address the global and regional issues of common interest. It also focuses to strengthen its cooperation in counter terrorism and provide opportunities to share best practices in the participating countries.
Key Points:
i.The exercise was attended by CT (counter-terrorism) officials and security experts of the Quad countries.
ii.The dialogue between the Quad countries was first initiated in 2007. In 2017 the negotiations were renewed.
About National Investigation Agency: 
Formed- 2009.
Headquarters- New Delhi.
Director General- Yogesh Chander Modi.
Act- National Investigation Agency Act 2008.
5th India-Europe 29 Business Forum held in New Delhi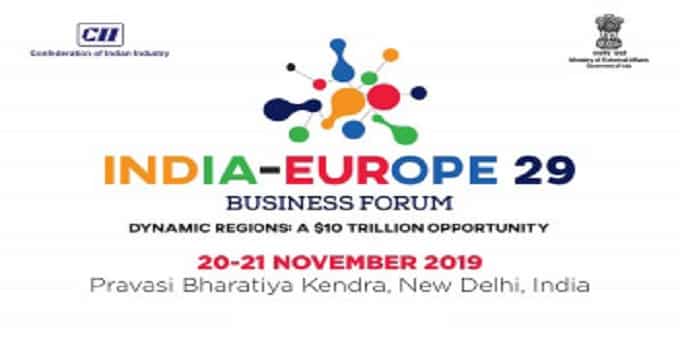 The "5th India-Europe 29 Business Forum: Speeding regional Economic Connectivity" was held in New Delhi from November 20-21. The forum was organised by the Ministry of External Affairs(MoEA) and Confederation of Indian Industry (CII) between India and 29 countries in Central, Eastern and Northern Europe.
The forum was conducted to strengthen the India Europe relationship where the forum acts as India's largest European platform. E29 countries act as a platform for Indian products.
Key Points:
i.During the forum, Deputy Prime Minister(PM) for economic and demographic policy of Bulgaria Ms. Mariyana Nikolova invited Indian industry to invest in Bulgaria. Investment areas include pharmaceuticals, chemicals, machinery and agri and food processing etc.
ii.Members present: Mr. Vojtecj Ferencz, state secretary and 1st Deputy Minister of Economy of the Republic of Slovakia; secretary of MEA shri TS Tirumurti; senior officials of Ministries of Commerce and Industry(MoC&I), external affairs, CII and captains of industry were present on the occasion.
About Confederation of Indian Industry(CII):
Fact- The CII is an association of industries in India.
President- Vikram Shreekant Kirloskar
Headquarters- New Delhi
Founded- 1895
2 lakh gram panchayats to be connected with internet, broadband by March 2020
On November 21, 2019, the govt has set a target of connecting 2 lakh gram panchayats by March 2020. As of 7th November 2019, 1,28,000 gram panchayats have been provided with internet connectivity under phase 1 of the BharatNet project. This was announced by Minister of Electronics and Information Technology (MeitY) Ravi Shankar Prasad.
It was also announced that the BharatNet project for providing digital connectivity to 2.5lakh villages has been under implementation under phase 2.
Key Points:
i.45,000 gram panchayats were installed with wifi connections and with service provision to 16,000 gram panchayats. Currently, 2G (2nd generation), 3G and 4G technologies cover more than 95% of the population of the country.
About Electronics and Information Technology ministry (MeitY):
Founded- 1999.
Headquarters- New Delhi.
Minister of State(MoS)- Shri Sanjay Dhotre.
1 out of 5 persons entering the labour force a woman by 2023: NSSO's periodic labour forcesSurvey 2017-18
On November 22, 2019,According to the Periodic Labour Force Survey (PLFS) 2017-18 conducted by the National Sample Survey Office (NSSO), the estimated female labour force participation for women aged 15 years and above in the country during 2017-18 saw the decline to 23.3 %.
Statistics showed that just 1 out of 5 persons in the 15-30 years age bracket entering the labour force is expected to be a female in the five years ending 2023.
i.Youth entrants: The total youth (aged 15-30 years) is projected to enter the labour force is around 1.29 crore in 2023.
ii. State's contribution: Uttar Pradesh will be the top state to contribute to the youth entrants (15-30 years) during 2019-23 followed by Maharashtra, Madhya Pradesh, Bihar, Tamil Nadu and Karnataka. These 6 states will account for 50% (about 3 crore) of the new youth entrants by 2023….Click here to Read More
CCRAS join hands with JNU and ILBS for cooperation in R & D, training in ayurveda
On November 21, 2019, Central Council for Research in Ayurvedic Sciences (CCRAS) under Ministry of AYUSH (Ayurveda, Yoga & Naturopathy, Unani, Siddha, Sowa Rigpa and Homoeopathy) has signed a Memorandum of Understanding (MoUs) with Jawaharlal Nehru University (JNU) and Institute of Liver and Biliary Sciences (ILBS) for the purpose of cooperation in the field of Research & Development (R&D) and Training in Ayurveda & Traditional Medicine.
Key Points:
i. As per the  MoU, the 2 institutes can cooperate in the field of research and development, training in Ayurveda, and traditional medicine.
ii.The MoU has been signed in the presence of Shri Sripad Naik ,Minister of State (IC) for AYUSH and Defence, at New Delhi.
iii.This alliance will generate physical proof on fundamental principles of ayurveda through multi-omics studies and also safety, the efficacy of ayurveda benefits for emerging health problems such as non-alcoholic fatty liver disease (NAFLD).
About CCRAS:
Headquarters: Janakpuri, New Delhi
It is an apex body in India for the formulation, co-ordination, development and promotion of research on scientific lines in Ayurveda and Sowa-Rigpa system of medicine.
INTERNATIONAL AFFAIRS
7th 2019 Global Terrorism Index: India 7th-most affected by terror attacks, Afghanistan 1st
On November 20, 2019 the Sydney (Australia) based Institute for Economics and Peace(IEP) released the 7th edition of its annual report titled "2019 Global Terrorism Index: Measuring the impact of terrorism". As per the Index India was ranked at the 7th place in the list of countries most affected by terrorism in 2018. The country which topped the list was Afghanistan with 7,379 killed due to terror attacks in 2018. Afghanistan's Taliban terrorist group has been ranked first as the deadliest terror groups.
The other countries in the list include Iraq(2nd), Nigeria(3rd), Syria (4th), Pakistan(5th) and Somalia(6th).
Afghanistan's Taliban group alone accounted for 38% of deaths in 2018. Islamic State in Iraq and Syria (ISIS) ranks second deadliest terror group while Khorasan Chapter of the Islamic State is the third deadliest terror group. Boko Haram of Nigeria ranks fourth in the list….Click here to Read More
Bengaluru, Delhi, Mumbai included in the Global Prosperity Index 2019, Zurich topped
On November 22, 2019, The first-ever Prosperity & Inclusion City Seal and Awards (PICSA) Index 2019, commissioned by Basque institutions and compiled by D&L Partners, was released in the Basque Country capital of Bilbao in northern Spain. As per the index Bengaluru topped as India's highest-ranked city at 83rd position. While  Delhi ranked 101st and Mumbai 107th in the index among the top 113 countries in the world in terms of Prosperity (GDP per capita and empirical quality of life measures) ,Socia inclusion (Personal safety, access to education, and access to ICT (Internet)) spatial inclusion (Affordability of housing, environmental quality, and access to healthcare) .
Switzerland's Zurich topped the index with an overall score of 78.2.
Top cities in the list:
| | | | |
| --- | --- | --- | --- |
| Rank | City | Region | Score |
| 1 | Zurich (Switzerland) | Europe | 78.2 |
| 2 | Vienna  (Austria) | Europe | 72.0 |
| 3 | Copenhagen (Denmark) | Europe | 70.5 |
| 4 | Luxembourg | Europe | 70.3 |
| 5 | Helsinki (Finland) | Europe | 70.1 |
| 83rd | Bangalore (India) | Asia | 34.7 |
| 101st | Delhi  (India) | Asia | 22.5 |
| 107th | Mumbai  (India) | Asia | 18.6 |
US approved the sale of 13 MK45 naval guns worth $1 billion to India
On november 21, 2019 the United States of America(USA) has given its approval regarding sale of 13 MK45 naval guns to India at an estimated cost of $1 billion. The notification in this regard was released by Defence Security Cooperation Agency(DSCA), US.
Key Points:
i.The approval comes after India requested for 13 MK45 naval guns, 3500 D349 projectiles, 5″/54 MK 92 ammunition etc.
ii.Principal contractor: The principal contractor in this regard will be BAE (British Aerospace) Systems Land and Armaments, Minneapolis, Minnesota(US) with gun manufacturing in Louisville, Kentucky(US).
iii.The MK-45 gun system will help in conducting anti-surface warfare and anti-air defense missions while enhancing interoperability with the US and other allied forces.
About Defence Security Cooperation Agency(DSCA):
Fact- The DSCA provides financial and technical assistance, transfer of defense materials, training and services to allies, and promotes military-to-military contacts.
Founded- 2009.
Headquarters- Washington DC, US
World Energy Outlook 2019 released by the International Energy Agency (IEA)
On November 20, 2019, As per the World Energy Outlook 2019 released by the International Energy Agency (IEA), the installed capacity of solar energy to increase from 495 GW to 3142 GW by the year 2040.
i.Oil demand: After 2025 , Oil demand will be decreased and the world will shift towards electric vehicles (e- vehicles). However, the oil demand for the next decade will keep increasing with 85% of increase coming from the US.
ii.According to another estimate, CO2 emissions are likely to continue for decades as 30% of the total energy still produced is through coal-based plants….Click here to Read More
BANKING & FINANCE
RBI constitutes a three-member advisory committee for DHFL
On November 22, 2019, In exercise of powers conferred under section 45 IE 5(a) of the RBI Act 1934, India central bank, the Reserve Bank of India(RBI) has set up a 3-member committee consisting of IDFC First Bank non-executive chairman Rajiv Lall, ICICI Prudential Life Insurance chief executive NS Kannan and the mutual funds body AMFI (Association of Mutual Funds in India) chief executive NS Venkatesh, before formally sending the case of the troubled deposit-taking housing finance company- Dewan Housing Finance Limited (DHFL) for bankruptcy proceedings.
This committee will serve as advisor to the DHFL administrator.
Key Points:
i. Earlier on November 20, 2019, The RBI had dissolved the board of DHFL and placed it under the administrator, R Subramaniakumar, former managing director (MD) & chief executive of Indian Overseas Bank (IOB).
ii.The home loan company is the first non-banking financial company (NBFC) to go through the insolvency process under the IBC, 2016 read with the Insolvency and Bankruptcy (Insolvency and Liquidation Proceedings of Financial Service Providers and Application to Adjudicating Authority) Rules, 2019.
iii.DHFL has a total debt of ₹83,873 crore, of which ₹38,342 crore was owed to banks.
About DHFL:
Founded -11 April 1984
Headquarters –Mumbai
Chairman &Managing director -Kapil Wadhawan
About RBI:
Headquarters -Mumbai, Maharashtra
Established -1 April 1935
Governor– Shaktikanta Das
RBI disclosed major wilful defaulter details under RTI act 2005
On November 21, 2019, The Reserve Bank of India (RBI) has disclosed list of 30 major wilful defaulters of India. The list was disclosed by RBI in response to the Right to Information(RTI) application of the RTI act 2005, filed by the Indian news website 'The Wire' in May 2019.
These 30 companies added up to over Rs 50,000 crores of total outstanding advances.
Defaulter companies: Some of the companies that has been added to the list include Gitanjali Gems, Rotomac Global, Zoom Developers, Deccan Chronicle Holdings, Winsome Diamonds, REI Agro, Siddhi Vinayak Logistics and Kudos Chemie.
The list of the companies has been sourced by RBI from Central Repository of Information on Large Credits (CRILC)which is a centralised banking database….Click here to Read More
ECONOMY & BUSINESS
OECD cuts global growth forecast for 2020 to 2.9 % from 3%
According to the latest Economic Outlook 2019 released by OECD (Organisation for Economic Co-operation and Development) on November 21, 2019, World GDP(Gross domestic product)  growth is expected to be at 2.9% in 2020 ,its lowest annual rate due to the risk posed by trade stress. This is 0.1 % lower than the earlier estimate released in September,2019.
It also forecasts the global economic growth to 3.0 % for the year 2021.
i.The US (United States) economy, the world's largest economy , is expected to slow by 2.0 % in 2020& 2021…..Click here to Read More
AWARDS & RECOGNITIONS     
Greta Thunberg and Divina Maloum honored with International children's peace prize 2019

On 21st November 2019, Greta Thunberg, a 16yr old Swedish environmental activist, and 15yr old Cameroonian peace activist Divina Maloum were bestowed with the International Children's Peace Prize 2019 in The Hague, Netherlands.
The prizes were distributed by Laureate Kailash Satyarthi, an Indian children's rights activist and 2014 Nobel Peace Prize winner. The award ceremony was organized by the Dutch Kids Right Organization.
Key Points:-
i.Greta Thunberg who hails from Sweden honored with this prize due to her effort against the struggle in climate change which had inspired many school children across the world. Luisa–Marie Neubauer, a German climate activist received the award on Thunberg's behalf. Thunberg rose to global Prominence 2018 to demonstrate the lack of action to combat climate change to the Swedish Parliament.
ii.Divina Maloum from Cameroon was honored for her fighting spirit and 'Peaceful struggle' against Boko Haram jihadist group.
iii.Previous year winner :- Malala Yousafzai , Pakistani female education activist.
Chitharesh Natesan became first Indian to win 'Mr Universe 2019'; Indian Team secured 2nd position at 11th WBPF World Championships 2019
On November 20, Chitahresh Natesan 33yr old former hockey player turned bodybuilder also known as the 'Indian Monster' by bodybuilding circles became the first Indian to win 'Mr. Universe (Pro) 2019' in  90kg category at the 11th World Bodybuilding and Physique Sports Championship at the Island city of Jeju, South Korea. India secured second position in the team championship category at the same event. It was organized by World Bodybuilding And Physique Sports Federation (WBPF).
Key Points:-
i.There were 38 countries participated in this championship which was organized by World Bodybuilding and Physique Sports Federation.
ii.India's Performance:-  India secured 23 medals including 6 gold, 13 silver and 4 bronze medals in various weight categories in bodybuilding at 11th World Bodybuilding and Physique Sports Championship.India also bagged the second position in the team championship category and Thailand secured first position.
iii.Other Info about Chitharesh Natesan:- Chitaresh Natesan resides in Delhi and his native belongs to Kochi,Kerala.He secured other titles such as  'Mr Asia 2019' at the Asian Bodybuilding and Physique Sports Championship (ABBF) held in Thailand. Mr. Delhi four times in a row from 2015 to 2018.
Oxford Dictionary's word of the year 2019 – "Climate emergency"
On November 21, 2019, Oxford Dictionaries has declared 'climate emergency' as the word of the year for 2019 because the word was widely used across the globe, it is chosen from all-environmental shortlist which also include "climate action," "climate denial," "eco-anxiety," "extinction" and "flight shame." The word is selected because it shows the increase in usage since 2018. Climate emergency defines as "a situation in which urgent action is required to reduce or halt climate change and also to avoid the possible irreversible environmental loss resulting from it.
Key Points:
i.According to the Oxford dictionary's data, the usage of "climate emergency" soared 10,796%. The Oxford Word of the year 2018 was "Toxic", which is defined as Poisonous .
ii.According to Guardian "climate" has become the most common words associated with "emergency" in 2019, which is used three times more than "health emergency" word.
iii. The dictionary word of the year is chosen to "reflect the ethos, mood, or preoccupations of the passing year and it should maintain the "lasting potential as the term of cultural significance"   
Jaipur's Hridayeshwar won 2019 Empowerment of Person with Disabilities award
Wheelchair-bound Hridayeshwar Singh Bhati (17 years) from Jaipur was selected for National Award for Empowerment of Person with Disabilities, 2019 under the category- Outstanding Creative Child (Male)-2019. It was declared by the Union Ministry of Social Justice and Empowerment (MSJE). The award will be given at a function in Delhi on December 2, 2019.
Youngest patent holder in the World:
He became the youngest patent holder and also the youngest differently-abled patent holder in the world. He achieved this feat for inventing six-player circular chess at the age of nine in 2013.He also created 12 and 60 players' circular chess and also got the patent for it.
Key Points: –
i.As of now, he has seven inventions to his name which includes three patents.
ii.He is suffering from fatal disease (duchenne muscular dystrophy).
iii. He also won several accolades from various organizations like State Bank of India (SBI) for his extraordinary talent.
iv.He has also contributed to ramp modification for power vehicle accessibility in two vehicles, 16X16 Sudoku and has filed patients for them as well.
APPOINTMENTS & RESIGNATION     
Lieutenant Shivangi became first Indian women pilot of Indian Navy
Lieutenant Shivangi has named as the First woman pilot of Indian Navy. She will join naval operations on completion of operational training in Kochi on December 2,  2019, two days before the navy day which is going to be celebrated on December 4. She will also get authorization to fly dornier aircrafts on December 2.
Key points:
i. Indian navy has many women officers as 'air traffic control officers' and 'observers' in the aircraft who are responsible for communication and weapons but Shivangi will be the first woman to graduate as a Pilot of Indian Navy.
ii. Shivangi is from Muzzafarpur, Bihar and she completed her schooling from DAV Public School Muzzafarpur.
Rajat Bhargava appointed to head panel on petrochemical investment
On November 20, 2019 the Union Department of Chemicals and Petrochemicals has appointed Andhra Pradesh bureaucrat Rajat Bhargava, as the head of high level committee in suggesting initiatives for attracting more investments in the Petroleum, Chemicals and Petrochemical Investment Regions (PCPIR) of the country. It is the 1st time the centre has seeked to amend PCPIR policy after it was introduced.
Report submission: The report is expected to be submitted in a fortnight after consultations with principal secretaries of Tamil Nadu, Odisha and Gujarat.
So far the centre has approved 4 PCPIR which are at Dahej (Gujarat), Visakhapatnam-Kakinada (Andhra Pradesh), Paradeep (Odisha) and Cuddalore- Nagapattinam (Tamil Nadu). Apart from Dahej, other PCPIR have not taken off as envisaged over the years.
VK PCIR investment: VK PCIR is the largest in the country with area 640 square kilometres. After remaining in cold storage for over 6 years, the AP govt. revived the VK PCPIR to attract investment of Rs 2 lakh crore under Master Plan 2031….Click here to Read More

  
SCIENCE & TECHNOLOGY
UP's Raebareli rail coach factory use 'Sona 1.5' humanoid robots for document transporting
On November 19, 2019, the Modern coach factory (MCF)in Uttar Pradesh's Raebareli started using 'Sona 1.5' humanoid robots in its factory for transporting documents from one place to another. Sona 1.5 is a full-service robot made in India built by Club first technologies, Jaipur. It is the World's 1st robot with human-like spine technology due to which they are able to balance.
Key points:
i.The robots can be managed from a laptop or smartphone via a Wifi server. The robot also has an auto docking program inbuilt in it, which helps it to go to the charging point by itself before battery is discharged.
ii.Other features of Sona 1.5: The robot can even function in the dark with the help of high-tech sensors like vision, ultrasonic, touch sensor and heat.
iii.It can perform other functions like welcoming visitors, technical interaction, other types of training.
About Uttar Pradesh:
Capital- Lucknow.
Chief Minister- Yogi Adityanath.
Deputy CM- Keshav Prasad Maurya.
Governor- Anandiben Patel.
Evidence of Iron Age settlement in Gujarat discovered by IIT-KGP researchers
On November 22, 2019 the researchers from the Indian Institute of Technology Kharagpur(IIT-KGP), led by professor Sarkar, have discovered archaeological evidence of a 3,000-year-old Iron Age settlement at Karim Shahi in Gujarat and also a historic to medieval settlement at Vigakot near Thar Desert, also from Gujarat. The research was funded by Infosys foundations and IIT KGP.
Publication: The findings by researchers of IIT-KGP along with Deccan College, Pune(Maharashtra), Physical Research Laboratory, Ahmedabad(Gujarat), University of Calcutta (West Bengal), and University of Kutch (Gujarat) have been published in Elsevier journal 'Archeological Research in Asia.'….Click here to Read More
SPORTS
India women's cricket team wins 5th T20I title against West Indies
The India women's cricket team played with West Indies women's cricket team between 1 November – 20 November 2019. The tour consisted of three Women's One Day Internationals (WODIs), which formed a part of the 2017–20 ICC Women's Championship, and five Women's Twenty20 International (WT20I) matches.
WT20I series (From nov 9-20, 2019): Indian women's cricket team won the match by 61 runs by beating the West Indies with 5–0 scores in the five-match T20 series held in Providence Stadium, Providence, Guyana. The first 2 out of 5 series was held in Darren Sammy Cricket Ground, Gros Islet.
Captains: Anisa Mohammed led the West Indies team  & Harmanpreet Kaur captained the Indian team.
i.Player of the Match title won by Veda Krishnamurthy & Player of the Series title was secured by Shafali Verma.
ii.India's Jemimah Rodrigues has moved up to 4th  place in the batsmen's list of the latest ICC (International Cricket Council )Women's T20 International Player Rankings2019 with 699 ratings, while spinner Radha Yadav is 2nd  in the bowlers list with 769 ratings….Click here to Read More
STATE NEWS
AP CM Launches "YSR Matsyakara Bharosa" welfare scheme for fishermen on World Fisheries Day 2019
On November 21, 2019, World Fisheries Day was celebrated on this occasion Andhra Pradesh (AP) Chief Minister (CM) Yeduguri Sandinti Jagan Mohan Reddy launched YSR Matsyakara Bharosa, a welfare scheme for fishermen in Mummadivaram in East Godavari district, Fishermen in the age group of 21-60 are 1,32,332 in this each will get an enhanced monetary relief of Rs 10,000 during the marine ban and lean period every year between April and June.
The scheme also enhanced the Subsidy on diesel from Rs 6.03 to Rs 9 per Litre, for 10 months every year, which are relevant to the mechanized (3000 Ltrs) and motorized boats (300 Ltrs).
CM have announced that the insurance cover for the fishermen in the age group of 18-60 was doubled to Rs. 10 Lakhs in the case of accidental death.
He also offered Rs. 80 crores to 16,654 fishermen who were affected by drilling operation in Gujarat State Petroleum Corporation for laying pipelines in 2012 in Mummadivaram constituency.
AP ropes in IIM-Ahmedabad to check graft in government departments
AP government formally signed an agreement with the Indian Institute of Management-Ahmedabad (IIM) under which the concluding will undertake a study to identify corruption in administration at all levels. In this agreement, the IIM- Ahmedabad should complete the portion by February 2020 and submit the report.
Key Points: –
i.The IIM-A provides the guidelines to control corruption from the village level to the top grade of the government.
Financial aid:
AP Government has enhanced the financial assistance for Christians for undertaking pilgrimage. The government has ordered pilgrimage for those who have an annual income of up to Rs 3 lakh, they would be given Rs 60,000 for undertaking pilgrimage to Jerusalem, Bethlehem, Nazareth, Jordan River, Dead Sea and the Sea of Galilee. In 2016 it last Rs. 40,000 which was fixed by Chandrababu Naidu (Ex. CM of AP). It will provide Rs 30,000 if the income is above Rs 3 lakh per annum….Click here to Read More
Assam Chief Minister launched new Land Policy 2019 in Guwahati
On November 21, 2019, Assam Chief Minister (CM) Sarbananda Sonowal released the new Land Policy 2019 in Guwahati. It was approved by the cabinet on October 21, 2019, which was prepared by the Revenue and Disaster Management Department after 30 years. It was last prepared in 1989.
Key Points: –
i.This Policy will remove the difficulties regarding the land allotments and settlements.
ii.Released– He released the Handbook of Circulars, Volume-V, covering Government Circulars, Office Memorandum etc., which was issued by the Revenue and Disaster Management Department from 1st May, 2007 to 30th August, 2019.
About Assam
Capital- Dispur
Governor- Jagdish Mukhi
National Park- Kaziranga, Manas, Dibru Saikhowa, Nameri, Orang
[su_button url="https://affairscloud.com/current-affairs-2019/november/" target="self" style="default" background="#2D89EF" color="#FFFFFF" size="5″ wide="no" center="no" radius="auto" icon="" icon_color="#FFFFFF" text_shadow="none" desc="" download="" onclick="" rel="" title="" id="" class=""]Click Here to Read Current Affairs November 2019[/su_button]
AffairsCloud Ebook - Support Us to Grow