We are here for you to provide the important Recent and Latest Current Affairs 21 January 2020, which have unique updates of Latest Current Affairs 2020 events from all newspapers such as The Hindu, The Economic Times, PIB, Times of India, PTI, Indian Express, Business Standard and all Government official websites.
Our Current Affairs January 2020 events will help you to get more marks in Banking, Insurance, SSC, Railways, UPSC, CLAT and all State Government Exams. Also try our Latest Current Affairs Quiz and Monthly Current Affairs PDF which will be a pedestrian to crack your exams.
Date-Wise Current Affairs January 2020 PDF for Paid Users – Click Here to Know More
Click here for Current Affairs January 19 & 20 2020
NATIONAL AFFAIRS
PM Modi & Nepal PM Sharma Oli inaugurated 2nd Integrated Check Post :Jogbani-Biratnagar
On January 21, 2020 the Indian Prime Minister(PM) Shri Narendra Modi along with the PM of Nepal Shri Khadga Prasad Sharma Oli jointly inaugurated the 2nd Integrated Check Post (ICP) Jogbani (Bihar, India) – Biratnagar (Nepal) through video conference. Jogbani – Biratnagar acts as an important trade point between the two nations and is equipped with modern facilities.
Key Points:
i.Jogbani – Biratnagar ICP: This ICP built with Indian assistance is spread over 260 acres and the project worth is Rs. 140 crores. It is capable of carrying 500 trucks on a daily basis.
ii.1st ICP: Prior to Jogbani – Biratnagar ICP, the first ICP was built at the Raxaul-Birgunj border of India (in Bihar State) and Nepal respectively in 2018.
iii.2015 Post-earthquake housing reconstruction projects (EHRP) in Nepal in which India committed to build 50,000 houses in Nepal's Gorkha and Nuwakot districts was discussed during the video conference. Out of the 50,000 houses, the construction of 45,000 houses have already been completed.
'One Nation, One Ration Card' scheme will be implemented by June 1, 2020: Union Minister Ram Vilas Paswan
On January 20, 2020  'One Nation, One Ration Card' scheme will be implemented by June 1, 2020  across the country. The announcement was made by the Minister of Consumer Affairs, Food and Public Distribution, Ram Vilas Paswan.
Key Points:
i.This scheme has been preponed from its original date of June 30, 2020 to June 1, 2020.
ii.As of January 1, 2020  the scheme is operational in 12 states across the country which includes Madhya Pradesh, Goa, Tripura, Jharkhand, Karnataka, Rajasthan, Kerala, Haryana, Andhra Pradesh, Gujarat, Maharashtra, Telangana.
iii.Under this scheme, the beneficiaries will be able to avail their entitled food grain under the National Food Security Act (NFSA) from any Fair Price Shop located across India.
iv.The beneficiaries will be identified and verified through Aadhaar authentication at the Fair Price Shops on the electronic point of sale (e-POS) devices.
v.Currently NFSA covers nearly 81.34 Crore people across the country, who are now able to take advantage of One Nation One Ration Card Scheme.
APEDA sets up 186 Agri Products testing laboratories across the country
On January 20, 2020, Agricultural and Processed Food Products Export Development Authority (APEDA) has set up an additional 135 Agri products testing laboratories under the Ministry of Commerce and Industry (MOCI). Now APEDA recognized Agri products testing laboratories has reached 186 across the Country.
Key Points:
i.The number of Agri product testing laboratories has increased in states like Maharashtra (35), Gujarat (23), Andhra Pradesh & Telangana (10), Tamil Nadu (23) and Karnataka (17).
ii.APEDA has decided to add National Accreditation Board for Testing and Calibration Laboratories (NABL) accredited laboratories in the network of APEDA recognition which will enable the exporters to have easy access to the laboratories for testing of APEDA scheduled products for exports.
About Ministry of Commerce and Industry:
Headquarter- New Delhi
Minister- Piyush Goyal
About NABL:
Founded- 1988
Headquarters- Gurugram, Haryana
Chairman- Shri Krishna Joshi
About APEDA:
Founded- 1986
Headquarters- New Delhi
Chairman- Padan Kumar Borthakur
International Conclave on 'Globalising Indian Thought' held in IIM-Kozhikode from January 16-18, 2020
The Indian Institute of Management Kozhikode (IIM Kozhikode), Kerala has hosted an 'International Conclave on Globalising Indian Thought' (GIT2020) from January 16-18, 2020. The three-day Academic conclave was inaugurated by the Hon'ble Prime Minister (PM) Narendra Modi, through video conference.
Key Points:
i.PM unveiled and dedicate a full-size statue of Swami Vivekananda, in front of the MDC Complex of IIM Kozhikode.
ii.The Conclave focused on India's thought that are Satyam-Truth, Nithyam-Sustainability Purnam-Wholeness and revealed India's path towards development in the global market.
iii.On January 18, 2020 the valedictory function was attended by Dr. Kiran Bedi, Hon'ble Lieutenant Governor, Puducherry, and Prof. Anil Kumar Gupta, renowned academician and activist.
iv.Nearly 100 world-class research papers will be presented at the conclave and the awards will be presented to the best research papers during the closing ceremony.
3rd edition of Pariksha Pe Charcha 2020: PM Modi interacts with students, teachers in New Delhi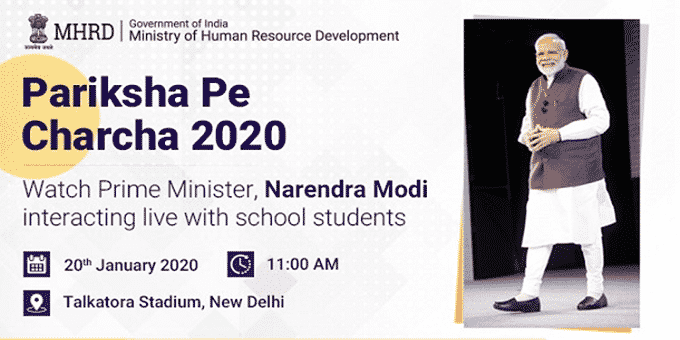 On January 20, 2020, The Prime Minister(PM), Shri Narendra Modi has attended the 3rd  edition interaction programme with school students 'Pariksha Pe Charcha 2020' held at Talkatora Stadium in New Delhi. The purpose of this one-hour long program was to ensure that the students relieve stress and give upcoming board and entrance examinations.
Key Points:
i.About 2,000 students, teachers and parents participated in this program from all over India. Out of these, 1,050 students were selected through 'short essay' competition conducted by HRD (Human Resource Development) Ministry in partnership with MyGov on five different themes for students of classes 9 to 12.
ii.A total of 4 Kendriya Vidyalaya Sangathan (KVS) schools students conducted this programme to make this event more student-centric.
iii.The 1st edition of PM's Interaction Programme with school and college students "ParikshaPeCharcha 1.0" took place at Talkatora Stadium, New Delhi on 16th  February, 2018. The 2nd edition "ParikshaPeCharcha 2.0" was also held at Talkatora Stadium, New Delhi on 29th January, 2019.
Andhra Pradesh Cabinet clears the Proposal for three capitals: Visakhapatnam, Amaravati, Kurnool
On January 20, 2020 Andhra Pradesh (AP) Government has passed Andhra Pradesh Decentralization and Inclusive development of All Regions Bill-2020 for the tri-capital system. The bill proposes to make Visakhapatnam as the executive capital, Amaravati as the legislative capital and Kurnool as the judicial capital of Andhra Pradesh.
i.The aim behind this bill is decentralised administration that will result in socioeconomic progress at equal levels. Now the bill is presented before the legislative council.
ii.The state cabinet also decided to increase the ex-gratia paid to the farmers of Amaravati from Rs.2,500 per month to Rs.5,000 per month.
iii.The cabinet also approved the proposal of establishing the Amaravati Metropolitan Development Authority (AMDA) in the place of AP Capital Regional Development Authority (APCRDA) by repealing the Capital Region Development Authority (CRDA) Act….Click here to Read More
12th National Tribal Youth Exchange Programme inaugurated in Puducherry
On January 20,2020 Lieutenant Governor (LG) of Puducherry Dr Kiran Bedi inaugurated the 12th National Tribal youth Exchange programme. It is a week long program in which 200 Youths from Naxal-affected districts of Chattisgarh are taking part.
Organisers: The programme has been jointly organized by Nehru Yuva Kendra Sangathan (NYKS) and Puducherry Government to ensure development and empowerment of the tribal youths.
Key Points:
i.The NYKS National Vice Chairman Vishnu Varadhan Reddy, "Parliamentary Secretary to Puducherry Chief Minister" Lakshmi Narayanan, NYKS State Director Nataraj, Sub-Collector Shashvat Saurabh, and other dignitaries participated in the inaugural function.
ii.The participants will also be visiting many places to know about the language, customs, culture, arts, dressing patterns and food patterns of Puducherry.
About Puducherry:
Chief Minister- Velu Narayanasamy.
Governor- Dr Kiran Bedi.
Traditional Folk Dance- Garadi.
Panel headed by Amit Shah to create tougher law against sexual harassment at work
On January 19, 2020 the Group of Ministers(GoM) headed by Union Minister of Home Affairs(MoHA) Shri Amit Shah constituted to further strengthen legal frameworks to prevent sexual harassment at the workplace, has now finalised the recommendations for it. The recommendations in brief are as follows:
Recommendations finalised by the GoM:
Addition of new provision in the Indian Penal Code(IPC) was recommended by the panel and will be put up for public comments. The amendments proposed will be largely based on the Vishaka guidelines which was laid down by the Supreme Court(SC) in 1997 based on which the above mentioned 2013 sexual harassment act was formed.
The existing laws on sexual harassment at the workplace would be incorporated when the overhaul of the IPC was complete. MoHA is also working to reboot the IPC which was introduced by the British in 1860.
Sections to be amended: Various sections in the IPC as well as Code of Criminal Procedure (Cr. PC) are to be amended and several retired judges, legal luminaries and State governments are being consulted by the Bureau of Police Research and Development (BPR&D) for this purpose. After amendment, the sections on crime against women will also be amended.
The GoM also reviewed Jagdish Sharan Verma committee which was constituted after the Nirbhaya gang-rape and murder in 2012….Click here to Read More
Supreme Court sets up a panel for draft mediation law headed by mediator Niranjan Bhat 
The Supreme Court set up a panel headed by mediator Niranjan Bhat to firm up draft legislation to give legal sanctity to disputes settled through mediation, which would then be sent to the government as a suggestion from the apex court.
Key Points:
i.On January 12, 2020, the committee met in Hyderabad, capital of Telangana to consider suggestions for a legislation put forth by mediators across the country.
ii.The panel headed by mediator Niranjan Bhat will recommend a code of conduct for mediators, who are legal experts.
iii.The other members of the panel are appointed by the Mediation and Project Conciliation Committee (MCPC) of the Supreme Court which includes Justice K Kannan, former ASGs AS Chandok and PS Narsimha, senior advocates Sriram Panchu and JP Singh, and senior mediators Susheela S, Sadhna Ramchandran, Laila Ollapally, and Anil Xavier.
Seismic Hazard Microzonation project was launched by the Ministry of Earth Science
The Ministry of Earth Science (MoES) has launched Seismic Hazard Microzonation project in major cities of India. The project aims to reduce the hazards of Seismic activities by taking proper measures in major Indian cities and areas falling under high-seismic Zones IV and V.
Key Points:
i.Seismic Hazard Microzonation is the process of identifying the earthquake-prone areas based on its geological and geophysical characteristics.
ii.The project has been completed in the State of Sikkim and in other eight cities namely Delhi, Bengaluru, Kolkata, Guwahati, Jabalpur, Dehradun Ahmedabad and Gandhidham.
iii.Japan is the best example for the proper implementation of microzonation techniques.
About Ministry of Earth Science:
Founded- 2006
Headquarters- New Delhi
Minister- Harsh Vardhan
INTERNATIONAL AFFAIRS
Oxfam Report: India's richest 1% people's Wealth is 4 times of 70% of population
On January 20, 2020 rights group Oxfam International released a report titled 'Time to Care:Unpaid and underpaid care work and the global inequality crisis'. As per the report, India's richest 1% of the population has more than 4 times of wealth held by 953 million people making up for the bottom 70% of the country's population. 2,153 of total billionaires globally in 2019 had more wealth than the 4.6 billion people who make up 60% of the planet's population. The report in detail are as follows:
Report on India:
Indian billionaires' wealth: Total combined wealth of 63 Indian billionaires is higher than the country's total Union Budget for the fiscal year 2018-19 which stood at Rs 24,42,200 crore.
Unpaid care work of Indian females:  Women and girls put in 3.26 billion hours of unpaid care work every day which marks a contribution to the Indian economy of at least Rs 19 lakh crore a year.
General report:
Unpaid care work by global females: Women aged 15 and above put in 12.5 billion hours of unpaid care work every day which is equal to the contribution the global economy of at least $10.8 trillion a year.
Report calculation: The report calculations were based on the latest data sources available, that also includes Credit Suisse Research Institute's Global Wealth Databook 2019 and Forbes' 2019 Billionaires List….Click here to Read More
BANKING & FINANCE
Airtel joins hands with Bharti AXA to provide Rs 179 prepaid plan with life insurance of Rs 2 lakh
On January 19, 2020, Bharti Airtel Limited (also known as Airtel), an Indian global telecommunications services company has partnered with Bharti AXA Life Insurance Company Limited to offer Rs 2 lakh insurance cover to Airtel users with every recharge of Rs 179 prepaid bundle. The new plan will be accessible at any Airtel retail store or on the Airtel Thanks app.
Key Points:
i.Prepaid pack:The new prepaid pack offers unlimited calling to any network, 2 GB (GigaByte) data, 300 SMS (Short Message Service ) with a validity of 28 days period.
ii.Insurance cover:In case of insurance cover, the users taking this plan should be between 18 and 54 years old. Users will be provided with a copy of the Insurance Certificate digitally in a matter of few minutes. However, at the request of the users, they can also be provided with a physical copy.
iii.The pack is designed to serve entry level smartphone users & feature phone users in semi-urban and rural areas by providing them a channel to financially secure themselves and their families while staying connected on Airtel network.
The benefits of this prepaid plan of Airtel will be available to the users in over 786,000 non-census cities and villages of all telecom circles of the country.
iv.In November 2019, Airtel launched a prepaid plan of Rs 599, in which users of in Delhi-NCR ( National Capital Region) are offered an insurance of Rs 4 lakh. This prepaid plan was launched with a validity of 84 days.
About Bharti Airtel Ltd:
Founded– 7 July 1995
Headquarters– New Delhi
Chairman– Sunil Bharti Mittal
About Bharti AXA Life Insurance Company Ltd:
Headquarters– Mumbai, Maharashtra
Founded– 2005
MD & CEO– Vikas Seth
Reserve Bank cancels certificate of authorisation of Vodafone m-pesa
On January 21, 2020, India's central bank, the Reserve Bank of India (RBI) has cancelled the Certificate of Authorisation (CoA) of Vodafone M-pesa Limited, a Payment System Operator (PSO), after it had voluntarily surrendered the authorization. Now Vodafone m-Pesa cannot continue to transact the business of issuance & will no longer have the right to provide payment facility as a prepaid instrument (PPI).
Key Points:
i.However, m-Paisa customers and merchants can claim valid under POS. They will have the right to claim their settlement from the company within 3 years of canceling the license i.e. by September 30, 2022.
ii.Vodafone Idea in 2019 has decided to close m-pesa vertical after the closure of Aditya Birla Idea Payments Bank Limited (ABIPBL), with which it was being merged. Vodafone m-pesa was one of the 11 firms that were granted a payment bank license by the RBI in 2015.
About Vodafone M-pesa Limited:
Formation– 13 September 2014
Headquarters– Mumbai ,Maharashtra
ECONOMY & BUSINESS
IMF trims India's 2019 GDP growth forecast to 4.8% from 6.1%
On January 20, 2020,The International Monetary Fund (IMF),an international organization, in its World Economic Outlook 2020, has reduced India's economic growth forecast for 2019 to 4.8 % from 6.1% predicted earlier in October 2019. The growth projections have been lowered, citing pressure from non-banking financial companies (NBFCs) and weak income growth in rural India.
It also estimated the India's economic growth rate at 5.8 % in 2020 and 6.5 % in 2021. This figure is 1.2 % and 0.9 % less than the previous estimate of the world economic scenario released in October 2019.
IMF reduced global growth forecast to 2.9% from 3% for 2019
The IMF has reduced growth estimates for the global economy to 2.9 % in 2019, 0.1 % point lower than its earlier forecast of 3%.
It also predicted the growth estimate 3.3 % in 2020 and 3.4 % for 2021….Click here to Read More
India ranked 8th among the top 10 nations receiving FDI in 2019, US tops: UNCTAD report
On January 20, 2020, According to the "Global Investment Trend Monitor report 2020" released by United Nations Conference on Trade and Development (UNCTAD), India ranked 8th among the top 10 countries attracting foreign direct investment (FDI) in 2019. During this period FDI in India grew by 16 % to $ 49 billion (bn). This led to a surge in FDI growth in South Asia (SA), which recorded a 10% increase in FDI to $ 60 billion.
Top 3: The United States (US) remained the largest recipient of FDI in flow, attracting $251 billion, followed by China with flows of $140 bn & Singapore with $110 bn.
Global FDI:Foreign direct investment globally fell by 1% to $1.39 trillion. In 2018 it stood at $ $1.41 trillion. The report noted that investment has declined due to weakness in macroeconomic performance and uncertainty on policy front including trade stress.
Cross Border Mergers and Acquisitions (M&A): It has witnessed the lowest level since 2014 by 40 % in 2019 to $490 billion due to sluggish Eurozone growth and Brexit, European M&A sales volume halved to $190 billion….Click here to Read More
AWARDS & RECOGNITIONS      
Priya Prakash wins Cisco Youth Leadership Award 2019
Priya Prakash, the founder and CEO (Chief Executive Officer) of India-based "HealthSetGo" has won the Global citizen prize: Cisco Youth Leadership award for 2019. The award was given for her school health program that provides healthcare support to children. The Award was given by Cisco Executive Vice President and Chief People Officer Fran Katsoudas at Royal Albert Hall, London, United Kingdom (UK).
Global Citizen Prize: Global Citizen Price is an award given to world leaders, artists, business leaders, and youth activists.
Cisco Youth Leadership award for 2019:
i.Award contribution: The prestigious award honours individuals aged 18-30 years who bring changes in the world by solving some of the global challenges.
ii.Cash prize:The award includes a $250,000 cash prize paid to the individual organization to which individual contributes for their further mission.
HealthSetGo:
i.HealthSetGo is a healthcare organisation that supports the UN's (United Nation) Sustainable Development Goals (SDGs) and to improve the health & lives of children. HealthSetGo in a span of 4 years has become India's largest healthcare organisation for schools.
ii.The company creates a digital health report card with the help of Artificial Intelligence (AI) & Data Analytics (DA) that provide complete information about a child's health aged 2 to 17 in finding the diseases.
Information recording: Doctor's record the information in real time on HealthSetGo's proprietary app, records are sharable and providing a single place for medical records to be stored.
 APPOINTMENTS & RESIGNATIONS    
Royal Bank of Scotland appoints Punit Sood as RBS India Head
On January 21, 2020, Punit Sood has been appointed as country head of RBS (Royal Bank of Scotland), India succeeding Pankaj Phatarphod. He will be responsible for building the organisation's strategic capabilities and will support the bank to achieve its goals.
Key Points:
i.Previously, he was serving as the advisor of Cornerstone Venture Partners Fund, a technology-focused global VC (Venture Capital) funds.
ii.Second innings of Sood at RBS:Punit Sood was previously appointed as the head of technology, RBS, India from 2016 to February 2018
iii.Positions of Sood:Sood was the CIO (Chief Information Officer) of JP Morgan (John Pierpont Morgan) and also held the key positions in Citibank, Mphasis and GE (General Electric) capital services.
iv.Graduation: He was a graduate from IIT (Indian Institute of Technology) Roorkee, Uttarakhand, and IIM (Indian Institutes of Management) Ahmedabad, Gujarat.
About RBS:
Headquarters- Edinburgh, UK (United Kingdom).
Chief Executive Officer (CEO)- Alison Rose.
Chairman- Howard Davies.
Challa Sreenivasulu Setty appointed as the Managing Director of SBI
On January 20, 2020, the Government of India (GOI) has appointed Challa Sreenivasulu Setty as the Managing Director (MD) of the State Bank of India (SBI) for a period of three years. He is currently serving as the Deputy Managing Director (DMD) of the SBI.
Key Points:
i.The proposal of the Department of Financial Services (DFS), Ministry of Finance, GOI to appoint Setty as the MD of the SBI is approved by the Appointment Committee of Cabinet (ACC).
ii.Three other Managing Director of State Bank of India are Shri P. K. Gupta, Shri Dinesh Kumar Khara, Shri Arijit Basu & Shri C.S. Setty .
About SBI:
Founded- July 1, 1955
Headquarters- Mumbai
Chairman- Rajnish Kumar
Former principal secretary to the PM, Nripendra Misra appointed as the new chairperson of NMML council
Nripendra Misra, the former principal secretary to the Prime Minister (PM) Narendra Modi has been appointed chairperson of the executive council of the Nehru Memorial Museum and Library (NMML). The appointment is confirmed by the Ministry of Culture.
Key Points:
i.A. Surya Prakash, chairperson of the Prasar Bharati board, will be the NMML council's vice-chairperson.
ii.The objective of the council  is to oversee the building of the museum of the Prime Ministers of India.
iii.Prime Minister Narendra Modi is the President of the NMML Society and Defence Minister Rajnath Singh its vice president.
iv.74-years-old, Misra is a  retired Indian Administrative Service (IAS) officer of 1967-batch. He also worked as the chairperson of Telecom Regulatory Authority of India (TRAI), secretary, Telecom and secretary, Fertilizers.
Govt appoints Sanjiv Chadha, Atanu Kumar & Lingam Prabhakar to head BOB, BOI & Canara Bank respectively
On January 20,2020 The Government appointed head of 3 large public sector banks- Bank of India (BOI), Bank of Baroda (BOB) and Canara bank for a period of 3 years. The announcement in this regard was made by the Ministry of Personnel. The newly appointed members are as follows:
[su_table]
| | | |
| --- | --- | --- |
| Name | Bank  | Position  |
| Sanjiv Chadha | Bank of Baroda | Managing Director(MD) & Chief Executive Officer(CEO) |
| Atanu Kumar Das | Bank of India | MD & CEO |
| Lingam Venkat Prabhakar | Canara Bank | MD & CEO |
[/su_table]
Key Points:
i.Sanjiv Chadha: He served as the Deputy Managing Director (DMD) at State Bank of India (SBI) and will replace P.S. Jayakumar whose term came to an end after his 1 year extension ended in October 2019.
ii.Atanu Kumar: Atanu Kumar Das served as the Executive Director (ED) of the Bank of India (BOI) and hence promoted as the MD & CEO of Bank of India (BOI) following its vacancy since july last year.
iii.Venkat Prabhakar: Prabhakar served as the Executive Director (ED) of the Punjab National Bank (PNB) and he will be replacing R A Sankara Narayanan who will be retired at the end of January 31, 2020.
Bank of Baroda:
Headquarters- Vadodara,Gujarat.
Tagline- India's International Bank.
Bank of India:
Headquarters- Mumbai,Maharashtra.
Tagline- Relationship Beyond Banking.
Canara Bank:
Headquarters- Bengaluru,Karnataka.
Tagline- Together We Can.
      SCIENCE & TECHNOLOGY
WHO: TB diagnostic test 'TrueNat' developed in India has high accuracy
On January 17, 2020 The World Health Organisation's (WHO's) Global Tuberculosis Programme has included an Indian Molecular assay (test or analysis) named "TrueNat" as its initial test to identify strain resistance of TB bacteria. The assay has been included in a rapid communication document on Molecular Assays of the mentioned global TB programme and has high accuracy.
i.TrueNat: It is a molecular diagnostic test for pulmonary and extrapulmonary TB and rifampicin-resistant TB. It provides resistance to rifampicin drug in about 90 minutes and will now replace sputum smear microscopy.
ii.Developers: TrueNat is developed by Goa-based Molbio Diagnostics with technical assistance from Global non-profit organisation (NPO) called Foundation for Innovative New Diagnostics (FIND).
iii.Pre-qualification process:  As part of WHO prequalification process, field evaluation was conducted in 4 countries namely India, Ethiopia, Peru and Papua-New Guinea. A global non-profit organisation(NPO) named Foundation for Innovative New Diagnostics (FIND) coordinated the field evaluation.
The field study in the Indian centres were funded by the Indian Council of Medical Research (ICMR)….Click here to Read More
VGM mobile app: Developed Students of IIT (BHU), Varanasi, UP to check crimes against women
Mrityunjay Singh and Priya Rai, the students of Indian Institute of Technology (IIT)-Banaras Hindu University (BHU) in Varanasi, Uttar Pradesh have developed a women security app 'Very Good Morning' (VGM) to reduce the crimes against women.
Key Points:
i.By pressing the mobile's power button thrice  the app sends the location of the mobile number to the police emergency number.
ii.If the mobile is stolen then the Picture and the location of the thief will be sent to the emergency numbers when the person tries to switch it off.
iii.The app has got 4.3 ratings in the playstore.
About Uttar Pradesh:
Capital city- Lucknow
Chief Minister- Yogi Adityanath
Governor- Anandiben Patel
State Animal- Swamp Deer
State Bird- Sarus Crane
State Tree- Ashoka tree
State Flower- Palash
SPORTS
India won the ODI series against Australia held from January 14–19, 2020
The Indian men's cricket team played 3 ODIs (One Day Internationals) against Australia from January 14-19,2020. The ODI was part of the Australia tour of India, 2020 that consists of 3 ODIs matches, which were held at Wankhede Stadium, Mumbai,  Maharashtra; Saurashtra Cricket Association Stadium, Rajkot, Gujarat; M.Chinnaswamy Stadium, Bengaluru, Karnataka.
The Indian team defeated Australian team in the 3 match ODI series by winning 2 matches (2-1).
The match highlights are as follows:
Kuldeep Yadav became the 3rd fastest Indian bowler to claim 100 wickets in ODI
Rohit Sharma breaks Hashim Amla's record as fastest batsman to score 7000 ODI runs as opener
Virat Kohli became the fastest captain to complete 5000 ODI runs, broke MS Dhoni's record; Kohli also the fastest batsman to reach 11,000 runs in ODI cricket
ICC ODI rankings 2020: Virat Kohli tops in Batting Ranking, Bumrah also on top as bowler….Click here to Read More
OBITUARY
Former Indian cricketer Man Mohan Sood passed away at 80
On January 19,2020 Former test Cricketer and National selector Man Mohan Sood, 80 years old, passed away in New Delhi. Sood played 1 Test and 39 first-class matches with 1 century. Born in Lahore, Punjab on 6 July 1939, he played his lone test match against Richie Benaud, Australia at Madras in 1960.
Key Points:
i.Sood played his first-class match against Services at Ferozeshah Kotla in 1957 and played his final Ranji Trophy match against Jammu and Kashmir at Srinagar in 1964.
ii.Administrator:Sood was a popular administrator at the Delhi and District Cricket Association (DDCA), Delhi.
About Delhi & District Cricket Association (DDCA):
Founded- 1883.
Chief Executive Officer (CEO)- Mr.Ravikanth Chopra.
BOOKS & AUTHORS
Hariharan Balagopal's Book 'The Gateway': A Social Commentary on Safety of Senior Citizens released
Hariharan Balagopal authored book "The Gateway: A Social Commentary on Safety of Senior Citizens" was released by Justice Konakuppakatil Gopinathan Balakrishnan, former Chief Justice of India (CJI), at the 14th Security Leadership Summit held in New Delhi. The book was published by Ailum publications. It stresses about the lack of safety faced by senior citizens.
Key Points:
i.About Book: The book discusses about the problem faced by senior citizens and conveys safety measures to avoid the problem by themselves without taking help from their kith and kin.
ii.About author: Hariharan Balagopal is a specialist in Media Management & Education and also as a consultant for many educational initiatives.
iii.The book will soon be made into a film for greater impact and will be produced by Arun Govil.
iv.The book forms the reference point from the 'NCRB report in 2016 (National Crime Records Bureau) about the difficult situations, day-to-day existence, petty robberies, murders against aged and elderly senior citizens.
About Delhi:
Chief Minister(CM)- Arvind Kejriwal.
Governor- Anil Baijal.
Ashwani Kumar's latest book, Human Dignity – A purpose in perpetuity, launched by Manmohan Singh
On January 19, 2020, Former Union Minister of Law and Justice, Ashwani Kumar authored the book title "Human Dignity – A purpose in perpetuity", which was released by Former Prime Minister Manmohan Singh during a book launch event at the India International Centre in New Delhi. The book was published by US(United States) based publisher LexisNexis.
Key Points:
i.The books portrays the author's view on issues related to freedom, dignity and justice faced in society.
ii.Former Vice-President Mohammad Hamid Ansari also took part on this occasion.
STATE NEWS
Delhi CM Arvind Kejriwal  launches a 10-point shorter election manifesto "Kejriwal Ka Guarantee Card"
On January 19, 2020, Delhi Chief Minister (CM) and AAP (Aam Aadmi Party) national convenor Arvind Kejriwal has launched the "Kejriwal Ka Guarantee Card", a 10-point shorter election manifesto of the party.
Few of the 10 "guarantees" assured by Delhi CM are as follows:
24 hours of electricity will continue – 200 units of free electricity for all people will continue, Delhi will be freed from the mess of high-tension wires
Delhi people will be provided 24-hour pure piped drinking water to each house in the next 5 years and the scheme of providing 20,000 liters of free water will continue.
Every child born in Delhi can access world-class education facility till graduation – whether it is a private school / a government school child.
The Guarantee Card also promised better health facilities for all people.
The party will make an effort to reduce pollution – more than 2 crore trees will be planted & Yamuna will also be freed from pollution, at the end of 5 years….Click here to Read More
AC BYTES
Tropical Cyclone Tino batters Fiji
Cyclone Tino has hit an island nation of Fiji. Vanua Levu, which is the second-largest island in Fiji was hit by Cyclone Tino (category 3 storm), where Winds observed at the speed of 130-140 kmph. The capital and Currency of Fiji is Suva and Fijian Dollar respectively.
Current Affairs Headlines: 21 January 2020 
PM Modi & Nepal PM Sharma Oli inaugurated 2nd Integrated Check Post at Jogbani-Biratnagar
'One Nation, One Ration Card' scheme will be implemented by June 1, 2020: Union Minister Ram Vilas Paswan
APEDA sets up 186 Agri Products testing laboratories across the country
International Conclave on 'Globalising Indian Thought' held in IIT-Kozhikode from January 16-18, 2020
3rd edition of Pariksha Pe Charcha 2020: PM Modi interacts with students, teachers in New Delhi
Andhra Pradesh Cabinet clears the Proposal for three capitals: Visakhapatnam, Amaravati, Kurnool
12th National Tribal Youth Exchange Programme inaugurated in Puducherry
Panel headed by Amit Shah to create tougher law against sexual harassment at work
Supreme Court sets up a panel for draft mediation law headed by mediator Niranjan Bhat
Seismic Hazard Microzonation project was launched by the Ministry of Earth Science
Oxfam Report: India's richest 1% people's Wealth is 4 times of 70% of population
Airtel joins hands with Bharti AXA to provide Rs 179 prepaid plan with life insurance of Rs 2 lakh
Reserve Bank cancels certificate of authorisation of Vodafone m-pesa
IMF trims India's 2019 GDP growth forecast to 4.8% from 6.1%
India ranked 8th among the top 10 nations receiving FDI in 2019, US tops: UNCTAD report
Priya Prakash wins Cisco Youth Leadership Award 2019
Royal Bank of Scotland appoints Punit Sood as RBS India Head
Challa Sreenivasulu Setty appointed as the Managing Director of SBI
Former principal secretary to the PM, Nripendra Misra appointed as the new chairperson of NMML council
Govt appoints Sanjiv Chadha, Atanu kumar & Lingam to head BOB, BOI & Canara bank respectively
WHO: TB diagnostic test 'TrueNat' developed in India has high accuracy
VGM mobile app was developed by  Mrityunjay Singh and Priya Rai, Students of IIT (BHU), Varanasi, UP
Highlights of India Vs Australia ODI 2020 series held from January 14 – 19
Former Indian cricketer Man Mohan Sood passed away at 80
Hariharan Balagopal's Book 'The Gateway': A Social Commentary on Safety of Senior Citizens released
Ashwani Kumar's latest book, Human Dignity – A purpose in perpetuity, launched by Manmohan Singh
Delhi CM Arvind kejriwal  launches a 10-point shorter election manifesto "Kejriwal Ka Guarantee Card"
Tropical Cyclone Tino batters Fiji
[su_button url="https://affairscloud.com/current-affairs/january-2020/" target="self" style="default" background="#2D89EF" color="#FFFFFF" size="5″ wide="no" center="no" radius="auto" icon="" icon_color="#FFFFFF" text_shadow="none" desc="" download="" onclick="" rel="" title="" id="" class=""]Click Here to Read Current Affairs January 2020[/su_button]
AffairsCloud Ebook - Support Us to Grow