On January 17, 2020 The World Health Organisation's (WHO's) Global Tuberculosis Programme has included an Indian Molecular assay (test or analysis) named "TrueNat" as its initial test to identify strain resistance of TB bacteria. The assay has been included in rapid communication document on Molecular Assays of the mentioned global TB programme and has high accuracy.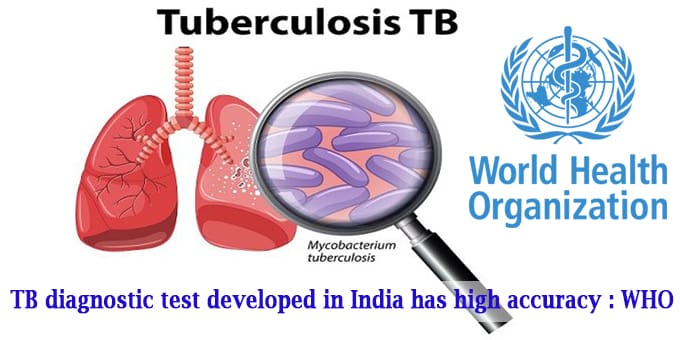 TrueNat and its development:
i.TrueNat: It is a molecular diagnostic test for pulmonary and extrapulmonary TB and rifampicin-resistant TB.
It provides resistance to rifampicin drug in about 90 minutes and will now replace sputum smear microscopy.
ii.Sensitivity: The sputum microscopy has only 50% sensitivity while overall sensitivity of the Truenat Mycobacterium tuberculosis (TrueNat MTB) assay is 83% and specificity is 99%. When compared with globally accepted GeneXpert test, TrueNat's sensitivity is 85% and specificity is 98%.
Thus, in general Truenat MTB-RIF test for knowing the resistance has 93% sensitivity and 95% specificity.
iii.Developers: TrueNat is developed by Goa-based Molbio Diagnostics with technical assistance from Global non-profit organisation(NPO) called Foundation for Innovative New Diagnostics (FIND). The diagnostic tool was assessed by Indian Council of Medical Research (ICMR).
iv.Cost efficiency: It is highly cost effective when compared to the GeneXpert test. It can also be tested in peripheral centres and is not necessary to be stored in an air-conditioned laboratory.
The development of TrueNat was mainly due to the efforts made by ICMR to promote indigenous technologies for diagnosis of TB and multidrug and extensively drug resistant TB (MDR/ XDR TB).
Development support: The technological developments were made with the support from Department of Health Research in Union Ministry of Health and Family welfare(MoHFW) and Department of Biotechnology in Union Ministry of Science and Technology(MoST).
v.Pre-qualification process:  As part of WHO prequalification process, field evaluation was conducted in 4 countries namely India, Ethiopia, Peru and Papua-New Guinea. Global non-profit organisation(NPO) named Foundation for Innovative New Diagnostics (FIND) coordinated the field evaluation.
The field study in the Indian centres were funded by ICMR.
About World Health Organisation:
Founded- 7 April 1948.
Headquarters- Geneva, Switzerland.
Director General- Tedros Adhanom Ghebreyesus.
AffairsCloud Ebook - Support Us to Grow