We are here for you to provide the important Recent and Latest Current Affairs 17 & 18 November 2019, which have unique updates of Latest Current Affairs 2019 events from all newspapers such as The Hindu, The Economic Times, PIB, Times of India, PTI, Indian Express, Business Standard and all Government official websites.
Our Current Affairs November 2019 events will help you to get more marks in Banking, Insurance, SSC, Railways, UPSC, CLAT and all State Government Exams. Also try our Latest Current Affairs Quiz and Monthly Current Affairs PDF which will be a pedestrian to crack your exams.
Click here for Current Affairs November 16 2019
INDIAN AFFAIRS
Indian Army conducted Sindu Sudarshan-VII exercise in Rajasthan
On November 16, 2019 the Strike Corps of the Indian Army(IA) has conducted its second phase of the exercise named Sindu Sudarshan-VII in Jaisalmer-Barmer deserts of Rajasthan from November 12-18, 2019. The aim of the exercise was to evaluate the capability and battle readiness of the defence forces in an integrated air-land battle in a semi-developed terrain of the desert.
The Bhopal-based strike 21 Corps, formed in 1990 and rechristened as the 'Sudarshan Chakra Corps' of the southern command, has undertaken this year's exercise.
3rd phase: The 3rd phase of the exercise will be conducted in the Pokhran field firing range of Rajasthan from November 29-December 4, 2019……Click here to Read More
India pledged to contribute $13.5 million for 2020 UN Development Activities 
On November 15, 2019 the United Nations (UN), has announced India's pledge to contribute $13.5 million for UN development activities 2020 for various operational activities of the UN. It was announced at the UN General Assembly (UNGA) pledging conference for development activities by Anjani Kumar, Counsellor at India's Permanent Mission to the UN.
Key Points:
i.A total of $516 million was pledged from over 16 countries at the pledging conference for development activities.
ii.India's contribution: $ 5million will be contributed to the UN Relief and Works Agency for Palestine Refugees in the Near East; $4.5 million to UN Development Programme(UNDP); $1.92 million to World Food Programme(WFP);  $900,000 to UN International Children's Emergency Fund(UNICEF); $150,000 to UN Commission on Human Settlements Programme(UN-HABITAT); $100,000 each for UN voluntary contributions for financial and technical assistance for the implementation of Universal Periodic Review(UPR), UN Environment Programme(UNEP) and the UN Office on Drugs and Crime(UNODC).
iii.Recently in September 2019, Prime Minister shri Narendra Modi had announced a $ 14 million grant for community development projects in the Caribbean Community and Common Market(CARICOM)and another 150-million-dollar Line of Credit(LoC) for solar, renewable energy and climate-change related projects.
Health ministry launched SAANS campaign in Gujarat, to curb pneumonia deaths in kids
On November 16, 2019 the union minister of health and family welfare(MoH&FW) Dr. Harsh Vardhan launched "SAANS" campaign in Gandhinagar, Gujarat during the inauguration of 6th National Summit on Good, Replicable practices and innovations. It was a 3-day event, held from November 16-18, 2019.
Aim: SAANS which is in short of 'Social Awareness and Action to Neutralise Pneumonia Successfully' was launched with the aim of reducing child mortality due to pneumonia. It aims to mobilise people to protect children from the disease and to train health personnel and other stakeholders in controlling the disease.
Govt health targets: The govt has the aim of reducing Pneumonia deaths in children to less than 3% per 1000 live births by 2025……Click here to Read More
Govt announced Bharatiya Poshan Krishi Kosh (BPKK) for better nutritional outcomes in New Delhi
On November 18, 2019 the union minister of Women and Child Development (MoWCD) Smt Smriti Zubin Irani has announced the Bharatiya Poshan Krishi Kosh (BPKK), a repository of a variety of crops across 128 agro-climatic zones for better nutritional outcomes in New Delhi. MoWCD has collaborated with Bill and Melinda Gates Foundation for this project.
Aim: The aim of the kosh is to reduce malnutrition through multi-sectoral results-based framework, which includes agriculture, among women and children across the country. It also aims to promote healthy dietary practices.
Father of Green Revolution in the country, Dr Mankombu Sambasivan Swaminathan through a video conference released five-point action plan to make India nutrition secure…..Click here to Read More
Indian govt. extended Visa-on-arrival facility to UAE citizens
On November 16,2019 govt. of India has extended its Visa-On-Arrival facility to the citizens of the United Arab Emirates(UAE). This announcement was done as part of the aim of strengthening people to people and trade links as well as strategic ties by both the nations.
Visa-On-Arrival duration:  The Visa-On-Arrival for the UAE citizens is available for a period of 60 days. The 60- day Visa-On-Arrival also has a double entry for business, tourism, conference, and medical purposes.
Key Points:
i.The Visa-On-Arrival is now available at 6 designated International Airports. They are Bangalore(Karnataka), Chennai(TamilNadu), Delhi, Hyderabad(Telangana), Kolkata (West Bengal) and Mumbai(Maharashtra).
ii.Visa-On-Arrival availability:  It is available only to the UAE citizens having obtained an e-Visa or a normal paper Visa for India earlier, irrespective of whether they have visited India or not. Pakistan Origin UAE nationals are not eligible for Visa-On-Arrival Scheme.
About United Arab Emirates(UAE):
Capital- Abu Dhabi.
Currency- UAE dirham.
Official language- Arabic.
President- Khalifa bin Zayed Al Nahyan.
Consumer Affairs Minister Ram Vilas Paswan releases Water Quality Report 2019: Mumbai tops, Delhi at bottom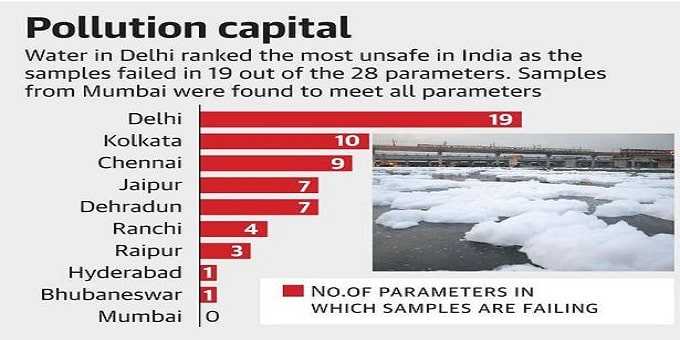 On November 16, 2019,The Union Minister of Consumer Affairs, Food & Public Distribution Shri Ram Vilas Paswan has released BIS's  (Bureau of Indian Standards)Water Quality Report 2019 for State Capitals & Delhi.
The test reports on samples of drinking water taken from 20 states across the country including Delhi.
Findings: Mumbai ranked number 1 in this report as all 10 samples comply with every standard. Hyderabad (Telangana) is at number two and it was followed by Bhubaneswar,Odisha (3rd ). Delhi's water is the worst as all the 11samples drawn from various places did not comply with the requirements (19 out of 28 parameters failed).
i.The BIS standard involves 48 different parameters. Samples are being tested under 28 parameters, leaving out parameters related to radioactive substances and free residual chlorine.
ii.By 2024, the central Governmnet has set a target to tap every house in the country and provide pure water under its flagship Jal Jeevan Mission….Click here to Read More
21st Annual Conference of International Society of Addiction Medicine (ISAM) held in New Delhi
A 4-day long 21st (XXI) annual conference of the International Society of Addiction Medicine(ISAM) was held in New Delhi from November 13-16, 2019. Union Minister for Social Justice & Empowerment, Shri Thaawarchand Gehlot addressed the event. The conference was about drug addiction and its prevention for the citizens in the country.
Theme: The theme for 2019 conference was "Addiction in a Rapidly Changing World".
The conference was organised by the Department of Psychiatry & National Drug Dependence Treatment Centre (NDDTC), All India Institute of Medical Sciences (AIIMS), New Delhi.
The conference was supported by the Ministry of Social Justice & Empowerment (MoSJ&E), Ministry of Health & Family Welfare (MoH&FW) and the Department of Revenue(DoR), Ministry of Finance(MoF)…..Click here to Read More
AYUSH Minister Shripad Naik inaugurates 5th International conference on yoga 2019 at Mysuru, Karnataka
On November 15, 2019, Shri Shripad Yesso Naik, the Union Minister of State (Independent Charge) for AYUSH (Ayurveda, Yoga & Naturopathy, Unani, Siddha and Homoeopathy) and Defence has inaugurated 2- day 5th International Conference on Yoga 2019 based on the theme 'Yoga for Heart Care' at Karnataka state open University in Mysuru, Karnataka organized by Ministry of AYUSH.
Key Points:
i. It commemorate the unanimous adoption of Resolution by the United Nations General Assembly (UNGA) during its 69th Session for observing June 21st as the International Day of Yoga.
ii.A total of 10 technical sessions involving fifty resource persons & experts, organized during the Conference. Vd. Rajesh Kotecha, Secretary Ministry of AYUSH, Swami Ram Dev, Patanjali Yog Peeth, Minister of State (MoS) for Health and Family Welfare Ashwini Kumar Choubey were present during the event.
iii.For the welfare of  individual yoga trainers & Yoga Training institutions, the ministry has constituted a Yoga Certification Board for the certification and accreditation.
iv.Earlier, the ministry has also launched a mobile app called 'Yoga Locator'/ Bhuvan Yoga in cooperation with ISRO (Indian Space Research Organisation) to locate the yoga events and training programmes in India.
About Ministry of AYUSH:
Founded– 9 November 2014
Headquarters– New Delhi
ECI to establish a visiting chair in memory of former CEC T N Seshan
On November 16, 2019 in order to commemorate former Chief Election Commissioner(CEC) Tirunellai Narayana Iyer Seshan who passed away recently on November 10, 2019, the Election Commission of India (ECI), has decided to establish a visiting chair on interdisciplinary approach to Electoral Studies. It will be established in the Centre for Curriculum Development at India International Institute of Democracy and Election Management (IIIDEM), New Delhi from 2020-2025.
Visiting chair mentor: Shri N Gopalaswami, former CEC will be the mentor of the chair. The chair is expected to be functional by August-September 2020.
Key Points:
i.The announcement in this regard was made by present CEC Sunil Arora while delivering the keynote address at the Institute of Law, NIRMA University, Ahmedabad, Gujarat.
ii.Visiting Chair programme: Young academics will be trained in the fields relatable to electoral studies. One national seminar will be conducted on the aspect of electoral studies.
iii.Members present: President of NIRMA University, Dr Karsanbhai K Patel; Umesh Sinha Secretary General ECI; Vice Chancellor-Dr. Anup Singh &  Dr Purvi Pokhariyal Director of the Institute of Law, faculty and students were present during the event.
About Election Commission of India(ECI):
Formed- 25 January 1950 (also the day being celebrated as national voter's day).
Headquarters- New Delhi.
Indian Oil launched winter-grade diesel for Ladakh for extreme winter upto -30 °C
On November 17, 2019, the state-run Indian Oil Corporation Ltd (IOCL) has introduced a special winter grade diesel which remains unfrozen up to minus 33-degree celsius (-33 °C). The diesel was launched to provide year-round access to snow-capped border regions and enhance road connectivity. The diesel was launched by the union minister of Home Affairs Shri Amit Shah through a video link.
Key Points:
i.The new fuel mainly would benefit security forces of India to stock up on crucial supplies and ammunition that gets cut off due to bad weather in winters.
ii.An estimated investment amount of Rs 50,000 crore has been initiated for development projects in Union Territory(UT) of Ladakh in areas of power, solar energy, education and tourism.
iii.Members present: Shri Dharmendra Pradhan, Minister of Petroleum & Natural Gas and Steel, and Shri Jamyang Tsering Namgyal, Member of Parliament of Ladakh, and other officials were present on the occasion.
About Indian Oil Corporation Ltd (IOCL):
Founded- 30 June 1959.
Headquarters- New Delhi.
Chairman- Sanjiv Singh.
India-South Korea celebrated 4th International cherry blossom festival 2019 in Shillong, Meghalaya

Meghalaya Chief Minister, Conrad K Sangma has Inaugurated the four-day 4th International Cherry Blossom Festival 2019 held from November 13 – 16 at the Polo Grounds in Shillong, Meghalaya. For the 1st time, India & South Korea jointly celebrated this festival that witnessed the celebration of the unique autumn flowering of Himalayan Cherry Blossoms (scientifically known as the Prunus cerasoides). South Korea Ambassador to India Shin Bong-kil joined the celebration.
Key Points:
i.The primary aim of this festival was to attract tourists to the hill state in autumn to witness the unique beauty of pink and white cherry blossoms.
ii.The Festival was organized by the Meghalaya government (spearheaded by the Forest and Environment Department) in association with the Institute of Bioresources and Sustainable Development (IBSD) and the Indian Council for Cultural Relations (ICCR).
iii. Shillong festival included events like fashion shows, rock concerts, a beauty pageant &many stalls showcased state's food, wine, and crafts. Having as the Republic of Korea as a partner country, several K-events, including a K-Pop concert and K-cuisine stall exhibiting opportunities in education in South Korea were organized in collaboration with the Korean Cultural Centre India.
iv.Cherry Blossoms: It lights up parts of the East Khasi Hills and state capital Shillong to mark the start of India's version of autumn. In 2018, the tress bloomed by late October, but this year the flowers are making an appearance in November 2019.
About Meghalaya:
Capital– Shillong
Governor:-Tathagata Roy
INTERNATIONAL AFFAIRS
Pakistan becomes the 1st country to launch new typhoid vaccine approved by WHO
On November 15, 2019, Pakistan becomes the first country in the world to launch the World Health Organization (WHO) approved the new Typhoid conjugate vaccine (TCV). Zafar Mirza, a special assistant to the prime minister on health and Azra Fazal Pechuho, provincial minister of health, were present at the function of TCV inauguration held in Karachi, Pakistan.
Key Points: –
i.Immunisation routine– This vaccine will be used during the routine immunisation programme, initially in two-week immunization campaign in southern Sindh province.
ii.TCV– TCV is a one-dose vaccine, that will be injected intramuscularly. The vaccine cost is low and it has high efficiency. It is expected to provide long-lasting immunity power in adults, children and 9-month infants.
Additional Details: –
The strain of Salmonella Typhi bacteria, also known as "superbug", has so far infected around 11,000 people in Pakistan, Sindh province faced the worst-hit.
Because of this "superbug" the death rate rises to 20 per cent, in order to curb this situation, the TCV was introduced.
About Pakistan: –
Capital – Islamabad
President- Arif-ur-Rehman Alvi
Prime minister– Imran Khan
Currency- Pakistani rupee
BANKING & FINANCE
Asian Infrastructure Investment Bank (AIIB) approves 75 million for renewable energy sector
On November 16, 2019, Asian Infrastructure Investment Bank (AIIB), a multilateral development bank that aims to support the building of infrastructure in the Asia-Pacific region, has approved $75-million loan to Mumbai based Tata Cleantech Capital Limited (TLLC) to help mobilize private capital into renewable energy, power transmission and water infrastructure.
AIIB mulls $2.2-billion loan for Indian infra projects
The bank also extended the loans worth over $2.2 billion for funding power transmission and distribution projects in Assam, metro rail projects in Chennai, Mumbai and rural water supply system in Karnataka.
It covers, A credit line of $500 million to Mumbai's suburban railway network that was approved on October 2019. It will be used for the Mumbai Urban Transport Project (MUTP) for the quadrupling of the Virar-Dahanu Road corridor of 64 kilometers.
AIIB will start disbursing $400-million loan for strengthening electricity distribution in Assam & an equal amount in two phases for a transmission project in the eastern State.
Approval of $800-million loan for Chennai metro,  $400-million loan for a rural water supply system in Karnataka and a few road projects.
Key Points:
i.AIIB also committed $50 million loan for Oriental Infra Trust, an infrastructure investment trust sponsored by Oriental Structural Engineers Pvt Ltd and Oriental Tollways Pvt Ltd .
ii.It will also disburse $ 455 million in Andhra Pradesh (AP) Rural Roads Project and $ 450 million in AP Urban Water Supply Project.
AIIB Investments in India:
India is the largest borrower from AIIB as the total funding India received from AIIB, so far, is $2.894 billion for 13 projects .
AIIB plans to increase lending operations to $10 billion every year by 2025 from an annual target of $4.5 billion at present. In the last 3 years, it has approved 55 projects with a total investment of $10 billion. Of this, India's share in the total borrowing is about 30% / $3 billion.
About AIIB:
Formation -January 16, 2016
Headquarters -Beijing, China
Membership -75 Members
India-Russia-China to explore an alternative to SWIFT payment mechanism
On November 14, 2019 India, China and Russia have partnered together to explore an alternative to the SWIFT (Society for Worldwide Interbank Financial Telecommunication) payment mechanism in-order to smoothen the trade with countries that face American sanctions.
Payment system linkage: As part of this exploration, Russia will link its financial messaging system SPFS (System for Transfer of Financial Messages) with Chinese Cross-border Interbank Payment System (CIPS). As India doesn't have its own domestic financial payments system, it is in plan to link the Central Bank of Russia's platform with a service that is under development.
Key Points:
i.The new system by the three nations, is expected to work as a "gateway" model. The messages on payments will be transcoded in accordance with a certain financial system.
ii.The model is also believed to be developed on the 11th BRICS (Brazil, Russia, India, China and South Africa) summit agenda as the BRICS nations are planning to have seperate trade exploration among themselves in national currencies.
About Society for Worldwide Interbank Financial Telecommunication(SWIFT):
Fact- SWIFT provides a network that enables financial institutions worldwide to send and receive information about financial transactions in a secure, standardized and reliable environment.
Code length- It is a 8-11 character alphabetic code.
Founded- 1973.
Chief Executive Officer(CEO)-  Javier Pérez-Tasso.
AWARDS & RECOGNITIONS
GI tag granted to Darjeeling green and white tea
On November 16, 2019 the green tea and white tea of Darjeeling have been granted with the Geographical Indication (GI) product tag. The announcement in this regard was made by the Darjeeling Tea Association (DTA). Both the green and white tea varieties are registered under Geographical Indications of Goods (Registration and Protection) Act 1999, with effect from October 2019.
Key Points:
i.The tea board of India has applied for the GI tag in December 2017.
ii.The GI tag for Darjeeling tea which is considered as a "niche and luxury" product in the country and abroad will add strength to its intellectual property status. It is also to be noted that Darjeeling black tea has already been granted GI tag.
iii.Darjeeling tea production: Annually 8.5million kilograms of Darjeeling tea are produced. Of this, green tea comprises of 1million kilogram and white tea comprises one lakh kilogram.
About Darjeeling:
Fact- Darjeeling is a town in India's West Bengal state. Darjeeling Himalayan Railway, a UNESCO (United Nations Educational, Scientific and Cultural Organization) World Heritage Site is located here.
Nickname- The Queen of hills.
APPOINTMENTS & RESIGNATION
Gotabaya Rajapaksa elected as the 7th executive President of Sri Lanka
On November 17 2019, Sri Lanka's former Defence Secretary Nandasena Gotabaya Rajapaksa has won the Presidential election by defeating Sajith Premadasa. Gotabaya Rajapaksa is the brother of former President Mahinda Rajapaksa. He replaced President Maithripala Sirisena for a period of 5 years. He served as a Defence Secretary at the end of Liberation Tigers of Tamil Eelam (LTTE) war.
Key points: –
i.Gotabaya Rajapaksa won elections with 52.25 percent votes (6,924,255) while Sajith Premadasa received 41.99 percent votes polled (5,564,239).
ii.Sajith Premadasa, is a housing minister in the current government.
iii.After his defeat, Sajith Premadasa resigned from the post of deputy leader of United Nations Party (UNP).
iv.Gotabaya Rajapaksa becomes the seventh executive president of Sri Lanka.
About Sri Lanka: –
Legislative capital – Sri Jayawardenepura Kotte; Commercial capital – Colombo
Currency-Sri Lankan Rupee
Prime Minister- Ranil Wickremesinghe.
Reliance communication Director Anil Dhirubhai Ambani resigned
On November 16 2019, Anil Dhirubbai Ambani has resigned as the Director of Reliance Communication (RCom) because of the consolidated loss stood at Rs. 30,142 crores in the second quarter of 2019-2020.
Key Points: –
i.Other Resigns: Along with Anil Ambani, Chhaya Virani, Ryna Karani, Manjari Kacker, and Suresh Rangachar have also resigned as directors. Manikantan V, director and Chief Financial Officer (CFO) of RCom have resigned early.
ii.Agreement– To resolve the family dispute between Anil Ambani with his elder brother Mukesh Ambani, Anil got the telecom responsibility as a part of an agreement.Later Mukesh had started his own telecom venture, Reliance Jio, which is one of the largest telecom players in the country.
iii. Reliance Communications has been admitted under the Insolvency and Bankruptcy Code (IBC) since May 15, 2018.
iv.RCom's total liability includes Rs 23,327 crore licence fee and Rs 4,987 crore spectrum usage charges.
SCIENCE & TECHNOLOGY
DRDO Successfully conducts 1st  night-time trial of Agni-II ballistic missile
On November 16, 2019,In a major step towards strengthening the security of borders and army, the DRDO (Defence Research and Development Organisation), an agency of the Government of India (GoI), charged with the military's research and development, has successfully conducted the 1st night trial of Agni-II, an intermediate-range ballistic missile (IRBM) from Dr. Abdul Kalam Island off Odisha.
Key Points:
i.Agni II: The 20-meter-long, 17-tonnes two-stage ballistic missile, built indigenously, has the capability to carry up to 1000 kg of explosives. Its firepower is up to 2000 km. It is a solid-fuel missile and was developed by Advanced Systems Laboratory along with other DRDO laboratories & Bharat Dynamics Limited, Hyderabad.
ii.Part of agni series: The medium-range surface-to-surface missile gained a new strength in the Agni series missiles. This series includes includes 700-km range Agni-I, 3,000-km range Agni-III, Agni-IV and Agni-V. Agni-2 has already been inducted into the army.
iii.Background:The Agni-2 underwent its 1st flight test on April 11, 1999 .Before it was made operational by the Army, the trial of Agni-II was conducted by the Special Strategic Force Command (SFC) from the ITR(Integrated Test Range on May 17, 2010.
 Ballistic missile :
It is a missile whose launch path is the sub orbital ballistic path. It is used to fire a weapon at a predetermined target & is guided only at the initial stage of missile launch. The path after this is determined by the principles of the arbitral mechanic and by the ballistic principles.
About DRDO:
Headquarters– New Delhi
Motto-"Strength's Origin is in Science"
Chairman -Dr G. Satheesh Reddy
SPORTS
Luka Modric becomes the first Croatian to win prestigious 'Golden Foot' award 2019
On November 12, 2019, Real Madrid midfielder Luka Modric (34) from Crotia became the 17th winner of the Golden Foot award in Monaco. This award is given only to active athletes who must be over 29 years of age for outstanding athletic achievement and is awarded only once to athletes.
Key Points: –
i. Luka Modric becomes the first Croatian to win the prestigious 'Golden Foot' award 2019. He is also the second person to win the Golden Foot award a year after winning the Ballon d'Or. Juventus FC's (Football Club) Pavel Nedved from the Czech Republic was the first player to do so.
ii. Edison Cavani, Uruguayan football player won this award in the year 2018.
Indian boxer Sarita Devi elected as a member of AIBA's 1st ever athletes commission
On November 18, 2019, Laishram Sarita Devi (37), an Indian boxer from Manipur has been elected unopposed to the first International Boxing Asociation's (AIBA) athletes commission, as a member to represent the Asian bloc. She was among the 6 boxers who were selected as members from 5 continents- Asia, Oceania, Africa, Americas and Europe (it has 2 representatives).
Key Points:
i.Sarita, who represents players in the Indian Boxing Federation, has won 8 medals including 5 golds at the Asian Championships.
ii.The other six boxers who were selected as members are- Oleksandr Khyzhniak (Ukrainian ), Irma Testa (Italy), Julio Cesar La Cruz (Cuba), Ramala Ali (Somalia), Caitlin Parker (Australia ).
iii.The AIBA athletes' commission :It was formed as a part of the reforms recommended by the International Olympic Committee (IOC), which on May 22, 2019 removed AIBA's right to conduct boxing in the 2020 summer Olympic Games (Host city- Tokyo, Japan) due to alleged financial, ethics and administrative mismanagement.
About AIBA:
Formation -1946
Headquarters -Lausanne, Switzerland
President -Gafur Rakhimov
Highlights of Asian Youth Boxing Championship held in Ulaanbaatar, Mongolia
The Asian Youth Boxing Championship, was held from November 8- 18, 2019 in Ulaanbaatar, Mongolia. Kazakhstan topped the medal tally followed by India at second place with a total of 12 medals (5 gold, 2 silver and 5 bronze).
Medal winners:
Indian medal winners: Indian women boxers have won 5 gold, and 3 bronze while the men won 2 silver and 2 bronze respectively. The medal winners are as follows,
Men: 
Silver: Selay Soy (49kg) and Ankit Narwal (60kg).
Bronze: Satender Singh (91kg) and Aman (91kg).
Women:
Gold medal: Naorem Chanu (51kg), Vinka (64kg) Sanamacha Chanu (75kg), Poonam (54kg) and Sushma (81kg) won Gold.
Bronze medal: Arundhati Choudhury (69kg), Komalpreet Kaur (81kg), Jaismine (57kg).
About Mongolia:
Capital– Ulaanbaatar.
Currency–  Mongolian tögrög.
President–  Khaltmaagiin Battulga
IMPORTANT DAYS
National Epilepsy Day observed on November 17,2019
National Epilepsy Day is observed on November 17 every year. The aim of this day is to create awareness about epilepsy, its causes, and treatment. The National Epilepsy Day was established by Dr. Nirmal Surya in the year 2009. According to World Health Organization (WHO) report, around 50 million people in the world are suffering from epilepsy disease and 80%, people are living in emerging countries.
Epilepsy –
Epilepsy is a disorder in which brain produce the sudden abnormal bursts of electrical energy that even affect other brain functions and lead to recurrent unprovoked seizures. This type of condition can affect people at any age group but it is treatable.
Key Points: –
i.Symptoms-  Consciousness loss, stiff muscles of arms or legs, uncontrollable jerking motions in arms or legs.
ii.Causes-Infection in brain, Stroke and brain tumor, Injury in head, Genetic conditions, Low oxygen during birth, Prolong fever, Congenital abnormalities.
AYUSH ministry celebrated 2nd National Naturopathy day on November 18, 2019

Ayurveda, Yoga, and Naturopathy, Unani, Siddha, and Homeopathy (AYUSH) ministry celebrated the second National Naturopathy Day on November 18, 2019. This Day aims to promote the drugless medicine to prevent diseases, which is caused by changing the lifestyle.
The Ministry of AYUSH was formed on November 9, 2014 to ensure the optimal development and propagation of AYUSH systems of health care. Earlier it was known as the Department of Indian System of Medicine and Homeopathy (ISM&H) which was created in March 1995.
Key Points: –
i. On this special day, Central Council for Research in Yoga and Naturopathy (CCRYN) organized health camps, workshops, and exhibitions in local naturopathy centers and hospitals to spread the awareness regarding this day.
ii. In New Delhi, around 150 children dressed as Mahatama Gandhi and marched from India Gate to Constitutional Club to spread his message of adopting naturopathy. This was also a part of the observance of 150th Birthday of Mahatma Gandhi under the theme "Mahatma Gandhi & Nature Cure".
iii. Prime Minister Narendra Modi has first proposed "International Day of Yoga" on June 21 2015. "Ayurveda Day" which is marked on November 5 every year, was first celebrated on November 5 2016.
iv. "Unani Day", which was first celebrated on February 11, 2017.
V. "Siddha Day" was first celebrated on January 4, 2018.
About Ayurveda, Yoga and Naturopathy, Unani, Siddha, and Homeopathy (AYUSH):
Ayush Minister – Shripad Yesso Naik
Minister of State for Health and Family Welfare – Ashwini Kumar Choubey
STATE NEWS
Justice Ravi named as the 13th Chief justice of Jharkhand HC
On November 17, 2019, Justice Dr Ravi Ranjan (58) of Patna (Bihar) has been sworn in as the 13th Chief Justice (CJ) of the Jharkhand High Court (HC). He was administered the oath of office and secrecy under Article 219 (Third Schedule of the Indian Constitutionby Governor Draupadi Murmu in a simple ceremony at Raj Bhavan in Ranchi.
Key Points:
i.Priorly, he was serving in the Punjab and Haryana High Court.
ii. The post of CJ of Jharkhand HC has been vacant since May 2019, after former Chief Justice of Jharkhand High Court Anirudh Bose was appointed as a judge of the Supreme Court (SC).
iii.Ranjan earned a law degree from Patna University in 1989. On December 4, 1990, he started practice in Patna High Court bar. Specialized in constitutional, civil, revenue, criminal and service matters, he was appointed Additional Judge of Patna High Court in July 2008 & on 16 January 2010 he was made a permanent judge.
About Jharkhand:
Capital– Ranchi
Chief minister- Raghubar Das
National Parks– Betla National Park
UP CM Yogi Adityanath inaugurates Pipraich sugar mill in Gorakhpur
On November 18, 2019 , The Chief Minister (CM) of Uttar Pradesh (UP) Yogi Adityanath has inaugurated North India's 1st  Pipraich Sugar Mill in Gorakhpur, which is a unit of UP State Sugar and Cane Development Corporation Limited's (UPSCDCL). The sugarcane crushing capacity of the new sugar mill is more than 50,000 quintals per day as against previous 8,000 quintals of sugar.
Key Points:
i.For electricity purpose, a 27 MW (Mega watt) power generation plant has also been installed in the sugar mill, which will produce ethanol direct from sugarcane.
ii.This sugar mill ,established in place of the Pipraich unit of the State Sugar Corporation closed for many years .The state Government has revived the mill with the cost of Rs. 40089.67 lakh.
About Uttar Pradesh:
Capital– Lucknow
Governor– Anandiben Patel
National Parks– Dudhwa National Park
Dams– Dhanraul Dam, Rajghat Dam, Rihand Dam.
[su_button url="https://affairscloud.com/current-affairs-2019/november/" target="self" style="default" background="#2D89EF" color="#FFFFFF" size="5″ wide="no" center="no" radius="auto" icon="" icon_color="#FFFFFF" text_shadow="none" desc="" download="" onclick="" rel="" title="" id="" class=""]Click Here to Read Current Affairs November 2019[/su_button]
AffairsCloud Ebook - Support Us to Grow