We are here for you to provide the important Recent and Latest Current Affairs 10 & 11 November 2019, which have unique updates of Latest Current Affairs 2019 events from all newspapers such as The Hindu, The Economic Times, PIB, Times of India, PTI, Indian Express, Business Standard and all Government official websites.
Our Current Affairs November 2019 events will help you to get more marks in Banking, Insurance, SSC, Railways, UPSC, CLAT and all State Government Exams. Also try our Latest Current Affairs Quiz and Monthly Current Affairs PDF which will be a pedestrian to crack your exams.
Click here for Current Affairs November 9 2019
INDIAN AFFAIRS
PM Modi inaugurated Kartarpur corridor in Punjab, India
On November 9, 2019, the Prime Minister of India Shri Narendra Modi inaugurated Integrated Check Post(ICP) and flagged off the 1st batch of pilgrims at Kartarpur Sahib corridor at Dera Baba Nanak in Gurdaspur city of Punjab in India. The ICP would provide Indian pilgrims to visit Gurudwara Kartapur Sahib in Pakistan.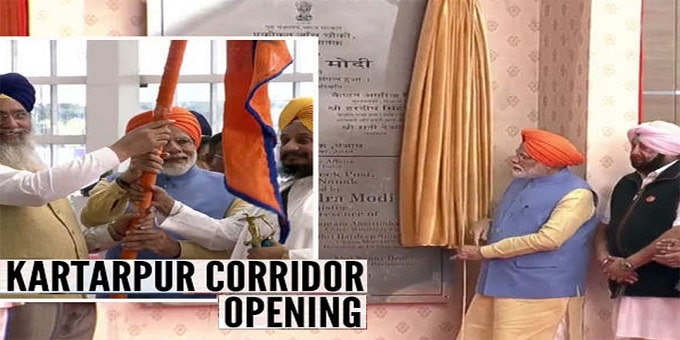 Key Points:
i.Coin released: Shri Modi released commemorative coin marking the 550th Birth Anniversary of Guru Nanak Dev (founder of Sikhism). 
ii.National flag hoisted: A 300 ft monumental national flag of India was hoisted at the International Border.
iii.Quami Seva Award: Shri Modi was facilitated with the Quami Seva Award by the Shiromani Gurudwara Prabhandak Committee. 
iv.Connectivity: The 4.2 Km four-lane highway has been constructed at a cost of Rs 120 Cr which will connect Dera Baba Nanak from Amritsar – Gurdaspur Highway in Punjab….Click here to Read More
1st Indo-Russian joint tri-service exercise named "INDRA 2019" to be held from December 10-19, 2019
The first-ever joint tri-service exercise between India and Russia named "INDRA 2019" is to be held from December 10-19, 2019. The fighter and transport aircraft as well as ships of respective Armies, Air Forces and Navies will participate in INDRA exercise. A joint planning conference was held from November 7-10 in this regard in two phases.
Focus: the focus of this exercise is to enhance interoperability between both National Armed Forces under the United Nations(UN) flag.
Key Points:
i.Planning conference: The first phase was conducted in-service locations of Babina (Uttar Pradesh), Pune (Maharashtra) and Goa from November 7 & 8 2019 while the second phase was conducted at New Delhi on November 9&10, 2019.
About Russia:
Capital- Moscow.
Currency- Russian ruble.
President- Vladimir Putin.
Prime Minister(PM)- Dmitry Medvedev.
World's first CNG terminal to be built in Bhavnagar port, Gujarat
On November 11, 2019, the Gujarat Infrastructure Development Board (GIDB) under the Chairmanship of Chief Minister Vijay Rupani has approved the proposal of world's first CNG (Compressed natural gas) port terminal, that is going to be built in Bhavnagar port, a seaport in Saurashtra region of Gujarat.
Key Points:
i.United Kingdom (UK) based Foresight Group and Mumbai-based Padmanabh Mafatlal Group will invest 1,900 crore rupees on this project, in which foreign capital of Rs.500 crores will be invested. The investment will be done in 2 phases through 'Swiss challenge' method.
ii.The terminal has been said to have a capacity of 1.5 million metric tonne per annum (MMTPA). After its establishment, the capacity to transport goods at Bhavnagar port will also increase threefold. Currently, three million metric tons of cargo is handled by the port.
iii.At the Vibrant Summit held in January 2019, an MoU (Memorandum of Understanding) was signed between the Foresight Group and the Gujarat Maritime Board (GMB) for the same.
About Gujarat:
Capital- Gandhinagar
Governor- Acharya Devvrat
INTERNATIONAL AFFAIRS
19th Indian Ocean Rim Association (IORA) Holds Ministerial Meeting in UAE
The United Arab Emirates (UAE), as the incoming chair of the Indian Ocean Rim Association (IORA), has hosted the 19th IORA Council of Ministers (COM) Meeting held in Abu Dhabi on November 7 2019. The theme of this meeting was "Promoting a Shared Destiny and Path to Prosperity in the Indian Ocean". UAE assumed the IORA's presidency for 2019-2021.
The Republic of Bangladesh is undertaking the Vice-Chair position of IORA (also for 2019-2021) as a part of the Troika along with the UAE (as arriving Chair) and South Africa (past Chair).

Maldives
Maldives becomes 22nd member state of IORA after Maldivian Minister of Foreign Affairs Abdulla Shahid hired the Instrument of Acceptance on November 7 2019, at the 19th COM of IORA in Abu Dhabi. Maldives first applied to become a member of the IORA in 2017.
Key Points: –
i.IORA- It is an intergovernmental organization formed in March 7 1997. It was established by South African president Nelson Mandela. Headquarter is Mauritius.
ii.22 Member countries: – Australia, Bangladesh, Comoros, India, Indonesia, Iran, Kenya, Madagascar, Malaysia, Maldives, Mauritius, Mozambique, Oman, Seychelles, Singapore, Somalia, South Africa, Sri Lanka, Tanzania, Thailand, the United Arab Emirates and Yemen.…Click here to Read More
AWARDS & RECOGNITIONS
Indian Wildlife Biologist Ullas Karanth won 1st George Schaller lifetime award 2019
On November 9, 2019, Bangalore (Karnataka) based Indian wildlife biologist Ullas Karanth won the first-ever instituted George Schaller lifetime award for the year 2019 for his contribution in the field of wildlife conservation science. The award was instituted by the Wildlife Conservation Society (WCS) in New York, United States(US) in honour of Dr. George Schaller, who is considered as one of the greatest wildlife scientists and conservationists globally.
Key Points:
i.The WCS Board of Trustees honoured Dr. Karanth at a function in New York on October 29, 2019.
ii.WCS George Schaller Lifetime Award has been created to honour members of WCS for their outstanding contributions in conserving wildlife and wild places. 
iii.Awards: He was honoured with various awards, which include Padma Shri award (2012), Karnataka Government's Rajyothsava Award (2010), etc.
About WCS:
Formation- April 26, 1895.
Founder- Andrew H. Green et al.
Former name- New York Zoological Society
APPOINTMENTS & RESIGNATION
Bolivia President Evo Morales resigns after election result dispute
On November 10, 2019, Bolivia President Evo Morales announced his resignation among unrest over a disputed election which he had demanded to win. The Organization of American States (OAS) found "serious irregularities" in President election vote on October 20 2019. Morales announced that he will step down for the country's welfare.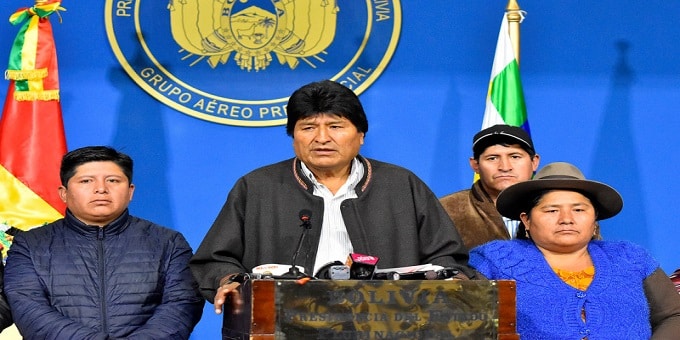 Key Points: –
Bolivia vice president, Álvaro García Linera, also resigned from his position. He served from 2006 to 2019.
He is the 80th president who served from 2006 to 2019.
Evo Morales was born on October 26, 1959 in Isallawi, Bolivia.
He was the first Indigenous president of Bolivia.
About Bolivia: –
Capital- Sucre
Currency- Bolivian boliviano
Sanjay Gupta was appointed as new Country Manager by Google India
On November 8, 2019, Google India has appointed Sanjay Gupta, former Star and Disney head as its new country manager and Vice president of sales and operations for India. He replaced the place of Rajan Anandan who quit Google in April 2019. Gupta joins Google from Star and Disney India where he was the managing director.

Key Points: –
i.Achievements: He also launched the hugely popular kabaddi and football leagues, Pro Kabaddi League and Indian Super League.
ii.He is a post-graduate from the Indian Institute of Management(IIM) Kolkata and an Engineer from Delhi College of Engineering.
The longest-serving British MP of Indian origin, Keith Vaz, announces retirement
On November 11, 2019, Nigel Keith Anthony Standish Vaz (62), the longest-serving British MP(member of parliament) of Goa-origin, announced his retirement from Parliament after 32 years. He made this announcement following the recommendation of a committee of parliament that suspended him for 6 months over cocaine (addictive drug) and prostitute scandal.

Key Points:
i.Vaz, a Labour Party's MP for Leicester East since 1987,made significant contributions to public life as an MP and representative of Asian descent as part of a pioneering group of black and Asian Labour MPs.
ii.Vaz had played a key role in the India-UK(United Kingdom) bilateral relations over the years and hosted numerous Indian ministers and MPs during their visit to Britain.
iii.He has helped to pave the way for more BAME (black, Asian and minority ethnic) people came into Britain's politics.
iv.The first 3 Indian-origin MPs in British Parliament were Dadabhai Naoroji (1892, Finsbury Central), Mancherjee Bhownagree (1895, Bethnal Green North East) and Shapurji Saklatvala (1922, 1924, Battersea North).
SCIENCE & TECHNOLOGY
MoS HRD Sanjay Dhotre launched Shaala Darpan portal for Navodaya Vidyalaya Samiti in New Delhi 

On November 6, 2019 the Union Minister of State(MoS) for Human Resource and Development(HRD) Shri Sanjay Dhotre launched the Shaala Darpan portal, an E-Governance school automation and management system for Navodaya Vidyalaya Samiti (NVS) in New Delhi. The portal was designed for knowledge/information sharing of its employees and its students. It was the first major initiative implemented to enable automation of NVS (India's largest schooling system) through a single umbrella.
Portal design: The portal was designed from 'open source technology' whereby it incurred low cost. The minimum cost is abided by the Guidelines for Indian govt. sites(GIGS)….Click here to Read More
NASA unveiled early version of its first electric airplane X-57 "Maxwell"
On November 9, 2019, Civilian space program and aeronautics space agency NASA (National Aeronautics and Space Administration) has launched its 1st all-electric experimental aircraft named the X-57 "Maxwell." It is NASA's 1st crewed X-plane (experimental plane) in nearly 2 decades adapted from Italian Tecnam P2006T aircraft. The first delivery of the all-electric experimental aircraft was taken from Empirical Systems Aerospace (ESAero) in California, United States(US).  The aircraft is expected to be operational by late 2020.

Key Points:
i.Simulator launched: NASA also launched a simulator of the "Maxwell" to have manoeuvring experience of the aircraft.
ii.Battery used:The X-57 uses rechargeable lithium-ion batteries with 14 electric motors and has been under experiment since 2015. 
iii.First flight test: the 1st flight test will be conducted in 2020 at Edward Air Force Base in California.
About NASA:
Founded- 29 July 1958.
Founder- Dwight David "Ike" Eisenhower.
Headquarters- Washington, D.C, US.
ENVIRONMENT
2 newly discovered spider species named after Sachin Tendulkar & St. Kuriakose Elias Chavara
On November 11, 2019 Dhruv Prajapati, a research scholar from the Gujarat Ecological Education & Research (GEER) Foundation, has discovered two new spider species found in Kerala, TamilNadu and Gujarat. One spider species was named after Indian cricketer Sachin Tendulkar as "Marengo sachintendulkar" while the other was named "Indomarengo chavarapater" after Saint Kuriakose Elias Chavara, who played a key role in creating awareness on education in the state of Kerala.
Publication: The findings of this discovery has been published in Russian journal "Arthropoda Selecta".

Key Points:
i.These two species of spiders belonged to Indomarengo and Marengo genus of Asian jumping spiders.
Cyclone Bulbul hits Coastal districts of West Bengal, Odisha & Bangladesh
On November 9, 2019, Cyclone Bulbul, which rose in the Bay of Bengal, hit the coast in the Sagar Islands of West Bengal, Bhadrak in Odisha and Khepupara in Bangladesh.  The center of the storm was northwest of the Bay of Bengal, 95 km east-northeast of Paradip (Odisha) with winds speeds crossing over 100 kmph. The cyclone was tracked by the Doppler Weather Radars in West Bengal.
Key Points:
i.The speed of the storm was 120 to 135 kmph when it hit the coast of Odisha and West Bengal. It has been categorized from 'very serious' to 'serious'.
ii.In West Bengal, the severe cyclonic storm lashed the coastal districts of North and South 24 Parganas and East Midnapore.
iii.In Bangladesh, cyclonic storm packed with wind speeds of up to 120 kilometers per hour (kph).
Odisha hit by over 9 lakh lightning strikes in 2019: Study
As per the "lightning strikes in India -the most widespread killer among natural calamities from January – August 2019" analysis by the private weather agency Skymet, Odisha led in the number of lightning strikes with 9,37,462 or about 16% of the cloud-to-ground strikes in India.
Key Points:
i.Odisha received nearly 7,00,000 more total lightning strikes(30 lakh counts) followed by West Bengal,J harkhand, Andhra Pradesh, and Madhya Pradesh .
ii.Uttar Pradesh witnessed the maximum number of deaths with the toll of 224, followed by Bihar(170), Odisha(129), and Jharkhand(118).
SPORTS
AIFF announced Thomas Dennerby as Indian Head Coach of FIFA U-17 Women's World Cup 2020
On November 9, 2019, the All India Football Federation (AIFF) has announced the appointment of Thomas Dennerby (60) of Sweden as the Indian head coach of the Women's U-17 football team. The FIFA (Fédération Internationale de Football Association) U-17(under 17) women's football World Cup 2020 will be hosted by India. The official emblem of the world cup was launched recently at the gateway of India in Mumbai, Maharashtra on November 2, 2019.

Key Points:
i.Thomas led the Sweden Women's national team to finish third in the FIFA World Cup in 2011. He previously worked as coach of Super Falcons, the Nigerian women's national team to the 2019 FIFA World Cup in France. He was also awarded the coach of the year for 2018 in Nigeria.
About AIFF:
Founded- 23 June 1937.
Headquarters- New Delhi.
President- Praful Patel
India won the men's Paytm T20I series against Bangladesh held in November 2019

The Indian Men's cricket team won the 3 match T20I (twenty-twenty International) series against Bangladesh in India for 2-1 held from November 3-10, 2019 in New Delhi, Rajkot(Gujarat) and in Nagpur(Maharashtra). This was India's first T20 series win at homeland in 2019. The T20I was a part of Bangladesh tour of India 2019-20, which also consists of two test matches, to be held from November 14-26, 2019.
Indian cricketer Rohit Sharma broke the record of Mahendra Singh Dhoni for most sixes by an Indian captain in T20I cricket. He became 1st Indian as well as the 2nd male cricketer in history to play 100 T20Is.

Indian Pacer Deepak Chahar became the first Indian to take hat-trick in the shortest format after taking a took a sensational six-wicket haul that included the hat-trick.

India spinner Yuzvendra Chahal surpassed Jasprit Bumrah to become the fastest Indian bowler to take 50 T20I wickets….Click here to Read More
OBITUARY
Tirunellai Narayana Iyer Seshan, Former Chief Election Commissioner, passed away at the age of 86
On November 10, 2019, Former chief election commissioner (CEC), Tirunellai Narayana Iyer Seshan, passed away at the age of 86 due to cardiac arrest in Chennai, Tamil Nadu.

Key Points: –
i.He was appointed as a 10th CEC in December 12, 1990, to December 11, 1996.
ii.He had served as the 18th Cabinet Secretary of India, the senior-most position in the Indian civil service hierarchy in 1989.
iii. Awards– In 1996, Seshan received the Ramon Magsaysay Award for his role in cleaning up the electoral process in the country.
iv. In 1997, he had also unsuccessfully contested the presidential elections against KR Narayanan.
v.He was born on December 15, 1932, in Thirunellai, Palakkad district, Kerala.
Former Union secretary PS Krishnan passes away at the age of 86
On November 11, 2019, Perungulam S Krishnan, a 1956 batch Indian Administrative Service (IAS)officer served in Andhra Pradesh & former Union Secretary of the Ministry of Welfare, has passed away in New Delhi due to age-related health complications.He was 86.

i.Born in Thiruvananthapuram,Kerala in 1933, Krishnan was best known for his work in upliftment of scheduled castes (SC), scheduled tribes (ST) & educationally backward classes. He had served as a first member-secretary of the National SC/ST commission.
ii.Widely regarded as the untiring crusader of social justice in India, Krishnan was the Secretary of the Ministry of Welfare (which was later renamed as Ministry of Social Justice and Empowerment in 1998) in 1990 when the VP Singh-government implemented the Mandal Commission Report, which aims to provide 27% reservations to socially & educationally backward classes.
Dwight Ritchie, an Australian boxer died at the age of 27
On November 9 2019, Dwight Ritchie, an Australian boxer died at the age of 27 in Melbourne, Australia. He was struck with a body shot with Michael Zerafa in a training session, before that he had fallen back to his corner and collapsed. Dwight Richie, nickname "The Fighting Cowboy", held a 19-2 record.
The last match of his was on August, against Tim Tszyu fought for IBF (International Boxing Federation) Australasian super-welterweight title in Sydney.
About Dwight Richie: –
i.Dwight Thomas Rewouf Ritchie, born in Victoria, Australia on February 29, 1992, was an Indigenous Australian professional boxer.
ii.He won the Australian middleweight title from 2014 to 2015 and the IBF Youth junior middleweight title in 2017.

BOOKS & AUTHORS
Chief Justice of India (CJI), Ranjan Gogoi released the Assamese version of 'Courts of India: Past to Present'
On November 10, 2019, Ranjan Gogoi, Chief Justice of India (CJI) released the Assamese version of the book 'Courts of India: Past to Present' in Guwahati, Assam. The book has been distributed by the Publication Division, Ministry of Information and Broadcasting. The book includes various chapters that narrate the historical events of the court.
Key Points: 
i.The book has been termed as the Architecture of Justice which explains the Indian Justice System and also captured the history of the nation's courts.
ii. Participants- Several judges of the Supreme court, Chief Minister of Assam and Principal Director General of All India Radio news and Publication Division were present in the book release event.
iii.Additional detail- Rajan Gogoi hold the office till November 17 2019.
A new novel called "Accidental Magic" penned by Keshava Guha released
On November 10, 2019, Author Keshava Guha's new novel entitled "Accidental Magic", Published by HarperCollins India, was launched at the 8th edition of Bangalore Literature Festival in Bengaluru,Karnataka.
Key Points:
i.The novel documents the Harry Potter nostalgia and straddles multiple contexts such as the world of fan fiction, university life, with complex themes like solitude, self-discovery, identity, aspirations, and the tussle between love and duty.
ii.It is the story of four very different people (Kannan, Curtis, Rebecca, and Malathi) whose lives are brought together by Harry Potter.
IMPORTANT DAYS
World science day for peace and development observed on November 10, 2019
On November 10, 2019, The World Science Day for Peace and Development was observed all over the world to highlight the key role of science in society and the need to engage public in debates on emerging scientific issues.The theme for the year 2019 is "Open Science, leaving no one behind".


Key Points:
i.The day was established by UNESCO (United Nations Educational, Scientific and Cultural Organization) in the year 2001 & it was celebrated for the first time in 2002.
ii.In order to encourage young scientists to get involved in green chemistry, the day also witnessed Award-giving ceremony of the Russian chemical holding company- PhosAgro/UNESCO/IUPAC (International Union of Pure and Applied Chemistry) grants in green chemistry in Paris.
About UNESCO:
Formation- 4, November 1946
Headquarters- Paris, France
Director-General: Audrey Azoulay
National Education Day observed on November 11, 2019
The National Education Day is observed annually on November 11 commemorating the birth anniversary of Maulana Sayyid Abul Kalam Ghulam Muhiyuddin Ahmed bin Khairuddin Al-Hussaini Azad (familiarly known as Maulana Abul Kalam Azad), the first education minister of India (1947-1958). The day has been celebrated since 2008 after the announcement in this regard, by the Human Resource Development (HRD) ministry. 

Key Points:
i.Born on 11 November 1888 in Mecca, Saudi Arabia, Azad was considered as the key architect of education of Independent India.He had set up institutions like Lalit Kala Academi, Sangeet Natak Akademi and Sahitya Akademi to create socio-religious and cultural inter-linkages in India.
ii.The first Indian Institute of Technology(IIT) in Kharagpur, Indian Institute of Science(IISc), School of Planning and Architecture in Delhi and the University Grants Commission (UGC) were established under his tenure. 
iii.He was awarded Bharat Ratna, the nation's highest civilian award in 1992 for his contribution as an educationalist. He even had run a weekly journal in Urdu called Al-Hilal to criticise British Raj.
[su_button url="https://affairscloud.com/current-affairs-2019/november/" target="self" style="default" background="#2D89EF" color="#FFFFFF" size="5″ wide="no" center="no" radius="auto" icon="" icon_color="#FFFFFF" text_shadow="none" desc="" download="" onclick="" rel="" title="" id="" class=""]Click Here to Read Current Affairs November 2019[/su_button]
AffairsCloud Ebook - Support Us to Grow