We are here for you to provide the important Recent and Latest Current Affairs 9 November 2019, which have unique updates of Latest Current Affairs 2019 events from all newspapers such as The Hindu, The Economic Times, PIB, Times of India, PTI, Indian Express, Business Standard and all Government official websites.
Our Current Affairs November 2019 events will help you to get more marks in Banking, Insurance, SSC, Railways, UPSC, CLAT and all State Government Exams. Also try our Latest Current Affairs Quiz and Monthly Current Affairs PDF which will be a pedestrian to crack your exams.
Click here for Current Affairs November 8 2019
INDIAN AFFAIRS
Atul Karwal panel formed to implement home minister Amit Shah's 100 days homestay of CAPF jawans
On November 8, 2019 the centre has formed a 7 member panel headed by Central Reserve Police Force(CRPF) Additional Director General (ADG) Atul Karwal to implement union home minister Amit Shah's order of implementing 100 days homestay of the CAPF(Central Armed Police Forces) jawans.
Key Points:
i.This would enable around 7 lakh CAPF jawans to spend 100 days with their families in a year.
ii.The panel was asked to submit its report within 4 weeks. 
iii.A software may also be designed for digitisation of deployment with respect to the 100 days home stay.
About CAPF:
CAPF units- There are 7 units under CAPF. They are Central Reserve Police Force(CRPF), Border Security Force(BSF), Central Industrial Security Force(CISF), Indo-Tibetan Border Police(ITBP), Sashastra Seema Bal(SSB) and Assam Rifles(AR) and National Security Guard(NSG).
First women in CAPF- In 1992 Asha Sinha created history by being the first Woman Commandant of any of the Central Armed Forces in India.
India records 26.9% reduction in maternal mortality since 2013:SRS Bulletin-2016
On November 7, 2019, As per the Sample Registration System (SRS) Bulletin-2016, The Maternal Mortality Ratio (MMR) in India has decreased by 26.9 % since 2013. The MMR between 2011-2013 was 167 which decreased to 130 between 2014 and 2016.

i. Karnataka has shown the highest percentage decline in MMR, Uttar Pradesh & Madhya Pradesh have witnessed an increase by 15 points each in MMR in 2015-17 compared to 2014-16.
ii.In southern states the MMR has come down from 77 to 72 per one lakh births, while in other states the figure has come down from 93 to 90.…Click here to Read More
Eastern Naval Command (ENC)  to host first mainland MILAN Multi-lateral Naval Exercise at Visakhapatnam in March 2020
Eastern Naval Command (ENC) to host first mainland MILAN Multi-lateral Naval Exercise at Visakhapatnam, Andhra Pradesh in March 2020.On November 8, 2019, A 3-day Mid Planning Conference (MPC) for the joint multinational naval exercise MILAN 2020 concluded at Eastern Naval Command (ENC) Headquarters in Visakhapatnam ,Andhra Pradesh.
KeyPoints:
i.A meeting of 29 naval officers from 17 countries was held to prepare for the exercise. Commodore Sanjeev Issar informed the naval representatives of 17 countries about the increased scope of naval exercises to be held during the harbor and sea phase.
ii.Being conducted for the 1st time on the mainland at ENC,the 2020 event will provide an opportunity to exchange ideas and improve mutual understanding between the operational commanders of the navies of the friendly countries on issues of mutual interest.
MILAN naval exercise:
Started in 1995, this multinational naval exercise for the year 2020 will  be conducted with the navies of neighboring maritime countries in Visakhapatnam , Andhra Pradesh. It has been conducted till now at Andaman and Nicobar Command (ANC).
About Indian Navy:
Formation- 1934
Motto- May the Lord of the Water be auspicious unto us
Chief of the Naval Staff (CNS)- Admiral Karambir Singh
Steel Ministry issued new steel scrap recycling policy
On November 8, 2019 the union steel ministry has issued new steel scrap recycling policy with the aim of promoting circular economy in the steel sector and to process recycling of steel in a safe environmental manner.Production of high quality ferrous scraps to reduce the imports.
Key Points:-
i.Ministry of Road Transport and Highways (MoRTH)and the Department of Heavy Industries are working towards 'Extended Producer Responsibility' by requiring the vehicle manufacturers to initiate the scrapping of unfit vehicles in exchange for price discounts for purchase of new vehicles under this policy.
ii.The Policy also pointed out the availability of scrap in India. and in 2017 The 7 million tonnes of tune was shortage in 2017 and it was imported at the cost of more than Rs.24,500 crores in 2017-2018.
iii.Policy has aimed to setting up an Environmentally Sound Management system for ferrous scrap which can encourage processing & recycling of ferrous scraps through organized and scientific metal scrapping centers across India to minimize dependency on import of scrap and make India self-sufficient in scrap availability.
iv.To promote 6 R principles-Reduce, Reuse, Recycle, Recover, Redesign and Remanufacture through scientific handling, processing and disposal of recyclable scraps.Creating a mechanism for waste streams and residue treating that are produced from dismantling and shredding which are in compliance with the Hazardous & Other Wastes (Management & Transboundary Movement) Rules, 2016.
v.NSP aim: The National Steel Policy 2017 (NSP-2017) has the aim of creating 300 million tonnes per annum(TPA) of steel production by 2030 and is expected to be self-sufficient by that time.
About Ministry of Steel:
Headquarters- New Delhi.
Union Steel Minister- Dharmendra Pradhan (also minister of petroleum and natural gas).
Minister of State(MoS)- Faggan Singh Kulaste.
10th meeting of Heads of authorities of SCO member states on emergency situations 2019 held in New Delhi
On November 8, 2019, Union Minister of Home Affairs Amit Shah chaired 10th Meeting of the Heads of Departments of Member-States of SCO (Shanghai Cooperation Organization), dealing with Prevention and Elimination of Emergency Situations held in New Delhi.
Key Points:
i.India provides the special importance to initiate the efforts of all SCO member States in the field of multilateral, political, security, economic, and people-to-people interactions in the region and developing personal understanding amongst teams when they jointly work together to tackle any emergency situation.
ii.The parties delivered reports on the major emergencies that happened in the SCO Member-States  & also exchanged opinions on future cooperation in Prevention and Elimination of Emergency Situations within the SCO framework.
iii.The protocol has also signed to open better cooperation between SCO nations.The SCO member states praised India for a successful hosting of 3-day organized Shanghai Cooperation Organisation (SCO) joint exercise on urban earthquake search and rescue (SCOJtEx)-2019 held in New Delhi from November 4-7, 2019.It was organized by National Disaster Response Force (NDRF)
About SCO:It is an intergovernmental organization founded in Shanghai on 15 June 2001. The SCO currently comprises eight Member States (China, India, Kazakhstan, Kyrgyzstan, Russia, Pakistan, Tajikistan and Uzbekistan).It has mainly focused on regional security issues, its fight against regional terrorism, ethnic separatism and religious extremism.
1st Rising Himachal: Global Investor's Meet 2019 held at Dharamshala, Himachal Pradesh from Nov 7-8, 2019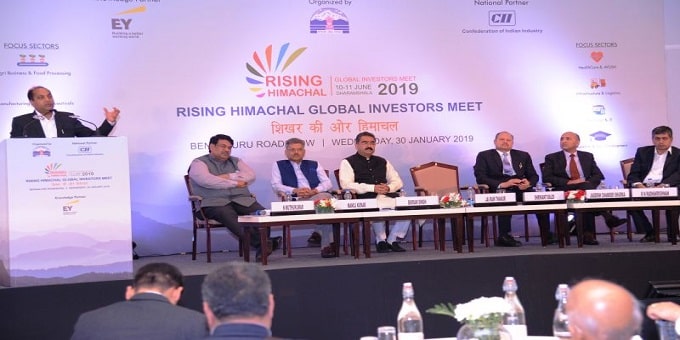 The Prime Minister of India Shri Narendra Modi inaugurated the 2-day organised first edition of the 'Rising Himachal: Global Investor's Meet 2019' at Dharamshala, Himachal Pradesh. The meet which was held from November 7-8, 2019 was organised by the Himachal State govt. The partner country for the event was United Arab Emirates(UAE). 
Event aim:

The aim of the event was to showcase investment opportunities and to boost manufacturing and employment generation.

Brand Ambassador: The Brand Ambassador for Investors' Meet was Bollywood actress Yami Gautam….Click here to Read More
1st ever 'BIMSTEC Ports' Conclave held in Visakhapatnam, Andhra Pradesh from November 7-8, 2019
The Minister of State (MoS- independent charge) for Shipping, Shri Mansukh Mandaviya inaugurated the 1st edition of the 'BIMSTEC Ports' Conclave' held in Visakhapatnam, Andhra Pradesh(AP). Vizag port trust in AP, hosted the conclave.

Aim: The aim of the conclave was to strengthen the maritime interaction, port-led connectivity initiatives and sharing the best practices of the BIMSTEC (Bay of Bengal Initiative for Multi-Sectoral Technical and Economic Cooperation) member countries.
BIMSTEC members: Bangladesh, India, Myanmar, Sri Lanka, Thailand, Nepal and Bhutan.
A total of

3

Memorandum of Understanding(MoU) was signed between

Ranong Port

(Port Authority of Thailand) and the

Port Trusts of Chennai, Visakhapatnam and Kolkata for strengthening the port connectivity….Click here to Read More
Overview of 5th India international science festival 2019 held in Kolkata, West Bengal from Nov 5 – 8, 2019
The 5th edition of India International Science Festival (IISF) 2019 with the theme "RISEN India – Research, Innovation, and Science Empowering the Nation" has been held at at Biswa Bangla Convention Centre, Kolkata, West Bengal from Nov 5 – 8,2019.Organised jointly by Ministry of Science and Technology and Ministry of Earth Sciences in association with Vijnana Bharati (VIBHA),the festival aims to build a strategy for inclusive advancement of Science and Technology.

i.Prime Minister (PM) Narendra Modi has officially inaugurated the IISF2019 in Kolkata & addressed the gathering through video-conference.
ii.Vigyanika, an International Science Literature Festival 2019, coordinated by the CSIR -National Institute of Science Communication and Information Resources (NISCAIR), Vigyan Prasar and Vigyan Bharatias , was held as a part of the festival.
iii.4 Guinness world record scripted during the 5th IISF 2019.…Click here to Read More
BANKING & FINANCE
Reserve Bank raises income & lending limit for Micro Finance Institutions (MFIs)
On November 8, 2019, India's central banking institution, the Reserve Bank of India (RBI) has raised the household income eligibility limit for eligible borrowers from NBFC –MFIs (Non-Banking Financial Companies-  Micro finance Institutions) to Rs 1.25 lakh from the existing Rs 1 lakh in rural areas and from Rs 1.6 lakh to Rs 2 lakh in urban /semi-urban areas.
Apart from this, RBI also increased the limit on disbursal of loans to Rs 75,000 from Rs 60,000 for the 1st cycle, and from Rs 1 lakh for the successive cycles to Rs 1.25 lakh.
i.The Reserve Bank had formed a sub-committee under the chairmanship of YH Malegam in 2010 to study the issues and challenges of the microfinance sector.…Click here to Read More
Banks cannot charge on NEFT transactions from January 2020: RBI
On November 8, 2019, As per the report titled "Furthering Digital Payments" released by the Reserve Bank of India (RBI), Banks will not be able to charge any fee for online National Electronic Fund Transfer (NEFT) transactions done by the savings bank account customers from January 2020.
i.Digital payments accounted for 96 % of the total non-cash retail payments between October 2018 and September 2019. In the same period, the National Electronic Funds Transfer (NEFT) has generated transactions worth Rs 252 crore….Click here to Read More
ECONOMY & BUSINESS
DIN system by Central Board of Indirect Taxes came into existence
On November 8, 2019 the Documentation Identification Number (DIN) system of Central Board of Indirect Taxes and Customs (CBIC) came into existence. This system was created to bring transparency and accountability in indirect tax administration with the use of Information and Technology(IT). The DIN system was created under the direction of union Finance Minister (FM) Nirmala Sitharaman.
Key Points:
i.DIN uses: The areas in which DIN will be used include search authorisation, summons, arrest memo, inspection notices and letters issued in the course of any enquiry. It will also provide the taxpayer a digital facility to verify any communications.
ii.CBIC Chairman Shri Pranab informed that this would create a digital directory for maintaining a proper audit trail of such communications and a specified communications with DIN would be verifiable on the online portal cbicddm.gov.in.
iii.It is also to be noted that from November 8, 2019 onwards, any communication from GST (Goods and Service Tax) or Custom or Central Excise department without a computer-generated DIN would be treated as invalid.
iv.The DIN system has already been executed the direct tax administration. 
About CBIC:
Formed- 26 January 1944.
Chairperson- Pranab Kumar Das.
Agency responsible- Finance Ministry.
APPOINTMENTS & RESIGNATION
Prime Minister Pravid Jugnauth claims the victory: Mauritius
On November 8 2019, Pravid Jugnauth elected as a Prime Minister with 80 percent of the votes counted by electoral authorities. Pravid Jugnauth is 57 years old leader.

Key Points: –
i.Partial result: -The Partial results is generated from the state-run commission estimate Jugnauth's Centre-right Morisian Alliance will win 38 of 62 possible seats in parliament.
Additional Details
Electoral Commission gave a large lead to a coalition led by Jugnauth, who took the helm of one of Africa's wealthiest countries when his father stepped down in 2017.
About Mauritius 
Capital-Port Louis
Currency- Mauritian rupee
Maharashtra CM Devendra Fadnavis resign
On November 8, 2019, Bharatiya Janata Party (BJP) leader and Maharashtra chief minister (CM) Devendra Fadnavis resigned from his duty. The resignation was first handed over to state governor Bhagat Singh Koshyari at Raj Bhawan. The resignation is accepted by the governor. The resignation will take Maharashtra a step nearer to the possibility of President's rule.

i.Agreement- Shiv sena claimed that BJP and Shiv Sena made an agreement before the lok shaba polls that CM post could share by each parties with two-and-half year. But none of the parties had not taken decision regarding for the post of CM so Devendra Fadnavis decided to resign as his term of period had come to an end.
ii.18th CM- On October 31 2014, Devendra Fadnavis takes the charge of caretaker Chief Minister.
He served as a CM for 5 years and 1 week
About Maharashtra
Capital- Mumbai
Governor- Bhagat Singh Koshyari
Districts-36
Anjani Kumar was appointed as Indian Envoy of Mali
On November 7 2019, Ministry of external affairs (MEA) announced Anjani Kumar was the next ambassador of India to the Republic of Mali. He is an Indian Foreign Service (IFS) Officer of batch 2003. Before Anjani kumar, Pradeep Kumar Gupta was the ambassador of the Republic of Mali.
About Mali
Capital-Bamako
Currency- West African CFA Franc
President- Ibrahim Boubacar Keïta
SPORTS
FIH Hockey Men's World Cup is hosted by India in 2023
India has been named as the host country for 2023 FIH Men's World Cup, which was scheduled to be held from January 13 to 29 2023. The decision was finalized by the Executive Board of the International Hockey Federation (FIH) in the last annual meeting which held in Lausanne, Switzerland on November 8 2019.
Key Points:-
i.2022 FIH Hockey Women's World Cup:- Spain and the Netherlands have been confirmed as the co-hosts for the 2022 FIH Hockey Women's World Cup which is going to be held from July 1-17, 2022.
ii.The venue for the tournaments of both events have not decided yet
iii.India also become the first country to host the men's hockey World Cup four times.
India hosted Hockey Event in recent 3 years
FIH Junior Men's World Cup in 2016,
FIH Hockey World League Final in 2017 and
FIH Men's Series Finals in 2019
About FIH:-
Headquarters- Lausanne, Switzerland
President- Narinder Batra
CEO- Thierry Weil
India women's cricket team won against West Indies in ODI series held at Antigua held from November 1-6, 2019
The Indian women's cricket team won the 3-match One-Day International(ODI) series against West Indies for 2-1 held at the Sir Vivian Richards Stadium, North Sound, Antigua held from November 1-6, 2019. With this win, the Indian women's team currently ranks at 3rd position in the ICC(International Cricket Council) Women's Championships 2017-20 standings.
Smriti Mandhana became fastest Indian women to score 2000 ODI runs:
Indian cricketer Smriti Mandhana became the second fastest Indian to have scored 2000 runs in the 50 over cricket format after cricketer Shikar Dhawan. She achieved the feat in 51 innings. Shikar Dhawan is the only Indian player to reach the milestone faster than Mandhana in just 48 innings.
About ICC:
Founded- 15 June 1909.
Headquarters- Dubai, United Arab Emirates(UAE).
Chairperson- Shashank Manohar.
Chief Executive Officer(CEO)- Manu Sawhney.
Motto- Cricket for good.
OBITUARY
Padma Shri Dhrupad vocalist Ramakant Gundecha passed away at the age of 57
On November 8, 2019 Noted Indian Dhrupad singer Ramakant Gundecha passed away at the age of 57 in Bhopal, Madhya Pradesh due to cardiac arrest. He was awarded the Padma Shri for 2012 in the field of Art – Indian Classical Music – Vocal along with his brother Umakant Gundecha. 
Key Points:
i.His last performance was at the Vishwa Rang Tagore International Literature and Arts Festival in Bhopal on November 6, 2019.
ii.Dhrupad: Dhrupad is a genre in Hindustani classical music from the Indian subcontinent and is related to the South Indian Carnatic tradition.
iii.Umakant Gundecha was his elder brother and both were experts of Dhrupad.
IMPORTANT DAYS
National Legal Service Day is observed on 2019
National Legal Service day (NLSD) is celebrated every year on November 9. Legal Service Day was started in 1995 by Supreme court. It extent the awareness among the people regarding the Functions and their activities of Legal Services in the Country.
i.Objective-It offers free service, proficient and legal services to the weaker people in society.
ii.Lok Adalat-It is one of the alternative dispute redressal mechanisms, it is a forum where cases pending in the court of law are settled in a peaceful manner. Legal service organizes the Lok Adalat to make safe the legal system and encourages the people equality.
Highlight of two services: –
i.Punishing the criminals
ii.Providing justice for the affected person.
[su_button url="https://affairscloud.com/current-affairs-2019/november/" target="self" style="default" background="#2D89EF" color="#FFFFFF" size="5″ wide="no" center="no" radius="auto" icon="" icon_color="#FFFFFF" text_shadow="none" desc="" download="" onclick="" rel="" title="" id="" class=""]Click Here to Read Current Affairs November 2019[/su_button]
AffairsCloud Ebook - Support Us to Grow