On November 9, 2019 the Prime Minister of India Shri Narendra Modi inaugurated Integrated Check Post(ICP) and flagged off the 1st batch of pilgrims at Kartarpur Sahib corridor at Dera Baba Nanak in Gurdaspur city of Punjab in India. The ICP would provide Indian pilgrims to visit Gurudwara Kartapur Sahib in Pakistan.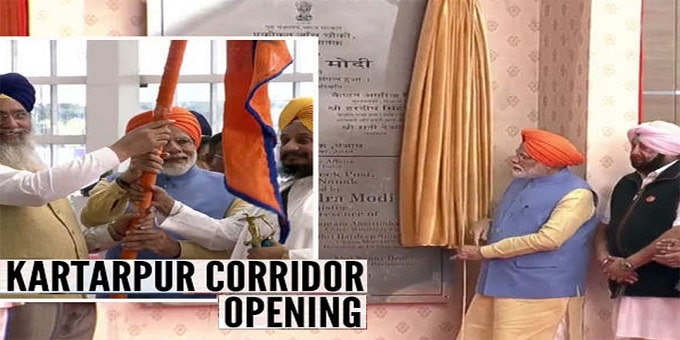 Key Points:
i.Coin released: Shri Modi released commemorative coin marking the 550th Birth Anniversary of Guru Nanak Dev (founder of Sikhism). 
ii.National flag hoisted: A 300 ft monumental national flag of India was hoisted at the International Border.
iii.Quami Seva Award: Shri Modi was facilitated with the Quami Seva Award by the Shiromani Gurudwara Prabhandak Committee. 
iv.Connectivity: The 4.2 Km four lane highway has been constructed at a cost of Rs 120 Cr which will connect Dera Baba Nanak from Amritsar – Gurdaspur Highway in Punjab.
v.Passenger terminal building: The state-of-the-art Passenger Terminal Building is built on 15 acres of land. The building has over 50 immigration counters for facilitating about 5000 pilgrims a day.
About Kartarpur Sahib Corridor: 
Location- The kartarpur Sahib Corridor is a border corridor between Pakistan and India, connecting the Sikh shrines of Dera Baba Nanak Sahib (located at Gurdaspur city in Punjab, India) and Gurdwara Darbar Sahib (in Punjab, Pakistan). Pakistan has announced visa free entry of Indian pilgrims.
Agreement signing: On the 24th of October 2019 agreement was signed for operationalization of the Kartarpur Sahib Corridor at Zero Point, International Boundary, Dera Baba Nanak.
AffairsCloud Ebook - Support Us to Grow