We are here for you to provide the important Recent and Latest Current Affairs 8 & 9 December 2019, which have unique updates of Latest Current Affairs 2019 events from all newspapers such as The Hindu, The Economic Times, PIB, Times of India, PTI, Indian Express, Business Standard and all Government official websites.
Our Current Affairs December 2019 events will help you to get more marks in Banking, Insurance, SSC, Railways, UPSC, CLAT and all State Government Exams. Also try our Latest Current Affairs Quiz and Monthly Current Affairs PDF which will be a pedestrian to crack your exams.
Click here for Current Affairs December 7 2019
INDIAN AFFAIRS
First-ever Human Library event held in Mysuru, Karnataka
On December 8, 2019 first-ever Human Library Chapter 2, a concept that seeked to replace books with humans was organised in Mysuru, in Karnataka.  The event was held at Mysore Institute of Commerce and Arts (MICA), in Mysuru.  The aim of the human library was to create a safe framework for conversation by using a library analogy of lending people rather than books.
Key Points:
i.Human library is a registered international non-profit organisation headquartered in Copenhagen, Denmark. It was initially launched in 2000 and currently it exists in more than 85 countries known as 'The Human Library Organisation'….Click here to Read More
2nd startup India Global Venture Capital Summit 2019 held in Goa 
The 2nd edition of the Startup India Global Venture Capital Summit, organised by the Department for Promotion of Industry and Internal Trade (DPIIT), in partnership with Govt of Goa, was held in Goa, from December 6-7, 2019. The summit was organised for fund managers and limited partners of top global venture capital firms.
Focus: The focus of the Summit was to mobilize global capital for innovation in India and the key objectives of the summit were showcasing of India's opportunity in the sectors of E-Mobility, FinTech, MedTech, Enterprise Software, EdTech, Genomics and Life sciences.
Theme: The theme for the 2019 summit was "India Opportunity – Investing in tomorrow together"….Click here to Read More
Govt has disbursed Rs 36,000 crore to farmers under PM-Kisan Samman Nidhi yojana 
As on November 30, 2019 the govt. has disbursed Rs. 36,000 crores under the Pradhan Mantri Kisan Samman Nidhi Yojana (PM-KISAN) to the farmers. The announcement was made by Minister for Agriculture and Farmers Welfare Narendra Singh Tomar. Over seven crores 60 lakh farmers have been benefited under the scheme.
Key Points:
i.The govt. aims to double farmers' income by 2022. The Agriculture Export Policy, 2018 strives to increase India's agriculture and allied exports to achieve the target of doubling farmer's income.
About Pradhan Mantri Kisan Samman Nidhi (PM-KISAN):
Fact1- Annually Rs 6000 is given under the scheme in three equal installments of Rs.2000 every four months in a year to 14 crore farmers of India.
Fact2- The amount is directly transferred into the bank accounts of the beneficiaries under the Direct Benefit Transfer (DBT) scheme.
Launch- 1 December 2018.
Overview of Mauritius PM Pravind Jugnauth visit to India
On December 6, the Prime Minister(PM) of Mauritius Mr. Pravind Kumar Jugnauth along with his wife Mrs Kobita Jugnauth visited India and met the Indian PM shri Narendra Modi in New Delhi. During the visit, both leaders agreed to work together to build up bilateral relations and to deepen the fraternal and enduring ties, based on mutual interest and priorities.
Key Points:
i.Recent development projects in Mauritius such as Metro Express Project, ENT (Ear Nose Throat) Hospital, Social Housing Project by the Indian govt. were reiterated.
ii.It is also to be noted that recently in November 2019, Pravind Jugnauth was re-elected for a second five-year term as the Prime Minister of Mauritius.
About Mauritius:
Capital- Port Louis.
Currency- Mauritian rupee.
BANKING & FINANCE
ZestMoney joins hands with Xiaomi to launch 'Mi Credit' personal loan service in the Indian market
On December 7, 2019, ZestMoney, an AI(Artificial Intelligence) -driven EMI(Equated Monthly Instalment) financing platform based in Bengaluru, Karnataka, has partnered with Chinese smartphone company, Xiaomi, to launch new loan service app called "MiCredit" in the Indian market. Through this, customers can get an instant loan ranging from Rs 7,000 – Rs 1,00,000.
Key Points:
i.Application process for loans can be completed within 5 minutes, and the repayment can be done over a period from 3 months – 3 years in easy EMIs.
ii.To avail the service, the Mi credit app will first be installed in Xiaomi smartphones. It can be downloaded from Google Play store or in-house gate app.
iii.The partnership will simplify the process of taking loans with real-time approval.
About ZestMoney:
Formation– 2015
Co-founder and CEO– Lizzie Chapman
About Xiaomi:
Founded– 6 April 2010,
Headquarters– Beijing, China
CEO– Lei Jun
Exim Bank sanctioned $500 million LoC to Bangladesh for defence procurement
On December 6, 2019, India's Exim bank (Export-Import Bank of India) has provided $500 million (Rs 3561 crore) Line of Credit(LoC) to Bangladesh for defence-related procurement in the neighbouring country. The Exim bank entered into an agreement with Bangladesh's Armed Forces Division (AFD) in this regard on April 11, 2019. The agreement became effective from November 7, 2019, and the utilisation period of the loan is 10 years from the date of signing the agreement.
Key Points:
i.Under the loan agreement, financing of the export of eligible goods and services from India would be allowed subject to the Foreign Trade Policy(FTP).
ii.Out of total credit, 75% of the contract price will be applied by the seller and the remaining 25% will be procured by the seller for the purpose of the eligible contract from outside India, including Bangladesh.
iii.The contract price may be reduced from 75% to 65% based on the nature of procurement.
About Exim bank:
Founded- 1 January 1982
Headquarters- Mumbai, Maharashtra.
Chief Executive Officer (CEO)- David Rasquinha.
Act- Export-Import Bank of India Act 1981.
AWARDS & RECOGNITIONS
Indian Shooters Divyansh, Elavenil and Saurabh receive Golden Target Award from ISSF in Germany
On 8th December 2019, Indian Shooters, Divyansh Singh Panwar, from Jaipur, Rajasthan Elavenil Valarivan, from Cuddalore, Tamil Nadu and Saurabh Chaudhary, from Meerut, Uttar Pradesh received the Golden Target Award from International Shooting Sport Federation (ISSF) at its headquarters in Munich, Germany.
Key Points:
i.The occasion was assisted by Raninder Singh, President of the National Rifle Association of India (NRAI), member of the International Olympic Committee (IOC) and Abhinav Bindra former World and Olympic champion.
ii.India has received three of the 12 awards of Golden Target Awards, while China and the United States (US) have won two each.
About International Shooting Sport Federation (ISSF):
Founded- 1907
Headquarters- Munich, Germany
President- Vladimir Lisin….Click here to Read More
Miss South Africa 2019, Zozibini Tunzi won the 68th edition of Miss Universe 2019
On 9th December 2019, Zozibini Tunzi, 26, Miss South Africa 2019, was crowned Miss Universe 2019 by Catriona Gray, Miss Universe 2018 during the 68th edition of the Miss Universe Pageant held in Atlanta, Georgia. The two runners-up were Miss Mexico (Ashley Alvidrez) and Miss Puerto Rico (Madison Anderson). The top 5 were from Mexico, Colombia, Puerto Rico, Thailand, and South Africa. Vartika Singh represented India in the 68th edition of the Miss Universe Pageant, though she failed to make it up to the top 10. Vartika Singh was crowned as Miss Diva 2019, in September 2019.
Key Points:
i.Zozibini was born in Tsolo, South Africa, she was actively involved in the fight against gender-based violence and encourages women to love themselves the way they are.
ii.Miss Universe is an international beauty pageant held annually, it was formed in the year 1952 and its headquarters is located in New York, United States. The motto of Miss Universe is 'Confidently Beautiful'.
About South Africa:
Capitals- Cape Town, Pretoria, Bloemfontein
President- Cyril Ramaphosa
Currency- South African rand
4 diplomats honoured with 2019 'Diwali – Power of One Award' at New York, US
On December 6, 2019, 4 diplomats were honoured with 'The Diwali – Power of One' award at the United Nations(UN) Headquarters in New York, United States (US) in recognition and celebration of their work, especially at the United Nations(UN), for a secure and peaceful world. The 4 diplomats are as follows:
Kairat Abdrakhmanov– Former Foreign Minister and Permanent Representative of Kazakhstan to the UN.
Nicholas Emiliou– Former Permanent Representative of Cyprus to the UN.
Frantisek Ruzicka– Former Chef de Cabinet to the President of the 72nd Session of the UN General Assembly(UNGA) and Permanent Representative of Slovakia to the UN.
Volodymyr Yelchenko- Permanent Representative of Ukraine to the UN….Click here to Read More
Indian Actress Priyanka Chopra honoured at the Festival International Du Film De Marrakech (FIFM) 2019
On 6th December 2019, Priyanka Chopra Jonas, Indian actress was awarded at the Festival International Du Film De Marrakech (FIFM) 2019 held in Jemaa el Fna square, Marrakesh, Morocco for completing 20 years in Cinema. She has also received the Danny Kaye Humanitarian Award at the UNICEF (United Nations International Children's Emergency Fund) Snowflake Ball in December 2019.
Key Points:
i.Other honourees in the festival were, Robert Redford, actor and director, Bertrand Tavernier, French filmmaker and Mouna Gettou, actor.
ii.The Festival International Du Film De Marrakech (FIFM) also called Marrakech International Film Festival was formed in the year 2001 by Marrakech International Film Festival Foundation and is located in Marrakech, Morocco.
About Marrakech:
Country- Morocco
Mayor- Mohamed Larbi Belcaid
Currency- Moroccan Dirham
Hindi Poet Viswanath Tiwari from UP to be honoured with Gangadhar National Award
Renowned Hindi poet, Vishwanath Prasad Tiwari is to be honoured with the Gangadhar National Award, during the 53rd Foundation Day celebration of Sambalpur University, Odisha. Viswanath was the former President of the Sahitya Akademi between 2013-2014 and was born in Kushinagar, Uttar Pradesh (UP).
Key Points:
i.The award includes a cash prize of Rs.50,000, a shawl and citation. The Gangadhar National Award is bestowed in the remembrance of renowned poet Swabhaba Kabi Gangadhara Meher from Odisha. The award was instituted in the year 1991.
ii.Some of Tiwar's famous works are 'Rachana ki sarokar', 'Kavita kya hai', 'Saath chalte hue' and Bistar duniya le liye'.
About Odisha:
Capital- Bhubaneswar
Governor- Ganeshi Lal
Chief Minister- Naveen Patnaik
   APPOINTMENTS & RESIGNATION    
Finland's Sanna Marin became world youngest PM at the age of 34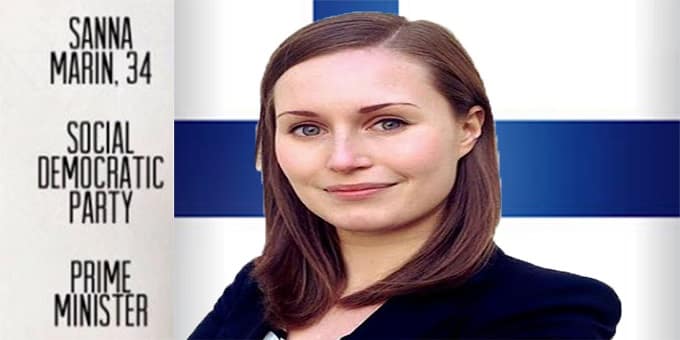 On December 8, 2019, Sanna Mirella Marin, transport & communications minister of Finland became the world's youngest serving Prime Minister (PM) at the age of 34. She has been named as the 46th PM of Finland. She belongs to the Social Democratic Party (SDP), which is the largest 5-member coalition party of Finland. Sanna is also the 3rd female govt. leader of Finland. She replaced Antti Juhani Rinne, who resigned from the post.
Key Points:
i.At 34, Marin became one of the world's youngest state leaders, ahead of Ukraine's prime minister Oleksiy Honcharuk, and North Korea's leader Kim Jong-un, who are 35 years old.
ii.The Social Democratic Party emerged as Finland's largest party in the April 2019 election. The Social Democrats can appoint one of their own to the post of prime minister in the Nordic country having a population of 5.5m people
iii.Similarly, Malaysia's Mahathir bin Mohamad is the world's oldest serving Prime Minister when he took over the position at the age of 92.
About Finland:
Capital- Helsinki.
Currency- Euro.
President- Sauli Väinämö Niinistö.
News Broadcasters Federation (NBF) elected Republic TV's Arnab Goswami as board's President
On December 8, 2019, the editor-in-chief and Managing Director(MD) of Republic TV, Arnab Goswami was elected as the president of governing board News Broadcasters Federation (NBF). The new self-regulatory organization in order to bring in transparent self-regulation on content will be announced by the end of January 2020.
1st secretary-general: The NBF board members elected R. Jai Krishna, a former journalist and public policy specialist in the media sector, as the first Secretary-General and Executive Director of NBF.
Key Points:
i.Vice presidents: The board also elected 4 new vice presidents. They are Jagi Mangat Panda, co-founder of Ortel Communications; Shankar Bala of Fourth Dimension Media; Sanjive Narain, Chairman and MD of Prag News, and Kartikeya Sharma of ITV Network…Click here to Read More
C. Sugandh Rajaram appointed as the High Commissioner of India to the Republic of Ghana
On 6th December 2019, C. Sugandh Rajaram, IFS:2001 (Indian Foreign Service) was appointed as the High Commissioner of India to the Republic of Ghana, he is the current Consul General, Consulate General of India, Munich, Germany. Birender Singh Yadav, IFS: 1997 was the previous High Commissioner of India to the Republic of Ghana.
About Ghana:
Capital- Accra
President- Nana Addo Dankwa Akufo-Addo
Vice-President- Mahamudu Bawumia
     SPORTS
India's Praggnanandhaa won the FIDE Open category of London Chess Classic 2019 held in London, UK

Indian young grandmaster, Rameshbabu Praggnanandhaa (14) was crowned the winner of the London chess classic 2019 in the FIDE Open category with 7.5 points from 9 rounds & shared the title with Anton Smirnov of Australia, who also scored 7.5 points.  The tournament, organized by the World Chess Federation (FIDE), was held at Olympia London in London, United Kingdom (UK) from 29 November 2019 – 8 December  2019.
Key Points:
i.Praggnanandhaa has also crossed the ELO rating (a method for calculating the relative skill levels of players) of 2600 to reach 2601 at the age of 14 years, 3 months and 26 days. With this, he has become the youngest Indian ever to cross 2600 ratings and the 2nd  youngest in the world (youngest to ever reach the 2600-rating mark is John Burke of US (United States),who reached 2601 ratings in September 2015 when he was 14 years and 2 months old).
ii.Praggnanandhaa drew his 9th and final round with Sahaj Grover of India in the final round of the competition. India's top seed Aravindh Chithambaram came 3rd with 7 points.
iii.This is Praggnanandhaa third tournament victory in the year 2019. Already, he had won the Xtracon Open 2019 in Denmark in July 2019 & World Youth championships 2019 in Mumbai in October 2019.
iv. RB Ramesh was the long-time coach of Praggnanandhaa.
Manav Thakkar: India's TT player won 2019 ITTF Challenge Series U-21 title in Markham, Canada
On December 8, 2019, 19-year old Indian table tennis (TT) player Manav Thakkar won U-21 men's singles title, in ITTF (International Table Tennis Federation) Challenge Plus Benemax-Virgo North American Open Series held in Markham, Canada. He defeated Argentina's Martin Bentancor. It was India's 1st win in the U-21 men's singles title after 2017.
Key points:
i.With this, Manav joined Harmeet Desai, Sathiyan Gnanasekaran and Soumyajit Ghosh in the list of Indians winning the ITTF World Tour U-21 men's singles title. Soumyajit won the title in 2011 in Chile while Harmeet and Sathiyan won the title in 2012 in Brazil and Egypt respectively.
ii.Manav had also won a bronze medal in the 2018 Asian Games which was held in Jakarta and Palembang in Indonesia.
About International Table Tennis Federation(ITTF):
Founded- 1926.
Headquarters- Lausanne, Switzerland.
President- Thomas Weikert.
Chief Executive Officer(CEO)- Stephen Dainton.
OBITUARY
Bhagabat Mohanty, former Higher Education Minister of Odisha dies at 90
On 8th December 2019, Bhagabat Prasad Mohanty, former Higher Education Minister of Odisha dies at 90 in his residence in Bhubaneswar. He died due to old age-related ailments. He was born in Bhubaneswar, Odisha.
Key Points:
i.Bhagabat Mohanty was an Indian politician and Lawyer and was elected to the State Assembly from Kendrapara in the year 1971 as a candidate from Praja Socialist Party (PSP), he represented Kendrapara three times in the state Assembly, and was re-elected in the year 1995 as a Congress candidate.
ii.He was also the author of several books including 'Ardha Satabdi Ra Odisha Congress Ra Itihas' and his autobiography 'Sangramara Swaralipi'.
About Odisha:
Capital- Bhubaneswar
Governor- Ganeshi Lal
Chief Minister- Naveen Patnaik
BB Kumar, Chairman of Indian Council of Social Science Research (ICSSR) dies at 78
On 8th December 2019, Braj Bihari Kumar, Chairman of the Indian Council of Social Science Research (ICSSR) dies at 78 in New Delhi. He was appointed as the chairman of the ICSSR in May 2017.  He was a teacher of organic chemistry for over 30 years. He also had degrees in Hindi and anthropology and has written, bilingual and trilingual dictionaries, books on tribal identities, on caste, and on the demarcation of states.
About Indian Council of Social Science Research (ICSSR):
Founded- 1969
Headquarters- New Delhi
Grammy award winner American puppeteer Caroll spinney passes away at the age of 85
On December 9, 2019, American puppeteer & cartoonist, Caroll Edwin Spinney, who was best known for playing Big Bird and Oscar the Grouch on children's TV show Sesame Street, has passed away at his home in Connecticut, US after battling with dystonia (a movement disorder in which a person's muscles contract uncontrollably). He was 85. He was honored with 4 Daytime Emmy Awards and two Grammy Awards for his work on the children's programme. 
i.Born on December 26, 1933, Spinney announced in October 2018 that he was stepping down from the roles.
ii.He also worked in the US (United States) Air Force &performed as a professional puppeteer in Las Vegas and Boston in the 1950s and 1960s.
iii.Spinney also got the Hollywood Walk of Fame in 1994 and named a "Living Legend" in 2000 by the Library of Congress.
IMPORTANT DAYS
International Anti-Corruption Day is observed on December 9, 2019
The International Anti-Corruption Day is observed annually on December 9, under the United Nations(UN) resolution (A/RES/58/4). On 31 October 2003, the UN General Assembly(UNGA) adopted the UN Convention against corruption and requested to designate the UN Office on Drugs and Crime (UNODC) as secretariat for the Convention's Conference of States Parties. The day was selected to be observed, in order to create awareness on corruption and combating and preventing corruption.
Theme: The theme for the year 2019 is "United Against Corruption"
Key Points:
i.The day has been observed since 2005, the year at which the convention came into force.
ii.The United Nations Development Programme(UNDP) and the UNODC are at the forefront of preventing corruption around the world….Click here to Read More
International Day of Commemoration and Dignity of the Victims of the Crime of Genocide and of the Prevention of this Crime observed on December 9
On 9th December 2019, the International Day of Commemoration and Dignity of the Victims of the Crime of Genocide and of the Prevention of this Crime is observed by the United Nations (UN). The day is observed to raise awareness of the Genocide Convention and its role in the prevention of the crime of genocide and to honour its victims. Genocide is deliberate killing of a large group of people, especially those of a particular nation or ethnic group.
Key Points:
i.This day was established in September 2015 during the United Nations General Assembly (UNGA), which also marks the anniversary of the adoption of the Convention on the Prevention and Punishment of the Crime of Genocide also called the "Genocide Convention". This year marks the 70th anniversary of the Genocide Convention. The Genocide Convention was adopted on 9th December 1948 as A/RES/3/260 by the UNGA, it was made effective from 12 January 1951.
About United Nations General Assembly (UNGA):
Founded- 1945
Headquarters- New York, United States (US)
President- Tijjani Muhammad-Bande
35th SAARC charter day celebrated on December 8, 2019
The SAARC Development Fund (SDF) has celebrated 35th South Asian Association for Regional Cooperation (SAARC) Charter Day on December 8, 2019. SAARC was established on the 8th of December in 1985 by the members of the 7 South Asian Countries (Maldives, India, Bhutan, Pakistan, Nepal, Bangladesh, and Sri Lanka) Through SAARC charter, with the aim to promote economic and cultural ties amongst its member states. Afghanistan was joined as a Member in the month of April 2007.
SAARC has a permanent secretariat in Kathmandu, Nepal while SDF is headquartered at Thimpu, Bhutan.
Prime Minister Modi greets people of member countries on 35th SAARC charter day
Prime Minister(PM) Narendra Modi wrote a letter to the SAARC Secretariat and congratulated the people of the member countries on the 35th SAARC Charter Day.
i.Modi's letter is important because India distanced itself from SAARC, citing Pakistan's continued support for terrorism.
ii.The SAARC Summit is usually organized biennially by a member country in alphabetical order. The member country organizing the conference takes over the chair of the SAARC President. The last SAARC summit was held in Kathmandu, Nepal in 2014, in which Modi participated.
In 2016, the SAARC summit was to be held in Islamabad. But after the terrorist attack on an Indian Army camp in Uri in Jammu and Kashmir on September 18 that year, India expressed its inability to attend the conference in view of the "present conditions" and increased diplomatic pressure on Pakistan.
STATE NEWS
CM Khattar inaugurated Integrated Command and Control Centre (ICCC) in Gurugram, Haryana
On December 7, 2019, The Chief Minister(CM) of Haryana, Manohar Lal Khattar has inaugurated the Integrated Command and Control Centre (ICCC) in Gurugram, Haryana, built at a cost of Rs 38 crore. Through this, people will be able to solve electricity, water, street lights, roads, and other problems.
Key Points:
i.The center will connect all government buildings and police stations in the city with fiber networks, but currently, 160 government buildings and police stations in the city have been connected with the fiber networks.
ii.CCTV (Closed Circuit Television ) system for data analysis and monitoring, traffic control and management, property and land record management, public traffic, street light monitoring, and control, solid waste management, STP water quality monitoring, drinking water supply monitoring, environment Monitoring, and citizen participation through mobile apps have also been facilitated to make Gurugram Smart City.
About Haryana:
Capital– Chandigarh
Governor– Satyadev Narayan Arya
National Parks– Kalesar National Park, Sultanpur National Park
Odisha govt reduced subsidy to farmers under KALIA scheme to Rs 4,000 per annum from Rs 10,000
On December 7, 2019, The Odisha government has reduced the amount of aid given to farmers under the KALIA (Krushak Assistance for Livelihood and Income Augmentation) scheme from Rs 10,000 to Rs 4000 per year. This decision was taken by the state government after merging the KALIA scheme with Central Government's Pradhan Mantri Kisan Samman Nidhi (PM-KISAN) yojana.
i.Odisha Chief Minister (CM) Naveen Patnaik started the Kalia Scheme for the welfare of farmers in December 2018….Click here to Read More
[su_button url="https://affairscloud.com/current-affairs-2019/december/" target="self" style="default" background="#2D89EF" color="#FFFFFF" size="5″ wide="no" center="no" radius="auto" icon="" icon_color="#FFFFFF" text_shadow="none" desc="" download="" onclick="" rel="" title="" id="" class=""]Click Here to Read Current Affairs December 2019[/su_button]
AffairsCloud Ebook - Support Us to Grow