We are here for you to provide the important Recent and Latest Current Affairs 27 December 2019, which have unique updates of Latest Current Affairs 2019 events from all newspapers such as The Hindu, The Economic Times, PIB, Times of India, PTI, Indian Express, Business Standard and all Government official websites.
Our Current Affairs December 2019 events will help you to get more marks in Banking, Insurance, SSC, Railways, UPSC, CLAT and all State Government Exams. Also try our Latest Current Affairs Quiz and Monthly Current Affairs PDF which will be a pedestrian to crack your exams.
Click here for Current Affairs December 25 & 26 2019
INDIAN AFFAIRS
Operational Guidelines Jal Jeevan Mission (JJM) released by PM Narendra Modi in New Delhi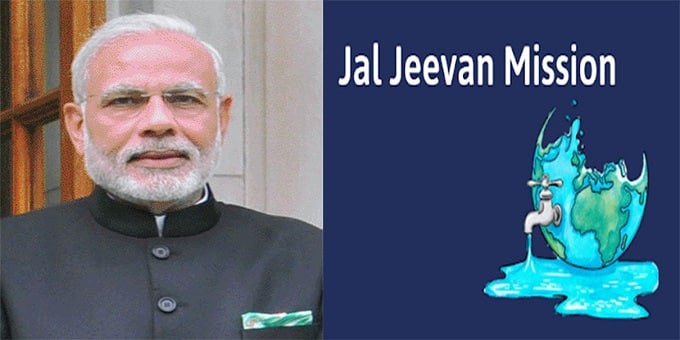 On the occasion of Good Governance Day i.e. on December 25, 2019, Indian Prime Minister, Narendra Modi has released the Operational Guidelines for the implementation of Jal Jeevan Mission (JJM), during an event organized at Vigyan Bhawan, New Delhi.
Key Points:
i.Need for JJM: Out of 17.87 Crore Indian rural households, there are 14.6 Crore households that do not have a household water tap connection facility. They account for 81.67%.
ii.Project Financing: On the financing front, Centre will provide Rs.2.08 lakh Crore while the fund sharing pattern to be 90:10 for Himalayan and North-Eastern States; 50:50 for other States and 100% for UTs.
Institutional arrangement proposed for JJM Implementation:
i.National Jal Jeevan Mission at the Central level
ii.State Water and Sanitation Mission (SWSM) at State level
iii.District Water and Sanitation Mission (DWSM) at district level
iv.Gram Panchayat and/ or its sub-committees i.e. Village Water Sanitation Committee (VWSC)/ Paani Samiti at village Level….Click here to Read More
National outreach programme 'GeM Samvaad' take off in 4 States
A national outreach program 'GeM Samvaad', launched by Government e-Marketplace (GeM) has begun from 19th  December 2019 in 4 States of Karnataka, Uttarakhand, Himachal Pradesh (HP) and Andhra Pradesh (AP).
Key Points:
i.The program will be held till17, February 2020 with the participation of GeM senior officers, stakeholders across the country and with local vendors to facilitate on-boarding of local vendors on the market.
ii.The market through GeM Samvaad aims to get feedback from users, which is the first step towards GeM's 'Voice of Customer' initiative that will be used to improve the system.
iii.Through this programme, GeM is said to make the actual users aware about the new features & functionalities of the portal.
About GeM:
Chairman– Anup Wadhawan
It is a one stop portal launched on 9 August 2016 in order to facilitate online procurement of common use Goods & Services required by various Government Departments / Organizations.It has over 20,000 services, 1.5 million products and over 3 lakh registered vendors, various service providers & over 40,000 government buyer organizations.
5 documents developed by UGC launched by Union HRD Minister in New Delhi
On December 26, 2019 the Union Minister of Human Resource Development (MHRD) Shri Ramesh Pokhriyal 'Nishank' has launched 5 documents developed by the University Grants Commission (UGC) which covers 5 verticals of Quality Mandate in New Delhi.
Document coverage area: These 5 documents cover areas such as evaluation reforms, eco-friendly and sustainable university campuses, human values & professional ethics, faculty induction and academic research integrity.
The UGC has adopted the Higher Education Quality Improvement Programme Mandate(HEQIPM) to improve the quality of education in higher educational institutions….Click here to Read More
India puts signboards in Chinese language at 5 ASI sites in Uttar Pradesh
On December 24, 2019, As per the Union Minister of State for Culture and Tourism (IC) Shri Prahlad Singh Patel, Archaeological Survey of India(ASI), an Indian government agency attached to the Ministry of Culture, has set up sign boards in Chinese language at 5 ASI protected archaeological sites located in Uttar Pradesh (UP). It includes the sites at Sarnath, the Buddhist relics at Chaukhandi Stupa, Mahaparinirvana Temple in Kushinagar, Piparahwa and Shravasti .
Key Points:
i.This move will benefit the foreign travelers came to India, where over 1 lakh tourists from a particular country visit those archaeological sites every year.The ministry plans to include a total of 5 such foreign country languages & the work of installing sign boards in Sinhali language has been already completed in November 2019 due to large number of Sri Lankan tourists visiting Sanchi.
ii.The Ministry of Culture has aimed to increase the number of both foreign & domestic tourists, in line with Prime Minister(PM) Narendra Modi's Vision 2020.
FM released commemorative stamp on Directorate of Revenue Intelligence 
On December 26, 2019 the Union Minister of Finance and Corporate Affairs (MoFCA) Smt. Nirmala Sitharaman released a postage stamp to commemorate the service and contribution by the Directorate of Revenue Intelligence (DRI) in protecting the nation by preventing smuggling activities across the country.
Key Points:
i.Members present: Minister of State(MOS) for finance and corporate affairs Shri Anurag Singh Thakur; Dr Ajay Bhushan Pandey, Revenue Secretary; Shri Pradipta Kumar Bisoi, Secretary of the Department of Posts(DoP), and other officials were present in the event.
ii.DRI: It functions as an intelligence agency Central Board of Indirect Taxes & Customs(CBIC) to prevent smuggling. DRI is also designated as the lead agency for S-CORD (Anti-Smuggling National Coordination Centre).
About Directorate of Revenue Intelligence (DRI):
Founded- 4 December 1957.
Headquarters- New Delhi.
Director General- Balesh Kumar.
Dharmendra Pradhan unveils India's First CNG Bus which can run 1000 Kms in one fill in New Delhi

On December 24, 2019, In order to make CNG as the eco-friendly option for long-distance transport in India and to promote waste-to-wealth efforts, Dharmendra Pradhan, Minister of Petroleum & Natural Gas and Steel has unveiled India's first long-distance CNG bus fitted with composite CNG cylinders, which can travel around 1000 km in a single fill. Developed by Indraprastha Gas Limited (IGL) in partnership with Mahindra & Mahindra, & Agility Fuel Solutions of USA (United State of America) this newly launched bus has replaced the traditional very heavy Type-I Carbon Steel cylinders with Type IV Composite Cylinders.
Key Points:
i.The reason behind this CNG bus launch is the govt aim, to have a Green corridor around the national capital, with the buses from here to Chandigarh, Dehradun, Agra, and Jaipur running on CNG.
ii.Already Indian govt has made $100 billion investment in the energy infrastructure to promote the gas-based economy. Using other sources of energy will also bring down India's oil import dependency.
iii.As a part of the partnership, IGL has procured 5 Mahindra's Type IV buses. The Buses would be given to Uttarakhand Transport Corporation (UTC) on lease basis after the launch to ply on Inter-city routes from Delhi to Dehradun and will be the first CNG Buses in Uttarakhand.
How this launch will be a changemaker?
Delhi Transport Corporation had stopped all its inter-state routes in 2001 due to unavailability of CNG in the neighboring states and on-board storage issues restricting the range of current CNG buses to 200-250 Km per fill only. Now, with the use of Type IV composite cylinders, buses which used to carry only 80-100 Kg of CNG with steel cylinders can carry 225-275 Kg of CNG which leads to more KM range of buses and initiation of long route CNG buses.
For the 1st time, Indian Railways starts new Him Darshan express train between Kalka and Shimla
On December 25, 2019, In view of the increasing demand of tourists, for the 1st time, the Indian Railways has started the new train "Him Darshan Express", which comprising all-new Vistadome coaches run between Kalka (Haryana)-Shimla (Himachal Pradesh).
Key Points:
i.Currently, this train (Number-52459/52460) will run for one year i.e. 24 December 2020.The specialty of the train is that it has 6 AC Vista dom coaches and one AC coach with big mirrors all around, through which one can enjoy the journey by seeing the beauty outside. Passengers will have to spend Rs 630 to travel in it.
ii.A total of 15 passengers can travel in a Vistadome coach of this train, 14 passengers can travel in AC First Class coach. AC, window roller are installed in every coach of the train & also each coach has LED (Light Emitting Diode) and charging point.
iii.This express will open from Kalka railway station at 7 am and reach Shimla at 12.55 pm. In return, this train will leave from Shimla at 3.50 pm and reach Kalka railway station at 9.15 pm.
About Indian Railways:
Founded– 16 April 1853
Headquarters– New Delhi
Union Minister– Piyush Goyal
BHEL commissioned India's 1st lignite-based 500 MW thermal unit in TN
On December 24, 2019, the Bharat Heavy Electricals Limited (BHEL) has successfully commissioned 1st Lignite based 500 MW thermal unit of 2×500 MW Neyveli New Thermal Power Project in Tamil Nadu (TN). It is India's 1st lignite fired 500 MW (Mega Watt) power plant.  This thermal unit is also the highest rating pulverised lignite-fired thermal unit commissioned in India so far. The plant is based on Once-Through and Tower Type Boiler design which has been adopted for the 1st time in the country.
Key Points:
i.This lignite fired thermal power project is owned by NLC India ltd (NLCIL) and is based in cuddalore district of TN. The 2nd unit of the project is also in an advanced stage to be commissioned.
ii.The key equipment of the project was manufactured by BHEL at its various branches while the construction of the plant was undertaken by BHEL's Power sector in the Southern region, Chennai.
iii.NLCIL- it was previously known as Neyveli Lignite Corporation(NLC).
About Bharat Heavy Electricals Limited (BHEL):
Fact- BHEL's has strength of an installed base of over 1,85,000 MW of power plant equipment globally.
Established- 1964.
Headquarters- New Delhi.
Chairman and Managing Director(MD)- Dr. Nalin Shinghal.
MoHUA data: India, except Bengal, declared open defecation-free under SBM-U
On December 23, 2019 the Union Ministry of Housing and Urban Affairs (MoHUA) announced that the Swachh Bharat Mission-Urban (SBM-U) has achieved the national target of becoming Open Defecation Free (ODF) across the country. Urban areas of 35 states / UTs (Union Territories) became ODF.  But it is also to be noted that urban local bodies in West Bengal had not been declared as ODF.
Solid Waste Management: Till December 23, 2019, 96% of wards have door to door collection of waste, and approximately 60% of the total waste generated is being processed.
SMART framework: The MoHUA has also launched the Star rating protocol for garbage-free cities. The protocol is based on 12 parameters and follows a SMART framework. The full form of the framework is SMART- Single metric, Measurable, Achievable, Rigorous verification mechanism and Targeted towards outcomes.
The SS 2020 survey will begin from January 4, 2020, and will continue till January 31, 2020….Click here to Read More
I&B minister at Akashvani awards in New Delhi: announced digital radio launch in 2024
On December 24, 2019, the Minister of Information and Broadcasting announced the launch of Digital Radio in 2024 during the annual Akashvani awards function which was held in New Delhi. It was also announced that audio of digital radio will be made more clear.
Key Points:
i.Chairman of Prasar Bharati Dr A. Surya Prakash, Prasar Bharati's Chief Executive Officer(CEO) Shashi Shekhar Vempati and other officials were present in the event.
About Ministry of Information & Broadcasting (MoI&B):
Headquarters- New Delhi.
Union Minister- Shri Prakash Javadekar.
Secretary- Ravi Mittal.
Bharatnet project: Centre to provide free wifi service to all villages by March 2020
On December 25, 2019, To promote Digital India and make the internet accessible to the rural people, the central government will provide free Wi-Fi to all villages across the country through BharatNet project by March 2020.This information was provided by Communication and IT (Information Technology) Minister, Ravi Shankar Prasad during the inauguration ceremony of  Digital Village Gurawara in Rewari ,Haryana.
Key Points:
i.Currently, 48,000 villages connected under the BharatNet project in the country have WiFi facilities.
ii.Gram Panchayats :The Government has already connected 1.3 lakh Gram Panchayats with BharatNet optical fiber & aims to connect 2.5 lakh Gram Panchayats with BharatNet optical fiber.
iii.After providing internet facilities to the rural areas, banking services will be available at Common Service Centers (CSCs). The number of these centers has increased from 60,000 in 2014 to 3.60 lakh at present.
BharatNet Project:
This project was earlier named OFC (Optical Fiber Communication Network) which was launched in October 2011. In 2015, it was renamed BharatNet.
Under this project, more than 2.5 lakh gram panchayats are to be provided high-speed broadband through the optical fiber at affordable rates. It will provide broadband speed from 2 to 20 mbps.
The budget is being provided to the BharatNet project under the Universal Service Obligation Fund (USOF).
India's first university for transgender will open in Kushinagar, UP
On December 26, 2019, India's 1st transgender university will open in Fazilnagar block in UP's (Uttar Pradesh) Kushinagar district. It is being constructed by Akhil Bhartiya Kinnar Siksha Seva Trust (All-India transgender education service trust).
Key Points:
i.In this university, students of the transgender community will be able to complete their studies from class 1 to post-graduation (PG). Even they can do research and get PhD(Doctor of Philosophy) degree.
ii.Admission process will start in the university from 15th January 2020 & two children will take admission in it. After this, admission of other children will start in February and March 2020.
About Uttar Pradesh (UP):
Capital– Lucknow
Chief minister– Yogi Adityanath
Governor– Anandiben Patel
Wildlife sanctuaries– Hastinapur WLS, Kaimur WLS, Katerniaghat WLS, Kishanpur WLS , Mahavir Swami WLS,National Chambal WLS ,Nawabganj WLS
INTERNATIONAL AFFAIRS
5th Round of India-Japan Maritime Affairs Dialogue was held in Tokyo
On December 24, 2019, the 5th round of India-Japan Maritime Affairs Dialogue was held in Tokyo, Japan.  During this dialogue, India and Japan agreed to deepen their maritime cooperation. Apart from the dialogue, the 8th Round of India-Japan bilateral consultations on disarmament, non-proliferation and export control was also held in Tokyo.
Key Points:
i.Indian delegation: The Indian delegation was led by Indra Mani Pandey, Additional Secretary in Disarmament and International Security Affairs under the Ministry of External Affairs(MEA).
ii.Japanese delegation: The delegation from the Japanese side for the 5th round dialogue was led by Ambassador Yamanaka A. Osamu, deputy assistant minister, deputy Director-General(DG) in foreign policy bureau. The Japanese delegation for the 8th Round of India-Japan bilateral consultations was headed by Ambassador Hisajima Naoto, Director-General(DG), disarmament, non-proliferation and science department, ministry of foreign affairs.
About Japan:
Capital- Tokyo (also the largest city).
Currency- Japanese yen.
Prime Minister- Shinzō Abe.
Emperor- Naruhito.
Era- Reiwa.
BANKING & FINANCE
RBI appointed J&K Bank and SBI as lead bankers for J&K and Ladakh respectively
On December 26, 2019 the Reserve Bank of India(RBI) has appointed Jammu & Kashmir Bank(J&K Bank) as the UTLBC (Union Territory Lead Bank Convenor) of the newly formed Union Territory(UT) of Jammu & Kashmir(J&K). Similarly, the State Bank of India (SBI) will be the lead banking convenor of the UT Ladakh.
Key Points:
i.The central govt reorganized erstwhile Jammu and Kashmir state under the Jammu and Kashmir Reorganisation Act, 2019, into union territories of Jammu and Kashmir and Ladakh with effect from October 31, 2019.
ii.No change in the SLBC (State Lead Bank Convenor)/ UTLBC convenorship of other states and UTs were made.
About State Bank of India(SBI):
Founded- 1 July 1955 as SBI.
Headquarters- Mumbai, Maharashtra.
Chairperson- Rajnish Kumar.
Tagline- Pure Banking Nothing Else, With You All the Way, A Bank Of The Common Man, Banker to Every Indian.
About Jammu and Kashmir Bank(J&K bank):
Founded- 1 October 1938.
Chief Executive Officer(CEO)- R K Chhibber 
Headquarters- Srinagar.
Tagline- Serving to Empower.
Karnataka Bank launches "KBL Xpress SB Accounts" through its TAB banking
On December 25,2019, An 'A' Class Scheduled Commercial Bank, Karnataka Bank has launched 'KBL Xpress SB Accounts', a digitized version for opening Savings Bank (SB) account through TAB (tablet) Banking facility on the spot.
Key Points:
i.Using the TAB banking account opening process, the Bank has offered its valued customers the facility of opening accounts at their door step.
The sales staff of Karnataka Bank will visit the customers at their home and with the use of the tablets they will get the formalities completed within 10 minutes & also issue the pre-activated Debit Card , Mobile and Internet Banking services.
ii.This facility will be launched initially in Bangalore and will be expanded Pan India soon.
About Karnataka Bank:
Headquarters– Mangaluru
MD & CEO– Mahabaleshwara M S
Tagline– Your Family Bank Across India
Digit launched health insurance product named Digit Health Care Plus
Digit Insurance has launched Digit Health Care Plus, a retail health insurance product, that has been customized for different age groups and their health needs, along with the help & approval of an Ex-AIIMS (All India Institute of Medical Sciences) Director.
Key Point:
i.Digit even collaborated with 15-year old kids to simplify the health insurance documents so that the coverages are explained in simple terms that are easy to read and comprehend.
About Digit:
Founder and Chairman– Kamesh Goyal
It backed by the Fairfax Group, one of the largest financial services groups in the world.
Ashok Leyland ink pact with Yes bank for commercial vehicle financing
On December 24, 2019, Ashok Leyland (ALL), an Indian automobile company has entered into the memorandum of understanding (MoU) with Yes Bank,an Indian private sector bank (PVB) for vehicle loans for a period of 2 years.
Key Points:
i.The partnership will enable both partners to provide customised financial solution to their customers across India with focus on pan-India outreach.
ii.Earlier in November 2019, ALL has also signed a 2­ year MoU with ICICI (Industrial Credit and Investment Corporation of India) Bank & Axis bank for vehicle financing.
About Ashok Leyland (ALL):
Founded– 7 September 1948
Headquarters– Chennai, Tamil Nadu
Parent organization- Hinduja Group
Founder– Raghunandan Saran
About YES Bank:
Formation– 2004
Headquarters– Mumbai, Maharashtra
CEO & MD– Ravneet Gill
Tagline– Experience our Expertise
NPCI newly offers recharge option for FASTag through BHIM UPI
On December 26, 2019, the National Payments Corporation of India (NPCI) has announced a new recharge option for National Electronic Toll Collection (NETC) FASTags through BHIM UPI (Bharat Interface for Money- Unified Payments Interface).  Accordingly, any BHIM UPI enabled mobile app users can recharge their FASTags which would ease the traffic at toll plazas.
Key Points:
i.FASTags which are based on RFID (Radio-Frequency Identification) technology has been made mandatory on national highways(NH) across the country from December 15, 2019, onwards.
About National Payments Corporation of India (NPCI):
Fact- NPCI is a not-for-profit Organisation registered under section 8 of the Companies Act 2013.
Headquarters- Mumbai, Maharashtra.
Founded- 2008.
ECONOMY & BUSINESS
IMF retains India's FY20 GDP growth rate forecast at 6.1%
On December 24, 2019, the International Monetary Fund (IMF) in its Article IV consultation report on India has retained India's economic growth forecast at 6.1% for FY20.  The report was released in Washington, United States (US).
Key Point:
i.The forecast is much higher than by most agencies. For example, the Reserve Bank of India's (RBI) latest projection pegged the growth at 5%, Standard & Poor's at 5.1%, Moody's at 4.9% and Fitch' at 4.6% for the current financial year.
About IMF:
Headquarter– Washington, US
Managing Director– Kristalina Georgieva
Economic Counsellor– Gita Gopinath
AWARDS & RECOGNITIONS     
Andhra Bank receives "Best Performing Bank award" for Rural Self Employment Training Institutes (2nd rank) for 2018-19
Union Minister for Agriculture and Farmers Welfare, Rural Development and Panchayati Raj Narendra Singh Tomar, presented the Best Performing Award for Rural Self Employment Training Institutes (RSETI) (2nd rank) to Andhra Bank for the financial year 2018-19.The Award was received by Executive Director of Andhra Bank, Kul Bhushan Jain. A RSETIs sponsored by Andhra Bank which is situated at Rajam in Srikakulam District, Andhra Pradesh also received Best performing RSETI award.
KeyPoints:
i.The Bank has set up 14 Rural Self Employment Training Institutes (RSETIs) so far in Andhra Pradesh, Telangana, Odisha and Kerala. RSETIs, functions under the Andhra Bank Rural Development Trust.
ii.During 2018-19 RSETIs, has trained 9,711 candidates, of whom 82% are employed. RSETIs has also trained 1,81,760 candidates from its inception till September 30, 2019.
About Andhra Bank:
Founder- Dr Bhogaraju Pattabhi Sitaramayya
MD & CEO- Shri J Packirisamy
Headquarter- Hyderabad
Tagline- Where India Banks
   APPOINTMENTS & RESIGNATION    
Raghubar Das resigns as CM of Jharkhand
On December 23,2019, Jharkhand chief minister (CM) Raghubar Das has submitted his resignation to governor Draupadi Murmu at Raj Bhavan in Ranchi after being ousted from power due to the Bharatiya Janata Party's (BJP) election defeat.
i.JMM (Jharkhand Mukti Morcha)-Congress-RJD(Rashtriya Janata Dal) alliance set to form a new government with 47 seats in the 81-member Jharkhand assembly. The ruling BJP was reduced to 25 seats and incumbent CM Raghubar Das was defeated from his bastion Jamshedpur East.
Hemant Soren to take oath as 11th CM of Jharkhand on 29th December 2019
Hemant Soren, the working president of the JMM is scheduled to take oath as the new /11th Chief Minister(CM) of Jharkhand on December 29, 2019.
He had earlier served as 5th CM of Jharkhand from13 July 2013 – 28 December 2014.
About Jharkhand:
Capital– Ranchi
National Park- Betla National Park
Flower– Palash
Tree– Sal
        SCIENCE & TECHNOLOGY
Indian Air Force decommissioned its last MiG-27 squadron 
On December 27, 2019 the last of the iconic MiG-27 (Mikoyan MiG-27) fighter jet aircraft was decommissioned from the Indian Air Force(IAF) at Jodhpur base in Rajasthan. The aircraft served the IAF for over 3 decades(30 years). The Jodhpur airbase previously had the squadron of 7 MiG-27. Currently No. 29 Squadron (Scorpion 29) is the only unit in the IAF which has been operating MiG 27 Upgrades.
Key Points:
i.The aircraft served during the 1999 Kargil War. It is known by the name 'Bahadur' in India.
ii.MiG-27 was procured in the 1980s from the then Soviet Union(SU).  The aircraft has the single most powerful engine in the world.
iii.The decision to decommission the aircraft was taken after series of MiG-27 crashes. Recently MiG-27 crashed near Jodhpur on March 31, 2019 and on September 4, 2019. It also faced many technical glitches.
About Indian Air Force(IAF):
Founded- 8 October 1932.
Headquarters- New Delhi.
Motto- Glory that touches the sky.
 SPORTS
ICC Men's Test rankings: Virat Kohli finishes 2019 as top-ranked batsman
Indian skipper Virat Kohli with 928 points, has topped the batting ranking in the International Cricket Council (ICC) Test ranking format that was released on 24th December, 2019 .He is 17 points ahead of Australia's Steve Smith.
Test Ranking of Indian Players:
Batting:
Cheteshwar Pujara with 791 Points retained his 4th Position. While Ajinkya Rahane, with 759 Points slipped to 7th Position.
Bowling:
Jasprit Bumrah with 794 Points ranked in 6th Position.He was the only Indian Player to be ranked in top 10. Ravichandran Ashwin with 772 Points ranked in 11th Position, Mohammad Shami with 771 Points followed him.
All Rounder:
Ravindra Jadeja with 406 Points ranked in 2nd Position.While Ravichandran Ashwin, with 308 Points ranked 6th Position.
Top Ranks in Test Cricket Format:
Team Ranking
Batting Ranking
Bowling Ranking
All Rounder Ranking
India
Virat Kohli (India)
Pat Cummins (Australia)
Jason Holder (Barbados)
New Zealand
Steve Smith (Australia)
Kagiso Rabada (South Africa)
Ravindra Jadeja (India)
South Africa
Kane Williamson (New Zealand)
Neil Wagner (New Zealand)
Ben Stokes (England)
Indian Ranking
 
Cheteshwar Pujara ranked 4th
Jasprit Bumrah ranked 6th
Ravichandran Ashwin ranked 6th
 
Ajinkya Rahane ranked 7th
Ravichandran Ashwin ranked 11th
Mohammad Shami ranked 29th
About International Cricket Council (ICC):
Chairman- Shashank Manohar
Deputy Chairman- Imran Khawaja
Chief Executives- David Richardson
Cricket captain Virat Kohli only Indian named in Wisden's Five cricketers of the decade list

On 24th December 2019, Wisden Cricketers'Almanack (Wisden) 2019 colloquially the "Bible of Cricket", has named the "Wisden's Five cricketers of the decade list". Indian skipper & Present Captain, Virat Kohli was the only Indian to be named in the Wisden's Five Cricketers of the decade.
Four Other Cricketers:
Four other cricketers who made into the list were as follows:
Steve Smith (Australia)
Ellyse Perry (Australia)
Dale Steyn (South Africa)
AB de Villiers (South Africa)
Achievements of Virat Kohli:
i.He has already been named as the captain of Wisden's Test team of the decade & also named in the Wisden ODI team of the decade alongside MS Dhoni, Rohit Sharma and others.
ii.Kohli has scored 5,775 more international runs than anyone else in the last 10 years, has arguably been the best batsman over the last decade.
iii.He is the only batsman to average at least 50 in all three international formats (Test, ODI & T20I).
iv.He has become the third leading run-scorers of all time with 21,444 runs, behind Ponting (27,483) and Tendulkar (34,357) & also the 3rd batsman who smashed 70 international hundreds, only behind Ricky Ponting (71) and Sachin Tendulkar (100).
v.He had scored 7,202 runs in Test matches, 11,609 runs in ODI & 2,633 runs in T20I so far.
About Wisden Cricketers' Almanack:
It is a Cricket reference book, colloquially called as Bible of Cricket.
First published- 1864
Editor- Lawrence Booth
OBITUARY
Acclaimed Chinese author, Da chen passes away at the age of 57
Noted Chinese author, Da Chen, who is best known for his works of bestselling "Colors of the Mountain"& Brothers, has passed away at his home in Temecula, California, US (United States) due to lung cancer.He was 57.
i.Born in 1962 in China, Chen has written the last book Girl Under a Red Moon, which was published just three months ago.
ii.His book –'Brothers' was awarded the best book of 2006 by The Washington Post, San Francisco Chronicle, Miami Herald and Publishers Weekly.
iii.He also published several books including Sounds of the River: A Memoir, China's Son: Growing Up in the Cultural Revolution (2001) & Wandering Warrior, his 1st book of fiction for children.
AC BYTES
Aayushi Dholakia become the first Indian after 27 years to win the Miss Teen International 2019 
A 16-year old Vadodara based Aayushi Dholakia won the crown Miss Teen International 2019 held in Kingdom of Dreams (Gurugram, Haryana), which is the oldest running teen pageant in the world.
Defence minister Rajnath Singh launches app to assist visitors heading for DefExpo 2020
Defence Minister Rajnath Singh launched a mobile application named "DEFEXPO 2020", developed by Department of Defence Production, Ministry of Defence (MoD), to assist visitors of DefExpo 2020, the 11th edition of biennial mega defence exhibition to be organized in Lucknow, Uttar Pradesh from 5th to 8th February 2020.
******Current Affairs 27 December 2019 Headlines******
Operational Guidelines Jal Jeevan Mission (JJM) released by PM Narendra Modi in New Delhi
National outreach programme 'GeM Samvaad' takes off in 4 States
5 documents developed by UGC launched by union HRD Minister in New Delhi
India puts sign boards in chinese language at 5 ASI sites in Uttar Pradesh
FM released commemorative stamp on Directorate of Revenue Intelligence
Dharmendra Pradhan unveils India's First CNG Bus which can run 1000 Kms in one fill in New Delhi
For the 1st time, Indian Railways starts new Him Darshan express train between Kalka and Shimla
BHEL commissioned India's 1st lignite-based 500 MW thermal unit in TN
MoHUA data: India, except Bengal, declared open defecation-free under SBM-U
I&B minister at Akashvani awards in New Delhi: announced digital radio launch in 2024
Bharatnet project: Centre to provide free wifi service to all villages by March 2020
India's first university for transgender will open in Kushinagar, UP
5th Round of India-Japan Maritime Affairs Dialogue was held in Tokyo
RBI appointed J&K Bank and SBI as lead bankers for J&K and Ladakh respectively
IMF retains India's FY20 GDP growth rate forecast at 6.1%
Karnataka bank launches "KBL Xpress SB Accounts" through its TAB banking
Digit launched health insurance product named Digit Health Care Plus
Ashok leyland ink pact with Yes bank for commercial vehicle financing
NPCI newly offers recharge option for FASTag through BHIM UPI
Andhra Bank receives "Best Performing Bank award" for Rural Self Employment Training Institutes (2nd rank) for 2018-19
Raghubar das resigns as CM of Jharkhand
Indian Air Force decommissioned its last MiG-27 squadron
ICC Men's Test rankings: Virat Kohli finishes 2019 as top ranked batsman
India captain Virat Kohli only Indian named in Wisden's Five cricketers of the decade list
Acclaimed Chinese author, Da chen passes away at the age of 57
Aayushi Dholakia become the first Indian after 27 years to win the Miss Teen International 2019
Defence minister Rajnath Singh launches app to assist visitors heading for DefExpo 2020
[su_button url="https://affairscloud.com/current-affairs-2019/december/" target="self" style="default" background="#2D89EF" color="#FFFFFF" size="5″ wide="no" center="no" radius="auto" icon="" icon_color="#FFFFFF" text_shadow="none" desc="" download="" onclick="" rel="" title="" id="" class=""]Click Here to Read Current Affairs December 2019[/su_button]
AffairsCloud Ebook - Support Us to Grow