On the occasion of Good Governance Day i.e. on December 25, 2019, Indian Prime Minister, Narendra Modi has released the Operational Guidelines for the implementation of Jal Jeevan Mission (JJM), during an event organized at Vigyan Bhawan, New Delhi.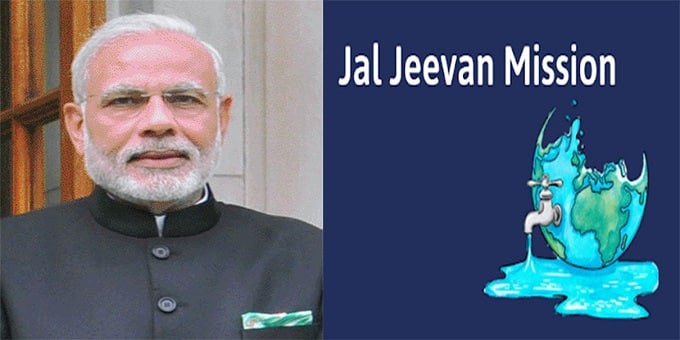 Key Points:
i.Need for JJM: Out of 17.87 Crore Indian rural households, there are 14.6 Crore households who do not have household water tap connection facility. They account 81.67%.
ii.Project Financing: On financing front, Centre will provide Rs.2.08 lakh Crore while the fund sharing pattern will be 90:10 for Himalayan and North-Eastern States; 50:50 for other States and 100% for UTs.
Key Steps to be taken for implemention:
i.Good performance of the States/ UTs will be incentivized out of the fund not utilized by other States at the end of the financial year.
ii.Every village is to prepare a village action plan (VAP) comprising of three components- water source & its maintenance, water supply and grey water management. This plan will be used for district and state plans.
iii.To have a definite Operations and Maintenance (O&M) policy by states for meeting requirements like monthly energy cost of the piped water supply (PWS) scheme.
Institutional arrangement proposed for JJM Implementation:
i.National Jal Jeevan Mission (NJJM) at the Central level – Functionality assessment of the schemes implemented under JJM will be done by Department of NJJM
ii.State Water and Sanitation Mission (SWSM) at State level – The fund released by Central Government to the State Governments is to be deposited in one Single Nodal Account (SNA) that will be maintained by SWSM.
iii.District Water and Sanitation Mission (DWSM) at district level
iv.Gram Panchayat and/ or its sub-committees i.e. Village Water Sanitation Committee (VWSC)/ Paani Samiti at village Level – It has been propsed to imbibe the spirit of 73rd Amendment of Constitution of India which states that Gram Panchayats or its sub-committees play a crucial role in planning, designing, execution, operations and maintenance of the in-village infrastructure.
v.Apart from above, Water Quality Monitoring and Surveillance is also proposed wherein setting up and maintenance of water quality testing labs will be done by the PHE Department (Public Health Engineering Department).
Participants during the event:
Minister of Defense, Rajnath Singh, the Minister Jal Shakti, Gajendra Singh Shekhawat, the Minister of State Jal Shakti, Rattan Lal Kataria, officials from various departments, farmers from different states, representatives of UN agencies, NGOs/ trusts, and various stakeholders working in the water sector.
About JJM:
Approved on 13.08.2019, the Rs 3.60 lakh Crore Jal Jeevan Mission (JJM) aims to provide Functional Household Tap Connection (FHTC) i.e. Har Ghar Nal Se Jal (HGNSJ) to every rural household by 2024 with service level at the rate of 55 litres per capita per day (lpcd). The National Rural Drinking Water Programme (NRDWP) subsumed into Jal Jeevan Mission (JJM) by Government.
AffairsCloud Ebook - Support Us to Grow