We are here for you to provide the important Recent and Latest Current Affairs 27 November 2019, which have unique updates of Latest Current Affairs 2019 events from all newspapers such as The Hindu, The Economic Times, PIB, Times of India, PTI, Indian Express, Business Standard and all Government official websites.
Our Current Affairs November 2019 events will help you to get more marks in Banking, Insurance, SSC, Railways, UPSC, CLAT and all State Government Exams. Also try our Latest Current Affairs Quiz and Monthly Current Affairs PDF which will be a pedestrian to crack your exams.
Click here for Current Affairs November 26 2019
INDIAN AFFAIRS
Lokpal's chairman Justice Pinaki Chandra Ghose launched logo of Lokpal in New Delhi
On November 26, 2019 The Chairman of Lokpal, Shri Justice Pinaki Chandra Ghose launched the lokpal's logo in New Delhi.  On this day, the motto of the lokpal "Ma Gridhah Kasyasvidhanam (Do not be greedy for anyone's wealth)" was also adopted.
Logo selection process was conducted in 3 phases and finally the logo design of Shri Prashant Mishra, from Uttar Pradesh (UP) was selected.
The logo was designed based on the literal meaning of lokpal where Lok means people and Pal means caretaker, which in full creates the meaning caretaker of people….Click here to Read More
For the 1st time, India & Japan holds Mine Countermeasure Exercise(MINEX) 2019 at Kochi, Kerala
On November 23, 2019, For the 1st time, the Indian Navy and the Japanese Maritime Self Defence Force (JMSDF) have conducted Mine Countermeasure Exercise (MINEX) 2019 at Kochi, Kerala on explosive ordnance disposal and mine countermeasure.
i.Officials of the Indian Navy and from the warships Bungo and Takashima of JMSDF's Minesweeper (a naval ship that is deployed in removing naval mines) Division 3, commanded by Captain Seiji Ikubu took part in the exercise.
Other exercises between India & Japan:
JIMEX- It is a bilateral maritime exercise between India and Japan.
Exercise Malabar– It is a trilateral naval exercise involving the United States, Japan, and India as permanent partners.
Exercise Dharma Guardian- It is an annual joint military exercise between Indian and Japan since 2018.
About Japan:
Capital– Tokyo
Currency– Japanese yen
Prime Minister– Shinzō Abe
Food processing ministry's IMAC cleared Rs 271 crores for CEFPPC scheme
On November 25, 2019, the Inter-Ministerial Approval Committee(IMAC) under food processing minister Harsimrat Kaur Badal's chairmanship, has approved Rs 271 crores worth project under Creation/Expansion of Food Processing and Preservation Capacities(CEFPPC) scheme.
Beside this approval, the food processing ministry has also implemented Pradhan Mantri Krishi Sampada Yojana (PMKSY) with an outlay of Rs 6,000 crores.
Key Points:
i.Investors have been provided with Capital subsidy in the form of grants in ranging from 35%-75% of eligible project cost.
ii.CEFPPC scheme:The aim of the scheme is to create processing and preservation capacities and modernisation/ expansion of existing food processing units.
About Ministry of Food Processing Industries(MFPI):
Founded- 1988.
Headquarters- New Delhi.
Minister of State(MoS)- Rameshwar Teli. (constituency- Dibrugarh, Assam).
2019 CRY report: crimes against children rose by 20%, UP & MP top the list
On November 26, 2019 an analysis by Non-govt Organisation(NGO) Child Relief and You (CRY), released its report on crimes against children in India. As per the report, crimes against children rose by 20% which is higher than the overall number of crimes that rose by 3.6%. Among the Indian states, Uttar Pradesh(UP) and Madhya Pradesh(MP) topped the list for overall crimes in India.
CRY analysis: The CRY analysis was based on data of National Crime Records Bureau(NCRB) for 2016-2017, which was released after a gap of 2 years on October 21, 2019.
UP & MP crime cases: UP and MP together stood at 14.8% of with 19,000 cases.
Jharkhand had the highest increase in crimes against children at 73.9%.
Contradicting Jharkhand, Manipur saw significant decline in the crime against children at 18.7% between 2016 and 2017….Click here to Read More
Bihar topped in acute respiratory infections among children under-5 yrs
On November 26, 2019, Non-Government Organisation(NGO), Save the Children released a report titled "Situation Analysis of Pneumonia in India". The report was on respiratory infections in children. As per the report, Bihar recorded the highest prevalence of acute respiratory infections(ARIs) among children under the age of 5 years when compared with the 5 high burden states between September 2018 and June 2019.
Bihar had 15.9% of the prevalence of ARIs. The other states in the top 5 ranking include, Uttar Pradesh (2nd), Jharkhand(3rd), Madhya Pradesh(4th) and Rajasthan(5th).
The main risk factor related to this health issue was household air pollution that lead to childhood pneumonia….Click here to Read More
NSO survey recorded 77.7% literacy rate among above 7 years of age between 2017 and 2018
On November 24, 2019, as per the National Statistical Office (NSO) survey named "NSO survey on Household Social Consumption: Education as part of 75th round of National Sample Survey (NSS)" the literacy rate in the age group of seven years and above was recorded at 77.7% during July 2017-June 2018  in India. The rate was 73.5% in rural and 87.7% in urban areas.
Key Points:
Among males, 11% never enrolled, 42.7% ever enrolled but currently not attending while 46.2% were currently attending.
Among females, 16.6% never enrolled, 42.2% ever enrolled but currently not attending while 41.2% were currently attending.
The Gross Attendance Ratio (GAR) at the primary level was 101.2 %, 94.4% at upper primary/middle level and 98.7% at primary and upper primary /middle level.
Nearly 96.1% of the students were pursuing general courses and 3.9% were pursuing technical/professional courses.
Nearly 57% in villages and 23.4 percent in cities received free education.
MoS DoNER Jitendra Singh attends 3rd edition of Destination North East festival 2019 held in Varanasi, UP
The Minister of State (MoS) for the Ministry of Development of North Eastern Region (DoNER) Dr Jitendra Singh has attended the 4-day long 3rd edition of 'Destination Northeast (or Destination NE)' festival 2019 held at IIT-BHU (Indian Institutes of Technology-Banaras Hindu University) grounds in Varanasi,Uttar Pradesh (UP) from November 23-26, 2019.
It was organized by DoNER with the aim to bring the rest of India closer to the North East and to have experience of two rich cultures of Ganga and Brahmaputra, represented by Varanasi and North East respectively.
Key Points:
i.All the 8 North Eastern States (Arunachal Pradesh, Assam, Manipur, Meghalaya, Mizoram, Nagaland, Sikkim and Tripura) participated in the event with the visitors having live experiences of the artisans and artists who work on looms and crafts.
ii.Central Government Agencies including North East Regional Agricultural Marketing Cooperation Limited (NERAMAC), North Eastern Region Community Resource Management Project (NERCORMP), International Centre for Cultural Relations (ICCR),Lalit Kala Academy, Assam based CBTC (Cane and Bamboo Technology Centre) & NEHHDC (North East Handicrafts & Handlooms Corporation Ltd) were also participated in the event.
iii.Varanasi is a natural choice for hosting the event as the Ganga and Brahmaputra basins offering similarities in terms of ancient culture, diverse handlooms and silk products, spiritual heritage.
iv.The previous editions of the event were held in Chandigarh and Delhi.
About Uttar Pradesh:
Capital– Lucknow
Chief minister– Yogi Adityanath
Governor-Anandiben Patel
INTERNATIONAL AFFAIRS
Jal shakti minister Gajendra Singh attends 8th WATEC Conference 2019 held in Tel Aviv, Israel
Union Minister of Jal Shakti, Shri Gajendra Singh Shekhawat represented India at the 8th WATEC (Water Technology and Environment Control ) Conference 2019 based on the theme "Water Stewardship and Innovation – driving global leadership in the responsible planning management, and protection of water" held at David Intercontinental in Tel Aviv ,Israel from November 18-21, 2019.
KeyPoints:
i.The conference, organized by Kenes Exhibitions, aimed to get updates on technologies related to water and environmental management. Several countries participated in the conference & showcased their new-age technologies and solutions.
ii.Israel, known for its innovation in water management infrastructure, has recycled over 90% of its water, and nearly 80% of drinking water consumed is desalinated or recycled. The recycling of sewage water for agriculture in Israel is 80 %.
iii.The conference will help India learn technologies to preserve water & replicate it. India needs to act rapidly as the groundwater resources are depleting at a faster pace. The water-stressed blocks in India are Tamil Nadu (541) followed by Rajasthan (218), Uttar Pradesh (139), Telangana (137), Punjab (111) and Haryana (81) & about 22% of India's groundwater has either dried up or is in the 'critical' and 'over-exploited' categories.
BANKING & FINANCE
ADB approves 2nd tranche of $150 mn loans for West Bengal to boost capital investment, infra
On November 26, 2019, Asian Development Bank (ADB), an international development finance institution has approved 2nd tranche of policy based programme loan $150 million (about Rs 1,065 crore) for West Bengal to boost capital investment and infrastructure in the state.
Key Points:
i.In September 2017, The board of ADB approved a loan of $300 million (about Rs 2,130 crore)  to continue a comprehensive series of fiscal reforms in West Bengal to revive financial health of public sector enterprises, introduction of medium-term expenditure frameworks in two departments, and implementation of an integrated tax monitoring system, among others.
About ADB:
Motto -Fighting Poverty in Asia and the Pacific
Formation– 19 December 1966
Headquarters – Manila, Philippines
Membership– 68 countries
Earlier in September 2019, ADB's  president Takehiko Nakao has announced his resignation which will be effective from January 16, 2020.
About West Bengal:
Capital– Kolkata
Chief minister-Mamata Banerjee
Governor– Jagdeep Dhankhar
RBI revises framework on SAARC currency swap arrangement
On November 26, 2019, Country's apex bank Reserve Bank of India (RBI) has revised the SAARC (South Asian Association for Regional Cooperation) currency swap arrangement framework for a period of November 14, 2019, to November 13, 2022. The revision has been made for financial stability and economic cooperation within the SAARC region.
Keypoints:
As per the new framework, RBI continues to offer a swap arrangement within the overall corpus of USD 2 billion.
The drawal can be made in US Dollars, Euro or Indian Rupee. There are certain concessions for swap drawal in Indian Rupee.
The SAARC central banks, who want to avail swap facility, subject to their signing the bilateral swap agreements, RBI will make bilateral swap agreements.
About SAARC Currency Swap Facility:
Establishment: November 15, 2012
Reason behind Establishment: To provide a backstop line of funding for short term foreign exchange liquidity requirements or balance of payment (BOP) crises till longer-term arrangements are made.
About SAARC:
Founded: 8 December 1985
Headquarters: Kathmandu, Nepal
Member States: 8 (Afghanistan, Bangladesh, Bhutan, India, Maldives, Nepal, Pakistan and Sri Lanka)
Current Chairmanship – Nepal (From 26-11-2014-till date); India held it's chair for 3 times
About RBI:
Founded: 1 April 1935
Headquarters: Mumbai
Governor: Shaktikanta Das
Deputy Governors: 4 (N. S. Vishwanathan, P. Kanungo, Mahesh Kumar Jain, and 4th is yet to be appointed)
Ashok Leyland ink pact with Axis bank & ICICI bank for commercial vehicle financing
On November 27, 2019, Ashok Leyland (ALL), an Indian automobile company has tied-up with Axis Bank,the fifth-largest bank in India for vehicle loans for a period of two years.
Key Points:
i.The partnership will enable both the partners to provide customised financial solution to customers across the country with focus on semi-urban and rural geographies.
ii.On November 25, 2019, Ashok Leyland has also signed a two­ year memorandum of understanding (MoU) with ICICI (Industrial Credit and Investment Corporation of India) Bank for vehicle financing.
About Ashok Leyland:
Founded -7 September 1948
Headquarters -Chennai, Tamil Nadu
Parent organization– Hinduja Group
Founder-Raghunandan Saran
About Axis bank:
Founded– 1993
Headquarters -Mumbai, Maharashtra
Chairman -Shri Rakesh Makhija
Tagline– Badhti Ka Naam Zindagi
About ICICI bank:
Founded -5 January 1994
Headquarters – Mumbai, Maharashtra
MD & CEO –Sandeep Bakhshi
Tagline– Hum Hai Na, Khyal Apka
ECONOMY & BUSINESS
Ind-Ra revised FY20 GDP growth forecast to 5.6% from 6.1%
On November 26, 2019, Fitch group's firm India Ratings and Research(Ind-Ra) has downgraded India's Gross Domestic Product(GDP) forecast FY20 (Financial year 20) to 5.6% from the previous estimate of 6.1%. The new projection also suggests that FY20 GDP growth for the second quarter(Q2) to likely be at 4.7%. Q2 denotes period from July-September.
Key Points:
i.This weakened economic growth was due to the crunch in the non-banking finance institutions spreading to retail businesses, car-makers, home sales, and heavy industries.
ii.Ind-Ra also expects the current account deficit(CAD) to decline to 1.8% of GDP in FY20 aided by the softer crude oil prices, lower capital goods import, etc.
iii.It is also to be noted that currently in 2019 the economic growth is 6-year low with 5% of slowed growth in the June quarter (1st quarter).
About (Ind-Ra):
Ind-Ra is a 100% owned subsidiary of the Fitch Group.
Managing Director(MD) & Chief Executive Officer(CEO)-Rohit Karan Sawhney.
T-Hub partnered with DST & NPCI for 1st Fintech Accelerator program & txnnxt hub launch
On November 26, 2019, the Telangana government initiative for startups, T-Hub has announced the launch of the 1st edition of the Fintech Accelerator program in partnership with DST (Department of Science and Technology) and NPCI (National Payments Corporation of India). Txnnxt hub, an innovation lab by NPCI at the premises of T-Hub was also launched. 
Fintech Accelerator program:The Fintech Accelerator program, presented by DST under NIDHI (National Initiative for Developing and Harnessing Innovations) acceleration scheme, will be executed by T-Hub and NPCI. This is done to increase opportunities for fintech startups with products and services for the digital payments sector. 
Txnnxt hub: The Txnnxt hub at T-hub will help the startups in accessing the latest technologies in digital payments.
Key Points:
i.Applications for the fintech accelerator programme will be provided from 26th November till 5th January 2020.
ii.A separate press release notified the conclusion of 2nd edition of India innovation accelerator program in Gurgaon, Haryana by T-hub and Facebook, a social media platform company.
About T-hub:
Founder- Srinivas Kollipara.
Founded-  5 November 2015.
Headquarters-  Hyderabad, Telangana.
Chief Executive Officer(CEO)- Ravi Narayan.
About National Payments Corporation of India(NPCI):
Fact- NPCI is an umbrella organisation for operating retail payments and settlement systems in India.
Founded- 2008.
Headquarters- Mumbai, Maharashtra.
Managing Director(MD) and CEO- Dilip Asbe.
AWARDS & RECOGNITIONS      
DRDO chief G Satheesh Reddy-1st Indian to get honorary fellowship 2019 by UK's Royal Aeronautical Society
On November 26, 2019, G Satheesh Reddy, Secretary Department of Defence Research and Development (R&D), and Chairman of DRDO (Defence Research and Development Organisation) has been awarded the Honorary Fellowship of the Society 2019 by Royal Aeronautical Society (RAeS). With this, he became the first Indian recipient of this prestigious award in over 100 years.
Key Points:
He has been awarded the Society's highest award in recognition of his pioneering technological contributions towards indigenous design, development, and deployment of diversified missile systems.
G Satheesh Reddy is known for his capability to develop indigenous technologies and is famous amongst students as "Junior Kalam" and "Next Generation Missile Man".
He is also an awardee of National Aeronautical Prize, National Systems Gold Medal, National Design Award, IEI-IEEE (USA) award for engineering excellence, Homi J Bhabha Gold Medal and Technology Leadership Award.
About Honorary Fellowship by RAes:
It is considered as Nobel Prize in the aerospace. It is the world's highest distinctions for aerospace achievement awarded for only most exceptional contributions to the aerospace profession. The first Honorary Fellowship was awarded in year 1917.  
APPOINTMENTS & RESIGNATION  
Maharashtra CM Devendra Fadnavis & Deputy CM Ajit Pawar resigned
On November 26, 2019 Chief Minister of Maharashtra, Devendra Fadnavis (Bharatiya Janata Party(BJP)) announced his resignation after serving only 80 hours as Chief Minister & created a new record of shortest tenured Chief Minister in Maharashtra.
i.His(Fadnavis) resignation was announced after Deputy Chief Minister of Maharashtra, Ajit Pawar (Nationalist Congress Party (NCP)) resigned citing personal reasons.
Shiv Sena President Uddhav B. Thackeray formally chosen as new Maharashtra CM
Uddhav B. Thackeray, President of Shiv Sena chosen as the Chief Minister of Maharashtra after Fadnavis' resignation.He is the first person from the Thackeray family to be sworn in as the Chief Minister of Maharashtra.
       SCIENCE & TECHNOLOGY
ISRO's PSLV-C47 launched CARTOSAT-3 & 13 other satellites from Sriharikota, AP
On November 26, 2019, the Indian Space Research Organisation's (ISRO's) PSLV-C47(Polar Satellite Launching Vehicle C47) rocket has successfully launched CARTOSAT 3, an earth observation satellite along with 13 other nanosatellites from the United States(US) into Sun Synchronous Orbit(SSO). It was launched from Satish Dhawan Space Centre(SDSS) at Sriharikota in Andhra Pradesh(AP).
CARTOSAT-3: The CARTOSAT-3 is ISRO's 3rd-generation advanced earth observation and mapping satellite having high-resolution imaging capability. It weighs 1,625 kg with mission life of 5 years. This was the 9th satellite of Cartosat series.
Key Points:
i.PSLV-C47 is the 49th flight of PSLV and the 21st flight of PSLV in 'XL' configuration. It is also to be noted that this mission marks ISRO's 74th launch.
ii.With this successful launch, India has crossed the 300 foreign satellite launch mark, by launching 310 satellites till date.
About Satish Dhawan Space Centre(SDSS):
Formed- 1 October 1971.
Director-  Arumugam Rajarajan.
About Indian Space Research Organisation(ISRO):
Founded- 15 August 1969.
Founder- Vikram Ambalal Sarabhai
Director- Kailasavadivoo Sivan.
Headquarters- Bengaluru.
Indian Army inducted made in Israel, Anti Tank Guided Missiles Spike (ATGMS), along LoC in J&K
On November 27, 2019, As a part of the "emergency purchase" mechanism, Indian Army has inducted Israel made Anti Tank Guided Missiles Spike ATGMS) along the Line of Control (LoC) in the northern command theatre in Jammu and Kashmir to strengthen security along the border with Pakistan. Israel has delivered 210 missiles along with 12 launchers to Indian Army under a Rs 280 crore deal.
Key Characterstics of ATGMS:
They are known as "fire and forget" missiles.
These are portable by men and can destroy tanks, bust bunkers shelters, launching pads and terrorist training camps within four kilometres.
About Israel:
Capital: Jerusalem
Currency: Israeli new shekel
Prime Minister: Benjamin Netanyahu
President: Reuven Rivlin
SPORTS
Highlights of India VS Bangladesh test match from Nov 14 – 26, 2019 in MP and WB.
India defeated Bangladesh in the test match series as part of the Bangladesh tour of India, 2019 which was held from November 14-26, 2019.  The first test match was conducted in Holkar Cricket Stadium in Indore, Madhya Pradesh(MP) while the second test match was conducted at Eden Gardens stadium in Kolkata, West Bengal(WB).
Kohli became 3rd batsman to hit 70 international hundreds.
Wriddhiman Saha became 5th Indian wicket-keeper to affect 100 dismissals in Tests.
Indian off-spinner Ravichandran Ashwin became the fastest Indian and joint-fastest along with former Srilankan cricketer Muttiah Muralitharan to take 250 wickets at home ground.
India defeated Bangladesh by an innings and 46 runs in their first-ever day-night Test match and the first match played with an SG pink ball manufactured by the SG(Sanspareils Greenlands) factory of New Delhi. The match was held at Eden Gardens stadium in  Kolkata, West Bengal. India recorded its 12th home series win in a row. India also became the first team to win 4 tests in a row by an innings margin….Click here to Read More
OBITUARY
Former 16th Navy Chief Admiral Sushil Kumar passes away at 79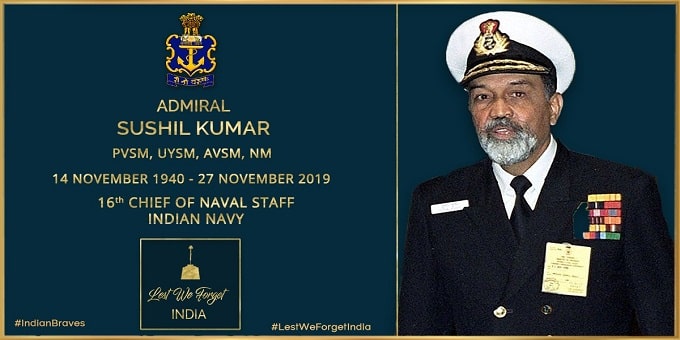 On November 27, 2019 Former 16th Chief of the Naval Staff (CNS) Sushil Kumar, who led the Indian navy during the Kargil War passed away at the age of 79 in New Delhi.
i.He served as Navy Chief between 1998 and 2001 and also oversaw Kargil conflict in 1999.
ii.He authored a book that portrays the defence related decisions taken by late former Prime Minister of India Atal Bihari Vajpayee titled "A Prime Minister to Remember- Memories of a Military Chief".
Goar Vartanyan, Soviet woman spy who helped foil attack on Allied leaders dies
On November 26, 2019, Goar Vartanyan, one half of a legendary Soviet spy couple passed away at the age of 93 in Moscow, Russia. She was born on January 25, 1926, in Gyumri in then-Soviet Armenia.
i.Along with her husband Gevork, she helped to prevent a Nazi assassination of allied leaders in Tehran during World War II in 1943.
STATE NEWS
UP's 1st vulture conservation center to be built in Maharajganj
On November 27, 2019, In a bid to conserve the population of endangered vultures, the state Government of Uttar Pradesh (UP) has decided to set up its 1st  'vulture conservation and breeding centre' in Pharenda area of Maharajganj district in the state.
Key Points:
i.The new center, to be set up by the state in association with Bombay Natural History Society (BNHS), a wildlife research organization in Gorakhpur forest division, will be developed on the lines of the country's first Jatayu Conservation Breeding Centre (Vulture Conservation Breeding Centre (VCBC)) set up in Pinjore, Haryana.
ii.The centre will run with the aim to protect and increase the population of 3critically-endangered vultures – white-backed (Gyps Bengalensis), long-billed (Gyps Indicus) and slender-billed (Gyps Tenuirostris) – which are protected under Schedule (I) of the Indian Wildlife Act,1972.
iii.Since 2002, The Indian vulture (Gyps indicus) found in India, Pakistan and Nepal has been listed as critically endangered on the International Union for Conservation of Nature (IUCN) Red List.
iv.According to the census of 2013-14, about 900 vultures were found in 13 districts.
About Uttar Pradesh:
Capital-Lucknow
Chief minister– Yogi Adityanath
Governor– Anandiben Patel
Folk dances– Nautanki, Raslila, Kajri, Jhora, Chappeli, Jaita
[su_button url="https://affairscloud.com/current-affairs-2019/november/" target="self" style="default" background="#2D89EF" color="#FFFFFF" size="5″ wide="no" center="no" radius="auto" icon="" icon_color="#FFFFFF" text_shadow="none" desc="" download="" onclick="" rel="" title="" id="" class=""]Click Here to Read Current Affairs November 2019[/su_button]
AffairsCloud Ebook - Support Us to Grow