We are here for you to provide the important Recent and Latest Current Affairs 19 November 2019, which have unique updates of Latest Current Affairs 2019 events from all newspapers such as The Hindu, The Economic Times, PIB, Times of India, PTI, Indian Express, Business Standard and all Government official websites.
Our Current Affairs November 2019 events will help you to get more marks in Banking, Insurance, SSC, Railways, UPSC, CLAT and all State Government Exams. Also try our Latest Current Affairs Quiz and Monthly Current Affairs PDF which will be a pedestrian to crack your exams.
Click here for Current Affairs November 17 & 18 2019
INDIAN AFFAIRS
1st joint maritime exercise Za'ir-Al-Bahr 2019 by Qatar & Indian Navy began in Doha, Qatar
5 day long 1st /inaugural edition of the joint bilateral maritime exercise "Za'ir-Al-Bahr" (Roar of the Sea) between the Qatari Emiri Navy and Indian Naval force of Qatar and India respectively began in Doha, Qatar on November 17, 2019 and will take place till November 21, 2019. The exercise is aimed to strengthen the cooperation and interoperability between the two navies especially in areas of fight against terrorism, maritime piracy and maritime security.The exercise has 2 phases which comprises of a 3-day harbour phase and a  2-day sea phase.
Govt banned Meghalaya based insurgent group "Hynniewtrep National Liberation Council (HNLC)"
On November 18, 2019 the central govt. has banned Meghalaya based insurgent group "Hynniewtrep National Liberation Council" (HNLC) due to its increased activities of violence and other subversive acts. The notification in this regard was released by the Ministry of Home Affairs (MHA).
Act: The central govt banned the HNLCC under sub-section (1) of section 3 of the Unlawful Activities (Prevention) Act, 1967 (37 of 1967), (hereinafter referred to as the said Act).
'Health Systems for a New India: Building Blocks Potential Pathways to Reforms' report released by NITI Aayog
On November 18 2019, NITI Aayog released a report on 'Health Systems for a New India: Building Blocks Potential Pathways to Reforms'.  The report was released by the National Institution for Transforming India (NITI) Aayog Vice Chairman Dr Rajiv Kumar in the presence of Bill Gates to build a 21st Century Health System for India.
Key Points: –
i.Five Focus Area– the report categorizes 5 focus areas of future health they are delivering on unfinished public health agenda, Modifying the health financing, incorporate the service delivery vertically and horizontally, authorize the citizens to become better consumers of health and harness the power of digital health
ii.We could claim the health related issues via Ayushman bharat in hospital but it has taken time to funding. The other method is the health insurance which is common in India are of 20 %. So, this Aayog report is launched to overcome these issues….Click here to Read More
After a long gap of 3-years, NCRB releases Farmers Suicide figures in 2016, Maharashtra tops
On November 8, 2019, After a long gap of 3-years, National Crime Records Bureau (NCRB) ,an Indian government agency responsible for collecting and analysing crime data, has released the 2016 report called "accidental deaths and suicides in India" with reference to farmers' suicides.
As per the report ,a total of 11,379 farmers died by suicide in India in 2016, a dip from 12,360 in 2014 and 12,602 in 2015.
Findings: Maharashtra accounted for almost 40 % of all farmer suicides in the country in 2016 with 3,661.The state also witnessed the highest number of farmer suicides in 2014 and 2015 at 4,004 and 4,291 respectively.
i.The 2016 data has not been released from West Bengal & the number of male suicides in farmers is high, while 8.6 % of female farmers have also committed suicide across the country.
ii. A total of  3,33,407 farmers committed suicide in an agricultural country from 1995 to 2016. The death of such a large agricultural population raises concern on the economic policies of the government…..Click here to Read More

Home Ministry & UN Women India launches 'UNiTE to End Violence Against Women' campaign 
On November 15, 2019, The Ministry of Home Affairs , the UN (United Nations) Women India in association with outreach partner Radio Nasha have jointly launched an 'UNiTE to End Violence Against Women' awareness campaign from Sultanpur Metro station in New Delhi.
Key Points:
i.The initiative is a part of the 16-days  #OrangeTheWorld global campaign, which is observed ahead of the International Day for the Elimination of Violence Against Women (November 25,2019), and will continue till the International Day of Human Rights on December 10,2019.
ii.Under the campaign, people would be made aware of India's single emergency Response Support System helpline 112 , which is launched by the Ministry of Home Affairs earlier in 2019.
iii.The 112 helpline services , available in 27 States/UTs(Union Territories) , can be reached through voice call, 112 India App, SMS (Short message service), email, respective state's 112 websites, and the panic button on mobile phones.
About UN Women:
Formation -2 July 2010
Headquarters -New York City, United States
It is the UN organisation dedicated to gender equality and the empowerment of women.
Highlights of Microsoft co-founder Bill Gates's 3-day visit to India
American Billionaire philanthropist and Microsoft co-founder Bill Gates (born as William Henry Gates III) paid a three-day visit to India from November 16-18, 2019 to review the work of his foundation in the country.
INTERNATIONAL AFFAIRS
India ranks 59th on 2019 IMD World Talent Ranking Report 2019; Switzerland tops the list

On November 18, 2019, the International Institute of Management Development's (IMD) World Talent Ranking (WTR) report for the year 2019 was released. In the released report, India was ranked at 59th position, a slip by 6 places on a global annual list of 63 countries. The list was topped by Switzerland.
Top 10 countries: The top 10 countries that followed Switzerland were Denmark(2nd), Sweden(3rd), Austria(4th), Luxembourg (5th), Norway(6th), Iceland(7th), Finland (8th), Netherlands (9th) and Singapore(10th).
BANKING & FINANCE
ADB signs $91 million loan agreement with India for comprehensive water management in Karnataka
On November 18, 2019, The Government of India (GoI) & the Asian Development Bank (ADB) has signed a $ 91 million loan agreement under Karnataka Integrated and Sustainable Water Resources Management Investment Program (IWRM) to renovate the Vijayanagara Channel irrigation systems in Karnataka. The fund will also be used to prepare the river basin management plan of the Krishna River that would help in using irrigation water effectively and it would also help in sustaining the water security of the state of Karnataka.
Key Points:
i.It will benefit the Government in the modernization of over 442 kilometres of major and minor distributaries and canals.
ii.The loan agreement was signed by Mr. Sameer Kumar Khare, Additional Secretary, Department of Economic Affairs, Ministry of Finance on behalf of Government of India &  Mr. Kenichi Yokoyama, Country Director of ADB's India Resident Mission, on behalf of ADB.
About ADB:
Motto -Fighting Poverty in Asia and the Pacific
Formation -19 December 1966; President – Takehiko Nakao
Headquarters – Manila, Philippines
Membership- 68 countries
Sundaram BNP Paribas Home Finance renamed as Sundaram Home Finance Ltd
With effect from November 18, 2019 Sundaram BNP Paribas Home Finance  which is the subsidiary of non-banking finance company Sundaram Finance Ltd has been renamed to "Sundaram Home Finance". The change in name was due to the acquisition by Sundaram Finance of BNP( Banque Nationale de Paris) Paribas Personal Finance's stake in Sundaram BNP Paribas Home Finance Ltd.
Key Points:
i.In September 30,2019, BNP Paribas personal finance sold 49.9% stake in Sundaram BNP Paribas Home Finance Ltd to Sundaram Finance Ltd.
Recently in October 2019, the company elevated D Lakshminarayanan as whole-time director on the Board of Sundaram Home Finance.
About Sundaram Finance Ltd:
Founded- 1954.
Founder- T.S.Santhanam.
Headquarters- Chennai, Tamil Nadu.
ICICI Lombard & Fino payments bank tie up to offer sachet based insurance products
On November 18, 2019, ICICI (Industrial Credit and Investment Corporation of India) Lombard has announced its partnership with Fino Payments Bank to offer several sachet based insurance products to its customers. Some of the offerings include Hospicash which provides customers the solution to cover loss of their income. This product will specially benefit migrant workers,when they are hospitalized.
Dengue and Malaria policy: ICICI Lombard and Fino also launched Dengue and Malaria policy which covers treatment to Dengue and Malarial diseases upto Rs. 10,000 at a premium as low as Rs. 49.
Key Points:
i.2-wheeler insurance: Comprehensive insurance for bikes and scooters, providing the customers of the Fino Payments banks to access ICICI Lombard's motor insurance solutions were introduced.
ii.ICICI Lombard has been partnering with Fino Payments Bank since 2017 offering non-life insurance. Apart from that, these new insurance products which have now been introduced is based on innovative insurance solutions complement Fino's technology-enabled platforms.
iii.Apart from the insurance products introduced, the insurance purchasing process has also been simplified. The Fino Payments Bank provide only 5-7 minutes of total time to complete the customer enrolment process.
About Fino Payment Bank:
Fact – The bank was incorporated on 4th April, 2017 with the name Fino Payments Bank Limited.
Chairman- Mahendra Kumar Chouhan; Headoffice – Mumbai
Managing Director (MD) & Chief Executive Director (CEO)- Rishi Gupta.
ECONOMY & BUSINESS
NCAER forecasts India's GDP growth for FY20 to 4.9%
On November 16, 2019, National Council of Applied Economic Research (NCAER),a New Delhi based non-profit think tank of economics & and the National Institute of Public Finance and Policy, have jointly projected India's gross domestic product (GDP) growth for 2019 (or Fiscal year (FY)-20) at 4.9 % as against 6.8 % in 2018 (or FY -19). It lowers its outlook due to the slowdown in almost all sectors & it is primarily driven by a simultaneous deceleration of all the drivers of aggregate demand.
Key Points:
i.The report further states that monetary policy measures are not expected to improve growth but the farm sector and agriculture output had been looking up. It also suggested providing fiscal stimulus for better growth. Till October 2019, Reserve Bank of India (RBI) had cut the repo rate by 135 basis points (bps).
ii.This outlook  is the lowest among the recent forecasts by rating agencies, multilateral institutions, research firms, and government institutions.
iii.The report forecasts gross value added (GVA) growth at 4.9 per cent July-September quarter 2019 (Q3).
Other ratings:  Earlier global ratings agency Moody's cut its GDP forecast for India to 5.6 % for 2019 from 6.2 %.It also cut India's credit rating outlook to 'negative' from 'stable'.
The State Bank of India (SBI) and CLSA (formerly known as Credit Lyonnais Securities Asia) predict a growth rate of 5 % for FY20.
OECD (Organisation for Economic Co-operation and Development), World bank , IMF (International Monetary Fund) India's GDP growth for 2019-20 at 5.9 % , 6.0 %, 6.1 % respectively.
About NCAER
Founded– 1956
AWARDS & RECOGNITIONS
Bangladesh singer Rezwana Choudhury Bannya received ICCR Alumni award in Dhaka, Bangladesh

On November 15, 2019, Rezwana Choudhury Bannya was conferred the India Council for Culture Relations (ICCR) distinguished alumni award in Dhaka, Bangladesh. The award was given by High Commissioner of India Riva Ganguly Das at a programme titled 'ICCR Scholar's Evening and Award Presentation Ceremony' organized by the Indira Gandhi Cultural Centre (IGCC).
Key Points: –
i.Rezwana Choudhury Bannya is a well known for her unique style of singing and also recognized as a great exponent of Rabindra Sangeet
ii.She is a recipient of 'Independence Award 2016' which is the highest civilian award of Bangladesh.
iii. She is running a musical school 'Shurer Dhara' in Bangladesh to bring forward the Guru-Shishya tradition as practised in Shantiniketan.
iv. She learned Bangala music such as Folk Kirtan, Classical Tappa, Harmonium and Esraj.
v.To commemorate the 150thbirth anniversary of Rabindranath Tagore in 2010, she released the complete audio version of Gitobitan called Shruti Gitobitan. She has sung a song, "Vaishnava Janato" produced by Ministry of External Affairs, Govt. of India to commemorate the 150th birth anniversary of Mahatma Gandhi.
vi. Achievments- She won eight prestigious awards recently. she received Doctorate of Arts "Honoris Causa" from Asian University for Women in the year 2019.
vii.Distinguished Alumni Award was instituted in 2015  to recognise foreign students who have studied in various Indian Universities under the ICCR sponsored scholarship schemes and made an exemplary contribution in varied fields.
DMRC won 2 awards at 12th Urban Mobility India Conference & Expo 2019 in Lucknow, UP
On November 18, 2019 the Delhi Metro Rail Corporation (DMRC) was conferred with 2 awards at the 12th Urban Mobility India Conference and Expo 2019 held from November 15 to 17, 2019 in Lucknow, Uttar Pradesh(UP). DMRC was awarded for its initiatives in promoting the metro as a green and sustainable mode of transport. The awards and its category are as follows,
| | |
| --- | --- |
| Award name | Awarded category |
| 'Last Mile Connectivity' project | best non-motorised transport |
| Green Metro project – An Initiative for Sustainable and Viable Urban Transport | best green initiative in urban transport. |
Key Points:
i.The awards were given by the Uttar Pradesh Deputy Chief Minister (Dy. CM) Dinesh Sharma.
About Delhi Metro Rail Corporation:
Fact- The Delhi metro's first service began in December 2002 on Shahdara-Tis Hazari corridor of Red Line, Delhi.  It currently spans over 350kilometers having over 250 metro stations.
Founded- 3 May 1995.
Headquarters- New Delhi.
APPOINTMENTS & RESIGNATION
Lt Col Jyoti Sharma appointed as Indian Army's 1st woman JAG officer on foreign mission
On November 14, 2019, Lieutenant Colonel Jyoti Sharma has been designated as the 1st  woman Judge Advocate General (JAG) of the Indian Army on a foreign mission. She will serve the government of the East African country of Seychelles as a legal expert & would give her opinion about defense and military act.
Key Points:
i.Earlier, in September 2019, Wing Commander Anjali Singh was appointed the 1st  female military diplomat at the Indian Embassy in Russia. Prior to this,Wing Commander S Dhami became the first female flight commander of the flight unit of the Air Force. The flight commander is the second major position in the flight unit.
ii.Indian Army also plans to appoint women to the Military Police Corps. At present, women are employed in military services in select sectors like medicine, law, education, signaling and engineering.
iii.According to government figures, 3.80 % in the Army, 13.09 percent in the Air Force and 6 % in the Navy has its workforce as women.
About Indain army:
Motto- "Service Before Self"
Founded-1 April 1895
Headquarters- New Delhi
Chief of the Army Staff (COAS)- Bipin Rawat
Sudhir Mital and Shantikumar Singh elected as President & General secretary of Gymnastics Federation of India
On November 5 2019, Former Competition Commission of India (CCI) chairman Sudhir Mital and Shantikumar Singh were elected as president and general secretary respectively, of the Gymnastics Federation of India (GFI). It was announced by the returning officer SK Mendiratta in the elections held at the Indian Olympic Association headquarters.
Key Points: –
i.Sudhir Mital is a retired IAS officer of Punjab cadre, was also a former president and worked as GFI chief from 2003 to 2007. He served as chairman of Competition Commission of India (CCI) in 2018 after joining the organization in 2014 as a member.
ii.Shantikumar, was a former national level gymnast from Manipur, had served as GFI treasurer from 2011 to 2015 and then got elected as secretary in the 2015 elections.
iii. GFI was de-recognized by the Sports Ministry in 2012 but after this election it likely to be reckoning for recognition.
iv.Indian Olympic Association is also expected to give their acknowledgementto the new national gymnastics body as it was involved in holding the election. The World Body asked the GFI to get its electoral college approved by IOA chief Narinder Batra.
About Gymnastics Federation of India (GFI)
Headquarters- Mumbai, Maharashtra
Affiliation year- 1952
Act- Societies Registration Act, 1957
SCIENCE & TECHNOLOGY
Pakistan launched Shaheen-1 surface-to-surface ballistic missile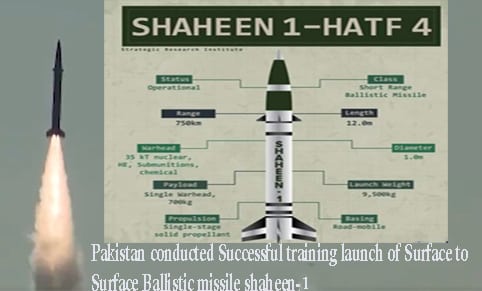 On November 18, 2019 Pakistan successfully test-fired its surface-to-surface ballistic missile(SSBM) named "Shaheen-I". The ballistic missile is capable of delivering all types of warheads with strike range upto 650 kilometers. The test launch was aimed at testing the operational readiness of the Army Strategic Forces Command (ASFC) of Pakistan.
Key Points:
i.The test was conducted days after India successfully conducted 1st night trial of 'Agni-II', surface-to-surface medium-range nuclear-capable missile of range 2000 Kilometres on November 16, 2019.
ii.It is also to be noted that Pakistan successfully test-fired nuclear-capable SSBM 'Ghaznavi' with a range of up to 290 kms on August 29, 2019 days after India revoked Jammu and Kashmir's(J&K) special status on August 5, 2019.
About Pakistan:
Capital- Islamabad.
Currency- Pakistani rupee.
President- Arif-ur-Rehman Alvi.
Prime minister- Imran Ahmed Khan Niazi (Imran Khan).
SPORTS
IAAF officially renamed as "World Athletics"
On November 17, 2019, the International Association of Athletics Federations (IAAF) has officially changed its name to "World Athletics". The name was changed to make the sport more accessible. It is also to be noted that IAAF was also a changed name of International Amateur Athletic Federation focusing on the sport of track and field athletics. The name was changed to IAAF in 2001.
Key Points:
i.The URL (Uniform Resource Locator) of the official website was also changed to https://www.worldathletics.org/
Brazil defeated Mexico to win 18th FIFA U-17 World Cup trophy 2019 in Brazil
On November 18, 2019 the Brazilian football team defeated the football team of Mexico in the finals for 2-1, to win the 18th edition of the FIFA (Fédération Internationale de Football Association) under 17 World Cup trophy held in Brasilia, Brazil. With this win, Brazil's has taken its World Cup titles tally to four.
Key Points:
i.Netherland's Sontje Hansen won the Golden Boot for the top goalscorer with six goals. The golden glove award for best goalkeeping was won by Matheus Donelli (Brazil). Golden Ball award for the best player was given to Gabriel Veron(Brazil).
ii.Fair play: FIFA fair play award given to Ecuador.
About Fédération Internationale de Football Association(FIFA):
FIFA english abbreviation: International Federation of Association Football.
Founded- 21 May 1904.
Headquarters- Zürich, Switzerland
President- Gianni Infantino
Indian Wrestler Bajrang Punia & Powerlifter Gaurav Sharma honored in Dubai, UAE
On November 19, 2019, Ace Indian freestyle wrestler, Bajrang Punia (25) & Gaurav Sharma, a world powerlifting champion as well as the Mahant (priest) of the temple at Chandni Chowk, Delhi, were honored at Indo Arab Leaders Summit & Awards 2019 held at Marriott Hotel Al Jaddaf, in Dubai, UAE (United Arabs Emirate). Bajrang was honored with the award of 'Indian Personality of the Year -Sports ' ,while Gaurav was honored with the 'Visionary Leaders of the Year-Sports' Award.
Key Points:
i.Bajrang Punia won the 65kg freestyle bronze medal in the World Championship held in Nur-Sultan, Kazakhstan in September 2019.
ii.On October 29, 2018, Gaurav received the prestigious Mahatma Gandhi Leadership Award in Parliament of London.In 2007, in the Commonwealth Championship in New Zealand, he clinched four gold medals and in the 2016 World Championship in England, he won two gold medals.
iii.Indo Arab Leaders Awards :It recognizes the achievements made by selected high profile personalities and leaders & honours their great contributions to the country's economic development.
About UAE:
Capital-Abu Dhabi
Currency– United Arab Emirates dirham
President– Khalifa bin Zayed Al Nahyan
BOOKS & AUTHORS
Sudha Murty's book "The Daughter from a Wishing Tree" released in Bengaluru
On November 16, 2019, renowned author and chairman of Infosys foundation Sudha Murty launched her latest book "The Daughter from a Wishing Tree: Unusual Tales about Women in Mythology". The book published by Penguin Random House India, portrays life of enchanting women and their untold stories.
Key Points:
i.The book was launched in Mantri Mall, Bengaluru, Karnataka in presence of biopharmaceutical company, Biocon's Managing Director(MD) Kiran Mazumdar and her husband John Shaw
ii.This is Murty's 4th book of popular mythology series preceded by The Serpents Revenge:Unusual Tales from the Mahabharata,The Man from the Egg: Unusual Tales about the Trinity, andThe Upside-Down King: Unusual Tales about Rama and Krishna.
"From Shanties to School" , a book penned by Manimala Roy was launched
On November 17, 2019, book by educationist Manimala Roy, titled "From Shanties to School", which explores 1991 economic reforms on literacy especially among the migrant laborers of Delhi and their children. It was launched by the senior journalist and former MP (Member of Parliament) Hari Krishan together with former vice-chancellor of Delhi University Dinesh Singh. The book addresses the slums of Delhi and its outskirts as the area of research.
Key Points: –
i.Manimala Roy addressed the people of Bihar,and Uttar Pradesh to change their lives through education in India.
ii.This book was published by Konark Publishers and also explains the surge in literacy after the 1991 liberalization had revolved by the then finance minister Manmohan Singh under the leadership of P Pamulaparthi Venkata Narasimha Rao
iii.According to the book, the impact of literacy on migrant life is also visible from the fact that the decade 1993-94 to 2004-05, which was right after the liberalisation, saw the growth of regular workers in Delhi went up by "22.4 per cent".
UNICEF releases a booklet named 'From Uttapam to Sprouted Dal Parantha' to tackle underweight, obesity and anemia
On November 17, 2019, UNICEF (United Nations Children's Fund ) has released a 28 page booklet called "From uttapam to sprouted dal parantha". It explains that nutritious food can be prepared at less than 20 rupees that will help in dealing with problems like underweight, obesity, and anemia in children. The book is based on the findings of the overall National Nutrition Survey 2016-18, according to which 35 % of children under the age of five are stunted (low height for age), 17% are Wasted (low weight for height) and 33 % are underweight.
Key Points:
i. The survey found that  40 % of adolescents girls and 18 % of adolescents boys suffer from anemia. Also, the problem of overweight and obesity among school children and adolescents has increased with the risk of non-communicable diseases like diabetes (10 %).
ii.The book lists the recipes of freshly prepared foods and the cost of making each. In this book, recipes of potato stuffed paratha, paneer kathi roll and sago cutlets are given to deal with the problem of underweight. At the same time, to deal with  besity, there have been suggestions of sprouted dal parantha, poha and vegetable upma.
iii.In addition to the calorie intake of all the recipes given in this book, detailed information on the amount of protein, carbohydrate, fat, fiber, iron, vitamin C and calcium is provided.
iv.The book will be made part of the curriculum of schools and it is translated into regional languages ​​to reach people.
About UNICEF:
Formation – 1946
Headquarters -New York City, U.S.
Executive Director – Henrietta H. Fore
IMPORTANT DAYS
World Antibiotic Awareness Week observed on November 18 – 24, 2019
World Antibiotic Awareness Week (WAAW) is observed annually in November. In 2019, it is observed on November 18 – 24,2019. It aims to make the global awareness of antibiotic resistance and encourage best practicing among the general public, health workers and policy makers to avoid the further emergence and spread of antibiotic resistance. World Health Organization (WHO) has introduced an annual WAAW.
2019 Theme – "Antibiotics: handle with care."
Key Points: –
i.November 18-24 also observed as U.S. Antibiotic Awareness Week (USAAW) sponsored by Centers for Disease Control and Prevention (CDC).
ii.WHO Goals– It spreads five goals namely raising awareness, increasing monitoring and Research, reducing infections, making the best use of antimicrobial medications and committing to "sustainable investment".
iii.An antibiotic is a type of antimicrobial substance active against bacteria and is the most important type of antibacterial agent for fighting bacterial infections. It helps to treat number of common and more serious infections.
vi.World Antibiotic Awareness Week (WAAW) 2018 was observed on November 12 – 18,2018.
Infant protection day celebrated on November 7, 2019
On November 7, 2019, Infant Protection Day was observed to spread awareness regarding protecting, promoting and developing infants by taking proper care. It is necessary to protect infants as they face a lot of problems.
Key Points:
i. In India, the infant mortality rate is higher as compared to other countries due to the lack of health care. The government has announced an effective measure to prevent infant mortality by implementing it.
ii.Due to the lack of basic health services, lack of awareness, and the increasing burden of the population, there has not been an expected reduction in infant mortality.
'World Day of Remembrance for Road Traffic Victims' for the year 2019 was observed on November 17
The World Day of Remembrance for Road Traffic Victims is observed every year to pay tribute to millions of people who got injured and dead in road accidents, also became road victims. This day is observed on the third Sunday of November each year in memory of road victims who lost their life, families and love around the world.
2019 Theme: –  'Life is not a car part'. The theme is based on Pillar 3 of the Global Plan for the Decade of Action for Road Safety – Safer vehicles.
Key Points:-
Background: – World Day of Remembrance for Road Traffic Victims was first observed by RoadPeace in 1993 . Later on it had been observed and promoted worldwide by European Federation of Road Traffic Victims (FEVR) and its associated organizations, including many NGOs from different countries.
Officially announced: – On October 26, 2005, United Nations officially acknowledged under General Assembly resolution 60/5 to observe this day on every third Sunday in November each year all over the world.
Symbols:- Road Peace uses an image of red, bleeding flower on a black background with the words "Remember Me" underneath the flower to promote the day. WHO's emblem is also found in promotions for the day.
STATE NEWS
Telangana govt launches mobile app "Rythu Mitra" to serve the needs of farmers of Siddipet
On November 18, 2019, Telangana state government's Agriculture Minister S. Niranjan Reddy & Finance Minister T. Harish Rao have jointly launched 'Rythu Mitra', an exclusive mobile application in Siddipet district for the 1st time that provide 18 services to the farmers of that district.
Key Points:
i.By using this app, the farmers can get advice and guidance from experts and agriculture extension officers (AEOs) & also access information regarding government schemes, subsidies, updates on Rythu Bandhu release, the progress of Rythu Bima claims and other kinds of government assistance being extended to the farm sector.
ii.A total of 109 AEOs appointed to visit every part of the district & update their observations on the mobile app. The farmers can access the information on pest prevalence and its management.
iii. A dashboard will be installed in the District Collector's office ,in which the schedule of each and every AEO visit would be notified.
About Telangana:
Capital– Hyderabad
Governor– Tamilisai Soundararajan
Chief minister– K. Chandrashekar Rao
National Parks– Kasu Brahmananda Reddy National Park ,Mahaveer Harina Vanasthali National Park ,Mrugavani National Park .
[su_button url="https://affairscloud.com/current-affairs-2019/november/" target="self" style="default" background="#2D89EF" color="#FFFFFF" size="5″ wide="no" center="no" radius="auto" icon="" icon_color="#FFFFFF" text_shadow="none" desc="" download="" onclick="" rel="" title="" id="" class=""]Click Here to Read Current Affairs November 2019[/su_button]
AffairsCloud Ebook - Support Us to Grow