We are here for you to provide the important Recent and Latest Current Affairs 7 March 2020, which have unique updates of Latest Current Affairs 2020 events from all newspapers such as The Hindu, The Economic Times, PIB, Times of India, PTI, Indian Express, Business Standard and all Government official websites.
Our Current Affairs March 2020 events will help you to get more marks in Banking, Insurance, SSC, Railways, UPSC, CLAT and all State Government Exams. Also try our Latest Current Affairs Quiz and Monthly Current Affairs 2020 PDF which will be a pedestrian to crack your exams.
Date-Wise Current Affairs March 2020 PDF for Paid Users – Click Here to Know More
Click here for Current Affairs March 6 2020
NATIONAL AFFAIRS
New Delhi hosts India Smart Utility Week 2020 (ISUW)
New Delhi based India Smart Grid Forum (ISGF)has been organizing India Smart Utility Week 2020 (ISUW)as an International Conference and Exhibition on Smart Energy and Water for Smarter Cities in New Delhi from March 3-7, 2020.
i.India and European Union (EU) called upon the Integrated Local Energy System, in which they will jointly work upon clean energy.
ii.India and Sweden are also agreed to jointly work on Smart Grids Programme, which is to be funded by Department of Science and Technology (DST)….Click here to Read More
Gajendra Singh Shekhawat launched Rs. 1,40,881 crores SBM (G) Phase-II in New Delhi; study by UNICEF & BMGF also released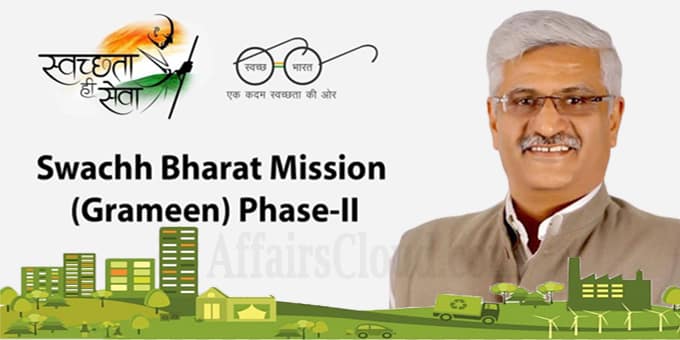 On March 4, 2020, Union Minister of for Jal Shakti, Gajendra Singh Shekhawat launched Phase II of Swachh Bharat Mission (Grameen) [SBM (G)] at a National Dissemination and Consultation workshop in New Delhi. This phase-II will be implemented from 2020-21 to 2024-25 with an outlay of Rs. 1,40,881 crores.
During the workshop, a study namely "Impact of the Swachh Bharat Mission (Grameen) on the convenience, safety and self-respect of women in rural India" by the UNICEF (United Nations Children's Fund), and Bill and Melinda Gates Foundation (BMGF) on the impact of the SBM(G) on rural women was also released….Click here to Read More
Women's ownership of bank accounts rose to 77% in 2017 with the help of PMJDY: MSC Report

In accordance with the report by MicroSave Consulting (MSC) titled "The real story of women's financial inclusion in India", India has reduced the gender gap in financial inclusion by 14 percentage points in three years (2014-17). The report stated that the women's ownership of bank accounts is increased from 43% in 2014 to 77% in 2017 with the help of India's flagship scheme Pradhan Mantri Jan Dhan Yojana (PMJDY), however 42% accounts are still inactive.
Key Points:
i.Out of 34 crore accounts opened under PMJDY around 60% are women account holders.
ii.In comparison with neighbouring countries like Bangladesh and Pakistan, they have just 36% and 7% share in women account ownership, respectively.
Click Here for Full Report
About PMJDY:
PMJDY, launched on August 28, 2014, by Prime Minister Narendra Modi, was aimed at providing universal access of banking facilities to the poor. These included opening bank accounts for the poor, giving them electronic means of payment (via RuPay cards).
About MSC:
Managing Director (MD)– Graham A N Wright
Asia Head Office– Lucknow, Uttar Pradesh
APEDA inks MoUs with various organisations for Implementation of Agri Export Policy
On March 4, 2020, Agricultural and Processed Food Products Export Development Authority (APEDA), an apex body under the Ministry of Commerce and Industry, has signed Memorandum of Understandings with various organizations namely, Indian Institute of Technology Delhi (IITD), Quality Council of India (QCI), Indian Chamber of Food and Agriculture(ICFA),Haryana based Shree Guru Gobind Singh Tricentenary University(SGT) and Pearl Academy for the collaboration to boost the activities in the interest of agriculture and allied sectors under Agri Export Policy(AEP).
i.APEDA has also been jointly engaged with various state governments including  Maharashtra, Uttar Pradesh,Tamil Nadu, Assam, Karnataka for the implementation of AEP….Click here to Read More
Maharashtra Government renamed Aurangabad Airport as Chhatrapati Sambhaji Maharaj Airport 
On March 6, 2020 The Maharashtra Government renamed Aurangabad Airport as Chhatrapati Sambhaji Maharaj Airport. The decision was taken at a meeting of the state cabinet, chaired by Maharashtra Chief Minister (CM) Uddhav Bal Thackeray.
Key Points:
i.The name of the airport has been renamed in order to honour Chhatrapati Sambhaji Maharaj, who was the son of Maratha warrior King Chhatrapati Shivaji Maharaj.
ii.The airport is situated in the Chikalthana area of Aurangabad & the Municipal Corporation of Aurangabad had passed a resolution to rename the airport.
iii.Earlier, Mumbai airport has been named as Chhatrapati Shivaji Maharaj Airport while Kolhapur airport was renamed as Chhatrapati Rajaram Maharaj.
About Maharashtra:
Capital- Mumbai.
Governor- Bhagat Singh Koshyari.
National Parks (NP)- Chandoli NP, Gugamal NP, Nawegaon NP, Pench NP, Sanjay Gandhi NP, Tadoba NP.
3 day Namaste Orchha festival begins in Madhya Pradesh
The Madhya Pradesh Government (Tourism Board) organizes a three-day festival "Namaste Orchha" From March 6 to March 8, 2020 in the ancient town of Orchha in Bundelkhand region, Madhya Pradesh.
The aim of this festival is to promote tourism in the heritage city of Orchha, Madhya Pradesh.
It will celebrate the cultural diversity, natural beauty and the architectural heritage of the town by showcasing music, dance, heritage walks, local cuisine, arts and handicrafts.
Orchha, won the best heritage city national award for 2017-2018.
About Madhya Pradesh:
Capital– Bhopal
Chief minister– kamal Nath
Governor– Lalji Tandon
Fourth Global Ayurveda Festival to be held at Kochi from May 16 -20, 2020
The Fourth Global Ayurveda Festival (GAF), will be held at Kochi in Kerala from 16th to 20th May 2020. This festival is organized by the Centre for Innovation in Science and Social Action (CISSA). The theme of the event is Ayurveda Medical Tourism: Actualizing India's credibility.
On 5th March 2020 a curtain raiser event was held at New Delhi for this festival.
Global Ayurveda Festival:
GAF 2020 is conducted to project and promote the Ayurveda and also to showcase the potential of Ayurveda to the world.
The GAF 2020 will bring the world of Ayurveda's medical wellness care providers and its health seekers to one platform.
This event will witness the largest gathering of experts, stakeholders and business explorers from the field of Ayurveda and this will be the largest Ayurveda event to be held anywhere across the world.
About Kerala:
Capital– Thiruvananthapuram
Chief Minister– Pinarayi Vijayan
Governor– Arif Mohammad Khan
International Conference on Nano Science and Technology 2020 (ICONSAT) was held in Kolkata, West Bengal
On March 5, 2020 The International Conference on Nano Science and Technology 2020 (ICONSAT) was held at Biswa Bangla Conventional Centre, Kolkata. The event was supported by the Department of Science and Technology (DST) and organized by S.N. Bose National Centre for Basic Sciences, Kolkata. The conference was held from March 5 to 7, 2020.
Objective: The conference provides a platform for the young researchers & students from within the country and abroad, with the latest development in the emerging areas of Nano Science and Technology….Click here to Read More
INTERNATIONAL AFFAIRS
Freedom in the world 2020 report: India ranked 83rd among least free democracies; Finland tops
On March 5, 2020, According to the 'Freedom in the World 2020" report, which analyzes ​​democratic values ​​and people's freedom in 195 countries & 15 territories, released by the Freedom House, a U.S (United States) -based watchdog that conducts research and advocacy on democracy, India has ranked 83rd  in the report along with Timor-Leste and Senegal in 'Free'category. While, Finland topped the list as the free democratic country.
India's score fell by 4 points to 71 in the survey results. This is the biggest drop in the 25 largest democracies in the world….Click here to Read More
BANKING & FINANCE
Centre imposed moratorium on Yes Bank; withdrawals restricted to Rs 50,000 per month till April 3, 2020; Prashant Kumar named as its administrator
In exercise of the powers conferred by sub-section (2) of section 45 of the Banking Regulation Act, 1949 (10 of 1949), the Central Government, through the Ministry of Finance has imposed moratorium on Yes Bank Limited w.e.f. 6PM of March 5, 2020 till April 3, 2020. The decision has been taken on the recommendations of Reserve Bank of India (RBI) under sub-section (1) of section 45.
During the period of moratorium, withdrawal from Yes Bank is restricted to Rs 50,000 per account….Click here to Read More
EPFO cuts interest rate to 8.5% for 2019-20 from 8.65%; restored pension commutation under EPS
On March 5, 2020, EPFO (Employees Provident Fund Organisation) has declined interest rate on EPF deposits for 2019-20 to seven years low by 0.15% or 15 basis points from 8.65% to 8.5%. The decision has been taken during the meeting of EPFO's apex decision making body, Central Board of Trustees (CBT) chaired by Minister of State (MoS) for Labour and Employment Santosh Kumar Gangwar in New Delhi.
EPFO also decided to restore pension commutation under the Employees' Pension Scheme (EPS). This move is applicable for those who opted for commutation of their pension on or before September 25, 2008 under the erstwhile paragraph 12A of this scheme….Click here to Read More
ECONOMY & BUSINESS
UNCTAD estimated trade impact of Coronavirus epidemic: India's trade impact at $348 million; EU tops
On March 4, 2020, In accordance with the estimates prepared by Division on International Trade and Commodities, UNCTAD and published by United Nations Conference on Trade and Development (UNCTAD) titled "Global trade impact of the Coronavirus (COVID-19) Epidemic", India is among the top 20 economies most affected by the slowdown of manufacturing in China due to Coronavirus (COVID-19) epidemic, which is disrupting world trade and could result in a 50 billion dollar decrease in global exports. The estimates are highest for European Union (EU) with an impact of USD 15.6 billion while India faced a trade impact of 348 million dollars….Click here to Read More
AWARDS & RECOGNITIONS        
TIME Magazine has named Indira Gandhi & Amrit Kaur  -"100 women of the year" Project
On March 6, 2020 TIME Magazine created 100 New Covers for the Project '100 women of the year' to recognize selected women or groups to represent each year from 1920 to 2019. India's  Freedom Fighter Amrit Kaur will be honored as 'Women of the Year' for 1947 & Former prime minister Indira Gandhi for 1976.
Profiles according to TIME
i.Freedom Fighter Amrit Kaur as 'Women of the Year' for 1947
PV Sindhu is TOISA Sportsperson of Year 2019, Rohit Sharma named cricketer of the year
On March 6, 2020 The 4th edition of TOISA (Times of India Sports Awards) awards honoured the best Indian in 2019 sports in New Delhi, India. The event was powered by BHIM-UPI (Bharat Interface for Money- Unified Payments Interface). Rohit Sharma was named as the Cricketer of the year and PV Sindhu was named as the Sportsman of the year as she won gold at the World Championships in Basel, Switzerland.
Key Points:
i.TOISA 2019 consists of winners from both men and women categories across 15 sporting disciplines: archery, athletics, badminton, billiards/snooker, boxing, chess, cricket, football, hockey, shooting, squash, table tennis, wrestling, weightlifting and para sports.
ii.12 special awards include Sportsman of the Year, Team of the Year, Coach of the Year, Emerging Player of the year, Youth Icon of the year and Lifetime Achievement award.
iii.Icon of the century: A special award Icon of the Century was given to 3 time Olympic gold medalist and hockey legend Balbir Singh….Click here to More Detail
APPOINTMENTS & RESIGNATIONS          
SBI Life Insurance Company re-appoints Sanjeev Nautiyal as MD & CEO
On 4th March 2020 the Board of Directors of SBI Life Insurance Company re-appointed Sanjeev Nautiyal as managing director (MD) and chief executive officer of the company(CEO) with effect from March 10, 2020  replacing Arijit Basu.
This approval is given by the Insurance Regulatory and Development Authority of India (IRDAI)and members of the Company.
He served as a Managing Director and Chief Executive Officer of the SBI Life since March 10, 2018.
About SBI Life Insurance Company:
Established- 2001.
Headquarters- Mumbai.
Denys Shmygal becomes new PM of Ukraine, succeeds Oleksiy Honcharuk
On March 4, 2020 Ukraine parliament Or Verkhovna Rada  approved Denys Shmygal (44) as a new prime minister & also approved Oleksiy Honcharuk (35) resignation who is previous PM.
i.Denys Shmygal is the nominee of Volodymyr Zelensky, the President of Ukraine.
ii.He won by majority, previously he held the post as the Deputy Prime Minister in charge of regional Development & before that was governor of the western Ivano-Frankivsk region.
iii.Oleksiy Honcharuk was first offered his resignation in January 2020 after a leaked recording of him saying that the President's views on the country's economy as "primitive"& in his 2nd attempt he was offered resignation.
iv.He served only 6 months & was the country's youngest Prime Minister.
About Ukraine:
President- Volodymyr Zelensky
Capital- Kyiv
Currency- Ukrainian hryvnia
Singapore's Daren Tang elected as WIPO's Director General
On March 4, 2020  Singapore's Daren Tang was elected as Director General of World Intellectual Property Organisation(WIPO). He will succeed Australia's Francis Gurry who will step down at the end of September after 12 years of being in this position.
Key Points
i.As a traditional formality the vote will be confirmed in an extraordinary Session where,the WIPO General Assembly, the Paris Union Assembly, and the Berne Union Assembly will meet on May 7& 8, 2020.
ii.The process of selecting a Director General is governed by the Convention which establishes the WIPO & the "2019 Procedures for the Nomination and Appointment of Directors General of WIPO."
WIPO
Director General– Francis Gurry
Headquarters– Geneva, Switzerland
SCIENCE & TECHNOLOGY
SEBI introduces mobile app 'Sebi SCORES' for investors to lodge grievances
On March 05, 2020, Securities and Exchange Board of India (SEBI), the regulator for the securities market in India, has introduced a mobile app called 'Sebi SCORES' [Sebi Complaints Redress System (SCORES)], through which, investors can register their grievances.
i.On the SCORES platform, investors can complain online with SEBI against listed companies, registered intermediaries and market infrastructure institutions.
ii.As per Sebi guideline, within 30 days of receipt of complaint, companies against whom complaints are lodged should file an action taken report with the regulator….Click here to Read More
AI-powered drone developed by IIT Madras team counters rogue drones
On March 5, 2020 Researchers of IIT (Indian Institute of Technology) Madras team developed AI (Artificial Intelligence) powered drone to counter 'rogue drones' (unregulated unmanned aerial vehicles).
The AI-powered drone was designed by a team comprising Vasu Gupta, a final year B. Tech (Bachelor of Technology) student, Department of Aerospace Engineering, and Rishabh Vashistha, a Project Associate working in RAFT (Rotorcraft and Advanced Flight Technologies) Lab, Department of Aerospace Engineering and the team was mentored by Dr Ranjith Mohan, Assistant Professor, Department of Aerospace Engineering.
Key Points:
i.Features of AI drone: The AI-powered drone tracks rogue drones visually and hack their GPS (Global Positioning System) navigation system & also changes the latitude, longitude, altitude & time of the rogue drones.
ii.The visual based tracking system uses deep neural networks (AI) and AI motion detection algorithms to track rouge planes even in dark conditions without the need of an IR (infrared) camera.
iii.The drone can be controlled over the internet which navigates autonomously and detects rogue drones, objects, track people.
About IIT Madras:
Motto- Success is born out of action.
Chairman- Pawan Goenka.
Director- Bhaskar Ramamurti.
IASST researchers have found endophytic Actinobacteria -to  replace fertilizers & fungicides in tea plants 
On March 5, 2020 Researchers team led by Dr. Debajit Thakur  from Institute of Advanced Study in Science and Technology(IASST) Guwahati, an autonomous institute under Department of Science & Technology found endophytic Actinobacteria in relation to tea plants & related genera, Eurya to find potent plant growth-promoting strains.
i.The application of this bacteria will reduce chemical inputs in Tea plantation & can be used in management & sustainability of Tea crops.
ii.The team have isolated 46 endophytic Actinobacteria from various environments that live within a plant for at least part of its life cycle without causing apparent disease associated with Tea plants & characterized through molecular techniques
iii.From 46 isolates, 21 isolates inhibited the growth of at least 1 test fungal phytopathogens and strains SA25 &  SA29 exhibited broad-spectrum antifungal activity.
iv.Tea (Camellia sinensis) plays a vital role in Indian export, in recent times there is a decline in export of tea due to the high demand made for chemical free tea, the present study will help to reduce & replace the use of chemical inputs in tea.
Doctors uses CRISPR technology to cure blindness for the very first time
On March 5, 2020 Doctors from Oregon Health and Science Institute, Portland uses gene editing tool CRISPR (Clustered Regularly Interspaced Short Palindromic Repeats) technology to cure blindness who have suffered from Leber congenital amaurosis.
Key Points:
i.Leber congenital amaurosis is the Blindness in early childhood.
ii.About CRISPR: CRISPR is a tool for locating and cutting DNA (Deoxyribonucleic acid) at a specific spot.
SPORTS
Indian shuttlers Tasnim & Mansi wins historic bronze at Yonex Dutch Junior Intl 2020 held in Netherlands
On March 02, 2020, Young Indian badminton players Tasnim Mir (14) & Mansi Singh (14)  have won historic bronze medal each in the girls' singles section of the Yonex Dutch Junior International 2020 competition held at B.C. Duinwijck, in Haarlem, Netherlands from 26 February 2020 – March 1,2020.
Key Points:
i.This is the first time India has won two bronze medals in this BWF Junior International Grand Prix tournament.
ii.In the semi-finals of the competition played in Haarlem,the 11th seed Tasnim was beaten by third seed So Yul Lee of Korea  with (19-21),  (10-22) score.
Mansi was defeated by Saifi Rizka of Indonesia with (11-21), (16-21) scores.
iii.The duo will participate at the Yonex German Junior-2020 to be held in Berlin, Germany from 4-8th of March,2020.
iv.Meanwhile, India's rising stars Aakarshi Kashyap and Anupama Upadhyaya won gold and silver medals respectively in the girls singles at Kenya International held in Thika, Kenya.
About Yonex Dutch Junior International 2020:
It was jointly organized by Badminton Europe,Badminton Nederland & Badminton club Duinwijck.
AC GAZE
Google cloud set to open second cloud region in India in 2021
Google Cloud, the company's enterprise wing, has announced plans to open a second cloud region in India at Delhi by 2021, which has one cloud region in Mumbai and has been operational since 2017.
*******
[su_table]
Current Affairs Headlines: 7 March 2020
New Delhi hosts India Smart Utility Week 2020 (ISUW)
Gajendra Singh Shekhawat launched Rs. 1,40,881 crores SBM (G) Phase-II from New Delhi; study by UNICEF & BMGF also released
Women's ownership of bank accounts rose to 77% in 2017 under PMJDY: MSC Report
APEDA inks MoUs with various organisations for Implementation of Agri Export Policy
Maharashtra Government renamed Aurangabad Airport as Chhatrapati Sambhaji Maharaj Airport
3 day Namaste Orchha festival begins in Madhya Pradesh
Fourth Global Ayurveda Festival to be held at Kochi from May 16 -20, 2020
International Conference on Nano Science and Technology 2020 (ICONSAT) was held in Kolkata, West Bengal
Freedom in the world 2020 report: India ranked 83rd among least free democracies; Finland tops
Centre imposed moratorium on Yes Bank; withdrawals restricted to Rs 50,000/- till April 3, 2020; Prashant Kumar named as its administrator
EPFO cuts interest rate to 8.5% for 2019-20 from 8.65%; restored pension commutation under EPS
UNCTAD estimated trade impact of Coronavirus epidemic: India's trade impact at $348 million; EU tops
TIME Magazine has named Indira Gandhi & Amrit Kaur  -"100 women of the year" Project
PV Sindhu is TOISA Sportsperson of Year 2019, Rohit Sharma named cricketer of the year
SBI Life Insurance Company re-appoints Sanjeev Nautiyal as MD & CEO
Denys Shmygal becomes new PM of Ukraine, succeeds Oleksiy Honcharuk
Singapore's Daren Tang elected as WIPO's Director General
SEBI introduces mobile app 'Sebi SCORES' for investors to lodge grievances
AI-powered drone developed by IIT Madras team counters rogue drones
IASST researchers have found endophytic Actinobacteria -to  replace fertilizers & fungicides in tea plants
Doctors uses CRISPR technology to cure blindness for the very first time
Indian shuttlers Tasnim & Mansi wins historic bronze at Yonex Dutch Junior Intl 2020 held in Netherlands
Google cloud set to open second cloud region in India in 2021
[/su_table]
[su_button url="https://affairscloud.com/current-affairs/march-2020/" target="self" style="default" background="#2D89EF" color="#FFFFFF" size="5″ wide="no" center="no" radius="auto" icon="" icon_color="#FFFFFF" text_shadow="none" desc="" download="" onclick="" rel="" title="" id="" class=""]Click Here to Read Current Affairs March 2020[/su_button]
AffairsCloud Ebook - Support Us to Grow