On March 4, 2020, Union Minister of for Jal Shakti, Gajendra Singh Shekhawat launched Phase II of Swachh Bharat Mission (Grameen) [SBM (G)] at a National Dissemination and Consultation workshop in New Delhi. It should be noted that this phase-II will be implemented from 2020-21 to 2024-25 with an outlay of Rs. 1,40,881 crores. Of this Rs. 52,497 crore will be allocated from the budget of Department of Drinking Water and Sanitation, while the remaining amount will be sanctioned from the funds released under 15th Finance Commission, MGNREGS (Mahatma Gandhi National Rural Employment Guarantee Scheme),  and revenue generation models.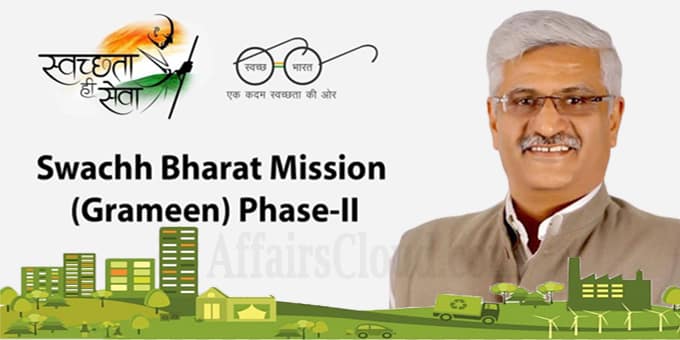 Focus of SBM(G) Phase-II:
-To strengthen the efforts made under Phase-I of the SBM (G) in last five years (2014-2019) in terms of toilet access and usage or Open Defecation Free Plus (ODF Plus).
-To ensure effective institution of solid and liquid waste management (SLWM) in every Gram Panchayat of the country.
-To continue employment generation through construction of household and community toilets, as well as infrastructure for SLWM such as compost pits, soak pits, waste stabilisation ponds, material recovery facilities etc.
How SLWM will be monitored?
The Solid and Liquid Waste Management (SLWM) is a component of ODF Plus which will be monitored on the basis of output-outcome of 4 indicators: plastic waste management, bio-degradable solid waste management (including animal waste management), greywater management and fecal sludge management.
Incentives to be provided under SBM(G) Phase-II:
-An incentive of Rs.12,000 for construction of Individual Household Toilet (IHHL) for eligible household as per the existing norms will continue.
-A financial assistance to the Gram Panchayats (GPs) for construction of Community Managed Sanitary Complex (CMSC) at village level has been increased from Rs.2 lakh to Rs.3 lakh per CMSC.
-The fund sharing pattern between Centre and States will be 90:10 for North-Eastern States and Himalayan States and UT of J&K; 60:40 for other States; and 100:0 for other Union Territories (UTs), for all the components.
Release of Report:
During the workshop the Gajendra Singh Shekhawat also released a study namely "Impact of the Swachh Bharat Mission (Grameen) on the convenience, safety and self-respect of women in rural India" by the UNICEF (United Nations Children's Fund), and Bill and Melinda Gates Foundation (BMGF) on the impact of the SBM(G) on rural women. It was released as a run up to International Women's Day on 8th March.
The study surveyed 6,993 women across the 5 states of Bihar, Madhya Pradesh, Maharashtra, Rajasthan and Uttar Pradesh, in February, 2020.
It stated an improvement in the Suvidha, Suraksha and Swabhimaan of Indian rural women due to increased access to household toilets.
Participants at Workshop:
Union Minister of State for Jal Shakti and Social Justice & Empowerment, Shri Rattan Lal Kataria, Secretary, Department of Drinking Water and Sanitation (DDWS), Shri Parameswaran Iyer, Principal Secretaries/Secretaries-in-charge of Rural Sanitation, Mission Directors (SBMG) of States/UTs, senior officials from the Ministry (GoI), and other invited state nodal officers engaged with SBM(G).
About SBM (G):
Launch on 2nd Oct, 2014, it is a programme under the visionary leadership of the Prime Minister (PM) Narendra Modi to provide universal coverage and access to safe sanitation in rural areas in five years i.e. till 2019.
AffairsCloud Ebook - Support Us to Grow