We are here for you to provide the important Recent and Latest Current Affairs 10 March 2020, which have unique updates of Latest Current Affairs 2020 events from all newspapers such as The Hindu, The Economic Times, PIB, Times of India, PTI, Indian Express, Business Standard and all Government official websites.
Our Current Affairs March 2020 events will help you to get more marks in Banking, Insurance, SSC, Railways, UPSC, CLAT and all State Government Exams. Also try our Latest Current Affairs Quiz and Monthly Current Affairs 2020 PDF which will be a pedestrian to crack your exams.
Date-Wise Current Affairs March 2020 PDF for Paid Users – Click Here to Know More
Click here for Current Affairs March 9 2020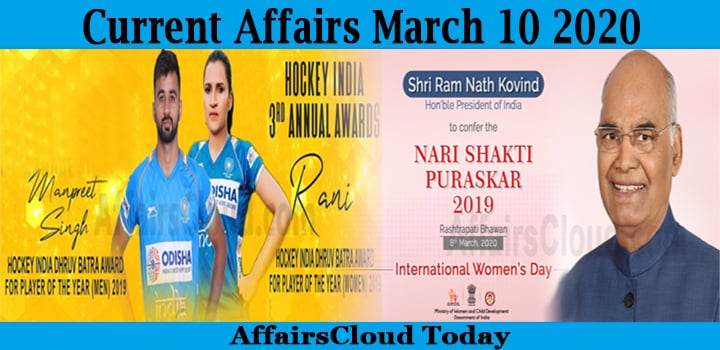 NATIONAL AFFAIRS
Narendra Singh Tomar announced that Government plans to achieve 75 lakh SHGs by 2022
On March 8, 2020 Shri Narendra Singh Tomar, Union Minister for Agriculture & Farmers Welfare, Rural Development and Panchayat Raj, announced that the Rural Development Ministry plans to add more than 14 lakhs SHGs (Self Help Groups) to achieve 75 lakh SHGs by the year 2022 to enable more women to get livelihood. The Minister announced this during the programme on Women's Empowerment to mark the International Women's Day held in New Delhi.
Key Points:
i.About SHGs: Women's SHGs are the backbone of poverty alleviation programmes and the entire focus of the Ministry is towards women's freedom. Currently, there are 60.8 lakh SHGs across the country comprising about 6 crores 73 lakh women.
ii.The government provides training and funds to SHGs for livelihood mission, by linking them through banks for easy credit flows.
iii.Benefits of schemes: An amount of Rs 2.75 lakh crores has been allocated to SHGs during the last 6 years to make women self-dependent and 5 crore people are annually employed under the Mahatma Gandhi National Rural Employment Guarantee Scheme (MGNREGA) and women constituted under 55% of the workforce under MGNREGA.
iv.Nearly 4.66 lakh women involved and benefited under the scheme (DDU-GKY) Deen Dayal Upadhyaya Grameen Kaushalya Yojana (DDU-GKY)- [Youth employment scheme].
v.Swarna Jayanti Gram Swarozgar Yojana (SGSY) was restructured and joined into the Deen Dayal Upadhyaya Antyodaya Yojana (DAY)- National Rural Livelihood Mission (Ajeevika) (NRLM), under the scheme Govt aims to reach 10 crore rural poor households.
vi.About Swachh Bharat Mission (SBM): The mission has given dignity to women and enhanced their safety with the construction of 9.5 crore toilets across the country.  
Odisha becomes the 1st state to introduce department for SHGs: "Mission Shakti"
On March 8, 2020 Chief Minister Naveen Patnaik announced that Odisha is the 1st state to own a separate department for Self Help Groups named as "Department of Mission Shakti". It is created for the development of women & is dedicated to all the women of Odisha.
i.Mission Shakti and Mamata Scheme combinedly benefits 70 lakh women in the state.
ii.50% reservation in Panchayati Raj has created a new era for the socio-economic development of women.
iii.Earlier in the state budget, it has introduced an independent Nutrition Budget, whose primary focus will be on mother-child nutrition.
About Odisha
Capital- Bhubaneswar
Governor– Ganeshi Lal
Chief Minister– Naveen Patnaik
National Park– Bhitarkanika National Park, Simlipal National Park
Sanitary napkin disposal bags for each pad, mandatory from January 2021: Prakash Javadekar
On March 8, 2020  Union Minister of Environment, Forest & Climate Change & Minister of Information & Broadcasting Prakash Javadekar stated that ,sanitary pad manufacturers should  mandatorily supply biodegradable bag for disposal of each pad from January 2021, while interacting with female workers' of SWaCH Pune(Solid Waste Collection and Handling or, officially, SWaCH Seva Sahakari Sanstha Maryadit, Pune) during International Women's day.
Key Points
i.He also stated that the waste pickers should be called as 'Swachhta Sevika' from this International Women's Day.
ii.He announced that the sanitation norms for Corporations &  municipalities will also  be applied to villages with a population of more than 3000.
iii.He decided to provide funds from Member of Parliament Local Area Development Fund for constructing 50 big & 50 small garbage sheds designed by SWaCH.
iv.SWaCH is India's first wholly-owned cooperative of self-employed waste collectors & other urban poor. It is an autonomous enterprise which provides front-end waste management services to the Pune citizens.
Lt General Milind Hemant Thakur inaugurated the renovated Animal Memorial in Bengaluru, Karnataka
On March 7, 2020 Lieutenant General Milind Hemant Thakur, Director General of Supply and Transport Corps, Indian Army, inaugurated the renovated Animal Memorial at Agram grounds in ASC Centre and College, Bengaluru, Karnataka. The renovated animal memorial has now been extended by constructing two walls supported by Roman pillars.
Key Points:
i.About Animal Memorial: The animal memorial was established in December 2006 at the Equestrian Training area of the ASC college which signifies the contribution of mules and horses of the Indian Army belonging to the Army Service Corps.
ii.These Army trained animals have rendered their services during the war in Himalayas & also sacrificed their lives.
iii.Highlights of the wall: These walls highlight the role played by the animals in the Indian Army since British Raj. It also conveys the details of 637 gallantry awards won by the brave muleteers, 49 battle casualties and 14 gallantry awards to mules since independence and 5 military recognitions bestowed by the Chief of the Army Staff & other Army Commanders on AT units.
iv.AT Remembrance Day: General Thakur declared that 26th September each year has been nominated as the AT Remembrance Day, as on this day in 1914, that 9th mule corps, as part of the Indian Expeditionary Force, landed at Marseilles, France, to support the British and allied armies in World War I.
About Karnataka:
Capital- Bengaluru.
Chief Minister- Bookanakere Siddalingappa Yediyurappa.
Governor- Vajubhai Rudabhai Vala.
National Parks- Bandipur NP, Bannerghatta NP, Kudremukh NP,  Rajiv Gandhi (Nagarhole) NP.
PM Narendra Modi attended the 6th edition of ET global business summit 2020 held in new delhi from March 6-7 2020
The 6th edition of Economic Times Global business summit is held on 6th – 7th March 2020 at Taj Palace, New Delhi. This summit is organised by the heads of the government, business leaders from India and throughout the world and by Prime Minister Narendra Modi.
The theme of the Global Business Summit is 'Collaborate to Create: Sustainable Growth in a Fractured World'.
GBS 2020 will unfold the myriad contours of the world economy & define the factors that will lead the Indian economy to newer heights.
External Affairs Minister S Jaishankar conveyed that India has offered 300 Lines of credit(LoCs) to 64 countries which involves 539 development projects.
Global participation at GBS:
Angola, Argentina, Australia, Bangladesh, Belgium, Canada, Egypt, Irelnd, Malaysia, Malta, Mexico, Morocco, Nepal, New Zealand, Netherlands, Oman, Philippines, Romania, Russia, Poland, San Marino, Slovak Republic, Tunisia, UAE, UK, USA.
MSDE launches Mahatma Gandhi National Fellowship (MGNF) in IIM-Bengaluru
On March 8, 2020, Union Minister for Skill Development and Entrepreneurship Dr. Mahendra Nath Pandey has initiated Mahatma Gandhi National Fellowship programme (MGNF) in the Indian Institute of Management (IIM) Bengaluru in Karnataka. This fellowship is a part of SANKALP (Skills Acquisition and Knowledge Awareness for Livelihood Promotion) programme of the ministry to boost skill development at the district level.
MGNF is an initiative of the Ministry of Skill Development and Entrepreneurship (MSDE) which is implemented by IIM Bangalore in collaboration with State Skill Development Missions (SSDMs)….Click here to Read More
National Conference on Women in Police and CAPFs held in New Delhi
On March 7, 2020 Smriti Zubin Irani, Union Minister for Women and Child Development inaugurated the "National Conference on Women in Police and CAPFs (Central Armed Police Forces)" in New Delhi, India. The Conference was organized by the Bureau of Police Research and Development (BPR & D). Smriti Irani also released a hand-out- 'BPR & D Mirror- Gender Bender' and also the book titled "To Greater Heights".
Themes of the Conference 2020: 'Cyber Stalking and Bullying of Women: Steps for Protection" and 'Challenges faced by CAPF Women in Operational Areas".
Key Points:
i.Highlights of the Conference: The Minister stressed the importance of the women to be trained many as forensic and cybercrime investigators because women are victimised more in cybercrimes.
ii.The Minister also proposed the training members of the Child Welfare Committees (CWC) and the need for coordination among the MHA (Ministry of Home Affairs), NGOs (Non-Governmental Organisation), CWC & other stakeholders of the criminal justice system, so that once a criminal is punished he should not take the provision of law to delay the execution of punishment.
iii.About the book To Greater Heights: The book "To Greater Heights" was authored by Nitu, DIG (Deputy Inspector General), CRPF (Central Reserve Police Force), which describes the achievements of women police officers.
UNGCNI organizes 3rd Gender equality summit 2020 in New Delhi
On the March 6, 2020, UNGCNI (United Nations Global Compact Network India), a country level platform for public & private sector, businesses to align stakeholders' responsible practices towards Sustainable Development Goals (SDGs),has organized the 3rd edition of its Gender Equality Summit 2020 with the theme "India Inc. For Generation Equality: Decade of Action" at The Park in New Delhi.
i.The summit, aims to create a strong roadmap towards gender equality at workplaces in India, focuses on driving and bringing in change for equal opportunities in employment and growth for the women skill workforce….Click here to Read More
BANKING & FINANCE
10th FICCI-IBA Bankers' Survey July-Dec 2019 released in New Delhi; Highest NPAs in Infrastructure sector
On March 8, 2020, FICCI has released the 10th round of FICCI-IBA survey in New Delhi which was conducted by Federation of Indian Chambers of Commerce & Industry (FICCI) and Indian Banks' Association (IBA) for the period of July to December 2019. The survey has analyzed 18 banks consisting of public sector, private sector and foreign banks which together represented 50% of the banking industry, as classified by asset size. The survey required view of bankers on the measures that would help in improving the economic situation.
AWARDS & RECOGNITIONS        
Nupur Kulshrestha becomes  Indian Coast Guard's first woman DIG
On March 8, 2020 Nupur Kulshrestha becomes the 1st woman to be promoted as Deputy Inspector General(DIG )of Indian Coast Guard.She joined Indian Coast Guard in 1999.
About Indian Coast Guard
On August 18, 1978 ICG was established by  the Coast Guard Act, 1978 of the Parliament of India as an independent Armed force of India &  is operated under the Ministry of defence.
It is an armed forces &  multi-mission organisation, which conducts real life operations at sea round the year. Maritime zones of India are divided into 5 coast guard regions, namely; North- West, West, East,North-East & Andman & nicobar & are headquartered in Gandhinagar, Mumbai, Chennai, Kolakata& Port Blair.
Headquarters– New Delhi, India
Director General(DG)– Krishnaswamy Natrajan,President's Tatrakshak Medal (PTM), Tatrakshak Medal (TM)
President Ram Nath Kovind honoured 15 Women with 'Nari Shakti Puraskar' for 2019- "National award for women"
On March 8, 2020 President Ram Nath Kovind honoured 15 women with 'Nari Shakti Puraskar'(Women Shakti Award)for 2019 at Rashtrapati Bhawan, New Delhi. The award is conferred annually to eminent women and institutions in recognition of their service towards the cause of women empowerment & social welfare.
i.This award is an initiative of the Ministry of Women and Child Development(MWCD) to acknowledge the achievements of women for the nation & recognize their contributions towards society….Click here to Read More
NITI Aayog & UN organized the 4th edition of Women Transforming India Awards 2019 in New Delhi; 15 women achievers conferred
On the occasion of International Women's Day i.e. on March 8, 2020, NITI (National Institution for Transforming India) Aayog in collaboration with United Nations (UN) in India has organized the 4th Edition of the Women Transforming India (WTI) Awards 2019 in New Delhi. The theme for WTI awards 2019 was "Women and Entrepreneurship". The awards were conferred by Defence Minister of India (or Raksha Mantri), Rajnath Singh who was the chief guest of an event.
WTI Awards 2019 received over 2,300 applications of which the Top 30 were shortlisted. Finally 15 WTA awards and 1 Jury award presented were presented during the occasion by Rajnath Singh….Click here to Read More
Hockey India 3rd annual awards 2019 in New Delhi; Manpreet singh, Rani rampal wins Player of the year awards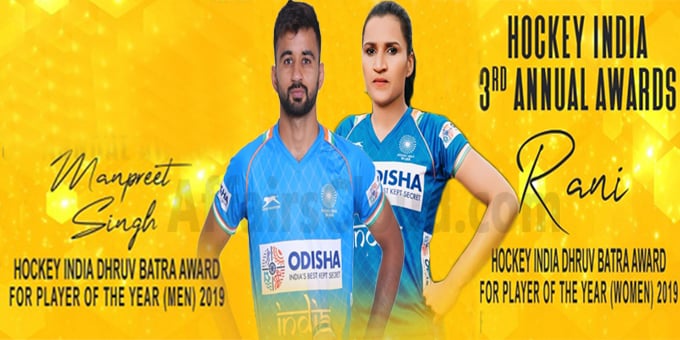 On March 8, 2020, Hockey India, the governing body with mandate to conduct all activities for both men and women's hockey, has organized its 3rd Annual Awards 2019 at Hotel the Lalit in New Delhi to honour the best hockey players and former legends of the game from India.
The captain of India men's national field hockey team, Manpreet Singh Pawar  (27) & Captain of Indian Women Hockey Team,Rani Rampal (25) have won the Hockey India Dhruv Batra Player of the Year Award 2019 for Men and Women respectively….Click here to Read More
M Venkaiah Naidu conferred 3rd edition of BusinessLine Changemaker Awards 2020 
On March 6, 2020 Vice-President of India, M Venkaiah Naidu honoured the winners of  BusinessLine Changemaker Awards 2020 organized by Hindu Business Line in New Delhi.It was supported by Nestle India, LIC, Tata Sons, Dell, Qualcomm and Pepsico.
Key Points
i.The award was presented under 6 categories & The winners are;
Changemaker -(Social Transformation)– Shanti Raghavan for laying the foundation for people with disabilities to find employment.
Changemaker -(Digital Transformation)–  Government e-Marketplace (GeM)- for increasing ease of doing business and brought transparency to government procurement by eliminating corruption.
Changemaker – (Financial Transformation)– India Stack- for creating the base for transformative ideas like UPI Bhim App and Aadhaar.
Young Changemaker-Pradeep Mewada for using innovative ways to end open defecation in villages.
Young Changemakers–  Rashid k; Vimal Govind; Arun George and Nikhil P – for inventing Bandicoot, the robot that removes accumulated sludge and plastic waste that clog manholes, and helps bring down deaths due to manual scavenging.
Iconic Changemaker– Arunachalam Muruganandam-for creating a low-cost sanitary pad for women.
Changemaker of the Year– Dutee Chand-for winning India's first medal in 20 years, in the 100-metre race at the Jakarta Asian Games in 2018.
Changemaker of the year– ISRO –for making India the first Asian nation to reach the Martian orbit, and the first in the world to achieve the feat in its maiden attempt.
ii.The event had a session featuring Minister of Commerce & Industry & Railways, Piyush goyal.
APPOINTMENTS & RESIGNATIONS          
Government sets up 12 member panel to prepare  investigation manual for SFIO headed by Injeti Srinivas
On 7th March 2020, a 12-member high level panel was set up to prepare an investigation manual for the Serious Fraud Investigation Office (SFIO) chaired by the Corporate Affairs Secretary Injeti Srinivas.  
Members of the panel:
SFIO Director- Amardeep Singh Bhatia.
Managing Partner, AZB & Partners- Ajay Bahl.
Law firm, President of Institute of Company Secretaries of India- Ashish Garg.
Special Director Central Bureau of Investigation (Retd)- Balwinder Singh.
Serious Fraud Investigation Office (SIFO):
The Serious Fraud Investigation Office(SIFO) is set up under the corporate affairs ministry. Under the Chairmanship of Shri Naresh Chandra, former Cabinet Secretary. SIFO investigates white-collar crimes and the Headquarter of SFIO is at New Delhi.
SPORTS
Former Indian opener Wasim Jaffer announces retirement from all forms of cricket on March 7,2020
On 7th March, 2020, Wasim Jaffer (42) a former Indian opening batsman and a domestic cricket giant has announced his retirement from all forms of cricket. He hails from Mumbai, Maharashtra.
He is the fifth-highest run-scorer in Indian first-class cricket with 10 Ranji trophy titles.
Wasim Jaffer is the highest run-scorer in the Ranji and Irani Trophy, who became the first player to play 150 Ranji trophy matches and the first batsman to score more than 12,000 runs in Ranji Trophy with 40 centuries and 89 half-centuries.
So far, Jaffer played 31 Tests matches (1944 runs), 2 ODIs (10 runs), 260 Indian first-class cricket (19,410 runs), List A (4849), T20s (616).
Australia won ICC Women's T20 World cup 2020 by defeating India in Australia

ICC (International Cricket Council) Women's T20 World Cup 2020 , the 7th ICC Women's T20 World Cup tournament was held in Australia from February 21- March 8, 2020.
The final match, which was played at the Melbourne Cricket Ground on International Women's Day (8 March), Australia women's cricket team defeated the Indian women's cricket team by 85 runs and won the title for the 5th time….Click here to Read More
OBITUARY
Former Law Minister and former governor of Karnataka & Kerala H. R. Bhardwaj  passed away at 83
On March 8, 2020 Hansraj Bhardwaj, former Union Law Minister and former governor of Karnataka & Kerala, Senior Congress leader passed away at the age of 83 in New Delhi, India. He was born in Garhi Sampla village in Rohtak district, Haryana. He also holds the record of India's second longest serving Law Minister.
Key Points:
i.About H.R. Bhardwaj: He served as Rajya Sabha member for 5 terms from April 1982 to May 2009.
ii.Law Minister: He served as the Minister of State for Law and Justice in the governments led by Indira Gandhi, Rajiv Gandhi and P.V. Narasimha Rao and also served as the Cabinet Minister of Law and Justice holding the portfolio between 2004 to 2009 in the Manmohan Singh Ministry.
iii.Bhardwaj also introduced the concept of rural courts (gram nyayalayas) during his period.
iv.He also served as the Governor of Karnataka during the period 2009- 2014 and also appointed as the governor of kerala as the additional charge during the period 2012- 2013.
CPI(M) MLA Vijayan Pillai of Kerala passed away on 8th March 2020
On 8th March 2020, Communist Party of India (Marxist) MLA Vijayan Pillai (65) from chavara constituency passed away in Kochi due to terminal illness he had for the past two months.
He was born at Chavara in Kollam (1951) the son of veteran Revolutionary Socialist Party (RSP) leader Narayanan Pillai, and he was the member of charvara panchayat from 1979 to 2000.
He began his political career as a leader of the Revolutionary Socialist Party (RSP), the first candidate to win the election from chavara and served for 20 years as a leader of RSP, later in 2000 he joined congress.
He served as the Kollam district panchayat vice president, Kollam Cooperative district bank's vice president and Kollam District Human Resource Co-operative Society president from 2000 to 2005
In 2016 – elected to the Kerala assembly defeating Shibu Baby John (RSP leader).
BOOKS & AUTHORS
Odisha CM released book titled " The Adventures of the Daredevil Democrat" 
On March 6, 2020 Odisha Chief Minister (CM) Naveen Patnaik released the comic book titled "The Adventures of the Daredevil Democrat" on the occasion of the 104th birth anniversary of former Odisha CM Late Biju Patnaik in Bhubaneswar, Odisha. The book deals about the life and works of legendary leader and Naveen Patnaik's father Biju Patnaik.
The comic book, prepared by Kalinga Foundation Trust and published by New Delhi- based the Creative workshop.
Key Points:
i.The book aims to inspire and encourage young minds to serve the motherland. Senior Congress leader Narasingha Mishra, senior BJP leader KV Singhdeo were presented on the occasion.
ii.About Biju Patnaik: He was the former CM of Odisha for a period of 7 years and he contributed in different fields for the development of modern Odisha.
iii.During the freedom movement he served as the pilot in the Royal Air Force, had assisted nationalist leaders like Aruna Asaf Ali, Ram Manohar Lohia carried them in a plane to safe places.
iv.Biju Patnaik was the first nationalist leader to reach Srinagar during India's war against Pakistan in Kashmir operation.
IMPORTANT DAYS
International Women's Day (IWD) 2020 observed on March 8
Since 1977, the United Nations (UN) Women is organizing International Women's Day (IWD) all over the world on March 8 to recognize women for their efforts in changing the individual lives as well as of nations. The day celebrates women's achievements without regard to divisions, whether national, ethnic, linguistic, cultural, economic or political.
The 2020 theme for IWD was "I am Generation Equality: Realizing Women's Rights".
PM Modi launched "She Inspires Us" campaign; 7 women took over PM's twitter account
Indian Army conducted Self Defence Training for Women in Nalbari, Assam
Union Culture Ministry made women entry free on all ASI monuments for March 8, 2020….Click here to Read More
STATE NEWS
Kerala to launch digital literacy drive named "I am also digital" in the Thiruvananthapuram Corporation
On March 7, 2020 Kerala will soon launch a digital literacy drive named "I am also digital" in the Thiruvananthapuram Corporation, Kerala, to create public-awareness about e-governance and use of various digital platforms through which wide ranges of services are being delivered.
The literacy drive is organized by Kerala State IT mission under the Department of Information Technology (IT) and Kerala Literacy Mission.
Key Points:
i.The programme aims to educate people about cyber security and the issues in cybercrimes.
ii.The project will be carried by resource persons and instructors from the society to the ward levels across the state.
iii.The digital campaign consists of 50 master trainees having knowledge of handling online IT tools and 5 instructors from each of the 100 wards will be selected.
iv.The master trainees would instruct the ward-level instructors, who, in turn, would carry out the mission in their respective locality.
v.In order to acknowledge the services of the master trainees of the programme certificates will be awarded on completion of their training, jointly by IT Mission and Kerala Literacy Mission.
About Kerala:
Capital- Thiruvananthapuram.
Chief Minister (CM)- Pinarayi Vijayan.
Governor- Arif Mohammad Khan.
Telangana's Finance minister Harish Rao presents 1.82 lakh crore budget for FY21
On March 8, 2020, Telangana Finance Minister Thaneeru Harish Rao has presented Rs.1,82,914 Crore tax-free budget for the financial year (FY) 2020-21 in state assembly in Hyderabad.
i.On the recommendations of the 15th Finance Commission, the state's share in central tax devolution reduced from 2.437 % to 2.133 % resulting in reduction of tax devolution by an amount of Rs 2,384 crore in 2020-21….Click here to Read More
AC GAZE
Centre invites bids for sale of BPCL
As per the bid document from the Department of Investment and Public Asset Management (DIPAM), the Government has invited bids for the sale of its entire 52.98% stake in the country's second biggest State-owned oil refiner Bharat Petroleum Corporation Limited (BPCL).
*******
[su_table]
Current Affairs Headlines: 10 March 2020
Narendra Singh Tomar announced that Government plans to achieve 75 lakh SHGs by 2022
Odisha becomes the 1st state to introduce department for SHGs: "Mission Shakti"
Sanitary napkin disposal bags for each pad, mandatory from January 202: Prakash Javadekar
Lt General Milind Hemant Thakur inaugurated the renovated Animal Memorial in Bengaluru, Karnataka
PM Narendra Modi attended the 6th edition of ET global business summit 2020 held in new delhi from March 6-7 2020
MSDE launches Mahatma Gandhi National Fellowship (MGNF) in IIM-Bengaluru
National Conference on Women in Police and CAPFs held in New Delhi
UNGCNI organizes 3rd Gender equality summit 2020 in New Delhi
10th FICCI-IBA Bankers' Survey July-Dec 2019 released in New Delhi; Highest NPAs in Infrastructure sector
Nupur Kulshrestha becomes  Indian Coast Guard's first woman DIG
President Ram Nath Kovind honoured 15 Women with 'Nari Shakti Puraskar' for 2019- "National award for women"
NITI Aayog & UN organized the 4th edition of Women Transforming India Awards 2019 in New Delhi; 15 women achievers conferred
Hockey India 3rd annual awards 2019 in New Delhi; Manpreet singh, Rani rampal wins Player of the year awards
M Venkaiah Naidu conferred 3rd edition of BusinessLine Changemaker Awards 2020
Government sets up 12 member panel to prepare  investigation manual for SFIO headed by Injeti Srinivas
Former Indian opener Wasim Jaffer announces retirement from all forms of cricket on March 7,2020
Overview of  ICC Women's T20 World cup 2020 held in Australia
Former Law Minister and former governor of Karnataka & Kerala H. R. Bhardwaj  passed away at 83
CPI(M) MLA Vijayan Pillai of Kerala passed away on 8th March 2020
Odisha CM released book titled " The Adventures of the Daredevil Democrat"
International Women's Day (IWD) 2020 observed on March 8
Kerala to launch digital literacy drive named "I am also digital" in the Thiruvananthapuram Corporation
Telangana's Finance minister Harish Rao presents 1.82 lakh crore budget for FY21
Centre invites bids for sale of BPCL
[/su_table]
[su_button url="https://affairscloud.com/current-affairs/march-2020/" target="self" style="default" background="#2D89EF" color="#FFFFFF" size="5″ wide="no" center="no" radius="auto" icon="" icon_color="#FFFFFF" text_shadow="none" desc="" download="" onclick="" rel="" title="" id="" class=""]Click Here to Read Current Affairs March 2020[/su_button]
AffairsCloud Ebook - Support Us to Grow