We are here for you to provide the important Recent and Latest Current Affairs 7 February 2020, which have unique updates of Latest Current Affairs 2020 events from all newspapers such as The Hindu, The Economic Times, PIB, Times of India, PTI, Indian Express, Business Standard and all Government official websites.
Our Current Affairs February 2020 events will help you to get more marks in Banking, Insurance, SSC, Railways, UPSC, CLAT and all State Government Exams. Also try our Latest Current Affairs Quiz and Monthly Current Affairs PDF which will be a pedestrian to crack your exams.
Date-Wise Current Affairs February 2020 PDF(Content & Q&A) for Paid Users – Click Here to Know More
Click here for Current Affairs February 6 2020
NATIONAL AFFAIRS
FICCI & Central asian countries jointly launches India-Central Asia business council in New Delhi
On February 7, 2020 , In order to boost business & economy, the Federation of Indian Chambers of Commerce and Industry (FICCI) together with 5 of the biggest industry bodies of Central Asian countries (Kazakhstan, the Kyrgyz Republic, Tajikistan, Turkmenistan and Uzbekistan ) launched the India-Central Asia Business council in New Delhi.
External Affairs Minister (EAM)Subrahmanyam Jaishankar and Secretary of Ministry of External Affairs,Vikas Swarup were also present at the launch.
India-Central Asia business council is the common platform for sharing of ideas and the transformation of goodwill into practical outputs and seeks to form a India-Central Asia Development Group….Click here to Read More
Financial closure of Nepal's largest hydropower project- Arun-III hydropower project inked b/w India and Nepal
On February 7, 2020, The Arun-3 hydropower project, the largest Indian-backed project in Nepal, secured NPR(Nepaleses rupee) 100 Billion for the 900 MW (mega watt) hydropower project being built on the Arun River in Nepal's Sankhuwasabha District.
India's Satluj Jal Vidyut Nigam (SJVN) Arun-III Power Development Company, the developer of the Arun-III hydropower project has signed the financial closure of the project with 7 banks in Kathmandu, Nepal.
Key Points:
i.The agreement was signed between 5 Indian Banks- State Bank of India(SBI), Punjab National Bank (PNB), Canara Bank, Exim Bank (Export-Import Bank of India) and Union Bank of India (UBI) & 2 banks from Nepal -Everest Bank and NABIL Bank to invest 8598 Crore (NPR) , 1536 Crore (NPR) respectively for the project that is expected to generate power by 2023.
ii.An outlay of $ 1.04 estimated for this project , which will be completed within 5 years & will produce 4,018.87 million units of electricity a year.
iii.On March 2, 2008, SJVN and the government of Nepal signed a memorandum of understanding (MoU) for execution of Arun-3 that will generate 3,000 jobs.
About Satluj Jal Vidyut Nigam (SJVN):
Headquarters– Shimla, Himachal Pradesh
Chairman and Managing Director– Nand Lal Sharma
About Nepal:
Capital– Kathmandu.
Currency– Nepalese rupee.
President– Bidhya Devi Bhandari.
Prime Minister– Khadga Prasad Sharma Oli.
Railway Line between India and Bangladesh project to End by 2021
On February 06,2020, The 15.6km long railway line between Agartala, India(Tripura)-Akhaura in Bangladesh will be completed by September 2021, these railway routes will improve connectivity between Indian Railways and Bangladesh Railways and will boost trade between the two countries. The project started in January 2010 during the Prime Minister of Bangladesh Sheik Hasina's visits to India.This will be the 1st train from the northeast India to Bangladesh .
Key points:
i.The railway link connects Gangasagar in Bangladesh to Nischintapur in India and from Nischintapur to Agartala railway station in Tripura, India. The Ministry of Development of North Eastern Region (DoNER) is bearing the cost for laying the track on the 5.46km Indian side and the cost of laying the 10.6 km-long track on the Bangladesh side is being Funded by the Ministry of External Affairs, Government of India. 
ii.Rs.580 cores has been sanctioned for the Indo-Bangla railway link in the Indian side.
the process of acquisition of land for this project has been done and handed over to IRCON (Indian Railway Construction Company Limited) who is the Executing agency for the construction of the project for both countries. over 600 workers and 30 Engineers of IRCON has been employed to finish the project 
iii.The first phase of the 5.46km Gangasagar-Nischintapur railway track and construction of station building, a 1600m platform and the transshipment yard in Nischintapur then it will be the 1st Transshipment yard in Northeast Region, and a 3.1km long viaduct or Rail bridge would be constructed to save land and to reduce Expenses.
About Indian Railway Construction Company Limited (IRCON International Limited):
Headquarters- New Delhi, India
Founded- 1976
Managing Director (M.D) & Chairman- S.K. Chaudhary
Parent Organization- Ministry of Railways.
About Bangladesh:
Capital- Dhaka (Largest city in Bangladesh)
Currency- Bangladeshi Taka
Prime Minister- Sheikh Hasina Wazed.
India's first Glass floor bridge to replace the iconic Lakshman Jhula in Rishikesh, Uttarakhand
On February 6, 2020, Uttarakhand government has cleared the design of a glass floor suspension bridge, the first of its kind in the country, to be built across Ganga River in Rishikesh, Uttarakhand as a replacement to iconic Lakshman Jhula which was closed in 2019 due to safety reasons. It has been in place for 94 years. The glass floor suspension bridge design is prepared by Public Works Department (PWD).
Key Points:
i.The floor of the bridge is to be made of 3.5 inches thick toughened transparent glass, which is capable of bearing a load of more than 750 kg per squaremetre at a stretch.
ii.The bridge will be built parallel to Lakshman Jhula with a total width of eight metres.
iii.The total width of bridge is 132.3 metres long with seven feet high toughened glass railings on either side of the structure.
iv.It will be safe for commutation for at least 150 years.
About Uttarakhand
Capital– Dehradun
Chief Minister– Trivendra Singh Rawat
State animal– Alpine musk deer
State flower– Saussurea obvallata
State tree– Rhododendron arboreum
State bird– Himalayan monal
22nd edition of India International Seafood Show (IISS) 2020 commenced in Kochi, Kerala
A 3-day long 22nd edition of India International Seafood Show (IISS), 2020 based on the theme "Blue Revolution- Beyond Production to Value Addition" has commenced at Hotel Grand Hyatt in Kochi, Kerala.
The show is being organized jointly by the Marine Products Export Development Authority (MPEDA) under Ministry of Commerce and Industry & the Seafood Exporters Association of India (SEAI).
Partakers:More than 200 exhibitors, 350 stalls and over 5000 delegates, including foreign delegates, are expected to attend the event at Kochi.
Purpose:It provides a platform for partnership between Indian exporters and foreign importers of Indian marine products.
As India is the second largest aquaculture producer in the world, it had set the target of seafood export at $10 billion by this year (i.e 2020)….Click here to Read More
For the first time in MP, drones are used for mapping villages
On February 7, 2020, the Madhya Pradesh (MP) government, for the first time, will use drones for mapping villages. This will replace the land survey work, done either manually or with the help of satellite images. In this regard, state revenue department inked an agreement with Survey of India, the country's national mapping agency under the Ministry of Science and Technology.
i.55 thousand villages of the state have been selected for mapping.
ii.Now, the map of the population area will be made on a scale of 1: 500, which will give a clearer picture of the population area.
About Madhya Pradesh
Capital– Bhopal
Chief Minister– Kamal Nath
State animal– Barasingha
State flower– Sacred Tree
State tree– Banyan
State bird– Indian paradise flycatcher
Maharashtra registers maximum number of missing women & MP tops in missing children in 2016, 2017 & 2018: NCRB report
On February 3, 2020, According to the report titled 'missing women and children in India' released by National Crime Records Bureau (NCRB), an Indian government agency responsible for collecting and analyzing crime data.The highest number (33,964) of women who go missing in India are from Maharashtra & the number of missing children are maximum (10, 038) in the State of Madhya Pradesh (MP) in the year 2016, 2017 & 2018.
Missing women data: According to the report, Maharashtra registered the highest number of missing women followed by West Bengal and Madhya Pradesh during 2016, 2017 and 2018.
Mumbai and Pune (Maharashtra), Kolkata (West Bengal) and Indore (Madhya Pradesh) recorded the highest number of such incidents.
Missing Children data: The number of missing children are highest in the State of Madhya Pradesh, followed by West Bengal, Delhi and Bihar….Click here to Read More
Overview of UNESCO DG Audrey Azoulay's three day visit to India from Feb 4-6, 2020
On February 4, 2020, United Nations Educational, Scientific and Cultural Organisation (UNESCO) Director-General Audrey Azoulay arrived in New Delhi, India on a three-day visit till Feb 6, 2020 to boost strategic partnership in the areas of heritage, education and artificial intelligence. India is one of UNESCO's founding members.  This was her first official visit to India after appointed as the DG of UNESCO. She began her trip with a visit to the Raj Ghat to pay her respects to Mahatma Gandhi who has had a profound influence on UNESCO. She met Prime Minister Shri Narendra Modi and Union MoS Culture and Tourism (Independent Charge) Prahlad Singh Patel, in New Delhi during her visit.
i.Audrey Azoulay met Union Minister of Human Resource Development (HRD) Ramesh Pokhriyal Nishank; Agreement inked
ii.She visited Pink City or walled city Jaipur, which in June 2019 became 38th World Heritage site in India. She presented the World Heritage City certificate to Minister of Urban Development Shanti Dhariwal.
iii.She visited the National Museum to see the exhibition titled "Indian Heritage in Digital Space" in New Delhi which showcased augmented reality displays of five UNESCO World Heritage Sites.
iv.She also addressed the opening session of a seminar on "The Future of Education Artificial Intelligence for Social and Emotional Learning" in New Delhi….Click here to Read More
INTERNATIONAL AFFAIRS
U.S. announces launch of 27 nation International Religious Freedom Alliance
On February 6, 2020, the United States (US) launched the 27-nation International Religious Freedom Alliance, which will try to adopt a collective approach in protecting and preserving religious freedom across the world. It was announced by US Secretary of State Michael Pompeo.
Reason behind this launch:
More than eight in ten people in the world today live in a place where they cannot practice their faith freely. So in order to provide them religious freedom, this alliance has been launched.
Participants:
Among the prominent countries to join the alliance are Austria, Brazil, the United Kingdom, Israel, Ukraine, the Netherlands and Greece.
Point to be noted:
Poland will host the next ministerial to Advance Religious Freedom in Warsaw in July 2020.
About US
Capital– Washington, D.C.
Currency– United States Dollar
President– Donald Trump
ECONOMY & BUSINESS
Govt data: $118.3 billion received in remittances since 2018-19
On February 05, 2020 the Indian govt. has released data of remittances received in the country since April 2018- September 2019. As per the report around 13.62 million Indian nationals are staying abroad & around $118.3 billion has been received as remittance.
Key Points:
i.The foreign countries in which a large number of Indians were living include Nepal, the Middle East region, the UK(United Kingdom), the US(United States), Malaysia and Germany.
ii.RBI data: As per data of the Reserve Bank of India(RBI), $76.4 billion was received as remittances during 2018-19 while $41.9 billion was received during 2019-20. Indians involved in financial irregularities with the banks & those under criminal investigation since 2015 are 72.
iii.Indians caught in Pakistan: An estimated no. of 275 Indians including fishermen are estimated to be in Pakistan's custody as prisoners.There is also issue of 83 missing Indian defence personnel, including prisoners of war.
About Reserve Bank of India (RBI):
Headquarters– Mumbai, Maharashtra.
Formation– 1 April 1935.
Act- Reserve Bank of India Act, 1934.
Deputy Governors– 4 (BP Kanungo, N S Vishwanathan, Mahesh Kumar Jain, Michael Debabrata Patra).
AWARDS & RECOGNITIONS      
Padma Shri awardee Manoj Das to receive Mystic Kalinga Literary Award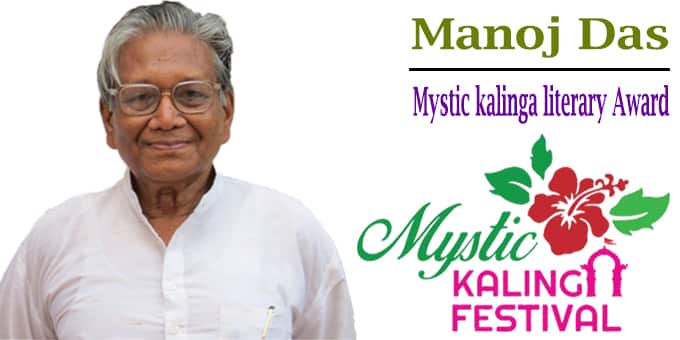 Famous Odia and English writer Manoj Das, 85 years old, will receive Mystic Kalinga Literary award– Indian and Global languages, during the 4th edition of the 2 day Mystic Kalinga Festival (MSF) which will commence in Swosti Premium, Odisha, Bhubaneswar on February 8 & 9, 2020.
Mystic Literary award has been instituted to recognize and celebrate inspiring writers, poets and performers.
Cash Prize:The Mystic Kalinga Literary Award will carry a cash prize of Rs 1 lakh, khadi shawl and a certificate.
Key Points:
i.Manoj Das will deliver the festival's keynote address on "Divine Madness: Knowledge, Ecstasy and Transformation".
ii.He is currently teaching English Literature & Philosophy at Sri Aurobindo International University, Puducherry.
iii.Awards & honours: He was also awarded with Padma Bhushan in 2020 ,Padma Shri in 2001, Saraswati Samman and Sahitya Akademi Award for his contribution in the field of literature & education.
iv.From this year, Mystic Kalinga Festival introduces Mystic Mic, platform for standup performers especially designed to celebrate the innocence and beauty of Rural India and its Mystic connection with nature, life, music, dance, and songs.
President of India Presents International Gandhi Awards for Leprosy
On February 6,2020 President of India Shri. Ram Nath Kovind presented the International Gandhi Awards for Leprosy to Dr. N.S. Dharmashaktu under the Indian nomination individual category and the Leprosy Mission Trust under the institutional category at New Delhi, India.The award was instituted by Gandhi Memorial Leprosy Foundation.
Key Points:
i.International Gandhi Awards for Leprosy: The awards aim to recognize the outstanding work by individuals & organisations to fight leprosy and eliminate the prejudices associated with it.
ii.India had successfully achieved levels of leprosy elimination defined as less than one case per ten thousand population.
iii.Leprosy had been reduced considerably due to constant work of scientists, researchers, organizations and community workers.
  APPOINTMENTS & RESIGNATIONS        
Diplomat Philip Barton Appointed as Britain's New High Commissioner to India
On February 06,2020, The Foreign and Commonwealth Office (FCO) of Great Britain announced that it has appointed Philip Robert Barton KCMG OBE (Knight Commander order of British Empire) as its new high commissioner of Great Britain to India, He will Replace Sir Dominic Anthony Gerard Asquith KCMG and will take charge on Spring Season.
Key points:
i.Currently Barton serving as Director-General, consular and Security at the Foreign and Commonwealth Office.
ii.He also served as British High Commissioner for Pakistan between 2014 to 2016, he also served as the acting Chairman of the Joint Intelligence committee from 2016-2017.
About Kingdom of Great Britain:
Queen- Queen Elizabeth-II
Currency- Pound Sterling
Countries- England, Wales, Scotland.
Tidjane Thiam resigns as Credit Suisse CEO after spying scandal; Thomas Gottstein appointed as new CEO

On February 07, 2020, Tidjane Thiam (57), a French-Ivorian banker has resigned chief executive officer (CEO) of Swiss bank Credit Suisse Group AG following a spying scandal.
The board of directors (BOD) of the bank unanimously accepted Thiam's resignation & also appoints Thomas Gottstein as the new CEO.
Key Points:
i.The board also gave its full support to the chairman, Urs Rohner, to complete his term that runs until April 2021.
ii.The spying scandal started in September 2019 .Both Thiam and Rohner have been in conflict since it emerged that the bank had picked a corporate espionage company to follow former international wealth management head Iqbal Khan after he left for a position at UBS (Union Bank of Switzerland).
About Credit Suisse:
Founded– 1856
Founder– Alfred Escher & Allgemeine Deutsche Credit-Anstalt
Headquarters– Zürich, Switzerland
  ACQUISITIONS & MERGERS        
Energy major Total to acquire 50% in Adani's solar portfolio for $510 mn
On February 6, 2020, French energy major Total Gas & Power Business Services SAS (TOTAL) will acquire 50% stake in all operational renewable energy projects of Adani Green Energy Ltd. (AGEL) for $510 million (Rs 3633 crore) along with other tools in a solar energy joint venture (JV) that will house 2,148 mw now possessed by the Adani group firm.The remaining 50 % in the JV will be held by AGEL.
Key Points:
i.The deal is part of Total's objective of building a project of low-carbon ecosystem that could account for 15 -20 % of its sales by 2040 & will contribute to deploy 25 GW of renewable energy by 2025.
ii.This is the 2nd such deal between the two firms.Earlier in October 2019, Adani group had been in pact with Total SA that would purchase 37.5% stake in the organization, including public offer to investors to purchase a further 25.2 %, such both finally hold 37.4 % each.
iii.The 2 firms will also build an 800-MW solar power plant in Qatar under a separate deal.
About Adani Green Energy Ltd. (AGEL):
Headquarters– Ahmedabad
Founded– 2015
CEO– Jayant Parimal
Chairman & Founder of the Adani Group– Gautam Adani
About Total S.A:
Founded– 28 March 1924
Headquarters– Courbevoie, France
Chairman & Chief Executive Officer(CEO)- Patrick Pouyanné
DoT okays merger of Bharti Airtel, Tata Teleservices
On February 7, 2020, The Department of Telecommunications (DoT) , a department of the Ministry of Communications has approved the merger of consumer mobile operations of the Tata group –Tata Teleservices (Maharashtra) with Bharti Airtel Limited (also known as Airtel).
Key Points:
i.The Tata group In October 2017 had announced to sell its consumer mobile business to Airtel on a debt-free, cash-free basis, except for it assuming a fraction of the unpaid spectrum fees.
ii.The merger will expand Airtel's spectrum footprint and 4G(4th Generation) coverage and its ability.
iii.As part of the acquisition, Bharti Airtel has taken Tata Teleservices operations in 19 telecom networks – 17 under Tata Teleservices -TTSL and 2 under Tata Teleservices (Maharashtra) Ltd.
About Bharti Airtel Ltd:
Founded– 7 July 1995
Headquarters– New Delhi
Chairman– Sunil Bharti Mittal
About Tata Teleservices Limited:
Founded– 1996
Founder– Ratan Tata
Headquarters– Mumbai, Maharashtra
Managing Director (MD)– Srinath Narasimhan
Emami Group Signs Binding Pact with Nuvoco Vistas for selling of its 100% stake in Emami Cement
On February 06,2020, Emami Group announced the selling of its 100% equity stake in Emami Cement Limited, an Integrated Cement Manufacturing plant for an amount of RS. 5500 crores to Nuvoco Vistas corporation limited, part of Nirma Group. The main objective of the deal is to become Debt-Free, Emami Cement has a debt of RS. 2,000-2,200 crores and loan against shares of RS. 1,000 crores.
Key points: 
i.Emami Cements produces 8.3-million-tonne-per-annum of cements with its 3 grinding units in Chhattisgarh, Odisha and west Bengal. The sale also includes all the assets and mining leases on 300 million tonnes of limestone deposits that will last for 60 years and the transaction is done under $110-pertonne valuation
ii.After accruing Emami cements, Nuvoco will become one of the leading companies in India, especially in Eastern Region. Nirma Group had already acquired Lafarge Holcim's India assets with a valuation of $125 per tonne. Now the company will produce more than 22 million tonnes a year
iii.The transaction is expected to be approved by the Competition Commission of India (CCI) in 3-4 months. 
About Emami Group:
Headquarters- Kolkata, West Bengal
Founded- 1974
Chief Executive Officer (CEO)- Shri Vivek Chawla 
About Novoco Group:
Headquarters- Mumbai, Maharashtra
Founded- 1999
Chairman- Hiren Patel
About Competition Commission of India (CCI):
Headquarters- New Delhi
Founded- 2003
Chairman- Ashok Kumar Gupta
SCIENCE & TECHNOLOGY
IIT-H finds molecule to cure rare ALS neurodegenerative disease 
On February 5,2020 Researchers from IIT-H, Telangana (Indian Institute of Technology- Hyderabad) had found a molecule called "AIM-4" that can help in the treatment of rare neurodegenerative disease called "Amyotrophic Lateral Sclerosis" (ALS) known as "Lou Gehrig's disease".
Key Points:
i.About ALS: ALS is a neurodegenerative disorder that severely affects voluntary movement of muscles & leads to paralysis and death. ALS occurs due to changes in specific genes & caused by factors such as smoking, exposure to toxins, metals and pesticides.
ii.ALS is caused by alterations in genes that code for a critical protein called TDP-43. The gene alteration modifies the protein which results in liquid-liquid phase separation, causes proteins to be deposited on nerve cells called neurodegeneration.
iii.About TDP-43:The TARDP gene provides instructions for making a protein called Transactive response DNA binding Protein 43 (TDP-43). TDP-43 protein is involved in processing molecules called messenger Ribonucleic Acid (mRNA), which serve as the genetic blueprints for making proteins.
iv.About AIM-4:AIM-4 prevents liquid-liquid phase separation of proteins & also deposition of protein on neurons.
v.Scientists: The scientists of this research was led by Basant Kumar Patel, Sandeep Singh & Rajakumara Eerappa, from Department of Biotechnology, IIT-H, & Ganesan Prabushankar from the Department of Chemistry and the result of the research was published on International Journal of Biological Macromolecules.
About IIT-H (Indian Institute of Technology- Hyderabad):
Founded- 2008.
Motto- Inventions and Innovations.
Director- Budaraju Srinivasa Murthy.
Chairman- B.V.R Mohan Reddy.
NASA astronaut Christina Koch returns to Earth after record longest stay in ISS
On February 06, 2020 NASA's (National Aeronautics and Space Administration) astronaut Christina Koch(41 years) from United States(US)who made the 1st all female space walk in 2019 landed in Kazakh desert steppe of Kazakhstan in a Soyuz MS-13 capsule. She has landed after making a record of longest stay on the International Space Station(ISS). She made her landing after ending a 328 days mission in space.
Key Points:
i.The Soyuz MS-13 also carried European astronaut Luca Parmitano and Russian cosmonaut Alexander Skvortsov.
ii.Koch's achievements: Koch broke the record of NASA's Peggy Whitson for the longest continuous stay in space by a woman. Koch along with Jessica Meir marked stepping out of space station together by two women at the same time in October 2019.
About National Aeronautics and Space Administration(NASA):
Founded- 29 July 1958.
Founder- Dwight D. Eisenhower.
Headquarters- Washington, D.C., United States(US).
Administrator- Jim Bridenstine (born as James Frederick Bridenstine).
IT department introduced e-calculator to compare due tax under new and old regime
On February 6,2020 Income Tax (IT) Department launched an e-calculator for individuals to estimate their tax liability for new tax slabs without claiming deductions & exemptions for ITR (Income Tax Return) filing.
The calculator, with a comparative table comparing the taxes of the old and new tax for the financial year (2020-21) has been hosted on the official e-filing website of the department.
Key Points:
i.The web portal is used for filing electronic income tax returns (ITRs) by individuals and various other taxpayers.
ii.Taxpayers are of 3 age categories: normal citizen (below 60 years), senior citizen (60-79 years) and super senior citizen (above 79 years).
iii.The new personal income tax regime, as proposed by Union Finance Minister Nirmala Sitharaman,in budget as 5% tax is levied on an annual income between ₹2.5 lakh to ₹5 lakh. The tax rate rises to 10%, 15%, 20%and 25% for every ₹2.5 lakh addition. A 30% is charged for income over ₹15 lakh.
iv.The old or the existing income tax rate allows a standard deduction of ₹50,000 and investment of ₹1.5 lakh in saving schemes with a rate of 5%, 10% or 30% tax depending on various income levels.
SPORTS
Rohit Rajpal to continue as India's Davis Cup captain 2020
On February 6,2020 All India Tennis Association (AITA) announced Rohit Rajpal will continue as India's non-playing Davis Cup captain 2020, in the selection committee meeting held at New Delhi, India.
Key Points:
i.India will travel to Croatia for their next tie on 6th and 7th of March, 2020.
ii.Zeeshan Ali will be the coach of the team.
iii.Singles Player: Prajnesh Gunneswaran, Sumit Nagal & Ramkumar Ranganathan are the singles players in the six member squad.
iv.Doubles Player:The doubles players of the tie match are Rohan Bopanna, Divij Sharan and Leander Paes are the doubles players in the six member squad.
v.Akhouri Biswadeep, Chief Executive Officer (CEO) of AITA and Balram Singh, chairman of the selection committee were present in the meeting.
About Davis Cup:
i.The Davis Cup is the premier international team event in men's tennis. It is run by the International Tennis Federation (ITF) & Kosmos Holding, contested between teams from competing countries in a knock-out format.
ii.The present champions are Spain, who defeated Canada and won the Davis cup for the 6th time in 2019.
Founded- 1900.
Founder- Dwight Filley Davis.
OBITUARY
Famous cricket journalist & film historian Raju Bharatan passed away at 86
On February 7,2020 Famous cricket journalist and film historian Raju Bharatan, 86 years old, passed away at Mumbai, Maharashtra. He is also the writer for The hindu and Sportstar and also a popular radio commentator for India's cricket matches.
Key Points:
i.Raju Bharatan was associated with the Illustrated Weekly of India magazine for more than 4 decades and also worked with Kushwant Singh, M.V. Kamath, Pritish Nandy, Anil Dharker and in 1952 he covered India's tour to  England.
ii.He directed "The Victory Story" (1974) the first full-length cricket documentary for the Films Division and the film was about India's victory in 1971 against England.
iii.The books authored by him are:
Rivals in the Sun, revolved around the historic series.
Indian Cricket- The Vital Phase (1977).
Lata Mangeshkar- A Biography (1995).
A Journey Down Melody Lane (2009).
Naushadnama: The Life and Music of Naushad (2013).
Asha Bhosle- A Musical Biography (2016).
STATE NEWS
Jammu & Kashmir admin renames PHE & IFC department as 'Jal Shakti Dept'
On February 6,2020 The Jammu and Kashmir (J&K) administration renamed Public Health Engineering and Irrigation and Flood Control Department (PHE & IFC) as the 'Jal Shakti Department'.
The Administrative Council meeting was met under the Chairmanship of Girish Chandra Murmu, Lieutenant Governor of J&K, sanctioned the implementation of the Jal Jeevan Mission (JJM) to achieve 100% coverage of piped water supply by December 2021.
Key Points:
i.In the initial phase, 7 districts- Poonch, Reasi, Samba, Srinagar, Ganderbal, Shopian & Pulwama will be covered by 100% piped water supply by June 2020.
ii.In the 2nd phase 7 more districts will be covered by 100% water supply June 2021 and remaining 6 districts in the third phase by December 2021.
iii.The mission aims to provide Functional Household Tap Connections (FHTC) to every rural household especially to the desert, drought-prone, border areas, schools, Anganwadi and health centres.
iv.As per IMIS (Integrated Management of Information System) data report of JJM, FHTC will be provided to remaining 11.12 lakh rural households out of 16.02 lakhs.
v.Nearly 30.5% of J&K's rural households have piped water connections compared to the national average of 18%.
About Jammu & Kashmir (J&K):
Capital- Jammu (winter capital), Srinagar (summer capital).
Districts- 20.
National Park (NP)- Dachigam NP, Kazinag NP, Kishtwar NP, Salim Ali NP.
UP govt allots 5 acres of land to Sunni Waqf Board to construct mosque in Ayodhya
On February 5, 2020,The Uttar Pradesh (UP) state Government cabinet chaired by its Chief Minister (CM) Yogi Adityanath has approved the allotment of  5-acre land to the Sunni Waqf Board for the construction of a new mosque in Ayodhya district. The land was in Dhannipur village along the Lucknow-Ayodhya highway, about 18 kilometres from the Ayodhya's Headquarter, Faizabad.
Key Points:
i.This allotment comes in accordance with the Supreme Court verdict in the Ayodhya land dispute case in November 2019.
ii.The Union Cabinet chaired by Prime Minister (PM), Shri.Narendra Modi approved the formation of a trust for the construction of a Ram Temple on the 67 acres of disputed land.
iii.Background: The Supreme Court in November 2019 had allowed the construction of a Ram Temple by a trust at the disputed site at Ayodhya and also directed the Central government to allot an alternative 5 acre land to the Sunni Waqf Board for building a new mosque at a famous place in Uttar Pradesh.
About Uttar Pradesh (UP):
Capital– Lucknow.
Governor– Anandiben Patel.
National Parks (NP)– Dudhwa NP.
Wild Life Sanctuaries (WLS)- Bakhiara WLS, Hastinapur WLS, Katarniaghat WLS, Kishanpur WLS.
AC GAZE
Ellyse Perry unveils mural ahead of ICC Women's T20 World Cup 2020 Trophy Tour
Australian all rounder Ellyse Perry has unveiled a mural celebrating two of the world's most famous 'Perrys' (Ellyse Perry &global pop superstar Katy Perry), which was painted in the iconic Hosier Lane of the city(Melbourne) by local artist Tayla Broekman as part of the ICC Women's T20 World Cup 2020 Trophy Tour, to be held in Melbourne, Australia from February 21 to March 18.
Current Affairs Headlines: 7 February 2020
FICCI & Central asian countries jointly launches India-Central Asia business council in New Delhi
Financial closure of Arun-III hydropower project inked b/w India and Nepal
Railway Line between India and Bangladesh project to End by 2021
Uttarakhand's iconic Lakshman Jhula to be replaced by India's first Glass floor bridge
22nd edition of India International Seafood Show (IISS) 2020 commenced in Kochi, Kerala
For the first time in MP, drones are used for mapping villages
Maharashtra registers maximum number of missing women in 2018, MP tops in missing children: NCRB report
Overview of UNESCO DG Audrey Azoulay three day visit to India from Feb 4-6, 2020
U.S. announces launch of International Religious Freedom Alliance
Govt data: $118.3 billion received in remittances since 2018-19
Padma Shri awardee Manoj Das to receive Mystic Kalinga Literary Award
President of India Presents International Gandhi Awards for Leprosy
Diplomat Philip Barton Appointed as Britain's New High Commissioner to India
Tidjane Thiam resigns as Credit Suisse CEO after spying scandal
Energy major Total to acquire 50% in Adani's solar portfolio for $510 mn
DoT okays merger of Bharti Airtel, Tata Teleservices
Emami Group Signs Binding Pact with Nuvoco Vistas for selling of its 100% stake in Emami Cement
IIT-H finds molecule to cure rare ALS neurodegenerative disease
NASA astronaut Christina Koch returns to Earth after record longest stay in ISS
IT department introduced e-calculator to compare due tax under new and old regime
Rohit Rajpal to continue as India's Davis Cup captain 2020
Famous cricket journalist & film historian Raju Bharatan passed away at 86
Jammu & Kashmir admin renames PHE & IFC department as 'Jal Shakti Dept'
UP govt allots 5 acres of land to Sunni Waqf Board to construct mosque in Ayodhya
Ellyse Perry unveils mural ahead of ICC Women's T20 World Cup 2020 Trophy Tour
[su_button url="https://affairscloud.com/current-affairs/february-2020/" target="self" style="default" background="#2D89EF" color="#FFFFFF" size="5″ wide="no" center="no" radius="auto" icon="" icon_color="#FFFFFF" text_shadow="none" desc="" download="" onclick="" rel="" title="" id="" class=""]Click Here to Read Current Affairs February 2020[/su_button]
AffairsCloud Ebook - Support Us to Grow