We are here for you to provide the important Recent and Latest Current Affairs 6 February 2020, which have unique updates of Latest Current Affairs 2020 events from all newspapers such as The Hindu, The Economic Times, PIB, Times of India, PTI, Indian Express, Business Standard and all Government official websites.
Our Current Affairs February 2020 events will help you to get more marks in Banking, Insurance, SSC, Railways, UPSC, CLAT and all State Government Exams. Also try our Latest Current Affairs Quiz and Monthly Current Affairs PDF which will be a pedestrian to crack your exams.
Date-Wise Current Affairs February 2020 PDF(Content & Q&A) for Paid Users – Click Here to Know More
Click here for Current Affairs February 5 2020
NATIONAL AFFAIRS
PM Modi announced 15-member trust named 'Sri Ram Janma Bhoomi Tirtha Kshetra trust' for Ayodhya temple
On February 5, 2020, Prime Minister Narendra Modi announced in Parliament about the formation of a trust to oversee the construction of a Ram Temple in Ayodhya, Uttar Pradesh. In this regard, 67.703 acres of land near the temple area has been allocated to the trust.
Key Points:
i.This 15 member's trust will also include a Dalit representative who would be in-charge of the entire land.
ii.The trust has been set up on the lines of Supreme Court direction to the central government in November 2019 to formulate a scheme with necessary provisions for the setting up of a trust within three months for the construction of the temple.
Background
On 9 November 2019, in its verdict, the Supreme Court ordered the construction of a Ram temple by a trust at the disputed site of Ayodhya, and directed the Centre to allot an alternative 5-acre plot to the Sunni Waqf Board for building a new mosque at a "prominent" place in the holy town in Uttar Pradesh.
Overview of Cabinet approvals on February 5, 2020
On February 5, 2020, the Union Cabinet, chaired by the Prime Minister Shri Narendra Modi has given the following approvals:
Cabinet gives in-principle approval for setting up a new Major Port at Vadhavan in Maharashtra
The cabinet has given its 'in-principle' approval for setting up a Major Port at Vadhavan near Dahanu in Maharashtra at a cost of Rs.65,544.54 crore. The port will be developed on "land lord model". A Special Purpose Vehicle (SPV) will be formed with Jawaharlal Nehru Port Trust (JNPT) as the lead partner. This is country's 13th major port at Vadhavan in Maharashtra.
Cabinet approves amendment to bring cooperative banks under regulatory control of RBI
The Union Cabinet approved amendments to the Banking Regulation Act to bring cooperative banks under the regulatory mechanism of Reserve Bank of India (RBI), in the wake of the Punjab and Maharashtra Co-operative (PMC) Bank crisis. The provisions would give RBI the power to take control of weak co-operative banks.
Cabinet approves the Indian Institutes of Information Technology (IIIT) Laws (Amendment) Bill, 2020
The cabinet has approved introduction of the Indian Institutes of Information Technology Laws (IIIT)(Amendment) Bill, 2020. The bill will declare the remaining five IIITs along with the existing 15 IIITs in PPP mode as Institutions of National Importance with powers to award degrees. The Five IIITs in Public-private partnership (PPP) mode are Surat (Gujarat), Bhopal (Madhya Pradesh), Bhagalpur (Bihar), Agartala (Tripura) and Raichur (Karnataka)….Click here to Read More
Union cabinet approves relaxation of rules to Alliance Air in operating flights between India & Sri Lanka
On February 5, 2020, The Union Cabinet, chaired by the Prime Minister (PM) Shri Narendra Modi, has approved exemptions in Air India's subsidiary- Alliance Air for the operation of international flights between India & Sri Lanka with prior effect by waiving the rule that an airline needs to have minimum 20 aircraft to operate internationally.
Key Points:
i.The exemption has been granted to Alliance Air for a minimum of 20 aircraft or 20 % of the total capacity, with special rules related to the deployment for domestic operations. This was done due to India and Sri Lanka are closely linked with each other & both the nations aim to increase people-to-people contact.
ii.As per the rules of the Ministry of Civil Aviation (MOCA),Government of India (GoI) an airline can undertake international flight operations only when it has a minimum of 20 aircraft.
iii.Prior to this approval, no commercial operations were scheduled from Palaly and Batticaloa airports are in Sri Lanka.
About Alliance Air:
Commenced operations– 21 June 1996
Headquarters– New Delhi
Chairman and Managing Director (CMD)- Shri Ashwani Lohani
About Sri Lanka:
Capital– Sri Jayawardenepura Kotte
Currency– Sri Lankan rupee
President– Gotabaya Rajapaksa
Prime Minister– Mahinda Rajapaksa
Only 7 in 100 anganwadi beneficiaries are in urban areas
On February 5, 2020, According to the government's response to a Right to Information (RTI) query has revealed that for every 100 anganwadi (or day-care centre) beneficiaries in India, only 7 belong to urban areas. This shows poor coverage by the Integrated Child Development Scheme (ICDS) in urban areas implemented by the Ministry of Women and Child Development (WCD).
Present Scenario:
Status of urban areas: As per the RTI reply given by the government,as on September 30, 2019, out of the total 7.95 crore beneficiaries registered under the Anganwadi scheme in the country, only 55 lakh beneficiaries were registered in the urban Anganwadi centers.
Acute shortage: There are about 13.79 lakh anganwadi centers across the country, of which 9.31 lakh are connected to the central government's web-based data entry system called "Rapid Reporting System".
Road Ahead: NITI (National Institution for Transforming India) Aayog has prepared a draft working paper to strengthen the ICDS program in urban areas keeping in mind the migration, population density in cities….Click here to Read More
India signs 1st ever term contract with Russia for Importing Russian Crude Oil
On February 05,2020, The union cabinet Minister for the Ministry of Petroleum and natural Gas Shri Dharmendra Pradhan signed the 1st ever term contract with Mr. Igor Sechin, Chief Executive Officer (C.E.O) and Chairman of Rosneft (Russia's largest oil producing Company). The term contract is between State-Owned Indian Oil Corporation Limited (IOCL) and Rosneft for Importing 2 Million Metric Tonnes of Urals grade crude oil to India for the year 2020.
Key points:
i.India is the 3rd largest Energy Consumer in the world, India imports globally 83% of oil to meet its oil need. India has to enlarge its sources for oil imports away from the Middle East oil producing Countries
ii.India made a strategy to expand its oil source India's strategy for Diversification (Importing crude oil from non-OPEC countries) and the term contract is also under the part of the strategy.
iii.During the meeting both delegations had a talk about preparing a road-map for Indian investments in the Eastern Cluster projects of Russia especially in Arctic region, also they reviewed energy co-operations and strengthening hydrocarbons engagements.
About Indian Oil Corporation Limited (IOCL):
Headquarters- New Delhi, Mumbai (Registered Office)
Founded- 1959
Chairman- Sanjiv Singh.
About Rosneft:
Headquarters- Moscow, Russia
Founded- 1993
Chairman- Gerhard Schroder
About Russia:
Capital- Moscow
Currency- Russian Ruble
President- Vladimir Putin.
Soil health card cuts fertiliser use by 10%: NPC study
On February 5, 2020, According to a study conducted by the National Productivity Council (NPC),a national level organization to promote productivity culture in India, the impact of Soil Health Card recommendations has led to a decrement of 8 – 10 % in use of chemical fertilizers as well as increased the productivity by 5 – 6%.
Key Points:
Soil Health Card scheme:
It was launched by the Prime Minister (PM) Narendra Modi Government during the financial year-FY 2014-15 to deal with the decline of soil nutrients.
The Union Minister of Agriculture and Farmers Welfare, Shri Narendra Singh Tomar, the Ministry is issuing the Soil Health Cards, where totally, over 22 crore Soil Health Cards have been distributed to farmers till date.
Soil labs in villages: In order to set up soil health laboratories under the scheme, the central Government has approved 429 stationary labs, 102 new mobile labs, 8,752 mini labs, and 1,562 village-level laboratories, besides strengthening 800 existing labs….Click here to Read More
Defence Minister Rajnath Singh announced to create 10 more Defence Attache posts
On February 03, 2020 the Union Minister of Defence (MoD) Shri Rajnath Singh has announced to create 10 more defence attaches (DA) posts to 10 different countries. This has been done to strengthen India's defence diplomacy. The govt has announced a new scheme to promote defence exports through these DAs. Funds have been allocated to promote exports to 34 countries.
Key Points:
i.Liaison officers office: New offices have been opened by the defence Public Sector Units (PSU) for liaison officers in different countries like Vietnam, Singapore, Myanmar and Oman.
ii.Export promotion cell: An Export Promotion and Investor Cell has been set up under the Department of Defence Production to access and manage defence exports.
About Ministry of Defence(MoD):
Founded- 15 August 1947.
Headquarters- New Delhi.
Preceding Ministry- Department of Defence (1938–47).
Union minister- Shri Rajnath Singh.
Minister of State(MoS)- Shri Shripad Yesso Naik.
MoFPI sanctioned 39 Mega Food Parks & 298 Integrated Cold Chain Projects under PMKSY
On February 04, 2020 The Ministry of Food Processing Industries (MoFPI) has sanctioned 39 Mega Food Parks and 298 Integrated Cold Chain Projects in India inorder to fill the gaps across value chain and also to establish Cold Chain Grid. The foodparks and the cold chain projects have been sanctioned under Pradhan Mantri Kisan Sampada Yojana (PMKSY).
Key Points:
i.PMKSY schemes: PMKSY comprises schemes such as Integrated Cold Chain and Value Addition Infrastructure; Mega Food Park; Backward & Forward Linkages creation; Creation/ Expansion of Food Processing and Preservation Capacities; Agro Processing Clusters and Operation Greens.
ii.Schemes aim: The aim of the scheme is to prevent post-harvest losses of horticulture and non-horticulture produce through creation of cold storages/ primary processing/ and transportation facilities across the country.
iii.Among the Indian states Maharashtra has been sanctioned with highest number of food parks and chain projects with a total count of 67.
About Pradhan Mantri Kisan Sampada Yojana (PMKSY):
Launch- 2017.
Fact1- The scheme was initially named as Sampada and was approved in the cabinet. It was then renamed as PMKSY. Sampada stands for "Scheme for Agro-Marine Processing and Development of Agro-Processing Clusters".
Fact2- The scheme aims to enhance agriculture, modernize processing and decrease agri waste.
Around 38 Cr bank accounts opened under PMJDY till January 2020 : Finance ministry
On February 4, 2020, According to the Minister of State for Finance and Corporate Affairs, Anurag Singh Thakur, bank accounts opened under the Pradhan Mantri Jan Dhan Yojana (PMJDY) have registered around 38 crore till January 2020.
Key Points:
i.Around  31 crore accounts are operative out of total 38 crore accounts & the number of these accounts has increased every year since the launch of the scheme.
About PMJDY:
With a view to increase banking penetration, promote financial inclusion, PMJDY was launched by Prime Minister Narendra Modi on 28 August 2014 to ensure affordable access to services including Bank accounts, remittance, credit, insurance and pension to weaker sections and low-income groups.
PMJDY accounts have "No minimum balance" requirement. It offers an overdraft (OD) limit of Rs 10,000 & free accident insurance cover of  Rs 2 lakh.
About Ministry of Finance:
Founded– October 29, 1946
Headquarters– New Delhi
Union Minister– Nirmala Sitharaman
SAI and Hockey India Launch 7 High Performance Hockey Centres Across the Country 
On February 6,2020 Sports Authority of India (SAI) and Hockey India announced the establishment of the High Performance Centers in 7 places across the country, for the young hockey players (14 to 24 years of age) to participate in 2024 and 2028 Olympic games.
Khelo India Scheme:
The 7 High Performance Hockey centres will be set up under the Khelo India scheme & will have expert professional training, utilization of sports science & education for the youngsters.
7 High Performance Hockey Centers:
i.SAI Centre, Bengaluru, Karnataka (South Zone).
ii.Major Dhyan Chand National Stadium, New Delhi (North Zone).
iii.SAI Sundergarh, Odisha(East Zone).
iv.SAI UDMCC(Udhav Das Mehta Central Regional Center), Bhopal, Madhya Pradesh (Central Zone).
v.SAI NS NEC (Netaji Subhas North-East Regional Centre), Takyal, Imphal, Manipur (North-East Zone).
vi.Balewadi Sports Complex, Pune, Maharashtra (West Zone).
vii.SAI Centre, Ranchi and Gomke Jaipal Singh Astroturf Hockey Stadium (East Zone II).
Key Points:
i.The National Hockey Academy at Dhyan Chand National Stadium, New Delhi, SAI Sundergarh, Odisha, SAI UDMCC, Bhopal and SAI Bengaluru, Karnataka will be active within next 3 months.
ii.The existing SAI Centres and Hockey Academies around India will serve as feeder centres to these new High Performance Hockey Centres which holds 72 men and 72 women hockey players at each location.
iii.The SAI Centre Bengaluru will remain as the main site for the senior and junior national teams.
About Sports Authority of India (SAI):
Formed- 1984.
Headquarters- New Delhi, India.
INTERNATIONAL AFFAIRS
India slips to 40th rank on GIPC's 8th International Intellectual Property (IP) Index for 2020, US tops
The U.S.(United States) Chamber of Commerce's Global Innovation Policy Center (GIPC) has released the 8th edition of International Intellectual Property (IP) Index for 2020 namely 'Art of the possible' which was authored by Meir Pugatch and David Torstensson. This report was conducted by Pugatch Consilum, a consultancy that provides evidence-based research, analysis, and intelligence on the fastest growing sectors of the economy. The 2020 index mapped the IP ecosystem in 53 global economies which included three new economies-Greece, Dominican Republic, and Kuwait, on the basis of 50 unique indicators.
Position of India in GIPC's IP Index:
i.In 2020 GIPC's IP Index, India's position has downgraded to 40th rank in comparison to 36th position out of 50 countries in 2019. The index has been topped by the United States (US) followed by UK (United Kingdom), Sweden, France and Germany.
ii.Among Asia, India is ranked 4th  which is topped by Australia and followed by Brunei (2nd) and China (3rd).
iii.Among Lower-middle-income economies, India is at 2nd position which is topped by Egypt…..Click here to Read More
Prince Charles unveils children's protection fund for India & Katy Perry as new Ambassador
On February 5,2020 Britain's Prince Charles unveiled a new Children's protection fund for India as part of British Asian Trust and announced Katheryn Elizabeth Hudson (Katy Perry), American singer as the new ambassador for the British Asian Trust Children's Protection Fund for India during a function at Banqueting House in London, England.
Key Points:
i.The British Asian Trust Children's Protection Fund will protect the child from child labour, child sexual abuse, anti-trafficking fund in South Asia.
ii.The British Asian Trust was working with business, government and civil society, to remove child labour from supply chains and promote child labour free products in markets as part of the Child Labour Free Jaipur Initiative.
iii.The partnership between the Freedom Fund and the Children's Investment Fund Foundation, results first conviction to life sentence for a child trafficker in Jaipur & achieved in 2019.
iv.The British Asian Trust had a positive impact on the lives of 4.8 million people in India, Srilanka, Pakistan and Bangladesh, since its launch.
v.The British Asian Trust was chaired by Indian-origin businessman Manoj Badale.
About British Asian Trust:
Founded- 2007.
Founder- Prince Charles.
G7 to work with WHO, EU, China to tackle nCoV; Hong Kong reported 1st Coronavirus death
On February 04, 2020 the G7(Group of 7) countries has announced to work with the World Health Organisation(WHO), the European Union (EU) and People's Republic of China, inorder to tackle the recent outbreak of Novel Coronavirus(nCoV). Meanwhile Hong Kong has reported the 1st nCoV death. Hong Kong was the 2nd place outside mainland China to report the death of a coronavirus patient.
Key Points:
i.G7 works to tackle nCoV: Approach to travel regulations and precautions will be coordinated and research on virus will be done.
ii.Hospital built by China: China has newly built 1000 bed hospital in its Hubei province and has started admitting patients.The hospital is managed by Chinese Army medical team. Hubei was the 1st place where the nCoV outbreak started first.
iii.nCoV: WHO defines coronavirus as a large family of viruses that cause illness ranging from the common cold to more severe diseases.
About G7:
Fact- G7 is an international intergovernmental economic organization consisting of the 7 largest IMF(International Monetary Fund) advanced economies in the world
Founded- 1975.
Members countries- 7 (Canada, France, Germany, Italy, Japan, the United Kingdom(UK) and the United States(US))
BANKING & FINANCE
Overview of 6th Bi-monthly monetary policy 2020 released by RBI
On February 6, 2020, The Reserve Bank of India (RBI) announced its 6th Bi-Monthly Monetary Policy Rates for 2020-21 in Mumbai , Maharashtra. The three-day (February 4-6,2020) policy review meeting by the 6 members of Monetary Policy Committee (MPC) was headed by RBI Governor Shaktikanta Das with the members Dr. Chetan Ghate, Dr. Pami Dua, Dr. Ravindra H. Dholakia, Dr. Janak Raj, Dr. Michael Debabrata Patra.
The next meeting of the MPC is scheduled during March 31, April 1 and 3, 2020.
Current rates:
[su_table]
Policy Rates under Liquidity Adjustment Facility (LAF)
Repo Rate
5.15%
Reverse Repo Rate
4.90%
Marginal standing facility (MSF) Rate
5.40%
Bank Rate
5.40%
Reserve Ratios
Cash reserve Ratio (CRR)
4%
Statutory Liquidity Ratio (SLR)
18.25%
GDP Prediction
GDP for 2020-21
6 % (from 5 %)
CPI Inflation
H1:2020-21
5.4-5.0 %
[/su_table]
Highlights:
RBI estimates GDP growth rate estimated to be 6% in FY21
RBI revises CPI inflation target to 5% for Q4 of current fiscal
RBI extends one-time restructuring Scheme for MSME advance to Dec 31, 2020.
Loans to medium enterprises to be linked to external benchmark starting April1, 2020
RBI announces new liquidity management framework & incentives for loans to home, auto and MSME sector.
RBI to create digital payments index (DPI)
Repos worth Rs 1 lakh cr to help better monetary transmission: RBI
RBI proposes Self-Regulatory Organization for digital payment system.
Check truncation system (CTS) will work across the country from Sept 2020….Click here to Read More
ECONOMY & BUSINESS
Unemployment rate in India was 6.1% in 2017-18 as per new PLFS
As per the new Periodic Labour Force Survey (PLFS) being conducted by the Ministry of Statistics and Programme Implementation (MosPI), the labour force participation is 36.9 % and the rate of unemployment for 2017-18 is 6.1%. The government is conducting a new PLFS with new parameters and bigger sample size, and its results cannot be compared with previous surveys. It's an attempt to provide authentic data.
About MoSPI:
Founded– 15 October 1999
Minister of State(MoS)– Rao Inderjit Singh
AWARDS & RECOGNITIONS        
Rishabh Pant  appointed as brand ambassador of JSW Steel 
On February 05, 2020 steel producer of India, JSW steel has appointed Indian cricketer Rishabh Rajendra Pant as its brand ambassador. His contract term will be for a period of 3 years and will promote JSW steel products such as SW Colouron+ color coated sheets & JSW Neosteel TMT bars etc.
About JSW Steel:
Parent organization- JSW Group
Founded- 1982.
Headquarters- Mumbai,Maharashtra.
Founder- Sajjan Jindal.
Uddhav Thackeray presents lifetime achievement award to veteran journalist Raikar
On February 5,2020 Maharashtra Chief Minister (CM) Uddhav Bal Thackeray presented an award to senior journalist Dinkar Keshav Raikar for his contribution to journalism at Mumbai, Maharashtra.
Raikar was given the lifetime achievement award instituted by the Mantralaya & Vidhimandal Vartahar Sangh.
Key Points:
i.Raikar is a consulting editor of Lokmat Group and completed 50 years in journalism.
ii.Other winners of the best journalist award for 2019 under different categories are Janhavi Patel (Tarun Bharat, Belgaum), Rahul kulkarni (ABP Ananda Bazar Patrika, Majha) and Sanjay Bapat (Loksatta).
Kohli most-valuable celebrity 3rd time in a row; Akshay, SRK in top 5 in Duff & Phelps' celebrity report
On February 6,2020 Duff & Phelps published the celebrity brand evaluation report for 2019. Indian Captain Virat Kohli has retained the top position for the third consecutive time. Kohli's brand value has gone up to $237.5 million in 2019 with a jump of 39%.
Key Points:
i.Bollywood Actor Akshay Kumar becomes the 2nd position with a brand value of $104.5 million.
ii.Bollywood couple, Ranveer Singh and Deepika Padukone became the 3rd position with a brand value of $93.5 million each.
iii.Padukone has also retained the most valuable female celebrity status for the 2nd consecutive year.
iv.Apart from the celebrities, Ayushmann Khurrana (rank 10), Tiger Shroff (rank 17) and Rohit Sharma (rank 20) with a cumulative brand value of $87.5 million.
v.The top 20 celebrity brands has crossed $1 billion mark and the top 10 alone contributing about 75% of the total value.
vi.Duff & Phelps' partnered with Meltwater for the study, social media statistics and analysis of the report.
[su_table]
Celebrity-Top 3

                         2019  
Brand Rank 
Brand value (US$ Million)
Virat Kohli
1
237.5
Akshay Kumar
2
104.5
Deepika Padukone
3
93.5
Ranveer Singh
3
93.5
[/su_table]
About Duff & Phelps Corporation:
Founded- 1932.
Headquarters- New York, United States (US).
President- Jacob Silverman.
Chief Executive Officer (CEO)- Noah Gottdiener.
Managing Director- Aviral Jain.
APPOINTMENTS & RESIGNATIONS       
WB chief economist Pinelopi announced resignation
On February 06, 2020 American Greek economist and Chief Economist of the World Bank(WB) Pinelopi Koujianou Goldberg (57-years) announced her resignation. She will step down from her post on March 1, 2020 and will be teaching at Yale University in Connecticut, United States(US). WB research director Aart Kraay will be the interim WB chief economist until the appointment of a new permanent chief economist.
Key Points:
i.Previous work: Pinelopi took over as the chief economist of WB succeeding Paul Romer at the end of April 2018.she has also served as the 1st editor in chief of the American Economic Review. Prior to joining the WB, she taught economics at Yale University.
ii.Goldberg's best known work includes the publishing of World Development Report 2020: Trading for Development in the Age of Global Value Chains which is the multilateral institution's 1st trade-focused development report since 1980s.
About World Bank(WB):
Headquarters- Washington, D.C., United States(US).
Founded- 1944.
Motto- Working for a World Free of Poverty.
President- David Robert Malpass.
Managing Director(MD) and Chief Financial Officer(CFO)- Anshula Kant.
Jeff Weiner becomes Executive Chairman of LinkedIn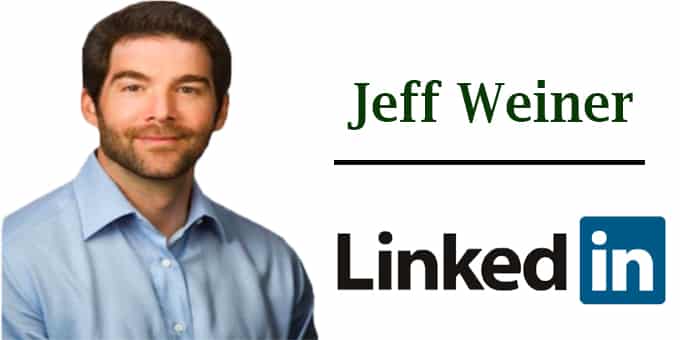 On February 5,2020 Jeff Weiner became the Executive Chairman (EC) of Linkedin. He was the CEO (Chief Executive Officer) of Linkedin for the past 11 years. Linkedin is the professional networking company owned by Microsoft.
Ryan Roslansky, senior Vice President (VP) of Linkedin will become the CEO of the company as of June 1. He is the successor of Jeff Weiner.
Tom Cohan, current Vice President of Marketing Solutions will replace Roslanky.
Key Points:
i.Jeff Weiner joined Linkedin as CEO in 2008 & led it through initial public offering of stock in 2011.
ii.Roslanky has been at Linkedin for more than 10 years. He will report to Microsoft CEO Satya Nadella to join Microsoft's senior leadership team.
iii.Linkedin has about 645 million members.
iv.Microsoft bought Linkedin for USD (United States Dollar) 26 billion in 2016.
About LinkedIn:
Founded- December 28, 2002.
Headquarters- California, US (United States).
Founders- Reid Garrett Hoffman, Allen Blue, Konstantin Guericke, Eric Ly, Jean-Luc Vaillant.
 ACQUISITIONS & MERGERS       
Cognizant Tech Acquires EI Technologies and Code Zero Consulting Companies
On February 05,2020, Cognizant technology solutions corporation has made two strategic acquisitions EI technologies, a Paris-based digital technology consulting company and Code Zero, Georgia-based consultancy for cloud-based CPQ (Configure-Price-Quote) & Billing Solutions for the development of global salesforce practice before its fourth Quarter Earnings.
Key points:
i.Through the acquisition of EI technologies cognizant would add approximately 345 employees in France and also expanding its client resources in Europe and it also develops the salesforce expertise and capabilities of cloud management.
ii.Code zero company provides cloud-based configure-price-quote and billing solutions and will increase the strategic relationship with salesforce and also improves the domain expertise for cognizant clients.
About Code Zero Consultancy:
Headquarters- Atlanta, Georgia city in U.S
Founded- 2016
Managing Director- Bill Plummer
About EI-Technologies:
Headquarters- Paris, France
Founded- 2006 as EI-Capital
Chairman- Bechara Raad
About Cognizant technology solutions corporation:
Headquarters- Teaneck, New Jersey, U.S.A
Founded- 1994
Chief Executive Officer- Brain Humphries.
 SCIENCE & TECHNOLOGY
Karanj:Navy to get third Scorpene submarine in December 2020
On February 6,2020 Nicolas de La Villemarque, Vice President (VP) of India, Asia & Pacific of Naval Group reported that the 3rd Scorpene submarine, Karanj, will be delivered to the Indian Navy by Dec 2020 and all 6 sub-marine deliveries would be completed by 2022.
Key Points:
i.The Scorpene submarine is to be equipped with the AIP (Air Independent Propulsion) system from 2023.
ii.AIP:Air Independent Propulsion Systems that allows non-nuclear submarines to operate without access to atmospheric oxygen. It replaces the diesel-electric propulsion system of non-nuclear vessels.
iii.AIP Module is currently under deployment by DRDO (Defense Research & Development Organization)
iv.Karanj was launched into water in January 2018 and is currently in advanced stages of sea trials. The first scorpene,Kulvari, was commissioned in 2018 and the second Scorpene Khanderi was inducted in September 2019.
v.The Scorpene Submarines were manufactured by MDL (Mazagon Dock Shipbuilders Limited) with the technology assistance from the Naval Group under a $3.75 billion deal signed in October 2005.
OBITUARY
Famous Hollywood Actor Kirk Douglas Passes Away at 103
On February 05,2020, Issur Danielovitch Demsky named Kirk Douglas was born on December 9, 1916 in Amsterdam, New York, U.S. Kirk was an American actor, producer, director, and author passed away at 103 announced by his son Michael Douglas as a statement to People Magazine.
Key points:
i.Kirk made his film debut in The Strange Love of Martha in 1946. He acted more than 90 movies across his seven decades in Cinema, the movies like "Spartacus in 1950s and The Vikings in 1960s" made him a biggest box-office star.
ii.Awards: Douglas was honored with lifetime achievement award in the 1996 (68th Oscars) Academy Awards for being creative and moral force in the movie industry for 50 years.
IMPORTANT DAYS
International Day of Zero Tolerance to Female Genital Mutilation 2020 was observed on Feb 6
On February 6,2020 International Day of Zero Tolerance to Female Genital Mutilation (FGM) was observed. It was observed since 2003, as part of the UN's efforts to eradicate Female Genital Mutilation. The day spreads the awareness about FGM which is a violation of the human rights of girls and women.
Theme: "Unleashing Youth Power: One decade of accelerating actions for zero female genital mutilation". 
The theme focus on mobilizing youth to eradicate harmful practices against women including FGM and to end FGM by 2030.
Key Points:
i.A special campaign titled 'A Piece of Me' was organized by the UNFPA (United Nations Fund for Population Activities) to celebrate the three survivors of FGM to eradicate Female Genital Mutilation.
ii.About FGM: FGM is the practice of partial or total removal of external female genitalia or other injuries to female genital organs  for non-medical reasons.
iii.The practice is performed mainly in North-Eastern, Eastern and Western parts of Africa.
iv.UNFPA and UNICEF (United Nations International Children's Emergency Fund) jointly led the largest global programme for eradication of Female Genital Mutilation since 2008.
AC GAZE
Rakhi Halder bags gold at 35th Senior Women's National Weightlifting Championships
Rakhi Halder of Bengal has bagged gold in the 64kg category of the 35th edition of  Senior Women's National Weightlifting Championships in Kolkata, ranked 19th in the Olympic qualifiers list, who had clinched the gold with a total lift of 214-kg at the Commonwealth Championship in June 2019.
Current Affairs Headlines: 6 February 2020 
PM Modi announced 15-member trust named 'Sri Ram Janma Bhoomi Tirtha Kshetra trust' for Ayodhya temple
Overview of Cabinet approvals on February 5, 2020
Union cabinet approves relaxation of rules to Alliance Air in operating flights between India & Sri Lanka
Only 7 in 100 anganwadi beneficiaries are in urban areas
India signs 1st ever term contract with Russia for Importing Russian Crude Oil
Soil health card cuts fertiliser use by 10%: NPC study
Defence Minister Rajnath Singh announced to create 10 more Defence Attache posts
MoFPI sanctioned 39 Mega Food Parks & 298 Integrated Cold Chain Projects under PMKSY
Around 38 Cr bank accounts opened under PMJDY till January 2020 : Finance ministry
SAI and Hockey India Launch 7 High Performance Hockey Centres Across the Country
India slips to 40th rank on GIPC's 8th International Intellectual Property (IP) Index for 2020, US tops
Prince Charles unveils children's protection fund for India & Katy Perry as new Ambassador
G7 to work with WHO, EU, China to tackle nCoV; Hong Kong reported 1st Coronavirus death
Overview of 6th Bi-monthly monetary policy 2020 released by RBI
Unemployment rate in India was 6.1% in 2017-18 as per new PLFS
Rishabh Pant  appointed as brand ambassador of JSW Steel
Uddhav Thackeray presents lifetime achievement award to veteran journalist Raikar
Kohli most-valuable celebrity 3rd time in a row; Akshay, SRK in top 5 in Duff & Phelps' celebrity report
WB chief economist Pinelopi announced resignation
Jeff Weiner becomes Executive Chairman of LinkedIn
Cognizant Tech Acquires EI Technologies and Code Zero Consulting Companies
Navy to get third Scorpene submarine in December 2020
Famous Hollywood Actor Kirk Douglas Passes Away at 103
International Day of Zero Tolerance to Female Genital Mutilation 2020 was observed on Feb 6
Rakhi Halder bags gold at 35th Senior Women's National Weightlifting Championships
[su_button url="https://affairscloud.com/current-affairs/february-2020/" target="self" style="default" background="#2D89EF" color="#FFFFFF" size="5″ wide="no" center="no" radius="auto" icon="" icon_color="#FFFFFF" text_shadow="none" desc="" download="" onclick="" rel="" title="" id="" class=""]Click Here to Read Current Affairs February 2020[/su_button]
AffairsCloud Ebook - Support Us to Grow