We are here for you to provide the important Recent and Latest Current Affairs 11 December 2019, which have unique updates of Latest Current Affairs 2019 events from all newspapers such as The Hindu, The Economic Times, PIB, Times of India, PTI, Indian Express, Business Standard and all Government official websites.
Our Current Affairs December 2019 events will help you to get more marks in Banking, Insurance, SSC, Railways, UPSC, CLAT and all State Government Exams. Also try our Latest Current Affairs Quiz and Monthly Current Affairs PDF which will be a pedestrian to crack your exams.
Click here for Current Affairs December 10 2019
INDIAN AFFAIRS
1st Pashu Kisan Credit Cards of India, distributed in Bhiwani, Haryana
On December 7, 2019 the 1st Pashu Kisan credit cards (Animal husbandry Credit Card) in India were distributed to 101 animal farmers in Bhiwani district of Haryana. These credit cards were launched to promote animal husbandry and agribusiness. The haryana govt has also set a target to issue 10 lakh Pashu Kisan Credit cards by March 2021.
The scheme features are as follows:
Under the Scheme, banks will provide Rs 40,783 for a cow and Rs 60,249 for a buffalo.
The credit amount for goat and sheep each will be Rs 4,063.
In the case of a pig, the credit amount will be Rs 16,337 per pig.
 For Hens,the credit amount will be Rs 720 per layer and Rs 161 per broiler hen…Click here to Read More
7th India Skills Report 2020: Maharashtra has most employable talent, followed by TN & UP
On December 10, 2019 the 7th edition of the India Skills Report 2020 for the year 2019-20 was launched. As per the report about 46.21% students were found employable or ready to take up jobs in 2019, compared with 33% in 2014, and 47.38% in 2018.
Report collaboration: The India Skills Report, is a joint initiative of Wheebox (global talent-assessment company), PeopleStrong and Confederation of Indian Industry (CII) in collaboration with UNDP (United Nations Development Programme), AICTE (All India Council for Technical Education) and AIU (Association of Indian Universities). The report in detail are as follows:
Report:
i.Top ranked states in employability: Maharashtra emerged as the top-ranked state in terms of employability. It was followed by Tamil Nadu and Uttar Pradesh(UP) in the second and third rank respectively. Availability of employable talent has also improved over the past six years….Click here to Read More
Loans sanctioned under Pradhan Mantri Mudra Yojana crossed Rs 10-lakh cr value
On December 9, 2019 an amount of Rs. 10.24 lakh crore have been disbursed under the Pradhan Mantri MUDRA Yojana(PMMY) as on November 1, 2019 as per the ministry of Labour and Employment. The loans under PMMY were sanctioned to 20.84 crore account holders.
PMMY: 
PMMY was launched by the Prime Minister of India Shri Narendra Modi on April 8, 2015.
The scheme provides loan upto 10 lakh to the non-corporate, non-farm small/micro enterprises.
The loans provided under PMMY are classified as MUDRA loans.
Under the aegis of PMMY, MUDRA has created three products namely 'Shishu', 'Kishore' and 'Tarun'….Click here to Read More
Switzerland to be the partner country for 17th edition of BioAsia 2020 hosted by Hyderabad, Telangana
Switzerland will be the country partner at the 17th edition of BioAsia2020 scheduled to be held from February 17-19, 2020 with the theme "Today For Tomorrow" in Hyderabad, Telangana.This information was provided by Jayesh Ranjan, Telangana Principal Secretary of Industries and Commerce and Information Technology(IT) at a press conference in Hyderabad on December 11, 2019.
Key Points:
i.In the year 2018 , India was Switzerland's 8th largest trading partner with a total bilateral trade of $19.7 billion.
ii.Switzerland is making innovations in the world of medical healthcare and that many pharmaceutical companies have emerged as the center of Switzerland.while the city of Hyderabad has become a hub in the field of health tech and will be introduced to the Switzerland Health Tech Ecosystem through the Bio Asia Summit.
About Switzerland:
Administrative capital– Bern
Currency– Swiss franc
Ayushman Bharat scheme: 65 lakh patients availed treatment worth Rs 9,549 crore 
On December 10, 2019 the health ministry announced that over 65 lakh patients were treated under the Centre's flagship Ayushman Bharat Pradhan Mantri Jan Arogya Yojana (AB-PMJAY) ever since its launch till December 5, 2019. The treatment costs were worth Rs. 9,549 crore.
Key Points:
i.Out of the total 65,45,733 patients, treatment amounting to Rs 6,133 crore was provided to 35,34,695 patients through private hospitals.
ii.It is also to be noted that AYUSH (Ayurveda, Yoga & Naturopathy, Unani, Siddha, Sowa Rigpa and Homoeopathy) treatment packages will not be covered in the scheme…Click here to Read More
Defence ministry organises webinars in the run up to 11th DefExpo 2020
The Ministry of Defence (MoD) is organizing a series of web seminars (webinars) from December 10, 2019 in the run up to (the period of time just before an important event) DefExpo 2020.  The 11th edition of the biennial flagship event DefExpo 2020 will be held in Lucknow, Uttar Pradesh(UP) from February 05-08, 2020.
Focus: The webinars (web seminars) will focus on topics related to defence, aerospace and security industry, academia and student fraternity.
Key Points:
i.The details of the webinars, schedule,brief on the topics and the link for participation for each session is available on the DefExpo 2020 website (www.defexpo.gov.in).
ii.Webinar conductors: The seminars will be conducted by the Secretary of the Department of Defence(DoD) R&D (Research & Development)  and Defence Research and Development Organisation (DRDO) Chairman Dr G Satheesh Reddy; Shri Baba Kalyani, Founder & President of Synergia Foundation and other officials.
About DefEXpo 2020:
Fact1- DefExpo stands for Defence Expo.
DefExpo theme: The theme of the DefExpo 2020 is 'India – The Emerging Defence Manufacturing Hub' and 'Digital Transformation of Defence'.
ASI recognizes 138 monuments as 'Must-see monuments': Ministry of Culture
On December 9, 2019, As per the Minister of State (MoS) of Culture and Tourism, Shri Prahlad Singh Patel, Archaeological Survey of India (ASI),an Indian government agency attached to the Culture Ministry ,has identified 138 numbers of monuments as 'Must See' Monuments.
Key Points:
i.A total of 38 World Heritage Sites currently present in India. Out of this, ASI has protected 22 Cultural Sites including monuments/buildings and caves.
ii.The 'Must See' list of ASI features first-class Indian monuments and archaeological sites including those that feature on UNESCO's (United Nations Educational, Scientific and Cultural Organization)World Heritage List. Such monuments and sites showcase exceptionality in terms of art and architecture, planning and design.
About ASI:
Founder– Alexander Cunningham
Founded– 1871
Headquarters– New Delhi
It is the premier organization for archaeological excavations and researches, conservation of monuments, and protection of the cultural heritage of the nation.
Mongla & Chattogram declared as Ports of Call under "Coastal Shipping Agreement" between India & Bangladesh  
On December 5, 2019 the Ministry of Shipping (MoS) announced that Mongla and Chattogram (Both in Bangladesh) have been declared as Ports of Call under "Coastal Shipping Agreement" between India & Bangladesh.  A MoU (Memorandum of Understanding), agreement and Standard Operating Procedure (SOP) on the use of Chattogram Port & Mongla Ports for goods movement between India and Bangladesh has been signed between both the nations.
The Ports of Call in India are Kolkata (West Bengal), Haldia (West Bengal), Pandu, Karimganj (Assam), Silghat (Assam), Dhubri (Assam). Similarly, in Bangladesh, the Ports of Call are Narayanganj, Khulna, Mongla, Sirajganj, Ashuganj, and Pangaon. A Port of call is an intermediate stop for a ship on its scheduled journey for cargo operation.
Key Points:
i.The Port of Mongla is declared as Port of Call under PIWT&T (Protocol on Inland Water Transit and Trade ) and Chattogram port is not part of PIWT&T.
ii.Under the PIWT&T between India and Bangladesh, there are 6 existing Ports of Call in the two countries on Indo-Bangladesh Protocol (IBP) route.
iii.Chattogram is the other name of Chittagong port in Bangladesh.
About Ministry of Shipping(MoS):
Headquarters- New Delhi.
Minister of State(MoS) independent charge- Mansukh L. Mandaviya (also MoS forChemical & Fertilizers).
INTERNATIONAL AFFAIRS
United States shuts down World Trade Organisation appeal court
On December 9, 2019, The United States(US) decided to shut down the appeal court of WTO (World Trade Organisation) in response to WTOs decisions against the federal trade rules imposed by the US administration. WTO's appeal court acts as a trade dispute settlement body for its member countries.
Key Points:
i.Reason for shut down: The appeal court which consisted of 7-member body was then cut down to a 3-member body in 2018. Recently, the terms of two of the last three judges on the WTO's appellate body ended on December 10,2019.
Without the WTO's appellate body, the dispute settlement will return to pre-1995 GATT (General Agreement on Tariffs and Trade) status quo. As a result, the WTO's appeal court cannot function and will be unable to issue rulings….Click here to Read More
7 cities in India included in Euromonitor's list of 'Top 100 City Destinations of 2019', Delhi at 11th position & Hong Kong remain tops
On December 6, 2019, According to list of the 'Top 100 City Destinations' of 2019 released by the UK(United Kingdom)-based market research company Euromonitor International, 7 cities in India are included in the list including the capital Delhi (11th position due to the strong development in its tourism infrastructure, having a world class airport and is focusing on luxury, medical, sports and cultural tourism) .Other Indian cities in list includes, Mumbai (14th ), Agra(26th), Chennai (36th ), Pink City Jaipur (39th position), Kolkata (76th ) and Bengaluru (100th ).
i.Despite all the political turmoil, Hong Kong continues to hold the top position.
ii.Asian regions are most preferred for tourism in the world because 43 cities are in the top 100 cities of Asia….Click here to Read More
BANKING & FINANCE
Vakrangee join hands with Union Bank of India(UBI) for 20,000 Banking BC Points
On December 9, 2019, Vakrangee Finserve Limited, a wholly-owned subsidiary of Vakrangee Limited (VL) has partnered with Union Bank of India (UBI), one of the largest government-owned banks of India for 20,000 Banking Business Correspondent (BC) points for Nextgen Vakrangee Kendra.
Key Points:
i.A batch of 2,500 BC points will be allotted by UBI in which 70-80% of BC points would be in Tier 5 and 6 locations and which would include 5% of the outlets to be opened in aspirational districts and LWE (Left-wing extremism) areas.
ii.This tie-up will help Vakrangee to have Banking BC point services across the entire target of 25,000 NextGen Vakrangee Kendras for 2019.At present, it has  487 Nextgen Kendras in the 90 LWE Districts &1,040 Nextgen Kendras in the 164 Tribal Area Districts.
iii.This Nextgen Vakrangee Kendra provides a comprehensive range of products and services across banking, insurance, Insurance, Financial services, e-Commerce, e-Governance and Logistics.
iv.As per the RBI guidelines, the Banks need to open at least 25% of their banking outlets in a year in the unbanked area. These have to be open for at least 4 hours per day for 5 days in a week manned either by business correspondents (BC) or by bank officials.
About Business correspondents (BC):
They are retail agents who represent banks and are responsible for delivering banking services at locations other than a bank branch/ATM (Automated Teller Machine).
About Vakrangee:
Formation– 1990
MD & Group CEO- Mr. Anil Khanna
It has planned target to reach 3,00,000 Nextgen Vakrangee Kendras by 2024.
About Union Bank of India (UBI):
Founded– 11 November 1919
Headquarters– Mumbai, Maharashtra
MD & CEO– Shri Rajkiran Rai G.
Tagline– Good People to Bank with.
ECONOMY & BUSINESS
ADB slashes India's GDP growth forecast for FY20 to 5.1% from 6.5%
On December 11, 2019, Asian Development Bank (ADB),an international development finance institution has lowered India's GDP(Gross Domestic Product) growth forecast to 5.1% for the current financial year-FY 20(or 2019) due to consumption has been affected due to slowing employment growth and delayed harvesting.
In September 2019, ADB had projected India's economic growth rate to be 6.5 percent for 2019-20 and 7.2 % for FY 2020-21.
Key Points:
i.As per ADB, Due to favorable policies, the economic growth rate is expected to strengthen to 6.5 percent in the next financial year (FY 2020-21).
ii.On December 5, 2019 The RBI (Reserve Bank of India) also reduced GDP growth forecast for the current financial year –FY 20 (or 2019) to 5 % from the earlier estimate of 6.1 % due to weak domestic and external demand.
As per the Government figures, GDP growth in the July-September quarter was just 4.5%. This is the lowest in the last 6 years.
About ADB:
Motto– Fighting Poverty in Asia and the Pacific
Formation– 19 December 1966
Headquarters– Manila, Philippines
Membership– 68 countries
Dupont partners with Central govt initiative-"AGNIi" to support India's innovation ecosystem
On December 10, 2019, DuPont de Nemours,Inc (commonly known as DuPont), an American company with technology-based materials, ingredients and solutions has partnered with AGNIi (Accelerated Growth of New India's Innovations), an initiative of the office of the Principal Scientific Advisor to the Government of India(GoI), executed by Invest India (the national investment promotion and facilitation agency of India), to support the development of sustainable innovations and technologies across industries.
i.This tie-up will build up the implementation process, testing and scale-up of innovations for specialty products across industries like mobility, safety, electronics, water, health and nutrition….Click here to Read More
AWARDS & RECOGNITIONS   
Odisha wins 'World Habitat Award 2019' for OLHM- Jaga Mission
On 9th December 2019, Odisha won the 'World Habitat Award 2019' for Jaga Mission also called Odisha Liveable Habitat Mission (OLHM), a slum land project executed for the benefit of millions of urban-poor people living in slums. The award was given by the World Habitat, a UK (United Kingdom) based organization, in association with the United Nations (UN)-Habitat, which gives the award annually to recognize innovative housing projects around the world.
Key Points:
i.The Jaga is a society under Housing and Urban Development Department (HUDD), Government of Odisha. The OLHM-JAGA aims at transforming the slums into livable habitats and under which 52,682 urban poor families living in the slums have been granted land rights certificate. The mission works under the Odisha Land Rights to Slum Dwellers Act passed in September 2017.
About Odisha:
Capital- Bhubaneswar
Governor- Ganeshi Lal
Chief Minister (CM)- Naveen Patnaik…Click here to Read More
     APPOINTMENTS & RESIGNATION  
PUMA appoints men's football team captain, Padma Shri Sunil chhetri as its brand ambassador for 3 years
On December 10, 2019, PUMA, a German multinational company that designs and manufactures athletic and casual footwear has appointed Indian men's football team captain Sunil Chhetri as its brand ambassador for 3 years.
Key Points:
i.Chhetri now joins the list of France's Antoine Griezmann, Belgium's Romelu Lukaku, Uruguay's Luis Suarez and Argentina's Sergio Aguero with whom Puma has tied up.
ii.Bengaluru FC captain Chhetri is the highest international goalscorer in current football after Portugal's Cristiano Ronaldo.
iii.Chhetri, who scored the most goals for India, has been the best AIFF (All India Football Federation), footballer, six times. He has been honored with the Arjuna Award in 2011 and the Padma Shri in 2019.
iv.Sportspersons like Virat Kohli, MC Mary Kom and Dutee Chand, and footballers like Gurpreet Singh Sandhu, Dheeraj Singh Moirangthe and Rahul Bheke were the past its brand ambassador for PUMA.
About PUMA:
Founder– Rudolf Dassler
Founded– 1948
CEO– Bjorn Gulden
Bollywood actor Salman Khan appointed as the brand ambassador of Pepsi
On December 11, 2019, Food and beverage company PepsiCo has appointed Bollywood actor Salman Khan (born as Abdul Rashid Salim Salman Khan) as brand ambassador for its flagship Pepsi brand of carbonated beverage in India.
Key Points:
i.The commercial will be launched in 2020 and will take up the "SWAG" themed campaign which was launched in the summer of 2019.
ii.Previously Salman Khan was the brand ambassador of Pepsico's rival company Coca-Cola's popular ThumsUp and also as the brand ambassador of Parle Agro-backed soft drink Appy Fizz. He also previously endorsed PepsiCo's Mountain Dew drink.
About Pepsico:
Founded- August 28, 1898.
Founder- Caleb Bradham.
Headquarters- New York, United States(US).
Chief Executive Officer(CEO)- Ramon Laguarta.
Indian Actor, Suniel Shetty becomes Brand ambassador of NADA
On 10th December 2019, Suniel Shetty, Bollywood actor has been appointed as the Brand Ambassador of National Anti-Doping Agency (NADA). The appointment took place in the presence of Kiren Rijiju, Minister of State (MoS) for Youth Affairs and Sports. He will be involved towards spreading the message to shun doping from sports. In 2019, more than than 150 athletes have failed dope tests. 
About National Anti-Doping Agency (NADA):
Formation- 24 November 2005
Headquarters- New Delhi, India
Purpose- Anti-Doping in Sports
Chairman- Kiren Rijiju
     SCIENCE & TECHNOLOGY
DHC-2 de Havilland Beaver: World's First fully electric commercial Seaplane takes test flight in Canada
On 11th December 2019, the World's first fully electric commercial aircraft namely DHC-2 de Havilland Beaver takes test flight in Vancouver, Canada. Manufactured by Harbour Air and Magnix, the six-passenger e-plane's first flight involved 750-horsepower (560 kW) magni500 propulsion system, and was piloted by Greg McDougall, founder and Chief Executive of Harbour Air.
Key Points:
i.Civil aviation is one of the fastest-growing sources of carbon emissions and the International Civil Aviation Organization (ICAO) has encouraged greater use of efficient Biofuel engines and lighter aircraft materials.
About Canada:
Capital- Ottawa
Prime Minister (PM)- Justin Trudeau
Currency- Canadian dollar
Dell Technologies partners with UNESCO MGIEP to improve educational quality
On 10th December, 2019, Dell technologies announced a partnership with UNESCO (United Nations Educational, Scientific and Cultural Organization) MGIEP (Mahatma Gandhi Institute of Education for Peace) to improve educational quality in classrooms by using ICT (Information and Communication Technology) tools and enabling teachers to adopt new technologies in classrooms as mentioned under Sustainable Development Goal 4 (SGD 4-Education) by the member-states of the United Nations (UN). The announcement regarding this was made during the Transforming Education Conference for Humanity (TECH 2019) held in Visakhapatnam, Andhra Pradesh.
Key Points:
i.The ICT tools have been developed by Dell Aarambh and FramerSpace platform. Aarambh is a Pan-India PC for Education initiative to intensify learning using the power of technology and was launched in 2016, and has trained more than 85,000 teachers across 4,530 schools in about 80 cities in India.
ii.FramerSpace is an artificial intelligence-based digital platform. Aarambh intends to provide teachers with a springboard in ICT while FramerSpace would help teachers with rich content creation abilities with analytical insight to provide quality education….Click here to Read More
Prahlad Patel, Minister of Culture and Tourism launches Indian Culture Web Portal
On 10th December 2019, Prahlad Singh Patel, Union Minister of State (MOS) for Culture and Tourism IC (Independent Charge) launched the Indian Culture Web Portal in New Delhi. The web portal was proposed by the Ministry of Culture and was developed by the Indian Institute of Technology (IIT), Bombay and the data was organized by Indira Gandhi National Open University (IGNOU). The portal is https://indianculture.gov.in/user/login.
Key Points:
i.The Indian Culture Web Portal is a part of Prime Minister, Narendra Modi's Digital India initiative. The main aim of the portal is to promote awareness among the citizens of India about the diverse heritage of the country. The content of the portal includes rare books, e-books, manuscripts, artefacts from museums, archives, Indian National Bibliography, anecdotes and detailed accounts of Indian UNESCO (United Nations Educational, Scientific and Cultural Organization) World Heritage Site, Musical Instruments of India and more. It is available in both English and Hindi.
ii.Arun Goel, Culture Secretary and Usha Sharma, Director General, Archaeological Survey (DG ASI) and other senior officials were also present on the occasion.
About Ministry of Culture:
Headquarters- Shastri Bhavan, New Delhi
Secretary Ministry of Culture- Arun Goel
Secretary Ministry of Tourism- Yogendra Tripathi
SPORTS
G S Lakshmi (51) becomes first woman Referee in Men's ODI match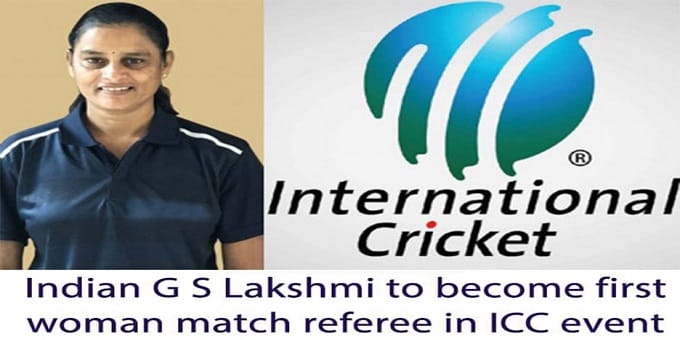 On 8th December 2019, Gandikota Sarva Lakshmi, 51, former Indian Cricketer became the first woman referee in the Men's ODI (One Day International) match after overseeing the opening match of the third series of the World Cup League 2 held in Sharjah Cricket Stadium, in the United Arab Emirates (UAE). The match is between the UAE and the United States of America (USA). Lakshmi was born in Rajahmundry, Andhra Pradesh. As of now, she has overseen three women's ODI matches, 16 men's T20 Internationals and seven women's T20 Internationals.
Key Points:
i.Lakshmi was appointed as the first woman in the ICC (International Cricket Council) International Panel of Match Referees in May 2019. She first presided over as a match referee in the domestic women's cricket matches held in 2008-2009.
About International Cricket Council (ICC):
Founded- 15 June 1909
Headquarters- Dubai, United Arab Emirates (UAE)
Chief Executive Officer (CEO)- Manu Sawhney
Highlights of 13th South Asian Games held in Kathmandu & Pokhara, Nepal
The 13th edition of the South Asian Games, officially known as XIII South Asian Games held in Kathmandu and Pokhara in Nepal. India topped the medal tally winning a total of 311 medals comprising 173 gold, 93 silver, and 45 bronze medals. India was followed by Nepal and sri Lanka in the second and third rank respectively. The highlights of the game are as follows:
Mascot:  Blackbuck (Krishnashar), is the official mascot for the 13th South Asian Games.
Participants: A total of 7 nations namely India, Bhutan, Bangladesh, Maldives, Nepal, Pakistan and Srilanka participated in the 27 games.
Medal record by India: India's 311 medals surpassed the medal count of 309 it obtained in the previous(12th) edition of the South Asian games held in Guwahati(Assam) and Shillong(Meghalaya) in 2016.

It is also to be noted that India has topped the medal tally of every South Asian Games since its inception in 1984….Click here to Read More
OBITUARY
Paul Volcker, former Chairman of the Federal Reserve of the US dies at 92
On 8th December 2019, Paul Adolph Volcker, former Chairman of the Federal Reserve of the United States (US) dies at 92 in New York. Volcker was diagnosed with prostate cancer in the year 2018, he was born in Cape May, New Jersey and was educated at Princeton, Harvard and the London School of Economics.
Key Points:
i.Volcker was the chairman of the Federal Reserve from 1979 to 1987 and was an undersecretary at the Treasury Department, to the President's Richard Nixon's administration. In 2009, he served as the financial advisor to President Barack Obama from 2009 to 2011, he published a biography called "Keeping at It: The Quest for Sound Money and Good Government," in the year 2018.
IMPORTANT DAYS
International Mountain Day (IMD) 2019 observed on December 11
On 11th December 2019, the International Mountain Day (IMD) is observed by the United Nations (UN). The theme of IMD 2019 is "Mountains Matter for Youth".  The day aims to conserve freshwater obtained from mountains which is also a part of Goal 15 of the SDGs (Sustainable Development Goals).
Key Points:
i.The day highlights the problems faced by rural youth like education and training, market access, employment opportunities, and good public service and how migration from the mountains leads to abandoned agriculture, land degradation and a loss of ancient cultural traditions.
ii.IMD was first celebrated in the year 2003. It originated from the document "Managing Fragile Ecosystems: Sustainable Mountain Development" (Chapter 13) adopted in 1922 as a part of an action plan Agenda 21 of the conference on Environment and Development.
UNICEF Day observed on December 11,2019
On December 11, 2019, UNICEF (United Nations Children's Fund) day was celebrated. UNICEF was created by the United Nations General Assembly(UNGA) on December 11, 1946, as the United Nations International Children's Emergency Fund to provide emergency food, nutrition, education to children, devastated due to World War II.
Key Points:
i.In 1950, UNICEF's mandate was extended and it widens its mission & became a permanent part of the United Nations System in 1953.
ii.UNICEF has since then reached out to millions of children whose lives are endangered by poverty, inequality, among others.
iii.Annual celebration of  Universal Children's Day (November 20) is part of the work carried out by UNICEF to promote international togetherness and awareness among children worldwide.
About UNICEF:
Headquarters– New York, United States
Executive Director– Henrietta H. Fore
[su_button url="https://affairscloud.com/current-affairs-2019/december/" target="self" style="default" background="#2D89EF" color="#FFFFFF" size="5″ wide="no" center="no" radius="auto" icon="" icon_color="#FFFFFF" text_shadow="none" desc="" download="" onclick="" rel="" title="" id="" class=""]Click Here to Read Current Affairs December 2019[/su_button]
AffairsCloud Ebook - Support Us to Grow