We are here for you to provide the important Recent and Latest Current Affairs October 16 2019, which have unique updates of Latest Current Affairs 2019 from all newspapers such as The Hindu, The Economic Times, PIB, Times of India, PTI, Indian Express, Business Standard and all Government official websites.
Our complete Current Affairs October 2019 PDF will help you to get more marks in Banking, Insurance, SSC, Railways, UPSC, CLAT and all State Government Exams. Also try our Latest Current Affairs Quiz and Current Affairs PDF which will be a pedestrian to crack your exams.
Useful Links:
Click here for Current Affairs October 15 2019
INDIAN AFFAIRS
India Ministerial Dialogue at 3rd India Energy Forum by CERAWeek held in New Delhi
The 3rd India Energy Forum by CERAWeek (Cambridge Energy Research Associates) was conducted in New Delhi from 13-15 October 2019. The Summit, served as a platform to examine the fundamental challenges and opportunities to provide sustainable, secure and affordable energy choices to the nation.
India investments: By 2023, India is likely to make 58-billion-dollar investment in the exploration and production sector and is also to invest 60 billion dollar by 2024 to expand the gas infrastructure.
Indian railways has set target to have 100% electrification done by 2023 and also plans to become "net zero" emitter of carbon by 2030.
The Indian government has planned to set up 450GW (GigaWatt) of renewable energy by 2030 and is also preparing to produce low-carbon energy.
Ethanol blend: The government aims to achieve 10% of the blending percentage of ethanol (ethyl alcohol) in petrol by 2022……………………..Click here to Read more
Dr. Harsh Vardhan launches Food Safety Mitra Scheme, Eat Right Smart Jacket & Eat Right Jhola in New Delhi
On October 16, 2019 (World Food Day), Union Minister for Health and Family Welfare Dr Harsh Vardhan launched Food Safety Mitra (FSM) Scheme, Eat Right Smart Jacket and Eat Right Jhola in New Delhi.
Key Points:
i. FSM Scheme: It is introduced by the Food Safety and Standards Authority of India (FSSAI). It engages motivated individuals with food safety ecosystem at ground level. A FSM is an individual professional certified by FSSAI who assists in compliances related to Food Safety and Standards (FSS) Act, Rules & Regulations with 3 avatars- Digital Mitra, Trainer Mitra and Hygiene Mitra. The assistance of the Network of Professionals of Food and Nutrition in India (NetPro.FAN) can also be sought. Its details can be accessed through the website https://fssai.gov.in/mitra/ .
ii. Eat Right Smart Jacket: It is embedded with an RFID (radio frequency identification devices) tag and QR (Quick Response) code and gives an identity to FSSAI staff to ensure transparent inspection. It is also linked to software to capture entry of inspection staff into premise for monitoring.
iii. Eat Right Jhola: It is a reusable, washable and biodegradable bag.
About Ministry of Health and Family Welfare:
♦ Formed: 1976
♦ Constituency of Dr Harsh Vardhan: Chandni Chowk, New Delhi
For the 1st time, India to host 5th edition of World Coffee Conference (WCC) & Expo 2020 in Bengaluru, Karnataka
For the 1st time, India to host 5th edition of World Coffee Conference (WCC)& Expo 2020 with the theme 'sustainably through consumption' in Bengaluru, Karnataka from September 7-12, 2020. The event will celebrate all things of coffee in an immersive experience with conferences and will make Indian coffee a brand that is recognised worldwide and formulate ways to make India a sustainable destination for coffee.
Key points:
i. Organizers: Organized by Coffee Board of India and the International Coffee Organization (ICO), the event  will be hosted by the Ministry of Commerce & Industry,Government of India (GoI).
ii. Participation: WCC 2020 will see participation of 78 member countries of International Coffee Organization (ICO) (of which India is one of the founding members), and over 1000 attendees, including coffee growers, exporters, private sectors and international agencies.
iii. Focus: The event will focus on economic, agriculture, environmental, social & cultural impact of Coffee & will address the issues that farmers across the world are battling with climate change, increasing cost of production and falling prices.
iv. India is the 5th largest export and producer in the coffee in the world.
About Bengaluru:
♦ It is the capital of India's southern Karnataka state.
♦ It is also the coffee capital of India and produces nearly 70% of India's coffee.
♦ International coffee day is observed annually on October 1.
Ayushman Bharat PM-JAY reached milestone of providing health coverage to 50 lakh people in India
As of October 15, 2019 over 50 lakh people have benefited from free of cost treatment under the Ayushmaan Bharat- Pradhan Mantri Jan Arogya Yojana(PM-JAY) which is the world's largest health care programme.
Top performing states of PM-JAY 
Gujarat, Tamil Nadu, Chhattisgarh, Kerala and Andhra Pradesh emerged as the top performers in providing free and tertiary healthcare treatment under PM-JAY. The treatments were worth nearly ₹7,901 crores across India.
Key points
i. Reports: Under the Ayushman Bharat scheme, 9 hospital admissions were made every minute in the nation and so far, half a crore hospital treatments were provided.
More than 60% of the amount was spent on tertiary care with emergence of Cardiology, Orthopaedics, Radiation Oncology, Cardio-thoracic and Vascular Surgery, and Urology as the top tertiary specialities.
So far 16,085 Hospitals were empaneled and over 10 Crore e-Cards were issued under the PM-JAY.
17,150 Health & Wellness Centers became operational across the country.
About Ayuhsman Bharat- Pm-JAY
♦ Launched- 23 September 2018.
♦ Chief Executive Officer (CEO)- Indu Bhushan.
♦ Deputy CEO- Dr. Dinesh Arora.
♦ Aim-  To provide easy access to medical facilities to over 10.74 Crore poor people in the country.
♦ Health coverage- coverage up to 5 lakh rupees per family per year for secondary and tertiary care hospitalization.
Indian Railways launched 09 'Sewa Service' trains with Delhi-Shamli passenger train; inaugurated by ministers of railway, petroleum and health in New Delhi
On October 15, 2019 the Indian Railways(IR) launched 09 'Sewa Service' Trains to connect the unconnected smaller towns around major cities. Sewa service trains were launched by the Minister of railways and commerce & industry, Shri Piyush Goyal along with Minister for Health and Family Welfare(MoHFW), science & technology and earth sciences, Dr. Harsh Vardhan and Minister of petroleum & natural gas and steel, Shri Dharmendra Pradhan and Minister of State(Mos) for Railways Shri Suresh Channabasappa Angadi from New Delhi by inaugurating Delhi-Shamli passenger train.
Key points
i. All these trains will run on "Hub and Spoke" model, thus making the passengers to use these trains to reach "hub" to avail onward journey.
ii. Recently the IR also launched a website and mobile app named 'Sahyatri' that would allow passengers to register complaints online.
Rashtriya Rifles of Indian army with Jammu University organized Sangam Youth Festival 2019 at Bhadarwah, J&K
In a bid to promote peace and prosperity in the Chenab Valley region, Rashtriya Rifles, a branch of the Indian Army in collaboration with Jammu University have jointly organized "Sangam 2019-20 Youth Festival" having 2019 theme 'Let's Build Our Nation' at the University's Bhaderwah campus, Doda district, Jammu & Kashmir(J&K).
Key points:
i. The 5-day event (October 11-15, 2019) was inaugurated by General Officer Commanding-in-Chief, Northern Command, Lt Gen Ranbir Singh & witnessed the participation of over 1,000 students and teachers from around 32 colleges.
ii. A total number of 35 events, including dance performances, outdoor and indoor activities, have been organised for the students with the aim to showcase their talents and skills.
iii. Jammu University won the coveted Sangam trophy, while the runners-up title was received by Government Degree College Doda, J&K.
About Indian Army:
♦ Motto: "Service Before Self"
♦ Founded: 1 April 189
♦ Headquarters: New Delhi
INTERNATIONAL AFFAIRS
India slipped to 102nd position in the Global Hunger Index 2019
On October 16, 2019, Global Hunger Index (GHI) 2019 jointly prepared by Irish aid agency Concern Worldwide and German organisation Welt Hunger Hilfe was released. India was ranked 102 out of 117 countries with the GHI score of 30.3, down from its 2018 position of 95. The level of hunger in India is termed as "serious" in the Index.
i. The 4 GHI indicators are undernourishment, child stunting, child wasting, and child mortality.
ii. The progress made by the countries is too slow to achieve the United Nations Sustainable Development Goal (UNSDG) 2– Zero Hunger by 2030…………………..Click here to Read more
India ranks 82nd in the 10th World Giving Index 2019, USA tops
On October 15, 2019, the 10th edition of World Giving Index (WGI) 2019 was released by Charities Aid Foundation (CAF). In the recently released report, India ranked at 82nd position among 128 countries that were surveyed were the United States of America(US) topped the list. The USA is followed by Myanmar, New Zealand and Australia in the second third and fourth place respectively.
Key points:
i. The rankings were based on three factors namely- helping a stranger, donating money and
volunteering time. New Zealand was the only country to be ranked at top 10 position in each of the key factor category. More than 2.5 billion people have helped strangers in the last decade.
ii. For the 10th edition the scores across the 10 years were averaged to give aggregate numbers
iii. Among Asian countries, Myanmar topped the list, ranked at 2nd position and is followed by Sri Lanka which is ranked 7th in the index.
iv. Report on India: 34% of Indians have helped a stranger over the past decade, where 24% donated money and 19% volunteered or donated their time.
v. The least scored country was China, ranked at 126th place in the lost
Ranks:

| | |
| --- | --- |
| Rank  | Top scoring country |
| 82 | India |
| 1 | USA |
| 2 | Myanmar |
| 3 | New Zealand |
| 4 | Australia |
| 126 | China |
About WGI:
♦ First data release-
September 2010.
♦ Data generation-
data used for the survey was done by American analytics company Gallup.
India handed over Mi-24V helicopter's second addition to Afghan Air forces
On October 15, 2019, Indian Ambassador to Afghanistan Vinay Kumar has officially handed over the second pair of Mi-24V helicopters to Afghanistan's acting defense minister Asadullah Khalid at a ceremony held at the military airport in Kabul, Afghanistan.
Key points:
i. These helicopters will replace the four helicopters that India gifted to Afghanistan in 2015-16 & will boost the effectiveness and efficiency of the Afghan Air Force (AAF) .
ii. Afghanistan Air Force is to receive 150 new MD 530F light combat helicopters by 2022, after which the Afghan National Security and Defense Forces will have about 180 helicopters.
iii. Afghan National Defense Security Forces (ANDSF) have made excellent efforts against cross-border terrorism and internal threats.
iv. Earlier in May 2019, India delivered the first two Mi-24Vs to Afghan forces.
Mi-24V :
These are close-air support helicopter gunships armed with a YakB(Yakushev-Borzov) four-barreled, 12.7mm, built-in, flexibly mounted machine gun, as well as rocket and grenade launchers.
About Afghanistan:
♦ Capital: Kabul
♦ Currency: Afghan afghani
♦ President: Ashraf Ghani
BANKING & FINANCE
RBI issues guidelines on 'on tap' authorisation on payment systems, stipulating minimum net worth
On October 15, 2019, With an aim to encourage innovation and competition, the Reserve Bank of India (RBI ) has issued guidelines on 'on tap' authorisation of payment systems. This includes minimum networth terms for various companies.
Key points:
i. RBI has decided to introduce the ever-open facility of application for license to operate Bharat Bill Payment Operating Unit (BBPOU), Trade Receivables Discounting System (TReDS) and White Label ATM (Automated Teller Machine).
ii. The units that want to provide or work for the platform for BBPOUs should have a net worth of Rs 100 crore and it should always be maintained. In case of TReDS, the minimum paid-up share capital should be Rs 25 crore. At the same time, net worth for interested units to come in the WLA (White Label ATMs ) segment has been kept at Rs 100 crore.
iii. 'On-tap' for payment system: An 'on-tap' facility would mean the RBI will accept applications and grant license for obtaining payment system license throughout the year.
About BBPS:
Bharat Bill Payment System (BBPS) is a Reserve Bank of India (RBI) conceptualised system driven by National Payments Corporation of India (NPCI). It is an integrated bill payment system in India offering interoperable and accessible bill payment service for repetitive bill payments, and currently covers five segments — direct-to-home (DTH), electricity, gas, telecom, and water bills.
About TReDS:
♦ It is an online bill discounting platform that helps cash-starved micro, small and medium enterprises (MSMEs) raise funds by selling their trade receivables to corporate.
♦ About WLA : ATMs set up, owned and operated by non-bank entities are called WLA.
About RBI:
♦ Headquarters: Mumbai, Maharashtra
♦ Formation: 1 April 1935
♦ Governor: Shaktikanta Das
♦ Deputy Governors: 4( BP Kanungo, N S Vishwanathan, and Mahesh Kumar Jain, 1 is yet to be appointed)
BUSINESS & ECONOMY
Poverty rate halves in India after 1990s: World Bank
On October 15, 2019, As per the World bank (WB), India has halved its poverty rate since the 1990s, the situation has improved significantly and has achieved economic growth rate of over 7 percent in the last 15 years.
i. Power generation: 230 million people are not well connected to the electricity grids. India will also have to increase power generation with low carbon emissions.
ii. Employment:  India's rapid economic growth will require an investment of $ 343 billion in infrastructure, estimated at 8.8 percent of GDP (Gross domestic product) by 2030.In addition to this, inclusiveness has to be increased for sustainable growth, especially to create more and better jobs……………Click here to Read more
IMF in its World Economic Outlook(WEO) revises India's GDP forecast to 6.1% from previous 7.3% 
On October 15, 2019, the International Monetary Fund (IMF) downgraded India's Gross Domestic Product(GDP) growth forecast to 6.1% for the year 2019 from its previous estimate of 7.3% as per the IMF's World Economic Outlook(WEO) report. IMF also projected India's growth forecast for 2020 at 7%.
Key points
i. Despite India's GDP being lowered for 2019, it still retained its rank as the world's fastest-growing major economy, tying with China, which also has the same 6.1% projected growth rate.
ii.Global growth: The global growth is projected at 3% for 2019 and 3.4% for 2020.
iii. The reason for the downgraded projection for India was due to weaknesses in the automobile sector, real estate and uncertainty in the health of Non-Banking Financial Companies(NBFC)
About IMF:
♦ Founded- 27 December 1945.
♦ Headquarters- Washington, D.C., United States(US).
♦ Managing Director (MD)- Kristalina Georgieva Bulgaria.
♦ Chief Economist- Gita Gopinath.
UNCTAD along with ESCAP released Asia-Pacific Trade and Investment Report 2019 
On October 14, 2019, the United Nations Conference on Trade and Development (UNCTAD) along with the Economic and Social Commission for Asia and the Pacific's (ESCAP) collaboration, released the Asia-Pacific Trade and Investment Report 2019 (APITR).The report is published biennially to provide information on the impacts of recent and emerging developments in trade and Foreign Direct Investment(FDI) on countries to achieve sustainable development. The theme of APITR 2019 is "Navigating Non-Tariff Measures (NTMs) towards Sustainable Development".
Report:
58% trade in Asia Pacific region were affected by NTMs.
Average cost: The cost of trade is raised by implementing NTM. The average cost of NTMs amount to 1.6% of Gross Domestic Product(GDP), which is around $1.4 trillion globally.
Only 10% of the Asia-Pacific countries have illegal unreported and unregulated(IUU) fishing etc.
About NTM:
NTMs are policy measures apart from ordinary customs tariffs and can also have an economic effect on international trade in goods, changing quantities traded, or prices or both.
About UNCTAD:
♦ Formation- 30 December 1964.
♦ Headquarters- Geneva, Switzerland.
♦ Secretary General-  Mukhisa Kituyi.
Mastercard in collaboration with MS Dhoni launched an initiative titled "Team Cashless India"
On October 15, 2019, A technology company in the global payments industry, Mastercard in collaboration with Indian cricketer Mahendra Singh Dhoni launched a nationwide initiative titled "Team Cashless India" to boost digital payments.
Key Points:
i. The campaign encourages all Indian citizens to nominate 1 or more merchants who currently do not accept digital payments at their firms/stores.
ii. Mastercard will work along with the Confederation of All India Traders (CAIT), acquirer banks and fintech companies to support nominated merchants to install digital payments acceptance infrastructure.
About Mastercard:
♦ Founded: 1966 (as Interbank Card Association); 1979 (as Mastercard)
♦ Headquarters: New York, US
♦ COO: Vikas Varma
APPOINTMENTS & RESIGNS
Mr J.P.S. Chawla takes charge as new Controller General of Accounts
On October 16, 2019, Mr Jitendra Pal Singh Chawla took over the responsibility as the Controller General of Accounts (CGA) succeeding Mr. Girraj Prasad Gupta. The 1985-batch Indian Civil Accounts Service (ICAS) Officer was appointed as CGA with effect from October 15, 2019 on regular basis but has been officiating as CGA with effect from September 1, 2019.
i. He has a vast career experience of 34 years. Prior to assuming the charge of CGA, he served as Principal Chief Controller of Accounts (Pr. CCA), Central Board of Indirect Taxes & Customs (CBIC).
About CGA:
♦ Parent organization: Ministry of Finance, Department of Expenditure
♦ CGA is the apex Accounting Authority of the Central Government and exercises the powers of the President under Article 150 of the constitution.
SCIENCE & TECHNOLOGY
Indian post launches "India Post Mobile Banking" app for mobile banking facility
On October 14, 2019, The Department of Post has launched a mobile banking application namely "India Post Mobile Banking" for its savings account holders to facilitate easier transactions.The facility has started from 15 October 2019 & will be available to all customers of core banking solutions (CBS) enabled post offices.
Key points:
i. Benefit:  It will make it easier to manage most of the small savings schemes of the post office like time deposit, Kisan Vikas Patra, National Savings Certificate etc.
ii. Mandate:  To access mobile banking for a post office savings account, the account holder has to fill the application form. If he/she has already completed KYC, then they have to submit fresh KYC(Know Your Customer) after submitting this form again.
iii. Features:  The details of account balance, Transaction history, Mini statement, etc can be seen through mobile banking service. Funds can be transferred from one post office savings account to another post office savings account & Funds can also be transferred from savings account to RD (recurring deposit )or PPF(Public Provident Fund) account.
About India post:
♦ Headquarters: New Delhi
♦ Founded: 1 April 1854
Two diagnostic kits for encephalitis, bluetongue virus, developed by ICAR- IVRI under the Make in India released
On October 15, 2019, Two diagnostic kits for Encephalitis, Bluetongue Virus called 'Bluetongue sandwich ELISA (sELISA)' for detection of antigen and the 'Japanese Encephalitis 1gM ELISA' for the control of Swine, developed by Indian Council of Agricultural Research (ICAR) – Indian Veterinary Research Institute (IVRI), Izatnagar, Uttar Pradesh under the Make in India' initiative were released at Krishi Bhawan, New Delhi with the aim to prevent the spread of virus in animals and thus predict their outbreak in humans. Each kit is meant for testing around 45 samples. ELISA is the acronym of enzyme-linked immunosorbent assay.
Key points:
i. These 2 kits were released by Shri Atul Chaturvedi, Secretary Department of Animal Husbandry & Dairying and Dr. T. Mohapatra, Secretary DARE (Department of Agricultural Research and Education) and Director General(DG), ICAR .
ii. It will help save foreign exchange as the newly developed kits cost ten times lesser than the imported. The commercial kits are available in the market at a price of Rs. 52,000. These kits cost only Rs.5,000.
iii. Apart from the vaccination, the early diagnosis and isolation of the infected animals by using these 2 Kits will be beneficial for not only the farming community, but the society as a whole.
Japanese Encephalitis (JE):
It is an infection of the brain caused by the Japanese encephalitis virus (JEV) & is spread by the bite of infected mosquitoes.
Bluetongue (BT) :
It is an insect-transmitted viral disease of domestic and wild ruminants that includes the camelid species. The disease is widespread among the sheep, goats, cattle, buffaloes and camels in the country. It can be controlled by proper vaccination.
SPORTS
Zimbabwe and Nepal readmitted as ICC members; Indra Nooyi reappointed as ICC Independent Director
On October 14, 2019, The International Cricket Council (ICC) readmitted Zimbabwe and Nepal as its members in a meeting held in Dubai. Zimbabwe Cricket was suspended with immediate effect in July 2019 and Nepal was banned in 2016, both nations for governmental interference.
i. The prize money for ICC women's events was increased by $2.6 million.
ii. India's Indra Nooyi was unanimously reappointed as the ICC Independent Director for a second two-year term from 2020-2022………………………….Click here to Read more
Indian football team won 3rd SAFF U-15 Women's Championships 2019 by beating Bangladesh
On October 15, 2019, the Indian football team won the 3rd Edition of the SAFF U-15 Women's Championships 2019 by beating Bangladesh by 5-3 via a penalty shoot-out. The tournament was an international football competition for women's under-15 national teams. It was organized by the South Asian Football Federation (SAFF) and was held at Changlimithang Stadium in Thimpu, Bhutan from October 9- 15, 2019 in which 4 teams had participated.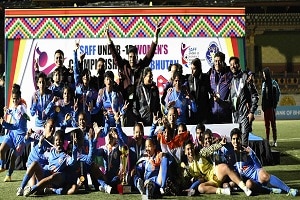 Key Points:
i. It was the second title for India, first in 2018.
ii. The captain of the Indian team was Shilky Devi and head coach was Alex Ambrose.
iii. Nepal and Bhutan bagged third and fourth place respectively.
Other awards:

| | |
| --- | --- |
| Award | Awardee |
| Top scorer | Lynda Kom Serto- 4 goals (India) |
| Best player | Rupna Chakma (Bangladesh) |
| Fair play award | Bhutan |
IMPORTANT DAYS
World Mathematics Day 2019 observed on October 15
World Mathematics Day was observed on October 15, 2019. It is observed annually since 2007 by educational resource provider 3P Learning. The day was initially celebrated on March 14, 2007 (Pi Day) and later on the schedule was changed to hold the event on October 2015.
Key Points:
i. The day is supported by UNICEF (United Nations Children's Fund) as a global charity partner.
ii. Late Shakuntala Devi of India is known as a Human-Computer who holds a record in the 1982 edition of The Guinness Book of World Records. She solved complex maths problems in seconds.
iii. In her honour, a film named 'Shakuntala Devi-Human Computer' will be released in the upcoming days. It is directed by Anu Menon and starring Vidya Balan.
World Food Day observed on October 16, 2019
The World Food Day(WFD) is observed annually on October 16th by the Food and Agriculture Organisation(FAO) of the United Nations(UN) under the resolution (A/RES/35/70) adopted in the year 1981. At the FAO's 20th General Conference in 1979, the day was first decided to be celebrated to honour the founding date of FAO in 1945. The theme for the year 2019 is "Our actions are our future. Healthy diets for a #zerohunger world".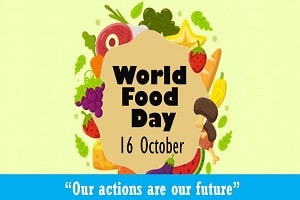 Key points
Aim: The aim of this day is to create awareness and take action on food security, hunger, inequality, unemployment, environmental degradation and climate change.
Global Handwashing Day observed on October 15, 2019
Global Handwashing Day (GHD) is observed annually on October 15 to increase awareness and understanding of the importance of handwashing. GHD was founded by the Global Handwashing Partnership(GHP) and was first celebrated in the year 2008. The theme for the year 2019 is "Clean Hands For All".
Key points
i. The GHP is a coalition of international stakeholders focused to promote handwashing. Some of the members of GHP are the London School of Hygiene and Tropical Medicine (LSHTM), United Nations Children's Fund (UNICEF), Unilever etc.
STATE NEWS
Uttar Pradesh & Thai govt to organise India's first training & performance programme of KHON Ramlila
The Culture Department of Uttar Pradesh government will organise India's first training and performance programme of world-famous KHON Ramlila at Grand Deepotsav function on November 26, 2019, in Ayodhya, Uttar Pradesh in collaboration with Thai government. KHON Ramlila is a masked form of Ramlila art of Thailand depicting scenes of Ramlila. It has no dialogues. Only background voices narrate the whole story of Ramayana.
Key Points:
i. Kon Ramlila is included in the list of UNESCO's Intangible cultural heritage.
ii. Experts of KHON Ramlila will train 15 Indian artists in this form of ancient Ramlila for a week. The training will be part of the cultural exchange programme between two nations.
Support us by register your valuable ratings
AffairsCloud Ebook - Support Us to Grow