We are here for you to provide the important Recent and Latest Current Affairs 25 February 2020, which have unique updates of Latest Current Affairs 2020 events from all newspapers such as The Hindu, The Economic Times, PIB, Times of India, PTI, Indian Express, Business Standard and all Government official websites.
Our Current Affairs February 2020 events will help you to get more marks in Banking, Insurance, SSC, Railways, UPSC, CLAT and all State Government Exams. Also try our Latest Current Affairs Quiz and Monthly Current Affairs 2020 PDF which will be a pedestrian to crack your exams.
Date-Wise Current Affairs February 2020 PDF for Paid Users – Click Here to Know More
Click here for Current Affairs February 23 & 24 2020
NATIONAL AFFAIRS
Govt amended provisions of Arms Act, 1959 and Arms Rules, 2016 for renowned shooters
The Ministry of Home Affairs has amended the provisions of the Arms Act, 1959 and the Arms Rules, 2016 to provide adequate firearms and ammunition to the shooters for their practice.
Amendments in Arms Act, 1959:
-The amendment has increased the number of additional weapons kept by International Medalists/Renowned Shooters to 12 from 7 under the exempted category.
Amendments in Arms Rules, 2016:
The ministry has also amended the provision under Rule 40 of the Arms Rules, 2016 stating an increase in the quantity of ammunition that can be purchased by the shooters during the year for the practice.
Arms (Amendment) Act, 2019:
The maximum number of firearms to be possessed by any person has been reduced from three to two. Those in possession of three fire arms have to surrender the excess gun by 13.12.2020….Click here to Read More
Losar festival was celebrated in Himachal Pradesh
On February 24, 2020 Losar festival was celebrated at Dharamshala, Himachal Pradesh. The festival is celebrated on the 1st day of the lunisolar Tibetan calendar also called Tibetan New Year.
Losar is a festival in Tibetan Buddhism.
Key Points:
i.Hundreds of people from the Buddhist community gathered at different temples in the state to celebrate Losar festival & prayers were offered at Dorje Drak Monastery in Shimla.
ii.Cultural events were held in different parts of the state as the Tibetan community celebrated the festival.
About Himachal Pradesh:
Capital- Shimla (summer capital), Dharamshala (winter capital).
Chief Minister (CM)- Jai Ram Thakur.
Governor- Bandaru Dattatreya.
MoU signed between NMCG, (SPMG-UK) & ICT to renovate  Ghats at Gangotri & Badrinath
On February 24,2020  tripartite Memorandum of Understanding(Mou) was signed between the National Mission for Clean Ganga(NMCG),State Program Management Group-Uttarakhand (SPMG-UK) & Indorama Charitable Trust (ICT) at New Delhi  to renovate Ghats at Badrinath & Ghats & Crematoria at Gangotri in Uttarakhand. The total cost of the project is 26.64 Crore.
Key Points
i.The MoU was signed by Shri Ashok Kumar Singh, Executive Director of NMCG,  Shri Rajeev Kshetrapal, Director, Indorama Industries, Delhi and Trust Member of ICT & ShriUday Raj Singh, Project Director, SPMG, Govt. ofUttarakhand.
ii.The Detailed Project Report (DPR) is developed by M/S WAPCOS a Government of India enterprise.
iii.The activities in the DPR includes- Construction of bathing Ghats & crematoria,Repair, modernization on existing ghats & Crematoria providing public amenities on ghatsOperation & Maintenance for 5 years & Bank erosion protection works.
iv.The work is to start by March 2020 & completed in 15 months.Duration of the MoU is 7 years.
About Badrinath Ghat:
It is situated along the river bank of Alaknanda.The total area covered is 2099m2 . Total cost of the project is Rs 10.31 crore. Operations& maintenance is for 5 years.Construction to be completed in 15 months.
About Gangotri Bathing ghat and Crematoria:
It is situated along the river bank of Bhagirathi at Gangotri.The total area covered is 2170m2. Total cost of the project is Rs 16.02 crore.Construction to be completed in 15 months.
About National Mission for Clean Ganga (NMCG):
The mission was created in June 2014 by the Union Government with a budget outlay of Rs 20,000 crore with two objectives-to reduce pollution, safeguard & rejuvenate river Ganga.
Haryana tops in Direct Benefit Transfer (DBT) payouts rating for 2019-20; West Bengal worst
On February 22, 2020, According to the recent ratings regarding Direct Benefit Transfer (DBT) payouts, prepared for the 1st time by the Central Government,
Small state Haryana has emerged as the best state in DBT payouts (Rs.4782 crore in over 4 crore transactions) in 2019-20.While, West Bengal has emerged as the worst performer in DBT payouts (8793 cr through 5 crore transactions) and ranked 36th  position.
The rating, which ranked 36 states and UTs (Union Territories), according to DBT payouts compared to their population…..Click here to Read More
DBT performance ranking 2019-20:
[su_table]
| | | |
| --- | --- | --- |
| Rank | State | DBT payout |
| 1 | Haryana | Rs.4782 crore |
| 2 | Uttarakhand | Rs. 1060 cr |
| 36th | West Bengal | Rs. 8793 cr |
[/su_table]
Himachal Pradesh: 1st State to achieve 100% LPG coverage
On February 24, 2020 Himachal Pradesh became the 1st state in the country to have 100% LPG (Liquified Petroleum Gas) coverage due to the implementation of PMUY (Pradhan Mantri Ujjwala Yojana) scheme.
Key Points:
i.Following the implementation of the PMUY scheme, the state government launched 'Himachal Grihini Suvidha Yojana' in May 2018 to cover the scheme to remaining households.
ii.Under the scheme except families having a pensioner, income taxpayer or any member employed with the government, board, corporation etc, all households of the state without an LPG connection were eligible.
iii.Nearly 2.64 lakh free gas connections were provided through the state funded Grihini Suvidha Yojana & 1.36 lakh were benefited through PMUY scheme.
iv.About PMUY scheme: The scheme was launched by Prime Minister Shri Narendra Modi on 1st May, 2016 in Ballia, Uttar Pradesh (UP). Under this scheme 5 Crore LPG connections will be provided to BPL (Below Poverty Line) families & Rs. 8000 crore were allocated towards the implementation of the scheme.
v.PMUY scheme aims to safeguard the health of women & children by providing them with a clean cooking fuel – LPG, so that they don't have to compromise their health in smoky kitchens or wander in unsafe areas collecting firewood.
About Himachal Pradesh:
National Parks- Great Himalyan NP, Pin Valley NP, Inderkilla NP, Khirganga NP, Simbalbara NP.
1 in 3 payments for maternity benefit scheme 'PMMVY' credited to wrong account: NITI Aayog report
On February 23, 2020, According to "Transforming Nutrition in India: Poshan Abhiyan", a 2nd progress report on Prime Minister's Overarching Scheme for Holistic Nourishment (POSHAN) Abhiyaan (Nutrition Mission) until September 2019, released by the NITI (National Institution for Transforming India) Aayog, worryingly 1 in 3 of Aadhaar-based payments for Centre's maternity benefit scheme/ Pradhan Mantri Matru Vandana Yojana (PMMVY) was credited to a wrong bank account.
As per the report, 28% of 31.29 lakh of all Aadhaar-based payments are going to different bank accounts than what had been provided by the beneficiaries.
Ranking of the states:
The report also ranked states & Union Territories to measure their readiness to execute the programme ……Click here to Read More
[su_table]
                                  Top 3 states in the  ranking
Rank
Large States (19)
Small States (8)
Union Territories (7)
1
Andhra Pradesh
Mizoram
Dadra and Nagar Haveli
2
Chhattisgarh
Sikkim
Chandigarh
3
Madhya Pradesh
Nagaland
Daman and Diu
                                 Bottom 3 states in the  ranking
Karnataka- 17th
Tripura-6th
Andaman and Nicobar Islands-5th
Assam-18th
Manipur-7th
Delhi-6th
Kerala -19th
Goa-8th
Lakshadweep-7th
[/su_table]
Amit Shah holds talks with Maldivian home minister Sheikh Imran Abdulla during his visit to India
Union Home Minister Shri Amit Shah held extensive discussions with Maldivian home minister Sheik Imran Abdulla during his 4 day visit to India from February 20 to 23, 2020 to strengthen the ties between 2 countries and discussed issues in the area of security & law enforcement cooperation, counter-terrorism, counter-radicalisation, drug trafficking.
Key Points:
i.India was among the first to recognize Maldives after its independence in 1965, to establish diplomatic relations with the country.
ii.The meeting was also attended by Union Home Secretary Ajay Kumar Bhalla and the delegates also met the chiefs of the National Investigation Agency (NIA), the Narcotics Control Bureau, the Central Bureau of Investigation (CBI), they also visited the Sardar Vallabhai Patel National Police Academy (SVPNPA), Hyderabad and the Gujarat Forensic Sciences University (GFSU), Gandhinagar, Gujarat.
About Maldives:
President- Ibrahim Mohamed Solih.
Currency- Maldivian rufiyaa.
BANKING & FINANCE
NABARD grants Rs 400.64 cr for UT of J&K to boost infrastructure
On February 25, 2020, National Bank for Agriculture and Rural Development (NABARD),an Apex Development Financial Institution in India, has granted a sum of  Rs 400.64 crore to the Union Territory (UT) of Jammu and Kashmir(J&K).
The amount has been sanctioned under its 'Rural Infrastructure Development Fund (RIDF) – Trench XXV'for boosting rural infrastructure during the current financial year-FY(2019-20).
Key Points:
i.Benefit: Out of the total amount, Rs. 209.87 crore will be provided for the construction of 82 rural roads length of 291 kms  & 3 bridges. This will benefit 9.15 lakh people in 19 districts of UT of J&K & they get all weather improved connectivity to 461 remote villages.
An outlay of Rs.143.66 crore rupees has been approved for implementation of 38 water supply schemes, which will benefit over 3.54 lakh people across 86 villages in 17 districts of UT of J&K.
Also, an amount of 47.11 crore rupees will be provided to improve the Animal and Sheep Husbandry sectors of the UT.
About National Bank for Agriculture and Rural Development (NABARD):
Formation– July 12, 1982
Headquarters- Mumbai, Maharashtra
Chairman– Dr. Harsh Kumar Bhanwala
Microsoft, SBI join hands to train differently-abled for employment in BFSI sector
On February 24, global tech giant Microsoft has collaborated with the Centre run State Bank of India (SBI) to train differently-abled people to find jobs in the banking, financial services and insurance (BFSI) sector.  In the first year of partnership 500 differently-abled youths will be upskilled.
Key Point:
i. As a part of this partnership, SBI Foundation and Microsoft will develop an artificial intelligence powered market so that BFSI industry can connect more easily with differently-abled people for employment opportunities.
About Microsoft:
Establishment– 1975
Headquarters– Redmond, Washington, United States (US)
Founders– Bill Gates & Paul Allen
Chief Executive Officer (CEO)– Satya Nadella
Microsoft India President– Anant Maheswari
About SBI:
Formed– July 1955 as SBI
Headquarter– Mumabi, Maharashtra
Chairman– Rajnish Kumar
Digital banking platform– Yono
Tagline– The Banker to Every Indian
AWARDS & RECOGNITIONS        
Union HRD Minister Ramesh Pokhriyal 'Nishank' presented 3rd Chhatra Vishwakarma Awards 2019; 4 MoUs inked
On February 24, 2020, Union HRD Minister Shri Ramesh Pokhriyal Nishank' presented Chhatra Vishwakarma Awards (CVA) 2019 to 23 teams under 8 sub- categories during an ocassion in New Delhi. The award function was organised in All India Council for Technical Education (AICTE). Apart from CVA, 6 institutes were felicitated under the Utkrisht Santhan Vishwakarma Award (USVA). This was the 3rd edition of awards. The winners are recognized for their projects on the theme of "How to enhance the income of Village".
Four MoUs inked:
During the event, four MoUs were also exchanged between AICTE & IIT Kanpur, IIT Ropar, IIT Bhubaneshwar & IISER (Indian Institutes of Science Education and Research) Pune. The MoUs are aimed at creating internship opportunities for the students of J&K.
Launch of digital version of AICTE Activity Book:
Ramesh Pokhriyal 'Nishank' also launched the digital version of the AICTE Activity Book which has been hosted on the web portal of AICTE….Click here to Read More
Dr N Kumar TNAU VC conferred with Lifetime Achievement Award during International Conference on Banana (ICB) 2020 in Trichy, Tamil Nadu (TN)
On February 24, 2020 Tamil Nadu Agricultural University (TNAU) Vice-Chancellor (VC) Dr N Kumar was awarded with 'Lifetime Achievement Award" by ICAR- National Research Center for Banana, during the International Conference on Banana (ICB) 2020 held in Trichy, Tamil Nadu (TN).
International Conference on Banana (ICB) 2020:
ICAR- National Research Center for Banana organized the conference with Bioversity International, Rome, and Indian Council of Agricultural research, New Delhi and hosted the event with Society for Promotion of Horticulture, Indian Institute of Horticultural Research, Bengaluru. The conference was held for 4 days from Feb 22-25, 2020.
Theme of ICB 2020: Innovations in Sustainable Production and Value Chain Management in Banana.
Key Points:
i.Award contribution: The award is conferred to Dr Kumar in recognition of his specific contribution to the banana industry, by systematic banana breeding programmes which was started by TNAU in 1998.
ii.TNAU developed synthetic hybrids such as H. 212, NPH -02-01, H.531 which are resistant to biotic stresses of which H-212 was released as CO2 for commercial cultivation during January 2020.
iii.The bio-priming technology developed in hill banana, helps to promote disease free plantations.
The Indian Air Force (IAF), The Central Industrial Security Force (CISF) won trophies for Republic Day Parade 2020
On February 24,2020 Defense Minister Rajnath Singh presented trophies to the best marching contingents for Republic Day Parade 2020 at Delhi.The Indian Air Force contingent named as the best among the three services. The Central Industrial Security Force (CISF) is named as the best marching contingent in the Central Armed Police Forces and other additional forces category.
Key Points:
i.On behalf of The Indian Air Force (IAF) Air Marshal M S G Menon and Flight Lieutenant  Shrikant Sharma received the trophy .
ii.On behalf of The Central Industrial Security Force (CISF) DG CISF Shri Rajesh Ranjan & Deputy Commandant Prabh simran Singh received the trophy.
About IAF:
Headquarter– New Delhi
Chief of Air Staff / Air Chief Marshal– Rakesh Kumar Singh Bhadauria
Motto– Touch the sky with Glory
About CISF:
Headquarter– New Delhi
Director General– Shri Rajesh Ranjan
Motto– Protection and Security
APPOINTMENTS & RESIGNATIONS     
World's Oldest govt leader Mahathir Mohamad (94) resigned as Malaysia's PM
The world's Oldest government leader Mahathir bin Mohamad (94) resigned as Malaysia's Prime Minister (PM) on February 24,2020. His resignation has been accepted by Malaysia's king Al-Sultan Abdullah of Pahang and also named him as the Interim prime minister of Malaysia until a successor is appointed.
Key points:
i.Mahathir has dissolved his entire cabinet and also called off his political party (Parti Pribumi Bersatu Malaysia) from Pakatan Harapan coalition. He also resigned from Parti Pribumi Bersatu Malaysia, the political party of which he was chairman.
ii.Mahathir served as Malaysia's Prime Minister in 1981 and retired in 2003 and returned to office in 2018.
iii.In 1994 Mahathir was honoured with the "Jawaharlal Nehru Award for International Understanding" presented by the Government of India.
About Malaysia:
Capital- Kuala Lumpur
Currency- Ringgit
Abhay Kumar Singh appointed as CMD of NHPC
On February 24, 2020 Abhay Kumar Singh, 57 years old, was appointed as CMD (Chairman & Managing Director) of State-run hydro power giant NHPC (National Hydroelectric Power Corporation) till (August 31, 2022). He is the successor of Ratish Kumar.
Key Points:
i.About Abhay Kumar Singh: He is also acting as a Nominee Director in Loktak Downstream Hydroelectric Development Corporation Limited.
ii.In 1983, he completed his Civil Engineering from NIT (National Institute of Technology, Durgapur, West Bengal).
iii.Singh joined NHPC at Tanakpur HE(Hydro Electric) Project as a Probationary executive in 1985 & played a vital role in many hydroelectric projects for 35 years.
About NHPC:
Founded- 1975.
Headquarters- Faridabad, Haryana.
Togo's President Faure Gnassingbe re-elected for a fourth term after winning 72% of votes

On February 24,2020 The National electoral commission declared Faure Gnassingbe as Togo's (country in West Africa) president. Faure Gnassingbe is from political party The Union for the Republic party.He took 72% of votes in the first round of presidential election and was re-elected for a fourth term. Final result to be announced by the Supreme Court.He defeated Agbeyome Kodjo, who won only 18% of the votes.
Gist about Faure Gnassingbe:
i.Before 2012 he was a Rally of the Togolese People (RPT) candidate, after 2012 he formed & headed a new party named as The Union for the Republic (UNIR).
ii.After the Death of his father Gnassingbe Eyadema who ruled for 38 years for the first time Faure Gnassingbe became the president in 2005.
About Togo:
Capital– Lome, Togo
Currency– West African CFA franc
Prime Minister– Komi Selom Klassou
  ACQUISITIONS & MERGERS        
CCI approves NTPC to acquire 100% of the issued & paid-up share capital of NEEPCO & 74.5% stake of THDC India
On February 24,2020 the Competition commision of India(CCI) has given approval to state owned NTPC under Section 31(1)of the competition act,2002 to acquire 100% of the issued and paid-up share capital of North Eastern Electric Power Corporation (NEEPCO) & 74.5% stake of Tehri Hydro development Corporation limited (THDC), the rest 25.5% stake to be held by Uttar Pradesh government.
Highlights
i.NTPC to spend close to Rs 15,000 crore to buy NEEPCO & THDC.
ii.Finance Minister Nirmala Sitharaman in November 2019 stated that the government will sell the stake of THDC India and NEEPCO to NTPC LTd.
iii.NTPC's main business activity is electric power generation through coal based thermal power plants, it also generates electricity from hydro and renewable energy sources.
About NTPC LTD:
NTPC is previously known as National Thermal Power Corporation Ltd.,
Headquarter– New Delhi, India
Chairman & MD– Gurdeep Singh
About NEEPCO:
Headquarter– Shillong,Meghalaya,India
Chairman & MD– Shri Vinod Kumar Singh
About THDC:
Headquarter– Rishikesh,Uttarakhand,India
Chairman & MD– Shri Dhirendra Veer Singh
SCIENCE & TECHNOLOGY
4,000-year-old crafts village unearthed near Varanasi, Uttar Pradesh by Banaras University
On February 23,2020, The Banaras Hindu University(BHU) Department of Ancient Indian History, Culture and Archaeology Professor, Anil Kumar Dubey and his team discovered a 4000-year-old urban settlement, which is mentioned as craft villages as per Ancient texts, in Babhaniyav village, Varanasi in Uttar Pradesh.
Key points:
i.As per former Additional Director General of the Archaeological Survey of India (ASI) Dr Buddha Rashmi Mani, the settlements could have been a satellite settlement and feeding centre of the Varanasi- Sarnath region.
ii.On the preliminary survey of the site, BHU found a temple which belongs to the 5th Century AD through 8th Century AD, potteries which are 4000-year-old and walls which are 2000-year-old.
iii.Satellite Settlements: Smaller cities or towns that are located nearer to a major city (which centre part of the metropolitan area).
About Uttar Pradesh:
Capital- Lucknow
Prime Minister- Yogi Adityanath
Governor- Anandiben Patel
Festivals- Kumbh Mela (Prayagraj, Haridwar, Nashik and Ujjain), Ganga Mahotsva
Shri Injeti Srinivas Secretary of Ministry of Corporate Affairs inaugurated the SPICe+ web form
On February 24, 2020 Shri Injeti Srinivas, Secretary of Ministry of Corporate Affairs inaugurated the SPICe+ web form(Simplified Proforma for Incorporating Company Electronically Plus) that replaces SPICe (Simplified Proforma for Incorporating Company Electronically) form.It would offer 10 services by 3 Central Govt Ministries & Departments (Ministry of Corporate Affairs, Ministry of Labour & Department of Revenue in the Ministry of Finance) and One State Government (Maharashtra), thereby saving as many procedures, time and cost for Starting a Business in India and would be applicable for all new company incorporations.
Key Points:
i.The new form is split into 2 different parts Part A to reserve your name & in Part B 10 different services be availed through SPICe+.
Services Offered by Part B of the SPICe+ web form are: Incorporation, DIN allotment, Mandatory issue of PAN, Mandatory issue of TAN, Mandatory issue of EPFO registration, Mandatory issue of ESIC registration, Mandatory issue of Profession Tax registration(Maharashtra), Mandatory Opening of Bank Account for the Company and Allotment of GSTIN (if so applied for).
ii.It is mandatory to register for Employees Provident Fund Organisation (EPFO) & Employees State Insurance Corporation (ESIC)  for new companies.
iii.The new web form would facilitate On-screen filing and real time data validation for seamless incorporation of companies.
iv.The new web form would facilitate On-screen filing and real time data validation for seamless incorporation of companies.
v.The reserve unique name(RUN) web service will be applicable with a change of name with SPICe+ in the near future.
vi.India ranked 63rd in the World Bank's ease of Doing Business(EODB) 2019, the new web application  is an effort to reach the 50th spot.
An e-commerce app "Thirumathi Kart" for SHG products launched at Tiruchi, Tamil Nadu
On February 18, 2020, An e-commerce mobile application called "Thirumathi Kart" developed by National Institute of Technology, Tiruchi (NIT-T) for promoting products developed by self-help groups (SHG), was launched in Tiruchi, Tamil Nadu (TN) by Collector of Tiruchi, S. Sivarasu in the presence of Mini Shaji Thomas, Director, NIT-T, and other officials at the inauguration ceremony of 'Marketing strategies in the digital era: self-promotion of SHG products through Thirumathi Kart' programme.
Key Points:
i.The App, Thirumathi Kart will be the main app for usage of public domain, the other 2 apps namely Thirumathi Kart (seller) and Thirumathi Kart (logistics), are for use among the SHGs.
ii.The app has been developed under the project, 'Design and development of ICT-enabled cloud-based mobile application for self-promotion of products developed by SHG' assisted by Department of Science and Technology(DST).
iii.The project aimed to connect the customers with SHGs to empower women with sustainable income-generation platform.
SPORTS
CGF approved India to host 2022 Commonwealth Archery and Shooting Championships in Chandigarh
On February 24, 2020, The Commonwealth Games Federation (CGF) has approved the proposal from Commonwealth Games India (CGI) to host the 2022 Commonwealth Archery and Shooting Championships in Chandigarh, India to be held in January 2022, while the Birmingham Commonwealth Games is scheduled from July 27 to August 7, 2022.
Key points:
i.The results from the Chandigarh 2022 commonwealth games will be included in the final "Rankings of competing Nations" medal table and released on the closing ceremony of Birmingham 2022 Commonwealth Games.
ii.The National Rifle Association of India (NRAI) will largely bear the cost for shooting championship and the archery event would be funded solely by the Government of India.
ICC bans Oman player Yousuf Abdulrahim Al Balushi from cricket for 7 years
On February 24, 2020 The International Cricket Council (ICC) has banned Oman player Yousuf Abdulrahim Al Balushi from all forms of cricket for 7 years, because he tried to fix a match and he accepted 4 charges of breaching the ICC Anti-Corruption Code.
Key Points:
i.The charges are all related to the ICC men's T20 World Cup Qualifiers 2019, held in UAE (United Arab Emirates).
ii.Al Balushi breached Article 2.1.1 of the Anticorruption code (being party to an agreement or effort to fix or contrive in any way the result, progress, conduct or any other aspect of matches)
iii.He also breached Article 2.1.4, Article 2.4.4 and Article 2.4.7 (all relating to corrupt practices).
About ICC:
Motto- Cricket for good.
Headquarters- Dubai, United Arab Emirates (UAE).
CEO (Chief Executive Officer)- Manu Sawhney.
ITTF World Tour Hungary Open 2020 in Budapest: Indian duo of  Sharath kamal & Sathiyan won silver medal
The Indian pair of professional table tennis players,Achanta Sharath Kamal  & Sathiyan Gnanasekaran have won the silver medal of the doubles at the 2020 ITTF (International Table Tennis Federation ) World Tour Hungarian Open 2020 held in Budapest, Hungary from February 21- 23, 2020. In the final of the tournament's doubles category, the Indian pair suffered a defeat at the hands of Germany's Benedikt Duda and Patrick Franziska with 3-1 points.
Key Points:
i.It was the first time the world number 27 Indian pair made it to the men's doubles final of the World Tour event.
ii.This is Kamal's second medal in the championship. Earlier, he won bronze in mixed doubles with Manika Batra.
About International Table Tennis Federation (ITTF):
It is the governing body for all national table tennis associations.
Formation– 1926
Headquarters– Lausanne, Switzerland
Membership– 226 member
President- Thomas Weikert
OBITUARY
Famous NASA mathematician Katherine Johnson passed away at 101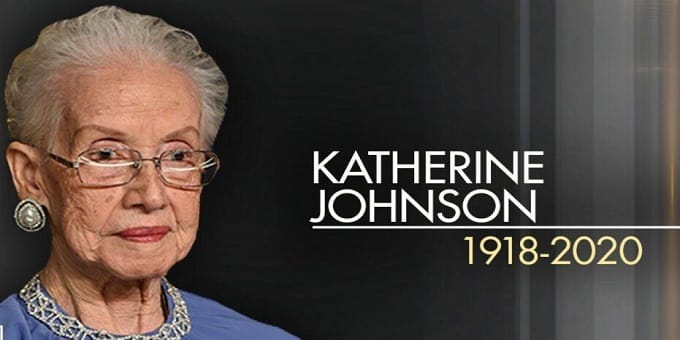 On February 24, 2020 Famous NASA (National Aeronautics and Space Administration) mathematician Katherine Johnson passed away at the age of 101 in Virginia, US (United States). She was born on August 26, 1918, White Sulphur Springs, West Virginia, US. Her life was portrayed in the movie "Hidden Figures".
Key Points:
i.Awards: Katherine was awarded a "Presidential Medal of freedom" by former President Barack Obama in 2015.
ii.Katherine and her colleague were the first to calculate the parameters of the suborbital 1961 flight of astronaut Alan Shepard, the first American in space.
iii.She also worked on the Mercury and Apollo missions, including the first moon landing in 1969.
iv.Hidden Figures book tells about the life history of Katherine Johnson, published in 2016, authored by Margot Lee Shetterly and the movie "Hidden Figures" nominated for Oscar in 2017.
v.Katherine retired from NASA in 1986.
*******
[su_table]
Current Affairs Headlines: 25 February 2020
Govt amended provisions of Arms Act, 1959 and Arms Rules, 2016 for renowned shooters
Losar festival was celebrated in Himachal Pradesh
MoU signed between NMCG, (SPMG-UK) & ICT to renovate  Ghats at Gangotri & Badrinath
Haryana tops in Direct Benefit Transfer (DBT) payouts rating for 2019-20; West Bengal worst
Himachal Pradesh: 1st State to achieve 100% LPG coverage
1 in 3 payments for maternity benefit scheme 'PMMVY' credited to wrong account: NITI Aayog report
Amit Shah holds talks with Maldivian home minister Sheikh Imran Abdulla
NABARD grants Rs 400.64 cr for UT of J&K to boost infrastructure
Microsoft, SBI join hands to train differently-abled for employment in BFSI sector
Union HRD Minister Ramesh Pokhriyal 'Nishank' presented 3rd Chhatra Vishwakarma Awards 2019; 4 MoUs inked
Dr N Kumar TNAU VC conferred with Lifetime Achievement Award
The Indian Air Force (IAF), The Central Industrial Security Force (CISF) won trophies for Republic Day Parade 2020
World's Oldest govt leader Mahathir Mohamad (94) resigned as Malaysia's PM
Abhay Kumar Singh appointed as CMD of NHPC
Togo's President Faure Gnassingbe re-elected for a fourth term with 72% of votes
CCI approves NTPC to acquire 100% of the issued & paid-up share capital of NEEPCO & 74.5% stake of THDC India
4,000-year-old crafts village unearthed near Varanasi, Uttar Pradesh by Banaras University
Ministry of Corporate Affairs introduces new portal: SPICe+ web form, reduce and cost time for incorporation
An e-commerce app "Thirumathi Kart" for SHG products launched at Tiruchi, Tamil Nadu
CGF approved India to host 2022 Commonwealth Archery and Shooting Championships in Chandigarh
ICC bans Oman player Yousuf Abdulrahim Al Balushi from cricket for 7 years
ITTF World Tour Hungary Open 2020 in Budapest: Indian duo of  Sharath kamal & Sathiyan won silver medal
Famous NASA mathematician Katherine Johnson passed away at 101
[/su_table]
[su_button url="https://affairscloud.com/current-affairs/february-2020/" target="self" style="default" background="#2D89EF" color="#FFFFFF" size="5″ wide="no" center="no" radius="auto" icon="" icon_color="#FFFFFF" text_shadow="none" desc="" download="" onclick="" rel="" title="" id="" class=""]Click Here to Read Current Affairs February 2020[/su_button]
AffairsCloud Ebook - Support Us to Grow