We are here for you to provide the important Recent and Latest Current Affairs 14 February 2020, which have unique updates of Latest Current Affairs 2020 events from all newspapers such as The Hindu, The Economic Times, PIB, Times of India, PTI, Indian Express, Business Standard and all Government official websites.
Our Current Affairs February 2020 events will help you to get more marks in Banking, Insurance, SSC, Railways, UPSC, CLAT and all State Government Exams. Also try our Latest Current Affairs Quiz and Monthly Current Affairs 2020 PDF which will be a pedestrian to crack your exams.
Date-Wise Current Affairs February 2020 PDF(Content & Q&A) for Paid Users – Click Here to Know More
Click here for Current Affairs February 13 2020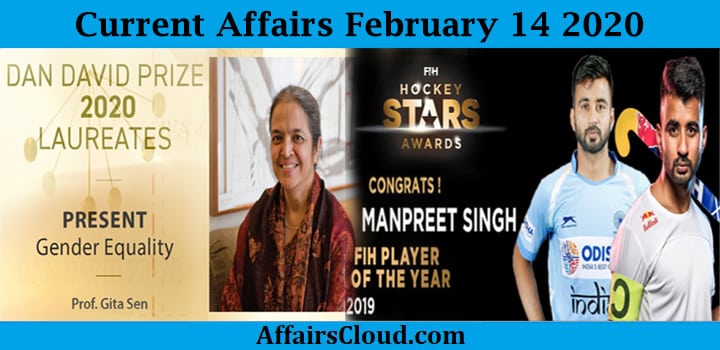 NATIONAL AFFAIRS
INS Jamuna initiated Joint Hydrographic Operations off Sri Lanka
On February 6 2020, Indian Navy's Sandhayak class Hydrographic Survey Ship, INS (Indian Naval Ship) Jamuna (J16) arrived Colombo, Sri Lanka to carry out Joint Hydrographic Survey off the South West Coast of Sri Lanka. The ship commanded by Captain HA Hardas has been deployed to Sri Lanka based on a mutual agreement.
Key activities:
i.INS Jamuna hosted a meeting between Rear Admiral Sisira Jayakody, Chief Hydrographer of the Sri Lankan Navy, officers of the Sri Lankan hydrographic department and Indian officers of the ship.
ii.Over the two months deployment period, the ship will carry out detailed hydrographic surveys and several shore-based survey activities.
iii.It will also impart 'hands on' survey training to Sri Lanka Navy personnel.
Amit Shah inaugurated two-day BIMSTEC 'Conference on Combating Drug Trafficking', in New Delhi from Feb 13 – 14, 2020
On 13 Feb, 2020, the Union Minister for Home Affairs, Shri Amit Shah inaugurated the two-day long BIMSTEC (Bay of Bengal Initiative for Multi-Sectoral Technical and Economic Cooperation) 'Conference on Combating Drug Trafficking', in New Delhi. It was organized by Narcotics Control Bureau (NCB), Ministry of Home Affairs. This conference was held on the lines of the commitment made by Prime Minister Narendra Modi during the 4th BIMSTEC summit in Nepal's Kathmandu in 2018.
Participants: Bangladesh, Bhutan, Myanmar, Nepal, Sri Lanka, Thailand and different State Governments of India. Other key dignitaries were MoS (External Affairs), Shri V. Muraleedharan, Secretary General, BIMSTEC, Shri Shahid-ul-Islam and senior officers of Union and State Governments.
Key Points:
i.Administrative and operational manuals of NCB released during the occasion.
ii.As per UN's (United Nations) World Drug Report, over 5% of the global population between 15-64 years of age is addicted to narcotics and use of illicit drugs.
India's efforts to combat drug trafficking:
i.Under Prime Minister Modi's vision of a Drug-free India, Government of India has laid out strategy to ensure inter agency coordination to end the menace of drug trafficking.
ii.Indian security agencies ceased over 2 metric tonnes of illicit heroine till September 2019 as compared to 1.2 metric tonnes in 2018.
iii.The Home Ministry has also started an e-portal for digitalisation of drug data that may be utilized by various drug enforcement agencies.
iv.In the last 5 years, over 1.89 lakh Narcotics cases have been registered in India, in which over 2.31 lakh drug smugglers have been arrested by the agencies including foreign nationals.
v.Ministry will also establish a training centre for NCB officials regarding enforcement of drug laws, at Bhopal, Madhya Pradesh.
vi.To fight this global menace, India has so far signed 26 bilateral agreements, 15 MoUs and 2 security pacts with other countries.
About BIMSTEC
It is an acronym for Bay of Bengal Initiative for Multi-Sectoral Technical and Economic Cooperation
Members– 7 (Bangladesh, India, Myanmar, Sri Lanka, Thailand , Nepal and Bhutan)
Secretariat– Dhaka, Bangladesh
Secretary General– M Shahidul Islam
Anti-Hijack mock drill conducted at Visakhapatnam Airport
The Anti-hijack exercise was conducted on February 12,2020 by creating a mock situation using a naval Dornier aircraft by INS Dega, (a naval air station of the Indian navy) at Visakhapatnam Airport, Andhra Pradesh and the main objective of the exercise was to test the plans and procedures handled by various agencies during hijack threats.
Key points:
i.Actions coordinated by all stakeholders from Navy, Airport and other Central and State Agencies including Marine Commandos (MARCOS), Central Industrial Security Force (CSIF) and Airports Authority of India (AAI).
ii.The mock drill is conducted at every Indian airport annually by the National Civil Aviation Security Programme to test efficiency of the Airport's emergency plan and responsibilities in a hijack situation.
About Central Industrial Security Force (CSIF)
Headquarters- New Delhi
Founded- 1969
Governing body- The Ministry of Home Affairs (India)
About Airports Authority of India (AAI):
Headquarters- New Delhi
Founded- 1995
Chairman- Arvind Singh
About Andhra Pradesh:
Capital- Amaravati
Governor- Biswabhusan Harichandan
Chief Minister- Yeduguri Sandinti Jaganmohan Reddy
Government renames two Famous Institute after Sushma Swaraj
The Ministry of External Affairs, announced that two Institutions, The Pravasi Bharatiya Kendra and The Foregin Service Institute have been named after former Indian Diplomat Sushma Swaraj for her Invaluable contribution in Public Service. The announcement is being made on her 68th Birth Anniversary falling on February 14,2020.
Key points:
i.The Pravasi Bharatiya Kendra a cultural centre, renamed as Sushma Swaraj Bhavan and The Foreign Service Institute where Diplomats are trained, changed into Sushma Swaraj Institute of Foreign Service
ii.Sushma was the 1st youngest cabinet minister in the Haryana Government and she also the 1st woman Chief Minister of New Delhi as well as the 1st woman spokesperson for a National political party in India.
About The Sushma Swaraj Bhavan:
Sushma Swaraj is a state-of-the-art Convention centre established by Ministry of External Affairs and was inaugurated by Prime Minister Shri Narendra Modi on 2nd October 2016 at Chanakyapuri, New Delhi.
About The Sushma Swaraj Institute of Foreign Service:
Sushma Swaraj Institute of Foreign Service (SSIFS) was established in 1986 by the Ministry of External Affairs, Government of India to give professional training to Indian Foreign Service (IFS) officers inducted from UPSC (Union Public Service Commission) every year. Presently SSIFS located in New Delhi headed by Dean J.S. Mukul.
Union minister Jitendra singh attends National workshop on e-office in New Delhi; CPGRAMS reforms launched
On February 12, 2020, Dr Jitendra Singh, Minister of State for Development of North Eastern Region (I/C), Prime Minister's Office, Personnel, Public Grievances & Pensions, Atomic Energy and Space has attended the National Workshop on e-office held at Parvasi Bhartiya Kendra in Chankyapuri, New Delhi.
He also launched the Centralized Public Grievance Redress And Monitoring System (CPGRAMS) reforms, an  7.0 version aimed to reduce the grievance disposal time and improve the quality of grievance redressal.
Key Points:
i.The representatives from the State Government attended the event, which aims to create a nation-wide momentum for the creation of e-Office across the State Secretariat.
ii.The CPGRAMS is in line with the Government of India's vision of "Minimum Government-Maximum Governance".The volume of public grievances received against government departments has been increased to 19 lakh mark in 2019 as compared to 2 lakh such complaints in 2014.In which, over 95 % grievances have been disposed of by the government.
About Ministry of Personnel, Public Grievances & Pensions:
Founded– 1 August 1970
Headquarters– New Delhi
Gandhinagar railway station in Gujarat to be the 1st in India to add 5-star hotel above the tracks: VK Yadav
On February 13, 2020, According to the Chairman of the Indian Railway Board, Sri Vinod Kumar Yadav, Indian Railways has planned to prepare 5- Star Hotel on the tracks in Gandhinagar railway station of Gujarat to give passengers the experience of world class facilities.This will be the first experiment in India.
The hotel, being built by the famous hotel chain Leela Group, could be completed by December 2020.
Key Points:
i.About the Hotel:
The roof will be put on the pillars near the tracks and then the hotel will be built on top of it.
Its design has been made in such a way that no sound of passing trains is heard inside the hotel. Apart from this, an airport-style retail model will also help generate revenue for the Indian Railways.
The property will have 300 rooms & 22 metres above the ground. The way the Gandhinagar railway station is being redeveloped by a special purpose vehicle (SPV) – the Gandhinagar Railway & Urban Development Corporation (GARUD) – between IRSDC (Indian Railway Stations Development Corporation) & the Gujarat government, it will have three towers, which will look like petals. These three towers will be of 6, 8 and 10 floors respectively. The tallest building will house the Five Star Hotel.
About Indian railways:
Founded– 16 April 1853
Headquarters– New Delhi
Minister of Railways– Piyush Goyal
TB notifications to Govt up 38% to 23.98 lakhs in 2019: Ministry of Health and family welfare
On February 13, 2020, According to the Vikas Sheel,the Joint Secretary in Ministry of Health and Family Welfare, Tuberculosis (TB) notifications to the government has been increased to 38% , up from 17.36 lakhs in 2017 to 23.98 lakhs in 2019 Since the launch of the new National Strategic Plan (2017-25).
i.However, this does not mean TB cases are on the rise, but that the government is reaching more TB patients through its efforts & closing the notification gap (between estimated incidence and notified cases), referred earlier as the 'missing million', to less than three lakhs, with the cooperation of private-sector health care providers.
ii.NSP 2025:  Under the National Strategic Plan for TB Elimination (NSP 2017-25), the central Government has targeted to end TB by 2025,in which it aims  80 % reduction in TB incidence and 90 % reduction in mortality by 2025 from a baseline of 2015….Click here to Read More
Vietnam's Vice President visited India from Feb 11 – 13, 2020; holds bilateral level talks with Venkaiah Naidu
Vice-President of the Socialist Republic of Vietnam, Mrs. Dang Thai Ngoc Thinh paid a 3-day (February 11-13, 2020) visit to India, during which she held bilateral delegation-level talks with Vice President of India, Muppavarapu Venkaiah Naidu.
They agreed to strengthen the Comprehensive Strategic Partnership established in 2016 between the two countries.
The Joint Inauguration of the launch of direct flights between India & Vietnam was held at New Delhi. Both sides also inked an agreement to open a resident office of Voice of Vietnam in New Delhi.
Key Points:
i.Dang Thai also met President Ram Nath Kovind at Rashtrapati Bhavan, New Delhi. Both the sides affirmed to provide mutual support on matters, especially on account of Vietnam becoming non-permanent member of United Nations Security Council (2020-21) and Vietnam assuming the ASEAN(Association of Southeast Asian Nations) Chair in 2020.
ii.Vietnam is India's close strategic partner in ASEAN and plays an important role in the country's Act East policy.
About Vietnam:
Capital– Hanoi
Currency– Vietnamese dong
Prime Minister– Nguyễn Xuân Phúc
Arth-Ganga project to channelize economic activity along Ganga river bank: Shipping ministry
On February 13, 2020,According to Shri Mansukh Mandaviya, Minister of State for Shipping (Independent Charge), Chemical, and Fertilizers, 'Arth Ganga' project implies a sustainable development model with a focus on economic activities along its Ganga bank.
Key Points:
i.Around half of the Indian population lives around the Ganges River belt.In addition, of India's total freight, about 1/5th originates and 1/3rd terminates in the states around Ganges Belt. So, Inland waterway is one of the most important key pillars of  Arth Ganga project.
ii.Cargo volume under this initiative also increased from 30 lakh MT to 70 lakh MT and vessels inflow from 300 to 700.
iii.National Waterway-1 is an inland water transport route between Haldia (West Bengal) and Prayagraj (Uttar Pradesh-UP). The Shipping Ministry is also developing Varanasi (also known as Banaras) in UP Freight Village and Sahibganj in Jharkhand Industrial Cluster-cum-Logistics Park with a primary aim of creating cooperation with Inland Waterways Authority of India (IWAI).
iv.This project will help farmers, traders and general public in the 1400km stretch of National Waterway – 1to engage in sustainable agriculture practices, including zero budget farming, planting of fruit trees and building plant nurseries on the banks of Ganga & in turn they will get better return for their produce as the transportation of goods.
BANKING & FINANCE
Odisha MSME Dept inked MoU with HDFC Bank to boost startups
The Micro Small and Medium Enterprises (MSME) Department of government of Odisha has signed Memorandum of Understanding (MoU) with the Housing Development Finance Corporation (HDFC) Bank Limited to provide smart banking solutions to Startups recognised by the Startup Odisha  and will also extend incubation and acceleration support to all Startups, banking with them.
About HDFC:
Establishment– 1994
Digital Assistant– Eva
Managing Director– Aditya Puri
Head Office– Mumbai, Maharashtra
ECONOMY & BUSINESS
Indian imports to U.S. will face countervailing duties as India removed from USTR's list of subsidy preference
Recently, United States Trade Representative (USTR) has removed India, Brazil, Indonesia, Hong Kong, South Africa and Argentina from getting special preferences under the methodology for countervailing duty (CVD) investigations. It is a list of developing countries that are exempt from investigations into whether they harm American industry with unfairly subsidised exports.
Apart from this, in order to make imposing of countervailing duties (CVDs) easier on goods imported from India and certain other countries, the U.S. (United States) government has changed an administrative rule for the same.
Key Points:
i.Though India's gross national income (GNI) is below $12,375 or ₹8.82 lakh but being a member of the G-20 and having a share of 0.5% or more of world trade, the United States considered it as a developed country. USTR considers countries with a share of 0.5% or more of world trade as developed countries.
ii.The subsidy preference is a World Trade Organisation (WTO) regulation, which allows self-declared developing countries to get preferential trade treatment in developed countries, to boost weaker economies. Developing countries are permitted up to 2% of export or production subsidies. Now, India is  ineligible for the 2% de minimis standard.
What is CVD?
It is an additional import duty imposed on imported products (by the importing country) when such products enjoy benefits like export subsidies and tax concessions in the country of their origin (ie., where it is produced and exported).
About USTR:
Establishment– 1963
United States Trade Representative– Robert E. Lighthizer
Head Office– Washington, DC, USA
Amazon Web Services to invest $1.6 billion for 2 data centres in India
Amazon, E-commerce (electronic commerce) company and leader in cloud computing service with its Amazon Web Services (AWS), is setting up 2 data centers near Hyderabad, Telangana, with a total investment of Rs. 11,630 crore (around $ 1.6 billion). The data center aims for safe and secure storage, to manage and process customer data & information through cloud computing.
Key Points:
i.1st data center is being proposed with an investment of Rs. 5809 crore on over 48 acres (1,94,293 square meters) in Meerkhanpet village, Rangareddy district, Telangana.
ii.2nd center is proposed with an investment of Rs. 5821 crore on about 33 acres (1,37,033 square meters) in Chandanvelly & Hythabad villages, Telangana.
iii.Telangana State Expert appraisal Committee (SEAC) and Telangana State Level Environment Impact Assessment Authority (SEIAA) recently approved to set up the data centers.
iv.Telangana government has framed a dedicated policy & also provide incentives for setting up the data centers.
v.In 2019, Amazon had opened an office in Gachibowli, Hyderabad, consisting of 15,000 employees. It was the 1st owned office building by American company Amazon outside the US (united States).
About Amazon:
Founded- 5 July 1994.
Headquarters- United States (US).
Founder & CEO (Chief Executive Officer)- Jeffrey Preston Bezos.
AWARDS & RECOGNITIONS        
BioAsia 2020 announces Genome Valley Excellence Award
On February 13, 2020 American immunologist and oncologist Dr. Carl H June and Novartis CEO Dr. Vasant Narsimhan will be presented with the Genome Valley Excellence Award of BioAsia 2020. The function will be organized by the Telangana government annual global biotechnology & life sciences forum on February (17 to 19, 2020).
Key Points:
i.Dr. Carl H June will be awarded for his work in immunotherapy, research in development of CAR-T (Chimeric Antigen Receptor- T cells) for treatment of cancer & commercialization of world's first FDA (Food and Drug Administration, United States)- approved gene therapy.
ii.Dr. Narasimhan has been selected for his new vision in the pharmaceutical business in digital technology and healthcare. He also worked in the development of 20 novel medicines, including advanced cells, gene therapy as well as vaccines and also worked on the public health issues particularly in developing countries.
About Genome Valley Excellence Award:
Genome Valley Excellence Award was instituted in 2004 to recognize and honour eminent individuals & organisations for their exceptional contribution to the life science research & public health.
About Telangana:
Capital- Hyderabad.
Chief Minister (CM)- Kalvakuntla Chandrashekar Rao.
Governor- Dr. Tamilisai Soundararajan.
India's renowned Feminist scholar & activist Gita Sen wins Dan David Prize 2020
Gita Sen , an Indian feminist scholar, activist has won the prestigious Dan David Prize 2020 under "present" category for her path-breaking work in the fields of population policies, reproductive and sexual health, women's rights, poverty, labour markets and global governance.
i.Ms. Sen, who is the Distinguished Professor & Director at the Ramalingaswami Centre on Equity & Social Determinants of Health, at the Public Health Foundation of India, has spent her 35 years of academic career in policy advocacy and activism, helping to shape the global paradigm shift on population and development.
ii.About Dan David Prize: Given by Dan David Foundation (headquartered at Tel Aviv University, Israel), this award carries prize of US$ 1 million for achievements having an outstanding scientific, technological, cultural or social impact in this world….Click here to Read More
India's President Shri Ram Nath Kovind awarded President's Colour to Indian Naval Station Shivaji
On February 13, 2020 Shri Ramnath Kovind, President of India & Supreme Commander of IAF (Indian Armed Forces), awarded President's colour (highest military honour) to INS (Indian Naval Station) Shivaji, Lonavala, Maharashtra. The award was received by Nishan Adhikari, INS Shivaji and A special cover marking the Platinum Jubilee of INS Shivaji (completed 75 years of service) was released by the President.
Key Points:
i.The ceremonial parade was organized by INS Shivaji consisting of 130 officers, 630 sailors of the Indian Navy, 150 men Guard of Honor and  was commanded by Commodore Ravnish Seth.
ii.Shri Bhagat Singh Koshyari, the Hon'ble Governor of Maharashtra, Admiral Karambir Singh, Chief of the Naval Staff, Vice Admiral AK Chawla, Flag Officer Commanding-in-Chief, Southern Naval Command were present on the occasion.
iii.About President's Colour: The award ranks high among the honour bestowed upon a military unit in recognition of the exceptional  service rendered to the nation, in peace or war.
iv.INS Shivaji  was one of the training establishments of the Indian Navy giving imparting training to officers & sailors of the Indian Navy, Indian Coast Guard and friendly foreign navies in the domain of Marine Engineering, Nuclear, Biological and chemical defence including Damage Control, Fire Fighting.
v.The institution conducts more than 500 courses for officers, sailors & has an annual training throughput of more than 2800 officers and 7800 sailors.
About INS Shivaji:
Founded- 1945.
Motto- "Skill at Work".
Rajendra Indraman Singh and Dr Sohini Sastri won Indian Achievers Award 2020
On February 13, 2020 On February 13, 2020 Rajendra Indraman Singh, Founder & Chairperson of Priyadarshini Group of Schools &  Colleges has been awarded the Indian Achievers Award (IAA) in recognition of his "Outstanding Contribution to Indian Education".
Kolkata-born renowned astrologer Dr Sohini Sastri awarded IAA as Best Astrologer of the year .
The award was presented by Dr Ramesh Pokhriyal, Union HRD (Human Resource Development) Minister, in a special ceremony at Vigyan Bhavan, New Delhi, India.
Key Points:
i.About Indraman Singh: Indraman Singh started a very small school with just 5 students in Bhosari, Pune, Maharashtra, on August 15, 1982. The school has today evolved into one of the best schools in Pune & the number of students has also grown to over 15,000 in the schools & colleges of the institution.
ii.About Dr Sohini Sastri: She was an internationally known Astrologer by profession and won various national & international awards for her professional and social initiatives on society.
iii.Dr Sohini Sastri Awards: Dr Sastri received the prestigious "Champions of Change" award from former President, Dr Pranab Mukherjee, "Pride of the Nation" award from Rajnath Singh, the Defence Minister of India and the "Brilliance Award" from Baby Rani Maurya, Governor of Uttarakhand….Click here to Read More
Hockey player Manpreet singh became the 1st  Indian to receive FIH player of the year award 2019
Manpreet Singh Pawar (27),the captain of India men's national field hockey team, has been selected as the FIH Men's Player of the Year 2019 by the International Hockey Federation (FIH).With this he becomes the 1st Indian to receive this honor.
At the same time, Netherlands women"s captain Eva de Goede (30) has been named as FIH Women"s Player of the Year 2019.
Key Points:
i.In the race for the award, Manpreet has overtaken Belgium's Arthur van Doren and Lucas Vila of Argentina, who finished second and third respectively.whereas, Goede took the prize ahead of Argentina"s Carla Rebecchi and Janne Müller-Wieland of Germany, who finished second and third respectively.
ii.Manpreet, who made his 2011 debut, has played more than 260 matches & under his leadership, the Indian team won the FIH Olympic qualifier to ensure its place for the Tokyo Olympic Games 2020.He has also played in the 2012 London and 2016 Rio Olympics.
Other winners:
| | | |
| --- | --- | --- |
| S.NO | Award Name | Won by |
| 1 | FIH Men's Goalkeeper of the Year 2019 | Vincent Vanasch (Belgium) |
| 2 | FIH Women's Goalkeeper of the Year 2019 | Rachael Lynch (Australia) |
| 3 | FIH Men's Coach of the Year 2019 | Colin Batch (Australia) |
| 4 | FIH Women's Coach of the Year 2019 | Alyson Regina Annan (Australia) |
About FIH/ International Hockey Federation:
Headquarters– Lausanne, Switzerland
President– Narinder Dhruv Batra
Founded– 7 January 1924
APPOINTMENTS & RESIGNATIONS       
ISRO space scientist G Narayanan becomes chairman of NSIL
On February 11, 2020 Veteran ISRO (Indian Space Research Organization) space scientist G Narayanan has been named as the Chairman of NSIL (New Space India Limited), a Public Sector Unit (PSU) of Government of India.
Key Points:
i.About Narayanan: He served as Deputy Director (systems reliability & quality assurance) in LPSC (Liquid Propulsion Systems Center), a Thiruvananthapuram-based unit of ISRO that designs, develops liquid propulsion stages for launch vehicles.
ii.Narayanan worked as the first secretary (space) at the Indian embassy in Paris.
iii.He joined ISRO in 1983 and was born in Palakkad, Kerala and an alumnus from College of Engineering, Thiruvananthapuram, Kerala.
iv.NSIL was set up to meet the increasing demands in the Indian Space programme. It will also  manufacture SSLV (Small Satellite Launch Vehicle) or mini-PSLV (Polar Satellite Launch Vehicle) in collaboration with the private sector & other space products.
v.ISRO is also working on a new launchpad for SSLV launches in Kulasekarapattinam, Tamil Nadu (TN).
About NSIL:
Founded- March 6, 2019.
Headquarters- Bengaluru, Karnataka.
Government of India appointed Rajiv Bansal as new CMD of Air India
On February 14, 2020 Government of India appointed Rajiv Bansal as CMD (Chairman & Managing Director) of Air India. He was the successor of Ashwani Lohani, who didn't agree to extend his 1 year contract, which expired on february 11, 2020.
Key Points:
i.Rajiv Bansal served as an additional secretary with the oil & gas ministry and also served as a CMD of Air India in 2017.
ii.Ashwani Lohani, who was reappointed Air India CMD in 2019, had earlier held the position for 2 years from 2015. He served as the Chairman of the Railway Board from August 2017 to December 31, 2018.
About Air India:
Founded- 15 October 1932.
Headquarters- New Delhi.
CARE Ratings Chairman S B Mainak resigned
On February 13, 2020 Suryakanth Mainak, resigned as Chairman of CARE (Credit Analysis and Research Limited) ratings due to irregularities in the agency's rating of bankrupt shadow-banking firm Infrastructure Leasing & Financial Services Ltd (IL&FS).
About S B Mainak:
i.Mainak served as the Managing Director (MD) of Life Insurance Corporation (LIC) of India and joined the board of CARE ratings in August 2015.
About CARE Ratings:
Founded- 1993.
Chief Executive Officer (CEO)- Mr. T.N. Arunkumar.
 SCIENCE & TECHNOLOGY
NASA's 'SuperCam' to study mineralogy of Mars during Mars 2020 rover mission
NASA (National Aeronautics and Space Administration) is all set to send a new laser-toting robot named 'SuperCam' to Mars for studying mineralogy and chemistry from up to about 20 feet (7 meters) away, to help scientists in finding the signs of fossilized microbial life on the Red Planet i.e. Mars. SuperCam, a rock-vaporizing instrument is a part of seven instruments aboard the Mars 2020 rover.
About Mars 2020 rover mission:
It is part of NASA's Mars Exploration Program which will launched between July 17 – Aug. 5, 2020 Cape Canaveral Air Force Station, Florida. It will land at Jezero Crater, Mars on Feb. 18, 2021. The mission duration is at least one Mars year (about 687 Earth days). The Mars 2020 rover is designed to better understand the geology of Mars and seek signs of ancient life.
About NASA:
Headquarters– Washington, D.C., United States
Administrator– Jim Bridenstine
US scientists discover the newborn massive planet closer to earth called "2MASS 1155-7919 b"
On February 12, 2020, Rochester Institute of Technology (RIT), in Rochester, New York, US (Uinted States) have detected the nearest-known 'baby giant planet' called 2MASS 1155-7919 b, just 330 light-years from Earth.
The scientists discovered this very young exoplanet by using data from Gaia space observatory.
Key Points:
i.This massive newborn planet is closer to Earth & has a mass just 10 times the size of Jupiter, the largest planet in the Solar System .It is located in the Epsilon Chamaeleontis Association.
ii.The baby planet orbits a star- that is only about 5 million years old, about one thousand times younger than our sun- at 600 times the distance the Earth orbits the Sun.
iii.The study has been published in the journal Research Notes of the American Astronomical Society.
ENVIRONMENT
79-million-year-old fossils of new Thanatotheristes found in Canada
On February 12,2020, The University of Calgary's graduates Jared Voris and Darla Zelenitsky has discovered that the 79-million-year-old dinosaur fossils at Alberta, Canada in 2010 is belongs to a new species of Tyrannosaur named as Thanatotheristes degrootorum after John and Sandra De Groot found the fossil in 2010, which means "reaper of death".
Key points:
i.Tyrannosaurs were one of the largest meat-eating dinosaurs, researchers found that Thanatotheristes is the oldest tyrannosaurs from North America, and it preyed large plant-eating dinosaurs such as Horned Xenoceratops and Dome-headed Colepiocephale. It was published by Cretaceous Research.
SPORTS
Inaugural National winter games 2020 to be held in Ladakh and J&K's Gulmarg
As a part of Khelo India programme, Union Territory of Ladakh will host the inaugural Khelo India Winter Games 2020 in the third week of February and Kongdori, Gulmarg of Jammu and Kashmir will host from March 7, 2020. The Union sports ministry will fund both the Khelo India Winter Games 2020 which will be organised by JandK Sports Council and Winter Games Association of J&K, with 15 teams from different states and organisations.
Key Points:
i.The Khelo India Ladakh Winter Games will feature an open ice hockey championship, figure skating and speed skating and the competition will be conducted at block, district and UT  levels.
ii.The competitions of the Khelo India J&K Winter Games will feature 30 events under four disciplines including snowboarding, snow skiing, cross country and snow show. Athletes in the age categories of 19-21 years, 17-18 years, 15-16 years and 13-14 years can compete in alpine skiing, cross country skiing, snow boarding and snowshoeing.
Boxer Amit Panghal ranks world No. 1 in IOC's ranking for Olympic qualifiers
On February 13, 2020, A 24-year-old world championship silver medalist boxer Amit Panghal has ranked No.1 in 52kg weight category in International Olympic Committee's (IOC) Boxing Task Force rankings for Olympics Qualifiers with 420 points. The ranking was based on the performance of players in the last two World championships (2017,2019) and the continental championships.
Key points:
i.Amit became the 1st Indian to claim a silver medal at the world championship, he also clinched gold medals at the 2018 commonwealth and Asian Games.
ii.In the women's rankings Indian Boxer Mary Kom Occupies 5th spot in the 51kg category ranking.
About International Olympic Committee (IOC):
Headquarters- Lausanne, Switzerland
President- Thomas Bach
Womens T20I Tri-Series 2020 in Melbourne; Host Australia beats India by 11 runs
Indian women's cricket team played Women's T20I Tri-Series 2020 in Australia held from January 31 – February 12, 2020
Winner:The final match was played between the women's cricket teams of India and Australia at the Junction Oval ground in Melbourne on 12 February 2020. In this match, Australia won the title by 11 runs and captured the title.
Key Points:
i.Indian cricketer Smriti Mandhana completed her half-century and hit an innings of 66 runs. In reply to the 156 runs won by Australia, the Indian team could only manage 144 runs for 9 wickets in 20 overs
The Indian team was led by Harmanpreet Kaur. The Australian team was led by Meghann Moira Lanning.
ii.This tournament is a preparatory event for the T20 (Twenty-20) World Cup beginning in Australia on 21 February, 2020.
OBITUARY
Nobel Prize awardee & Former TERI, IPCC chief Rajendra Kumar Pachauri passed away at 79
On February 14, 2020 Rajindra Kumar Pachauri, former Chairman and Director General of The Energy Resources Institute (TERI), passed away at the age of 79 in New Delhi, India due to cardiac ailments.
He was born on 20 August 1940 in Nainital, Uttarakhand.
Key Points:
i.In April 2002, Pachauri was elected as the chairman of the Intergovernmental Panel on Climate Change (IPCC), established by the World Meteorological Organisation and the United Nations Environment Programme in 1988.
ii.Awards: Pachauri received the Nobel Peace Prize on behalf of the IPCC, with the former United States (US) Vice President, Al Gore, for the year 2007,  Padma Vibhushan in 2008 & Padma Bhushan in 2001 from the Government of India.
STATE NEWS
Board Exam 2020: UP Govt launched toll free helpline numbers for students
On February 12, 2020 Uttar Pradesh (UP) Government launched toll-free helpline numbers to solve the queries of students ahead of the Board Examinations. The toll-free helpline number was launched by Dinesh Sharma, Deputy Chief Minister of UP, who holds the education portfolio. A senior officer of UP Madhyamik Shiksha Parishad is designated as Nodal officer.
Key Points:
i.The helpline numbers will remain active from 8 am to 8pm.
ii.In case of any queries regarding the board exams students can contact the helpline numbers, 1800-180-5310 and 1800-180-5312.
iii.Several academicians and experts of different subjects will be made available on call, to clear the doubts of students.
About Uttar Pradesh:
Capital- Lucknow.
Districts- 75.
Chief Minister (CM)- Yogi Adityanath.
Governor- Anandiben Patel.
AC GAZE
Scientist finds Mysterious Yaravirus in Brazil
Researchers have discovered an unusual and intriguing phenomenon Called Yaravirus in an artificial lake Pampulha in the Brazilian city of Belo Horizonte.The Yaravirus has genes(not described before) and "puzzling origin & phylogeny",which is small in size and infects amoeba,named after Yara – or Iara, a water-queen figure in Brazilian mythology.
Current Affairs Headlines: 14 February 2020
INS Jamuna initiated Joint Hydrographic Operations off Sri Lanka
Amit Shah inaugurated two-day BIMSTEC 'Conference on Combating Drug Trafficking', in New Delhi from Feb 13 – 14, 2020
Anti-Hijack mock drill conducted at Visakhapatnam Airport
Government renames two Famous Institute after Sushma Swaraj
Union minister Jitendra singh attends National workshop on e-office in New Delhi; CPGRAMS reforms launched
Gandhinagar railway station in Gujarat to be the 1st in India to add 5-star hotel above the tracks: VK Yadav
TB notifications to Govt up 38% to 23.98 lakhs in 2019: Ministry of Health and family welfare
Vietnam's Vice President visited India from Feb 11 – 13, 2020; holds bilateral level talks with Venakaih Naidu
Arth-Ganga project to channelize economic activity along Ganga river bank: Shipping ministry
Odisha MSME Dept inked MoU with HDFC Bank to boost startups
Indian imports to U.S. will face countervailing duties as India removed from USTR's list of subsidy preference
Amazon Web Services to invest $1.6 billion for 2 data centres in India
BioAsia 2020 announces Genome Valley Excellence Award
India's renowned Feminist scholar & activist Gita Sen wins Dan David Prize 2020
India's President Shri Ram Nath Kovind awarded President's Colour to Indian Naval Station Shivaji
Rajendra Indraman Singh and Dr Sohini Sastri won Indian Achievers Award 2020
Hockey player Manpreet singh became the 1st Indian to receive FIH player of the year award 2019
ISRO space scientist G Narayanan becomes chairman of NSIL
Government of India appointed Rajiv Bansal as new CMD of Air India
CARE Ratings Chairman S B Mainak resigned
NASA's 'SuperCam' to study mineralogy of Mars during Mars 2020 rover mission
US scientists discover the newborn massive planet closer to earth called "2MASS 1155-7919 b"
79-million-year-old fossils of new Thanatotheristes found in Canada
Inaugural National winter games 2020 to be held in Ladakh and J&K's Gulmarg
Boxer Amit Panghal ranks world No. 1 in IOC's ranking for Olympic qualifiers
Womens T20I Tri-Series 2020 in Melbourne; Host Australia beats India by 11 runs
Nobel Prize awardee & Former TERI, IPCC chief Rajendra Kumar Pachauri passed away at 79
Board Exam 2020: UP Govt launched toll free helpline numbers for students
Scientist finds Mysterious Yaravirus in Brazil
Govt to invest over Rs 1 lakh cr on infrastructure development in next 5 years
[su_button url="https://affairscloud.com/current-affairs/february-2020/" target="self" style="default" background="#2D89EF" color="#FFFFFF" size="5″ wide="no" center="no" radius="auto" icon="" icon_color="#FFFFFF" text_shadow="none" desc="" download="" onclick="" rel="" title="" id="" class=""]Click Here to Read Current Affairs February 2020[/su_button]
AffairsCloud Ebook - Support Us to Grow