The President of Portugal Mr Marcelo Rebelo de Sousa has paid a four days visit to India for the first time from 13-16 February 2020 on the invitation of the President of India, Shri Ram Nath Kovind. He was accompanied by Minister of State and Foreign Affairs, Professor Augusto Santos Silva, Secretary of State for Internationalization, Professor Eurico Brilhante Dias and Secretary of State for National Defense, Mr. Jorge Seguro Sanches.  The last visit by a President of Portugal (Prof. Anibal Antonio Cavaco Silva) to India was in 2007.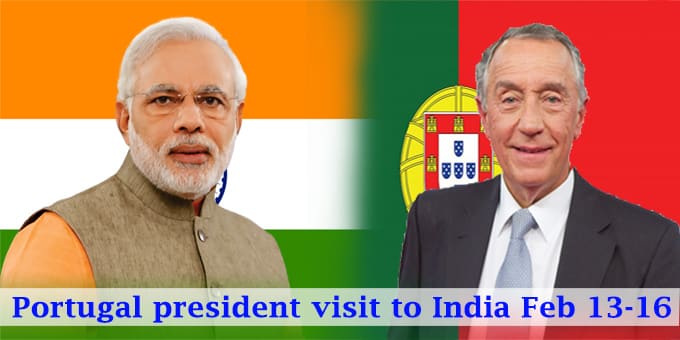 Meeting with PM Modi
On 14 Feb 2020, Mr. Jorge Seguro Sanches was accorded a ceremonial welcome at Rashtrapati Bhavan in New Delhi followed by a visit to Rajghat. After that he met with Prime Minister Narendra Modi and held extensive talks on the expansion of  bilateral ties including in areas of trade, investment and education.
Attended India-Portugal Business Forum in Mumbai, Maharashtra
On 15 Feb 2020, Mr. Sousa along with Indian Union Commerce and Industries Minister Piyush Goyal attended the India-Portugal Business Forum in Mumbai, Maharashtra which was organised by industry bodies, Confederation of Indian Industry (CII), Associated Chambers of Commerce and Industry of India (ASSOCHAM), and Federation of Indian Chambers of Commerce and Industry (FICCI).
Meet with President of India, 14 MoU inked
On 14 Feb 2020, Mr. Sousa met with the President of India, Ram Nath Kovind. The latter thanked Portugal for extending its support for the commemoration of Mahatma Gandhi's 150th birth anniversary.
The meet saw the exchange of 14 agreements and understandings between India and Portugal in the fields of maritime heritage, maritime transport and port development, migration and mobility, start-ups, Intellectual Property Rights, aerospace, nano-biotechnology, audio visual co-production, yoga, diplomatic training, scientific research and public-policy.
MoU on National Maritime Heritage Complex, Lothal: One of the MoU is to develop a world class National Maritime Heritage Complex (NMHC) at Lothal, Gujarat with the cooperation from the Republic of Portugal. It will pay the way for cooperation between the two countries for showcasing common Maritime Heritage.The MoU was signed by President of Portugal H.E.Mr Marcelo Rebelo de Sousa, Minister of National Defense of Portugal and Minister of State for Shipping(I/C)and Chemical and Fertilizer, Shri Mansukh Mandaviya.
Visit to Goa; 3 MoUs signed
Marcelo Rebelo de Sousa of Portugal arrived in Goa on 15 Feb 2020, on a two-day visit. There he inaugurated a seminar on urban designs organised by state-run Imagine Panaji Smart City Development Limited. He visited churches in Old Goa, including the Basilica of Bom Jesus where relics of St Francis Xavier are preserved.
List of MoUs:
i.Water and sanitation firm Aguas de Portugal signed a Memorandum of Understanding  (MoU) with Goa's Public Works Department on augmenting water supply and managing sewerage. The Public Works Department of Goa would be the nodal agency which will coordinate with Aguas de Portugal. The contract is for two years.
ii.An agreement was also signed between University of Coimbra in Portugal and Goa's G K Kare College of Law in the "scientific field of law and in the field of Portuguese language and culture".
iii.Agreements were also signed in the field of design and supply of ships in Africa and Latin American countries, marine engineering, shipbuilding technology, ocean resources and technology and others.
Portuguese president inaugurated Cha-Chai art work at National Museum, New Delhi
Union Minister for Culture & Tourism Prahlad Singh Patel and President of the Portuguese Republic Marcelo Rebelo de Sousa jointly inaugurated the Cha-Chai, an installation of artwork of Joana Vasconcelos (Portuguese artist) at the National Museum in New Delhi. The installation represents the five o'clock tradition of serving tea in Portugal that originated in the 17th century.  India and Portugal are collaborating to develop various cultural projects in India.
Portugal supports New Delhi's bid for UNSC permanent membership
Portugal Portugal extended support for India's bid for a permanent seat in the United Nations Security Council (UNSC). India will participate in the 2020 UN Ocean Conference to be held between June 2-6 in Lisbon in Portugal.
Portugal to be India's partner country at Technology Submit 2020
Portugal will be India's partner country at the Technology Submit 2020 to be held in New Delhi. India will also organise the Youth Hachaton in Portugal later this year.
About Portugal:
Capital– Lisbon
Currency– Euro
Prime minister– António Costa
AffairsCloud Ebook - Support Us to Grow