We are here for you to provide the important Recent and Latest Current Affairs 30 November 2019, which have unique updates of Latest Current Affairs 2019 events from all newspapers such as The Hindu, The Economic Times, PIB, Times of India, PTI, Indian Express, Business Standard and all Government official websites.
Our Current Affairs November 2019 events will help you to get more marks in Banking, Insurance, SSC, Railways, UPSC, CLAT and all State Government Exams. Also try our Latest Current Affairs Quiz and Monthly Current Affairs PDF which will be a pedestrian to crack your exams.
Click here for Current Affairs November 29 2019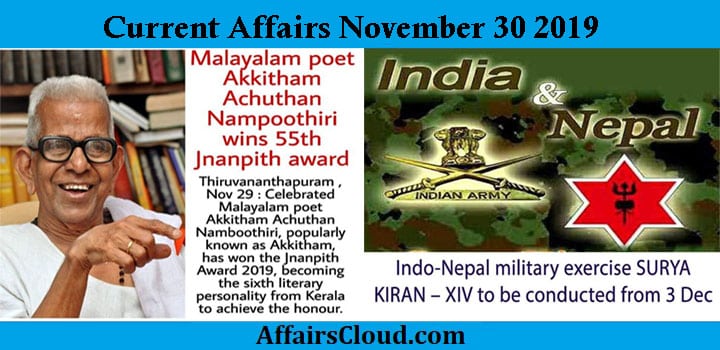 INDIAN AFFAIRS
'SURYA KIRAN – XIV' Joint military exercise between India and Nepal will be held in Salijhandi, Nepal
'SURYA KIRAN – XIV' the Joint military exercise between India and Nepal will be held in Salijhandi, Rupendehi district of Nepal from 03 to 16 December 2019.
Objective:
The Objective of the exercise is to increase interoperability in jungle warfare, counter-terrorism operations in mountainous terrain, humanitarian assistance, disaster relief, medical and environmental conservation.
Key Points:
i.300 soldiers from both the Indian and Nepal Army will participate in the exercise.
ii.Both the countries will share the experience about various counter-insurgency and terrorism operations .
Recent Military Exercise India Participated:
 Dustlik-2019(Military)– India & Uzbekistan.
 INDRA 2019(1st tri service exercise)– India & Russia.
Za'ir-Al-Bahr(Roar of the Sea)(Navy Exercise)- India & Qatar.
10th JMT between air forces of Singapore and India in West Bengal; added Air-Sea Drill for the 1st time
The Indian Air Force (IAF) and the Republic of Singapore Air Force (RSAF) are conducting the 10th Joint Military Training (JMT) at Kalaikunda Air Force Station in West Bengal from October 31 to December 12. The first JMT was conducted in the year 2008 under the ambit of the Air Force agreement, signed in 2007.
Key Points:
i.The exercise was expanded this year including an Air-Sea training for the first time with IAF's six SU-30MKI fighter aircraft and RSAF's six F-16C/D fighter aircraft, it also includes high-end training like Air Combat and Mission oriented trainings.
About Indian Air Force (IAF):
Founded- 8 October 1932
Headquarters- New Delhi
Commander in Chief- President Ram Nath Kovind
Republic of Singapore Air Force (RSAF):
Founded- 1 September 1968
Chief of Air Force- Major General Kelvin Khong Boon Leong
Centre has extended ban on United Liberation Front of Asom (ULFA) for five years
On November 28, 2019, Ministry of Home Affairs (MHA) has extended the ban against United Liberation Front of Asom (ULFA) after exercising the powers conferred by sub-section (1) of section 3 of the Unlawful Activities (Prevention) Act, 1967. With this, the Assam-based ultra outfit, ULFA along with all its factions, wings and front organizations declared as an unlawful association.
Reason behind ban extension again ULFA:
Even after the ban (2015-2019), the organization continued subversive activities, including killings, kidnapping, and extortions, intended to disrupt the sovereignty and territorial integrity of India. Its objective is the liberation of Assam.
About Ministry of Home Affairs:
Union Home Minister- Amit Shah
Minister of State (MoS)- G. Kishan Reddy, Nityanand Rai
Departments- 6 Department Of Border Management, Department Of Internal Security, Department Of Jammu, Kashmir And Ladakh Affairs, Department Of Home, Department Of Official Language, and Department Of States
Government is to make Hallmarking for Gold Jewellery mandatory from January 15, 2021
On 29th November 2019, Government has decided to make Hallmarking of Gold jewellery and Artifacts and registration with the Bureau of Indian Standards (BIS) mandatory from January 15, 2021 and the notification will be issued by January 15, 2020 by the Department of Consumer Affairs. The announcement has been made by Union Consumer Affairs Minister Ram Vilas Paswan.
Key Points:
i.The notification to make the Hallmarking of Gold jewellery mandatory will be made compulsory only in the year 2021 as the 1 year period is given to jewellers to implement the notification and to clear the current stock.
About Bureau of Indian Standards (BIS):
Formed- 23rd December 1986
Headquarters- Manak Bhawan, New Delhi
Parent agency- Ministry of Consumer Affairs, Food and Public Distribution
2-Day event of 47th All India Police Science Congress held in Lucknow from 28-29 November 2019
A 2 day event of 47th All India Police Science Congress was held at the DGP (Director General of Police) headquarters in Lucknow, Uttar Pradesh (UP) between 28th and 29th November 2019. The event was organized by the Bureau of Police Research and Development (BPR&D). The opening ceremony was inaugurated by Kiran Bedi, Lieutenant Governor of Puducherry and the closing ceremony was inaugurated by Amit Shah, Union Home Minister.
Key Points:
i.The participants of the event include 120 teams of Police officials from all States and Union Territories (UT) and also Central Government agencies CBI (Central Bureau of Investigation), CRPF (Central Reserve Police Force) and BSF (Border Security Force).
ii.The event involves the discussion on reforms in Policing, Forensic Science, Investigation and safety of Women and Children, training and use of CCTNS (Crime and Criminal Tracking Network and Systems) / Interoperable Criminal Justice System (ICJS) in advancement of criminal justice and also Presentations on the best use of technology in delivering Justice to Common Man by Ashutosh Pandey, IPS (Indian Police Service) and War against rumours in the digital space by Aligarh Kulhary, SSP (Superintendent of Police).
About Uttar Pradesh(UP):
Capital- Lucknow
Governor- Anandiben Patel
Chief Minister (CM)- Yogi Adityanath
Bureau of Police Research and Development (BPR&D):
Parent agency- Ministry of Home Affairs
Headquarters- New Delhi, India
Formed- 28 August 1970
3 Day event of NuGen Mobility Summit held in Manesar from 27-29 November 2019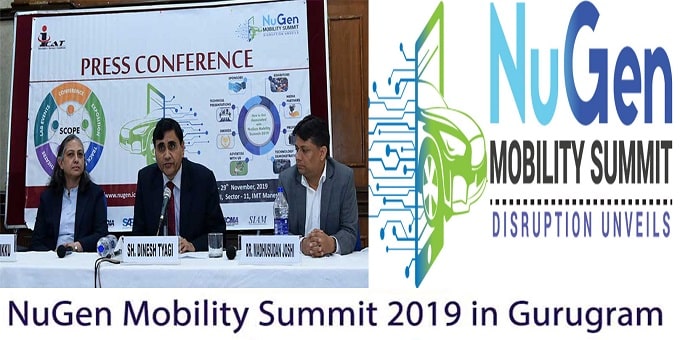 A 3 day event of NuGen Mobility Summit was held in Manesar, Haryana from 27th to 29th November 2019. The event was organised by the International Centre for Automobile Technology (ICAT) in associate with SAENIS (Northern India Section), SAE INDIA, SAE International, NATRiP (National Automotive Testing and R&D Infrastructure Project), DIMTS (Delhi Integrated Multi-Modal Transit System), DHI (Department of Heavy Industries), MoRTH, SIAM (Society of Indian Automobile Manufacturers) and ACMA (Automotive Component Manufacturers Association of India) and inaugurated by Chief Guest, Nitin Gadkari, Union Minister of Road Transport and Shipping.
Key Points:
i. The purpose of the event is to provide innovative ideas and experience on Automotive technologies for the high-speed acquisition of advanced and automotive technologies for a smarter and greener future.
ii.The event involved the launching of ICAT NuGen Drive Safe Club Mobile App as an initiative to recognize and reward safe driving behaviour….Click here to Read More
INTERNATIONAL AFFAIRS
Fifth NITI Aayog–DRC Dialogue Held in Wuhan
On 28 November 2019, the Fifth Dialogue of NITI Aayog and Development Research Centre (DRC), of the State Council, People's Republic of China, was held in Wuhan, China. The Indian delegation was led by Dr Rajiv Kumar, Vice-Chairman of NITI Aayog while the Chinese delegation was led by Ma Jiantang, Party Secretary of DRC.
Key Points:
i.This is the first ministerial Dialogue between China and India since the informal meeting between Chinese President Xi Jinping and Indian Prime Minister Narendra Modi in Chennai.
ii.Sessions of the dialogue included global economy, globalisation and macroeconomic policies in China and India, innovation and development, and potential for Sino-India trade and economic cooperation.
iii.Based on the agreement at the Fourth Dialogue in Mumbai 2018, DRC and NITI Aayog had undertaken joint research in the areas of WTO (World Trade Organization) reform and urbanization.
iv.The Sixth Dialogue will be convened in India in the second half of November 2020.
About NITI Aayog:
Formation- 1 January 2015
Chairperson- Narendra Modi
Chief Excecutive Officer- Amitabh Kant
Saudi Arabia elected to UNESCO's World Heritage Committee 
Saudi Arabia was elected to UNESCO's (United Nations Educational, Scientific and Cultural Organization) World Heritage Committee for the first time during the 22nd General Assembly of the State Parties after winning the membership in the UNESCO Executive Board for 2019-2023. The UNESCO Executive board comprises of 58 member states.
Key Points:
i.Saudi Arabia has five sites that are currently included in the World Heritage Sites List- Madain Saleh in Al-Ula, the Turaif district in Diriyah, the historic area in Jeddah, rock paintings in Jubbah and Shuwaymis and the oasis of Al-Ahsa.
ii.The list of other countries included in the World Heritage Committee are Egypt, Ethiopia, Mali, Nigeria, Oman, Thailand, the Russian Federation and South Africa….Click here to Read More
UNEP report warns the world to cut emission by 7.6% to achieve 1.5°C Paris target by 2030
On November 28, 2019 the United Nations Environment Programme (UNEP) report titled "Emissions Gap 2019" warns the world to reduce greenhouse gas emissions by 7.6% each year between 2020 and 2030 to achieve the 1.5°C temperature goal of the Paris Agreement by 2030. Despite the commitments under the Paris Agreement temperatures are still expected to rise by 3.2°C, bringing even wider-ranging and more destructive climate impacts.
The Paris Agreement: It is a 2015 landmark climate accord, that pledges to keep global warming "well below" 2 °C (degree Celsius) above pre-industrial levels and strive for a lower limit of 1.5 degrees Celsius. The Intergovernmental Panel on Climate Change (IPCC) announced that if the world fails to limit global warming to below 1.5°C, frequency and intensity of climate impact would increase.
India, along with China, Mexico, Russia and Turkey are projected to meet their targets with current policies. India, Russia and Turkey are expected to  'overperform' their targets by around 15%….Click here to Read More
BANKING & FINANCE
RBI excluded Vijaya Bank, Dena bank from 2nd schedule of RBI Act, 1934
On November 28, 2019, Reserve Bank of India (RBI) has excluded Vijaya Bank and Dena Bank from the second schedule of the RBI Act, 1934 with effect from April 1, 2019, as they have ceased to carry on banking business.
Reason behind exclusion from the act:
The above mentioned public sector banks (PSBs) were merged into Bank of Baroda on April 1, 2019, hence, they were ceased to operate as banking companies separately. It should be noted that in the 2nd Schedule of the RBI Act, 1934, only those banks are included which satisfy the criteria mentioned in section 42 (6) (a) of the RBI Act. Those banks included in this schedule are known as scheduled banks in India while banks not under this schedule are called non-scheduled banks.
About Bank of Baroda:
Headquarters- Alkapuri, Vadodara
Chairman- Hasmukh Adhia
Tagline- India's International Bank
SEBI comes out norms for debt ETFs and index funds
On November 30, 2019, Market regulator Securities and Exchange Board of India has come up with norms for debt exchange-traded funds (ETFs) and index funds, as a part of the government's efforts to enhance depth in the bond market and draw retail investors to debt products. The norms followed the former finance minister Arun Jaitley 2018-19 budget speech, who first announced the plan for debt ETF. These norms will not be applicable to debt ETFs, tracking debt indices having constituents as government securities, treasury bills and tri-party repo.
Key ETF Norms:
i.Index created for debt ETF must have a minimum of eight companies.
ii.No single issuer will have more than 15% weight in the index.
iii.All the constituents of the index must be investment grade as well as have a defined credit rating and defined maturity.
iv.Any new debt ETF that is launched should replicate the index completely.
v.As per the rules, the duration of the debt ETF or index fund should not deviate more than 5% from the duration of the index.
vi.In the event where the credit rating of an issuance falls below the investment grade, rebalancing by the debt ETF must be done within five working days.
vii.All debt ETF issuers should also ensure compliance to the rules for rebalancing at the end of every quarter. These rules will be applicable to all debt ETFs tracking debt indices.
About SEBI:
Establishment- 1992
Headquarters- Mumbai
Chairman- Ajay Tyagi
DHFL becomes the first financial services firm to be taken to NCLT
On November 30, 2019, a corporate insolvency resolution process (IRP) will be initiated by National Company Law Tribunal (NCLT), following Reserve Bank of India (RBI) application, against Dewan Housing Finance Corp. Ltd (DHFL) under Section 227 read with clause (zk) of sub-section (2) of Section 239 of the Insolvency and Bankruptcy Code (IBC), 2016 read with Rules 5 and 6 of the Insolvency and Bankruptcy Rules, 2019.
Key Points:
i.RBI has appointed R. Subramaniakumar as administrator for DHFL, will take over the lender's affairs once his appointment is approved by the NCLT.
ii.With this, DHFL becomes the first financial services firm to be sent to the bankruptcy tribunal after the government rules for referring financial services providers (FSPs) on 15 November.
iii.As per the rules, the FSP creditor or debtor cannot approach the tribunal unlike insolvency proceedings for companies from other sectors. FSP firm has to be referred by a regulator, like here DHFL referred by RBI through administrator R. Subramaniakumar.
DHFL status:
As of July 2019, it owed Rs.83,873 crore to banks, the National Housing Board (NHB), mutual funds and bondholders/retail bondholders. Of this secured debt is Rs.74,054 crore and Rs.9,818 crore is unsecured.
Parent organization- Wadhawan Global Capital
CEO- Vaijinath M Gavarshetty
ECONOMY & BUSINESS
Fiscal deficit for April-Oct hit at 102.4%, crosses full-year target-CGA
On November 29, 2019, according to the data released by the Controller General of Accounts (CGA), India's fiscal deficit for April-October, 2019 hit at 102.4% of 2019-20 Budget Estimate (BE) as on October 31, 2019. The fiscal deficit or the gap between expenditure and revenue was at Rs 7,20,445 crore.
Key Points:
i.In comparison with 2018-19 (last year), the deficit is lower, as it was at 103.9 percent of 2018-19 BE.
ii.In budget, government has estimated the fiscal deficit for the current financial year at Rs 7.03 lakh crore, aiming to restrict the deficit at 3.3 per cent of the gross domestic product (GDP).
iii.Government's revenue receipts during the April-October period of 2019-20 period rose to 46.2 per cent of the BE as compared to 45.7 per cent in the corresponding period last year.In absolute terms, revenue receipts stood at Rs 9.07 lakh crore at the end of October. For the entire 2019-20, the revenue receipts have been pegged at Rs 19.62 lakh crore.
iv.Capital expenditure stood at 59.5 per cent of the BE during April-October period as compared to 59 per cent in the year-ago period
v.Total expenditure during April-October stood at Rs 16.54 lakh crore, or 59.4 per cent of the BE. The government has pegged its total expenditure for 2019-20 at Rs 27.86 lakh crore.
About Controller General of Accounts (CGA):
It works under the aegis of Department of Expenditure, Ministry of Finance. It is a  Principal Accounting Adviser to Government of India.
CGA: J. P. S. Chawla (1985-batch Indian Civil Accounts Service (ICAS) Officer).
India's Q2 GDP growth slipped to a 6-yr low of 4.5%
On November 29, 2019, as per the National Statistical Office (NSO), India's second quarter (Q2: July-September) gross domestic product (GDP) slipped down to 4.5% from 5% in June quarter (Q: April-June). The reason behind this 6-year low downfall is weak consumer demand and private investment, deceleration in manufacturing output, and subdued farm sector activity. It is lowest since January-March of 2012-13 when it was at 4.3 percent.
Key Points:
i.In the corresponding quarter of FY 2018-19, Gross Domestic Product (GDP) growth was recorded at 7%.
ii.On a half-yearly basis (April-September 2019), GDP growth came in at 4.8 percent as compared to 7.5 percent in the same period a year ago.
iii.Gross Fixed Capital Formation (GFCF), which is a barometer of investment, at constant (2011-2012) prices, estimated at Rs 10.83 lakh crore in Q2 of 2019-20 as against Rs 11.16 lakh crore in Q2 of 2018-19.
iv.Output of eight core infrastructure industries contracted by 5.8 percent in October
Sectors which showed a decline:
The gross value added (GVA) growth in the manufacturing sector contracted by 1 percent in the second quarter of this fiscal from 6.9 percent expansion a year ago.
Farm sector GVA growth remained subdued at 2.1 percent, down from 4.9 percent in the corresponding period of the previous fiscal.
Construction sector GVA growth too slowed to 3.3 percent from 8.5 percent earlier.
Mining sector growth was recorded at 0.1 percent as against 2.2 percent contraction a year ago.
Electricity, gas, water supply, and other utility services growth also slowed to 3.6 percent from 8.7 percent a year ago.
Trade, hotel, transport, communication, and services related to broadcasting growth was also down to 4.8 percent in the second quarter.
Financial, real estate and professional services growth slowed to 5.8 percent in the Q2 FY2019-20 from 7 percent a year ago.
Sectors which showed an improvement:
Public administration, defence, and other services reported improvement with an 11.6 percent rise during the quarter under review from 8.6 percent a year earlier.
About National Statistical Office:
It works under the aegis of the Ministry of Statistics and Program Implementation (MoSPI)
Director-General: Vijay Kumar
AWARDS & RECOGNITIONS    
Akkitham Achuthan Namboodri wins 55th Jnanpith Award for the year 2019
On 29th November 2019, Akkitham Achuthan Namboodri, a renowned Malayalam poet has been chosen for the 55th Jnanpith Award 2019 in accordance to the Jnanpith Selection Board. He is also the 6th Malayalam Poet to receive the Jnanpith award. He was born in Kumaranellur, Kerala. The Jnanpith Award is the Highest Literary award in India, awarded to an author to acknowledge his/her excellence in Literature.
About Jnanpith Award:
i.The Jnanpith award comprises of Rs.11 lakh cash prize and a bronze replica of Saraswati. The award is presented to literary works in any of the 22 languages included in the 8th Schedule of the Indian Constitution like Hindi, Kanada, Bengali, Malayalam, Gujarati, Marathi, Odia, Telugu, Assamese, Urdu, Punjabi, Tamil, English, Kashmiri, Konkani and Sanskrit.
ii.Akkitham is the author of 55 books which includes 45 poetry and other genres like Drama, Reminiscence, Short stories, Essays, Children Literatures and Translations….Click here to Read More
    SCIENCE & TECHNOLOGY
Indian Navy successfully test-fired Brahmos supersonic cruise missile from INS Kochi
On November 28, 2019, the Indian Navy(IN) successfully test-fired the 290-km strike range Brahmos supersonic cruise missile in the Arabian sea. It was launched from Navy's stealth destroyer INS (Indian Naval Ship) Kochi.
Key Points:
i.In September 2019, the missile featuring Indian propulsion system, airframe, power supply, and other major indigenous components, was successfully test-fired from the Integrated Test Range(ITR), Chandipur in Odisha. In May 2019, IAF test fired its air version from Su-30 MKI fighter aircraft.
ii.The Brahmos missile has been in service with the Indian Navy since 2005.
About Brahmos:
Fact1- Brahmos is a medium-range ramjet supersonic cruise missile that can be launched from submarine, ships, aircraft, or land. It is the world's fastest supersonic cruise missile.
Fact2- It is produced by Brahmos aerospace which is a joint venture between India's Defence Research and Development Organisation (DRDO) and Russia's NPOM (NPO Mashinostroyeniya).
Fact 3- The name Brahmos was coined from the Brahmaputra river of India and Russia's Moskva River.
Indian Navy commissioned 6th Dornier aircraft squadron in Porbandar, Gujarat
On November 29, 2019, the Indian Navy (IN) has commissioned its sixth Dornier aircraft squadron in Porbandar, Gujarat, to enhance coastal security near the sea border with Pakistan. Deputy Chief of Naval Staff (DCNS) Vice Admiral MS Pawar was the chief guest on this occasion.
Key Points:
i.He also commissioned the Indian Naval Air Squadron (INAS) 314, called Raptors ( Bird of Prey family), which will operate with four newly-inducted, next-generation Dornier aircraft.
ii.The squadron, owing to its strategic location, will act as the first responder in this crucial region.
iii.Navy is procuring 12 new Dornier aircraft from HAL with state-of-the-art sensors and equipment including a glass cockpit, advanced surveillance radar, optical sensors, and networking features.
About Dornier aircraft:
Manufactured by Hindustan Aeronautical Limited, Kanpur, it is a multi-role SRMR aircraft, with twin-turboprop engines.
It can be used for electronic warfare missions, maritime surveillance, search and rescue and to provide targeting data to weapon platforms.
Its deployment contributes toward indigenous development and self-reliance through Make in India
SPORTS
Ireland Pacer, Tim James Murtagh retires from International Cricket
On 29th November 2019, Tim James Murtagh, 38 announced his retirement from International Cricket. Tim Murtagh is an Ireland Bowler and Batsman. He represented England in the 2000 ICC Under-19 Cricket World Cup.
Key Points:
i.Murtagh made his International debut for Ireland in the year 2012, he claimed 142 wickets at an average of 25.54 and in 2018 he had his best year with Ireland by taking 28 wickets in 11 matches at an average of 16.32.
ii.Murtagh has signed a two-year contract with Middlesex Cricket League to play Red-ball cricket for the Countryside in the year 2020.
iii. He was one of the 11 players to play Ireland's first Cricket Test Match against Pakistan in the year 2018, he was also named the Men's International Player of the Year at the annual Cricket Ireland Awards in the year 2018.
About ICC (International Cricket Council):
Formation- 15 June, 1909
Headquarters- Dubai, United Arab Emirates
Chairman- Shashank Manohar
OBITUARY
Famous Rock Climber Brad Gobright dies at 31
On 27th November 2019, Brad Gobright, 31 died in Nuevo Leon, Mexico. He was well known for his Rock climbing skills and gravity defying solo ascents with no ropes. Brad Gobright was born in California, United States (US).
Key Points: 
i.Brad Gobright and his fellow Aidan Jacobson, 26 climbed a route in Nuevo Leon known as 'Shining Path' when they fell after their return from the 900 meter climb, Aidan Jacobson landed on a cliff while Brad slipped and fell for another 300 meters and died. Jacobson was injured on various parts of his body and is undergoing treatment.
About United Mexican States:
Capital- Mexico City
President- Andrés Manuel López Obrador
Currency- Peso
[su_button url="https://affairscloud.com/current-affairs-2019/november/" target="self" style="default" background="#2D89EF" color="#FFFFFF" size="5″ wide="no" center="no" radius="auto" icon="" icon_color="#FFFFFF" text_shadow="none" desc="" download="" onclick="" rel="" title="" id="" class=""]Click Here to Read Current Affairs November 2019[/su_button]
AffairsCloud Ebook - Support Us to Grow