We are here for you to provide the important Recent and Latest Current Affairs 19 February 2020, which have unique updates of Latest Current Affairs 2020 events from all newspapers such as The Hindu, The Economic Times, PIB, Times of India, PTI, Indian Express, Business Standard and all Government official websites.
Our Current Affairs February 2020 events will help you to get more marks in Banking, Insurance, SSC, Railways, UPSC, CLAT and all State Government Exams. Also try our Latest Current Affairs Quiz and Monthly Current Affairs 2020 PDF which will be a pedestrian to crack your exams.
Date-Wise Current Affairs February 2020 PDF for Paid Users – Click Here to Know More
Click here for Current Affairs February 18 2020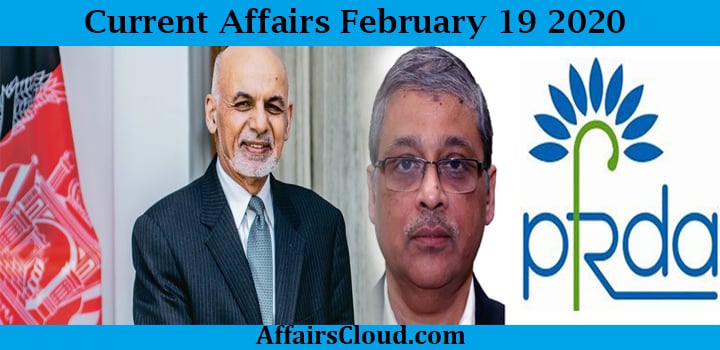 NATIONAL AFFAIRS
IDSA renamed as Manohar Parrikar Institute for Defence Studies and Analyses
On February 18, 2020 The Central Government has renamed Institute for Defence Studies and Analyses (IDSA) as Manohar Parrikar Institute for Defence Studies and Analyses in order to "honour the commitment and legacy" of late Manohar Parrikar.
Late Manohar Parrikar was a former defence minister and Padma Bhushan awardee. The Defence Minister chairs the Executive Committee of the IDSA Institute.
Key Points:
i.About Manohar Parrikar: Late Parrikar was Defence Minister from November 9, 2014 to March 14, 2017 & initiated several reforms in the Ministry. He also supervised responses to terror attacks in Pathankot and Uri.
ii.He also served as Chief Minister (CM) of Goa from March 14, 2017 to March 17, 2019.
iii.Contribution: His biggest contribution was towards the implementation of long-standing OROP (One Rank One Pension) demand for the Armed forces. He also set up an expert committee under Lt. Gen. (Retd) D.B. Shekatkar for enhancing combat capability & rebalancing defense expenditure.
About IDSA:
The institute is dedicated for research and policy relevant studies on all aspects of defense and security and registered society comes under the Ministry of Defense.
Founded- 11 November 1965.
Headquarters- New Delhi, India.
Director General- Sujan R. Chinoy.
SC approves permanent commission to women officers in the army
On February 17, 2020, The Supreme Court(SC) bench of Justices  D.Y. Chandrachud and Ajay Rastogi dismissed the central government's submission that women are physically weaker than men and agreed on Delhi High Court's decision about eligibility of permanent commission and command post to short service commissioned (SSC) women officers in the army.
Supreme Court ordered the government to implement its judgment in 3 months and judgement finalized of 10-year-old appeal filed by the government against the 2010 decision of the Delhi High Court (HC).
i.New changes:The grant of permanent commission means that women military officers can now work in the army till the age of retirement. Women officers in the army under the Short Service Commission have the option to choose a permanent commission also be entitled to pension.
ii.Female officers will be given permanent commissions in 10 stream of Judge Advocate General and Army Education Corps, Signals, Engineers, Army Aviation, Army Air Defence, Electronics and Mechanical Engineers, Army Service Corps, Army Ordnance Corps and Intelligence….Click here to Read More
Govt plans to doubling of Milk processing capacity to 108 million MT by 2025
On February 18,2020, The Department of Animal Husbandry & Dairying under the Ministry of Fisheries,Animal Husbandry and Dairying announced that the Government will facilitate the increase of milk processing capacity to 108  million metric tonne (MT) from 53.5 million metric tonne by 2025 .
Key points:
i.In the last 5 years milk production in India has grown by 6.5%, which has increased from 146.3 million metric tonne in 2014-2015 to 187.7 million metric tonne in 2018-2019.
ii.From the above data only 54% of milk produced is for Marketable surplus and the remaining 46% is for local consumption, In that 46% only 36% is handled by Co-operative and private sectors.
iii.During the last 2 years milk requirement in the cooperative sector increased by 9%, for that it aims to bring remaining 64% surplus under the organized sector.
iv.The department is also working towards increasing milk productivity through Genetic improvement and reduction of Input cost.
v.Increasing the processing facilities through merging and leveraging the schemes of Department of Animal Husbandry & Dairying, Ministry of Food Processing Industries, Department of Agriculture, Cooperation & Farmers Welfare, Department of Rural Development and State Government this would encourage the private investments in the sector.
About Ministry of  Ministry of Fisheries,Animal Husbandry and Dairying:
Union Minister- Giriraj Singh
Founded- 2019
Minister of State (MOS)- Pratap chandra sarangi, Sanjeev kumar balyan
India & Norway signs LoI for collaboration on blue economy for sustainable development in New Delhi, India

On February 18, 2020, Ministry of Health and Family Welfare and Ministry of Earth Sciences, Dr. Harsh Vardhan along with Norway's Minister for Climate and Environment, H.E. Mr Sveinung Rotevatn have jointly inaugurated the 'India-Norway Task Force on Blue Economy for Sustainable Development' at the 3rd meeting of the Task Force in New Delhi, India.
The 2 countries also signed a Letter of Intent  (LoI) & agreed to support and work together on Integrated Ocean Management & Research.
Key Points:
i.The LoI was signed in the presence of Mr. Ratan P. Watal, Member Secretary, EAC to PM & Mr. M. Rajeevan, Secretary, Ministry of Earth Sciences, Govt. of India among others.
ii.The Task Force on Blue Economy:
It was launched jointly by the Indian Prime Minister Mr Narendra Modi, and the Norwegian Prime Minister (PM) Ms Erna Solberg, during her visit to India in January 2019.
It primarily aims to promote and undertake joint initiatives between the two nations. It enables respective stakeholders from both the countries at the highest level. It will also ensure continued commitment and progress across ministries and agencies.
About Norway:
Capital– Oslo
Currency– Norwegian krone
Prime Minister– Erna Solberg
AICTE bars universities from offering PGDM and MBA courses simultaneously
On February 18, 2020 AICTE (All Indian Council of Technical Education), has banned all the government & private universities across the country to offer both PGDM (Post Graduate Diploma in Management) and MBA (Master of Business Administration) courses simultaneously.
Key Points:
i.The technical and management education regulator of the (HRD) Human Resource Development Ministry announced that PGDM courses can be run by standalone institutions, which are neither universities nor affiliated to any university, similar to the prestigious (IIMs) Indian Institute of Management.
ii.According to regulation, Institutions affiliated to universities have option of either converting all PGDM courses into corresponding MBA courses with respect to the university affiliation or vice-versa and run those under a separate standalone institute
About AICTE:
Formation- November 1945.
Headquarters- New Delhi, India.
Chairman- Anil Sahasrabudhe.
Overview of President Ram Nath Kovind's 2- day visit to Dadra and Nagar Haveli, Daman and Diu

The president of India Shri Ram Nath Kovind paid a 2-day official visit to Dadra & Nagar Haveli and Daman & Diu from February 17-18, 2020.
This is his 1st visit to the Union Territory (UT) of Dadra & Nagar Haveli and Daman & Diu.
Highlights:
i.In the year 2003, Former president Dr APJ Abdul Kalam had visited Daman, so it is after 17 years that a president has come to visit Daman.
President inaugurates development projects in Dadra and Nagar Haveli, Daman and Diu
President of India, Ram Nath Kovind has laid the foundation stone and inaugurated various developmental projects of the UT of Dadra and Nagar Haveli, and Daman and Diu at a function held at Swami Vivekanand Stadium in Daman.
i.President also inaugurated the Jampore Sea Front Road from Moti Daman Jetty to Jampore Beach and an Ayushman Bharat Wellness Centre in Daman.
At present, there are 6 Health and Wellness Centres are active in Daman.
About Dadra and Nagar Haveli and Daman and Diu, (DNHDD):
Capital– Daman
Administrator– Praful Khoda Patel
INTERNATIONAL AFFAIRS
Hindi is the 3rd most spoken language in the world after English & Mandarin Chinese : 22nd edition of World language database, Ethnologue
On February 18, 2020 The 22nd edition of the world language database Ethnologue stated Hindi, as the 3rd most spoken language of the world in 2019 with 615 million speakers. English language was at the top of the list with 1,132 million speakers and Mandarin Chinese was at the 2nd position with 1,117 million speakers.
Key Points:
i.About Ethnologue: Ethnologue will publish an yearly database of living languages of the world, since its establishment in 1951.
ii.Bangla has been ranked as the 7th most spoken language of the world and has 228 million native speakers.
iii.The database covers 7,111 living languages of the world at present. Ethnologue also publishes data on languages which have gone out of use in recent history and the edition lists contains 348 such languages.
Top 3 languages:
[su_table]
| | |
| --- | --- |
| Position  | Languages |
| 1 | English (1,132 million) |
| 2 | Mandarin Chinese (1,117 million) |
| 3 | Hindi (615 million) |
[/su_table]
India ranked 35th in Worldwide Education for The Future Index (WEFFI) 2019, Finland tops
On February 18, 2020 The Worldwide Education for The Future Index (WEFFI) 2019 ranked India in 35th position, whereas in 2018 it was ranked 40th position. The WEFFI report is created by The Economist Intelligence unit and commissioned by Yidan Prize foundation. The index is topped by Finland, followed by Sweden in second place and New Zealand in third place.
Index Formation
Index is based on 3 categories
Policy environment
Teaching environment
Socio economic environment
Highlights
i.India ranked 35th with a score of 53.
ii.Finland is positioned 1st in all categories including overall score, followed by Sweden.
iii.World's giant economies like US, UK, France & Russia fell in the index, while China, India & Indonesia performed better.
Overall Ranking
[su_table]
| | |
| --- | --- |
| Rank | Economy |
| 35 | India |
| 1 | Finland |
| 2 | Sweden |
| 3 | New Zealand |
[/su_table]
Performance of India in WEFFI
[su_table]
| | | |
| --- | --- | --- |
| Category | 2019 | 2018 |
| Overall | 53 | 41.2 |
| Policy environment | 56.3 | 61.5 |
| Teaching environment | 52.2 | 32.2 |
| Socio economic environment | 50.1 | 33.3 |
[/su_table]
Policy alteration in India
Finance Minister Nirmala Sitharam in the union budget 2020 spotted a new education policy to be declared under the title "Aspirational India" and also promised to allocate Rs. 99300 crore for education and Rs.3000 crore for skills.
About Economist Intelligence Unit
Founded- 1946
Headquarter- London United Kingdom
Parent- Economist Group
Subsidiary- Bazian, Clearstate, Canback Consulting
THE's emerging economies university rankings 2020: India has 11 institutes among world's top 100 universities, IISC at No. 16th
On February 19, 2020, According to the Times Higher Education's (THE) Emerging Economies University Rankings 2020, which ranks  a total of 533 universities from 47 countries, India has 11 institutes among world's top 100 universities where Indian Institute of Science (IISc), Bangalore (Karnataka) emerged as India's top-ranked institution by getting the rank 16th with the score 48.4 .
Tsinghua University in China has topped the list with the score of 83.8.
i.A total of 56 Indian universities appear in the full ranking of a total of 533 universities across emerging economies of the world. China is ahead of India in the top 100, which includes 30 universities.
Here's the list of Top 3& Indian Universities in the ranking:…Click here to Read More
BANKING & FINANCE
SEBI to tighten eligibility criteria for investment advisors
On February 17, 2020, Securities and Exchange Board of India (SEBI), the regulator for the securities market in India, has decided to tighten the eligibility rules for investment advisors with the intention of protecting the interests of investors.
It has also decided to set a upper limit on their fees & proposed a fee of 2.25% of assets under management (AUM) / an amount of ₹75,000 per annum. The fee can be charged for up to 2 quarters at a time and cannot be fully charged upfront.
i.SEBI has raised the eligibility criteria for registration as investment advisor. This includes enhanced net worth and qualification requirements. The old provisions will remain for the existing personal advisers.
ii.SEBI has barred investment advisers from simultaneously selling financial products and advisory services & also banned the use of words such as independent financial advisors or wealth advisors by those involved in the distribution of securities….Click here to Read More
Gujarat govt signs MoU with SBI to facilitate MSME loans
On February 19, 2020, In order to provide enough credit to entrepreneurs in the MSME (Micro, Small and Medium Enterprises) sector, the state Government of Gujarat has signed an MoU (memorandum of understanding ) with State Bank of India (SBI), through which the bank will provide working capital to entrepreneurs aims to start new MSME within 15 days of making an application.
Key Points:
i.The agreement was signed between principal secretary M K Das and SBI Ahmedabad circle general manager Ramesh Kumar Agarwal in the presence of Gujarat Chief Minister(CM) Vijay Rupani,.
ii.The new MSME Start-ups of the state can submit an application on either the MSME portal or to the local nodal agencies.
iii.In October 2019, The Gujarat state announced that MSME units will no longer be required to take various approvals to start operations for the initial 3 years period.They can start operations after getting an acknowledgment certificate from the state nodal agency by submitting 'declaration of intent.'
About Gujarat:
Capital– Gandhinagar
Governor– Acharya Devvrat
About State Bank of India(SBI):
Chairperson– Rajnish Kumar.
Headquarters– Mumbai, Maharashtra.
Former name– Imperial Bank of India.
Tagline– The Banker to Every Indian; With you all the way; Purely Banking Nothing Else; The Nation Banks on Us.
APPOINTMENTS & RESIGNATIONS    
Ashraf Ghani wins second term as Afghanistan's President
On February 18,2020, Afghanistan's Incumbent president Ashraf Ghani Ahmadzai(70) wins second term as Afghanistan president as an Independent Candidate securing 50.64% votes in september 2019 election announced by the Election Commission of Afghanistan.
Key points:
i.Mr. Ghani served as president of Afghanistan from 2014, and he also served as Finance minister of Afghanistan (2002-2004) and the Chancellor of Kabul University
ii.Ashraf Ghani defeated Afghanistan's Chief Executive Abdullah Abdullah, who gained 39.52% votes in the election.
About The Islamic Republic of Afghanistan:
Capital- Kabul
Currency- Afghan Afghani
Founded- 1709
Supratim Bandyopadhyay appointed as  PFRDA Chairman
On February 18, 2020 Supratim Bandyopadhyay was appointed as chairman of the PFRDA (Pension Fund Regulatory and Development Authority). The Appointments Committee of the Cabinet approved Supratim appointment for a period of 5 years from the date of assumption or till attaining the age of 65 years. He was the successor of Shri Pankaj Jain.
Key Points:
i.Supratim Bandyopadhyay served as Member (Finance) in the Pension Fund Regulatory and  Development Authority (PFRDA).
ii.About PFRDA: The concept of PFRDA was conceived in 1999 when the government commissioned a project, OASIS (Old Age Social and Income Security), to examine the policy of old age income security in India.
iii.The PFRDA Act was passed on September 19, 2013 & notified in February 2014, to regulate the National Pension Scheme subscribed by government & private employees from organized and unorganized sectors.
iv.PFRDA consists of a chairperson & not more than 6 members, out of which 3 members will be whole-time members and appointed by the central government.
About PFRDA:
Founded- 23 August 2003.
Headquarters- New Delhi, India.
Ex-IAS officers Sanjay Kothari and Bimal Julka to become next Chief Vigilance Officer (CVC) and Chief Information Commissioner (CIC)
On February 19,2020 a high powered selection committee headed by Narendra Modi has selected Sanjay Kothari, current Secretary to the President as the new Chief Vigilance Commissioner(CVC) and former Information and Broadcasting Secretary Bimal Julka , current Information Commissioner became new Chief Information Commissioner in the Central Information Commission.
Highlights
i.Sanjay Kothari to succeed K. V. Chowdary as CVC.
ii.Bimal Julka to succeed Sudhir Bhargava as CIC.
iii.Former Chief Managing Director (CMD) of Andhra Bank Suresh Patel has been selected as Vigilance Commissioner.
iv.Former Member of Punjab Civil Service Commission Amita Pandove selected as Information Commissioner.
About CVC
Founded- February 1964
Headquarter- New Delhi
Objective- To address government corruption
About CIC
Founded- 12th October 2005
Headquarter- New Delhi
  SCIENCE & TECHNOLOGY
Lithium reserve found in Mandya near Bengaluru
On February 18, 2020 The Researchers of  India's Atomic Energy Commission have found lithium reserves of 14,100 tonnes in Mandya, Bengaluru, Karnataka. Lithium is a rare metal used for manufacturing batteries for electric vehicles.
Key Points:
i.The reserve is small compared to major producers such as Chile with its 8.6 tonnes million of reserve, Australia with 2.8 million tonnes, Argentina with 1.7 million tonnes & Portugal with 60,000 tonnes.
ii.India currently imports all its lithium needs and lithium batteries worth $1.2 billion for the year 2019 from $384 million in 2017.
iii.These reserves will be useful to promote clean-energy vehicles in India and the Government has a plan to implement $1.4 billion to make India a manufacturing hub for electric vehicles.
iv.India has set up Khanij Bidesh India Limited to source and acquire mines in Argentina (Buenos Aires), Bolivia (Sucre) and Chile (Santiago).
About Karnataka:
Capital- Bengaluru.
Chief Minister (CM)- Bookanakare Siddalingappa Yediyurappa.
Governor- Vajubhai Rudabhai Vala.
India-Russia defence deals set to cross USD 16 billion
The defence deals between India and Russia are set to cross USD 16 billion (approximately Rs.1.151 lakh crores) which includes India signed 14 MoUs (Memorandum of Understandings) with Russia during the defexpo 2020 that covered development and production of  land, naval and systems and hi-tech civilian products, and separately contracts signed for the production of Kalashnikov rifles, Kamov helicopters and S-400 air defence systems.
Important MoU between India and Russia:
i.Russian Helicopters and Indo-Russian Helicopters Pvt.Ltd for the production of 200 Kamov ka-226 Helicopters for India
ii.Russia's Rosoboronexport with India's Defence Research Development Organization (DRDO) for advanced pyrotechnic Ignition systems
iii.India made the first payment in 2019 for the USD 5.4 billion worth deal 5 S-400 air defence systems.
iv.Russia was the largest foreign Exhibitor at the Defexpo held from February 5-9,2020 in lucknow, Uttar Pradesh.
About Defence Research Development Organization (DRDO):
Founded- 1958
Headquarters- New Delhi
Chairman- Dr. G. Satheesh Reddy
About The Russian Federation:
Capital- Moscow
Currency- Ruble
President- Vladimir Vladimirovich Putin
Prime Minister- Mikhail Vladimirovich Mishustin
GRSE delivers 4th Anti-Submarine warfare corvette INS Kavaratti to Navy
On February 18,2020, Kolkata based defence PSU (Public Sector Undertakings) GRSE (Garden Reach Shipbuilders and Engineers ltd.) has delivered its fourth and Last Anti-Submarine Warfare Corvette (ASWC) INS (Indian Naval Ship) Kavaratti to Indian Navy under Project-28.
Key points:
i.The first 3 ships under project-28 are INS Kamorta, INS Kadmatt and INS Kiltan(Participated in EX-MALABAR) are delivered to Indian Navy by GRSE, Only INS Kavaratti and Kiltan have the unique feature of superstructure made of carbon-fibre composite material & it is for the 1st time in India that such composite material is being integrated with steel hull of a ship, and GRSE is the 1st shipyard in India to have successfully achieved this task.
ii.The ASW corvettes are named after the Islands in Lakshadweep and it can travel at a speed of 25 knots and 109meters, 12.8 meters in length and width respectively & it has an endurance of over 3400 nautical miles (NM) at 18-knot speed.
About Kamorta class Corvette (or) Project-28:
Project-28 was approved in 2003 to build 4 Anti-Submarine Warfare Corvettes by GRSE to Indian Navy, and they are the first Anti-submarine warfare ships in India and the cost of the project is USD 78 billion (approximately 5.61 Lakh crores)
Pakistan successfully tests nuclear-capable air launched cruise missile Ra'ad-II
On February 18, 2020 Pakistan successfully completed the flight test of the air launched cruise missile Ra'ad-II with a range of 600 km significantly boosting the military's "deterrence capability" on land and at sea. The successful flight test was witnessed by senior Pakistan Army officers and military officials.
Key Points:
i.About Ra'ad-II: Ra'ad-II weapon system is equipped with state of the art guidance & navigation systems ensuring of engagement targets with high precision.
ii.Pakistan's development of the Ra'ad could be seen as an attempt to match India's BrahMos cruise missile, according to the US (United States)-based Missile Defense Advocacy Alliance, non-profit organisation.
iii.Ra'ad-II missile is planned to be attached to Mirage aircraft or F-16 fighter jets of the Pakistan Air Force.
iv.In January 2020, Pakistan conducted a successful launch of surface-to-surface ballistic missile Ghaznavi which is capable of delivering multiple types of warheads up to a range of 290 km.
About Pakistan:
Capital- Islamabad.
Currency- Pakistani rupee.
President- Arif-ur-Rehman Alvi.
Prime Minister (PM)- Imran Ahmed Khan Niazi.
OBITUARY
Famous journalist M.S. Mani passed away at 79
On February 19, 2020 Former Chief-editor of Kerala Kaumudi (Malayalam daily) and kala kaumudi (magazine) chief editor M.S. Mani passed away at the age of  79 in Thiruvananthapuram, Kerala.
He was born on November 4, 1941 at Mayyanad in Kollam district, Kerala as the son of Kerala Kaumudi Founder editor K Sukumaran and Madhavi Sukumaran.
Key Points:
i.About M.S. Mani: He started his career in 1961 as a staff reporter at  "Kerala Kaumudi" and he shifted to Delhi as a Parliament correspondent.
ii.In 1975 he launched Kala Kaumudi magazine and in 1990 he launched Kala Kaumudi daily from Mumbai, one of the first Malayalam newspapers to be printed and published from outside Kerala.
iii.M.S. Mani also authored the book "Clouds of fire over Sivagiri", which covers the internal conflicts and power struggle in the Sivagiri Madhom.
iv.Awards: Mani received the State government's Swadeshabhimani kesari award in 2018 for his contribution to journalism and also a winner of Ambedkar award.
v.He was a committee member in the Indian Newspaper Society and a member of the India Newspaper Editor's Conference.
Veteran Kannada actor Kishori Ballal, passed away at 82
On February 18,2020 Veteran Kannada actor Kishori Ballal passed away at the age of 82 in Bengaluru, due to her age related illness. She hailed from Dakshina Kannada district, Karnataka.
About Kishori Balla
i.She made her debut acting in 1960's with Ivalentha Hendthi and had a career span over 15 years.
ii.She has acted in over 75 movies in different languages with some famous directors and dedicated actors.
iii.She gained good recognition in the Hindi film industry after her role as Kaveri amma in the film 'Swades' (2004) as a motherly figure to Shah Rukh khan.
IMPORTANT DAYS
Soil Health Card Day was observed on February 19, 2020
Fifth year of the launch of Soil Health Card Day was observed across the country on february 19, 2020. Prime Minister Shri Narendra Modi had launched the Soil Health Card (SHC) Scheme on February 19, 2015 at Suratgarh in Rajasthan, to increase the fertility of the soil.
Key Points:
i.About SHC scheme: The scheme aims at issuing soil health cards to farmers every 2 years to identify the nutritional deficiencies in the soil. The scheme also ensures additional incomes to the farmers by increase in yields & also promote sustainable farming.
ii.Uses: SHC provides information about proper usage of fertilizer, nutrient status of the soil along with the appropriate dosage of nutrients for improving soil health & its fertility.
iii.Narendra Singh Tomar, Ministry of Agriculture & Farmers Welfare, mentioned that Government will launch a Tilhar Mission to make the country self-reliant in oilseed production & also to create 10,000 FPO (Farmer Producers Organization) across the country for which an assistance over Rs.6000 crore will be provided.
STATE NEWS
AP CM Jagan Mohan Reddy launched Nadu-Nedu scheme for modernising hospitals
On February 18, 2020 Andhra Pradesh (AP) Chief Minister (CM) Yedugiri Sandinti JaganMohan Reddy launched the Nadu-Nedu scheme (roughly meaning then and now in Telugu) at STBC ground, Kurnool, AP. An amount of Rs 15,337 crore has been allocated to modernise all government (govt)hospitals in 3 years.
Key Points:
i.The Government hospitals will be constructed or modernized with the highest Indian standard- Indian Public Health Standards (IPHS).
ii.The scheme is developed based upon 3 phases
iii.Phase 1: The govt has allocated Rs. 1,129 crore for the 1st phase.
iv.Phase 2: The govt has allocated Rs 1,212 crores & Rs 700 crores to Area Hospitals.
v.Phase  3: In third phase sum of Rs 12,300 crore have been allocated for constructing new hospitals with increased number of doctors & nurses in the state due to lack of experienced doctors.
Phases of YSR Kanti Velugu for Eye Vision:
In the 1st phase of YSR Kanti Velugu, 66 lakh school children got free eye check-up by 60,000 staff.
In the 2nd phase, 500 experts identified 4,36,000 lakh children identified for further treatment or spectacles.
CM also launched third phase of YSR Kanti Velugu at a cost of Rs 560 crore under which 56,88,420 elderly would get free eye screening across the state.
About Andhra Pradesh (AP):
Capital- Amaravati.
Governor- Biswabhusan Harichandan.
Current Affairs Headlines: 19 February 2020
IDSA to be renamed as Manohar Parrikar Institute for Defence Studies and Analyses
SC approves to give permanent commission to women officers in the army
Govt plans to doubling of Milk processing capacity to 108 million MT by 2025
India & Norway signs LoI for collaboration on blue economy for sustainable development
AICTE bars universities from offering PGDM and MBA courses simultaneously
Overview of  Prez Kovind's 2- day visit to Dadra and Nagar Haveli, Daman and Diu
Hindi is the 3rd most spoken language in the world  after English & Mandarin Chinese
India ranked 35thin Worldwide Education for The Future Index (WEFFI) 2019, Finland tops
THE's emerging economies university rankings 2020: India has 11 institutes among world's top 100 universities, IISC at No. 16th
SEBI to tighten eligibility criteria for investment advisors
Gujarat govt signs MoU with SBI to facilitate MSME loans
Ashraf Ghani wins second term as Afghanistan's President
Supratim Bandyopadhyay appointed as  PFRDA Chairman
Ex-IAS officers Sanjay Kothari and Bimal Julka to become next Chief Vigilance Officer (CVC) and Chief Information Commissioner (CIC)
Lithium reserve found in Mandya near Bengaluru
India-Russia defence deals set to cross USD 16 billion
GRSE delivers 4th Anti-Submarine warfare corvette INS Kavaratti to Navy
Pakistan successfully tests nuclear-capable air launched cruise missile Ra'ad-II
Famous journalist M.S. Mani passed away at 79
Veteran Kannada actor Kishori Ballal, passed away at 82
Soil Health Card Day was observed on February 19, 2020
AP CM Jagan Mohan Reddy launched Nadu-Nedu scheme for modernising hospitals
[su_button url="https://affairscloud.com/current-affairs/february-2020/" target="self" style="default" background="#2D89EF" color="#FFFFFF" size="5″ wide="no" center="no" radius="auto" icon="" icon_color="#FFFFFF" text_shadow="none" desc="" download="" onclick="" rel="" title="" id="" class=""]Click Here to Read Current Affairs February 2020[/su_button]
AffairsCloud Ebook - Support Us to Grow