We are here for you to provide the important Recent and Latest Current Affairs 15 April 2020, which have unique updates of Latest Current Affairs 2020 events from all newspapers such as The Hindu, The Economic Times, PIB, Times of India, PTI, Indian Express, Business Standard and all Government official websites.
Our Current Affairs April 2020 events will help you to get more marks in Banking, Insurance, SSC, Railways, UPSC, CLAT and all State Government Exams. Also, try our Latest Current Affairs Quiz and Monthly Current Affairs 2020 PDF which will be a pedestrian to crack your exams.
Date-Wise Current Affairs April 2020 PDF for Paid Users – Click Here to Know More
Top 20 Current Affairs of 15 April 2020
NATIONAL AFFAIRS
Agricultural trading portal e-NAM completes 4 years
On April 14, 2020 Agriculture online trading portal Electronic- National Agriculture Market (e-NAM), completed 4 years of implementation. The Small Farmers Agribusiness Consortium (SFAC) is the leading agency to implement it, under the assistance of the Ministry of Agriculture and Farmers Welfare of the Government of India.
Key Points
It was launched by the Prime Minister Narendra Modi in 21 mandis on 14th April, 2016, currently there are 585 mandis across 16 States and 02 Union Territory (UTs)….Click here to Read More
CSIR forms core strategy group to find early measures to prevent COVID-19
On April 13, 2020, CSIR (Council of Scientific and Industrial Research), a premier national R&D (Research & Development) organization has set up a core strategy group (CSG) to work related to coronavirus (COVID-19) under 5 verticals namely Digital and Molecular Surveillance; Rapid and Economical Diagnostics; New Drugs / Repurposing of Drugs and associated production processes; Hospital Assistive Devices and PPE (Personal Protective Equipment); and, Supply Chain and Logistics Support Systems.
Key Points:
i.The move comes after the Union Minister for Science & Technology Dr. Harsh Vardhan held a review meeting with DG (Director General ) of CSIR, Dr. Shekhar C. Mande and all the CSIR lab directors to develop solutions for prevention of Corona.
ii.The CSIR-National Aerospace Laboratories (NAL) and Bengaluru based BHEL (Bharat Heavy Electricals Limited), BEL (Bharat Electronics Limited) to develop ventilators, oxygen enrichment equipment, 3-D printed face shield, and other protective equipment.
iii.In addition, under the Rural Livelihood Mission, 78,000 Self-Help Group members have made 1.96 crore masks in 27 States so far. Under the Pradhan Mantri Garib Kalyan Yojana (PMGKY), Rs 28,256 crore have been provided to 30 crore people to help them during the lockdown.
About CSIR:
Headquarters– New Delhi
India tightens curb on import of refined palm oil; import license validity reduced to 6 months
On April 13, 2020, the Central Government further tightens the restrictions on imports of refined palm oil which was imposed by Directorate General of Foreign Trade (DGFT) on January 8, 2020. As per the ongoing restrictions an importer has to seek a license or permission or no-objection certificate for the imports of refined palm oil.
New Conditions for import of refined palm oil:
-Applications for import authorisation should be accompanied with pre-purchase agreement and details of the import for the past three years.
-Validity period of import licenses for refined palm oil will be 6 months in place of usual 18 months.
-Total non-utilisation of import authorization by the applicant will lead to disqualification of the importer from getting any further license for these items in future.
Key Point:
-Customs are instructed to diligently enforce the rules of origin criteria for import of the above item originating from Nepal and Bangladesh.
-India, the world's largest importer of vegetable oils, buys nearly 15 million tonne annually. Indonesia and Malaysia are the two countries which supply palm oil.
Agri Ministry launches a call centre for agri logistics
On April 13, 2020, Union Agriculture Minister Narendra Singh Tomar launched an all-India level call centre, the Agriculture Ministry has set up a call centre to ease the difficulties in agri logistics, particularly the inter- State movement of perishable vegetables and fruits as well as agri inputs such as seeds, pesticides and fertilisers to resolve transportation problems being faced during inter-state movement of commodities during the lockdown to contain spread of COVID-19.
Key Points:
i.The All India Agri Transport Call Centre, which will coordinate movement of produce and agri inputs, can be accessed at 1800-180-4200 and 14488 from any mobile or landline phone.
ii.Stakeholders including truck drivers, traders, retailers and transporters who are facing problems in inter-State movement of commodities, can seek help by calling at the call centre.The 24×7 service All India Agri Transport Call Centre is an initiative of the Union Agriculture Ministry, but will be operated by IFFCO Kisan Sanchar Limited (IKSL) from its offices in Faridabad, Haryana.
iii.The Ministry also added that the subsidy of seeds under the National Food Security Mission (NFSM) would be available for varieties only for 10 years old and this will be extended to seeds of all crops under NFSM required by the North-East states, States in hilly region as well as by the Union Territory of Jammu and Kashmir (J&K).
About Ministry of Agriculture:
Headquarters– Krishi Bhavan, New Delhi.
Cabinet Minister– Narendra Singh Tomar.
Minister of State– Parshottam Rupala, Kailash Chowdry.
Goa becomes the first state to integrate allopathy and Ayurveda to treat COVID-19 patients
Goa Chief Minister (CM) Pramod Sawant announced that Goa becomes the first state to integrate allopathy and Ayurveda to treat COVID-19 patients and those who have been quarantined.
Key Points:
i.The CM also added that although Ayurveda cannot cure COVID-19, it will certainly boost patients' immunity.
ii.The treatment will be administered in consultation with doctors who are dealing with COVID-19 patients, who is also an Ayurvedic practitioner. He also said they have launched a mobile app 'AyurGoaCovid-19' in collaboration with the Union Ayush ministry.
About Goa:
Capital– Panaji.
Governor– Satya Pal Malik.
CII report "Exit From The Lockdown" recommended phase-wise lifting of lockdown
The Confederation of Indian Industry (CII) in its report titled "Exit from the Lockdown: A CII Strategy" has recommended phase-wise lifting of the lockdown based on the incidence of COVID cases. In this regard, the report made three classifications of geographies as red, amber and green.
Key Recommendations:
-In the first phase, partial open up (25%) of manufacturing, e-commerce and construction is to be permitted. In the second phase, all other sectors could resumed
–Five aspects to be considered while restarting the economy viz. workplace safety, logistics issues, re-starting industry in phases, getting back the migrant workforce and putting an institutional mechanism for effective coordination in real-time.
-Distressed sections of the population should be provided ration directly rather than cash or Direct Benefit Transfers (DBT).
-To ensure financial security for companies, the banks should provide additional working capital to all companies, equivalent to their three-month salary or wage bill at interest rates between 4-5%.
About CII:
President– Vikram S. Kirloskar
Director General– Chandrajit Banerjee
Headquarters– New Delhi
INTERNATIONAL AFFAIRS
UN releases $ 2.5 million to help cyclone-ravaged Vanuatu
On April 14, 2020, The United Nations (UN) humanitarian chief Mark Lowcock announced and released 2.5 million dollar from its emergency humanitarian fund to help thousands of people in the South Pacific island nation of Vanuatu affected by Cyclone Harold and offered support to other hard-hit countries.
Key Points:
i.The cyclone made landfall on the largest island in Vanuatu, Espiritu Santo, on April 6, 2020, before hitting the Solomon Islands, Fiji and Tonga, which left more than two dozen people dead, destroyed homes, buildings and crops in four countries.
ii.Initial assessments suggest as much as 90 percent of the population in Sanma, the most affected province.
iii.Vanuatu, with roughly 80 islands stretching about 1,300 kilometers and a population near 3,00,000 was jointly controlled by the United Kingdom (UK) and France as the New Hebrides before it gained independence in 1980.
About Vanuatu:
Capital– Port vila.
President– Tallis Obed Moses.
Prime Minister (PM)– Charlot Salwai Tabimasmas.
Currency– vatu.
BANKING & FINANCE
RBI to put 200 bps penalty on banks if failed to invest TLTRO funds in 30 days
The Reserve Bank of India (RBI) has instructed banks that they need to invest the mandated 50% of the funds raised through targeted long-term repo operations (TLTRO) route, under the first tranche conducted on March 27, 2020, in corporate bonds or specified securities within a month or 30 working days.
If failed, the interest rate on un-deployed funds will increase to prevailing policy repo rate plus 200 bps (basis points) additional penal interests will have to be paid for the number of days such funds remain un-deployed.
The present policy rate is 4.40%….Click here to Read More
RBI to launch Sovereign Gold Bonds Scheme 2020-21 in H1 FY21 on behalf of GoI
The Central government after exercising its power conferred under clause (iii) of section 3 of Government securities Act 2006 has launched a new series of the Sovereign Gold Bond (SGB) Scheme namely "Sovereign Gold Bond 2020-21" which is to be issued by Reserve Bank of India (RBI) in six tranches from April 2020 to September 2020 i.e. in first half of FY 20-21. Their sale will be restricted to resident individuals, HUFs, Trusts, Universities and Charitable Institutions.
These bonds will fetch a fixed interest rate of 2.50% per annum which will be taxable under Income Tax Act, 1961. On the other hand, capital gains tax arising on redemption of SGB to an individual has been exempted.
It should be noted that SGBs can be used as collateral (security) for loans….Click here to Read More
ECONOMY & BUSINESS
Retail inflation lowers to 5.91% in March 2020 against 6.58% in February 2020 
On April 13, 2020 The National Statistical Office (NSO), Ministry of Statistics and Programme Implementation has estimated retail inflation rate, to a 4-month low of 5.91% for March 2020 which is lower than 6.58% in February 2020, due to easing prices of kitchen essentials such as vegetables, eggs and meat & is measured by All India Inflation Rates based on Consumer Price Index (CPI) and Consumer Food Price Index (CFPI).
India's GDP to contract by 6.1% in April-June: Japan's Nomura
The Japanese brokerage company Nomura has projected a downward revision by 6.1% for Indian economy in the April-June quarter and by 0.5% for the September quarter. It is likely to expand only in the December quarter of 2020 by 1.4%. The economy will grow at 3.2% in the January-March period.
Nomura is also expecting another 0.75% rate cuts by RBI to push growth in 2020.
The major factor behind all these trims is the COVID-19 crisis.
About Nomura:
Headquarters– Tokyo, Japan
President & Group Chief Executive Officer (CEO)– Kentaro Okuda
Bank credit growth decelerated to 5-decade low of 6.14% in FY20
In accordance with the Reserve Bank of India (RBI) data, Bank credit growth declined to five-decade low to 6.14% in the fiscal ended March 31, 2020, due to lower demand and risk aversion among banks.
Key Points:
–Bank advances growth in FY20 was the slowest since March 1962. On March 27, 2020, advances stood at Rs 103.71 lakh crore as compared to Rs 97.71 lakh crore on March 29, 2019.
-On the other hands, bank deposits grew by 7.93% to Rs 135.71 lakh crore as against Rs 125.73 lakh crore in 2019.
-The economic growth of India is 5.6% in the first quarter of the current fiscal i.e. FY 20-21.
AWARDS & RECOGNITIONS    
Four Indian-Americans awarded Guggenheim fellowships 2020
On April 14, 2020 4 Indian-Americans have been awarded with Guggenheim fellowships 2020 for their already demonstrated exceptional capacity for productive scholarship or exceptional creative ability in the arts.
Key Points
i.The 4 Indian- Americans are: Pradeep Sharma- mechanical engineer at the University of Houston; Kavita Ramanan- professor of Applied Mathematics at Brown University; Dilip Da Cunha- architect, planner and teacher at Harvard University and Columbia University; Mukul Sharma- professor of Earth Sciences at Dartmouth College.
ii.About 175 such fellowships are awarded each year among 3000 applicants, the size of grant varies and is adjusted to the needs of fellows, by considering their other resources and the purpose and scope of their plans & the average grant in the 2008 Canada and United States competition was approximately USD 43,200.
About Guggenheim fellowships:
It is established in 1925 by former United States Senator and Mrs. Simon Guggenheim, in the memory of 17 year old John Simon Guggenheim. It is to honour artists, writers, scholars and scientific researchers, who are chosen based on their previous accomplishments and what foundation officials describe as their "exceptional promise" & has granted more than USD 375 million in fellowships to over 18,000 individuals since its inception.
ACQUISITIONS & MERGERS        
CCI approves Emerald Sage Investment Ltd's acquisition of 9.93% stake in Apollo Tyres Ltd
On April 13, 2020 The Competition Commission of India (CCI) approved Emerald Sage Investment Limited (Emerald)'s- 'acquirer' proposed acquisition of 9.93% stake in Apollo Tyres Limited (Apollo)- 'target', where the acquirer's compulsory convertible preferred stock to be 10.80 crore, which is approximately 9.93% of the post-issued paid-up share capital of the target company.
Key Points
i.Emerald is an investment company incorporated under the laws of Mauritius, its partners are private equity funds managed by Warburg Pincus LLC, which acts as a manager for some private equity funds.
ii.The portfolio companies that own these private equity funds operate in a variety of sectors, including energy, financial services, health and consumer, industrial and commercial services, technology, media and telecommunications.
iii.Apollo is involved in the manufacture and sale of automotive tyres, its product portfolio includes tyres of passenger car, sports utility vehicle, multi-utility vehicle, light trucks, etc., and retreading material.
About CCI:
It is a statutory body of India, responsible for the implementation of the Competition Act, 2002 & established by the Centre with effect from 14th October 2003.
The Competition Act, 2002
It is amended by the Competition (Amendment) Act, 2007. The Act prohibits anti-competitive agreements, abuses the dominant position of companies and regulates mergers (acquisitions, acquiring of control and Mergers & Acquisition- M&A), which may or may not have a significant adverse effect on competition within India.
Headquarters– New Delhi
Chairperson– Ashok Kumar Gupta
SCIENCE & TECHNOLOGY
US clears sale of Harpoon missile and torpedoes priced a total of $155 million to India
On April 14, 2020, According to the Defense Security Cooperation Agency, the US (United States) President Donald Trump's administration has approved the sale of Harpoon Block II air-launched anti-ship missiles & MK 54 lightweight torpedoes priced a total of $ 155 million to India to combat regional threats and increase the security of its soil….Click here to Read More
C-DOT and Telecom Service Providers develop COVID Quarantine Alert System
The Department of Telecommunication and C-DOT (Centre for Development of Telematics) in coordination with Telecom Service Providers have developed and tested COVID Quarantine Alert System application which automatically triggers an email (Electronic Mail) or SMS (Short Message Service) if any identified corona positive person moves away from their quarantine location.
Key Points:
i.Ministry of Electronics and Information Technology (MeitY) has encouraged state government agencies to use the COVID Quarantine Alert system.
ii.A Standard Operating Procedure for location based monitoring of potential cases from the telecom network data has been established and a large number of requests from state agencies are coming in from Andhra Pradesh (AP), Telangana, Haryana and Bihar.
iii.The system would send triggers to the identified monitoring agencies for any potential violations from the quarantined locations subject to network availability and triangulation limitations.
About MeitY (Ministry of Electronics and Information Technology):
Cabinet Minister– Ravi Shankar Prasad.
Minister of State (MoS)– Sanjay Shamrao Dhotre.
Secretary– Ajay Prakash Sawhney.
OBITUARY
M V Rajasekharan former Union Minister and Veteran Congress Leader passed away at 91
On 14th April 2020, Former Union Minister of State of planning and statistics, veteran Congress leader and agriculture and rural development consultant M V Rajasekharan passed away at 91 in a hospital at Bangalore. He was born on 12th September 1928 in Maralawadi in Ramanagara District, Karnataka.
Key Points:
i.He served as a Member of Legislative Assembly (MLA) in the upper house of the Karnataka Government.
ii.He represented the constituency of Kanakapura in the Lok Sabha and well known for his value-based politics.
iii.He was the son-in-law of former Chief Minister S Njalingappa, was an authority on rural economy and had set up an institute to study on rural development.
IMPORTANT DAYS
World Chagas Disease Day 2020 for the first time: April 14
The International Federation of Associations of People affected by Chagas Disease proposed the celebration of World Chagas Disease Day on April 14 to the World Health Assembly and on May 24, 2019 World Health Organisation's (WHO's) decision making body endorsed the proposal with the support of many health institutions, universities and national and international non-governmental organisations.
Key Points:
i.The April 14th 1909 a Brazillian girl named BereniceSoares de Moura, was when the first patient was diagnosed with the disease by Dr. Carlos RibeiroJustinianoChagas.
ii.This disease is mainly diagnosed among the poor population of continental Latin America who have no political voice and access to healthcare which earned the disease a term "silent and silenced disease".
iii.It is also known as American Trypanosomiasis.
iv.In the past decade the disease was detected in the United States of America and Canada and also in many European and West Pacific countries.
About Chagas Disease:
i.An Infection caused by a tropical parasite in the faeces of the Triatomine bug or Kissing bug.
ii.The symptoms include fever, large lymph nodes, headache, malaise and enlargement of the liver and spleen.
iii.Without the treatment with antiparasitic drugs may cause complications such as heart failure, enlarged oesophagus and enlarges colon.
iv.Medication recommended for Chagas disease is Benzindazole and Nurtimox.
v.The infection can be prevented by eliminating the Triatominae bugs and avoiding their bites.
Indian Army observes 36th Siachen day on April 13, 2020
On April 13, 2020, The Indian Army observed the 36th Siachen day to pay tribute to the brave soldiers who laid down their lives while protecting the frontiers of the country in Ladakh at the Corps Headquarters in Leh and Siachen base camp, the world's highest and coldest battlefield.
Key Points:
i.The 76.4 km long Siachen Glacier located in the Karakoram Range in the Himalayas of North-West India and covers about 10,000 sq km of uninhabited terrain.
ii.On April 13, 1984, the Indian Army launched 'Operation MEGHDOOT' to secure Bilafond La and other passes on the Saltoro Ridgeline from the Pakistani invasion and repulsed the enemy.
Since then, fearless soldiers have been camping in Siachen, proving that no one can defeat the courage of the Indian Army. At temperatures below minus 50 degrees, the soldiers are protecting the borders by facing challenges like icy storms and avalanches.
About Indian Army:
Headquarters– New Delhi
Chief of the Army Staff (COAS)– Manoj Mukund Naravane
International Children's Book Day 2020: April 2
International Children's Book Day (ICBD) is observed every year on April 2. The day is celebrated to inspire a love of reading and to call attention to children's books.
Theme of the year 2020: A Hunger for words.
Key Points:
i.About ICBD: The International Children's Book Day (ICBD) is sponsored by the International Board on Books for Young People (IBBY), an international non-profit organization. IBBY Slovenia is the sponsor for International children's Book Day 2020.
ii.The day is celebrated on the birthday of Hans Christian Andersen (Danish author) since 1967
iii.Every year a different National Section of IBBY has the opportunity to be the international sponsor of ICBD and decide upon a theme. It also invites a prominent author from the host country to write a message to the children of the world and a well known illustrator to design a poster.
iv.This year the message to the children was written by Peter Svetina and the poster was designed by Damijan Stepančič.
AC GAZE
Former Gujarat first-class cricketer Walter D'Souza passes away at 93
Former Gujarat cricketer, Walter D'Souza, 93, passed away in his sleep. He was one of India's oldest living first-class cricketers', whose first-class career lasted for nearly two decades from 1947-1948 to 1965-1966.
Kannada actor 'Bullet' Prakash passes away at 44
Kannada actor 'Bullet' Prakash passed away at the age of 44 years due to illness in Bengaluru, who had acted in 325 films and known for his comedic roles.
*******
[su_table]
Current Affairs Today (AffairsCloud Today)
S.no  
                     Current Affairs 15 April 2020
1
Agricultural trading portal e-NAM to complete 4 years
2
CSIR forms core strategy group to find early measures to prevent COVID-19
3
India tightens curb on import of refined palm oil; import license validity reduced to 6 months
4
Agri Ministry launches a call centre for agri logistics
5
Goa becomes the first state to integrate allopathy and Ayurveda to treat COVID-19 patients
6
CII report "Exit From The Lockdown" recommended phase-wise lifting of lockdown
7
UN releases $ 2.5 million to help cyclone-ravaged Vanuatu
8
RBI to put 200 bps penalty on banks if failed to invest TLTRO funds in 30 days
9
RBI to launch Sovereign Gold Bonds Scheme 2020-21 in H1 FY21 on behalf of GoI
10
Retail inflation lowers to 5.91% in March 2020 against 6.58% in February 2020
11
India's GDP to contract by 6.1% in April-June: Japan's Nomura
12
Bank credit growth decelerated to 5-decade low of 6.14% in FY20
13
Four Indian-Americans is awarded Guggenheim fellowships 2020
14
CCI approves Emerald Sage Investment Ltd's acquisition of 9.93% stake in Apollo Tyres Ltd
15
US clears sale of Harpoon missile and torpedoes priced a total of $155 million to India
16
C-DOT and Telecom Service Providers develop COVID Quarantine Alert System
17
M V Rajasekharan former Union Minister and Veteran Congress Leader passed away at 91
18
World Chagas Disease Day 2020 for the first time: April 14
19
Indian Army observes 36th Siachen day on April 13, 2020
20
International Children's Book Day 2020: April 2
21
Former Gujarat first class cricketer Walter D'Souza passes away at 93
22
Kannada actor 'Bullet' Prakash passes away at 44
[/su_table]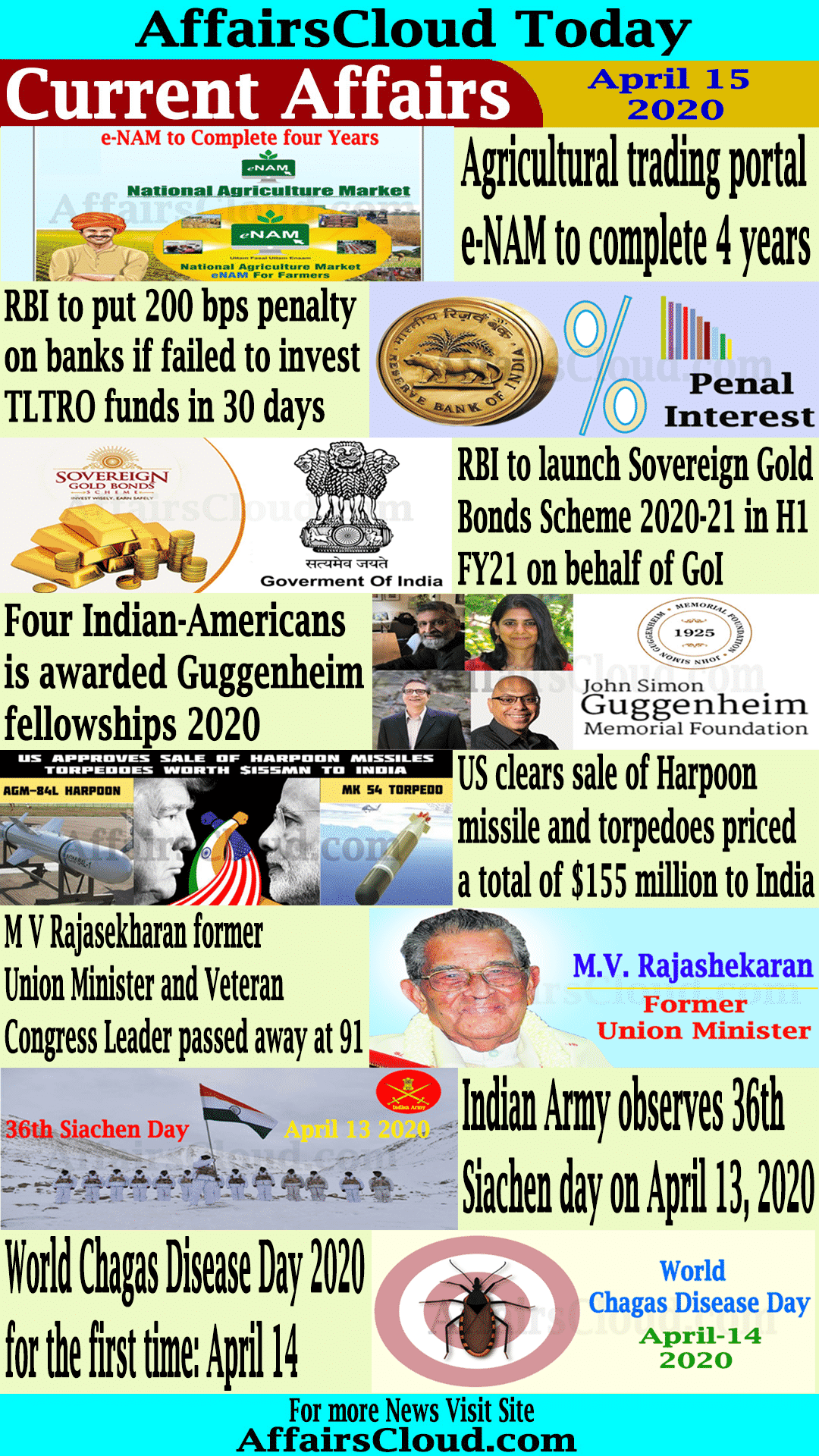 Share Our "AffairsCloud Today" to Your Friends
[su_button url="https://affairscloud.com/current-affairs/current-affairs-april-2020/" target="self" style="default" background="#2D89EF" color="#FFFFFF" size="5″ wide="no" center="no" radius="auto" icon="" icon_color="#FFFFFF" text_shadow="none" desc="" download="" onclick="" rel="" title="" id="" class=""]Click Here to Read Current Affairs April 2020[/su_button]
AffairsCloud Ebook - Support Us to Grow