On January 17, 2020, a concession agreement was signed in New Delhi for completing the Z-Morh tunnel in the Union Territory (UT) of Jammu and Kashmir(J&K). Under the agreement, Rs.2379 crore has been allocated to complete the construction of the tunnel within 3.5 years.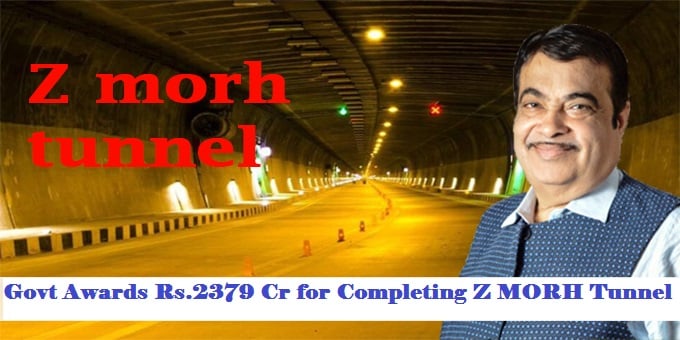 Pact signing: The agreement between National Highways & Infrastructure Development Corporation Limited (NHIDCL) and APCO Amarnathji Tunnelway Pvt Ltd was signed in presence of Road Transport and Highways Minister Nitin Gadkari, Minister of State(MoS) for Road Transport and Highways Gen (Retd) Vijay Kumar Singh and Secretary of Road Transport & Highways Shri Sanjiv Ranjan.
Z Morh tunnel construction project:
i.Tunnel length: The length of the two-lane bi-directional Z Morh tunnel with parallel escape tunnel is 6.5 kilometers. It will remain closed during winter due to heavy snowfall in Gagenger area of J&K.
ii.Connectivity: It will provide connectivity to Sonmarg tourist spots in Jammu and Kashmir.
iii.Project: The project also includes construction, operation & maintenance of Z-Morh and also approaches NH-1(National Highways 1) at Srinagar-Sonamarg-Gumri road from 61 kilometres to 89.30 kilometres on the bases of design, build, finance, operate and transfer Annuity.
iv.Z Morh tunnel: The tunnel gets its name for its Z shaped formation between Sonamarg and Gagangir of J&K.
1000 vehicles an hour can travel through the tunnel with approved speed of 80kilometer per hour(kmph).
Z Morh is located at an elevation of 2,637 metres (8,652 ft) above the sea level.
36 Union ministers visited Kashmir to spread awareness on Article 370 abrogation:
Following the initiative of Union Minister of Home Affairs(MoHA) Shri Amit Shah, a group of 36 union ministers have set visit to different districts of J&K to spread awareness on the abrogation of article 370.  The ministers will engage in dialogues with the people from January 18-24, 2020. In the midst of the visit, Russia has also reaffirmed its stand on Kashmir.
There will be 51 visits to Jammu and 8 to Srinagar.
Article 370 abrogation: Article 370 that acknowledges the special status of the then state of Jammu and Kashmir in terms of autonomy and its ability to formulate laws for the state's permanent residents was abrogated on August 2019 thus removing the special status.
About Jammu & Kashmir:
Formation- 31 October 2019 as Union Territory.
Capital- Srinagar (summer), Jammu (winter).
Lieutenant Governor- Girish Chandra Murmu.
AffairsCloud Ebook - Support Us to Grow