On 18th December 2019, the Ministry of Electronics and Information Technology (MeitY) has approved Rs.436 crore for Future Skills PRIME (Programme for Reskilling/Upskilling of IT Manpower for Employability) over a period of three years. The program aims to skill 412,000 IT (Information Technology) professionals in new technologies. The training will be executed by the Ministry of Electronics, IT and Nasscom.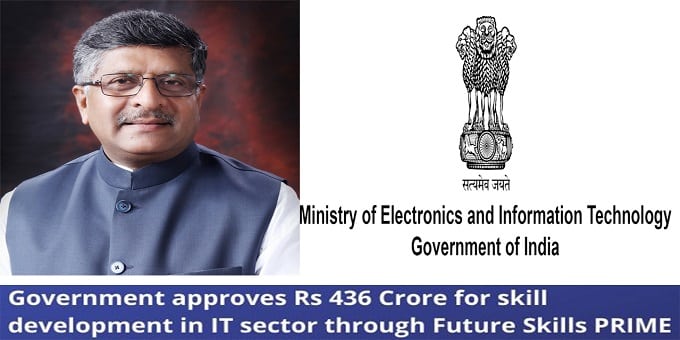 i.Features of Future Skills PRIME:
The program will offer diagnostics for learner preferences and skill gaps, that helps learners to identify relevant courses.
Every learner will be provided with a skills wallet in which he/she will get an opportunity to receive 12,000 from the government of India as incentive.
The digital platform is being developed in strong partnership with the IT industry, academia and the government.
Apart from the IT industry the existing infrastructure of CDAC (Centre for Development of Advanced Computing) and NIELIT (National Institute of Electronics and Information Technology) centers will also be borrowed as resource centers.
The data center for this digital platform will be kept in India.
Future Skills Initiative:
ii.In February 2018 Prime Minister Narendra Modi announced the Future Skills Initiative to reskill the workers in the IT (Information Technology) industry in emerging technologies and job roles.
In 2018, Nasscom and the Government announced the Future Skills portal for member companies in the IT-ITeS (enabled Service) industry, to reskill workforce across nine emerging technologies.
Out of the 4.5 million people employed in the industry today, 1.5 to 2 million people are expected to require reskilling in the next 4-5 years. The PRIME program is the next phase of the Future Skills platform and is open to professionals from outside the IT industry as well.
About Ministry of Electronics and Information Technology (MeitY):
Founded- 1999
Headquarters- New Delhi
Officeholder- Surinderjeet Singh Ahluwalia, (Minister of State)
AffairsCloud Ebook - Support Us to Grow