On January 17, 2020 the Union Minister of Chemicals & Fertilizers (MoC&F) Shri Devaragunda Venkappa Sadananda Gowda launched "APNA UREA – Sona Ugle" brand of Hindustan Urvarak & Rasayan Limited (HURL) and also the company's logo at an event in New Delhi.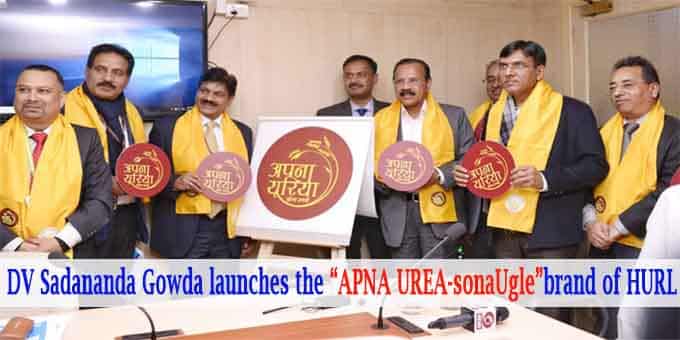 Fertilizer plants revival:
i.HURL: It is a Joint venture(JV) company 3 Maharatna companies as its lead promoters which are Coal India Limited (CIL), NTPC Limited (NTPC) and Indian Oil Corporation Limited (IOCL) and Fertilizer Corporation of India Ltd (FCIL) & Hindustan Fertilizer Corporation Limited (HFCL) as other two partners.
ii.Urea plant revival undertaken by HURL: 
Plant revival by HURL: In 2016, the govt approved for the revival of 3 urea plants located at Gorakhpur (Uttar Pradesh), Sindri(Jharkhand) and Barauni (Bihar). It was undertaken by HURL.
Total plant revival: This undertaking by HURL is part of Prime Minister Modi's direction of revival of 5 major fertilizer plants. The remaining 2 plants are at Ramagundam(Telangana) and Talcher (Odisha) and they will commence production soon.
Capacity of 3 plants undertaken by HURL: 3 plants which will be revived by HURL mostly by 2021 have total installed capacity of 38.1 LMT of Neem Coated Urea per annum.
iii.Fertilizer production: Nearly 70-80 Lakh Metric Tonne (LMT) fertilizer every year are being imported in India. Once the above mentioned 5 units are commissioned the total production of Urea is expected to increase by 63.5 LMT Per Annum (LMTPA).
Average import & production: India's average urea import is 63.12 LMT & its average total production of urea in the country is around 241 LMT.  The total consumption (Sales) of urea is 305.48 LMT approximately.
iv.New plans of HURL:  HURL will establish energy efficient Natural Gas based new Fertilizer Complexes having an installed capacity of 1.27 MMTPA (Million Metric Tonnes Per Annum) neem coated urea.
Natural gas supply: Under pooled price mechanism natural gas supply will be done by GAIL (formerly Gas Authority of India Ltd) under the Pooled Price Mechanism.
v.Remaining plant revival:
The remaining two plants that are being revived are Ramagundam unit by M/s. Ramagundam Fertilizers & Chemicals Limited (RFCL), a JV of National Fertilizers Limited (NFL), Engineers India Ltd (EIL) & FCIL,
Talcher unit (expected commissioning by 2023) by Talcher Fertilizers Limited (TFL), a JV of Rashtriya Chemicals & Fertilizers Limited (RCF), CIL, GAIL & FCIL.
vi.Members Present: Secretary of Department of Fertilizers, Shri Chhabilendra Roul and other officials were present during the event.
About Ministry of Chemicals & Fertilizers (MoC&F):
Fact- departments under MoC&F are dept. of Chemicals and Petrochemicals, Dept of Fertilisers and Dept. of Pharmaceuticals.
Union minister- Shri. D.V. Sadananda Gowda.
Minister of State(MoS)- Shri Mansukh Mandaviya.
AffairsCloud Ebook - Support Us to Grow