We are here for you to provide the important Recent and Latest Current Affairs 13 November 2019, which have unique updates of Latest Current Affairs 2019 events from all newspapers such as The Hindu, The Economic Times, PIB, Times of India, PTI, Indian Express, Business Standard and all Government official websites.
Our Current Affairs November 2019 events will help you to get more marks in Banking, Insurance, SSC, Railways, UPSC, CLAT and all State Government Exams. Also try our Latest Current Affairs Quiz and Monthly Current Affairs PDF which will be a pedestrian to crack your exams.
Click here for Current Affairs November 12 2019
INDIAN AFFAIRS
India to host SCO's 19th Heads of government council meet in 2020 
On November 12, 2019, Secretary-General of the Shanghai Cooperation Organisation(SCO) Vladimir Norov, announced that India would host the 19th council of heads of government in 2020. The meeting will be organized in New Delhi. This is the first time India will be hosting the meeting after its admission into SCO as a member in 2017.
Key Points:
i.The announcement to host the meeting was done during the 18th meeting of SCO's Heads of Government Council held at Tashkent, Uzbekistan.
About SCO:
Founded- 19 September 2003
Headquarters- Beijing, China
SCO members- China, Russia, Kazakhstan, Tajikistan, Uzbekistan, India, Pakistan and Kyrgyzstan.
4 Observer states- Afghanistan, Belarus, Iran and Mongolia.
6 dialogue partners- Azerbaijan, Armenia, Cambodia, Nepal, Turkey, and Sri Lanka.
President's rule enforced in Maharashtra
On November 12, 2019, President's rule was imposed in Maharashtra after President Ram Nath Govind approves Governor Bhagat Singh Koshyari's recommendation on the deadlock of government formation in the state. The reason behind the president's rule is the Power tussle over chief minister post between BJP (Bharatiya Janata Party) and Shiv Sena.
Maharashtra under President's rule for 3rd time in 59-year history 
The first time when Maharashtra was under President's rule was in February 1980, when the Indira Gandhi government dismissed the Progressive Democratic Front (PDF) government headed by Sharad Pawar. After this, it was imposed on September 28, 2014, when Prithviraj Chavan resigned as Chief Minister. Now, it's for the 3rd time in the 59-year-old history of the state when Article 356 has been invoked due to the inability of political parties to form a government after an assembly election. Maharashtra came into existence on May 1, 1960.
Key Point:
President Rule-Article 356 of the Constitution provides for the imposition of President's Rule in a state in "case of failure of the constitutional machinery in the state".
About Maharashtra
Capital- Mumbai
Governor– Bhagat Singh Koshyari
Districts-36
Ayodhya verdict: Disputed land allocated for temple, alternate 5-Acre land for Mosque  
On November 9, 2019, the Supreme Court (SC) gave its final judgment on the long-disputed Ayodhya case to construct a Ram temple at Ayodhya site in Uttar Pradesh. It has also directed the center to allocate a separate land of 5 acres for the Sunni Waqf Board for building a Mosque. A 5-member SC constitution bench, headed by Chief Justice of India Ranjan Gogoi announced the Ayodhya Ram Janmabhoomi-Babri Masjid title suitcase.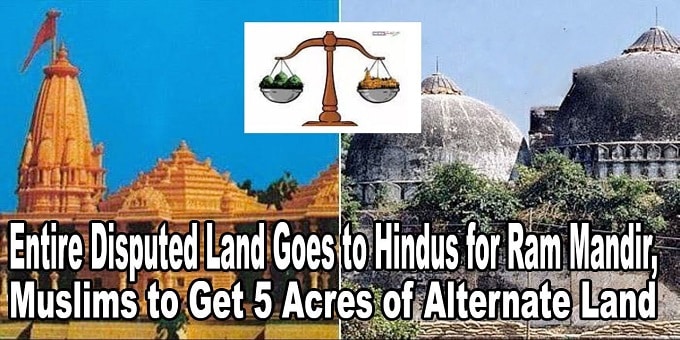 Court order:
A trust should be formed within 3 months for the construction of the Ram temple under the provisions of the Acquisition of Certain Area at Ayodhya Act 1993.
Mosque should be constructed at a prominent site.
2.77-acre land rights to be handed over to the deity Ram Lalla, who was one of the three litigants in the case.
Key Points:
i.5-member bench: The 5-member SC constitution bench, comprised of justices Sharad Arvind Bobde, Dhananjaya Yeshwant Chandrachud, Ashok Bhushan, Abdul Nazeer and Ranjan Gogoi (head).
ii.ASI report: The Archaeological Survey of India(ASI) reported the existence of Ram temple at Janmasthan, and the court noted that according to the ASI, Babar's Masjid (mosque) was built on the very spot where the old temple Janmasthan stood.
iii.Dispute: There was a dispute among three parties – Ram Lalla, Sunni Waqf Board and the Nirmohi Akhara for the land….Click here to Read More
27th Conference of Central and State Statistical Organizations (COCSSO) held in Kolkata, West Bengal
27th Conference of Central and State Statistical Organizations (COCSSO) was held in Kolkata, West Bengal from November 11-12, 2019. The theme of this conference was "Sustainable Development Goals (SDGs)" which highlights the actions taken by the Ministry of Statistics and Programme Implementation (MoSPI) for a strong observing mechanism for Sustainable Development Goals (SDGs). Prof. Bimal K Roy, Chairman, National statistical commission (NSC) inaugurated this conference.
COCSSO- This annual event was first organized in 1971 by MoSPI. COCSSO is a major national forum that produces coordination between the Central and State Statistical Agencies.

Key Points: –
i.Aim- It provides a platform to bring all stakeholders together and discuss about the statistical matter of interest.
ii.Participants- Delegations including Shri Pravin Srivastava, Chief Statistician of India-cum- Secretary, Ministry of Statistics and Programme Implementation (MoSPI), Government of India. Dr. G. C. Manna, Member, National Statistical Commission, Shri Vijay Kumar, Director General (Surveys), National Statistical Office and Shri T. K. Sanyal, Director General (Economic Statistics), National Statistical Office were also present on the occasion. Representatives from Central Government Ministries, State Governments, international agencies, academic institutions, corporate sector, community organizations, and other stakeholders participated in the conference….Click here to Read More
India-ASEAN Business Summit 2019 held in New Delhi
Dr Jitendra Singh, Union Minister of State (I/C) Development of North Eastern Region (DoNER), MoS PMO, Personnel, Public Grievances & Pensions, Atomic Energy and Space, has addressed the 2-day India-ASEAN (Association of Southeast Asian Nations) Business Summit 2019 based on the theme "Today, Tomorrow, Together" held at LPS Auditorium in PHD House, New Delhi from November 11-12, 2019.

Key Points:
i.The primary aim of the summit was to promote the bilateral trade relations between India and ASEAN nations to new scale.
ii.The event saw the participation of over 60 delegates from the 10 ASEAN countries and more than 200 delegates from India.
iii.ASEAN member countries will play a key role in achieving the target of 5 trillion economy in India by 2024-25.
About ASEAN:
The Association of Southeast Asian Nations, or ASEAN, was established on 8 August 1967 in Bangkok, Thailand. There are 10 permanent members of this association.It includes, Brunei Bandar, Cambodia, Indonesia, Malaysia , Myanmar , Philippines, Singapore, Thailand, Vietnam, and Laos.
India's first "Wildlife SOS Elephant Memorial" opens in Mathura, Uttar Pradesh
On November 9, 2019, India's First Elephant Memorial namely "Wildlife SOS Elephant Memorial" opens on Agra-Mathura Highway in Mathura, Uttar Pradesh by Wildlife SOS, a Non-Governmental Organization(NGO). The Chief guest for this inauguration was K. Praveen Rao, Additional Principal Chief Conservator in Uttar Pradesh Forest Department.
Key Points: –
i.The Elephant Memorial represents the loss of the gentle giants, which are missing their lives while suffering brutality at the hands of humans.
ii.It was started for the elephants which died in harness or as victims of human brutalities.
About Uttar Pradesh: –
Capital- Lucknow
Chief Minister-Yogi Adityanath
INTERNATIONAL AFFAIRS
Brown to Green Report 2019: India, the only G20 nation close to 1.5°C temperature rise
On November 11, 2019 Non-Governmental Organisations(NGOs) from the majority of the G20 (group of 20) countries and 14 research organisations have prepared a report titled "Brown to Green Report 2019" which comprises of analysation of the climate action track records of the G20 nations. The report was published by Climate transparency.
Among the G20 nations, India was the only country close to the 1.5-degree celsius temperature rise pathway.
 80% of the global greenhouse gas(GHG) emissions were from the G20 nations. It accounted for 85% of the global Gross Domestic Product(GDP).
The report was prepared based on 80 indicators on decarbonisation, climate policies, finance and vulnerability to the impacts of climate change….Click here to Read More
Pneumonia killed more than 14 children every hour in India in 2018:UNICEF's Fighting for Breath report 2019
On November 13, 2019, As per the study titled, "Fighting for Breath- A call to action on childhood pneumonia" released by UNICEF(United Nations Children's Fund ,originally known as the United Nations International Children's Emergency Fund ) and charity groups Save the Children & Every Breath Counts Coalition , Pneumonia is one of the leading killers of children in India, claiming more than 14 children under the age of 5 years every hour in 2018. It killed over 1,27,000 under-five children in 2018 with high risk factors of malnutrition (53%) and pollution(Outdoor air pollution -27% & Indoor air pollution-22%).
Key Points:
i.Top 5:  Five countries responsible for more than half of child pneumonia deaths includes Nigeria (162,000), India (127,000), Pakistan (58,000), the Democratic Republic of Congo (40,000) and Ethiopia (32,000).
ii.Spending: India spends $16 on health per person in 2016, far below the 86-dollar minimum level recommended by the World Health Organization(WHO).
iii.Target:According to Global Action Plan for Pneumonia and Diarrhoea (GAPPD), the global target for pneumonia mortality rate for children under five by 2025 is three per 1000 live births….Click here to Read More
ECONOMY & BUSINESS
Nomura revised India's GDP to 4.9% from 5.7% for FY20
On November 9, 2019, the Japanese brokerage firm Nomura revised the Gross Domestic Product(GDP) forecast of India to 4.9% from its previous estimate of 5.7% FY20 (fiscal year 20). The downgrade in the forecast was due to slowed economic growth of 5% in the June quarter (1st quarter) of 2019, which is a 6-year low. This is by far, the lowest estimate of Nomura.
About Nomura:
Founded- December 25, 1925.
Headquarters- Tokyo, Japan.
President- Toshio Morita.
APPOINTMENTS & RESIGNATION
Prakash Javadekar gets charge of Ministry of Heavy Industries after Arvind Sawant's resignation

On November 12, 2019, Union Minister of Environment, Forest and Climate Change and Minister of Information and Broadcasting (I&B), Shri Prakash Keshav Javadekar (constituency- Maharashtra) has been given an additional charge of the Ministry of Heavy Industries and Public Enterprises after Shiv Sena MP(member of parliament) Arvind Ganpat Sawant stepped down from the post due to the consequences between BJP (Bharatiya Janata Party ) & Shiv Sena over government formation in Maharashtra.
Key Points:
i.President of India, Ram Nath Kovind has accepted the resignation of Arvind Sawant from the Union Council of Ministers, with immediate effect, under clause (2) of Article 75 of the Constitution.
Senator Jeanine Anez declares herself interim President of Bolivia

On November 12 2019, Opposition Leader in the Senate, Jeanine Anez (52), declared herself as the interim president for South American country, Bolivia, without a legislative quorum, after the resignation of longtime President Evo Morales.
Key Points: –
i.Anez, a Democratic Social Movement politician is serving in the Bolivian Senate since 2010.
ii.Born on June 13 1967, she is a qualified lawyer.
About Bolivia: –
Capital- Sucre
Currency- Bolivian Boliviano
ITDC appointed Kamala Vardhana Rao as the new Chairman and MD
On November 13, 2019 the India Tourism Development Corporation (ITDC), has appointed 1990 batch Indian Administrative Service(IAS) officer Ganji Kamala Vardhana Rao as its new Chairman and Managing Director(MD). He replaced Ravneet Kaur from the post.
Key Points:
i.Prior to the appointment Rao previously served as Principal Secretary of the Kerala government. He had also served as the Secretary of Kerala Tourism in 2014-15.
ii.Other previous positions: Rao had also served in multiple positions like Chairman of Indian tobacco board, Director of the fisheries department, Director in the department of tourism and culture of Andhra Pradesh govt.
About ITDC:
Fact- the ITDC works to construct, take over and manage existing hotels and market hotels, beach resorts, provide transport, entertainment, shopping, and conventional services etc.
Founded- October 1966.
Authorised capital- Rs 150 crores.
Nils Andersen appointed as the new Chairman of Unilever
On November 13, 2019, the British-Dutch consumer goods company Unilever announced the appointment of Nils Andersen as the next chairman of the board. Nils replaced Marijn Dekkers from the post. However, Marijn will continue on the board as a non-executive director.
Key Points:
i.Currently Andersen serves as a non-executive director in Unilever's audit committee and serves as chairman of Dutch paint company Akzo Nobel and privately held Danish retailer Salling Group.
About Unilever:
Founded- 2 September 1929.
Headquarters- London, United Kingdom(UK) and Netherlands.
Chief Executive Officer(CEO)- Alan Jope
Nita Ambani becomes the 1st Indian trustee of New York's Metropolitan Museum of Art

On November 13, 2019, Nita Ambani (56), chairperson of the Reliance Foundation & the wife of Reliance Industries' Chairman and Managing Director(MD) Mukesh Ambani, has been elected to the honorary Trustee of New York (United States) based The Metropolitan Museum of Art (Met) due to her commitment to preserve and encourage Indian art and culture. With this, She became the 1st Indian to become a trustee in the 149-year history of this museum.
Key Points:
i.Nita Ambani, member of the Met's International Council', is supporting the Met since the year 2016.
ii.The Museum honored Nita Ambani in 2017 at The Met Winter Party, an event celebrating the achievements of those people who promote greater diversity and inclusion in the world of art.
About Met:
Established -April 13, 1870
Chairman -Mr. Daniel Brodsky
President & CEO- Daniel Weiss
SCIENCE & TECHNOLOGY
American aerospace manufacturer SpaceX launched 2nd batch of 60 'Starlink' satellites for global internet
On November 11, 2019, In a bid to provide global internet coverage, Private American aerospace manufacturer, Space Exploration Technologies Corp (SpaceX), has launched the 2nd batch of 60 mini 'Starlink' satellites into low-Earth orbit. These satellites are launched from 'Falcon' rocket from Space Launch Complex 40 at Cape Canaveral Air Force, Florida, US (United States).
Key Points:
i.The launch create multiple records for SpaceX's reusable rocketry program :(i) It marks the 4th flight for this particular booster (ii) 1st time a Falcon 9 has flown more than 3 times &(iii)  It was its heaviest payload (575 pounds each ) to date.This fairing was flown during the Falcon Heavy Arabsat-6A mission that occurred in April 2019.
ii.By operating at a lower altitude of approximately 217 miles (350 km) above the Earth,the compact flat-panel satellites -weighing just 575 pounds (260 kilograms) each will meet the needs of consumers across the globe.
iii.After 6 launches , Starlink aims to provide service in parts of the U.S. and Canada, rapidly expanding to global coverage after 24 launches.It is expected to bring into space about 12,000 Starlink satellites by 2024.
iv.SpaceX sent the 1st batch of 60 Starlink satellites into space earlier on May 23, 2019, as a test.
About SpaceX:
Founded- May 6, 2002
Founder -Elon Musk
Headquarters -California, U.S.
President and COO- Gwynne Shotwell
National Aeronautics and Space Administration (NASA) renames Ultima thule to Arrokoth after Nazi controversy
On November 13, 2019, National Aeronautics and Space Administration (NASA) has renamed a distant space rock Ultima Thule, to Arrokoth. It is the farthest cosmic body ever visited by a spacecraft. Arrokoth or "sky" is the name of the Native American Powhatan language following a significant backlash over the old name's Nazi connotations. The name portrait the co-operation with Powhatan Tribal elders.
Key Points: –
i.The icy rock, which orbits in the dark and frigid Kuiper Belt about a billion miles beyond Pluto, was plotted by the NASA spaceship New Horizons in January, it consisted of two spheres stuck together in the shape of a snowman.
ii.On November 12 2019, the new official name which was chosen by New Horizons team has been approved by the International Astronomical Union (IAU)in a ceremony at NASA headquarters.
About NASA
Headquarters-Washington, D.C
Established- July 29,1958
SPORTS
Sri Lanka becomes 1st South Asian country to call match-fixing a crime
On November 12, 2019, Sri Lanka has become the first South Asian nation to bring match-fixing cases to the category of crime as its parliament passed a bill related to 'Prevention of Offences Related to Sports'. This new legislation related to match-fixing and corruption will apply to all sports & if a person is found guilty of corruption in the game, he can be punished for up to 10 years and also be required to pay other fines.
Key Points:
i.Sri Lanka's Sports Ministry worked closely with the International Cricket Council's  (ICC) Anti Corruption Unit (ACU)while drafting the bill.
ii.The bill also provides for stringent action against those who will hide information even after contact with the bookies. This now means that Sri Lankan cricketers will have to give information not only to ACU, but also to the government-appointed Special Investigation Unit (SIU) in case of contact by the corruptors.
iii.Since 2017 ,Sri Lanka Cricket (SLC) has been under investigation by the ICC's ACU. Former Sri Lankan cricketer Deshabandu Sanath Teran Jayasuriya was charged under the ICC Code and faced a two-year ban.
iv.Recently, the ICC banned Bangladesh's all-rounder Shakib Al Hasan, for two years for not reporting a suspected match-fixing offer to the ICC's ACU.
About ICC:
Motto -Cricket for good.
Formation- 15 June 1909
Headquarters -Dubai, United Arab Emirates(UAE)
Chairman -Shashank Manohar
FIFA banned three football officials for life term
On November 13, 2019 the FIFA (Fédération Internationale de Football Association) has banned 3 South American Football Confederation (CONMEBOL) officials for a lifetime for connection with a 2015 corruption scandal in football. The three officials who were banned were Former Peru Football Federation President Manuel Burga and Argentinian officials Eduardo Deluca and Jose Luis Meiszner.
Key Points:
i.The three officials have been restricted from any footballing activity and were also fined 1 million Swiss francs (912,000 euros) each.
About FIFA:
Founded- 21 May 1904.
Headquarters- Zürich, Switzerland.
President- Gianni Infantino.
English abbreviation- International Federation of Association Football.
Virat Kohli & Bumrah retain top position in ICC ODI batting & bowling rankings respectively

On November 12, 2019 the International Cricket Council(ICC) released its latest One Day International (ODI) batting and bowling rankings for men. The batting ranking was topped by Indian cricketer Virat Kohli while the bowler ranking was topped by Indian Bowler Jasprit Bumrah.
Rankings:
i.Batting rankings: Virat Kohli was followed by Indian cricketer Rohit Sharma and Babar Azam(Pakistan) in the second and third places respectively.
ii.Bowler Rankings: In the bowler rankings Jasprit was followed by Trent Boult (New Zealand) and Mujeeb Ur Rahman (Afghanistan) in the second and third places respectively.
iii.All-rounder rankings: Meanwhile in the all-rounder rankings Hardik Pandya was the only Indian player to be listed in the top 10 rankings in the 10th spot. The list was topped by England cricketer Ben Stokes.
iv.ODI team rankings: In the ODI team rankings, India ranked in 2nd place, while the ranking was topped by England. India was followed by New Zealand in 3rd place.
About ICC:
Formation- 1909.
Headquarters- Dubai, United Arab Emirates(UAE).
Chief Executive Officer(CEO)- Manu Sawhney.
Chairman- Shasank Manohar.
Independent director- Indra Nooyi.
IMPORTANT DAYS
World Kindness Day observed on November 13 2019

World Kindness Day was celebrated annually on November 13. This day provides an opportunity to act kindly with others as kindness is an important unifying human standard.
Key points: –
i.The World Kindness Movement started World Kindness Day in 1998 as an organization that was formed in Tokyo, 1997.
ii.Inspiration– This day also inspires us to believe that one act of kindness can make a global change in society and the community.
550th Birth Anniversary Celebrations of Guru Nanak Dev observed on November 12, 2019

On November 12, 2019, the 550th birth anniversary of Guru Nanak Dev was observed. The day is also known as Prakash Parv/Guru Nanak Jayanti. He was the first of the 10 Sikh gurus and the founder of Sikhism. His birthday is observed every year on Kartik Poornima.
Recently New Delhi headquartered Air India depicted 'Ik Onkar', the religious Sikh symbol on one of its aircraft tail to commemorate the 550th birth anniversary.
President of India, Shri Ram Nath Kovind, attended the 550th birth anniversary celebrations of the Sikh guru at Sultanpur Lodhi, the place where Guru Nanak attained enlightenment….Click here to Read More
[su_button url="https://affairscloud.com/current-affairs-2019/november/" target="self" style="default" background="#2D89EF" color="#FFFFFF" size="5″ wide="no" center="no" radius="auto" icon="" icon_color="#FFFFFF" text_shadow="none" desc="" download="" onclick="" rel="" title="" id="" class=""]Click Here to Read Current Affairs November 2019[/su_button]
AffairsCloud Ebook - Support Us to Grow