On November 9, 2019 the Supreme Court (SC) gave its final judgment on the long disputed Ayodhya case to construct a Ram temple at Ayodhya site in Uttar Pradesh. It has also directed the centre to allocate a separate land of 5 acres for the Sunni Waqf Board for building a Mosque. A 5-member SC constitution bench, headed by Chief Justice of India Ranjan Gogoi announced the Ayodhya Ram Janmabhoomi-Babri Masjid title suit case.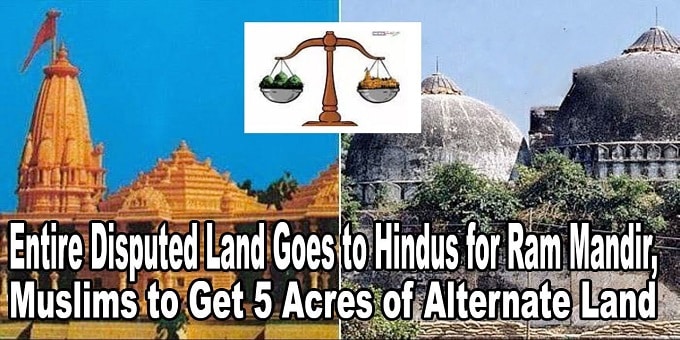 Court order:
A trust should be formed within 3 months for the construction of the Ram temple under the provisions of the Acquisition of Certain Area at Ayodhya Act 1993.
Mosque should be constructed at a prominent site.
2.77-acre land rights to be handed over to the deity Ram Lalla, who was one of the three litigants in the case.
Key Points:
i.5-member bench: The 5-member SC constitution bench, comprised of justices Sharad Arvind Bobde, Dhananjaya Yeshwant Chandrachud, Ashok Bhushan, Abdul Nazeer and Ranjan Gogoi (head).
ii.ASI report: The Archaeological Survey of India(ASI) reported the existence of Ram temple at Janmasthan, and the court noted that according to the ASI, Babar's Masjid (mosque) was built on the very spot where the old temple Janmasthan stood.
iii.Dispute: There was a dispute among three parties – Ram Lalla, Sunni Waqf Board and the Nirmohi Akhara for the land.
Dispute Background:
According to the Ramayana, Lord Rama was born in Ayodhya. Mir Baqi, one of the generals of India's 1st mughal emperor Babur, built the Babri Masjid ("Babur's Mosque") in 1528 on his orders.
The land on which the medieval mosque, Babri Masjid, stood is traditionally considered by Hindus to be the birthplace of the Hindu deity, Rama, and was at the core of the Ayodhya dispute.
In 1949, after India's independence, an idol of Ram was placed inside the mosque, which triggered the dispute.
About Uttar Pradesh:
Chief Minister(CM)- Yogi Adityanath
Capital- Lucknow.
Governor- Anandiben Patel.
AffairsCloud Ebook - Support Us to Grow