We are here for you to provide the important Recent and Latest Current Affairs 25 January 2020, which have unique updates of Latest Current Affairs 2020 events from all newspapers such as The Hindu, The Economic Times, PIB, Times of India, PTI, Indian Express, Business Standard and all Government official websites.
Our Current Affairs January 2020 events will help you to get more marks in Banking, Insurance, SSC, Railways, UPSC, CLAT and all State Government Exams. Also try our Latest Current Affairs Quiz and Monthly Current Affairs PDF which will be a pedestrian to crack your exams.
Date-Wise Current Affairs January 2020 PDF for Paid Users – Click Here to Know More
Click here for Current Affairs January 24 2020
NATIONAL AFFAIRS
Dept of Biotechnology holds international summit on women in STEM in New Delhi
On January 24, 2020, The Department of Biotechnology under the aegis of Ministry of Science & Technology has organized a 2-day long International Summit on Women in STEM–"Visualizing the Future: New Skylines" at the India Habitat Centre in New Delhi with the aim to increase the participation of women in STEM (science, technology, engineering and math) field for development of scientific career.
Key Points:
i.The summit saw the participation of around 350 people across the world from different fields including scientists, socialists, entrepreneurs, researchers, teachers, and students.
ii.A number of sessions and interactive discussions such as mechanisms of leadership building, empowering women through networking, career opportunities & interactive exercises were held with renowned women senior scientists.
iii.This summit will offer a good platform for young students & researchers to interact with leaders in the STEM fields to explore future study and career interests.
About Ministry of Science & Technology:
Founded– May 1971
Headquarters– New Delhi
Union Minister– Harsh Vardhan
India's first e-waste clinic opens in Bhopal
On January 24, 2020 India's first e-waste clinic was opened in Bhopal, Madhya Pradesh. The e-waste clinic was inaugurated by C K Mishra (Secretary to the Ministry of Environment, Forest & Climate change,MoEFCC). The e-waste clinic was jointly set up by the Central Pollution Board Control -CPCB and Bhopal Municipal Corporation -BMC.
Key Points:
i.The e-waste clinic is a 3-month project and if the project becomes successful then it will be established in other parts of the country also.
ii.The process includes segregation, processing, and disposal of waste from both household and commercial units.
iii.The electronic waste will be collected door to door or could be deposited directly at the e-waste clinic while CPCB will provide technical support.
iv.The e-waste clinic consists of low floor bus and TV is installed displays documentary films on "Environmental damage caused by e-waste".
v.Chairperson of the CPCB SPS Parihar, principal secretary of the environment department Malay Shrivastav, commissioner of the Bhopal Municipal Corporation (BMC) Vijay Dutta were present in the occasion.
About MadhyaPradesh (MP):
Capital- Bhopal.
State Animal- Barasingha.
State Tree- Banyan tree.
State fruit- Mango.
Chief Minister (CM)- Kamal Nath.
Governor- Lalji Tandon.
Government sets up 10 chairs to encourage women in research activities on National Girl Child Day, January 24, 2020
January 24, 2020, is celebrated as the "National Girl Child Day" under the Ministry of Women and Child Development. The Ministry announced an initiative called "Establishment of Chairs in the Universities in the name of eminent women" which encourages women to carry out research activities.
Key Points:
i.This initiative was launched under the assistance of University Grants Commission (UGC) to inspire women to achieve their goals and to motivate young girls towards higher studies.
ii.The 10 chairs will be set up by UGC for five years. They are named after the Devi Ahilyabai Holkar (for Administration), Mahadevi Varma(for Literature), Rani Gaidinliu(for Freedom Fighter North East), Anandibai Gopalrao Joshi(for Medicine and Health), M S Subbulakshmi(for Art),  Amrita Devi (for Forest and Wildlife conservation), Lilavati(for Mathematics), Kamala Sohonie (Science), Lal Ded ( Poetry and Mysticism) and Hansa Mehta (for Educational Reforms).
iii.Each chair will be given Rs 50 lakh each for a year with a total expenditure of Rs 5 crore per annum for a period of five years.
About:
National Girl child day- January 24
West Bengal leads in vegetable production, Andhra Pradesh tops in Fruits in 2018-19: Horticultural production data
On January 20, 2020, According to the State-wise horticulture production data released at a conference organised by the Ministry of Agriculture & Farmers' Welfare, the state of West Bengal (WB) has been at the forefront of vegetable production in 2018-19 (3rd  advance estimates), where the production of vegetables was 29.55 million tonnes (MT). It was followed by Uttar Pradesh –UP (27.70 MT) and Madhya Pradesh (17.77 MT).
Fruit crops Production:
Andhra Pradesh (AP) continued to hold the top spot in fruits with 17.61MT in 2018-19.It was followed by Maharashtra (10.82 mt) and UP (10.65 mt).
The total area under vegetable cultivation rose to 10.10 million hectare (mh)in 2018-19 from 6.74 mh in 2004-05….Click here to Read More
India supplies 30k doses of Measles and Rubella vaccine to Maldives within 72 hours
On January 23, 2020, the Government of India (GoI) has supplied 30,000 doses of Measles and Rubella (MR) vaccine within 72 hours on the emergency request of the Maldives government. These vaccines are supplied by Serum Institute of India Private Limited, Pune, Maharashtra.
Key Points:
i.Though Maldives have eradicated Measles in 2017, it has detected four positive cases a week back, so the outbreak vaccines are sent on the emergency request.
ii.In June 2019, during Prime Minister's (PM) visit to the Maldives, Memorandum of  Understanding (MoU) was signed by India and Maldives on Health Co-operation.
iii.In 2014, India has also sent fresh water to the Maldives during water crisis and immediate assistance have also been sent during tsunami stuck to maldives.
AboutMaldives:
Capital- Male
Currency- Maldivian rufiyaa
President- Ibrahim Mohamed Solih
Minister of Health Maldives- Abdulla Ameen
Indian Ambassador to Maldives- Sanjay Sudhir
NIRDPR ties up with UNICEF, Hyderabad (Telangana) field office to establish 'communication resource unit'
On January 24, 2020, National Institute of Rural Development and Panchayati Raj (NIRDPR),an autonomous organization under the Union Ministry of Rural Development has entered into the partnership with UNICEF (United Nations Children's Fund), Hyderabad (Telangana) field office to set up 'Communication Resource Unit' (CRU).
Key Points:
i.The CRU will function as an institutional mechanism for providing Social and Behavioural Change Communications (SBCC) support to national flagship programmes of the State & central Government such as POSHAN Abhiyaan, National Health Mission and Swachh Bharath Mission among others.
ii.At present CRU functions in 3 states of Andhra Pradesh (AP), Telangana and Karnataka with the aim to help strategic communication needs of different government departments (such as Women Development and Child Welfare, Health, Rural Development, and Education) via consultations, technical support and, capacity building.
iii.Dr. Gyanmudra, professor and head, Centre for Good Governance and Policy Analysis (CGG&PA), NIRDPR is leading the CRU, which is equipped with a skilled workforce to help development, rollout plans, capacity building and developing IEC (Information Education and Communication) material, etc.
About National Institute of Rural Development and Panchayati Raj (NIRDPR):
It is located in Hyderabad in Telangana state. In addition to the main campus at Hyderabad, this Institute has North-Eastern Regional Centre at Guwahati, Assam.
About United Nations Children's Fund (UNICEF):
Formation– 11 December 1946.
Headquarters– New York City, USA
Executive Director- Henrietta Holsman Fore.
INTERNATIONAL AFFAIRS
Highlights of 50th WEF annual meeting 2020 held in Davos, Switzerland
The 50th edition of the 2020 World Economic Forum (WEF) annual meeting  was held in Davos-Klosters,in Switzerland from January 21-24, 2020. The theme for the year 2020 was  "Stakeholders for a Cohesive and Sustainable World". The WEF summit aims to engage world leaders to collaborate for global, regional and industrial development etc. The highlights of the summit in detail are as follows:
On January 23, 2020 the World Economic Forum (WEF) has announced new internet security principles which will help nearly 1 billion users.
The 1st ever public blockchain track and trace platform built to help businesses respond to the demands of customers for ethical and environmentally friendly products.
1st global consortium was formed and it works on designing a framework for digital currency governance that also includes stablecoins.
The republic of India has joined as a founding govt member of the WEF's 'Reskilling Revolution'.
The O.P Jindal Global University (JGU) signed a memorandum of understanding (MoU) with the University of Zurich (UZH) in Switzerland for mutual cooperation in higher education and research.
Madhya Pradesh(MP) govt has made investments worth Rs. 4,125 crores at WEF from various investors.
The govt of Karnataka signed a pact with WEF to start "Centre for Internet of ethical things".
The Malaysia Digital Economy Corporation (MDEC) signed a pact with WEF to focus on drones.
The Tata steel Kalinganagar (TSK) in Jajpur district of Odisha, was honoured at the WEF 2020 for its recent admittance to the Global Lighthouse Network(GLN) of WEF.
Bollywood actress Deepika Padukone was honoured with 26th Crystal award 2020….Click here to Read More
WEF: Survey on trust on climate science & 1st positive impact rating 2020 launched
World losing trust in climate science;Indians tops trust chart: 
The new public opinion poll was published in the WEF. It called for climate education and urgent upskilling. As per the opinion poll, it was found that the global public started losing trust level in climate sciences. In Contrast, Indians were the most trusting people in this regard. 86% of Indians trusted scientists on climate science.
The chart was topped by Indians and Bangladeshis. Russia and Ukraine were laggards at both counts.
Toppers in trust: India was followed by Bangladesh(78%), Pakistan (70%), China (69%) and Turkey (69%) in the 2nd, 3rd, 4th and 5th rank respectively.
1st edition of Positive Impact Rating 2020 launched:
The 1st edition of Positive Impact Rating 2020 was launched at the WEF. As per the rating, 2 Indian business schools, Indian Institute of Management (IIM) Bangalore in Karnataka and XLRI (formerly Xavier Labor Relations Institute) – Xavier School of Management, in Jamshedpur, Jharkhand have been included in the top 30 list.
Positive Impact rating 2020: In the ratings, IIM Bangalore was placed in 'transforming schools' category (level 4) and XLRI was placed in 'Progressing schools' category (level 3) for the rating….Click here to Read More
Bangladesh PM Sheikh Hasina launched e-passport in Dhaka; South Asia's 1st and 119th e-passport in the world
On January 22, 2020, Prime Minister (PM) of Bangladesh, Sheikh Hasina Wazed has launched e-passport in Dhaka, Bangladesh as Mujib Century year gift to the country. Bangladesh is the first country in South Asia and 119th countries in the world to have an e-passport facility. Malaysia is the first country in the world to launch this facility in 1998.
Key Points:
i.This e-passport consists of embedded chip which contains biometric data, digital Photograph and  signature of the passport holder which will help to control fake passports in the country.
ii.Bangladesh has set up 69 passports offices in 64 districts, 33 immigration check-posts and passports and visa wings at 75 missions abroad across the country.
iii.According to International Civil Aviation Organisation (ICAO), 490 million e-Passports are  present around  the world.
About Bangladesh:
Capital- Dhaka
Currency- Bangladeshi taka
President– Mohammad Abdul Hamid
Overview of External affairs Minister Jaishankar's  3-day visit to Niger & Tunisia
External Affairs Minister(EAM) of India Dr. Subrahmanyam Jaishankar has paid a visit to two nations Niger & Tunisia.This is his 1st visit to the African continent after becoming Foreign Minister & he was the 1st Indian EAM to visit Niger.
The Government of India (GoI) India has signed a memorandum of understanding (MoU) with Tunisia, a North African country for the setting up of a 'India- Tunisia centre for innovation in information and communication technologies (ICT)' in Tunisia.
Both the sides also discussed 4th edition of India-Africa Summit 2020 (IAFS-IV), which scheduled to be held in India in September 2020.
EAM S Jaishankar visited Niamey, Republic of Niger. He also met President of Niger, H. E. Mahamadou Issoufou & both the leaders jointly inaugurated the Mahatma Gandhi International Convention Centre (MGICC).…Click here to Read More
European Commission, Council Presidents sign Brexit agreement
On January 24, 2020 ,The presidents of European Commission Ursula von der Leyen & the European Council Charles Michel, have signed the Brexit deal agreed in the month of October 2019 .
It will be placed before the European Parliament on 29 January,2020 for approval. Then the Diplomats from European  Union (EU) member states will give written approval to the agreement on 30 January,2020.
This will ensure Britain's separation from the European Union in the prescribed manner from midnight on 31 January,2020.
This will bring to an end 47 years as a member of the pan-European partnership.
After Brexit, the 28 member states will come down to 27, but the withdrawal deal provides for an 11-month transition period for Britain until the end of 2020….Click here to Read More
Pakistan may be out of FAFT's "Grey List" by February 2020
On January 23, 2020, the Asia Pacific Joint Group, the Financial Action Task Force (FATF) international cooperation review group meeting was held in  Beijing, China which states that Pakistan has 75 percent chances of exiting 'Grey List'.
Key Point:
i.In 2018 June, Pakistan was placed on the 'Grey List' by the FATF and it may exit from 'Grey List' in the next FATF meeting which is to be held on February 16, 2020, in Paris, France.
ii.Pakistan needs 12 votes out of 39 to exist from the 'Grey List'.
iii.According to the last meeting of FATF, Pakistan has got support from China, Malaysia and Turkey.
About FATF:
The Financial Action Task Force is an intergovernmental organisation established in 1989 to develop policies to combat money laundering and terrorism financing of its member countries. It contains 37 Nations, two regional oraganisation, and Indonesia as observer. The present President of FATF is Xiangmin Liu from China.
BANKING & FINANCE
Western Union joins hands with Airtel payments bank & Airtel Africa for money transfer service
On January 22, 2020, Western Union Company, a leader in cross-border, cross-currency money movement and payments, has partnered with India's largest integrated telecommunications services company, Bharti Airtel's 2 arms– Airtel Payments Bank & Airtel Africa Plc, to enable millions of latter's customers in India to receive international remittances in their bank accounts & and Mobile Wallets across 14 countries in Africa.
Key Points:
i.Airtel Payments Bank customers will be able to direct a Western Union money transfer into their bank accounts 24/7 via their app in real-time. It will also allow Airtel Payments Bank customer to withdraw money from its authorized 5 lakh outlets.
ii.In collaboration with Airtel Africa, this will enable over 15 million Airtel Money mobile wallet users in Nigeria, Uganda, Gabon, Tanzania, Zambia, Democratic Republic of the Congo, Malawi, Madagascar, Kenya, Congo, Niger, Tchad, Rwanda and Seychelles to simply get any money transfer received from across the world into their wallets.
About Western Union:
Founded– 1851
Headquarters– Denver, Colorado, United States(US)
President & CEO– Hikmet Ersek
About Bharti Airtel:
Founded– 7 July 1995
Headquarters– New Delhi
Chairman– Sunil Bharti Mittal
About Airtel Payments Bank Limited:
Founded– 2017
Headquarters– New Delhi India
MD &CEO– Anubrata Biswas
About Airtel Africa:
Founded– 8 June 2010
Headquarters– Delhi
CEO– Raghunath Venkateswarlu Mandava
India & WB signed $210 million loan pact for Maharashtra's Agri & Rural Transformation Project
On January 24, 2020, the govt of India, Govt of Maharashtra and the World Bank(WB) signed a loan agreement of $210 million for Maharashtra's Agribusiness & rural transformation project. This project will help the farmers in Maharashtra to take part in competitive agriculture value chains, enhance agribusiness investments thereby increasing productivity of commodities.  All 36 districts of Maharashtra will be implemented with the project and would benefit nearly 1 million farming households.
Key Points:
i.loan Agreement signing: The agreement was signed by Shri Sameer Kumar Khare, Additional Secretary of the Department of Economic Affairs, Ministry of Finance (MoF) on behalf of Indian govt while from the WB side, it was signed by Mr JunaidKamal Ahmad, WB's Country Director (India).
ii.Project agreement signing: The project agreement was signed by Shri Eknath Dawale, Secretary of the Department of Agriculture, Government of Maharashtra & by Mr. Junaid Kamal Ahmad of WB.
iii.This loan is from the WB's International Bank for Reconstruction and Development (IBRD) has a grace period of 6 years and a maturity period of 13.5 years.
About International Bank for Reconstruction and Development (IBRD)
Headquarters- Washington, D.C., United States(US).
Founded- 1944.
Parent organization- World Bank Group.
IndusInd Bank launches asset management platform "PIONEER"
On January 24, 2020, IndusInd Bank Limited , one of the leading Private Sector Banks of the country , has launched the asset management platform under the name 'PIONEER' Banking. Through this, services will be provided to high net-worth customers of IndusInd bank. Along with this, specially tailored banking services will also be offered, which will suit the needs of valued consumers.
PIONEER customers will get the following benefits and privileges:    
The bank will not charge on Non-Maintenance of Minimum Balance
•  PIONEER customers can get a benefit to link up to 10 family members & Business accounts and extend the same benefits to all of them.
• They are allowed to access exclusive PIONEER 'Lobbies' that have been designed to enable them to undertake personal & bank-related meetings.
• They can avail free doorstep banking of up to Rs. 4 Lakh per day at no extra cost.
• PIONEER customers will not be charged for transactions taken through the NEFT (National Electronic Funds Transfer) or RTGS (Real-time gross settlement) platforms.
• No Transaction Charges on requests pertaining to checkbooks, demand drafts (DD), passbooks, statements, alerts, or TDS(Tax Deducted at Source) certificates.
• They can also avail Complimentary PIONEER World Debit card, Card Holistic Wealth Management Services & Lifestyle benefits (Such as BookMyShow vouchers, discounts at Marquee restaurants, premiere hotels,etc).
About IndusInd Bank:
Founded– 1994
Headquarters– Mumbai, Maharashtra
MD & CEO– Romesh Sobti
Consumer Banking Head– Mr. Sumant Kathpalia
Tagline– We Make You Feel Richer
   APPOINTMENTS & RESIGNATIONS        
WEF appoints IMF chief Kristalina Georgieva and ARM chairman Patrice Motsepe to its board of trustees
During the 50th edition of World Economic Forum (WEF) Annual Meeting 2020, which was held on January 21 to January 24, 2020, in Davos-Klosters, Switzerland, the WEF has appointed International Monetary Fund (IMF) chief Kristalina Georgieva and African Rainbow Minerals (ARM) founder and Executive Chairman, Patrice Motsepe to its board of trustees.
Key Points:
i.Kristalina Georgieva serves as the IMF Managing Director since October 2019. She also served as the Chief Executive Officer (CEO) at the World Bank, and as Interim President of the World Bank Group and also served  as the European Commission's Vice-President for Budget and Human Resources.
ii.Patrice Motsepe, founder of ARM had placed in "100 Greatest Living Business Minds" in 2017 Forbes Magazine.
About IMF:
IMF is an international organization headquartered in Washington D.C, United States. It contains of 189 countries which are working to foster global monetary cooperation, secure financial stability, facilitate international trade and to promote high employment and sustainable economic growth, and reduce poverty around the world.
CEC Sunil Arora takes over as the new chairman of FEMBoSA
On January 24, 2020 India's Chief Election Commissioner (CEC) Sunil Arora took over as the new Chair of the Forum of the Election Management Bodies (EMBs) of South Asia (FEMBoSA) for the year 2020 during the 10th annual meeting of FEMBoSA held in New Delhi. Sunil Arora succeeds K.M. Nural Huda, CEC of Bangladesh. FEMBoSA is a regional association of Election Management Bodies (EMB) of SAARC (South Asian Association for Regional Cooperation) countries and has 8 members.
Key Points:
i.Mou (Memorandum of Understanding): Election Commission of India (ECI) renewed Memorandum of Understanding on "Strengthening Institutional Capacity" for cooperation in the field of election management with the Independent Election Commission of Afghanistan.
The poll panel also signed an MoU with Independent High Authority for Elections (ISIE) of Tunisia for cooperation in the field of election management.
ii.Work Plan for 2020: "Use of Technology in Elections"–The EC calls for members to undertake projects & initiatives on various aspects of use of technology in elections and submit their report on their experiences and challenges at the next FEMBoSA meeting.
iii.Election commission of India (ECI) established the Indian International Institute of Democracy and Election Management (IIDEM) in June 2011 (to promote people's participation, develop stronger democratic institutions, etc.,)
iv.The last annual meeting of FEMBoSA was held in Dhaka, Bangladesh in September 2018.
v.Other launches: CEC Sh Sunil Arora along with the two Election Commissioners Sh. Ashok Lavasa and Sh. Sushil Chandra and Secretary-General, ECI Sh Umesh Sinha launched the 10th issue of ECI's magazine – 'VOICE International' which carries articles on the theme of "Innovative Methods of Voter Registration". The 4th Issue of the magazine "My Vote Matters" was also released on the occasion. A web portal on Association of World Election Bodies (A-WEB) was also unveiled. IIIDEM will host A-WEB Centre for documentation, research and training for sharing the best practices and capacity building of officials of A-WEB members. The Commission also released "ICT 2020; a compendium of 20 Apps for Election".
About FEMBoSA:
FEMBoSA was established at the 3rd Conference of Heads of Election Management Bodies of SAARC countries in 2012.
SAARC (South Asian Association for Regional Cooperation) countries:
Afghanistan, Bangladesh, Bhutan, India, the Maldives, Nepal, Pakistan and Sri Lanka are the member countries of SAARC.
Established- 8 December 1985.
Headquarters- Kathmandu, Nepal.
  SCIENCE & TECHNOLOGY
Pakistan successfully launched ballistic missile "Ghaznavi"
On January 23,2020 The successful training launch of nuclear-capable surface-to-surface ballistic missile(SSBM) 'Ghaznavi' was held in Islamabad, Pakistan.The Ghaznavi missile strike targets upto a range of 290 km (kilometers).
Key Points:
i.Inter-Services Public Relations (ISPR), the media wing of Pakistan's army mentioned that the Training launch was part of Field Training Exercise of Army Strategic Forces Command.
ii.The launch was witnessed by Lieutenant General Nadeem Zaki Manj (Director General Strategic Plans Division), Commander Army Strategic Forces Command, senior officers from the Strategic Plans Division, Army Strategic Forces Command, Scientist and Engineers of the strategic organisations.
iii.In November 2019, Pakistan had carried out a successful training launch of ballistic missile Shaheen-I which was also an SSBM.
About Pakistan:
Capital– Islamabad.
Prime Minister(PM)- Imran Ahmed Khan Niazi.
President- Arif-ur-Rehman Alvi.
Currency- Pakistani rupee.
Nitin Gadkari launches 'GATI' web portal to monitor Rs 3 lakh crore rupees project 
On January 23, 2020, Nitin Jairam Gadkari, Minister for Road Transport and Highways (MoRTH) has launched an online web portal 'GATI', on the pattern of portal 'PRAGATI', the portal used by the Prime Ministers' Officer (PMO) for monitoring projects, during the two-days long review meeting of National Highways Authority (NHAI)-Ministry projects in Manesar, Haryana. GATI will be used to monitor around 500 projects of Rs 3 Lakh Crore.
Key Points:
i.The portal has been created by the National Highways Authority of India (NHAI) which can be accessed from the NHAI website. The contractors and concessionaires can raise any project related issues on the portal. The issues raised in the portal will be monitored by the team of NHAI offices under the Ministry of Road Transport and Highways.
ii.The meet saw the participation of Minister of State (MoS) Road Transport and Highways Vijay Kumar Singh, Official from MoRTH, NHAI, National Highways & Infrastructure Development Corporation Limited (NHIDCL), and state authorities.
About Ministry of Road Transport and Highways:
Founded- July 1942
Minister- Nitin Jairam Gadkari
About NHAI:
Founded- 1988
Headquarters- New Delhi
ENVIRONMENT
ZSI documents another new snake eel species "Ophichthus kailashchandrai" in Odisha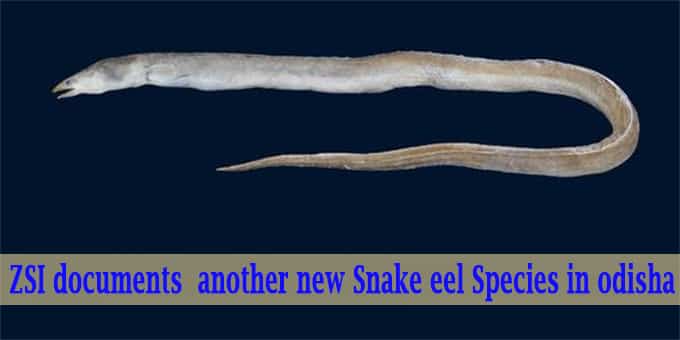 On January 23, 2020 The new snake eel species residing in the Bay of Bengal has been discovered and documented by the Estuarine Biology Regional Centre (EBRC) of the Zoological Survey of India (ZSI) at Gopalpur-on-sea in Odisha. The new marine species have been named as Ophichthus kailashchandrai to honour the vast contributions of Dr. Kailash Chandra (Director of Zoological Survey of India) to Indian animal taxonomy.
Key Points:
i.Ophichthus kailashchandrai is the 8th species of the Ophichthus genus found in the Indian coast and the 5th new species discovered by Gopalpur ZSI in the last 2 years.
ii.Dr. Anil Mohapatra, scientist at Gopalpur ZSI and his associates Swarup Ranjan Mohanty and Dipanjan Ray of the Bajkul Milani Mahavidyalaya,  West Bengal & Subhendu Sekar Mishra of the marine fish section of ZSI, Kolkata identified Ophichthus kailashchandrai completely as a new species after detailed study.
iii.Zootaxa, an international scientific journal for zoological taxonomy acknowledged the new marine snake eel species.
iv.In 2019 two new species of marine eel – Gymnothorax andamanensesis & Gymnothorax smithi were been discovered by this ZSI centre.
About ZSI (Zoological Survey of India):
Objective- To promote the survey, exploration and research of the fauna in India.
Founded- 1916.
Headquarters- Kolkata, West Bengal.
Director- Dr.Kailash Chandra
SPORTS
ICC Test ranking 2020: Virat Kohli at top spot in batting list; India tops team ranking
On January 24, 2020, International Cricket Council (ICC) had released the ICC test ranking in which India is at the top with 120 rating. Indian Cricket team Captain Virat Kohli remains at top in the ICC Test player ranking for batsmen with 928 points.
i.Virat Kohli tops the list with 928 points. Australia's Steven Smith  occupies the second spot with 911 points followed by Australia's Marnus Labuschagne with 827 points.
ii.Cheteshwar Pujara is at the 6th position with 791 points and Ajinkya Rahane at 8th with 759 points.
iii.The top ten is rounded off by  Kane Williamson of New Zealand on fourth, David Warner of Australia on fifth, Babar Azam of Pakistan on seventh, Joe Root of England on ninth and Ben Stokes of England on tenth spot….Click here to Read More
OBITUARY
Former Minister of Odisha, Jagannath Rout passes away at 77
On January 24, 2020 Senior Congress leader and former Minister of Odisha, Jagannath Rout has passed away at a private hospital in Bhubaneswar, Odisha due to cardiac arrest. He was 77.
Key Points:
i.He has won the Dhamnagar constituency election in Bhadrak district, Odisha in 1980, 1985, 1995.
ii.He also served as the Odisha's Minister of Industry from 1989-1990, as the Minister of Health and family welfare from 1995-1998 and as Minister of Urban Development from 1998-1999.
Nagaland's first MP to Rajya Sabha & Padma Shri awardee Melhupra Vero passed away at 86
On January 24, 2020, Melhupra Vero, Former Rajya Sabha MP(Member of Parliament) passed away in Dimapur, Nagaland at the age of 86. He was the 1st person from Nagaland to become a member of the Rajya Sabha(Upper House). Vero was a member of the Upper House of Parliament for 2 years from 1964 to 1974. Born in 1934, he hailed from Runguzu village in Phek district, Nagaland.
Honours:
i.The Government of India awarded him the 4th highest civilian honour of Padma Shri, in 2006, for his contributions to society.
ii.On October 1,2015, the Government of Nagaland honoured him during the International Day of Older Persons celebrations.
Key Points:
i.He was elected to Nagaland Legislative Assembly (NLA) from Phek constituency in 1974.
ii.In 1989 he was elected to the state assembly from Chozuba seat and became a Nagaland cabinet Minister.
iii.In 1995 he was appointed as the chairman of the Liaison Committee of Naga Hoho and also became the first president of the Naga Hoho from 1998-2004.
BOOKS & AUTHORS
Minority Affairs Minister Mukhtar Abbas Naqvi's new novel 'Balwa' to be released
The Union Minister for Minority Affairs Mukhtar Abbas Naqvi will soon release his Hindi novel Balwa, a fiction story based on the happenings in India in the 1990s. It will be published by Diamond Pocket Books.
Key Points:
i.The book revolve the concepts of society misleding by religious, political and administrative machinery.
ii.Also, Naqvi has written a Hindi novel 'Raj Lila', which based on the story of tribal woman's struggles & Cyber Supari will also be released soon.
IMPORTANT DAYS
10th National Voters' Day is observed on January 25, 2020
On January 25,2020 10th National Voters' Day (NVD) was celebrated across the country over 10 lakh locations (including Polling Stations, District and State headquarters).
President Ram Nath Kovind was the Chief Guest of the National Voters Day organized by Election Commission of India (ECI) at Manekshaw Centre, New Delhi. NVD 2020 theme was "Electoral Literacy for Stronger Democracy" to focus on voter education & renewal of citizens' faith in the electoral process.
The National Voters' Day was being celebrated since 2011 to mark the Foundation Day of the ECI which was established on 25th January 1950 and completes 70 years of its journey.
Key Points:
i.Aim: The main purpose of the celebration to encourage, facilitate and maximize enrollment especially new voters.
ii."Belief in the Ballot-II" an anthology of 101 human stories about Indian elections developed by ECI in collaboration with Publications Division, Ministry of Information & Broadcasting and book "The Centenarian Voters: Sentinels of our Democracy" were launched by Union Minister Ravi Shankar Prasad and were presented to Hon'ble President Kovind.
Current Affairs Headlines: 25 January 2020 
Dept of Biotechnology holds international summit on women in STEM in New Delhi
India's first e-waste clinic opens in Bhopal
Government sets up 10 chairs to encourage women in research activities on National Girl Child Day, January 24, 2020
West Bengal leads in vegetable production, Andhra Pradesh tops in Fruits in 2018-19: Horticultural production data
India supplies 30k doses of Measles and Rubella vaccine to Maldives within 72 hours
NIRDPR ties up with UNICEF, Hyderabad (Telangana) field office to establish 'communication resource unit'
Highlights of 50th WEF annual meeting 2020 held in Davos, Switzerland
WEF: Survey on trust on climate science & 1st positive impact rating 2020 launched
Bangladesh PM Sheikh Hasina launched e-passport in Dhaka; South Asia's 1st and 119th e-passport in the world
Overview of External affairs Minister Jaishankar's  3-day visit to Niger & Tunisia
European Commission, Council presidents sign Brexit agreement
Pakistan may be out of FAFT's "Grey List" by February 2020
Western Union joins hands with Airtel payments bank & Airtel Africa for money transfer service
India & WB signed $210 million loan pact for Maharashtra's Agri & Rural Transformation Project
IndusInd Bank launches asset management platform "PIONEER"
WEF appoints IMF chief Kristalina Georgieva and ARM chairman Patrice Motsepe to its board of trustees
CEC Sunil Arora takes over as the new chairman of FEMBoSA
Pakistan successfully launched ballistic missile "Ghaznavi"
Nitin Gadkari launches 'GATI' web portal to monitor 3 lakh crore rupees project
ZSI documents another new snake eel species "Ophichthus kailashchandrai" in Odisha
ICC Test ranking Virat Kohli tops the list with 928 points
Former Minister of Odisha, Jagannath Rout passes away at 78
Former Rajya Sabha MP Melhupra Vero passed away at 88
Minority Affairs minister Mukhtar Abbas Naqvi's new novel 'Balwa' to be released
10th National Voters' Day is observed on January 25, 2020
[su_button url="https://affairscloud.com/current-affairs/january-2020/" target="self" style="default" background="#2D89EF" color="#FFFFFF" size="5″ wide="no" center="no" radius="auto" icon="" icon_color="#FFFFFF" text_shadow="none" desc="" download="" onclick="" rel="" title="" id="" class=""]Click Here to Read Current Affairs January 2020[/su_button]
AffairsCloud Ebook - Support Us to Grow