We are here for you to provide the important Recent and Latest Current Affairs 29 February 2020, which have unique updates of Latest Current Affairs 2020 events from all newspapers such as The Hindu, The Economic Times, PIB, Times of India, PTI, Indian Express, Business Standard and all Government official websites.
Our Current Affairs February 2020 events will help you to get more marks in Banking, Insurance, SSC, Railways, UPSC, CLAT and all State Government Exams. Also try our Latest Current Affairs Quiz and Monthly Current Affairs 2020 PDF which will be a pedestrian to crack your exams.
Date-Wise Current Affairs February 2020 PDF for Paid Users – Click Here to Know More
Click here for Current Affairs February 28 2020
NATIONAL AFFAIRS
President gives nod for delimitation exercise in NE States of Assam, Arunachal Pradesh, Manipur and Nagaland
On February 28, 2020, President Ram Nath Kovind gave his nod for resuming delimitation exercise in the northeastern States of Arunachal Pradesh, Assam, Manipur, and Nagaland by rescinding/cancelling the February 8, 2008 order. The decision has been taken following the improvement in the security situation in these states and a reduction in insurgency incidents.
Background:
A Delimitation Commission was set up under the Delimitation Act, 2002 to readjust the division of each state and union territory into territorial constituencies for the purpose of Lok Sabha and state assembly elections on the basis of census figures of 2001. The Delimitation Commission completed the delimitation exercise on November 26, 2008 in respect of all the states, except in these four northeastern states due to threat to the peace and public order….Click here to Read More
19th edition of World Productivity Congress (WPC) 2020 will be held in Bengaluru, Karnataka
On February 28, 2020 The 19th edition of World Productivity Congress (WPC) will be held from May 6 to May 8, 2020 at the Bengaluru International Exhibition Centre, Bengaluru, Karnataka. WPC is the world's largest convention for productivity development which promotes innovation and world class practices that shape future productivity growth and to be held in India after 45 years. WPC was held in India in 1974.
Theme of 19th Productivity Congress 2020: "Industry 4.0 – Innovation and Productivity"….Click here to Read More
Indian Railways launched its First "Restaurant on Wheels" at Asansol Station, West Bengal
On February 26, 2020 Indian railways launched its First "Restaurant on Wheels" at Asansol Station (division of Eastern railway), West Bengal, for railway passengers and citizens of the city.
Shri Babul Supriyo, Minister of State for Environment, Forest & Climate Change (MoSEFCC) inaugurated the 1st "Restaurant on Wheels" at Asansol station….Click here to Read More
76% of Jan Dhan account holders have RuPay debit cards: Govt Data
In accordance with the government data, by February 19, 2020, the issuance of RuPay debit cards under the Pradhan Mantri Jan Dhan Yojana (PMJDY) reached an all-time-high of 29.14 crore. The data states that three out of four Jan Dhan account holders have a RuPay debit card but it is not clear how many use it.
Key Points:
-The PMJDY has 38.13 crore beneficiaries, with total deposits at ₹1,16,152.12 crore.
-Public sector banks (PSBs) are the top issuers of RuPay debit cards, at 24.42 crore, followed by regional rural banks (RRBs) at 3.57 crore cards, and Private banks handed out 1.15 crore cards.
About Rupay card:
Rupay is a card scheme, conceived and launched by the National Payments Corporation of India (NPCI) on 26 March 2012 to fulfil the Reserve Bank of India's (RBI) vision to have a domestic, open and multilateral system of payments.As part of the government's financial inclusion initiative, every PMJDY account holder is issued a RuPay debit card which can be used at all ATMs, PoS (point of sale) terminals and e-commerce websites. It comes with an added personal accident and permanent total disability insurance cover of ₹1 lakh.
1st edition of "Nimad Chilli Festival 2020" begins at Kasrawad in Khargone district,Madhya Pradesh; Mascot named "chilli chacha" released
1st edition of 2 day unique initiative "Nimad Chilli Festival 2020" organised by Madhya Pradesh Government begins at Kasrawad in Khargone district, Madhya Pradesh(MP) on 29th February & 1st March 2020. Mascot named "chilli chacha" was released during the festival for better marketing the famous spice. "gene bank" will be created to save the original varieties of chillies grown in the region. This festival is locally called 'Mirch Mahotsav'.
Objective – The aim of this festival is to promote Chilli production & Chilli based industries in the state & especially to promote Nimari brand of chillies in India & abroad.
Key Points:
i.The festival is a big opportunity for traders, investors, exporters & scientists  as there will be Lectures, workshops, Seminars about new development in chilli farming & opportunities in chilli based Industries, & agriculture exhibition will also be showcased.
ii.The festival will help to fulfill the  Central Government's goal of doubling the income of farmers.
iii.Chilli-based cuisine stalls will be set up & cultural programs will be held.
iv.One of the largest producers & Chilli Mandi in the country is Khargone(District in Nimar region).Nimar &  Malwa regions are the highest chilli producing regions in MP. The red chillies of these regions are exported to China, Pakistan, Malaysia and Saudi Arabia.
About Madhya Pradesh:
Capital– Bhopal
Chief Minister– Kamal Nath
Governor– Lalji Tandon
Overview of New Zealand Deputy PM & Finance Minister Winston peters's 4-day visit to India
The Deputy Prime Minister of New Zealand (NZ) and Minister of Foreign Affairs, Winston Raymond Peters has paid a 4-day official visit to India from February 25-28, 2020. He was accompanied by NZ Trade Minister David Parker and a business delegation. The visit in detail are as follows,
i.External Affairs Minister(EAM) Subrahmanyam Jaishankar has met his New Zealand counterpart , Winston Peters and they discussed ways to strengthen cooperation in key areas such as trade, defence and security.
ii.FICCI (Federation of Indian Chambers of Commerce and Industry ),an association of business organisations in India has organized a 'India-New Zealand Business Forum 2020 in New Delhi….Click here to Read More
ECONOMY & BUSINESS
Fiscal deficit reached 128.5% of budget estimate at end-January 2020:Govt data
On February 28, 2020, According to the Controller General of Accounts (CGA) of Department of Expenditure, Ministry of Finance, fiscal deficit of the country reached 128.5 % of the estimate for the whole year at the end of January 2020.The  loss stood at Rs 9,85,472 crore ($137.05 billion).The deficit was 121.5 %  of the revised budget estimate (RBE) for the same period of the previous financial year-FY 2018-19.
i.Expenditure and receipts: According to CGA, the total expenditure till the end of January 2020 was Rs 22.68 lakh crore, which is 84.1 % of the revised estimate. It was 81.5 % in the same period a year ago.
While, the net tax receipts in the April-January period were Rs 9.98 lakh crore.
ii.In the budget presented in Parliament earlier in February 2020, Finance Minister Nirmala Sitamaran raised the fiscal deficit estimate for the current fiscal from 3.3% to 3.8 %….Click here to Read More
Bengaluru recorded highest number of digital transactions among cities while MH topped among states in 2019: Report by Worldline India
In accordance with the report by online payment processor Worldline India titled "Wordline India Digital Payments 2019", Bengaluru (Karnataka) accounted for the highest number of digital transactions in India in 2019, followed by Chennai (Tamil Nadu), Mumbai and Pune in Maharashtra.
Among states, Maharashtra (MH) has topped with the highest number of digital transactions.
The most preferred mode of payment was United Payments Interface (UPI). It was followed by debit cards, immediate payment service (IMPS), and credit cards, in terms of volume share of digital transactions. UPI is also the fastest payment mode to hit 1 billion monthly transactions….Click here to Read More
AWARDS & RECOGNITIONS        
Forest Man of India & environmentalist Padma Shri Jadav Payeng honoured with 6th Swami Vivekananda Karmayogi Award 2020
On February 29, 2020 Forest Man of India & environmentalist Padma Shri Jadav 'Molai' Payeng is honoured with the 6th annual  Swami Vivekananda Karmayogi award 2020 for his consistent efforts in creating a man made forest through afforestation.The award comprises of a trophy, a recitation & a reward of Rs 1 Lakh . He is also a forest worker from the missing tribe from Jorhat, Assam.
Key Points
i.The award ceremony is organised by My Home India in New delhi &Union Minister of Environment, Forest and Climate Change Prakash Javadekar handed over the award.
ii.Karmayogi award is presented to recognize extraneous achievement towards development of the North east region of India.
About Jadav Payeng:
He planted & tended trees on a sandbar of the Brahmaputra River & turned it into forest. The forest is called Molai forest after him.
In 2015, he was honoured with Padma Shri, the fourth highest civilian award in India.
He is  scripting a new conservation story – a book on the protection of the environment.
APPOINTMENTS & RESIGNATIONS      
Ajay Tyagi Chairman of SEBI gets 6 month extension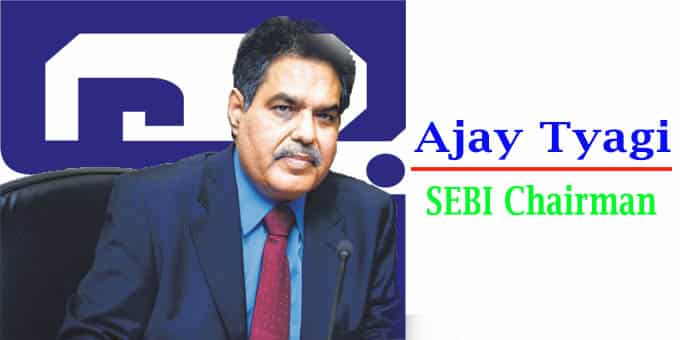 Chairman of Securities & Exchange Board of India (SEBI)Ajay Tyagi gets a 6 month extension from the government, whose tenure of 3 years (from 2017) to end on February 29, 2020. He is an Indian Administrative Officer (IAS) of the Himachal Pradesh Cadre.
i.His chairmanship of SEBI is been extended according to Sub-Section (1)(a) and Sub-Section (4) of Section 4 of the SEBI Act, 1992 (15 of 1992), read with Rule 3 of the SEBI (Terms and Conditions of Service of Chairman and Members) Rules, 1992.
ii.His predecessor UK Sinha was also given multiple extensions & remained chairman for 6 years (2011-2017), even though his appointment period is for 3 years.
iii.The post as SEBI's Chairman has always been given to bureaucrats,especially IAS officers, except on one occasion when former LIC chairman GN Bajpai became the chairman in 2002.
iv.The candidates for regulatory top post will be shortlisted by  the Financial Sector Regulatory Appointments Search Committee (FSRASC) & headed by the Cabinet Secretary.
About SEBI:
On April 12, 1992 SEBI was  established in accordance with the provisions of the SEBI Act, 1992. Basic function is to protect the interest of investors in securities, to promote the development of & to regulate the securities market in India.
Headquarter– Mumbai,India
Chairperson– Mr Ajay Tyagi
UGC to set up 11 Chairs in the names of women scientists across India: Smriti Irani
On February 28, 2020 ,According to the Women and Child Development (WCD) Minister Smriti Zubin Irani, 11 Chairs will be set up in institutes  by UGC (University Grants Commission) across India in the names of women scientists, including eminent anthropologist Iravati Karve. The decision has been taken on 'National Science Day' on February 28, 2020.
i.The Chairs will be set up for 5 years in the Universities to honor their contribution in the field of science….Click here to Read More
   SCIENCE & TECHNOLOGY
Astronomers discovered a mini-moon or planet's 2nd moon, "Dubbed 2020 CD3"
On February 15, 2020 mini- moon or planet's 2nd moon  "Dubbed 2020 CD3" was discovered by  Kacper Wierzchos and Teddy Pruyne of the NASA-funded Catalina Sky Survey (CSS) in Arizona, US.It is an asteroid about the size of the car & its diameter is about 1.9-3.5 metre.
Key Points:
The mini moon is a temporary moon, dissimilar to our permanent moon which will break free of Earth's orbit & go off on its own way.
The Dubbed 2020 CD3 asteroid crosses the Earth's orbit & when contend with the gravitational influence of our permanent moon & sun, it will be caught in Earth's orbit for a few years & will break free & go into independent orbit around the sun. This type of asteroid is termed as Temporarily Captured Object (TCO).
According to the researchers Dubbed 2020 CD3 is captured into earth's orbit over 3 years.
Previously In 2006, RH120 was discovered on 14 September 2006 with 27 inch (690mm).
Astronomers detect biggest explosion in the Universe since the Big Bang in Ophiuchus galaxy cluster
On February 29, 2020, An international team of Astronomers including Astronomers from the Curtin University node of the International Centre for Radio Astronomy Research in Perth, Australia, have discovered biggest explosion seen in the universe since the Big Bang in the Ophiuchus galaxy cluster, 390 million light-years from Earth by using X-Ray and radio telescopes.The Explosion is 5 times bigger than any explosion known so far.
Key Points:
i.Astronomers uses 4 telescopes for the discovery of explosion. The discovery was made using X-Ray data gathered from NASA's(National Aeronautics and Space Administration) Chandra X-ray Observatory and ESA's European Space Agency's (ESA) XMM-Newton and the radio telescopes used to collect radio data were from the Murchison Widefield Array (MWA) in Australia and the Giant Metrewave Radio Telescope (GMRT) in India.
ii.The explosion Researchers have discovered that the explosive force of the explosion caused a huge gap in the plasma containing hot gases in the galaxy cluster. This gas cloud is located around the Black Hole.
iii.The discovery has been published in The Astrophysical Journal & Lead author of the study was Dr Simona Giacintucci, from the Naval Research Laboratory in America.
OBITUARY
Tamilnadu DMK MLA S Kathavarayan passed away at 58
On February 28, 2020 S Kathavarayan, DMK (Dravida Munnetra Kazhagam) MLA (Member of the Legislative Assembly) from Gudiyatham constituency in Vellore district passed away at the age of 58 in Chennai, Tamil Nadu.
Key Points:
i.Mr Kathavarayan was elected from Gudiyatham (Reserved) constituency in the by-election held in April 2019 defeating AIADMK (All Indian Anna Dravida Munnetra Kazhagam) candidate.
ii.The bye-election was held after 18 AIADMK MLAs were disqualified by assembly speaker P Dhanapal.
iii.Kathavarayan started his political career as a student wing member of the DMK and had participated in the anti-Hindi protests in 1960.
Bihar Lok Sabha MP Baidyanath Prasad Mahto passed away at 72
On February 28, 2020 Baidyanath Prasad Mahto, Janata Dal (United) MP (Member of Parliament) from Bihar passed away at the age of 72 in AIIMS (All India Institute of Medical Sciences) hospital, New Delhi. He was born on June 2, 1947 in West Champaran, Bihar.
Key Points:
i.2 times MP: Baidyanath Prasad Mahto was a JD(U) MP from Bihar's Valmiki Nagar constituency as well as a Member of Indian Parliament to the 15th and 17th Lok Sabha.
ii.He had won the 2009 and 2019 general elections.
iii.3 times MLA: Mahto was elected 3 times to the Bihar legislative Assembly from Nautan and also served as the Minister of Rural Development Department from 2005 to 2008 in Bihar.
IMPORTANT DAYS
Rare Diseases Day was observed on February 29, 2020
Rare Disease Day (RDD) is an observance held on the last day of February. This year marked the 13th observance of International Rare Disease Day, which was observed on February 29, 2020. The day creates an awareness of rare diseases and improves access to treatment and medical representation for individuals with rare diseases & their families.
Slogan of RDD 2020: "Rare is Many. Rare is Strong. Rare is Proud".
Key Points:
i.About Rare Disease: Rare disease is also called an orphan disease or disorder that affects a small percentage of the population.The day was established & celebrated since 2008 by the European Organisation for Rare Diseases (EURODIS) to spread awareness for unknown or overlooked illnesses.
ii.In 2009 RDD went global as National Organization for Rare Disorders (NORD) mobilized 200 rare disease patient advocacy organizations in the US (United States) while organizations in China, Australia, Taiwan & Latin America also lead efforts in their respective countries to coordinate activities and promote the day.
iii.Global Genes Project, a rare disease patient advocacy organization also joined to promote Rare Disease Day.
STATE NEWS
Manpreet Singh Badal presented Punjab govt's 1.54 lakh cr budget for FY20-21
On February 28, 2020, the Punjab Finance Minister Manpreet Singh Badal presented Punjab govt's Rs ₹1, 54,805 crore budget for financial year 2020-21 in the state assembly.  The budget proposed revenue receipts of Rs 88,004 crore and revenue expenditure of Rs 95,716 crore for fiscal year 2020-21 while revenue deficit for financial year 2020-21 will be Rs 7,712 crore and the fiscal deficit will be Rs 18,828 crore respectively.
Key Proposals and Allocations:
-The budget earmarked ₹100 crore for giving 10 lakh free smartphones to the youth.
-The retirement age of state government employees has been reduced from 60 to 58.
-For the education sector, a sum of Rs 13,092 crore allocated with a proposal of free education for all students in government schools up to Class 12.
-State government proposes to set up two agriculture colleges at Gurdaspur and Balachaur….Click here to Read More
AC GAZE
RBI approves appointment of  Sumant Kathpalia as MD &CEO of IndusInd Bank
The Reserve Bank of India(RBI) has approved the appointment of Sumant Kathpalia as Managing Director(MD) and Chief Executive Officer(CEO) of private sector lender IndusInd Bank for three years,which is effective from March 24, 2020, He is the successor of Romesh Sobti.The headquarters of IndusInd bank is Mumbai,Maharashtra.
India withdraws from 2020 International Shooting Sport Federation (ISSF) World Cup to be held in Nicosia,Cyprus
The National Rifle Association of India (NRAI) announced that the Indian shotgun team has withdrawn from 2020 International Shooting Sport Federation (ISSF) World Cup that is to held in Nicosia, Cyprus which is scheduled to be from March 5 to 12,2020 due to coronavirus outbreak. The capital and currency of Cyprus is Nicosia and Euro respectively.
*******
[su_table]
Current Affairs Headlines: 29 February 2020
President gives nod for delimitation exercise in NE States of Assam, Arunachal Pradesh, Manipur and Nagaland
19th edition of World Productivity Congress (WPC) 2020 will be held in Bengaluru, Karnataka
Indian Railways launched its First "Restaurant on Wheels" at Asansol Station, West Bengal
76% of Jan Dhan account holders have RuPay debit cards: Govt Data
1st "Nimad Chilli Festival 2020" begins at Kasrawad in Khargone district,Madhya Pradesh; mascot named "chilli chacha" released
Overview of New Zealand Deputy PM  & Finance Minister Winston peters 4-day visit to India
Fiscal deficit reached 128.5% of budget estimate at end-January 2020:Govt data
Bengaluru recorded highest number of digital transactions among cities while MH topped among states in 2019: Report by Worldline India
Forest Man of India & environmentalist Padma Shri Jadav Payeng honoured with 6th Swami Vivekananda Karmayogi Award 2020
Ajay Tyagi Chairman of SEBI gets 6 month extension
UGC to set up 11 Chairs in the names of women scientists across India: Smriti Irani
Astronomers discovered a mini-moon or planet's 2nd moon, "Dubbed 2020 CD3"
Astronomers detect biggest explosion in the Universe since the Big Bang in Ophiuchus galaxy cluster
Tamilnadu DMK MLA S Kathavarayan passed away at 58
Bihar Lok Sabha MP Baidyanath Prasad Mahto passed away at 72
Rare Diseases Day was observed on February 29, 2020
Manpreet Singh Badal presented Punjab govt's 1.54 lakh cr budget for FY20-21
RBI approves appointment of  Sumant Kathpalia as MD &CEO of IndusInd Bank
India withdraws from Shooting World Cup in Cyprus
[/su_table]
[su_button url="https://affairscloud.com/current-affairs/february-2020/" target="self" style="default" background="#2D89EF" color="#FFFFFF" size="5″ wide="no" center="no" radius="auto" icon="" icon_color="#FFFFFF" text_shadow="none" desc="" download="" onclick="" rel="" title="" id="" class=""]Click Here to Read Current Affairs February 2020[/su_button]
AffairsCloud Ebook - Support Us to Grow