We are here for you to provide the important Recent and Latest Current Affairs 10 April 2020, which have unique updates of Latest Current Affairs 2020 events from all newspapers such as The Hindu, The Economic Times, PIB, Times of India, PTI, Indian Express, Business Standard and all Government official websites.
Our Current Affairs April 2020 events will help you to get more marks in Banking, Insurance, SSC, Railways, UPSC, CLAT and all State Government Exams. Also, try our Latest Current Affairs Quiz and Monthly Current Affairs 2020 PDF which will be a pedestrian to crack your exams.
Date-Wise Current Affairs April 2020 PDF for Paid Users – Click Here to Know More
Top 20 Current Affairs of 10 April 2020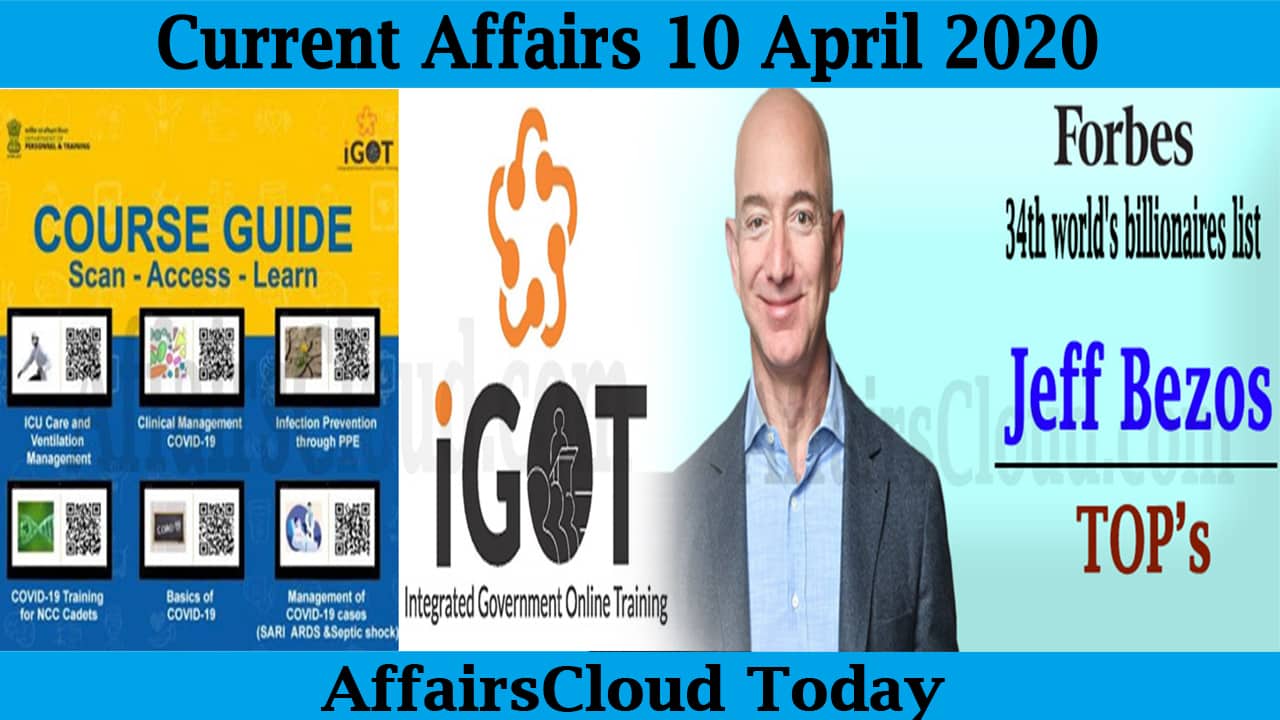 NATIONAL AFFAIRS
Indian railways designs mobile doctor booth called 'CHARAK' for zero-contact check-ups
On April 4, 2020, The West Central Railway's Coach Rehabilitation Workshop (CRWS) in Madhya Pradesh's (MP) Bhopal city,has created a  mobile doctor booth called "CHARAK" to eliminate the possibility of physical contact between the doctor and the coronavirus (COVID-19) infected patient.
Key Points:
i.A viral barrier chamber has been built in the railway compartment itself, through which doctors will be able to examine patients without direct physical contact.
ii.This system will prove to be very helpful as there is a shortage of PPE (Personal protective equipment) and medical staff at this time. The mobile booth can go to remote villages & can also be taken up to 500 meters by hand.
About Indian Railways:
Headquarters– New Delhi
Union Minister– Piyush Goyal
Hindustan Unilever joins hands with UNICEF to launch 'BreakTheChain' campaign against coronavirus
On April 08, 2020, Hindustan Unilever Limited (HUL), a British-Dutch manufacturing company based in Mumbai, Maharashtra, has joined hands with the United Nations Children's Fund (UNICEF) for a mass communication campaign titled '#BreakTheChain' or #VirusKiKadiTodo' based on 3 themes – social distancing, hand washing and generosity, to inform people about the Coronavirus (COVID-19) epidemic and empower them to protect it.
Key Points:
i.The campaign will benefit from marketing and access to HUL, on the one hand, technical knowledge will benefit from UNICEF that will lead to such a campaign that people can change their behavior and stay safe during the epidemic.
ii.HUL has recently contributed Rs 100 crore to help India fight the COVID-19 pandemic. Apart from this, it also ensuring that people across the country get soap, Sanitizer and other essential items are easily available.
About Hindustan Unilever Limited (HUL):
Chairman and Managing Director– Sanjiv Mehta
About United Nations Children's Fund (UNICEF):
Headquarters– New York, United States
Executive Director– Henrietta Holsman Fore
INTERNATIONAL AFFAIRS
COVID-19 risked 400 mn Indian workers to face poverty: ILO Monitor 2nd edition Report
The impact of COVID-19 is gaining momentum on the negative front. In order to prevent coronavirus spread and to save lives our Indian economy has put lockdown in the whole nation which is adversely affecting the market and labour specially in the unorganized sectors.
Recently the International Labour Organization (ILO) has released a report titled 'ILO Monitor 2nd edition: COVID-19 and the world of work- Updated estimates and analysis' which has also stated that about 400 million people working in the informal economy in India are at risk of falling deeper into poverty due to the coronavirus crisis….Click here to Read More
China became top patent filer via PCT system; India's IIT in PCT filers while Nirsan Connect among Madrid system
For the year 2019, China has become the world leader in international patent filings via WIPO's Patent Cooperation Treaty (PCT) with a total of 58,990 applications surpassing the United States (US), which was at top spot since the PCT began operations in 1978.
It should be noted that for the third consecutive year, Chinese telecoms giant Huawei topped the global ranking in 2019 with 4,411 PCT applications. It was followed by Mitsubishi of Japan, which made 2,661 filings, Samsung of South Korea with 2,334 filings and Qualcomm of the US with 2,127 filings….Click here to Read More
ECONOMY & BUSINESS
Goldman Sachs lowers India's growth forecast for FY 21 to 1.6% from 3.3%
On April 8, 2020 an American multinational investment bank and financial services company, Goldman Sachs lowered India's growth forecast for Financial Year (FY) 21 from 3.3% (estimated on March 22, 2020) to 1.6% due to the lockdown & social distancing measures so as to control the COVID-19 pandemic spread.
Key Points
i.It stated that the revised growth will be deeper when compared to the recession India has experienced in 1970's, 1980's & 2009.
ii.Many analysts like Fitch, Moody are downgrading India's growth rate due to the pandemic.
About Goldman Sachs:
Headquarters– New York, United States
Chairman & Chief Executive Officer (CEO)– David M. Solomon
India's FY21 GDP projected at 4.8%;Asia-Pacific needs $880 mn/year health emergency fund amid COVID19: UN report
In accordance with the United Nations (UN) Economic and Social Commission for Asia and the Pacific (ESCAP) report titled, "Economic and Social Survey of Asia and the Pacific (ESCAP) 2020: Towards sustainable economies" India's Gross Domestic Product (GDP) growth for FY 20-21 is likely to be declined to 4.8% due to terrible economic impacts caused by COVID-19.
On the other hand, Economic growth for the country could stand at 5.1% for fiscal year 2021-22.
Developing nations in Asia-Pacific need to hike health emergency spending by $880 mn/year
The report has recommended developing countries of Asia-Pacific to increase their healthcare emergency spending by USD 880 million per year amid the coronavirus pandemic. It also stated that these countries should establish a regional fund to respond to future health emergencies….Click here to Read More
AWARDS & RECOGNITIONS        
Ben Stokes becomes first English player since 2005 to be named Wisden's Leading Cricketer
On April 8, 2020, Wisden Cricketers' Almanack 2020 edition, named Ben Stokes of England and Ellyse Perry of Australia as the Leading male and female cricketer of the World 2020 respectively.
Key Points:
i.Leading Cricketers of the World 2020: All rounder Ben Stokes becomes the first English Player since 2005 to be named Wisden's Leading Cricketer 2020. Andrew Flintoff was the last English player to be named as Wisden's Leading Cricketer of the year 2005.
ii.Stokes succeeds India skipper Virat Kohli, who took the prize on the last three occasions.
iii.Ben Stokes played a key role in England's first 50-over World Cup win in 2019 & played a memorable inning against Australia during the third Ashes at Headingley.
iv.Australia's Ellyse Perry has also attained Leading Female Cricketer of the year 2016.
v.Five Cricketer of the year 2020: Apart from Leading Cricketers, Wisden also named Jofra Archer, Pat Cummins, Simon Harmer, Marnus Labuschagne and Ellyse Perry as the Five Cricketers of the Year.
vi.Leading T20 Cricketer in the World 2020: All-rounder Andre Russell has been named as Leading T20 Cricketer in the World 2020.
About Wisden Cricketers' Almanack:
Wisden Cricketers' Almanack ("The Bible of Cricket") is a cricket reference book issued annually in the United Kingdom (UK).
Wisden was founded by English Cricketer John Wisden and was issued in 1864.
Jeff Bezos tops, Mukesh Ambani ranked 17th: 34th Forbes billionaires List 2020
On April 9, 2020 Forbes published the 34th annual list of Global Billionaires 2020 which topped Amazon Founder and Chief Executive Officer (CEO) Jeff Bezos for the 3rd time, followed by Microsoft co- founder and chairman of Bill & Melinda Gates Foundation Bill Gates. The chairman & managing director of Reliance Industries Mukesh Ambani (17th) topped the Indian list, followed by The founder of Avenue Supermarts Radhakishan Damani & family (65th).
Key Points
i.The Chairman and CEO of Louis Vuitton Moet Hennessy (LVMH) Bernard Arnault is positioned in 3rd place globally….Click here to Read More
APPOINTMENTS & RESIGNATIONS     
Anamika Roy Rashtrawar appointed as MD & CEO of IFFCO Tokio General Insurance
On April 9, 2020, Anamika Roy Rashtrawar was appointed as MD (Managing Director) and CEO (Chief Executive Officer) of IFFCO Tokio General Insurance. She was the successor of Warendra Sinha.
Key Points:
i.About Anamika Roy: She was the first woman MD and CEO of a large private sector IFFCO Tokio general insurance company.
ii.She joined the company as a whole-time director in June 2018 and spearheaded the company's business transformation project by expanding operations in tier -II, III, IV towns.
iii.Anamika Roy is a dynamic woman leader who has been on the board of the company and has successfully led many businesses in the company, especially the digitalization projects.
About IFFCO Tokio General Insurance:
IFFCO- Tokio General Insurance Company Limited was incorporated in 2000, as a joint venture between the Indian Farmers Fertilizer Co-operative (IFFCO), which is the world's largest fertilizer producer in India and Tokio Marine Group, which is one of the largest insurance groups in Japan.
Headquarters– Gurugram, Haryana.
Chairman– Mr. K. Srinivasa Gowda.
Centre approves extension of Bank Board Bureau members' tenure by 2 years
On April 8, 2020, According to the Department of Financial Services, the Appointments Committee of the Cabinet (ACC) has approved the extension of tenure of all members and the current part-time chairman of the Bank Board Bureau(BBB) by 2 years, which is coming to an end on April 11,2020.
Key Points:
i.Bhanu Pratap Sharma,the former Secretary in the Department of Personnel and Training, will continue to hold the post of part-time member of the board.
ii.Other part-time members of the board include Vedika Bhandarkar, former MD (managing director) of Credit Suisse; P Pradeep Kumar, former MD of State Bank of India (SBI); and Pradip P Shah, founder MD of rating agency CRISIL.
About Banks Board Bureau (BBB):
Headquarters– Mumbai, Maharashtra, Chairman – Shri Bhanu Pratap Sharma
In February 2016, the government formed the Banks Board Bureau and was given the responsibility of deciding candidates for the top positions in public sector banks and financial institutions.
SCIENCE & TECHNOLOGY
Centre launches 1st of its kind iGOT e-learning portal on DIKSHA platform of MHRD
On April 9, 2020 The Centre under  Department of Personnel and Training (DoPT) has launched 1st of its kind Integrated Government Online Training (iGOT) e- learning portal on Digital Infrastructure for Knowledge Sharing (DIKSHA) platform of Ministry of Human Resource Development (MHRD) to enhance capacity building of front line workers to effectively manage the COVID-19 pandemic.
Key points
i.The platform will provide flexibility and site-based training modules so as to address the employees who need to deal with the infection. It is designed to the population scale, and will train about 1.50 crore workers and volunteers & can be accessed through https://igot.gov.in.
ii.The target group-  Doctors, Nurses, Paramedics, Hygiene Workers, Technicians, Auxiliary Nursing Midwives (ANMs), Central & State Government Officers, Civil Defence Officials, various Police Organisations, National Cadet Corps (NCC), Nehru Yuva Kendra Sangathan (NYKS), National Service Scheme (NSS), Indian Red Cross Society (IRCS), Bharat Scouts & Guides (BSG) and other volunteers.
iii.9 courses include- Basics of COVID, ICU Care and Ventilation Management, Clinical Management, Infection Prevention through PPE, Infection Control and Prevention, Quarantine and Isolation, Laboratory Sample Collection and Testing, Management of COVID 19 Cases & COVID 19 Training.
What is the DIKSHA platform?
It is a National platform for teachers, students and parents who engage in learning material relevant to the prescribed school curriculum. The lessons can be easily accessed by scanning the QR code from the textbook.
About DoPT:
Under the Ministry– Ministry of Personnel, Public Grievances & Pensions
Minister of State– Jitendra Singh
Housing & Urban Affairs ministry releases revised version of Swachhata app to answer queries related to coronavirus
On April 9, 2020, The Ministry of Housing and Urban Affairs (MoHUA) has released a revised version of the current Swachhata-MoHUA App, a famous grievance redressal platform for people under the ambit of the Swachh Bharat Mission –Urban (SBM-U).
The app has been released during a video conference (VC) on the coronavirus (COVID 19) crisis held with all States, Union Territories (UTs) and cities, under the Chairmanship of Shri Durga Shanker Mishra, Secretary of MoHUA.
Key Points:
i.The updated version will enable people to better get their COVID-19 related complaints also redressed by their respective ULBs (Urban Local Bodies).
ii.Anyhow, the addition of new 9 categories has no impact on the existing categories of the app and citizens may continue to post their grievances in both the categories.
About Ministry of Housing and Urban Affairs (MoHUA):
Headquarters– New Delhi
Minister of State (Independent Charge)– Hardeep Singh Puri
CSIR- National Chemical Laboratory (NCL) Pune ties up with BEL to produce medical devices
In measures to mitigate the COVID-19 outbreak the Council of Scientific & Industrial Research (CSIR) constituent Lab, CSIR-NCL (National Chemical Laboratory) Pune, Maharashtra has developed two new medical components in collaboration with Bharat Electronics Ltd (BEL), Pune viz:
Digital IR Thermometer: It is developed by CSIR-NCL's Venture Centre's incubatee BMEK headed by Pratik Kulkarni in partnership with BEL. This thermometer can use mobile phones or power banks as a power source. Its design has been made openly available for free to enable a large number of manufacturers to manufacture this kind of thermometers and cater to their local demands. About 100 prototype units will be sent for testing at TUV Rheinland India Pvt Ltd Bangalore, Karnataka.
Oxygen enrichment unit (OEU): Developed by CSIR-NCL and Genrich Membranes, a start-up founded by Dr. Ulhas Kharul, Head of Polymer Science & Engineering Divsion at NCL, OEUs is hollow fiber membrane bundles for separation and filtration of ambient air to produce enriched oxygen for patients in home and hospital settings. It increases the oxygen concentration from the ambient air of 21-22% to 38-40%. The prototype will be sent to TUV Rheinland India Pvt Ltd Bangalore for testing.
About CSIR
Establishment– 1942
President– Narendra Modi
Director General– Shekhar C. Mande
Headquarter– New Delhi
About BEL
Establishment– 1954
Headquarter– Bengaluru, Karnataka
Chairman & Managing Director (CMD)– Venkateswara Gowtama Mannava
COVID-19: JNCASR develops antimicrobial coating to stop spread of viruses 
On April 6, 2020, The Jawaharlal Nehru Centre for Advanced Scientific Research (JNCASR), Bangalore, an autonomous institute under Department of Science and Technology (DST) developed an antimicrobial coating, which controls the spread of deadly influenza virus and COVID-19 (Coronavirus).
Key Points:
i.The technology has been developed by Prof. Jayanta Haldar's group at JNCASR including Mr. Sreyan Ghosh, Dr. Riya Mukherjee and Dr. Debajyoti Basak.
ii.The Science and Engineering Research Board, a unit of the DST also supports the further development of this coating for the country's war against COVID-19.
iii.About antimicrobial coating: The antimicrobial coating can be coated with a number of PPEs (personal protective equipment), such as masks, gloves etc., used by doctors & nurses which provides safety to them in order to fight against COVID-19.
iv.The coating displays excellent antiviral activity against influenza virus completely killing them within 30 minutes of contact.
v.During the research, the coated surfaces also completely killed different drug- resistant bacteria & fungi such as methicillin resistant S. aureus (MRSA) and fluconazole resistant C. albicans spp, within 30- 45 minutes, thus shows rapid microbicidal activity.
Indian Immunologicals ties up with Australian university to develop vaccine for Coronavirus
On April 8, 2020, Hyderabad- based Indian Immunologicals Limited (IIL), a subsidiary of National Dairy Development Board (NDDB), has inked agreement with Australia's Griffith University to develop a Live Attenuated SARS CoV-2 Vaccine or COVID- 19 vaccine using the latest codon de-optimisation technology.
Key Points:
i.The live attenuated vaccine is expected to be highly effective by providing very strong cellular & antibody immune responses against the virus.
ii.Upon completion of the research, the vaccine strain will be transferred to IIL and the vaccine maker will work with the country's regulator Central Drugs Standard Control Organisation (CDSCO), to further conduct clinical trials in a phased manner.
iii.About IIL: IIL is one of the largest producers of Foot and Mouth disease vaccine in the world & was the first company in India to launch the purified Vero cell rabies vaccine for humans (PVRV).
iv.IIL is already working with Griffith University for conducting research and development of Zika virus vaccine, which is currently at pre- clinical toxicology testing stage.
OBITUARY
Grammy winner, american folk singer, songwriter John Prine passed away at 73
On April 8, 2020 American folk singer, songwriter(social & protest element), 2 time Grammy award winner (1991 & 2005) & Grammy lifetime achievement award winner (2020) John Prine passed away at 73, in Vanderbilt University Medical Center, Nashville, Tennessee due to coronavirus complications. He was born on October 10, 1946 in Maywood, Illinois, United States.
Key Points
i.His best works are Missing Years, Fair and Square ( for which he received Grammy awards), Angel From Montgomery, Illegal Smile,Christmas in Prison & Tree of Forgiveness among others.
ii.He was inducted into Nashville Songwriters Hall of Fame in 2003 & Songwriters Hall of Fame in 2019 & received the PEN/New England Song Lyrics of Literary Excellence Award in 2016.
iii.He co- founded Oh Boy Records an independent American record label located in Nashville, Tennessee 1981  with his longtime manager Al Bunetta
iv.He also has done co-starring roles in the movies, Falling from Grace (1992) and Daddy and Them (2001).
v.He worked in the United States(US) Army as a mechanic in Germany, had a day job as a mail carrier while playing guitar and writing songs as a hobby.
Italian Olympic 800 meters finalist Donato Sabia passed away at 56
On April 8, 2020, Donato Sabia, twice Olympics 800 meters finalist and the former European Indoor Champion, passed away at the age of 56 in Potenza, Italy due to Coronavirus. He was born on September 11, 1963 in Potenzo, Italy.
Key Points:
i.About Donato Sabia: Sabia finished fifth in the 800 meters at Los Angeles in 1984 and seventh in Seoul in 1988.
ii.He won the gold medal in the same event at the European Indoor Championships in 1984.
BOOKS & AUTHORS
Actor Jim Carrey & writer Dana Vachon authored a novel "Memoirs and Misinformation"
Canadian American comedian & actor Jim Carrey and writer Dana Vachon authored a novel "Memoirs and Misinformation" a fearless and semi-autobiographical novel about the reconstruction of personality. It is published by Alfred A Knopf, publishing house & will be published on May 2020
Key Points
i.The novel is a tale of  acting, Hollywood, agents, celebrity, privilege, friendship, romance, addiction to relevance, fear of personal destruction, our "one big soul,"and a catastrophic  ending of the world apocalypse within and without.
ii.Jim Carrey has written a children's fiction novel "How Roland Rolls"(2013), Disney's A Christmas Carol (2010) among others.
iii.Dana Vachon's essays and journalism have appeared in The New York Times, Slate, and Vanity Fair.
The Book titled 'The Wizenard Series: Season One'- created by Kobe Bryant & authored by Wesley King
The book 'The Wizenard Series: Season One' is created by American Basket baller Kobe Bryant & authored by Wesley King tops the New York Times' middle-grade hardcover list, which is to be released on April 19, 2020. It is published by Kobe Bryant's Granity Studios(April 1, 2020).
Key Points
i.The book had already topped the Amazon's bestseller list for children's basketball books
ii.It states about the strain and sacrifice, supernatural breakthroughs, and supreme dedication to the game where Bryant is the series creator who envisioned the story lines
iii.Kobe Bryant has authored a book- 'The Mamba Mentality: How I Play'(2018) which was  also a best-seller and has been on Amazon's top lists.
The Pulitzer Prize winner, American reporter Mary Jordan authors a book- 'The Art of Her Deal: The Untold Story of Melania Trump'
The Pulitzer Prize-winning American reporter for The Washington Post, Mary Jordan has written a book titled 'The Art of Her Deal: The Untold Story of Melania Trump'. It is published by Simon & Schuster and is to be released on June 16, 2020.
Key Points
i.The book is based on 100  interviews, which depicts Melania Trump, the first woman to be more influential in the White House than most people realize.
ii.Mary Jordan's Books include the bestselling Hope: A Memoir of Survival in Cleveland is about 2 of the 3  women who were kidnapped and held in captivity for a decade.
*******
[su_table]
Current Affairs Today (AffairsCloud Today)
S.no   
                Current Affairs 10 April 2020
1
Madhya Pradesh railways designs mobile doctor booth called 'CHARAK' for zero-contact check-ups
2
Hindustan Unilever joins hands with UNICEF to launch 'BreakTheChain' campaign against coronavirus
3
COVID-19 risked 400 mn Indian workers to face poverty: ILO Monitor 2nd edition Report
4
China became top patent filer via PCT system; India's IIT in PCT filers while Nirsan Connect among Madrid system
5
Goldman Sachs lowers India's growth forecast for FY 21 to 1.6% from 3.3%
6
India's FY21 GDP projected at 4.8%;Asia-Pacific needs $880 mn/year health emergency fund amid COVID19: UN report
7
 Ben Stokes becomes first English player since 2005 to be named Wisden's Leading Cricketer
8
 Jeff Bezos tops, Mukesh Ambani ranked 17th: 34th Forbes billionaires List 2020
9
 Anamika Roy Rashtrawar appointed as MD & CEO of IFFCO Tokio General Insurance
10
Centre approves extension of Bank Board Bureau members' tenure by 2 years
11
Centre launches 1st of its kind iGOT e-learning portal on DIKSHA platform of MHRD
12
Housing & Urban Affairs ministry releases revised version of Swachhata app to answer queries related to coronavirus
13
CSIR- National Chemical Laboratory (NCL) Pune ties up with BEL to produce medical devices
14
COVID-19: JNCASR develops antimicrobial coating to stop spread of viruses
15
Indian Immunologicals ties up with Australian university to develop vaccine for Coronavirus
16
Grammy winner, american folk singer, songwriter John Prine passed away at 73
17
Italian Olympic 800 meters finalist Donato Sabia passed away at 56
18
Actor Jim Carrey & writer Dana Vachon authored a novel "Memoirs and Misinformation"
19
The Book titled 'The Wizenard Series: Season One'- created by Kobe Bryant & authored by Wesley King
20
 The Pulitzer Prize winner, American reporter Mary Jordan authors a book- 'The Art of Her Deal: The Untold Story of Melania Trump'
[/su_table]
Share Our "AffairsCloud Today" to Your Friends
[su_button url="https://affairscloud.com/current-affairs/current-affairs-april-2020/" target="self" style="default" background="#2D89EF" color="#FFFFFF" size="5″ wide="no" center="no" radius="auto" icon="" icon_color="#FFFFFF" text_shadow="none" desc="" download="" onclick="" rel="" title="" id="" class=""]Click Here to Read Current Affairs April 2020[/su_button]
AffairsCloud Ebook - Support Us to Grow