On February 11, 2020, According to "Public Enterprises Survey 2018-19", which measures the annual economic condition of all central PSUs(public sector undertakings), ONGC(Oil and Natural Gas Corporation), Indian Oil Corporation(IOC) and NTPC(formerly known as National Thermal Power Corporation Limited) were the top three PSUs with profits in 2018-19.
At the same time, BSNL(Bharat Sanchar Nigam Limited), Air India and MTNL (Mahanagar Telephone Nigam Limited) saw the highest losses for the third consecutive year.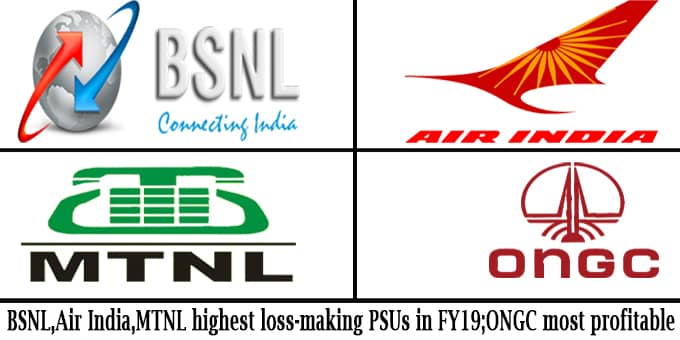 Key Points:
i.The survey has been prepared by Department of Public Enterprises (DPE)under the Ministry of Heavy Industries & Public Enterprises.
ii.Th e top three profitable public sector companies i.e. ONGC, IOC and NTPT have 15.3 %, 9.68 % and 6.73 % share in the total profits earned by all profitable central public sector companies.
iii.According to the survey, State Trading Corporation of India, MSTC ((formerly known as Metal Scrap Trade Corporation Limited) )and Chennai Petroleum Corporation were the losers in the year 2018-19, making profit in the year 2017-18.
iv.The total income of all Central Public Sector Enterprises (CPSE) in the year 2018-19 has been 24,40,748 crores. It was Rs 20,32,001 crore in the year 2017-18. In this way, it has increased by 20.12 %.
v.The contribution of CPSE to exchequer from excise duty, custom duty, GST(Goods and Services Tax), corporate tax, interest and dividend on central government loans and other duties and taxes has been Rs 3,68,803 crore in the year 2018-19.
Here's the list of  top 3 PSUs with profits& losses in 2018-19
[su_table]
 Top 3 PSUs with profits in 2018-19
1
ONGC
2
IOC
3
NTPC
 Top 3 PSUs with losses in 2018-19
1
BSNL
2
Air India
3
MTNL
[/su_table]
About Ministry of Heavy Industries & Public Enterprises:
Headquarters– New Delhi
Union Minister– Prakash Javadekar
AffairsCloud Ebook - Support Us to Grow