On December 22, 2019 the 'Nagpur Resolution' which is an approach to empower citizens, was adopted during the 2-day long Regional Conference on 'Improving Public Service Delivery – Role of Governments', in Nagpur, Maharashtra. The conference was organised by the Department of Administrative Reforms and Public Grievances (DARPG) along with Maharashtra govt and the Maharashtra State Commission for Right to Public Services' collaboration.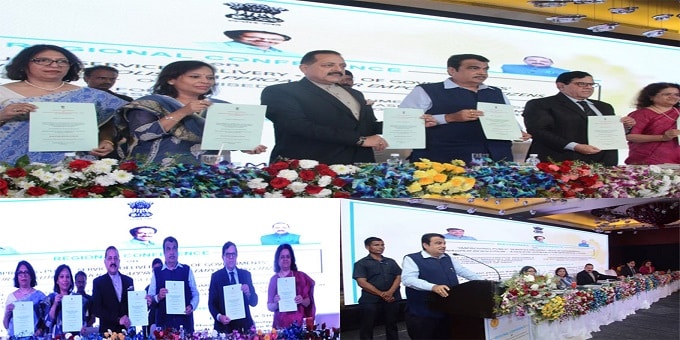 Nagpur Resolution:
i.The conference had conducting of six technical sessions during the 2-day event.
ii.Previously, Shillong Declaration and the Jammu Resolution were adopted for good governance in 2019.
iii.The Overview of the resolution are as follows:
To empower the citizens by policy interventions
To empower citizens by making improvements in quality of grievance redressal and also in reducing grievance redressal time. To improve grievance redressal quality, reforms in formulation of monitoring matrix, data collection etc will be done.
To create web portals and improve service delivery through digital platforms.
To focus on dynamic policy making and strategic decisions, monitoring of implementation, appointment of key personnel, coordination and evaluation;
To ensure timely publication of good governance index to identify the quality of governance in 10 sectors particularly in sectors pertaining to welfare and infrastructure at the Union, State and District levels. Click here to know more. 
Key speech during the conference:
i.Role of IT: The role of Information Technology(IT) and e-governance was discussed. Highlighting IT 's role in govt, implementation of Fastag systems at tolls were discussed.  The Fastags have led to per day toll collection by Rs 13 crore per day which now resulted to a total collection of Rs 81 crore as of December 2019. 51% of implementation of Fastag has been done so far.
ii.Right to Services Act: 20 states have so far passed the Right to Services Act.It is a piece of legislation with the aim to curb corruption by ensuring time bound delivery of services to the public by the government officials. Madhya Pradeshwas the first state to implement Right to Services Act in 2010.
Members present:
i.Union Minister for Road Transport & Highways(MoRTH) and Minister for Micro, Small & Medium Enterprises(MSME), Shri Nitin Jairam Gadkari; Minister of State (MoS-Independent charge) of the Ministry of DONER (Development of North Eastern Region), MoS for PMO(Prime Minister's Office), Personnel, Public Grievances & Pensions, Atomic Energy and Space Dr Jitendra Singh and other officials were present in the event.
About Maharashtra:
Capital- Mumbai.
Chief minister- Uddhav Thackeray.
Governor- Bhagat Singh Koshyari.
State animal- Indian giant squirrel.
State bird- Yellow-footed green pigeon.
National Parks(NP)- Tadoba NP, Sanjay Gandhi NP, Chandoli NP, Gugamal NP, Navegaon NP.
AffairsCloud Ebook - Support Us to Grow