On November 13 2019, Ravi Prakash, an Indian scholar from Bangalore won $25,000 (equivalent to Rs. 18 lakh), BRICS-Young Innovator Prize, 2019.  He was awarded during the 4th BRICS-Young Scientist Forum (YSF), 2019 held from November 6-8,2019 in Rio de Janeiro, Brazil. He was a part of 21-member delegation sent to Brazil by the Department of Science and Technology for the YSF.  The theme for 4th BRICS-YSF was "Cybersecurity and Bio economy".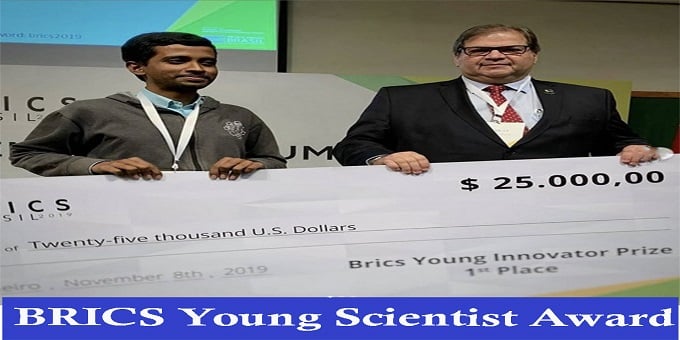 Ravi Prakash, who hails from Bihar invented an affordable home-grown milk chilling unit for smaller and minimal rural dairy farmers.
Key points: –
i. Ravi Prakash was a Ph.D. scholar from Indian Council of Agricultural Research (ICAR)-National Dairy Research Institute (NDRI), Bangalore.
ii.About 1st Three Forum-First forum of BRICS-YSF was hosted by India in September 2016, Second was by China in Hangzhou in July 2017, and third forumheld in South Africa Durban in July 2018.
Milk Chilling Technology
This Milk Chilling Technology is used for chilling milk from the point of production by bringing down the temperature of raw milk from 37°C to 7°C within 30 minutes. It uses Nano-fluid based phase change materials for this process. This technology makes a social-economic important for all the countries for preserving the quality of the milk.
BRICS Young Innovator Prize
The BRICS Young Innovator Prize aims to search and reward the candidate who are having the innovative project in technology and with the potential contribution to the science and technology sector of the BRICS countries. The special recognition is given for the young talented research students to make an impact on the socio-economic environment.
BRICS
BRICS is an acronym invented for a relationship of five major emerging national economies: Brazil, Russia, India, China and South Africa. The BRICS Forum is an independent international organization encouraging commercial, political and cultural cooperation among the BRICS nations, was formed in 2006 and headquartered at Shanghai, China.
AffairsCloud Ebook - Support Us to Grow