The 1st edition of the 2020 Khelo India University Games (KIUG) was held from February 22 – March 1, 2020 at KIIT University (Kalinga Institute of Industrial Technology University) in Bhubaneswar,Odisha.
The tournament, inaugurated by Prime Minister(PM)  Narendra Modi,held with the official mascots of 'Jay and Bijay'.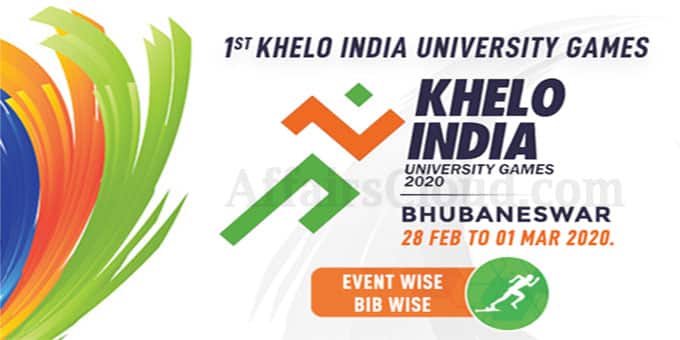 Key Points:
i.The Sports Authority of India (SAI), Association of Indian Universities, Indian Olympic Association (IOA) and the National Sports Federation (NSFs) organized the tournament, which saw the participation of more than 4000 athletes from 100 universities in the game events having 17 disciplines namely archery, athletics, boxing, fencing, judo, swimming, weightlifting, wrestling, badminton, basketball, football, hockey, table tennis, tennis, volleyball, rugby and kabaddi.
Medal tally:
Panjab University (PB) emerged as the winner of  Khelo India University Games 2020 with 45 medals (17 Gold,18 Silver,10 Bronze).It was followed by Savitribai Phule Pune University (2nd with 37 medals) and Punjabi University, Patiala(3rd with 32 medals).
Khelo India University Games (KIUG) 2020 Medal Tally by states:
[su_table]
| | | | | | |
| --- | --- | --- | --- | --- | --- |
| Rank | State | Gold | Silver | Bronze | Medal Tally |
| 1 | Panjab University (PB) | 17 | 18 | 10 | 45 |
| 2 | Savitribai Phule Pune University, MS | 17 | 11 | 9 | 37 |
| 3 | Punjabi University, Patiala (PB) | 12 | 6 | 14 | 32 |
[/su_table]
Highlights:
i.Sanket Mahadev Sagar of Shivaji University in Kolhapur (Maharashtra) won the 55 kg weightlifting gold at the Khelo India University Games with a national record and Prashant Suresh Koli received Silver.
Sanket made a record by lifting 138 kg in clean and jerk & also made a national record by lifting a total weight of 244 kg.
Prashanth of Kavayitri Bahinabai Chaudhari North Maharashtra University set a national record by lifting 110 kg in snatch.
ii.The University of Mumbai's twin-sisters Jyoti & Aarti have clichéd 4 medals at the KIUG by ended up on the podium in the 200m breaststroke, where Jyoti winning a gold and Aarti a bronze medal.They also bagged a bronze in the 4x200m freestyle relay.
iii.Indian professional sprinter, Dutee Chand, who is representing Kalinga Institute of Industrial Technology, clinched the 200m gold medal with a timing of 23.66 seconds.
iv.In compound men's archery & compound women's archery event, the Punjabi University of Patiala has won the 2 gold medals.
Khelo India program:
This program was introduced to revive sports culture in India by merging Rajiv Gandhi Khel Ahiyan (erstwhile Yuva Krida and Khel Abhiyan), 'Urban Sports Infrastructure scheme' and National Sports Talent Search System Program as a central sector scheme.
Through this program, talented players will be identified in priority sports disciplines and will be provided annual financial assistance of Rs.5 lakh per annum for a period of 8 years.
About Odisha:
Capital– Bhubaneswar.
Governor– Ganeshi Lal.
Chief minister– Naveen Patnaik.
Dams– Hirakud dam, Rengali dam, Indravati dam, Jalaput dam (between Andhra Pradesh and Odisha), Mandira dam, Patora dam.
AffairsCloud Ebook - Support Us to Grow