We are here for you to provide the important Recent and Latest Current Affairs 3 January 2020, which have unique updates of Latest Current Affairs 2020 events from all newspapers such as The Hindu, The Economic Times, PIB, Times of India, PTI, Indian Express, Business Standard and all Government official websites.
Our Current Affairs January 2020 events will help you to get more marks in Banking, Insurance, SSC, Railways, UPSC, CLAT and all State Government Exams. Also try our Latest Current Affairs Quiz and Monthly Current Affairs PDF which will be a pedestrian to crack your exams.
Date-Wise Current Affairs January 2020 PDF for Paid Users – Click Here to Know More
Click here for Current Affairs January 1 & 2 2020
NATIONAL AFFAIRS
30% of Poshan Abhiyaan funds used in 3 years as per data shared in parliament
On December 29, 2019 according to an analysis of the data shared by Minister for Women and Child Development (MoWCD) Smriti Irani in the Parliament, merely 30% of the Poshan Abhiyan funds have been used in 3 years. Apart from Mizoram, Lakshadweep, Himachal Pradesh and Bihar, none of the state govt has used the fund granted to them in the past 3 years. The data in detail are as follows,
Best performers:Among the states that utilised the poshan abhiyan funds well, Mizoram(65.12%) emerged as the best performer. It was followed by Lakshadweep (61.08%), Bihar (55.17%), Himachal Pradesh (53.29%) and Meghalaya (48.37%) in the 2nd, 3rd, 4th and 5th place respectively.
Worst performers: The top worst performers were Punjab (0.45%), Karnataka (0.74%), Kerala (8.75%), Jharkhand (13.94%) and Assam (23.01%).
As per the data, a total of ₹4,283 crore was disbursed by the Centre to different States and Union Territories(UTs). From this amount, ₹1,283.89 crore was utilised until October 31, 2019, which is just 97% of the funds granted….Click here to Read More
Indian Railways launches integrated helpline number 139 for passengers
On 3rd January 2020, The Indian Railways launched an integrated helpline number 139 for quick grievance and enquiries by the passengers during journeys.
Key Points:
i.It is an integrated form of existing helpline numbers (except 182) particularly to avoid the inconvenience over multiple helpline numbers and will be easy to connect with Railways for all their needs during travel.
ii.The helpline number will be available in 12 languages and it will be based on an interactive voice response system and it can also be used for general complaints, accidents and safety issues.
iii.Indian Railways has also decided to run 16 winter special trains to different destinations under ECoR jurisdiction from January 1 to April 1 during the winter season. The decision was taken after reviewing the long waiting lists in regular trains.
About Indian Railways:
Headquarters– New Delhi
Founded– 16th April 1853
Minister of Railways– Piyush Goyal
Minister of state for Railways– Suresh Angadi
Gujarat CM unveiled world's 2nd tallest statue of Vallabhbhai Patel in Ahmedabad
On January 3, 2020 the Chief Minister of Gujarat Shri Vijay Ramniklal Rupani unveiled the world's 2nd largest statue of Sardar vallabhbhai Patel at Sardardham campus near Vaishnodevi circle in Ahmedabad, Gujarat. This bronze statue which is 50 feet tall weighing 70,000 kilograms was built at a cost of Rs 3.25 crores. Padma Bhushan awardee Ram Vanji Sutar(Sculptor) who designed the world's tallest statue has built this world's second tallest statue too.
Key Points:
i.The world's tallest statue known as the 'statue of unity' of Sardar Patel was built at Kevadiya in Narmada district of Central Gujarat. Its height is 182 meters (597 ft) and was built at a cost of Rs 3000 crores.
About Gujarat:
Capital- Gandhinagar.
Cultural Capital- Vadodara.
Governor- Acharya Devvrat
Chief minister- Vijay Rupani.
National Parks (NP)- Gir Forest NP, Blackbuck NP, Marine NP, Vansda NP.
Ritualistic Festival 'Lai Haroba' begins in Tripura
Lai Haroba, a ritualistic festival observed by Manipuri meitei communities began in Agartala, Tripura. The five-day long festival was inaugurated by Speaker of State legislative Assembly, Rebati Mohan Das.
Lai Haroba was celebrated through oral literature, music, dance and rituals. A cultural troupe from Manipur came and performing manipuri martial arts, folk music and folk dances.
The festival was organized by:
i.Department of Information and Cultural Affairs, Government of Tripura.
ii.Puthiba Lai Haraoba Committee and Puthiba Welfare & Cultural Society, Agartala.
Aim:
To Uphold Tradition and Cultural values of Meitei community.
Static:
Tripura- Agartala.
CM- Biplab Kumar Deb.
Governor- Ramesh Bias
State Bird- Green imperial Pigeon.
State Animal- Phayre's leaf monkey.
National Park- Clouded Leopard National Park,Rajbari National Park.
Wildlife Sanctuary- Gumti Wildlife Sanctuary, Rowa Wildlife Sanctuary, Sepahijala Wildlife Sanctuary, Trishna Wildlife Sanctuary.
10k cameras to be used for 2020 Asiatic lion census in Gujarat
On January 1, 2020,The Wildlife Institute of India (WII),an autonomous institution under the Ministry of Environment Forest and Climate change(MoFCC), is set to conduct the Asiatic Lion Census in May 2020 by using around 8,000-10,000 cameras across 25,000 sqkm (Square kilometre) area spanning 7 districts in Gujarat.
National Tiger Conservation Authority (NTCA)'s technology will be used for the lion census.
The whole census area is to be divided into 3-km grid. Around 1,000 to 2,000 officers are to be employed to collect lion's hair, nails, teeth, etc by using scientific methods laid out by NTCA. In the 2nd phase, 10,000 cameras are to be used to capture the lions…..Click here to Read More
Odisha govt launches India's 1st  e-Gazette portal for all gazette notifications
On January 2, 2020, The State Government of Odisha has launched an online platform called "e-Gazette portal"( http://egazetteodisha.nic.in), a first-of-its-kind initiative in India designed and developed by the NIC(National Informatics Centre) for all departments. With this, the Gazette notifications are now available as error-free and paperless under one platform.
Key Points:
i.The portal was launched by Odisha Chief Secretary Asit Kumar Tripathy as a part of  state's 5T initiatives (Transparency, Teamwork, Technology, Time and Transformation).
ii.Now, the departments will upload their notifications which will be screened by the Government Press. The number & date of the gazette will also be there on the portal & for a better and secure authentication, electronic signature (e-sign) has been introduced.
iii.Since e-publication is covered under Section- 8 of the Information Technology Act, 2000, it will save the transportation of trucks of papers & reduce wastage.
About Odisha:
Capital– Bhubaneswar
Governor– Ganeshi Lal
Chief Minister– Naveen Patnaik
Sweet– Rasagola
Dance– Odissi
 INTERNATIONAL AFFAIRS
Pacific Island Nation Palau becomes first nation in the world to ban 'reef-toxic' sun cream
Palau has become the first nation to ban sun cream which damages the coral reefs, sea life and are toxic to juvenile wildlife species. It is the Pacific Island country in the Western Pacific Ocean near Philippines.
KeyPoints:
i.The sun cream consists of oxybenzone and octinoxate absorbs UV (UltraViolet) rays which causes water more acidic, makes corals susceptible to bleaching and agitating fish stocks.
ii.Following Palau, Hawaii bans sun cream comes into effect from 2021.
Static:
Palau- The second nation to sign Paris Climate Agreement after Fiji.
Palau Capitals- Ngerulmud, Melekeok.
Tommy Remengesau- Palau's President.
Currency- United States Dollar.
Rock Island, Palau- World Heritage Site by UNESCO (United Nations Educational Scientific and Cultural Organization) in 2012.
UNICEF:2019 concluded as deadly decade for children in conflict; >1.7lac grave violations verified 
On December 29, 2019 the United Nations International Children's Emergency Fund (UNICEF) also known as the United Nations Children's Fund established announced that more than 1,70,000 grave violations against children in conflict were verified which is the equivalent of more than 45 violations a day for the last 10 years.
The countries experiencing conflict is the highest since the adoption of the Convention on the Rights of the Child in 1989.
2018 data by UN: The United Nations (UN) in 2018 verified more than 24,000 grave violations against children. The 6 grave violations identified by UN include killing & maiming, sexual violence, abductions, denial of humanitarian access, child recruitment by armed forces and armed groups,attacks against schools or hospitals. This count was more than 2.5 times higher than that recorded in 2010.
12,000 children were killed or maimed(injured) in 2018….Click here to Read More
BANKING & FINANCE
BoB joins hands with JM Financial for co-lending to home buyers
On January 2, 2020, Bank of Baroda (BoB), an Indian Multinational, public sector Bank has signed a co-lending partnership agreement with JM Financial Home Loans Limited (JMFHL), the housing finance arm of JM Financial Group, to provide retail loans to home buyers.
i.This tie up will boost the credit delivery to customers & also promote home buying field in India.
About Bank of Baroda (BoB):
Founded- 20 July 1908
Headquarters- Vadodara, Gujarat
Non-Executive Chairman- Hasmukh Adhia
Tagline- India's International Bank.
About JM Financial Home Loans Limited (JMFHL):
Formation– 16 December 2016.
Headquarters– Mumbai,Maharashtra
CEO– Manish Sheth
ECONOMY & BUSINESS
DPIIT: FDI inflows rose 15% to $26 Bn in 1st half of FY2020; Singapore largest FDI source of India
On January 2, 2020, According to the data released by the Department for Promotion of Industry and Internal Trade (DPIIT), the Foreign Direct Investment (FDI) in India rose 15% to $26 billion in the first half of FY2020 (Fiscal year 2020). Singapore continued to be the largest source of FDI in India during the first half of FY2020 with $8 billion investments. The inflow of FDI during April-September of 2018-19 stood at $22.66 billion. The data in brief are as follows:
Other top FDI sourcing countries to India:Singapore was followed by Mauritius ($6.36 billion), the United States(US) ($2.15 billion), the Netherlands ($2.32 billion), and Japan ($1.78 billion) in the 2nd, 3rd, 4th and 5th place respectively.
Foreign Direct Investment: A foreign direct investment (FDI) is an investment in the form of a controlling ownership in a business in one country by an entity based in another country. India gets FDI through 2 routes. They are automatic route and government route….Click here to Read More
India to place restrictions on non-essential imports from China by March 2020
By March 2020, India has decided to place stricter quality standards for importing of 371 items. This has been done with the aim of curbing imports of non-essential items such as toys, plastic goods, sports items, and furniture, especially from China. The proposed rules will be framed by respective ministries in coordination with the Bureau of Indian Standards (BIS), that will help in ensuring stricter inspection of imports. The new rules will be spearheaded by Union trade minister Shri Piyush Goyal.
China's imports: Non-essential imports from China is estimated to amount $4 trillion per annum.
Trade deficit with China: India's trade deficit with China stands at $53.6 billion
Out of 371 items that are more likely to be restricted and put under quality standards, 111 come under the department of chemicals and petrochemicals, 68 under department of heavy industries, 62 under the ministry of electronics and information and technology(MeitY), 61 under the industry department, 44 under the steel ministry and 25 under the telecom department….Click here to Read More
AWARDS & RECOGNITIONS  
Britain's Prince William unveils prize for climate innovation
On 2nd January 2020, Prince William Arthur Philip Louis (37 ) has announced a multi-million-pound prize for "visionaries" working to solve "Earth's greatest environmental problems," from climate change to air pollution. The Earthshot Prize will be awarded to five winners, every year, for the next 10 years. The initiative's goal is to provide "at least 50 solutions to the world's greatest problems by 2030."
Key Points:
i.The prize was initially designed and handled by the Royal Foundation of the Duke and Duchess of Cambridge, and it was headed by Prince William and Kate Middleton.
ii.This year, the initiative will debut a series of "Earthshot challenges," with a goal of pursuing answers to the current issues including climate and energy, nature and biodiversity, oceans, air pollution and freshwater"
iii.Earthshot Prize winners will involve a significant cash-prize, as well as public recognition at an annual ceremony.
About UK:
Capital– London
Currency– Pound Sterling
Prime Minister– Boris Johnson
Cristiano Ronaldo bags best men's player title at 11th Dubai Globe Soccer Awards 2019 in Dubai
Famous Portuguese professional football player Cristiano Ronaldo was awarded by 11th Dubai Globe Soccer Awards 2019 as the best men's player of the year in the international football function held in Dubai, United Arab Emirates (UAE). Ronaldo has won the award six times out of its nine years of its existence and also marked 4th consecutive time.
KeyPoints:
England international Lucy Bronze was awarded the best women's player of the year.
The award has been presented in 15 categories.
About Globe Soccer Awards:
The Globe Soccer Awards are the annual awards given for excellence in football. EFAA (European Association of Player's Agents) and the ECA (European Club Association) organize the Globe Soccer Awards.
14 scientists conferred with Swarna Jayanti fellowships for 2018-19
On January 2, 2020, The Union Ministry of Science and Technology, Government of India (GoI), has awarded Swarna Jayanti Fellowships for 2018-19 to 14 Scientists under 40 years of age, associated with innovative research projects and capable of impacting research and development (R&D) work in their respective fields.
The Fellowship was launched by the Government to commemorate 50 years of the country's independence.
Scientists selected for fellowship and research are supported by the Department of Science and Technology for research work. This includes financial assistance for all research related work as well as fellowship of Rs 25000 per month. Apart from this, scientists are also given research grant of Rs 5 lakh for 5 years in addition to their salary.
Here's the full list of awardees,….Click here to Read More
   APPOINTMENTS & RESIGNATION         
Prof Suresh Chandra Sharma was appointed as the 1st Chairman of NMC
On January 2, 2020 Delhi AIIMS' Professor Suresh Chandra Sharma appointed as the 1st ever Chairman of NMC (National Medical Commission). Sharma was the head of ENT(ears, nose, throat) head-surgery department of AIIMS(All India Institute of Medical Sciences) in New Delhi.The Committee also appointed Dr Rakesh Kumar Vats, Secretary-General, Board Of Governors, Medical Council of India as Secretary of NMC.The Chairman and the Secretary of NMC will serve for a period of 3 years or till the age of 70 years.
On August 8, 2019, National Commission Bill 2019 was introduced which replaces the Indian Medical Council Act, 1956.
In this Commission 33 member will be appointed by the Central Government which includes Chairman, President and Director's.
The bill also hold National Exit Test for the medical students which obtain the license for practice….Click here to Read More
Hillary Rodham Clinton appointed as 11th and 1st female Chancellor of UK's Queen's University
On 2 January 2020, 72-years-old Hillary Rodham Clinton appointed as the first female Chancellor of United Kingdom's Queen's University. She succeeds Tom Moran. Clinton is the 11th Chancellor of the University and will serve for a period of five years from January 1, 2020. She will act as an advisor to the vice-chancellor Prof Ian Greer and senior management.
About Hillary Clinton:
i.In 2018, she received an honorary doctorate from the Queen's University.
ii.She was the Democratic Presidential nominee in 2016 US election.
iii.In 2009 she was appointed as the United States Secretary of State by President Barack Obama.
About Queen's University:
i.Queen's University was opened in 1849 in Belfast, UK.
ii.It is one of the leading universities in the UK and Ireland with a distinguished heritage and history.
About UK:
i.Prime Minister- Boris Johnson
ii.Capital- London
iii.Currency- Pound Sterling
   ACQUISITIONS & MERGERS        
Mastercard acquires RiskRecon to strengthen its cybersecurity front
On December 24, 2019, Mastercard, a leading global payments & technology company has acquired RiskRecon Inc, a leading third-party cyber risk solutions provider, to protect its cyber systems & infrastructure. The acquisition has been finalized for an undisclosed sum & is expected to be completed by early 2020.
Key Points:
i.Under the deal, RiskRecon will further promote Mastercard's suite of cyber solutions designed to help financial institutions, merchants & governments secure their digital assets.
ii.Earlier,Mastercard along with popular credit card companies like American Express, Visa & Discovery introduced a one-click checkout feature for faster and secure mode of credit card payment by using latest authentication standards of EMV (Europay, MasterCard, Visa) 3-D Secure.
About RiskRecon:
Founded– 2011
Headquarters– Salt Lake City, United States
CEO & Co-Founder- Kelly White
About Mastercard:
Founded- 1966 (as Interbank Card Association) &1979 (as Mastercard)
Headquarters- New York, U.S.
President and CEO– Ajaypal Singh Banga
SCIENCE & TECHNOLOGY
President released mobile app "Telangana Red Cross" of Red Cross Society of India in Telangana
On December 21, 2019 the President of India Shri Ram Nath Kovind, launched a mobile app named "Telangana Red Cross" of the Red Cross Society of India in Hyderabad, Telangana. The app was launched during the President's visit to the southern parts of India. His visits were to Telangana, Puducherry, Kanyakumari(Tamil Nadu) from December 20-28, 2019.
App development: The app was developed by the Telangana Centre for Good Governance in less than 3 months. It is made available in all languages. Access to blood bank and red Cross membership will be made easy through this app.
Details of the president's visit: The president Shri Kovind, visited Puducherry where he addressed the 27th convocation of the Pondicherry University, visited Kanyakumari (Tamil Nadu) and visited the Vivekananda Rock Memorial and Vivekananda Kendra there and finally visited Secunderabad & hosted a reception for senior dignitaries….Click here to Read More
ISRO to set its 2nd launch port in Thoothukodi district of Tamil Nadu
On January 1, 2020, during the press conference in Bengaluru, Karnataka with ISRO Chairman K. Sivan, it has been announced that the second launch port of ISRO (Indian Space Research Organisation) will be established in Thoothukodi district of Tamil Nadu to launch small satellite vehicles. This will come up in 2300 acres.
Key Points:
i.Also, following the GPS navigation system developed by America, the Indian navigation system called Navic with the indigenous atomic clock will be operational with mobile phone manufacturers coming forward to install the regional navigation device.
ii.Chandrayaan 3 mission to the moon, comprising of a lander and a rover is approved by the Government.
Gaganyaan Mission:
i.India's first manned mission to outer space Ganganyaan is targeted to launch in 2022. Selection of Astronaut is over and four men selected from Indian Air Force will leave to Russia for the training.
About ISRO:
Chairman- K Sivan
Headquarters- Bengaluru
SPORTS
For the first time Lawn bowls & Cycling to be included in 3rd Khelo India Games 2020 to be held in Guwahati, Assam
On 2nd January 2019, Chief Executive Officer of "Khelo India Games" has announced the inclusion of "Lawn bowls" and "Cycling" in the 3rd edition of Khelo India Games. These two games will be included in the event for the first time.
Key Points:
i.Around 6500 athletes from 37 teams will take part in the 3rd edition of Khelo India youth games in Guwahati, Assam which is scheduled to be held from 10th of January to 22nd of February at Indira Gandhi Stadium.
ii.The cultural events from Assam, North East and other states will be added in the event which starts from 13th to 15th of January at Sarusajai. The exhibition of indigenous games will also be held and there will be no entry fee for the inaugural ceremony people can enjoy it free of cost.
About Khelo India Games:
Khelo India Youth Games, formerly Khelo India School Games are the national level multidisciplinary games in India held for two categories, namely under-17 years' school students and under-21 college students annually in January or February.
Headquarters- New Delhi
Chief Executive Officer- Avinash Joshi
Indian chess grandmaster Koneru humpy finishes 12th in FIDE World Blitz competition 2019 held in Moscow, Russia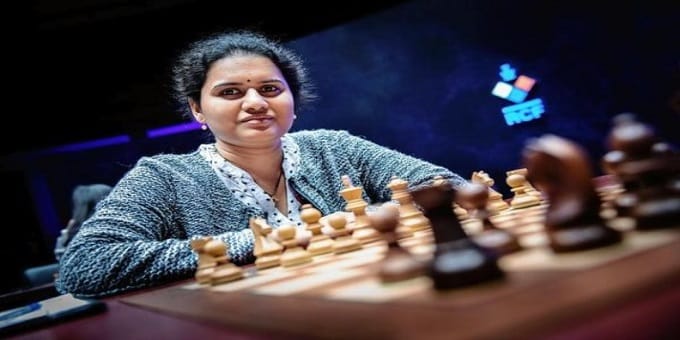 On December 31, 2019, Humpy Koneru (32), an Indian chess grandmaster from Andhra Pradesh, has settled 12th overall in the 2-day FIDE World Blitz competition 2019 held at at the Luzhniki Stadium in Moscow, Russia. She ended the tournament with 10.5 points out of 17 games.
Kateryna Lagno (13 points) of Russia and Magnus Carlsen of Norway (16.5 points) retained their titles in the Women's and Men's Blitz Championships respectively.
Key Points:
i.Another Indian Harika Dronavalli finished 25th position.
ii.Earlier in December 2019, Hampi won the FIDE ( International Chess Federation or World Chess Federation) Women's World Rapid chess Championship 2019 against China's Lei Tingjie in Armageddon (chess penalty shoot-out) in the finals held in Russia.
About FIDE World Blitz Championship 2019:
It is a 21-round Swiss tournament organized by FIDE- Fédération Internationale des Échecs (English: International Chess Federation or World Chess Federation).
The prize fund for the championship is $350,000, with $60,000 for the winner.
About FIDE:
Formation– July 20, 1924
Headquarters– Lausanne, Switzerland
President– Arkady Dvorkovich
MS Dhoni named captain of ESPNCricinfo's ODI and T20 teams of past decade; Virat as captain of their test team
On January 1, 2020, Former Indian Captain Mahendra Singh Dhoni, 38 years old named as captain of ESPNCricinfo's ODI(One Day International) and Twenty20 teams of the decade. Virat Kohli was named the leader in Tests. On the other hand, Former skipper Mithali Raj and fast bowler Jhulan Goswami were named in the same women's team picked for both the ODIs and T20s. Australia's inspirational cricketer, Meg Lanning was named the captain of the side.
Keypoints:
i.The criteria was set up by the 23 member panel, for a selection was a minimum of 50 Tests or six active years in the traditional format while it was 75 ODIs and 100 T20s for the limited-overs teams.
IMPORTANT DAYS
World Health Organisation designated 2020 as International Year of the Nurse and Midwife
The executive board of the World Health Organisation(WHO) has designated 2020 as International Year of Nurse and Midwife in honour of 200th birth anniversary of Florence Nightingale. The WHO will also launch first-ever State of the World's Nursing report in 2020 prior to the 73rd session of the World Health Assembly.
State of the World's Nursing report: The report will describe the nursing workforce in the member states of the WHO and will provide assessment of "fitness for purpose" relative to 13th General Programme of Work (GPW13) targets.
The State of the World's Midwifery 2020 report: WHO is also partner of The State of the World's Midwifery 2020 report. The report will also be launched along with the nursing report.
The NursingNow! Campaign: WHO has collaborated with 3 year Nursing Now!' Campaign (2018–2020). The aim of the campaign is to improve global health by improving the status of nursing and help in achieving Universal Health Coverage(UHC).
Statistics: According to WHO globally, 9 million more nurses and midwives are needed  to achieve universal health coverage by 2030….Click here to Read More
STATE NEWS
'Cyber Safe Women' campaign launched in Maharashtra by state cyber police
On January 3, 2020, Maharashtra cyber police launched 'Cyber Safe Women' campaign to mark the birth anniversary of a social reformer, Savitribai Phule in Maharashtra. It is a joint initiative of the Maharashtra state government, Maharashtra Cyber and Maharashtra police.
Key Points:
i.The main aim of this initiative is to reduce the cyber crimes against women and children.
ii.This campaign will be launched in 34 districts and 90 places at once across the state.
iii.To create awareness among women and children, cybercrime police will conduct presentations and lectures across the state.
iv.These cyber crimes include stalking, picture morphing, online abuse and defamation, sextortion, pornography and child pornography, matrimonial and dating apps fraud.
About Maharashtra:
Chief Minister- Uddhav Thackeray
Governor- Bhagat Singh Koshyari
Capital City- Mumbai
State Animal- Indian giant squirrel
State Bird- Yellow-footed green pigeon
State Tree- Mangifera indica
State Flower- Pride of India
'K-RERA' launched in Kerala to bring transparency in real estate sector
On January 1, 2020, the Chief Minister of Kerala Pinarayi Vijayan launched K-RERA (Kerala Real Estate Regulatory Authority) to bring confidence and transparency in real estate sectors among the customers.
Key Points:
i.K-RERA will reduce real estate mafia and helps in creating valid relationships among promoter and buyer.
ii.As per the Real Estate (Regulation and Development) Act 2016, State governments needs to establish RERA for the effective regulations in real estate sectors.
iii.The buildings with more than eight apartments and real estate projects with 500 sq meters land or more will have to be registered under RERA.
About Kerala:
Chief Minister- Pinarayi Vijayan
Governor- Arif Mohammad Khan
Capital City- Thiruvananthapuram
State Animal- Indian elephant
State Bird- Great hornbill
State Flower- Golden shower tree
State Tree- Coconut
Telangana govt declared 2020 as AI year and signs 8 MoU
On January 03, 2019 the Telangana Information Technology (IT) minister Kalvakuntla Taraka Rama Rao has declared 2020 as year of Artificial Intelligence(AI) and has signed 8 Memorandum of Understanding(MoU) with various companies and Indian Institute of Technology Kharagpur (IIT-KGP) to make way for technological advancements in the state. The MoU with IIT-KGP is for setting up centre of excellence in AI and research and Development Park. Pilot projects of registration and police departments on the occasion was also launched.
Key points:
i.KT Rama Rao also unveiled a poster and a logo to mark the year of AI at a programme in Hyderabad, Telangana while IT Secretary Jayesh Ranjan inaugurated a website for the same.
ii.Some of the companies with which Telangana govt has signed MoU includes Intel, Public Health Foundation of India (PHFI), Nvidia and Hexagon etc.
iii.New businesses will be given permissions through Telangana State Industrial Project Approval and Self-Certification System (TS-iPASS).
About Telangana:
Capital- Hyderabad.
Governor- Tamilisai Soundararajan.
Chief minister- Kalvakuntla Chandrashekar Rao.
National Parks (NP)- Mrugavani NP, Mahavir Harina Vanasthali NP.
AC BYTES
Delhi gets First 20-feet-tall  Smog Tower to Help Tackle Rising Levels of Air Pollution at Lajpat Nagar
Delhi gets its first 20-ft tall smog tower, which is used to purify the air, has been installed at south Delhi's Lajpat Nagar market. It can remove up to 80% of the particulate matter (PM 2.5 and PM10).
******Current Affairs 3 January 2020 Headlines******
30% of Poshan Abhiyaan funds used in 3 years as per data shared in parliament
Indian Railways launches integrated helpline number 139 for passengers
Gujarat CM unveiled world's 2nd tallest statue of Vallabhbhai Patel in Ahmedabad
Ritualistic Festival 'Lai Haroba' begins in Tripura
10k cameras to be used for 2020 Asiatic lion census in Gujarat
Pacific Island Nation Palau becomes first nation in the world to ban 'reef-toxic' sun cream
UNICEF:2019 concluded as deadly decade for children in conflict; >1.7lac grave violations verified
BoB joins hands with JM Financial for co-lending to home buyers
DPIIT: FDI inflows rose 15% to $26 Bn in 1st half of FY2020; Singapore largest FDI source of India
India to place restrictions on non-essential imports from China by March 2020
Britain's Prince William unveils prize for climate innovation
Cristiano Ronaldo bags best men's player title at Dubai Globe Soccer Awards
14 scientists conferred with Swarna jayanti fellowships for 2018-19
Prof Suresh Chandra Sharma was appointed as the 1st Chairman of NMC
Hillary Rodham Clinton appointed as 11th and 1st female Chancellor of UK's Queen's University
Mastercard acquires RiskRecon to strengthen its cybersecurity front
President released mobile app "Telangana Red Cross" of Red Cross Society of India in Telangana
ISRO to set its 2nd launch port in Thoothukodi district of Tamil Nadu
For the first time Lawn bowls & Cycling to be included in 3rd Khelo India Games 2020
Indian chess grandmaster Koneru humpy finishes 12th in FIDE World Blitz competition 2019 held in Moscow, Russia
Mahendra Singh Dhoni picked captain of ESPNCricinfo's ODI and T20 teams of past decade
World Health Organisation designated 2020 as International Year of the Nurse and Midwife
'Cyber Safe Women' campaign was launched by Maharashtra Government
'K-RERA' launched in Kerala to bring transparency in real estate sector
Odisha govt launches India's 1st  e-Gazette portal for all gazette notifications
Telangana govt declared 2020 as AI year and signs 8 MoU
Delhi gets First 20-feet-tall  Smog Tower to Help Tackle Rising Levels of Air Pollution at Lajpat Nagar
[su_button url="https://affairscloud.com/current-affairs/january-2020/" target="self" style="default" background="#2D89EF" color="#FFFFFF" size="5″ wide="no" center="no" radius="auto" icon="" icon_color="#FFFFFF" text_shadow="none" desc="" download="" onclick="" rel="" title="" id="" class=""]Click Here to Read Current Affairs January 2020[/su_button]
AffairsCloud Ebook - Support Us to Grow