On January 10, 2020 the Airports Authority of India(AAI) has announced that 4 Indian airports have received international recognition for reducing the carbon emission level as per the standards set by Airports Council International (ACI) for the grading. The 4 airports are as follows: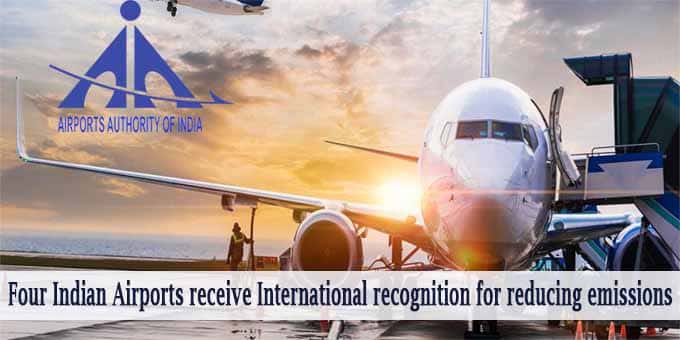 [su_table]
| | | |
| --- | --- | --- |
| Si.No | Airport  | City and State  |
| 1 | Netaji Subhas Chandra Bose International Airport | Kolkata, West Bengal |
| 2 | Biju Patnaik International Airport | Bhubaneswar, Odisha |
| 3 | Lal Bahadur Shastri International Airport | Varanasi, Uttar Pradesh |
| 4 | Trivandrum International Airport | Trivandrum, Kerala. |
[/su_table]
International recognition under ACI:
i.The above 4 airports have managed a transition from level 1 to level 2 and the grading system of ACI was adopted by these 4 airports in 2018.
ii.ACA program: The reduction in emissions was achieved by constituting Carbon Management Plan(CMP) and reducing carbon emissions at airports as per the Airport Carbon Accreditation (ACA) Program.
iii.As per data on CO2(carbon dioxide emissions) in 2015,16,17 and 18, these 4 airports witnessed reduction in the emission levels.
iv.Grading system:  ACI's grading system is based on 4 categories. They are mapping, reduction, optimization and neutrality.
v.Carbon mapping: It occurs when airport sets policy to reduce emissions and develop Carbon Footprint for the airport's scope-1 and scope-2 emission.
vi.Carbon reduction: it occurs when the airport shows the reduction in carbon emissions as compared to the base year it has set.
About Airports Authority of India(AAI):
Headquarters- New Delhi.
Founded- 1 April 1995.
Chairman- Arvindh Singh.
Director General(DG) of Civil Aviation- Arun Kumar.
AffairsCloud Ebook - Support Us to Grow